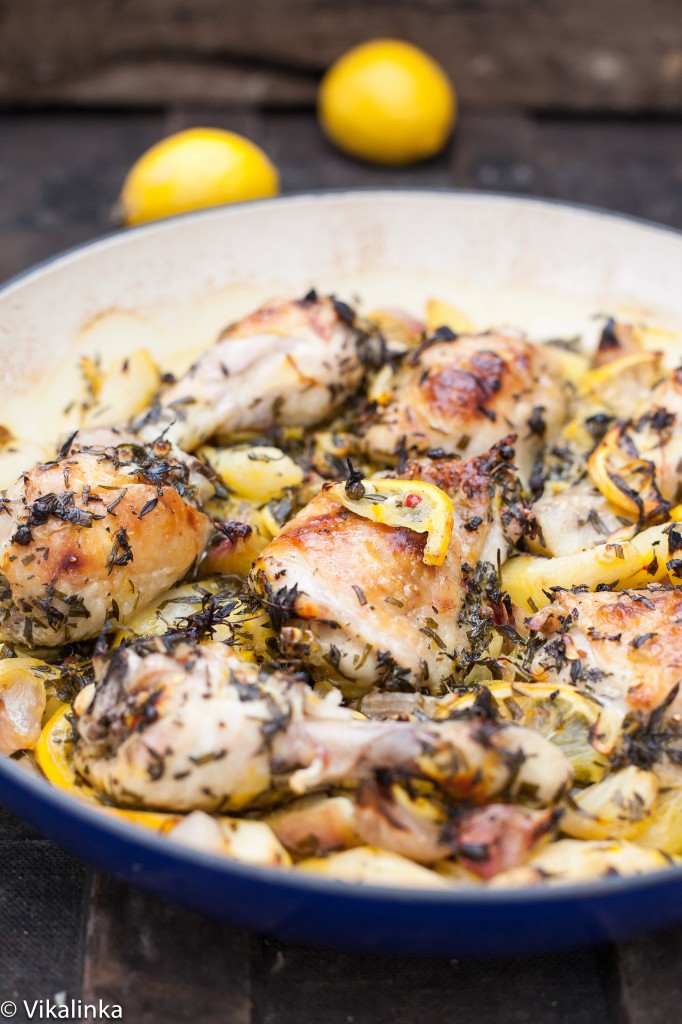 Do you, like me, easily get bored with same old, same old? In my life I constantly crave variety.
I suppose this attitude makes me a bit of a loose canon in the kitchen. Because life is too short to eat the same things over and over again, especially in our day and age when the world is on our doorsteps. Why not try something thoroughly different from what we are used to!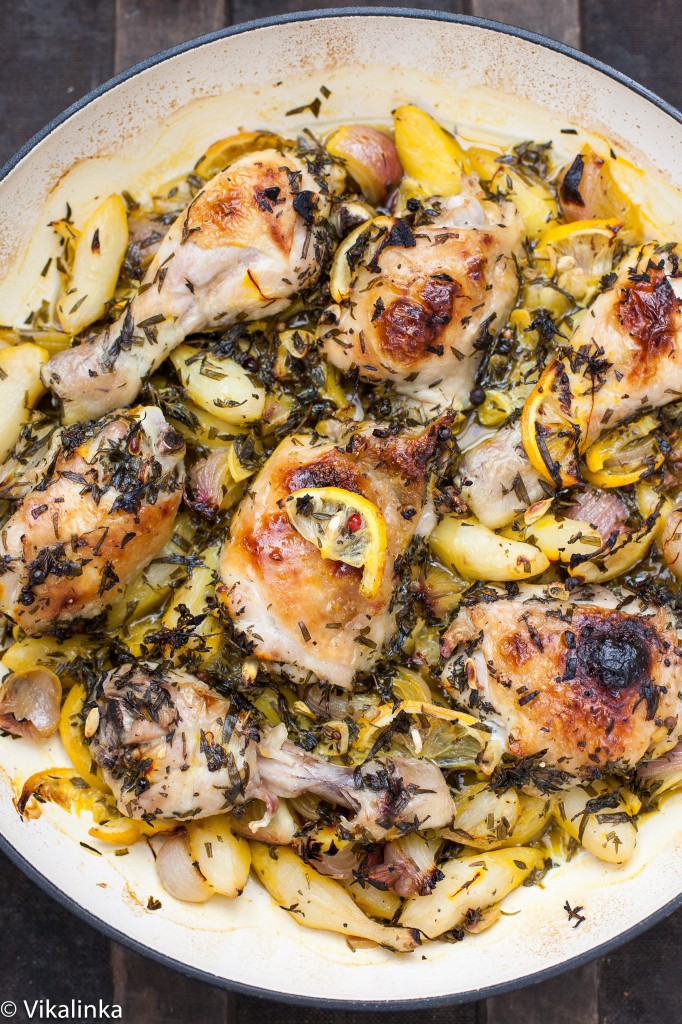 This Roast Chicken with Jerusalem artichokes and lemons recipe comes from the cookbook I coveted for a while before I received it as a present last Christmas.
Jerusalem by Yotam Ottolenghi and Sami Tamimi, who recently went from being known in London, where they own a small chain of successful delis, to worldwide fame, mostly due to the cookbooks Yotam Ottolenghi published.
The first recipe for Fattoush Salad I made from Jerusalem cookbook was a complete success, which gave me much confidence to tackle a main dish, so as soon as I spotted Jerusalem artichokes in my local Sainsbury's I knew just what to do with them.
If Jerusalem artichokes are difficult to find or you don't like the taste of them, this Roast Chicken is absolutely gorgeous on its own. Do try this recipe!
For me, it was instant love and I can't wait to make it again. In fact, this would be a beautiful alternative to your ham or lamb for Easter Dinner.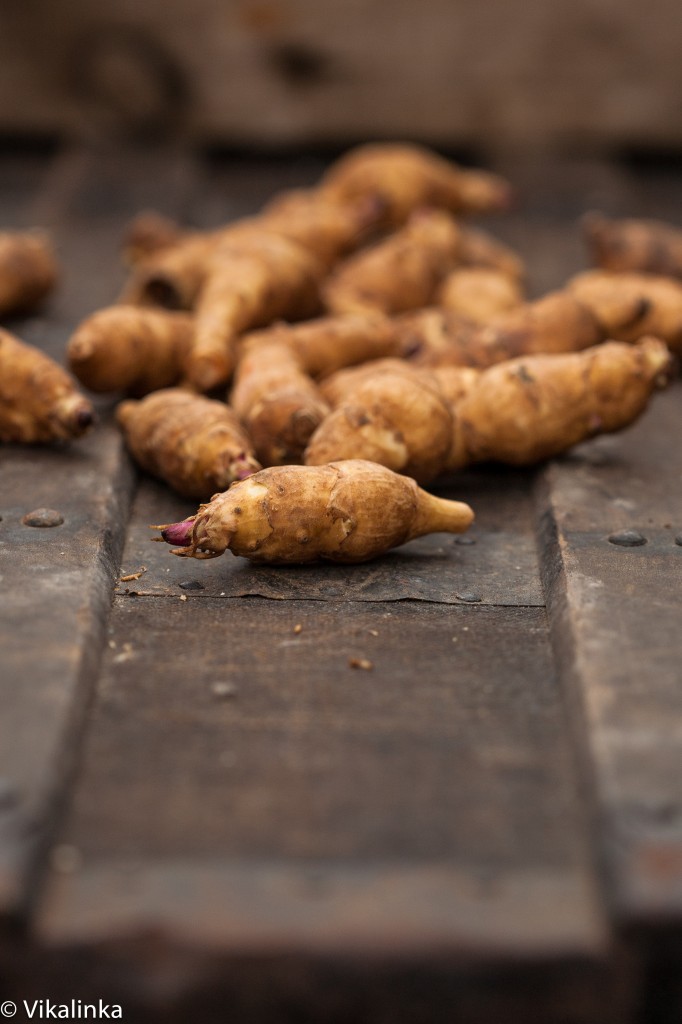 Recipe Tips and Notes
Have you ever seen or cooked with Jerusalem artichokes? It was my first time. They are not much to look at, small and gnarly things, with mildly sweet and delicate taste. In short, nothing like I ever tasted before.
Then there is an explosion of herbs and spices that make this dish incredibly fragrant. That's the word I associate Middle Eastern cooking with!
Fresh tarragon, thyme, loads of shallots and garlic, mixed peppercorns, lemons and vibrant saffron threads make for a visually gorgeous dish.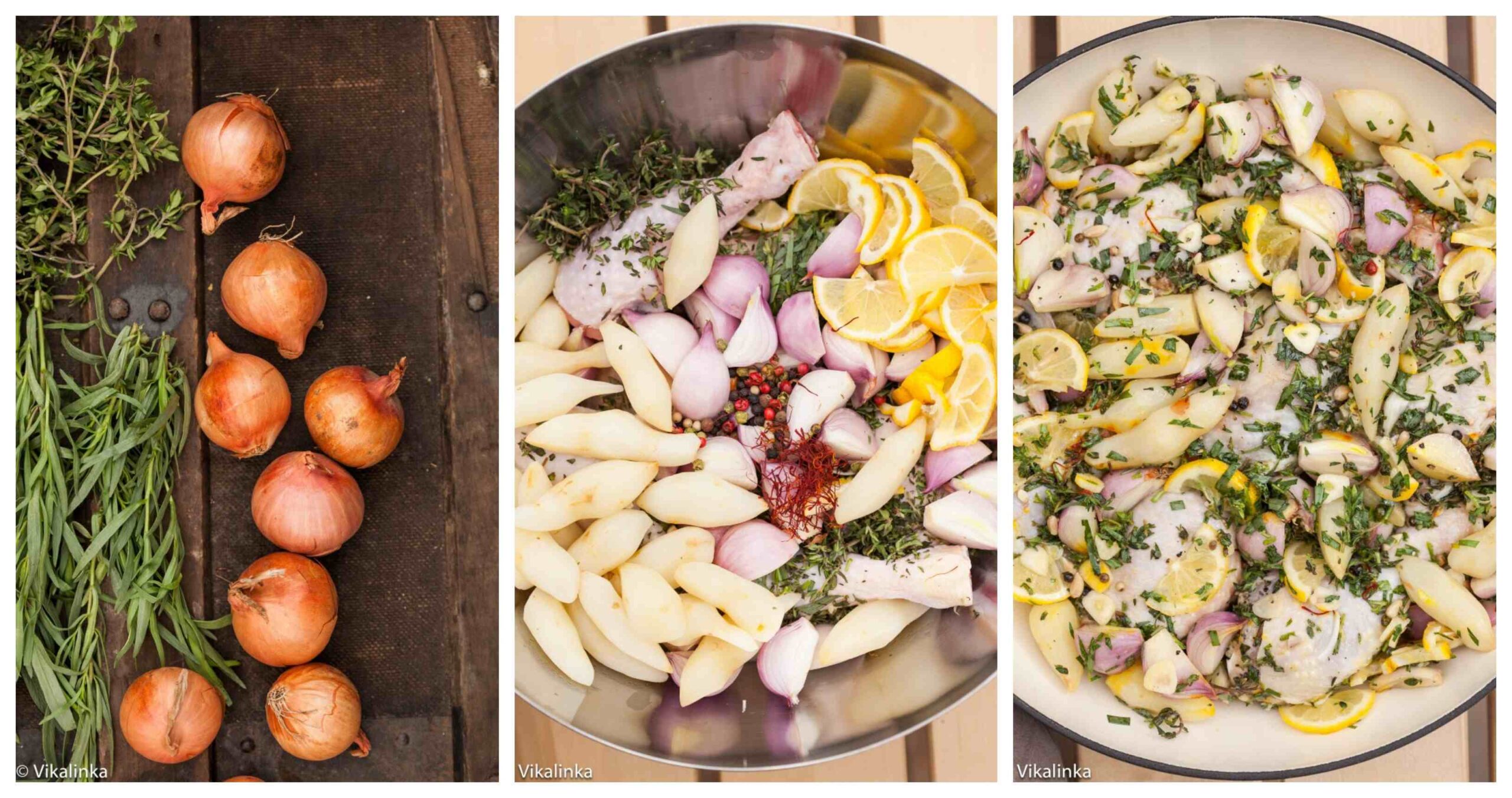 This chicken takes a bit of prep. For all the flavours to come through it needs a few hours to marinade properly.
Good news is you can do it all the night before and let it wait in the fridge until you are ready to put it in the oven. An hour before you are ready to eat just pop it in the oven.
And 45 minutes later you are left with something that will intrigue your taste buds with it's bold taste and beautiful flavour.
Serving Suggestions
Saffron and lemon slices mix so well with Jerusalem artichokes while caramelised shallots and natural juices from the chicken mixed with marinade create a wonderful sauce for the mashed potatoes I served this chicken with!
The authors recommend serving this chicken with Mejadra – a flavourful rice, lentil and fried onion dish, which I am still planning to make. For now I served it with mashed potatoes. Baby steps, right! 🙂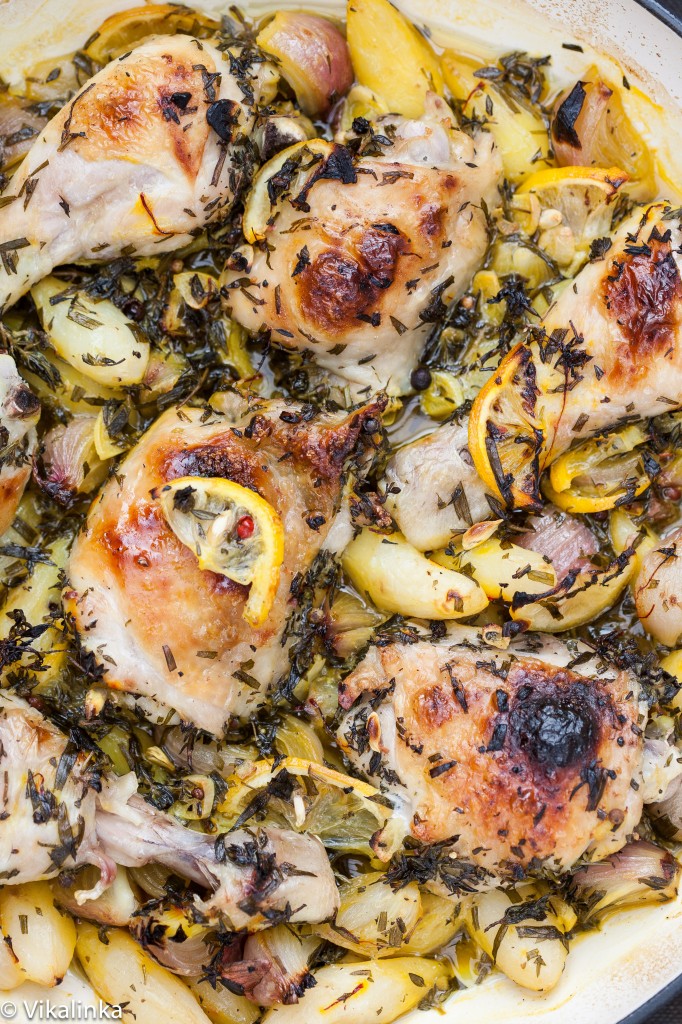 More Middle Eastern Recipes to Try: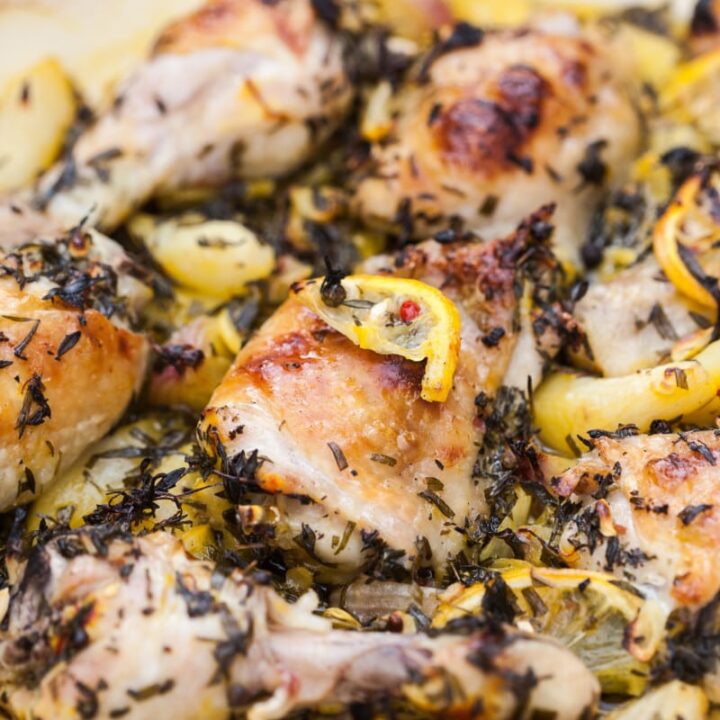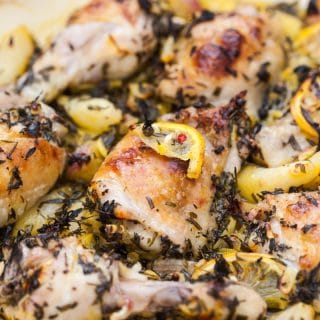 Roast Chicken with Jerusalem Artichokes and Lemons
Chicken marinated with lemon and tarragon, then roasted with Jerusalem artichokes.
Ingredients
350

g

Jerusalem artichokes

peeled and cut into quarters lengthways

3

tbsp

tbslemon juice

8

chicken thighs

or a mix of legs and thighs

12

shallots

quartered lengthways

12

garlic cloves

sliced

1

lemon

cut in half, lengthways and then thinly sliced

1

tsp

saffron threads

50

ml

olive oil

150

ml

cold water

1

tbsp.

pink or mixed peppercorns

slightly crushed

10

g

fresh thyme

chopped

20

g

fresh tarragon

chopped

2

tsp

salt

½

tsp

black pepper
Instructions
Cook Jerusalem artichokes in a medium pot half-filled with water and half of the lemon juice for 10 minutes after the water boils. They should be tender but not too soft. Drain and cool.

In a large bowl combine cooked Jerusalem artichokes, chicken pieces, shallots, garlic, tarragon, thyme, lemon slices, saffron, salt, peppercorns, pepper, oil and water.

Mix everything with your hands (wear gloves if you don't like touching meat) until all ingredients are evenly coated with the marinade.

Cover and let marinade overnight or at least for 2-3 hours.

Preheat the oven to 220C/420F and roast the chicken for 30 minutes. Then cover with a lid or tin foil and cook for 15 minutes longer. (If your chicken is cooked but the skin remains a little too pale, turn your broiler on and broil for 1-2 minutes for a beautiful finish.)

Remove from the oven and sprinkle with remaining lemon juice.