You can make grilled chicken kebab at home, which will give you an authentic taste of your local kebab place without the cost of takeout! The secret is in the marinade and that smoky taste of the grill.
For more summer recipes, take a look at our Grilling Category.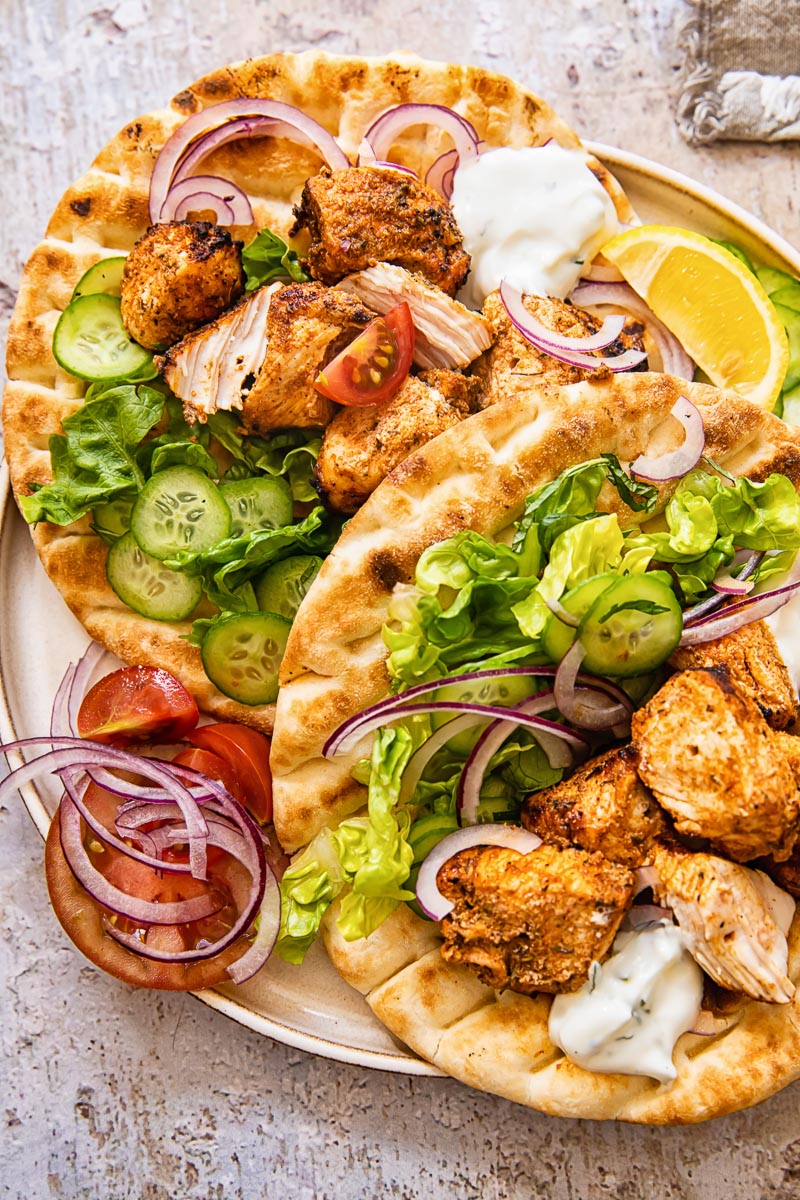 I adore summer cooking as we grill so often, which usually falls on my husband's shoulders. All I have to do is marinate the meat and prepare a couple of salads. Easy, healthy and delicious.
This recipe for shish kebabs is so simple but you could be fooled thinking the chicken came from a real kebab shop. That amazing taste is all down to a clever mix of spices in the marinade.
There are quite a few of them but all readily available in your local supermarket. Have no fear I will walk you through the process.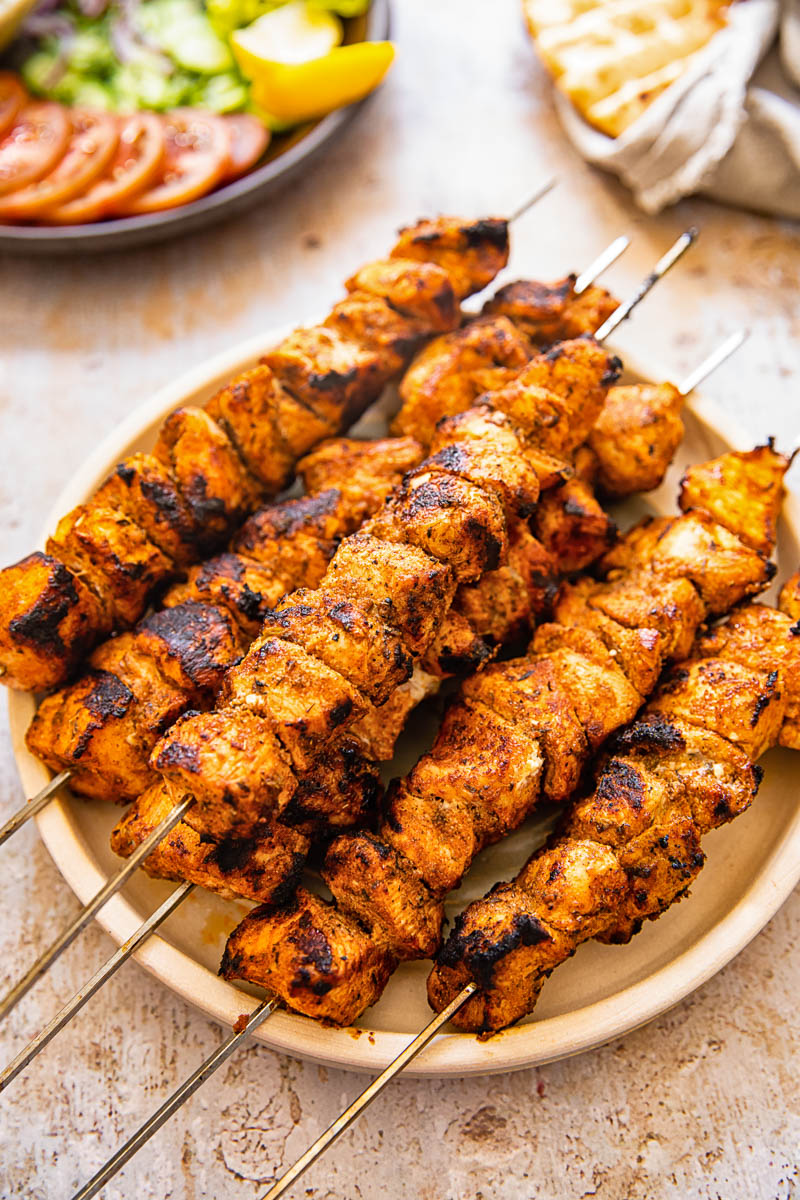 Shish Kebab
Turkish kebabs, Greek souvlaki, shashlik from the Caucasus, Indonesian satay might present differently because of the vast variety of flavours but are essentially the same. They are all dishes of cubed meat threaded on a skewer, then grilled. And they are loved the world over.
Today I am sharing my recipe for chicken shish kebab, not to be confused with doner kebab, which is a Turkish version of the Greek gyros.
While shish kebab consists of bite-sized pieces of meat, threaded on a wooden or metal skewer, the doner kebab is meat cooked on a large rotating spit, which is later shaved thinly and served in a pita or other flatbread.
I love doner kebab but it's not something easily replicated at home. You will need special equipment, patience and skill! Shish kebab on the other hand is extremely easy! It is also leaner, and therefore a bit better for you!
I am using chicken breasts but skinless, boneless chicken thighs would be also tasty and more authentic. You can also use pork or lamb for this recipe.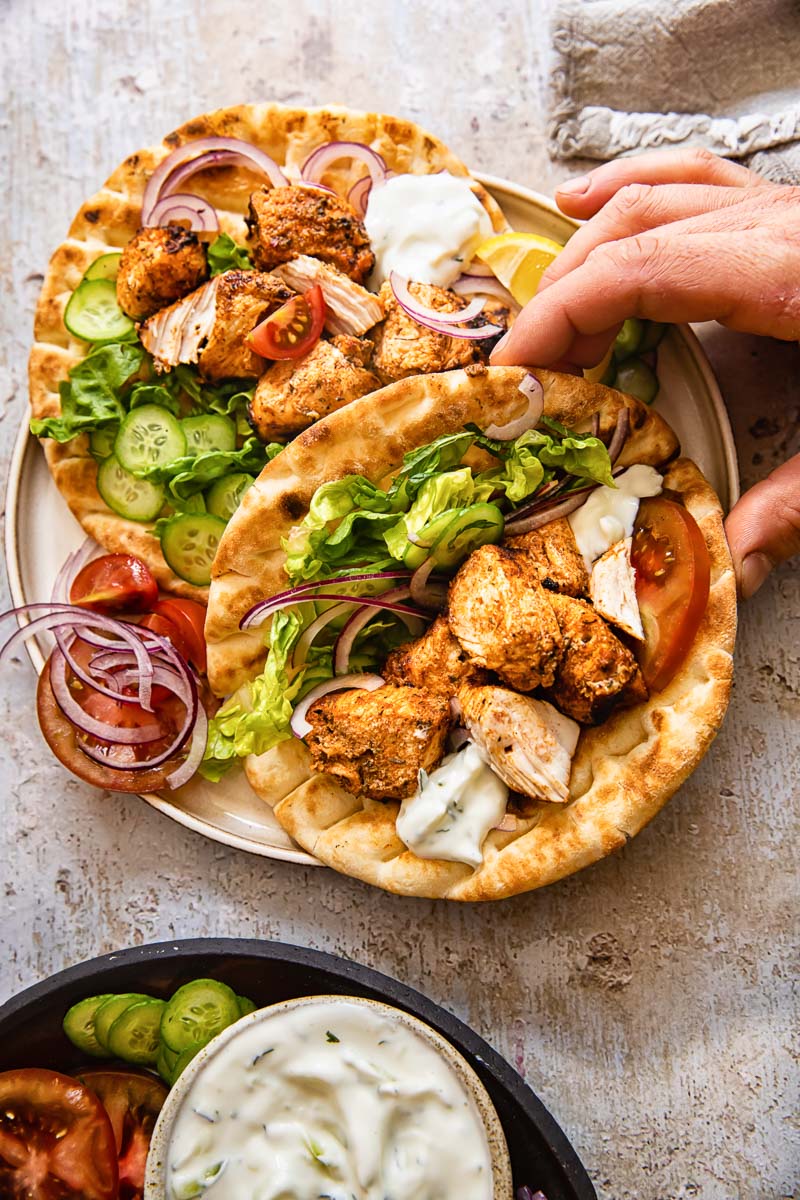 The Marinade
There are obviously numerous recipes for the marinade. I tried to simplify mine as much as possible while still leaving the essentials in for the authentic taste.
Marinating is a clever technique, invented centuries ago, accomplishes two main goals; to tenderise the meat and to impart flavour.
This is especially important for grilling, which happens much quicker than stewing. Since there is no advantage of slow cooking, the meat has to be tender from the start.
The meat we eat nowadays and choose for grilling is of such high quality, it doesn't need tenderisation in the same way it did a hundred years ago. But imparting flavour is another matter entirely. We are always after more FLAVOUR!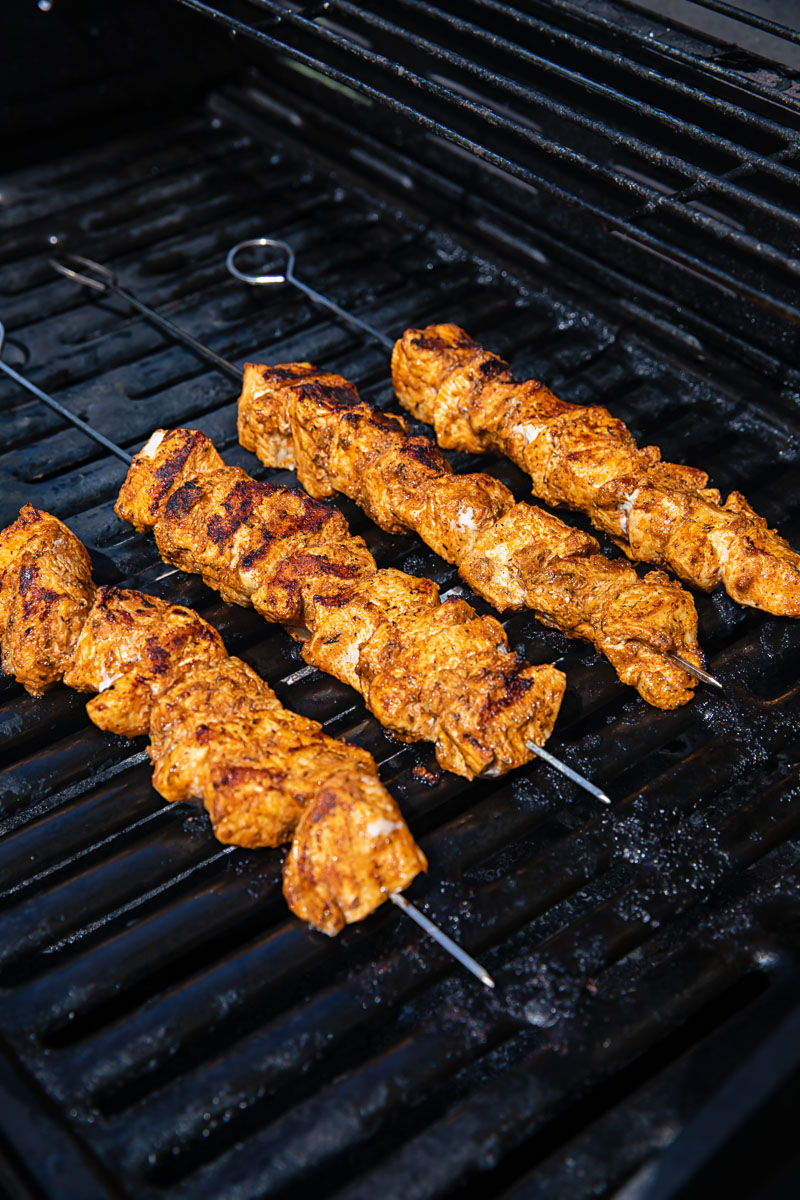 The marinade recipe is a standard mix of acid, fat and spices. I use lemon juice for the acid, olive oil for the fat and an array of dried spices to flavour my chicken.
Among the spices you will find the usual suspects we often see in meat marinades like garlic, oregano, thyme, paprika. What gives this marinade its specific kebab taste is cinnamon and ground cloves in my opinion. Do not skip them!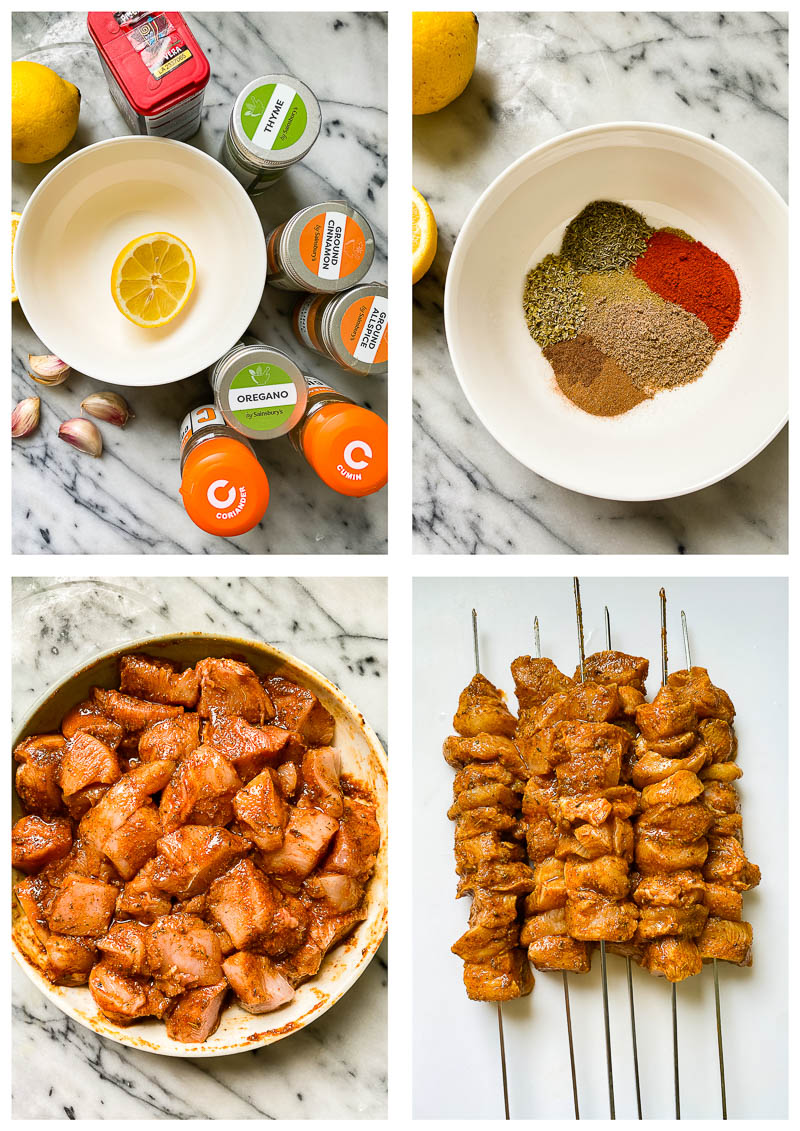 Recipe Tips and Notes
You can choose between boneless chicken breasts or thighs. And although I know many of you prefer to use the breasts, thighs come out juicer and more flavourful if you ask me!
Don't cut the chicken into too small pieces, they will have a higher chance of drying out on the grill. They are also more difficult to thread and keep on a skewer.
If using wooden skewers, soak them in water for at least 30 minutes beforehand or they will catch fire. If you forget, simply wrap the ends in aluminum foil. Better yet, invest in reusable metal skewers. They are durable, do not bend or snap, and the meat slides right off once grilled, which is not the case with the wooden ones.
Never pick up the metal skewers off the grill with bare hands, only with cooking tongs. Give them a few minutes to cool down before you touch them for serving.
It's best to grill these kebabs on a grill with a lid, which traps the hot air and cooks the meat faster without burning it to char.
If you are a nervous griller and always doubt whether your meat is cooked all the way through, it's a very good idea to invest in a instant read digital thermometer. Once your meat temperature is at 165F/75C, it's fully cooked.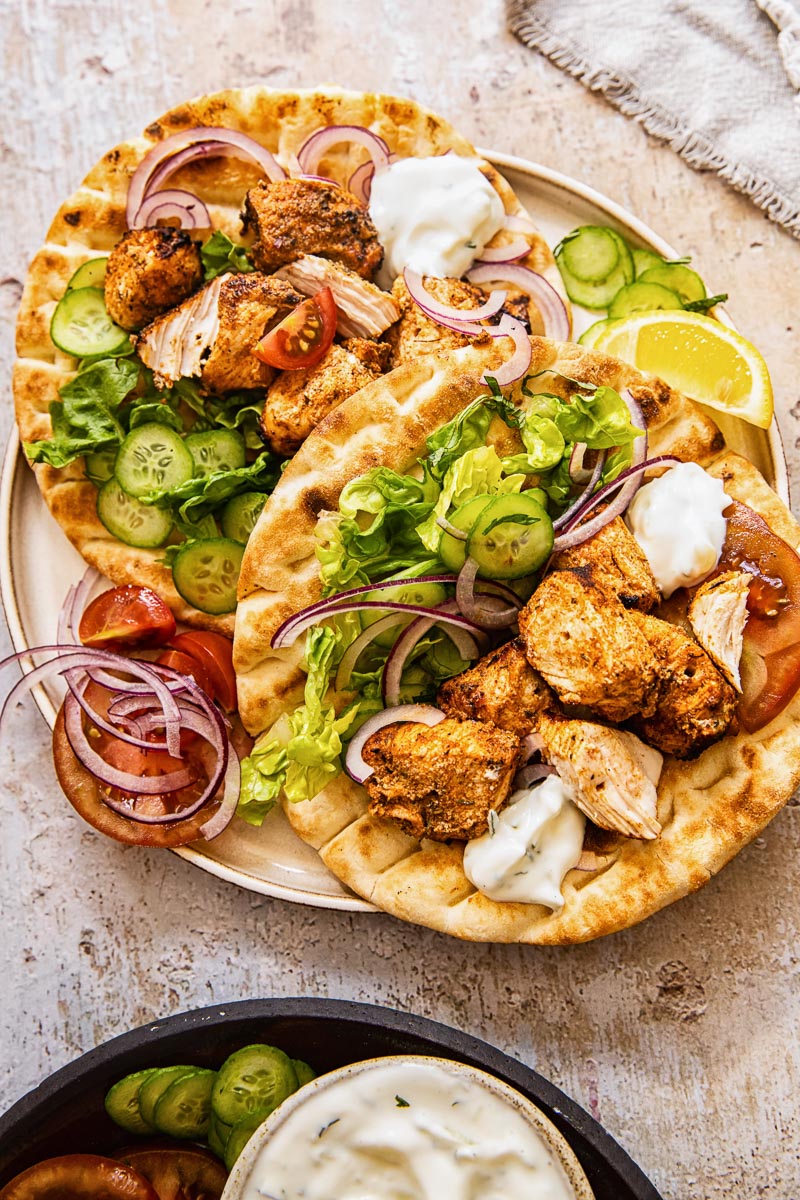 Kebab Toppings
It's no secret that kebabs taste best when decked out with all kinds of extras. My personal favourite is to eat them wrapped in a homemade flatbread or good quality pita.
Inside I love adding a dollop of my homemade hummus, tzatziki, sliced cucumbers, tomatoes and lettuce. Thinly sliced red onions are optional but highly recommended.
More delicious things you can add to your chicken kebab wrap are baba ganoush, fried or grilled halloumi cheese and fries. I know it sounds over the top but local kebab shop deliveries always come with fries!
Add a delicious salad as a side: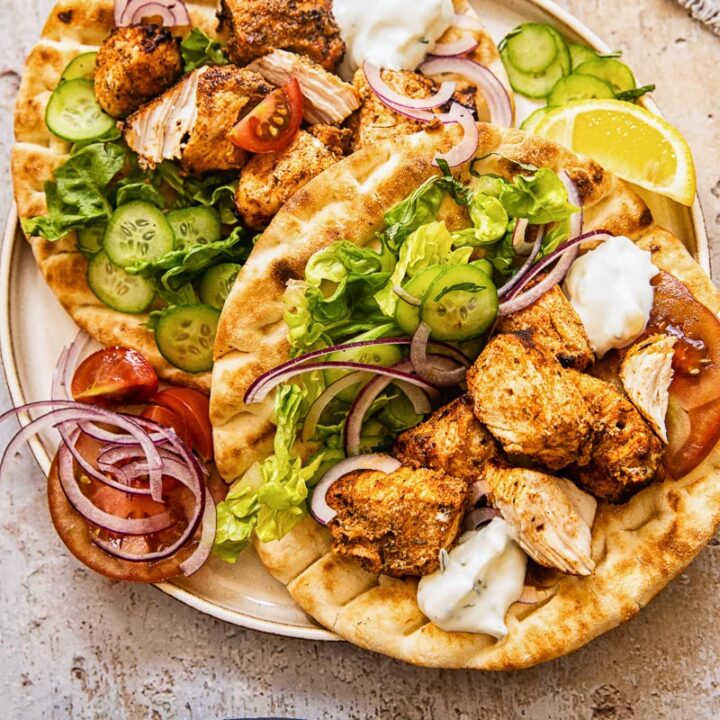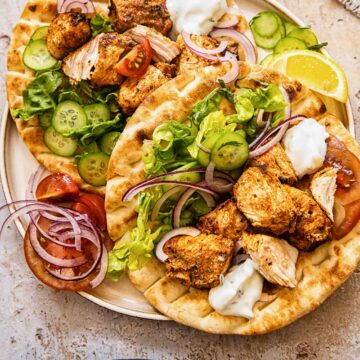 Grilled Chicken Kebab
You can make grilled chicken kebab at home, which will give you an authentic taste of your local kebab place without the cost of takeout! (Makes 6 large skewers)
Ingredients
2

lbs

skinless boneless chicken breasts

cut into cubes
For the marinade
2

tsp

ground coriander

2

tsp

ground cumin

2

tsp

smoked paprika

1

tsp

thyme

1

tsp

oregano

½

tsp

cinnamon

¼

tsp

allspice

1

tsp

salt

1

tbsp

garlic powder

or 6 minced garlic cloves

2

lemons, juice lemon

4

tbsp

olive oil
Instructions
Mix all the ingredients for the marinade and pour over chicken breasts, cut into cubes. Marinate for 2-3 hours in the refrigerator.

Thread the marinated chicken onto wooden or metal skewers. If you are using the wooden skewers, soak them in water for at least 30 minutes, so they wouldn't catch fire.

Grill for 5-7 minutes on each side depending on the size of the chicken pieces. See the body of the post for serving suggestions.
Nutrition
Calories:
269
kcal
Carbohydrates:
3
g
Protein:
33
g
Fat:
14
g
Saturated Fat:
2
g
Polyunsaturated Fat:
2
g
Monounsaturated Fat:
8
g
Trans Fat:
1
g
Cholesterol:
97
mg
Sodium:
566
mg
Potassium:
624
mg
Fiber:
1
g
Sugar:
1
g
Vitamin A:
405
IU
Vitamin C:
5
mg
Calcium:
31
mg
Iron:
2
mg