Grilled chicken breasts are smothered with a spicy peanut sauce on top of a vegetable and rice noodle salad. This delicious summer offering will nourish and satisfy your Asian food cravings!
Take a look at our Thai Green Papaya Salad (Som Tam) if you are looking for a true authentic recipe.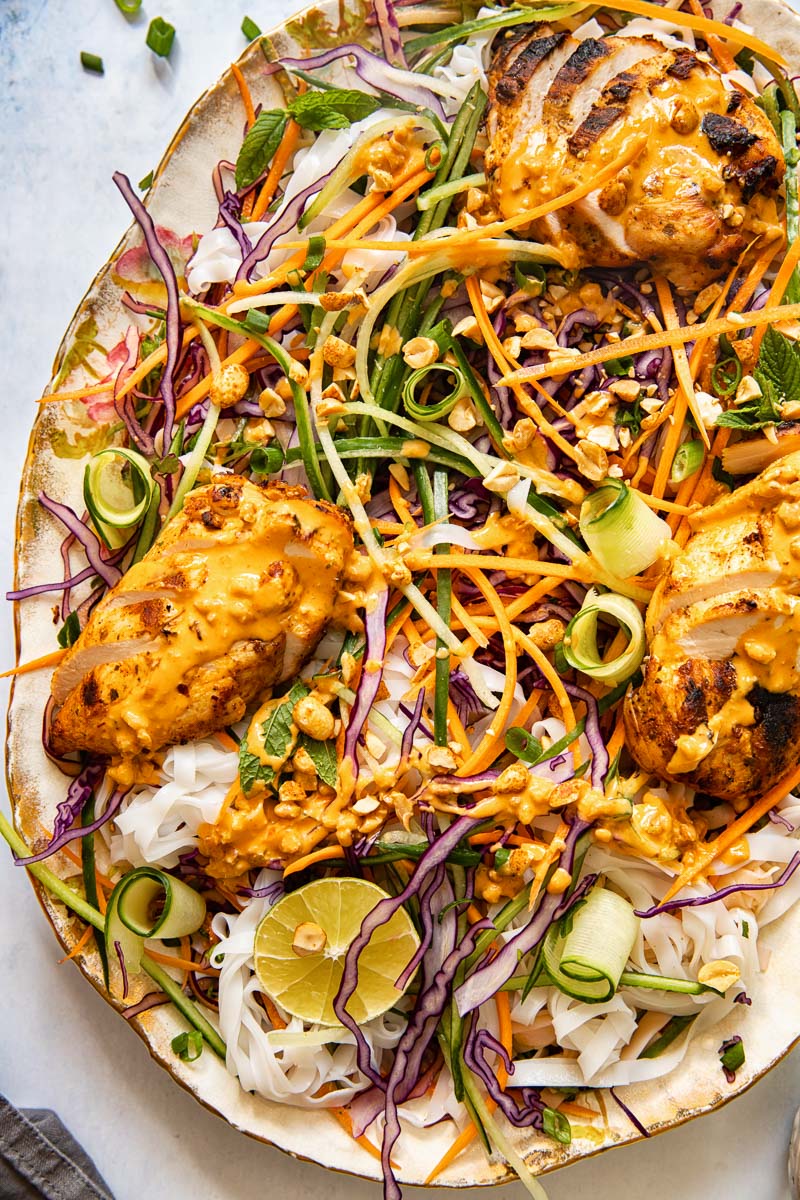 When hot weather arrives all I want to eat is fresh, seasonal ingredients! Just give me some grilled chicken or steak and a pile of vegetables and I am happy!
This grilled chicken salad is exactly the type of food that makes us pine for summer days all year round. Fresh, vibrant flavours, cooked on a grill and enjoyed outside. What could be better?!
Grilled Chicken Breasts
Let me be completely honest with you. I am not the biggest fan of chicken breasts. I enjoy thighs much more and yes, I do grill them! However my kids love chicken breasts and I have to admit they work much better in a salad.
That being said, they do benefit from extra seasoning, which brings us to the subject of sauces and marinades. Those two are perfect for amping up the taste and flavour of mild chicken breasts!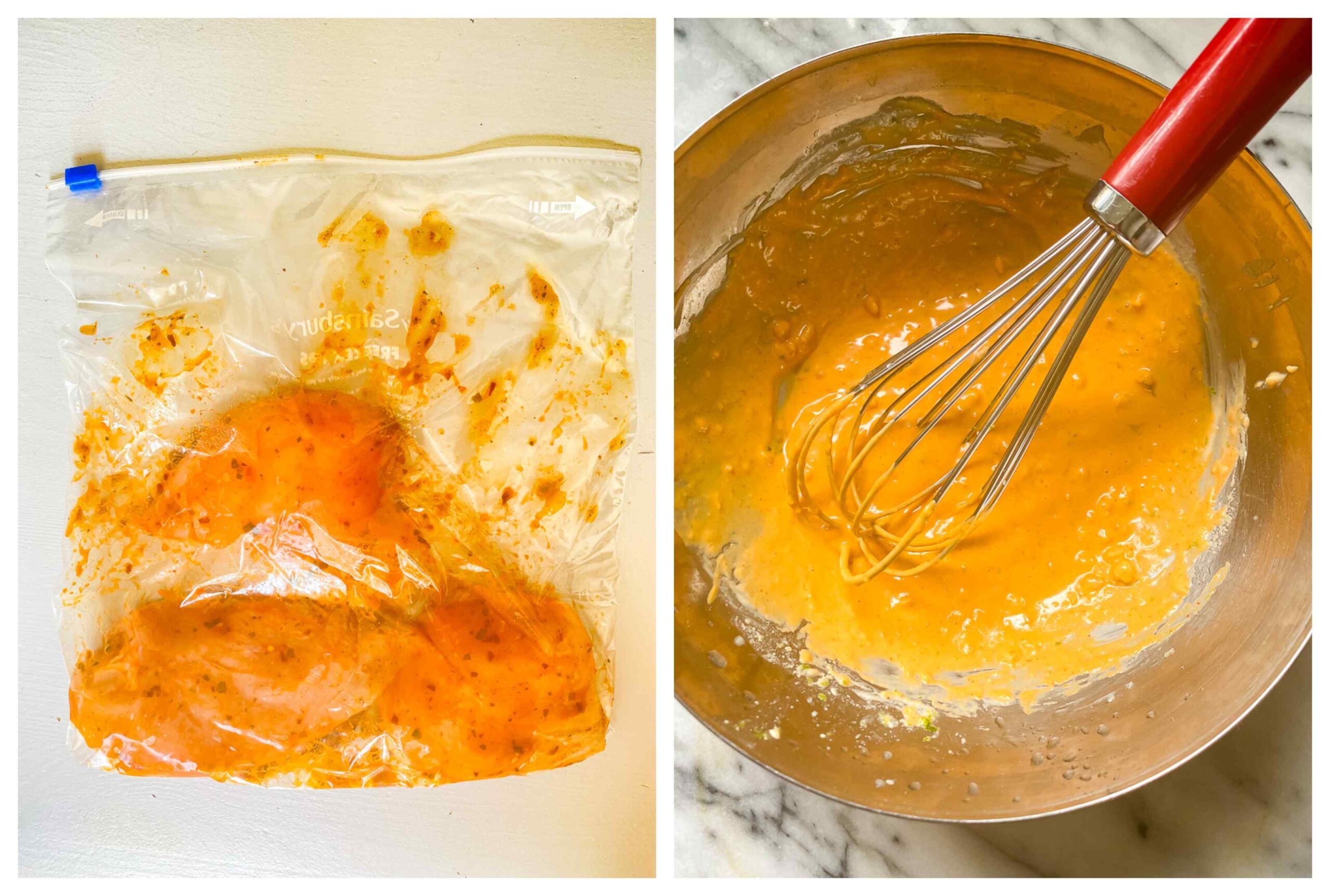 Thai Chicken Marinade
I absolutely adore Thai flavours. This recipe for easy Thai Red Curry with Prawns and Snow Peas is my favourite in any season. Sweet, sour, spicy and salty! The cornerstones of the Thai cuisine. I think these flavours work perfectly in the summer and they are easy to achieve with a little kitchen hack.
Store bought curry paste is what I use for a quick marinade. Just smother the chicken breasts with Thai red or green curry paste and let them marinade overnight or for 2-3 hours.
How to Grill Chicken Breast
No one likes a dry chicken, which can happen very quickly on a hot grill, so let me tell you exactly what to do to avoid this travesty.
Make sure your chicken breast is the same thickness throughout. I cut my chicken in half lengthwise, then pound the thicker part to even it out.
If you are using marinated chicken, you are already ahead of the game as the marinade will tenderise it.
Clean the grill and oil it to prevent the chicken from sticking.
Avoid intense heat! Chicken breast is very lean, so cooking it over high heat will only dry it out and burn the outside.
Use a combination of the direct and indirect heat for the best results. This means you will place the chicken breasts on direct heat for about 2 minutes on each side to get those beautiful grill marks.
Then move over to the indirect lower heat, cover the BBQ and continue cooking until done. This will take approximately 5-7 minutes for chicken cutlets and 15 minutes for a full chicken breast. Don't forget to flip halfway through.
Although it's great to have a time marker, what is more important is to rely on the internal temperature of the grilled chicken breast, which should read 165F/74C. Invest in a digital meat thermometer!
Rest your chicken for 5 minutes before slicing.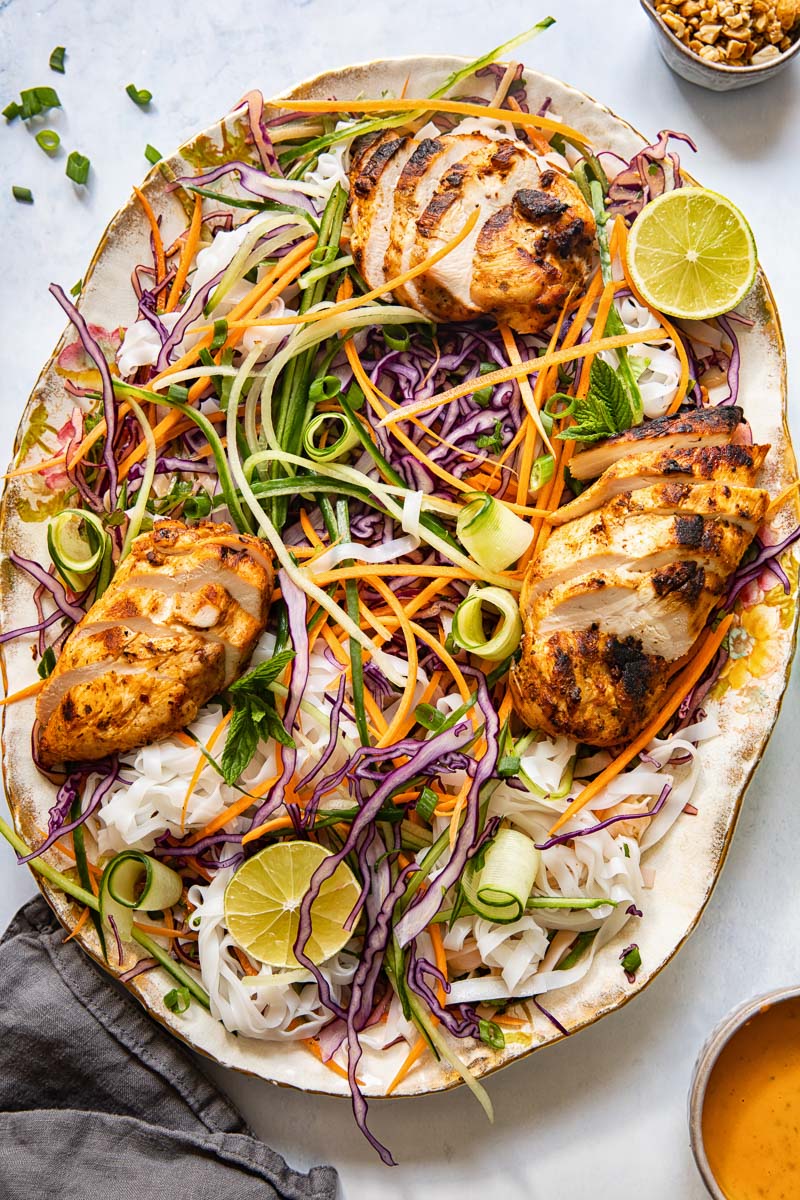 Spicy Peanut Sauce
The second part of the flavour building is the sauce. Spicy peanut sauce is delicious and so easy to make at home. If you are allergic to peanuts, substitute with almond butter.
Just a quick mix of the crunchy peanut butter, soy sauce, ginger, garlic, lime juice and spicy Sriracha will give you the most gorgeous concoction! I prefer using crunchy peanut butter for the texture it adds but a smooth kind will also work.
Just imagine pouring that sauce all over your slightly charred, fresh off the grill tender chicken breasts. Flavour explosion.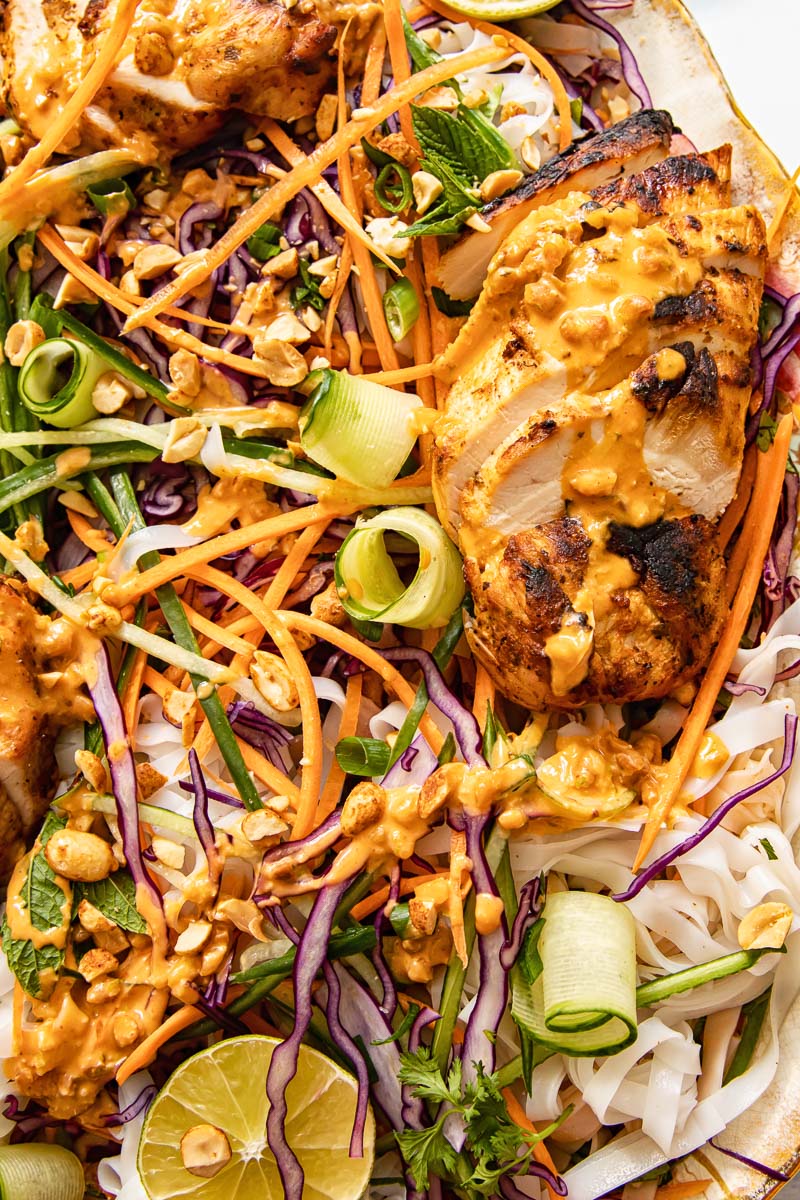 Noodle Salad
Since this salad is meant to be eaten as a main meal and not just a little side, I added rice noodles to the mix to make it a bit more substantial.
If you are not a fan of rice noodles, feel free to use either ramen noodles or medium egg noodles from an Asian aisle of your supermarket. Even spaghetti can work in this delicious salad! And if you want to increase your fibre intake, swap for wholewheat noodles!
Now let's talk about the vegetables. I wanted my salad to have a lot of texture, so I chose red cabbage, carrots and cucumbers to achieve that crunch. I also cut them all into long thin strips to mimic the shape of the noodles in the salad.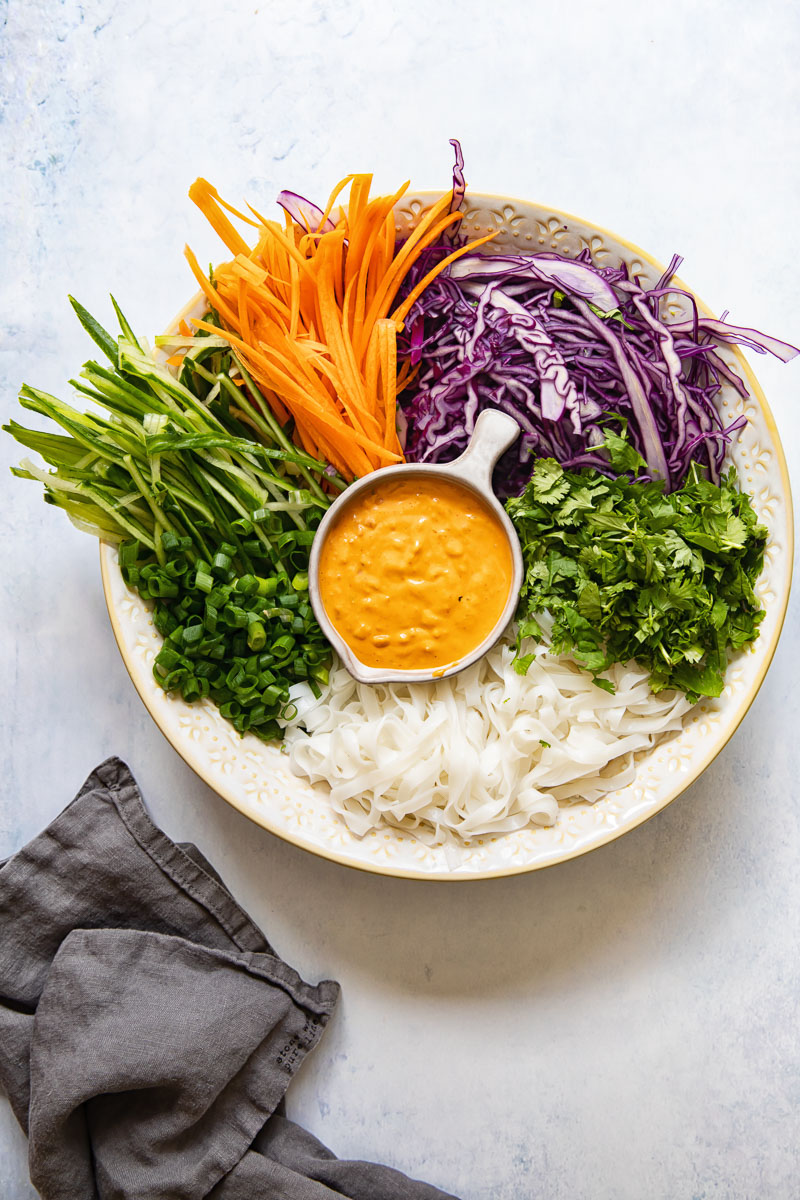 A julienne peeler works really well to create that look or use a vegetable grater to keep things simple. You can also use a regular vegetables peeler to shave thin cucumber slices.
I also added a bunch of green/spring onions and fresh cilantro for a punchy flavour. Finally, roasted peanuts are sprinkled all over the grilled chicken salad right before serving.
More Favourite Summer Salad Recipes to Try:
Or explore our large Salad Recipe Collection for inspiration.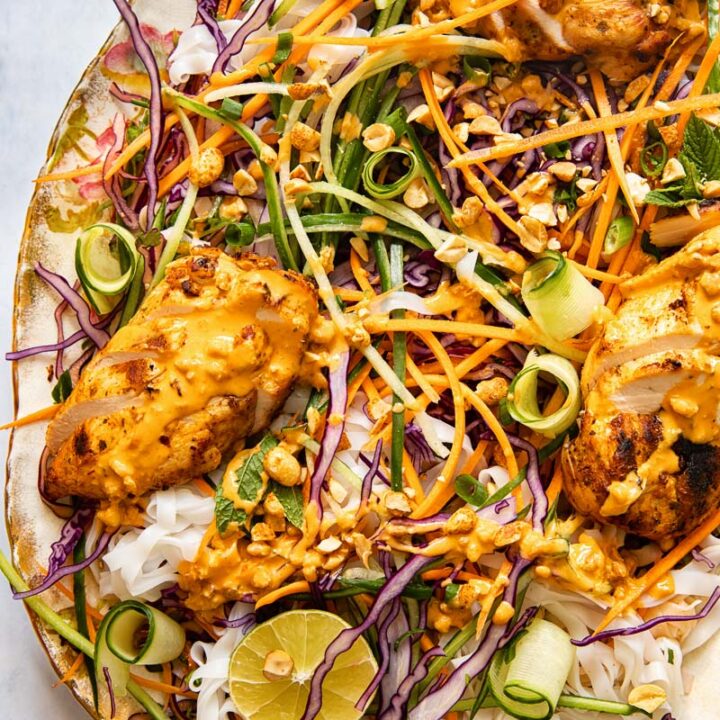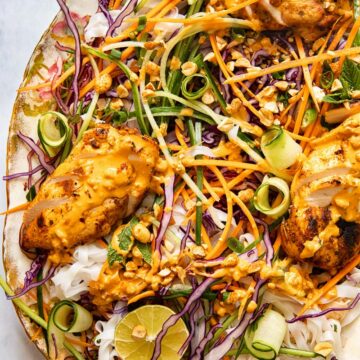 Thai Grilled Chicken Salad
Grilled chicken breasts are smothered with spicy peanut sauce on top of a vegetable and rice noodle salad. This delicious summer offering will nourish and satisfy your Asian food cravings.
Ingredients
4

skinless boneless chicken breasts

4

tbsp

Thai red curry paste for the marinade

100g/3 nests

rice noodles

⅓

head

red cabbage

2

carrots

½

long English cucumber

4

green/spring onions

20g/1/2 cup

fresh cilantro/coriander

3-4

mint leaves for garnish

optional

4

tbsp

roasted peanuts
For the dressing
3

tbsp

crunchy peanut butter

2

tbsp

boiling water

3

tbsp

soy sauce

½

tbsp

grated ginger or jarred ginger paste

1

clove

garlic

grated or pressed

1

tbsp

Sriracha sauce or ½ tsp chilli flakes

1 ½

limes

juice and zest

salt to taste
Instructions
Cut each chicken breast in half lengthwise, then pound the thicker part of the chicken breast to flatten and even it out. Spread the red curry paste all over the chicken breasts and let them marinated for 2-3 hours in a refrigerator. Place the chicken breasts on a preheated grill on high heat and grill for 2 minutes on each side, then move to the indirect heat, cover the lid of the grill and cook for 5-7 minutes until cooked all the way through and the internal temperature reads 165F/74C. Rest for 5 minutes before serving.

Make the salad dressing by mixing the peanut butter with boiling water to loosen it a bit, then stir in the soy sauce, grated ginger or ginger paste, sriracha sauce, pressed garlic and the zest and juice of 1 ½ limes.

Prepare the rice noodles according to package instructions. Slice the red cabbage thinly, then cut the carrots and cucumber in thin long strips. Use a julienne vegetable peeler if you have one. Chop the cilantro and slice the green onions.

Drain and rinse the noodles in cold water, then combine them with the vegetables and toss with the peanut dressing reserving 3-4 tbsp of the dressing. Add salt to taste. Serve topped with sliced grilled chicken and chopped peanuts. Drizzle the reserved dressing all over the chicken breasts before serving.
Nutrition
Calories:
420
kcal
Carbohydrates:
38
g
Protein:
34
g
Fat:
15
g
Saturated Fat:
3
g
Polyunsaturated Fat:
4
g
Monounsaturated Fat:
6
g
Trans Fat:
1
g
Cholesterol:
72
mg
Sodium:
1163
mg
Potassium:
998
mg
Fiber:
6
g
Sugar:
7
g
Vitamin A:
8728
IU
Vitamin C:
48
mg
Calcium:
109
mg
Iron:
3
mg