This Thai Red Curry is quicker to make at home than to order a takeaway! Not to mention cheaper!!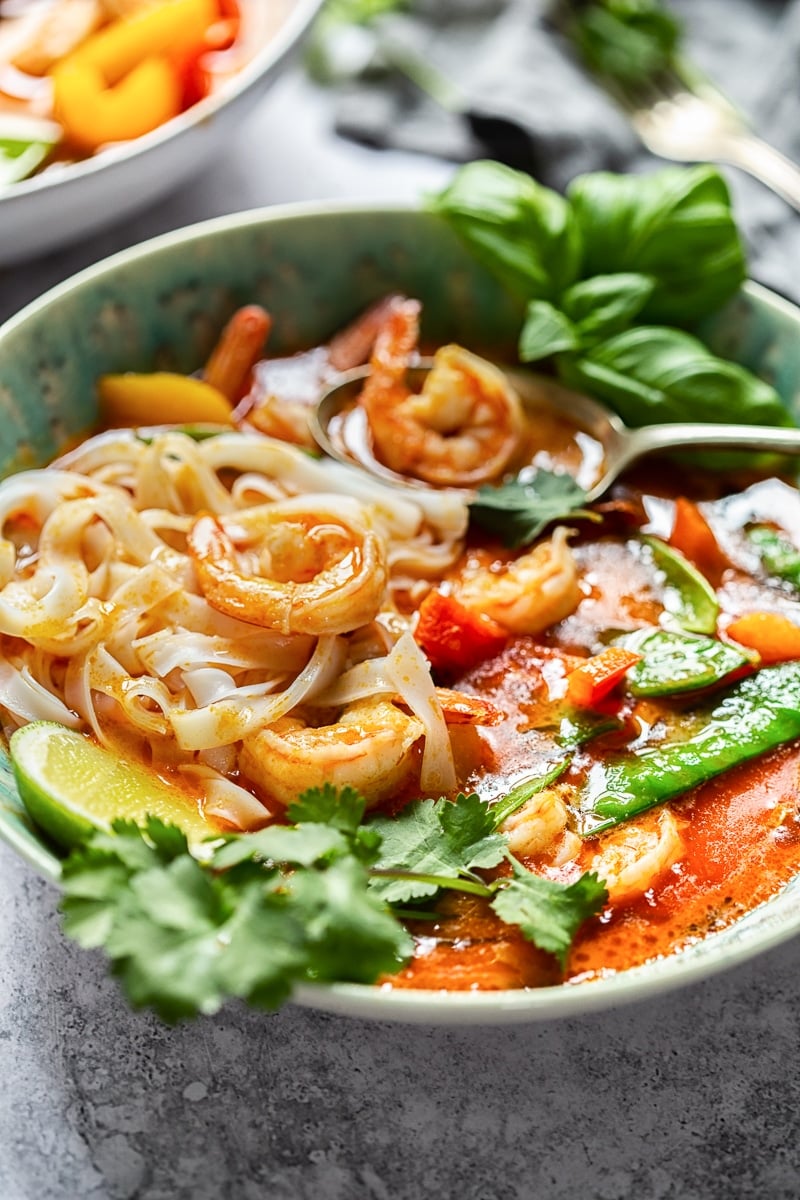 Are you, like me, still recovering from Christmas feasting? To be honest, I haven't felt truly hungry even once in about 2 weeks.
You know the kind of ravenous feeling you get as soon as you step through your front door when you get home from work and every question your child asks you is nothing but white noise and, even worse, an obstacle between you and the fridge.
You are completely famished, you need food NOW. You get me, right?
Well, I haven't felt that in a while with Christmas cookies stashed in every available tin, chocolate boxes in every room in the house and mixed nuts in a bowl on my coffee table. At least those are still in their shells so it takes some effort to crack them before I stuff my face with more food!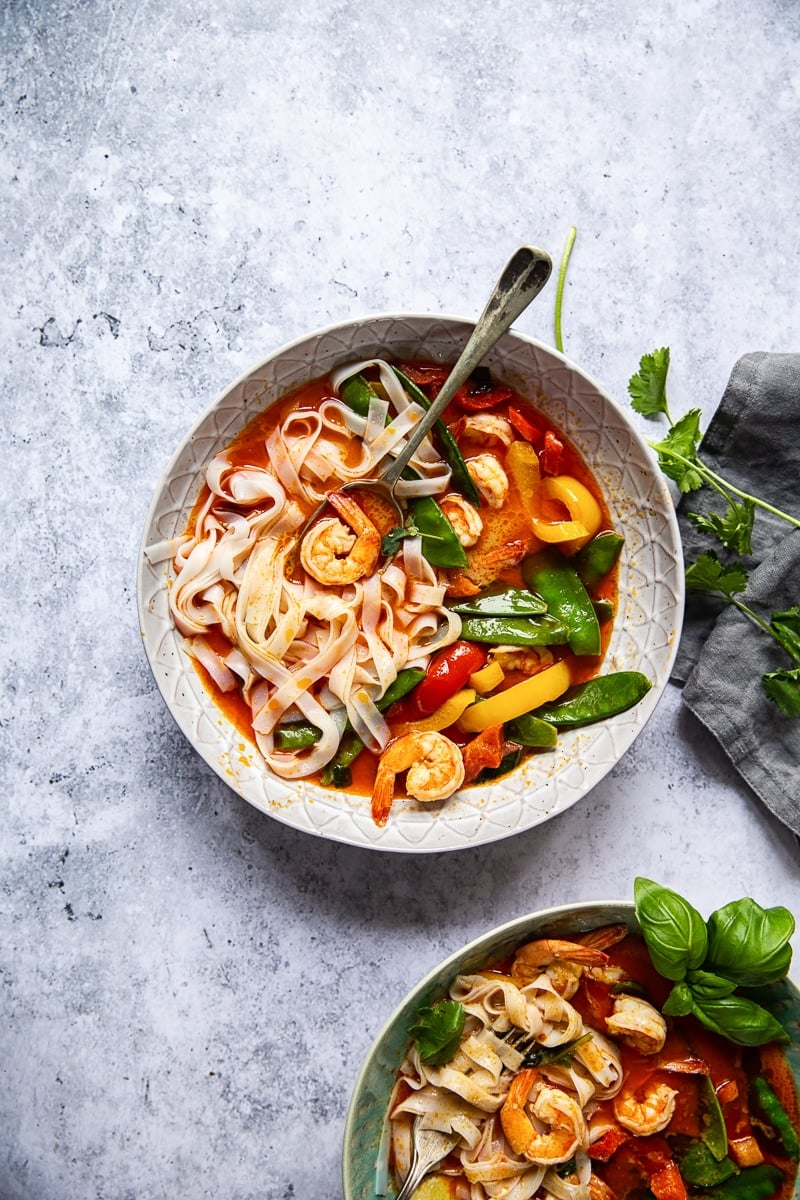 We all need something light, something easy and something spicy to smack us out of post-Christmas lull. Thai Curry it is, friends. We love it, you love it, so why are we not cooking it?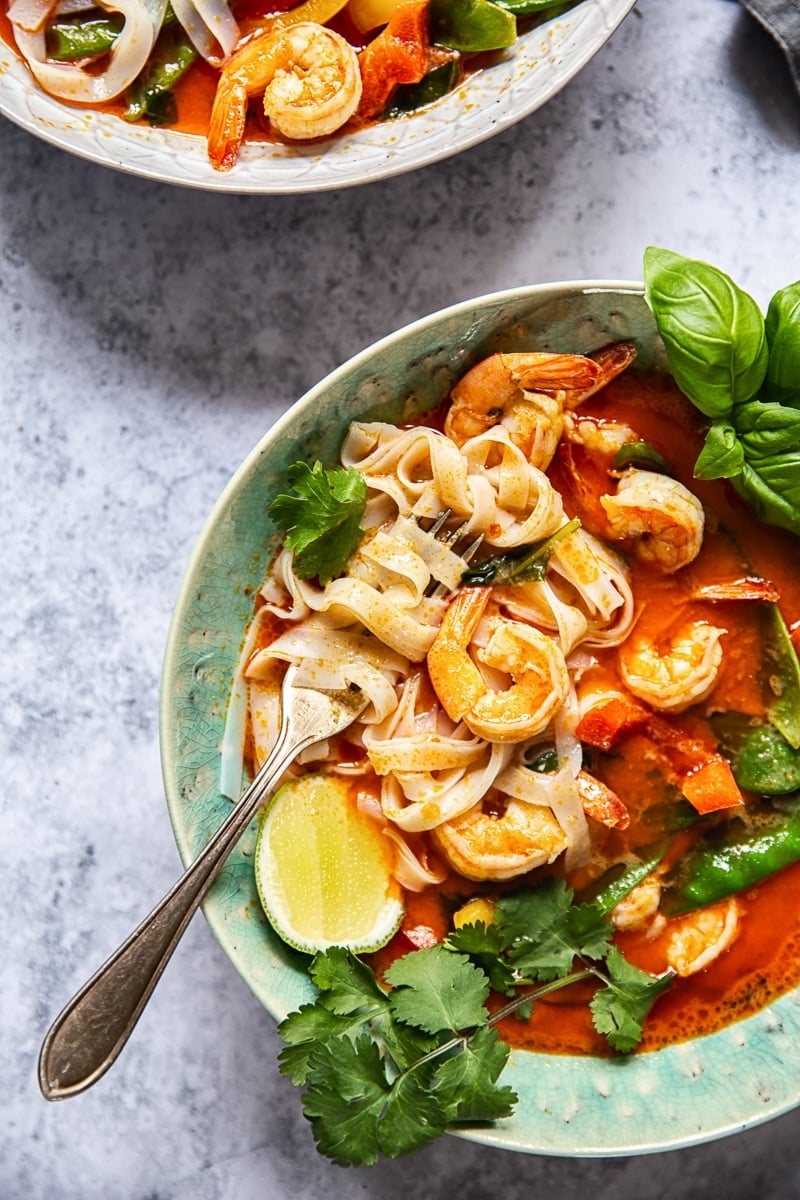 You will love this recipe because it's exactly the kind of dish that will warm you up from the inside on a cold winter night.
It's colourful and delicious and takes 15 minutes to make with barely any chopping involved. Throw your rice in the rice cooker and by the time that button indicating the time is up clicks, your curry is done.
The dinner prep is finished before a kid is able to complete his "mom, what's for din…" question.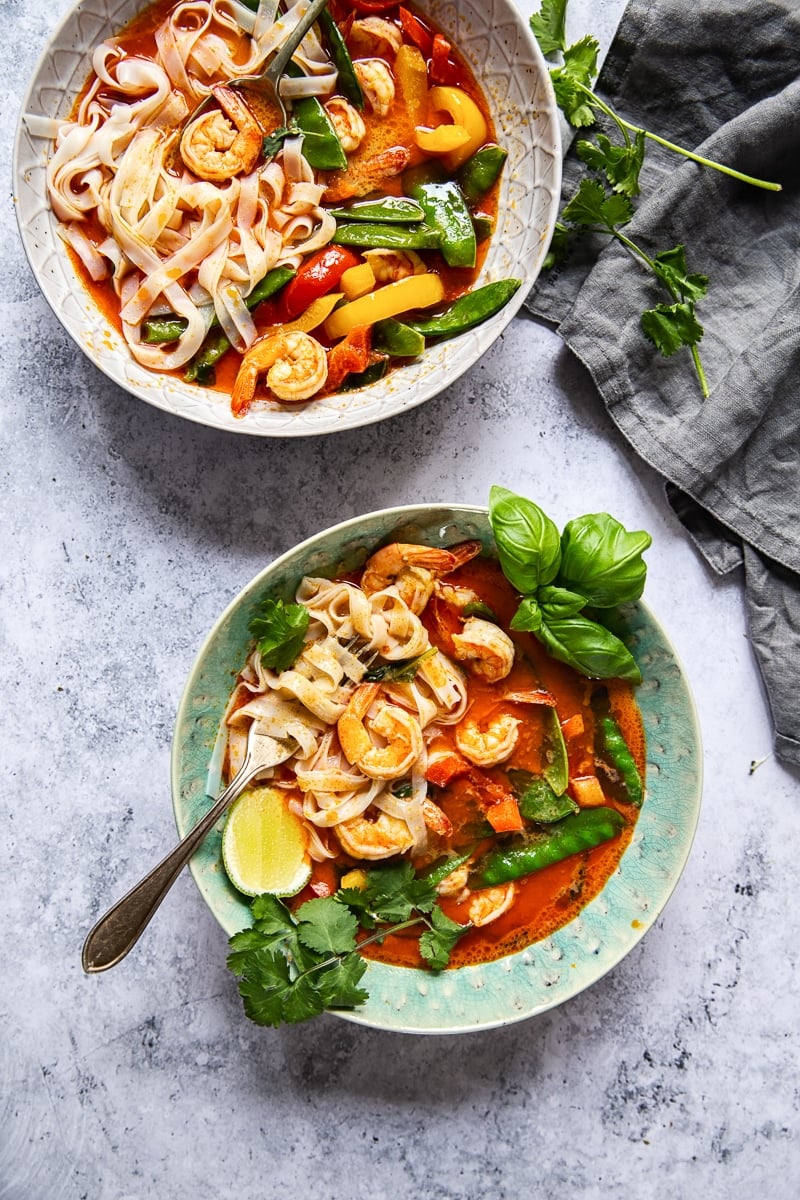 This curry is made with prawns but you can easily substitute it with chicken or make it vegetarian (which I often do). You can also add any vegetables you like to it. Green beans, mushrooms, asparagus, and zucchini all taste amazing.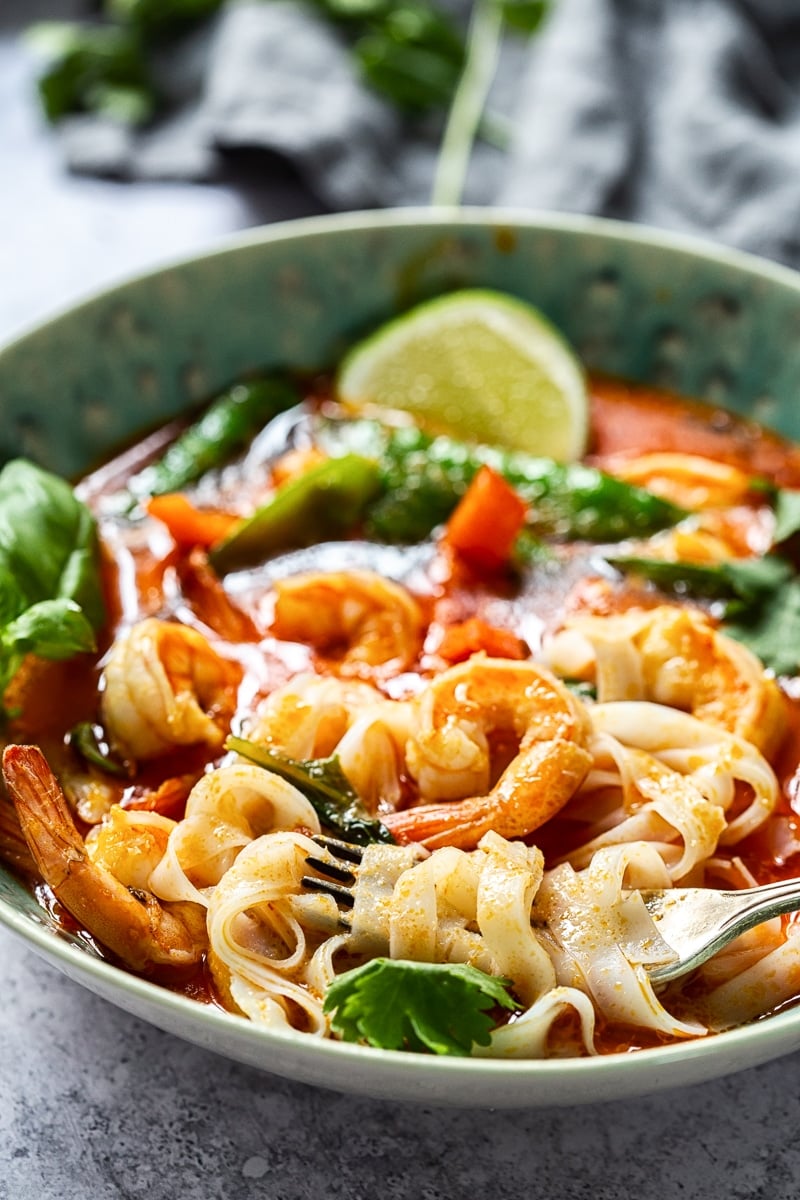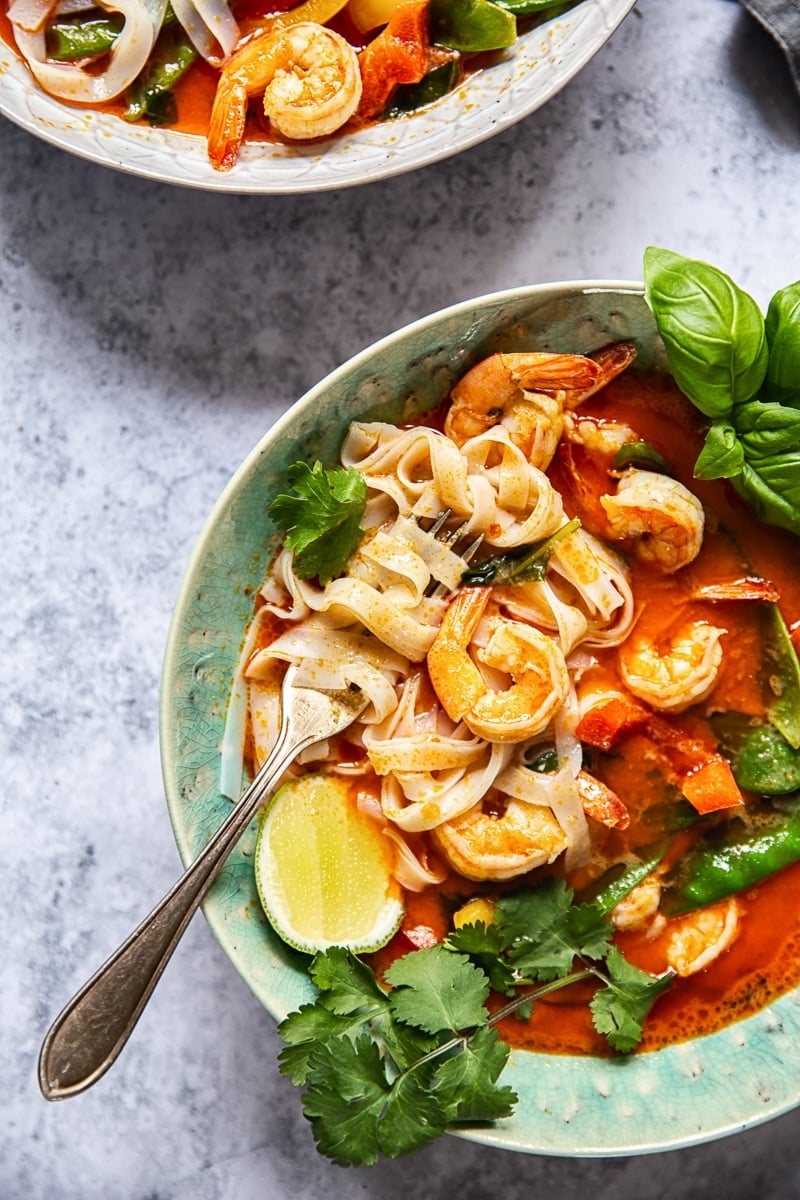 Ingredients
Oil- 1 tbsp.

Sesame oil

optional- 1 tbsp.

Fresh red chile

sliced- ½

Yellow or red pepper- 1 large

Thai Red Curry Paste- 2 tbsp. if using very thick

concentrated paste, ½ cup/190gr if using runnier paste (for UK readers)

Prawns/shrimp- 1 lbs

Coconut milk- 1 can

Fish sauce- 1 tbsp.

Snow peas- 1 cup

Cilantro

chopped- half a bunch

Lime juice- from ½ lime

Basil leaves-2-3
Instructions
Slice the bell pepper and fresh chile.

Take cilantro leaves off their stalks, chop up the stalks finely.

Heat a large frying pan on medium heat and when it's hot add both vegetable oil and sesame oil.

Then add chopped cilantro stalks, sliced pepper and chile, stir fry for a couple of minutes.

Add your curry paste and cook it while stirring for a minute, then pour in coconut milk and fish sauce, mix to combine.

Add your shrimp and snow peas and cook for 3 minutes. Both of those need very little time to be done. As soon as shrimp turns pink turn the heat off.

Stir in cilantro and basil leaves.

Taste your curry and squeeze some lime juice into it if needed.

Serve with rice or noodles.