This vegetarian Thai green curry made with new potatoes, snow peas, chickpeas and broccoli and a healthy splash of coconut milk is ready in no time and is absolutely delicious. What a wonderful recipe to enjoy when spring produce arrives!
If you are a Thai food lover, check out our Thai Red Curry with Prawns and Snow Peas or Slow Cooker Thai Chicken and Wild Rice Soup.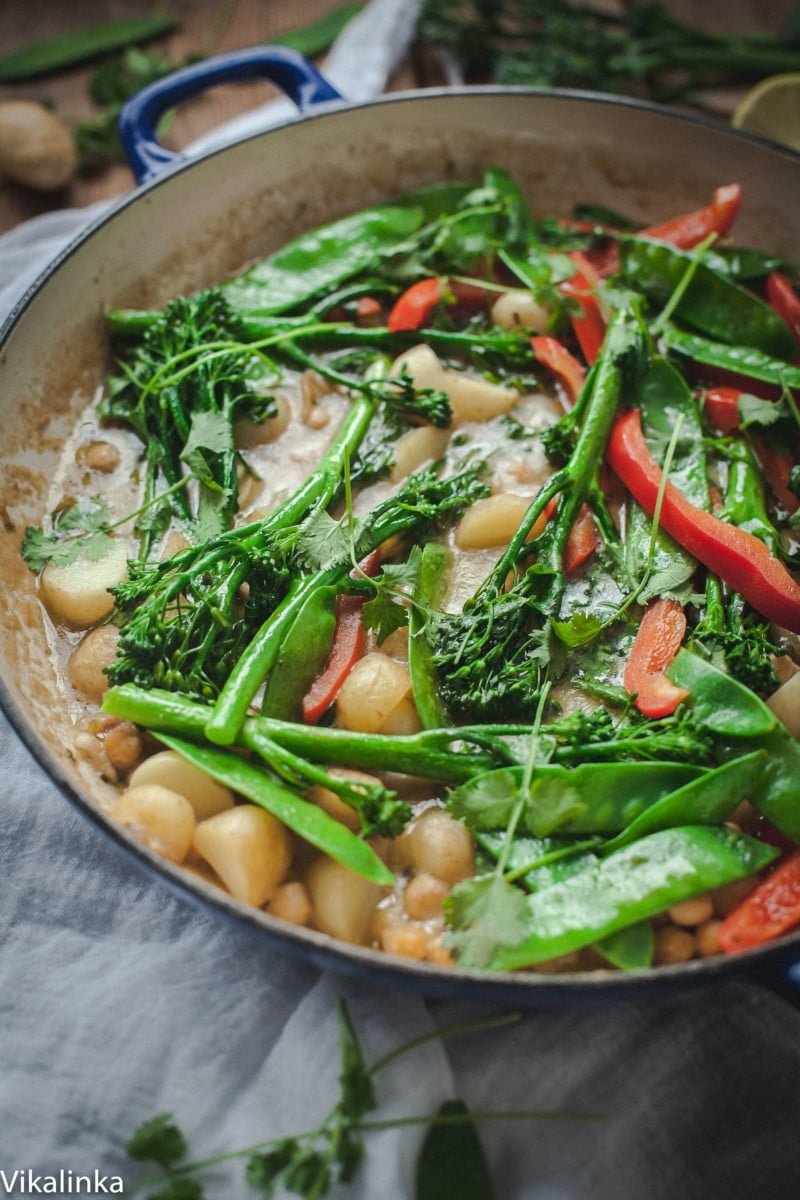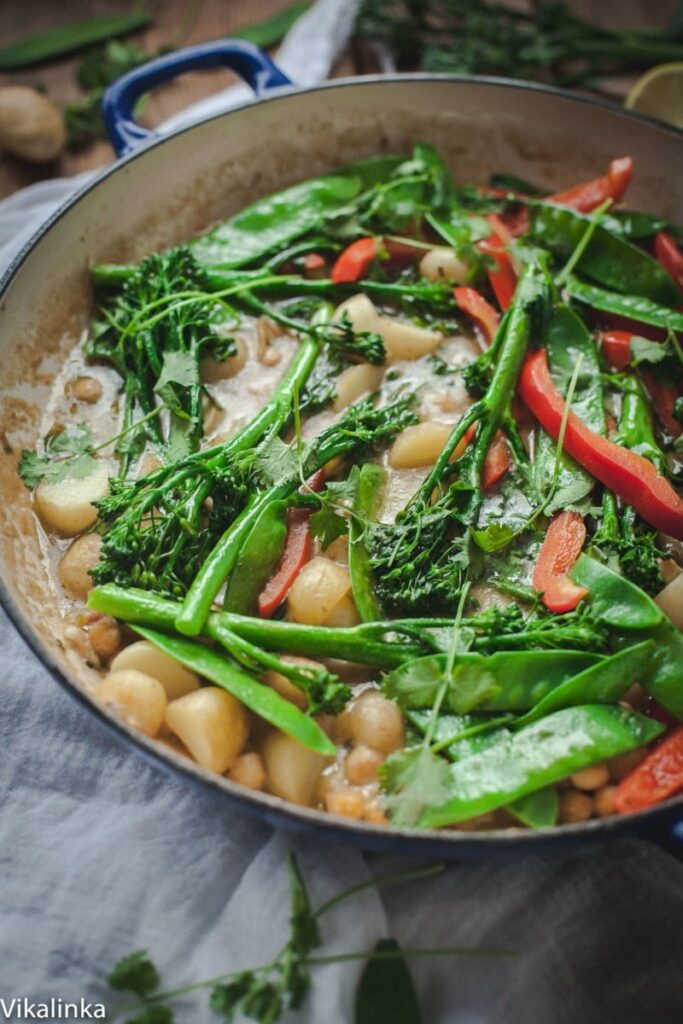 Whenever my vegetable crisper is overflowing with produce, I often turn to curries. Served with steamy rice they are loved by everyone in the family and take almost no time to prepare.
The type of curry depends on what I have available. I usually don't bother with making my own curry pastes. They take a lot of time, quite a bit of local cuisine knowledge and a long list of ingredients.
Instead I buy good quality curry pastes, that have been put together by experts. Just look at the list of ingredients below. Put up your hand if you have them all in your fridge. I certainly don't.
What ingredients go into Thai green curry?
Thai green curry paste, which is usually made with fresh green chillies, ginger, garlic, cilantro/coriander stalks and roots, lemongrass and a lot more aromatics.
coconut milk
lime juice
vegetables
chicken, fish, beef, seafood (optional)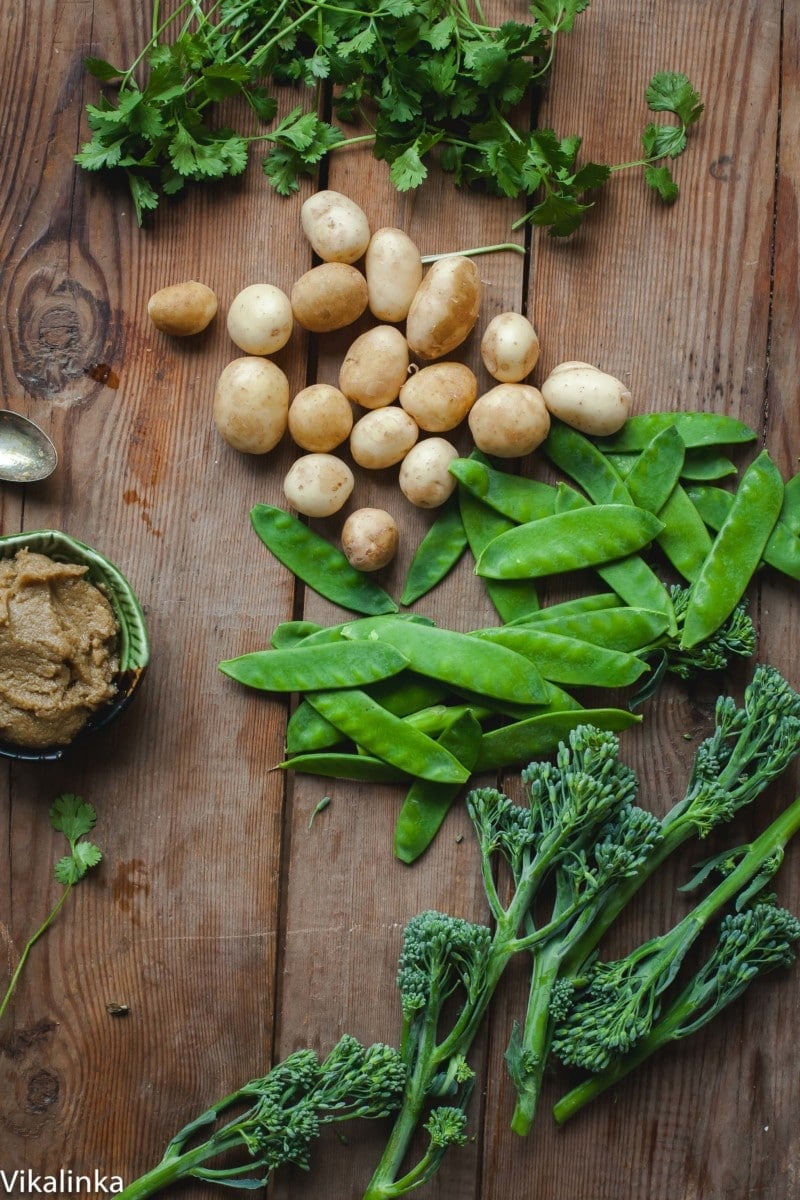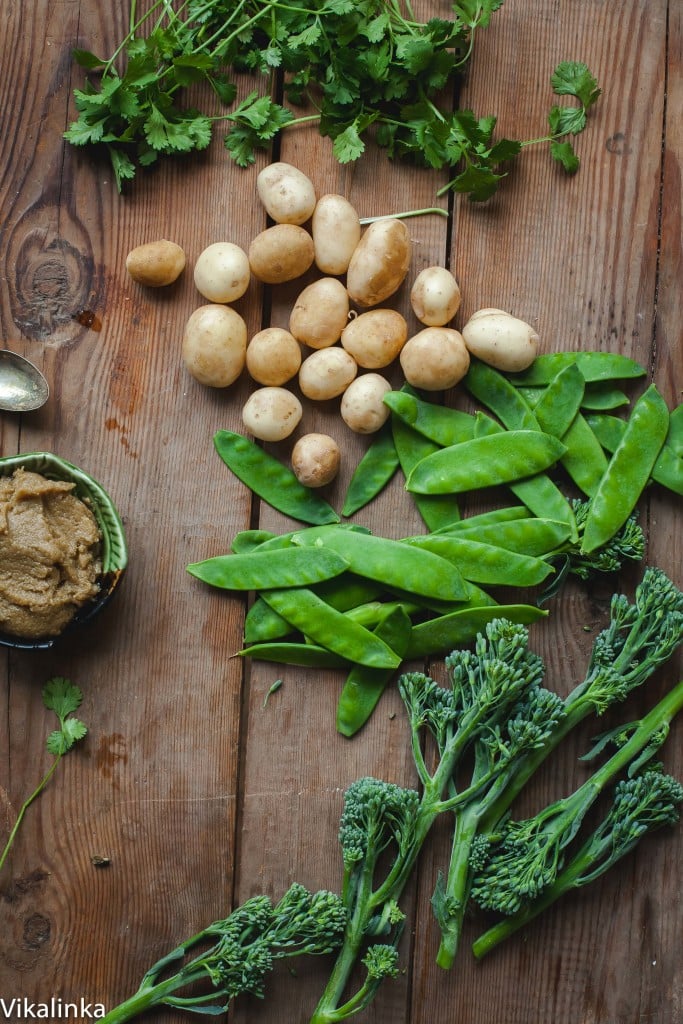 How do I make Vegetarian Thai Green Curry?
Usually we start by making our own green curry paste, which is not difficult but time consuming and requires a lot of specialty ingredients. So I often skip that step and buy a high quality premade curry paste.
Stir fry finely chopped cilantro stalks in vegetable and sesame oil. Both the stalks and the sesame oil add so much extra flavour.
Then add the green curry paste and cook briefly over medium until the aroma is released, no longer than 20 seconds. Then add the coconut milk, fish sauce or vegetarian fish sauce substitute, baby potatoes and chickpeas for extra protein and texture in this vegetarian curry. Turn the heat down and simmer covered for about 10 minutes until the potatoes are nearly done.
Then add your delicate vegetables than only require a few minutes of cooking like tenderstem broccoli, snow peas and sliced red bell pepper and cook them uncovered for 5-7 minutes until vegetables are cooked but still slightly crunchy and vibrant in colour.
Before serving with rice or noodles add a squeeze of fresh lime juice and sprinkle with chopped cilantro.
What is the difference between Thai red and green curries?
The main difference is in the chillies. Dried red chillies are used in red curries while green curries are prepared with fresh green chillies, making them less spicy.
So if you are not a fan of spice, go for Thai green curries and explore this wonderful and aromatic cuisine.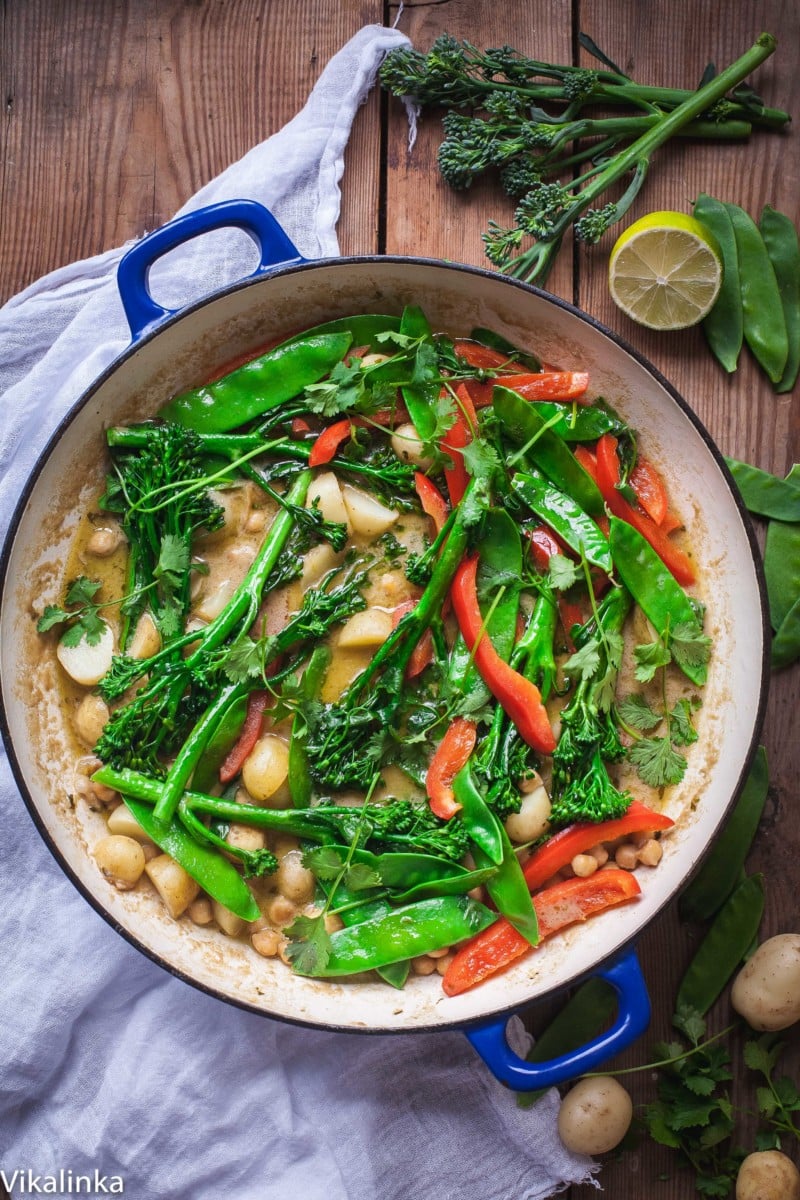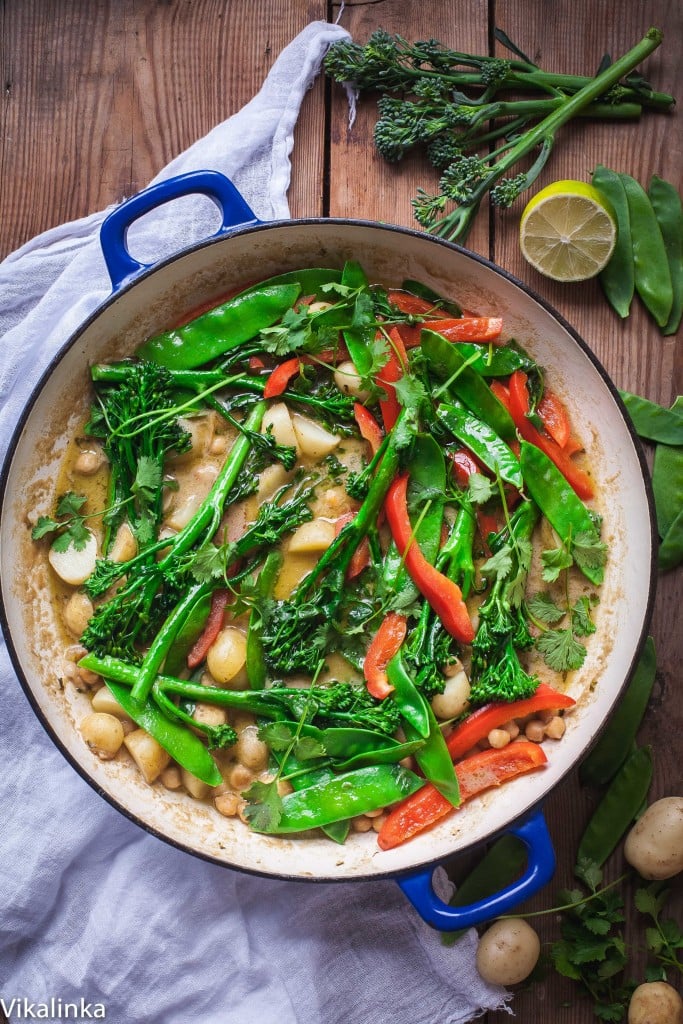 What vegetables can I use in vegetarian curries?
The short answer is anything you like! Apart from new baby potatoes, broccoli, snow peas red bell peppers, here are a few ideas of what else you can use in vegetarian curries.
sweet potato
butternut squash
baby corn
bamboo shoots
eggplant
zucchini
What can I use for protein in vegetarian and vegan curries?
chickpeas or any other beans
tofu
This potato and chickpea curry is ready in under 20 minutes and an absolutely perfect summer dinner.
New baby potatoes, crunchy snow peas, tender stem broccoli, red bell peppers and nutty chickpeas swimming in spicy green curry all blend perfectly for a garden fresh and comforting meal.
A beauty to look at and a healthy one at that!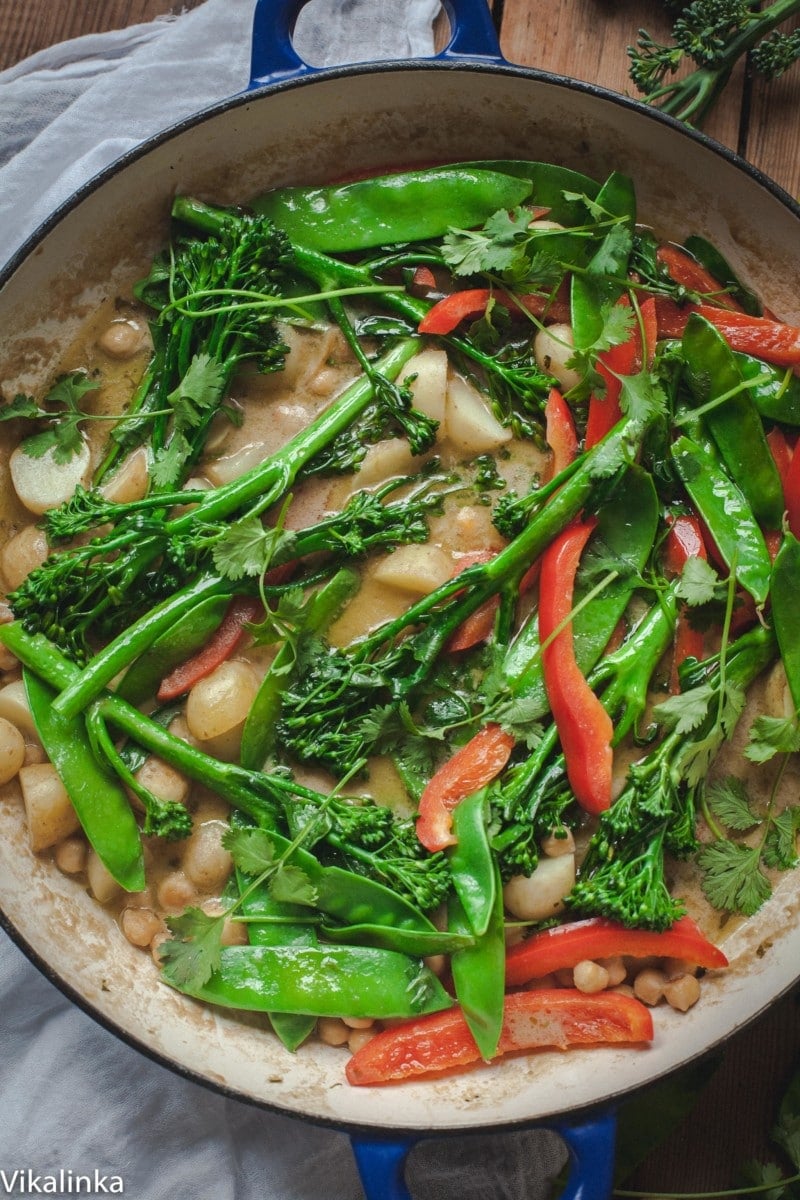 I didn't think much of my creation but I still snapped a photo and posted it on Instagram because…well…that's what we bloggers do.
You guys went crazy for it and asked for a recipe. I had to oblige because I love you all so much. Here I present to you my green vegetable, potato and chickpea Thai curry!
Originally published in 07/2015. Updated and republished in 05/2019.
Vikalinka's Best Curry Recipes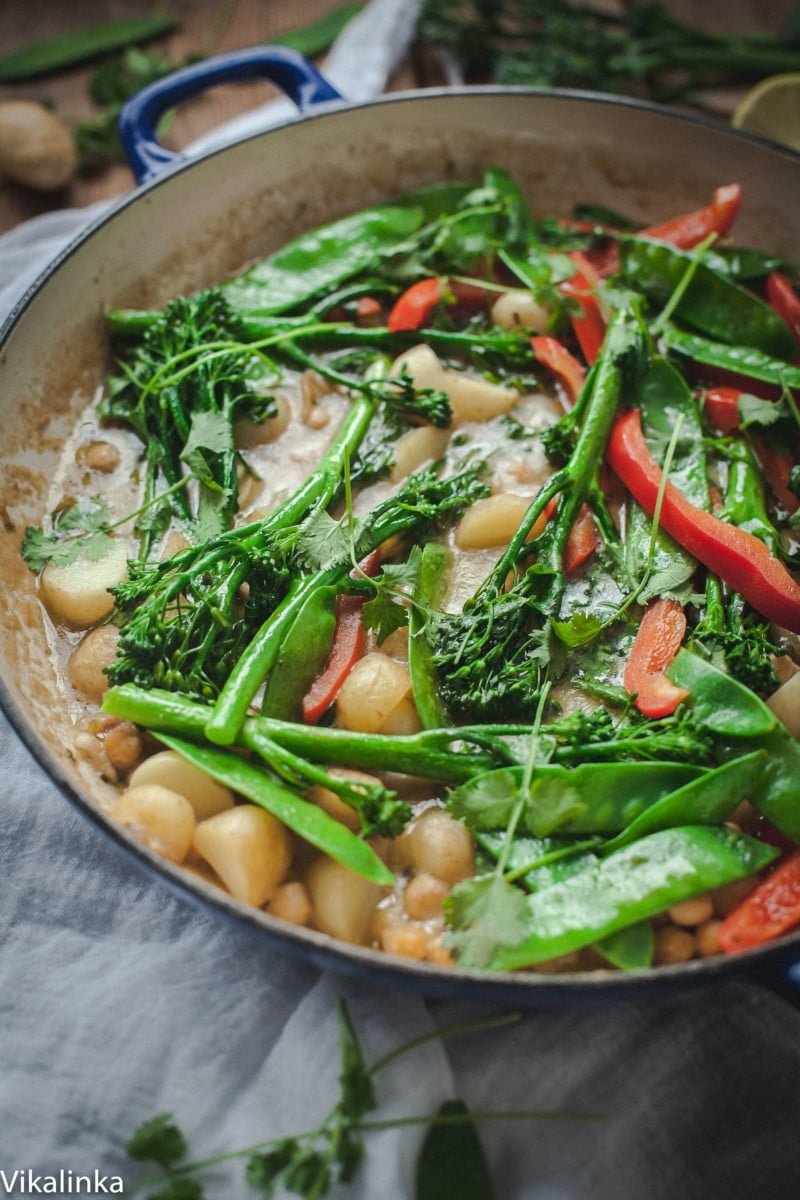 Ingredients
1

tbsp

Oil

1

tsp

Sesame oil

optional

2 tbsp

Thai Green Curry Paste

if using very thick, concentrated paste, ½ cup/190gr if using runnier paste (for UK readers)

400ml/14oz

Coconut milk

1

tbsp

Fish sauce or vegetarian fish sauce substitute (see notes)

6-8

New baby potatoes

halved

400g/1 cup

Chickpeas

drained

5-6

Tenderstem broccoli

150g/1cup

Snow peas

1

Red pepper, large

4-5

sprigs

Cilantro, chopped

½

Lime, juice only
Instructions
Slice the bell pepper.

Take cilantro leaves off their stalks, chop up the stalks finely.

Heat a large frying pan on medium heat and when it's hot add both vegetable oil and sesame oil.

Then add chopped cilantro stalks and stir fry for a couple of minutes.

Add your curry paste and cook it while stirring for a minute, then pour in coconut milk and fish sauce or vegetarian fish sauce substitute, mix to combine.

Add potatoes and chickpeas, turn the heat down and simmer covered for 10 minutes until potatoes are tender.

Add snow peas, tender stem broccoli and red bell pepper, continue cooking uncovered for 5-7 minutes. Taste your vegetables for doneness. They should be softer but still slightly crunchy and bright green.

Add chopped cilantro and squeeze lime juice from ½ lime over the curry.

Serve with rice.

*Note: This recipe uses spicy curry paste but if you use a mild one add ½ of minced chilli for some heat.
Nutrition Facts
Vegetarian Thai Green Curry
Amount Per Serving
Calories 526
Calories from Fat 261
% Daily Value*
Fat 29g45%
Sodium 384mg17%
Potassium 1145mg33%
Carbohydrates 56g19%
Protein 15g30%
Vitamin A 2720IU54%
Vitamin C 89.8mg109%
Calcium 110mg11%
Iron 8.2mg46%
* Percent Daily Values are based on a 2000 calorie diet.