This Chinese chicken curry recipe is so quick to make, you won't be dialing your takeout restaurant any time soon! It's also loads healthier and more filling!
For more healthy and delicious Chinese recipes check out Speedy Sesame Shrimp Stir Fry.
No matter how much one loves cooking, at some point of the week we all find ourselves tired and in need of some comfort food. That often mean takeout or takeaway as it is known here in Britain.
I know I want to order in at least once a week. It's easy and it makes us feel like we are treating ourselves. Both great things.
What is less than great is the hefty price the takeout meals come with and the overall calorie count. For someone who tries to introduce balance in their life, those two things are hard to swallow. Pun intended.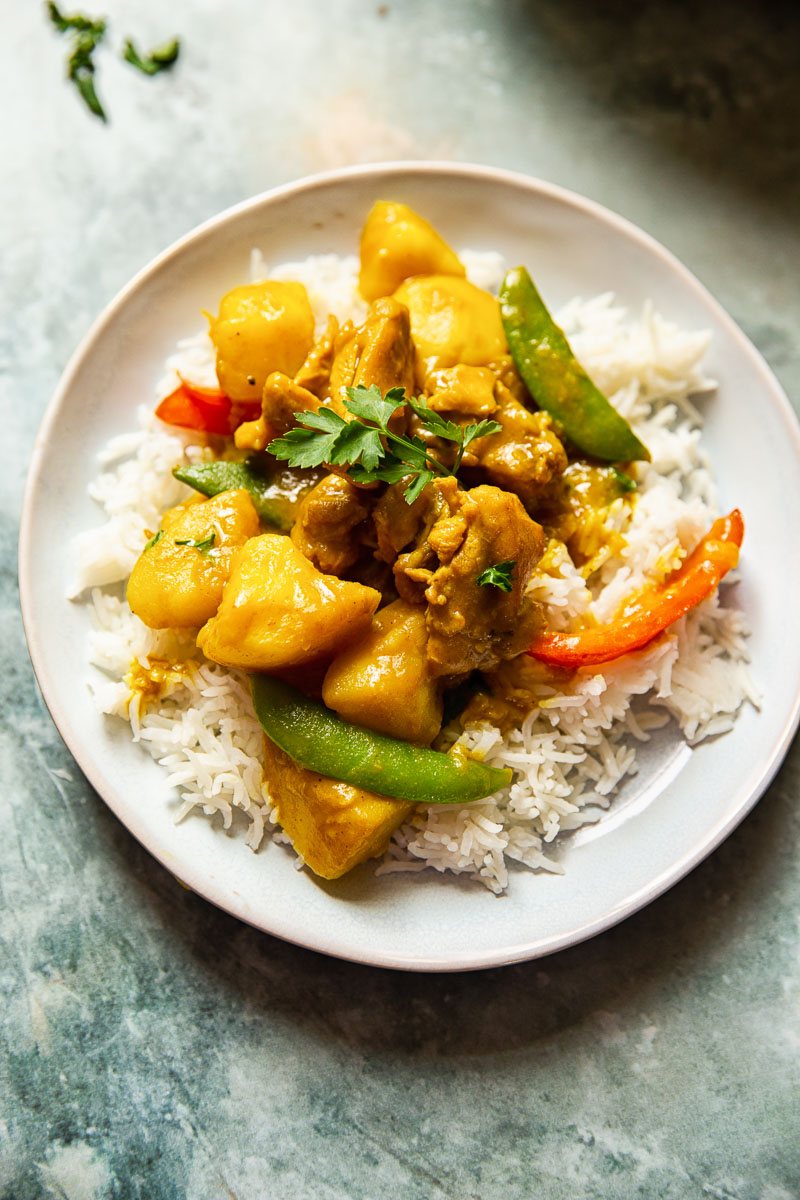 Here is where my recipe for Chinese Chicken Curry comes in. Whenever we contemplate a takeaway, my kids immediately ask for Chinese over anything else. Not sure why since we hardly ever agree to that.
I never ever feel well after I eat Westernised Chinese food. However I loved real Chinese food in China, which was a completely new experience.
Fresh and healthy food as opposed to deep fried and loaded with salt and sugar.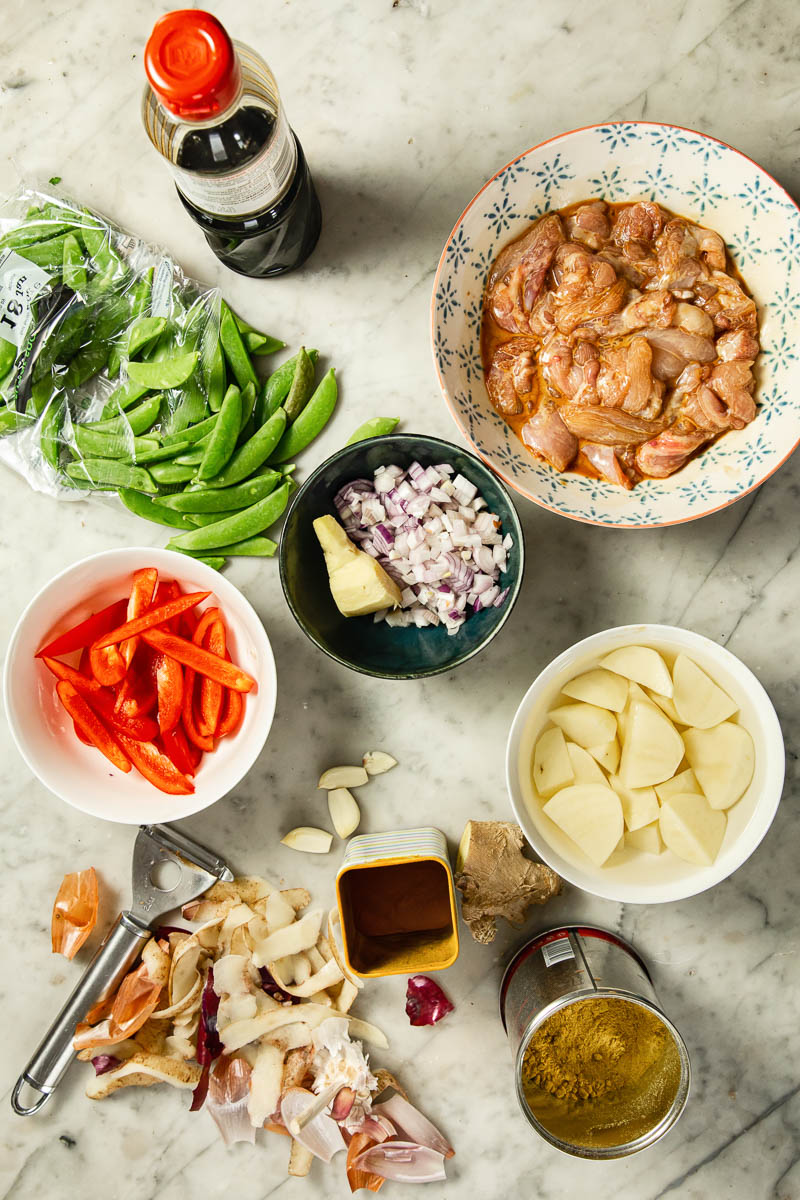 Chinese Chicken Curry vs Indian curry
If you are not an expert on both countries' cuisines, it might be confusing as we often associate curry with Indian food. However curry is eaten in many Asian countries, and China is one of them.
Chinese curry is often a bit more watery in consistency than Indian curry. This is due to the fact that Indian curries often use tomatoes as natural thickeners while it's not the case with Chinese curries.
Neither Indian nor Chinese curries use corn starch to thicken the sauce.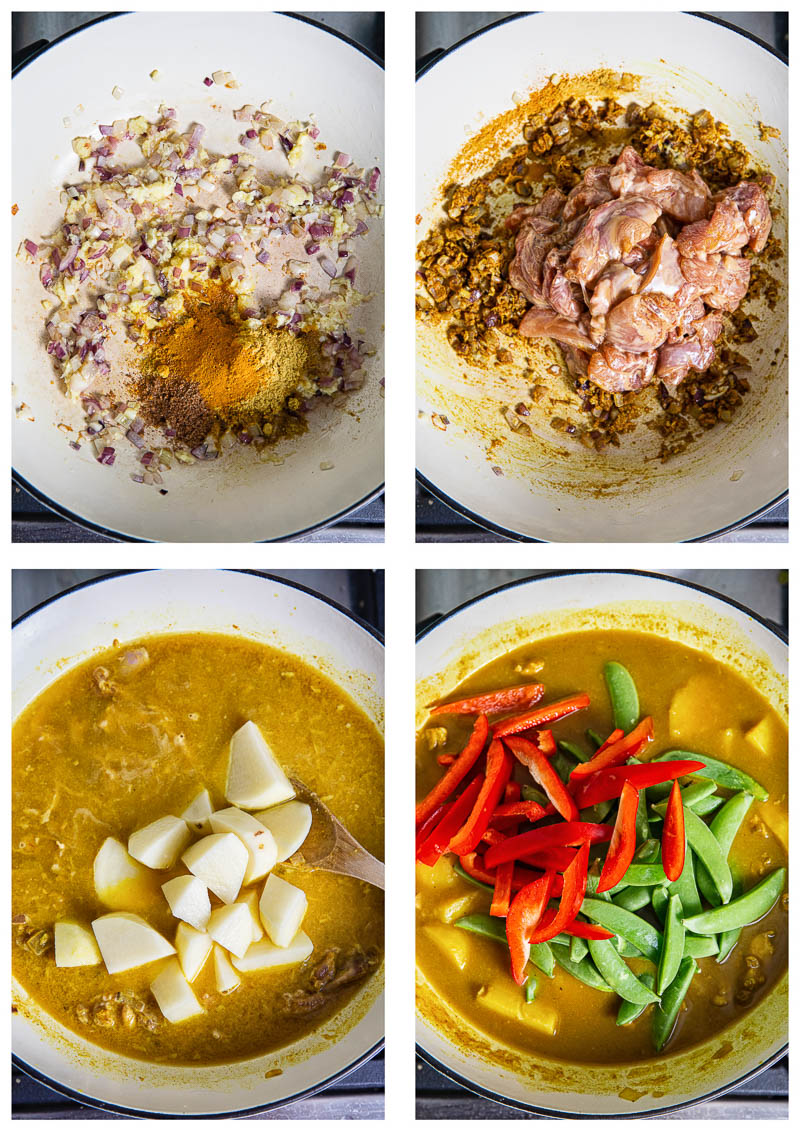 This being said, it's important to mention that sauces are expected to be thicker in the West, so I've used corn starch in my recipe to thicken my Chinese curry sauce.
You can also use xanthan gum to thicken the curry sauce if you'd like to lower the carb count.
Another point of difference is the mix of spices. In Chinese curries just a touch of the curry powder and turmeric is used along with other spices like coriander and star anise, and a splash of soy sauce while the first two are the anchor flavours in Indian curries.
Chicken breasts or chicken thighs?
I've used skinless, boneless chicken thighs in this recipe as they are cheaper and more flavourful in my opinion.
However, I know it's a matter of taste, so you can use either skinless, boneless chicken breasts or skinless, boneless chicken thighs with visible fat removed with very similar results.
You can also use fish or shrimp for an equally authentic Chinese curry.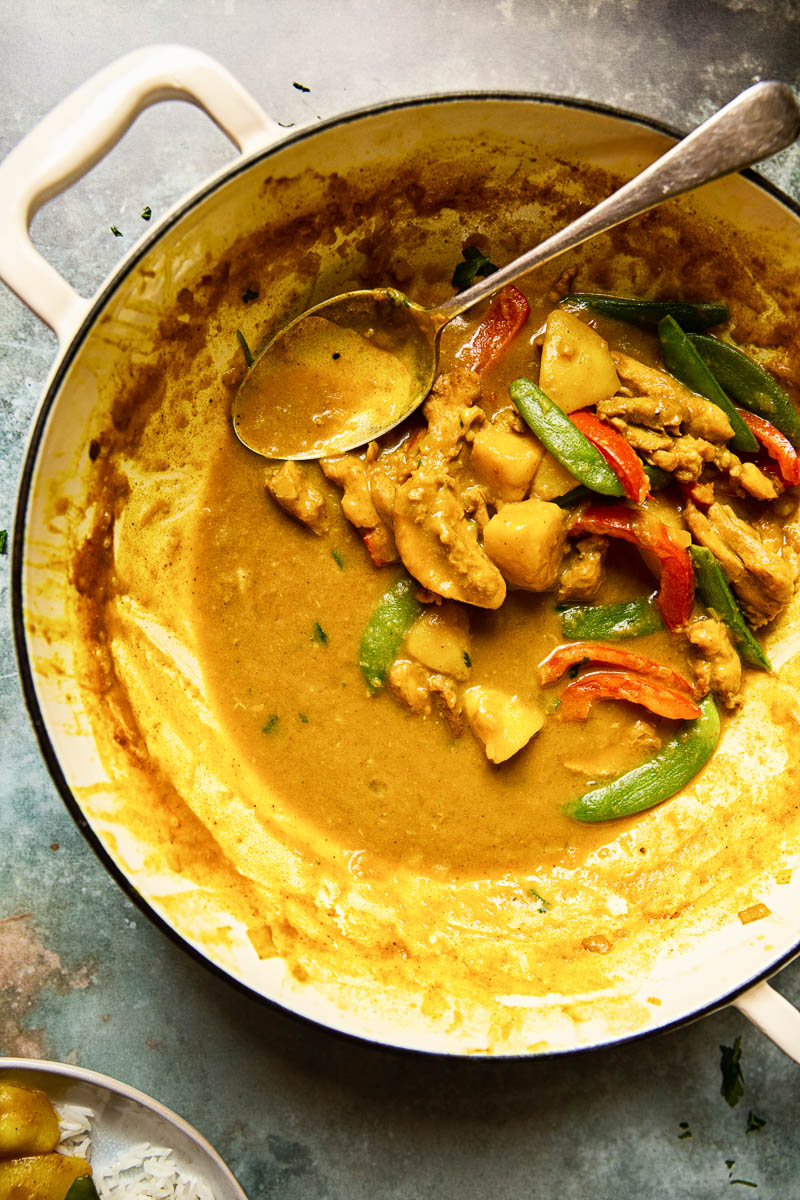 What vegetables to use
Traditionally green peppers and potatoes are used as well as a whole array of other vegetables. In British takeaway version of this curry you will always see green peas.
Apart from the usual suspects like onions, garlic and ginger, I've decided to use red peppers, sugar snap peas for flavour and potatoes for sustenance.
However you can use anything from carrots to broccoli to suit your own taste and what is available in your fridge.
Do you serve it over rice or noodles?
Chinese curry is absolutely delicious served over plain steamed rice but if you prefer noodles, who am I to stop you?!
Can I freeze Chicken Curry?
This curry can be frozen and it reheats beautifully. It's very easy to double the recipe and freeze half of it for the nights when you truly need a takeout because you just can't imagine cooking!
If you like this curry, check out more curry recipes on our site: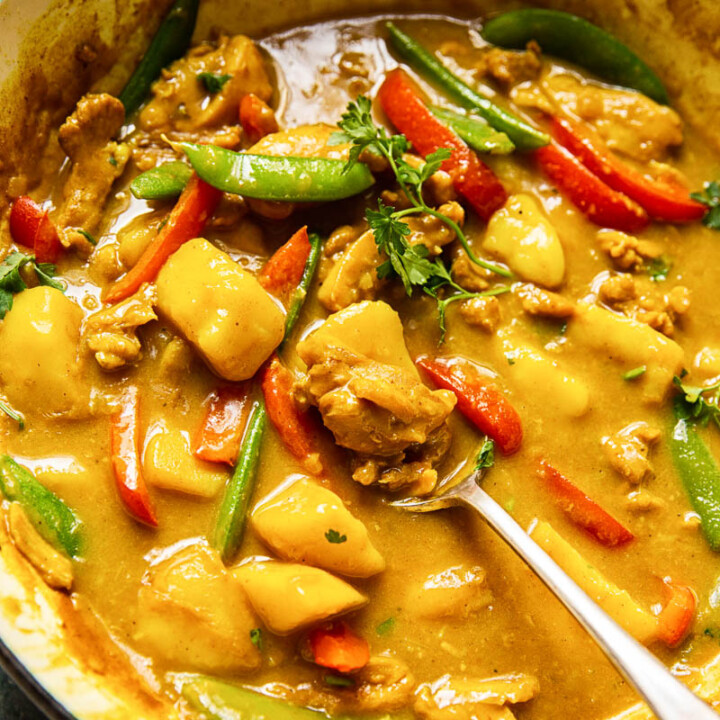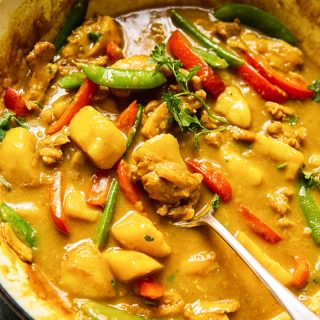 Chinese Chicken Curry
This Chinese chicken curry recipe is quicker to make than to dial your takeout restaurant! It's also a lot healthier and more filling!
Ingredients
4

skinless, boneless chicken thighs

cut in bite sized pieces

1

tsp

soy sauce

2

tsp

corn starch

1

tbsp

vegetable oil

1

onion

chopped

1

tbsp

grated ginger

2-3

cloves

garlic

1

tbsp

curry powder

1

tsp

turmeric

½

tsp

Chinese 5 spice powder

400ml/1 ½ cup

chicken stock

2

potatoes

medium

1

red pepper

sliced

150g/1 cup

sugar snap peas

salt to taste

chopped cilantro/coriander for serving
Instructions
In a medium bowl mix the soy sauce with corn starch, then add chicken pieces and set aside until needed.

Prepare the vegetables by chopping up the onion, peeling and grating ginger, peeling and cutting the potatoes and mincing the garlic.

Heat 1 tablespoon of vegetable oil in a deep frying pan or a wok and add the chopped onions and ginger. Cook over medium heat for 5 minutes, then add minced garlic and cook for a few seconds. Make sure not to burn the garlic.

Then add the curry powder, turmeric and the 5 spice powder, mix briefly until you can smell the aromatics. Add the chicken together with the marinade and cook it for a few minutes, so the chicken is sealed but not cooked all the way through. Add the chicken stock and deglaze the pan by scraping up the bits stuck to the bottom of it with a wooden spatula. Then add potatoes and bring everything to a boil, lower the heat and let it simmer uncovered for 15 minutes.

Then add sliced red pepper and sugar snap peas and cook for 5 minutes longer. At the end, taste and add a pinch of salt if necessary. Serve over steamed white or brown rice, sprinkled with some fresh chopped cilantro and green onions.
Video
Nutrition
Calories:
325
kcal
Carbohydrates:
30
g
Protein:
29
g
Fat:
9
g
Saturated Fat:
4
g
Cholesterol:
110
mg
Sodium:
343
mg
Potassium:
1037
mg
Fiber:
5
g
Sugar:
5
g
Vitamin A:
1380
IU
Vitamin C:
75.2
mg
Calcium:
81
mg
Iron:
6.4
mg