I finally "cracked" the secret code to an amazing butter chicken curry that tastes just like our local London takeout but cheaper and less calorific! You will want this recipe!
For a full Indian dinner, make fluffy basmati rice and my Simple Cauliflower and Potato Curry.

I've written so much about our love for Indian food. It is our go- to when a little of extra comfort is needed. We ALWAYS call in for an order of curry when we come home after travelling.
It's our tradition. Sitting down to our dinner table with an array of chicken, lamb and vegetarian curries with poppadoms, chapatis and pickles in front of us just signals HOME.
So it's no surprise I've been slowly working through a list of our favourites for slightly healthier, homemade versions.
As tasty as the takeout menus could be, we all agree they are laden with far too many calories! Today I am sharing my pièce de résistance…Butter Chicken Curry.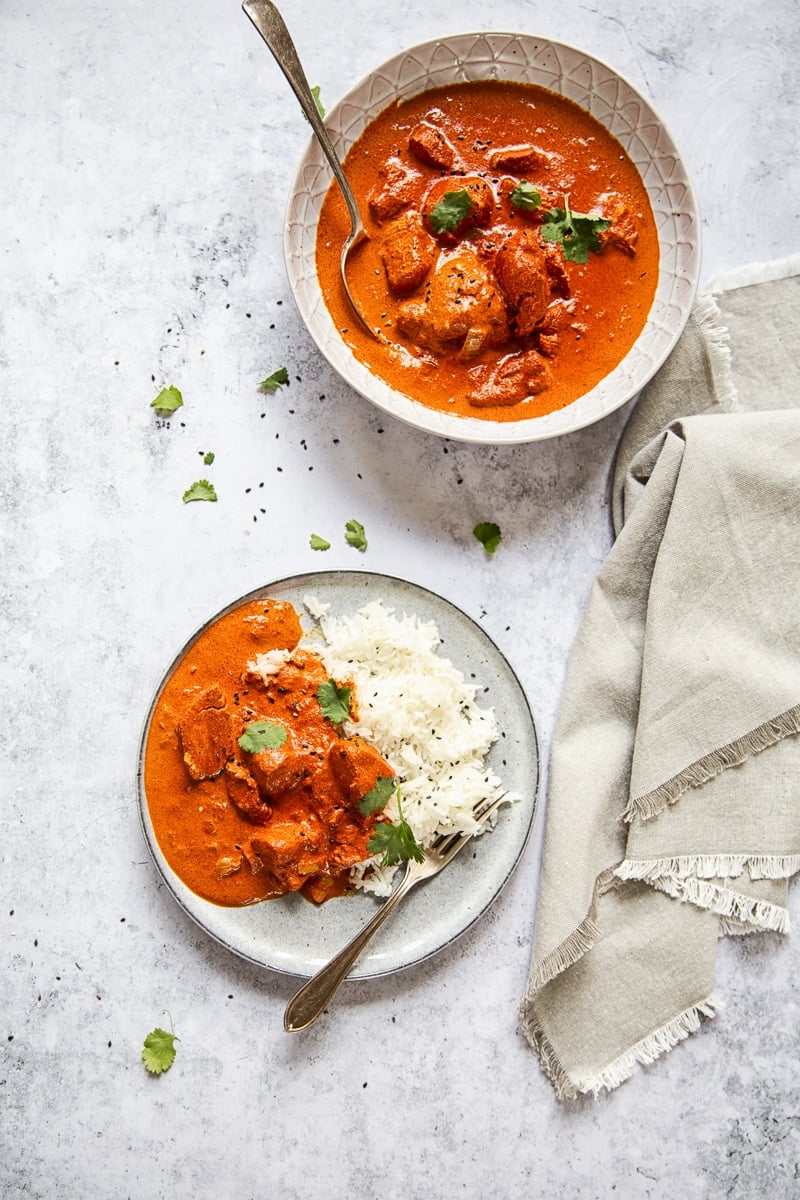 Butter chicken curry was the first curry my kids agreed on trying and eating thanks to school dinners! I might've mentioned it once or twice on this blog that both of my children started out as incredibly picky eaters but are growing into very adventurous ones!
Anyway for the longest time when we were ordering takeout from our local Indian restaurant, we had to make sure butter chicken curry was one of the items in the bag as it was the only thing Mitchell and Vika would eat.
Soon the whole family fell in love with its mild, creamy and insanely flavourful taste to the point we started asking for two orders of butter chicken!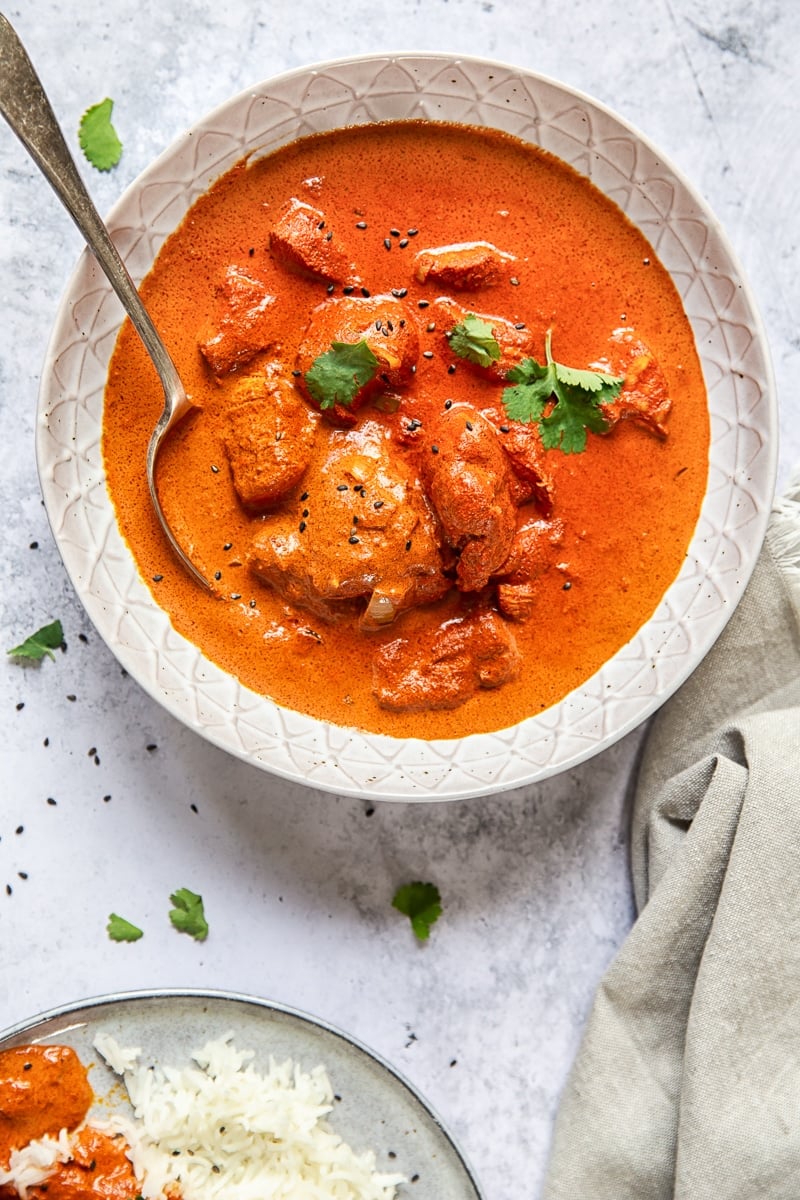 How do I make authentic Butter Chicken at home?
Seeing how much my family enjoyed the butter chicken I've wanted to recreate the familiar taste at home for ages but I knew it was not going to be easy.
The challenge came from a well known fact that butter chicken curry is made with leftover tandoori chicken pieces, and I was just not willing to faff around with a two-stage recipe at home. I wanted a quick butter chicken!!
The answer came from an old friend, who lived in India for years. She shared with me her secret and it is tandoori masala spice mix!! It imparts the unmistakingly delicious flavour of tandoori chicken without the extra pain of grilling the chicken first.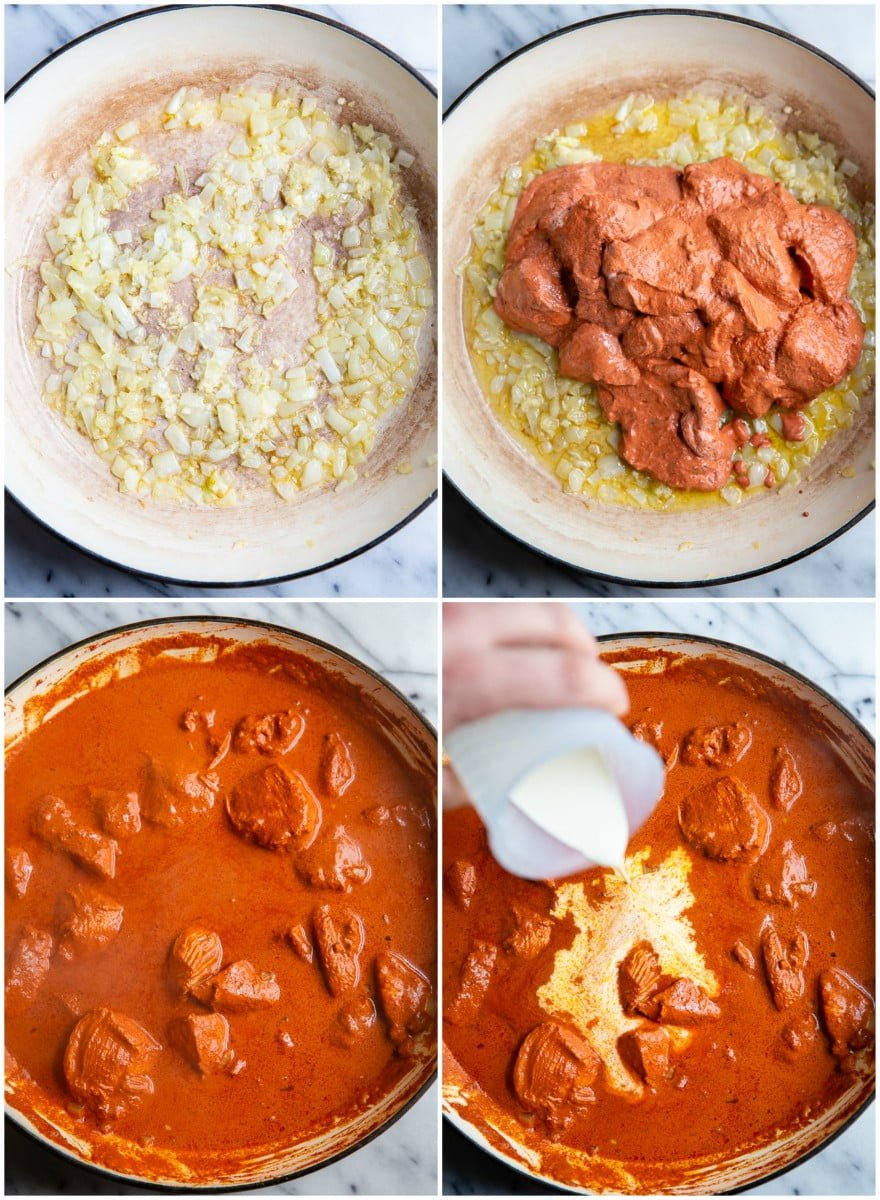 I've done a couple of tests on my family before I felt ready to share this recipe with you and here is the final version. I am so pleased with the result.
I don't claim that this recipe tastes as authentic as in India. But I will assure you that it tastes exactly like our London takeaway butter chicken curry, and that is good enough for me!
Plus the entire recipe comes together in under an hour and who doesn't like a quick chicken curry!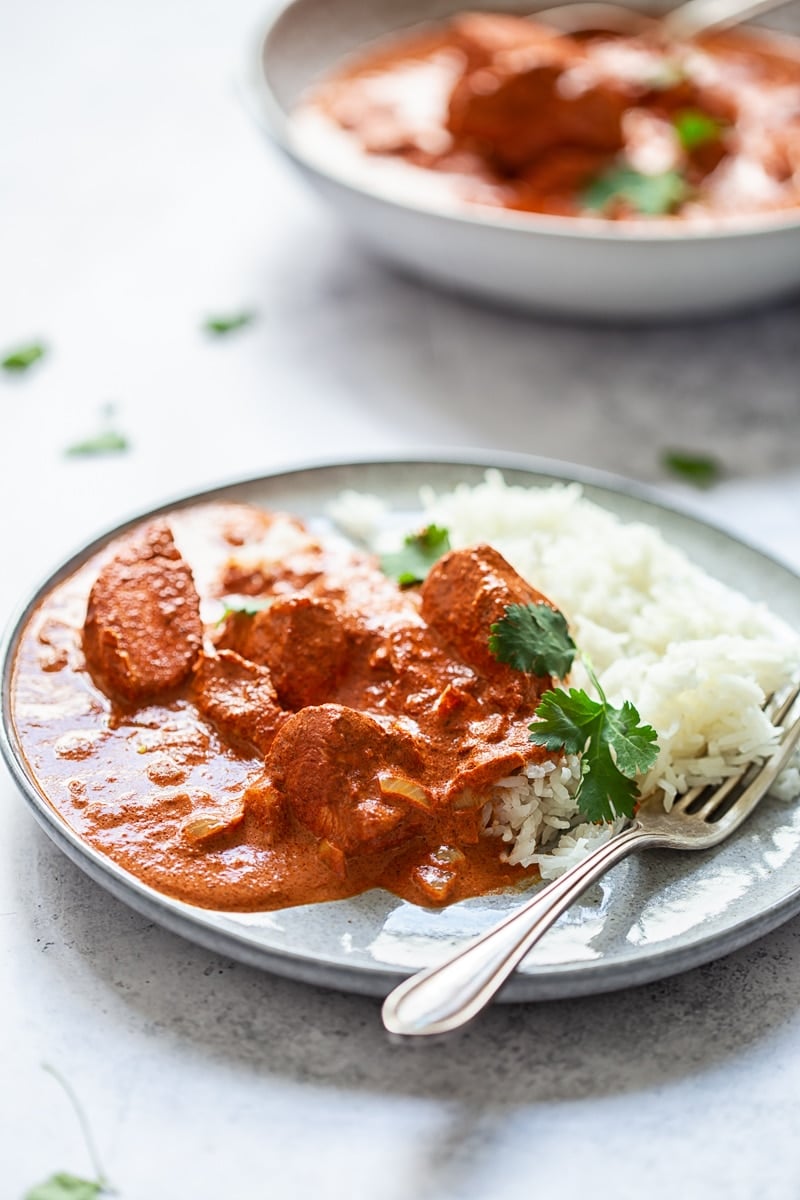 If you would like to add a few other things to your Butter Chicken Curry for a more exciting Indian dinner experience I would recommend making my Red Lentil Dhal and my Simplified Cauliflower and Potato Curry Aloo Gobi.
Those are the dishes I made last night for our small dinner party and it went down a storm!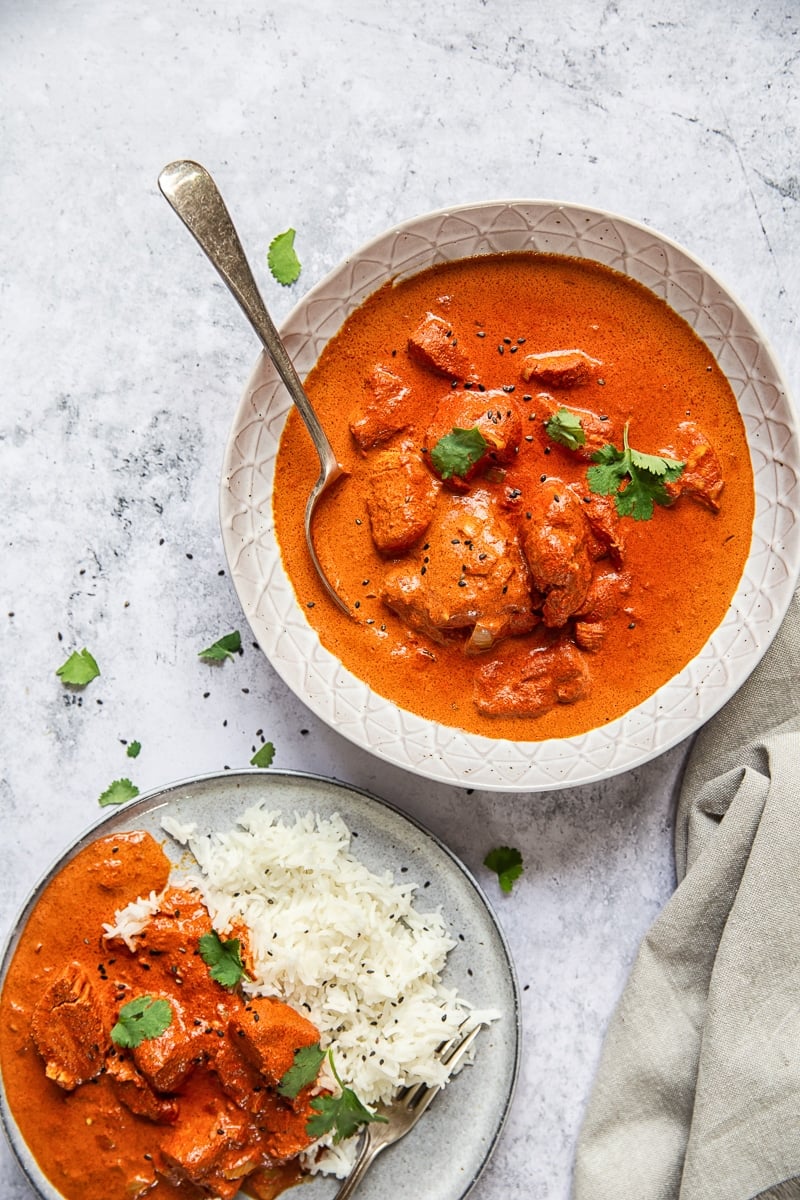 Ingredients
1

lbs

chicken breasts

cubed

4

tbsp

tandoori masala spice mix

1 cup/250 ml

natural yogurt

plain

2

tbsp

ghee or vegetable oil

1

medium

onion

chopped

3

cloves

garlic

minced

1

tbsp

ginger paste or grated ginger

1

tsp

coriander

1/2

tsp

turmeric

2

tbsp

tomato paste

1/2 cup/125 ml

water

1/2 cup/125 ml

whipping cream/double cream

1

tbsp

fresh cilantro

chopped
Instructions
In a medium bowl mix the yogurt with the tandoori masala spice mix and add cubed chicken breasts. Marinade for at least 3 hours or overnight.

In a deep pan heat the ghee or oil and fry the chopped onion, garlic and ginger together over low heat for 10 minutes.

Add the chicken with the marinade to the pan, add the coriander and turmeric, tomato paste and water, stir to combine, then turn the heat up to medium and bring to a boil, then lower the heat and simmer for 20 minutes covered.

Add the double cream, stir and cook uncovered for 10 minutes longer until the sauce is thick and desired consistency. Add salt if needed. (There is salt in the tandoori masala spice mix, so only add extra salt if necessary.)

Serve with fresh cilantro and basmati rice.
Nutrition Facts
Butter Chicken Curry
Amount Per Serving
Calories 346
Calories from Fat 189
% Daily Value*
Fat 21g32%
Cholesterol 136mg45%
Sodium 289mg13%
Potassium 667mg19%
Carbohydrates 8g3%
Protein 27g54%
Vitamin A 830IU17%
Vitamin C 7mg8%
Calcium 112mg11%
Iron 0.9mg5%
* Percent Daily Values are based on a 2000 calorie diet.