I finally "cracked" the secret code to an amazing Indian butter chicken curry recipe that tastes just like our local takeout, but cheaper and leaner! Rich, creamy curry sauce and jammed with warming flavour, you will want this recipe!
For a full Indian dinner serve with fluffy basmati rice and this Red Lentil Dal.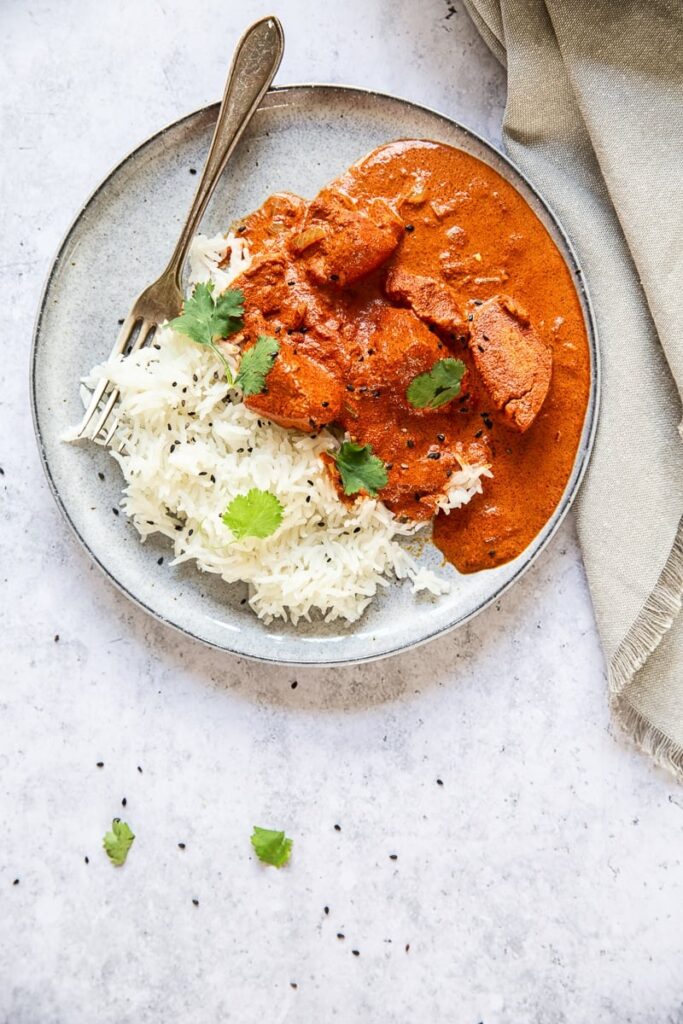 A seriously good Indian curry is a legendary take out option. It's been a family favourite for years, especially when a solid dose of comfort food is required.
And one curry sits on almost everyones shortlist of favourites, the legendary Butter Chicken!
It hits so may sweet spots at once: rich, creamy and a lovely balance of sweet and acidic. And because it's not spicy, it's one that the whole family can enjoy!
Indian curry recipes
Given my love of a good curry and pretty much everything from Indian cuisine, it's no surprise I've been slowly working through a list of our favourites and new recipes for slightly healthier, homemade versions. Chicken Korma and Chicken Rogan Josh are family favourite, so ones I had to re-create.
My son prefers this vegetarian curry Aloo Gobi. For him I made an easy, homemade version called Simplified Cauliflower and Potato Curry. Some recipes are less authentic but nonetheless delicious like this Indian Kofta Curry (Meatball Curry).
For someone who wants all the rich and creamy flavour of this recipe but with just a hint more spice, you'll want to give Chicken Tikka Masala a try!
As tasty as the takeout menus could be, we all agree they are laden with far too many calories. So there is a lot to be gained by making your own, at home. So today I am sharing my pièce de résistance…Butter Chicken Curry.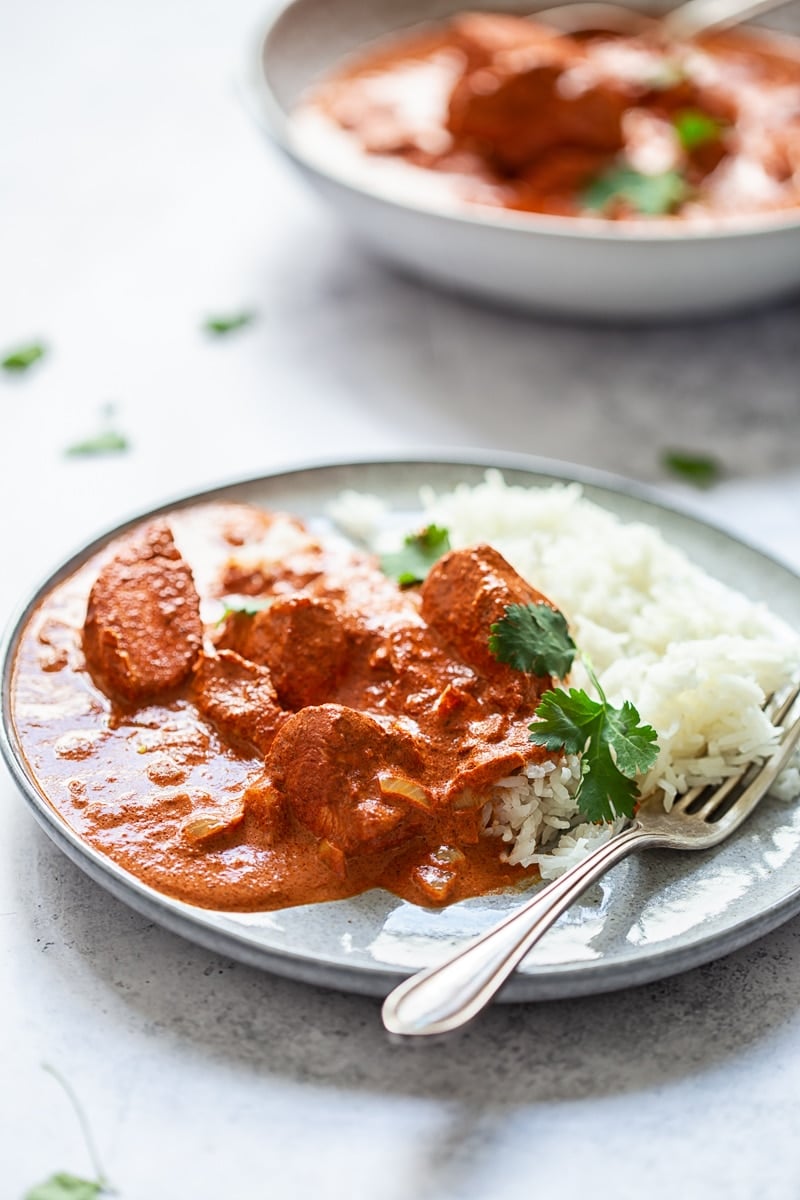 Butter chicken recipe
The origin of butter chicken aka murgh makhani is indeed in northern India, unlike the other popular curry Tikka Masala, which was invented in Britain. The original recipe for the famous curry came to be out of a need to use up leftover chicken.
Tandoori chicken that was left unsold at local shops would dry out and become useless. But when mixed into a simple gravy, the chicken regained moisture and became something new and quite spectacular.
So grilled tandoori chicken got mixed with some curry based around tomato sauce, butter and cream and a star was born. The humble dish has now travelled the world and can be found in curry shops and every Indian restaurant all over the globe.
Butter chicken curry was the first curry my kids agreed on trying. Soon the whole family fell in love with its mild, creamy and insanely flavourful taste and juicy chicken to the point we started asking for two orders of butter chicken from our local takeaway!
Making it at home
Seeing how much my family enjoyed butter chicken, I've wanted to recreate the familiar mild curry taste at home for ages but I knew it was not going to be easy.
The challenge came from a well known fact that the original recipe uses leftover tandoori chicken pieces. Tandoori chicken is marinated in yogurt and spices, then baked in a clay oven, with pretty amazing results!
I was just not willing to faff around with a two-stage recipe at home or have to wait till the next day to eat good butter chicken. I wanted a quick and easy butter chicken recipe!!
The answer for the easiest way to get great results came from an old friend, who lived in India for years. She shared with me her secret and it is tandoori masala spice mix!! It imparts the unmistakingly delicious flavour of tandoori chicken without the extra pain of grilling the chicken first.
I didn't add butter to my recipe but a generous splash of heavy/double cream, which created the same creamy texture but didn't taste quite as heavy.
I don't claim that this recipe tastes as authentic as in India. But I will assure you that it tastes exactly like our London takeaway butter chicken curry, and that is good enough for me!
Plus the entire recipe comes together in under an hour, and who doesn't like a quick chicken curry!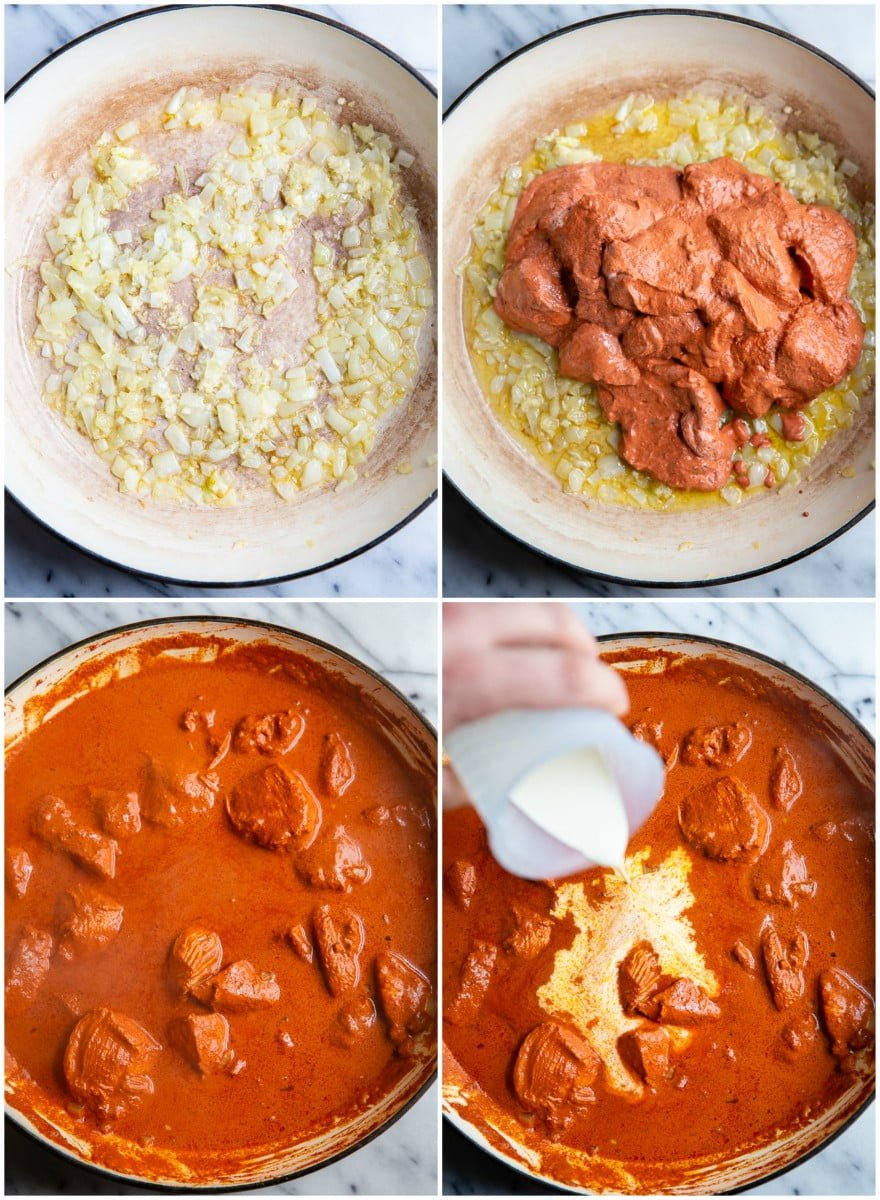 Recipe tips and notes
Try to find a tandoori mix from a reputable brand or after looking at reviews. Not all spice mixes are the same, and only a high quality mix will impart seriously good flavour to the butter chicken recipe.
Marinade the chicken in the spice blend and plain yogurt for at least three hours, and preferably overnight. Giving time for this step allows the spices to fully flavour the chicken while making for seriously tender chicken.
Only use full fat, and never low fat, yogurt for the marinade. Low fat yogurt is prone to curdle when heated, and especially when mixed with something acidic.
For a more authentic taste, use chicken breasts with skinless, boneless chicken thighs. The thighs are still a convenient option, but come with more succulent flavour than breasts.
Add a small amount of heavy cream at the very end to make the butter curry sauce creamy. You can use coconut milk or soya single cream for a dairy free alternative.
I don't recommend adding salt until right at the end and only after a taste test. There is salt in the spice mix, so its very easy to over salt if adding earlier.
Serving suggestions
If you would like to add a few other things to your Butter Chicken Curry for a more exciting Indian dinner experience I would recommend making my Chickpea and Butternut Squash Curry. Those two curries go so well together!
Even rice can be turned into something special. I'm a huge fan of eating curry with fragrant Coconut Rice! Brown rice can be used instead of white. Naan bread is also a fantastic option, alone or alongside rice.
Those are the dishes I made last night for our small dinner party and it went down a storm!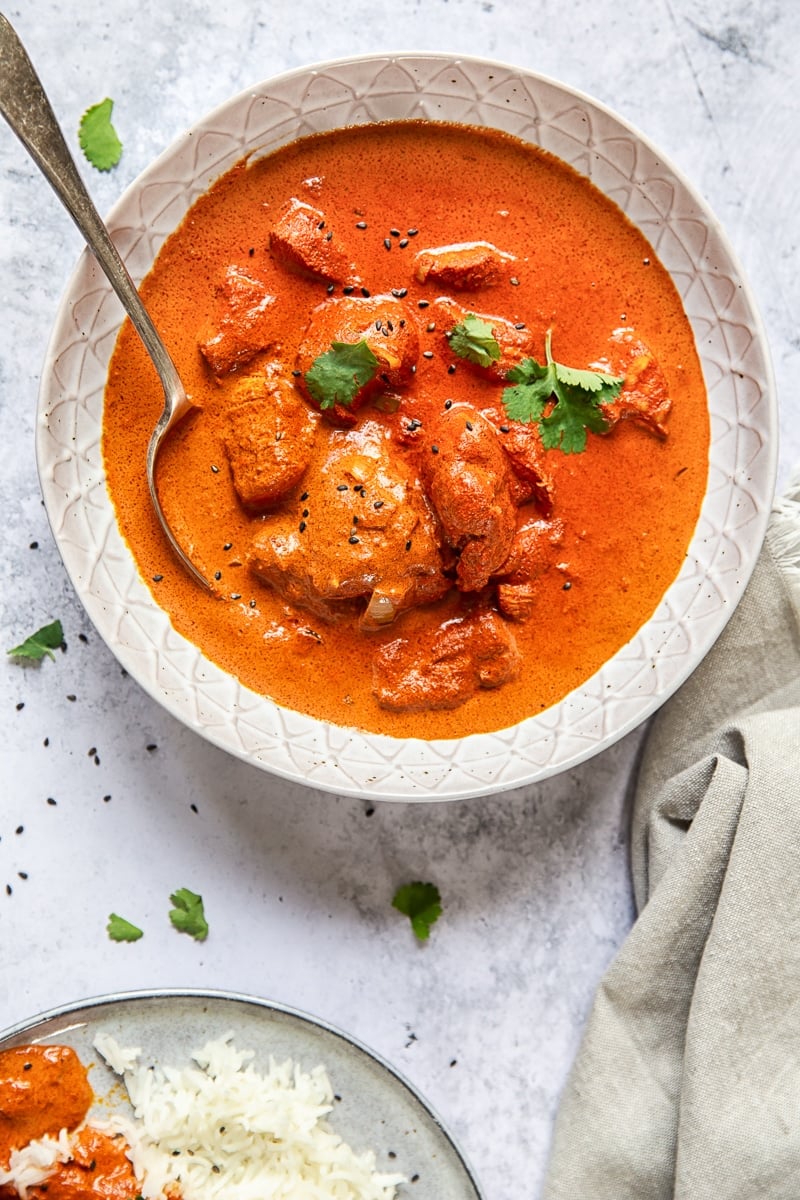 Storage and leftovers
Any leftovers can be stored in your fridge for later use. I would recommend eating within three days.
Butter chicken also freezes quite well, and can be saved for up to three months in an airtight container. Let it thaw before reheating, and use within 48 hours.
Leftovers can be reheated in a saucepan over gentle heat or in a microwave.
More takeaway favourites recipes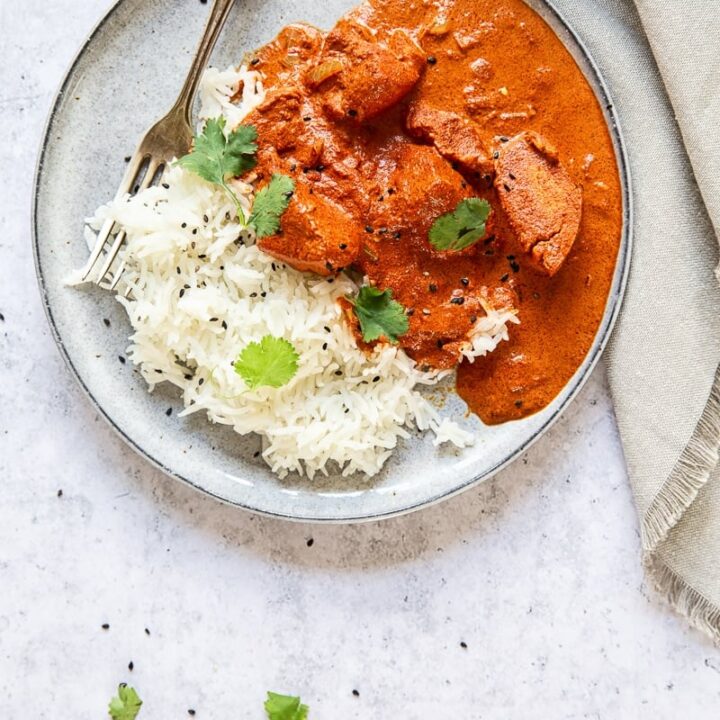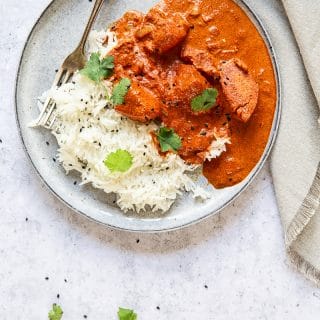 Butter Chicken Curry
This homemade creamy butter chicken curry tastes exactly like in your local takeout but much cheaper!
Ingredients
450

g

/1 lbs chicken breasts

cubed

4

tbsp

tandoori masala spice mix

250

ml

/1 cup natural yogurt

plain

2

tbsp

ghee or vegetable oil

1

medium

onion

chopped

3

cloves

garlic

minced

1

tbsp

ginger paste or grated ginger

1

tsp

coriander

½

tsp

turmeric

2

tbsp

tomato paste

125

ml

/ ½ cup water

125

ml

/ ½ cup whipping cream/double cream

1

tbsp

fresh cilantro

chopped
Instructions
In a medium bowl mix the yogurt with the tandoori masala spice mix and add cubed chicken breasts. Marinade for at least 3 hours or overnight.

In a deep pan heat the ghee or oil and fry the chopped onion, garlic and ginger together over low heat for 10 minutes.

Add the chicken with the marinade to the pan, add the coriander and turmeric, tomato paste and water, stir to combine, then turn the heat up to medium and bring to a boil, then lower the heat and simmer for 20 minutes covered.

Add the double cream, stir and cook uncovered for 10 minutes longer until the sauce is thick and desired consistency. Add salt if needed. (There is salt in the tandoori masala spice mix, so only add extra salt if necessary.)

Serve with fresh cilantro and basmati rice.
Video
Nutrition
Calories:
346
kcal
Carbohydrates:
8
g
Protein:
27
g
Fat:
21
g
Saturated Fat:
12
g
Cholesterol:
136
mg
Sodium:
289
mg
Potassium:
667
mg
Sugar:
5
g
Vitamin A:
830
IU
Vitamin C:
7
mg
Calcium:
112
mg
Iron:
0.9
mg