Crab fried rice recipe delivers buckets of flavour despite its simplicity of method and ingredients. This Thai comfort food meal is so easy to recreate at home.
Don't forget to also check out out Chicken Fried Rice. Different flavour profile but the same level of deliciousness!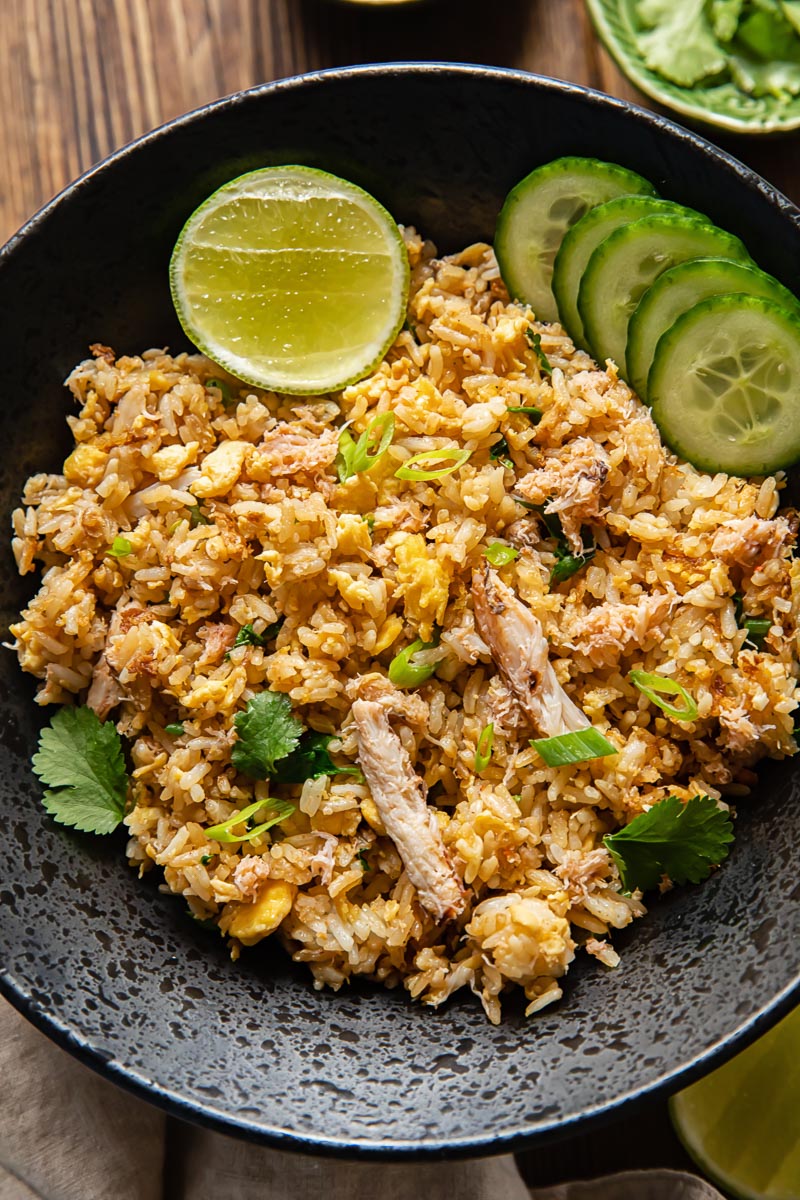 It's hard to find a person, who is not a fan of fried rice. At least I've never met one. Warm, comforting, quick to throw together and utterly satisfying.
Fried rice is the best use of hard, leftover rice you forgot about when you pushed it to the back of your fridge! Pull it out and let me show you how to transform it into something truly magical.
No, you will not need any specialty ingredients. I promise this recipe is quick and easy. And the best thing about this rice, it could be served as a main course. Nothing else is needed.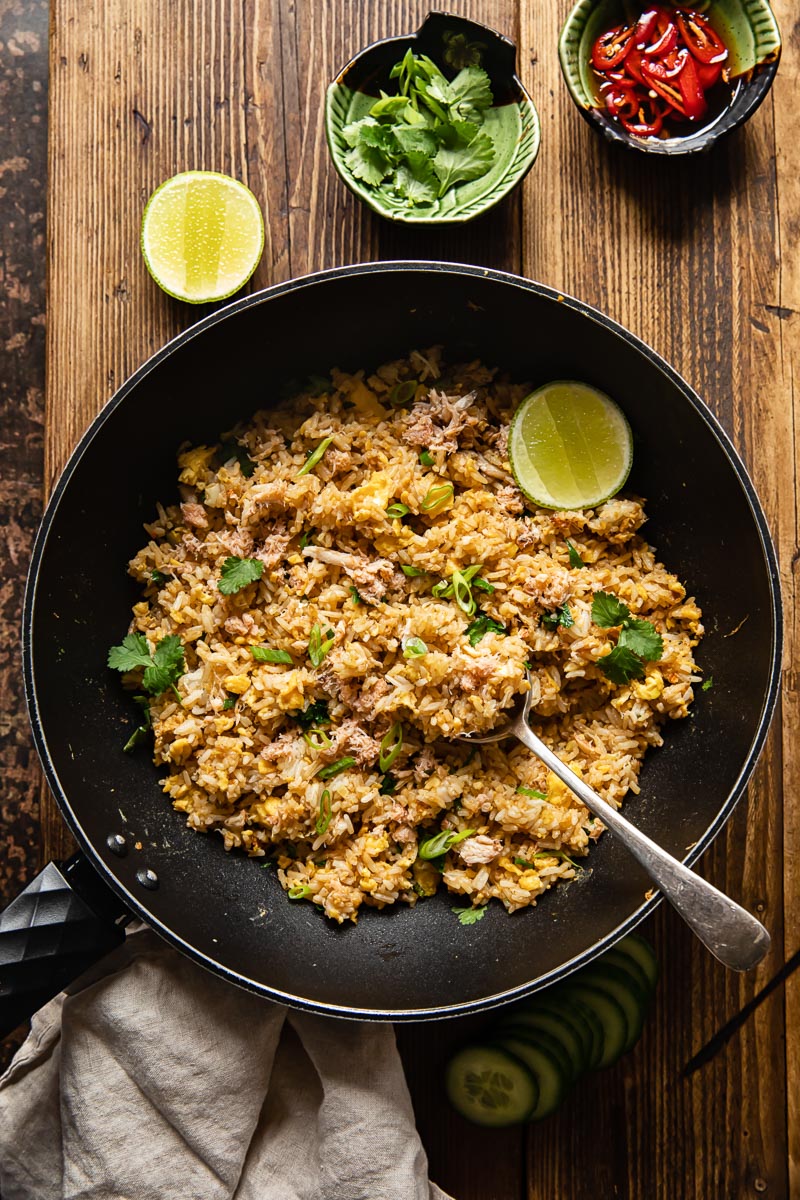 Ingredients
While the most popular version we are familiar with comes from the Chinese cuisine, fried rice is a thing all over Asia. Here is a recipe for Indonesian Fried Rice Nasi Goreng. Delicious!
The recipe I am sharing today is a staple in most Thai homes. It is also a popular street food dish. No need to fear. The ingredients list is very simple.
As the name suggests, you will need crab and rice as your main players. Don't forget eggs and some greens. The most common greens are a mix of sliced green onions and cilantro (coriander in the UK). And of course garlic and shallot or a small onion are great to crete the base flavour.
Sliced cucumbers are usually served on the side for a balance and a pleasing crunch. And don't forget to add a lime wedge!
Most chefs and home cooks recommend not to skimp on the crab. I am going to say buy what you can afford and/or what is accessible to you. Crab is expensive! So even if you don't pay top dollar for you crab, the recipe will still turn out delicious.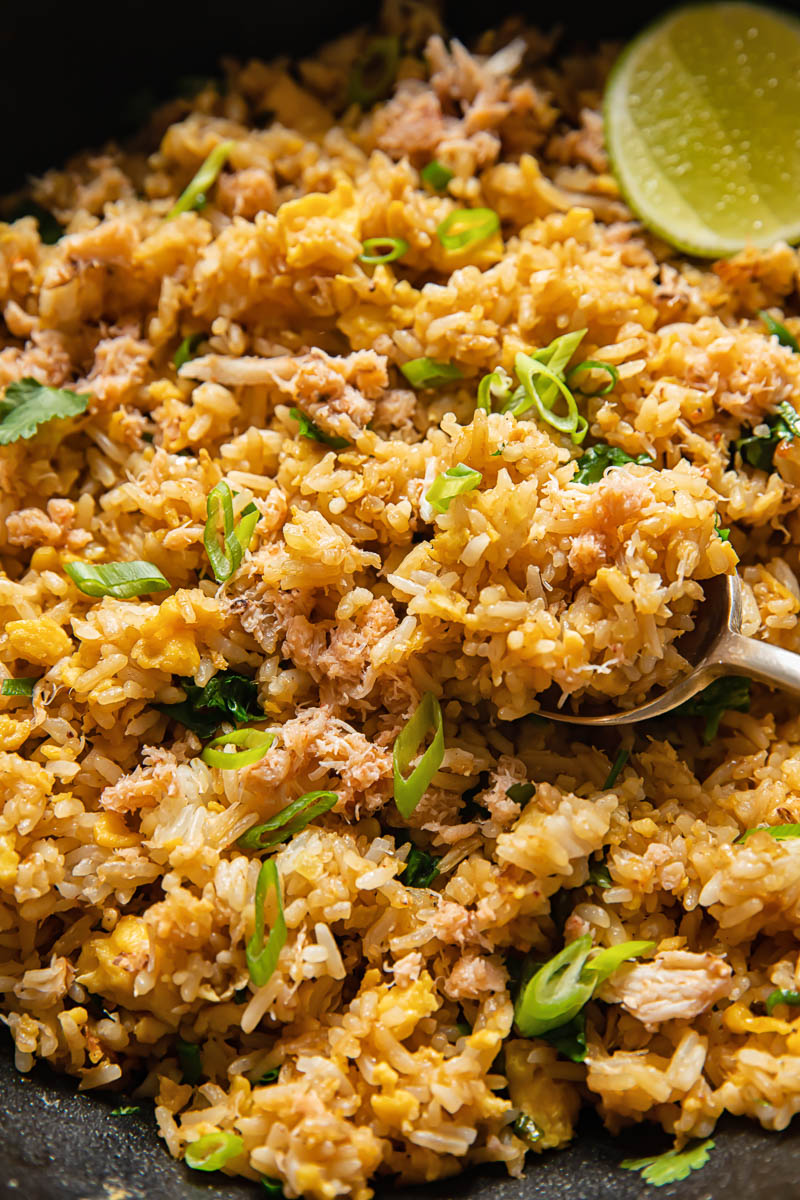 Seasoning
The seasoning is very simple in this recipe. Soy sauce, sugar and white pepper. That's it.
This rice is not spicy but it is flavourful. Crab is what gives it so much flavour! The recipe comes together in 15 minutes!
If you want a little extra flavour, add a wedge of lime before serving to be squeezed over the rice.
Recipe Tips and Notes
The best rice to use is day old Jasmine rice. It needs to be a bit on the dry side, so it doesn't clump up.
I used already cooked crab from a deli counter. While premium quality crab will taste amazing in this dish, don't let the lack of it stop you!
This recipe is very simple, so it's important to use real stuff for the best flavour like real garlic instead of jarred stuff and fresh green onions and cilantro.
I like my fried rice to be eggy, so I used 3 for a 2 person recipe. But you can decrease or increase the number of eggs according to your taste.
Cook the rice in a large wok or pan. You will need lots of space to toss the rice around without spilling it. And don't forget to allow the rice to be slightly toasted. Remember it's called "fried rice", not "steamed rice". That's where the flavour will come from.
Favourite Thai Recipes to Try: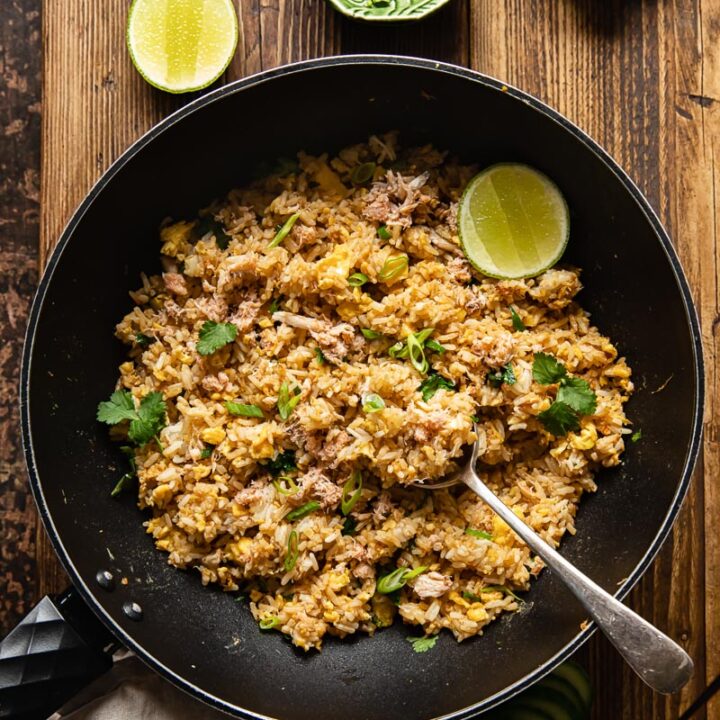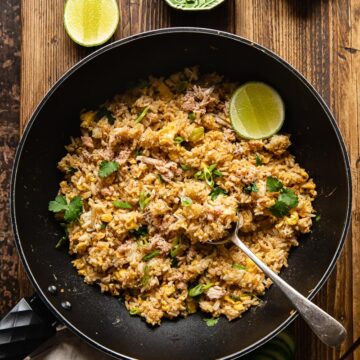 Crab Fried Rice
Crab fried rice delivers buckets of flavour despite its simplicity. This classic Thai comfort food meal is so easy to recreate at home.
Ingredients
2

tbsp

vegetable oil

1

shallot

or ½ small onion, diced

3

cloves

garlic

3

eggs

beaten

350g/2 cups

cooked Jasmine rice

2

tbsp

soy sauce

1

tsp

sugar

½

tsp

white pepper

100g/3.5 oz

crabmeat

cooked

2

green onion

2-3

sprigs

cilantro (coriander)

6

slices

cucumber

2

wedges

lime
Instructions
Heat the vegetable oil in a large pan or a wok, then add the diced shallot or onion and cook for 5 minutes over medium heat, add the garlic and cook for a few seconds longer. Pour in the beaten eggs and scramble them.

Then add the cooked rice, soy sauce, sugar and white pepper, turn the heat up to high and stir to combine. Let the rice cook for half a minute or so, then stir again. Continue for 3-5 minutes until the rice is heated through and evenly coated with the seasoning.

Add the crab and stir to combine, allow the crab to heat through, then add the sliced green onions and chopped cilantro and take off the heat. Serve with sliced cucumber and lime wedges.
Nutrition
Calories:
312
kcal
Carbohydrates:
58
g
Protein:
17
g
Fat:
1
g
Saturated Fat:
1
g
Polyunsaturated Fat:
1
g
Monounsaturated Fat:
1
g
Cholesterol:
21
mg
Sodium:
1431
mg
Potassium:
336
mg
Fiber:
2
g
Sugar:
4
g
Vitamin A:
298
IU
Vitamin C:
10
mg
Calcium:
72
mg
Iron:
2
mg