Learn the secrets to the best Chinese chicken fried rice recipe! It comes together in 15 minutes and will become a new favourite!
Serve this delicious rice with our 10 Minute Honey Garlic Shrimp or explore our Asian recipe collection for more ideas.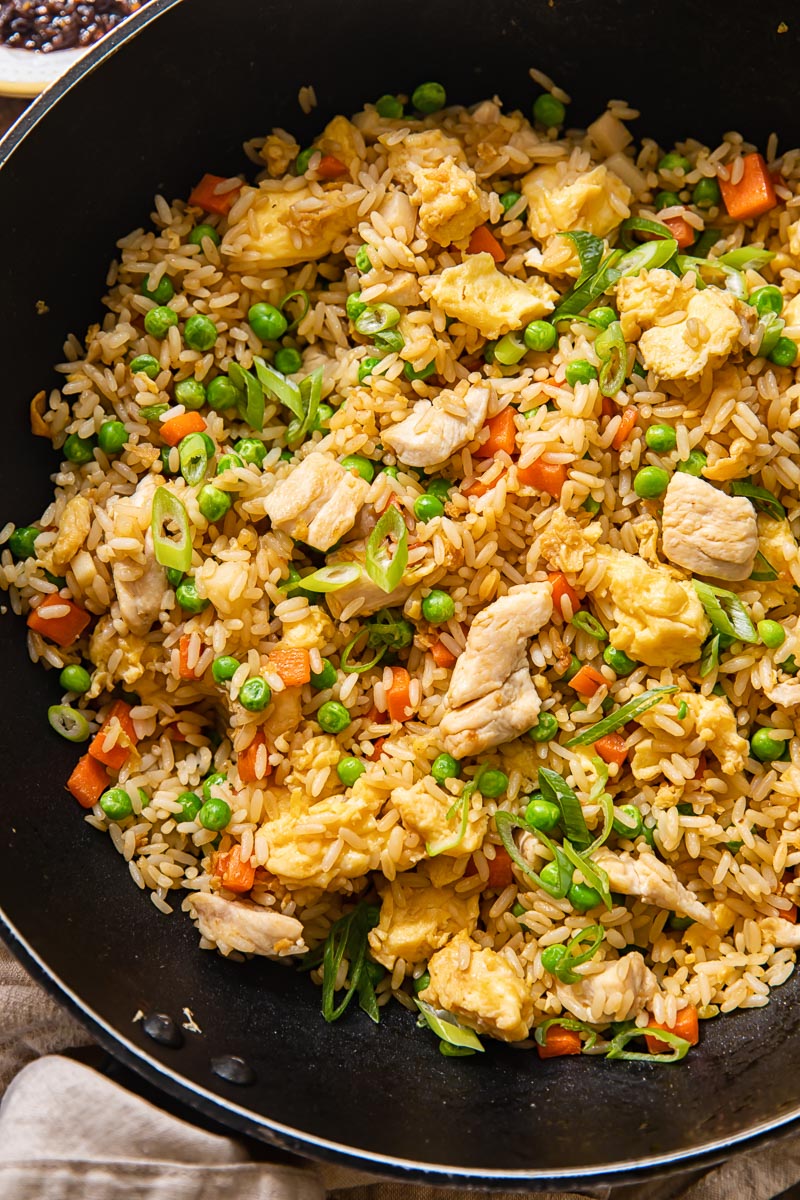 If fried rice is a must-have item when you order Chinese food, you better read on! It's fun to order Asian takeout once in a while but it can be heavy on the stomach and the budget!
Thankfully fried rice is one of the dishes that could be easily replicated at home with minimal ingredients and no special seasoning. It's cheap, tasty and better yet, it's super fast. Let me show you exactly how I make it.
Don't forget to serve yours with a bit of Chinese chilli oil. What a treat!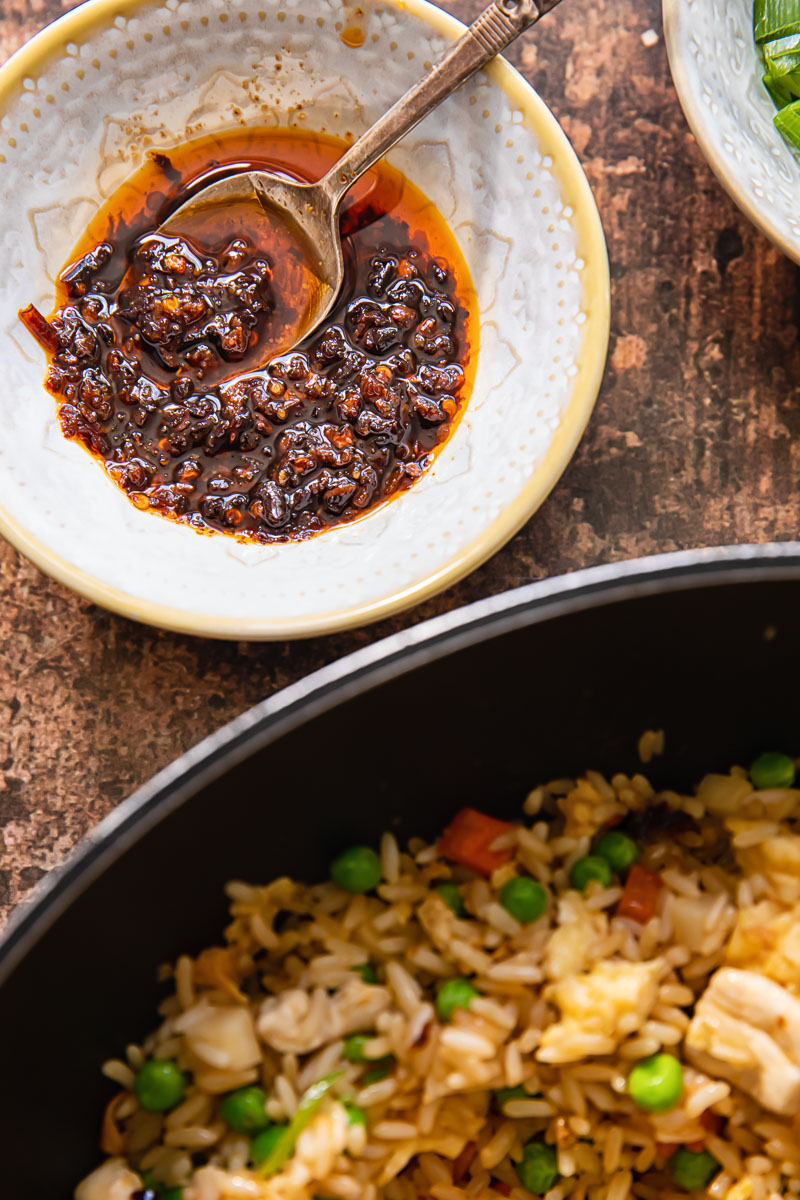 The Ingredients
While the ingredients may vary from one recipe to another, there are some staples that everyone loves to use in their fried rice. Feel free to adjust to your own taste. After all, fried rice was invented in order to use up leftover rice and veg, so add whatever you have on hand.
Day old long grain rice is a given. I will explain later in the post why old rice is better than freshly made. Scrambled eggs and a veg mix. I love using peas and carrots with some green onions.
However, one of the secret ingredients is water chestnuts. They add unexpected and lovely texture. Try them, I am sure you will love them as much we do.
Finally, I am using chicken breast in this recipe but shrimp or pork will also work. Needless to say, you can omit chicken altogether and keep this recipe vegetarian.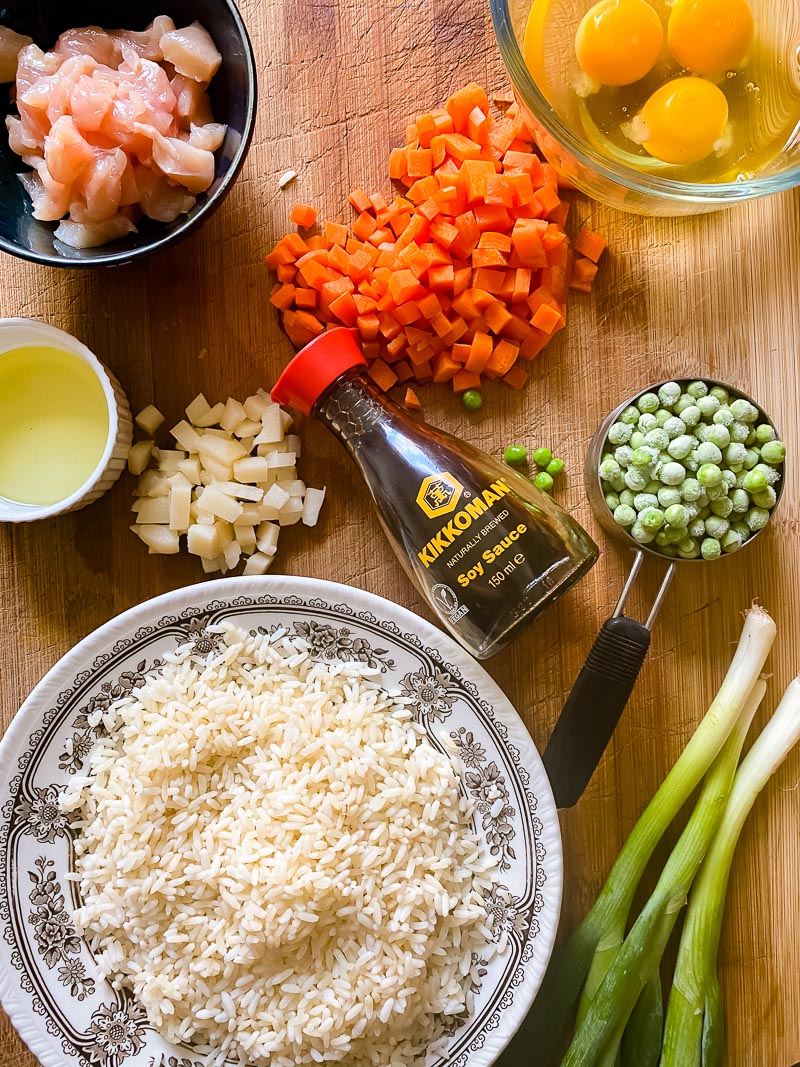 The Seasoning
What seasoning to use in fried rice is a hotly debated question. Many purists believe there shouldn't be any but I love to add a smidge. Not too much to overpower the rice but just enough to give it more flavour.
Light soy sauce is pretty much it. Once in a while I also sprinkle a bit of sesame oil at the end. Your choice!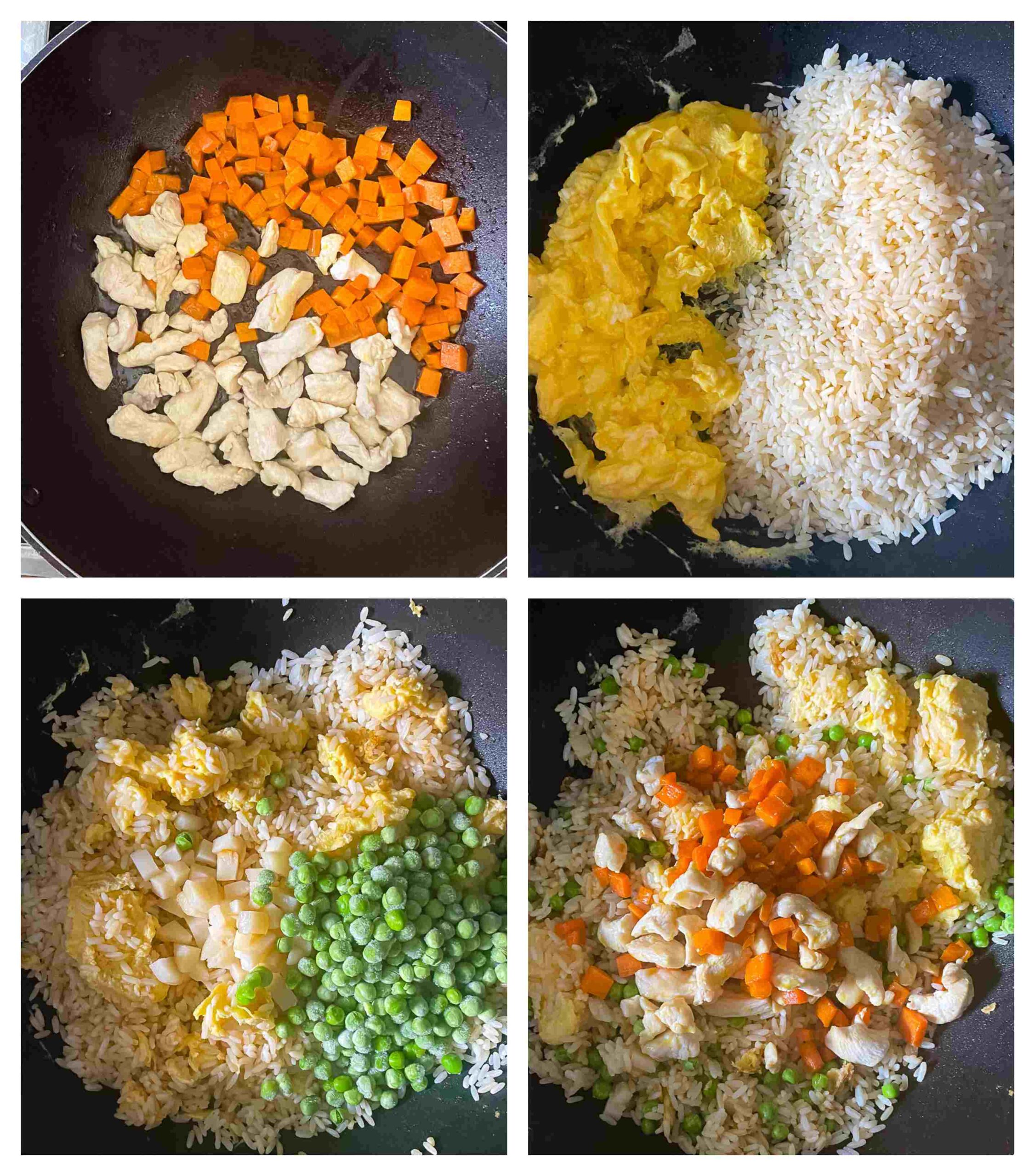 How to make fried rice at home
Let me begin by saying that making a restaurant quality fried rice at home is possible and easy! This recipe will require you to cook chicken and eggs in stages and combining everything later but it's not a difficult or a lengthy process.
Before you start, make sure you prepare all ingredients including your cooked rice. Ideally, it should be a day old and here is why. Old rice is drier, so it doesn't clump up and get mushy, so your texture will be perfect. And you will definitely use less oil when working with old rice.
As much as I love my basmati rice, it is not the best for this recipe. Use long grain rice for best texture.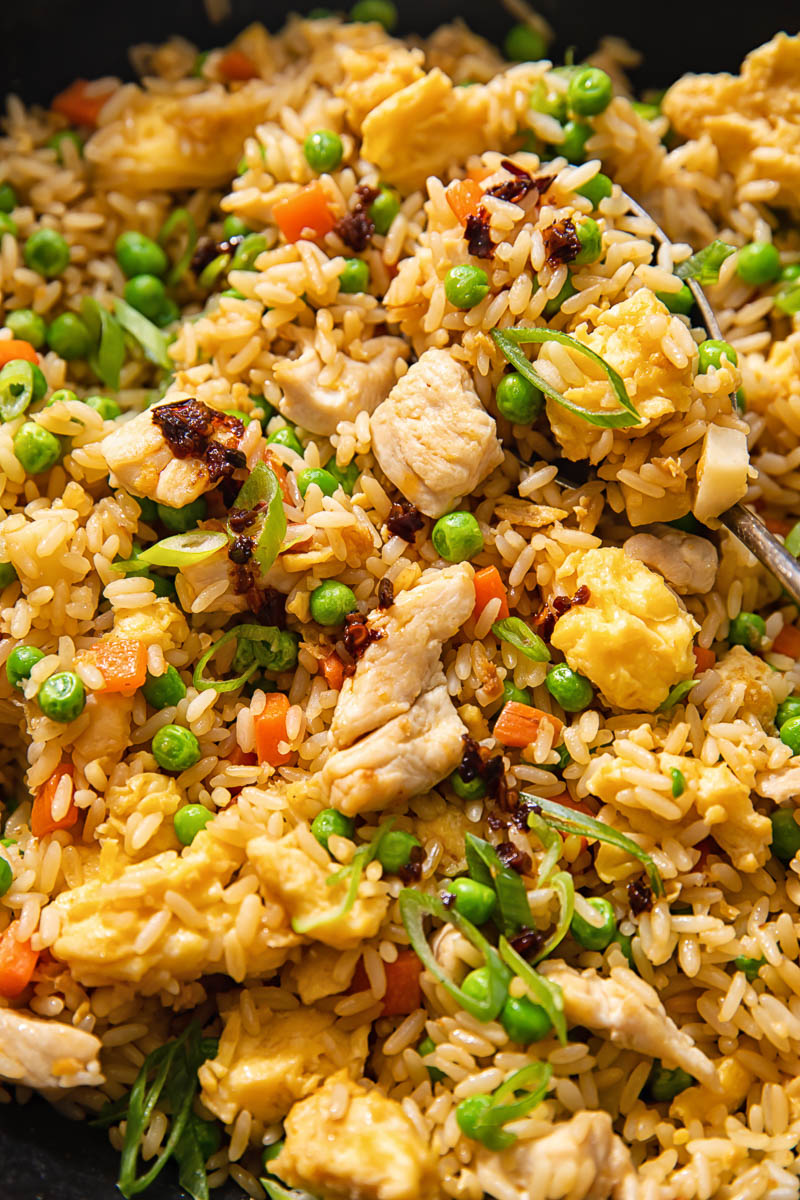 Using frozen peas and carrots is absolutely fine. I used fresh carrots because I don't usually buy them frozen but feel free to substitute. If you do use them frozen, add peas and carrots at the same time in step 3. If using fresh carrots, follow the recipe as written.
Don't forget to sprinkle with green onions at the end.
Finally, do serve with some Chinese chilli oil. This will take your meal to a truly restaurant worthy experience. It's all about the details!
More Fried Rice Recipes: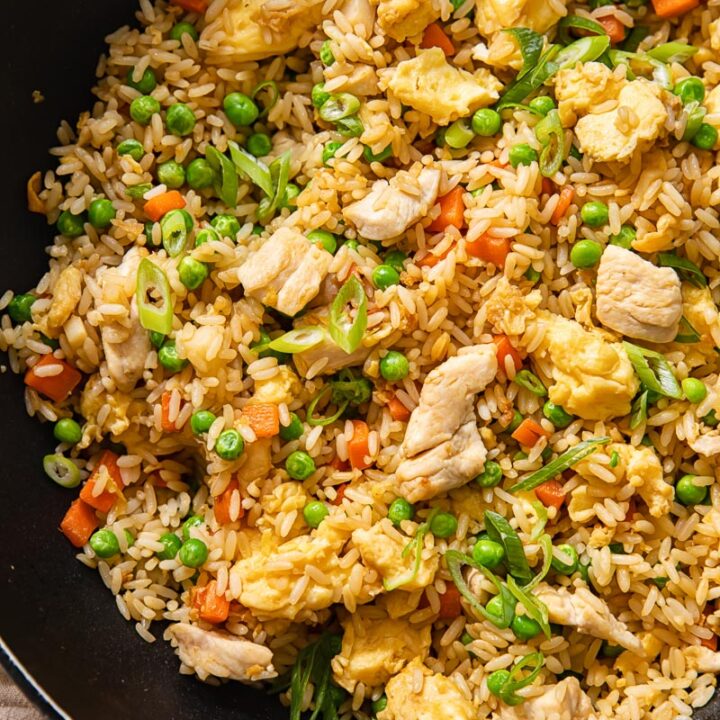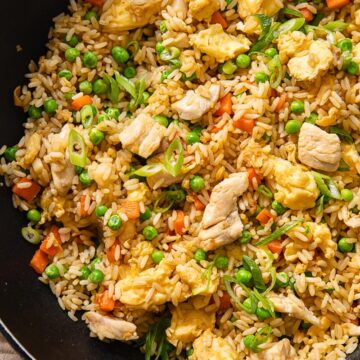 Chicken Fried Rice
Learn the secrets to the best Chinese chicken fried rice recipe! It comes together in 15 minutes and will become a new favourite!
Ingredients
2

tbsp

vegetable oil

divided

1

chicken breast

salt

white pepper

or black pepper

400g/3 cups

day old cooked long grain rice

4-5

canned water chestnuts

diced

1

carrot

diced

2

eggs

85g/2/3 cup

frozen peas

2

tbsp

light soy sauce

1

tsp

sesame oil

optional

2-3

green onions

sliced

Chinese chilli oil to serve
Instructions
Prepare the ingredients before starting to cook. Slice the chicken breast is small pieces and season with salt and white pepper. Beat the eggs with salt and pepper in a bowl and set aside. Measure out the peas and dice the carrots and water chestnuts.

Heat 1 tablespoon of the vegetable oil in a wok or a large pan and cook the chicken and carrots for 5 minutes until cooked all the way through. Remove to a plate.

Add the eggs to the wok and scramble them into large pieces. Then push to one side of the wok, add another tablespoon of oil and bring in the rice to the wok, stir until it's heated through. Then add the water chestnuts, frozen peas and the soy sauce, stir fry for a couple of minutes, then bring the chicken and carrots back to the pan, stir fry until everything is hot. Taste and add a touch of soy sauce if needed and the sesame oil, top with sliced green onions. Serve with Chinese chilli oil.
Nutrition
Calories:
383
kcal
Carbohydrates:
47
g
Protein:
21
g
Fat:
12
g
Saturated Fat:
7
g
Trans Fat:
1
g
Cholesterol:
118
mg
Sodium:
1197
mg
Potassium:
443
mg
Fiber:
3
g
Sugar:
3
g
Vitamin A:
2906
IU
Vitamin C:
11
mg
Calcium:
46
mg
Iron:
2
mg