Nasi Goreng is a fragrant Indonesian fried rice recipe, that is much easier to make at home than you think! The impressive range of textures and exciting flavours in this classic dish are famous for a reason!
Are you a fan of Indonesian cuisine? Take a look at our Indonesian coconut chicken and rice.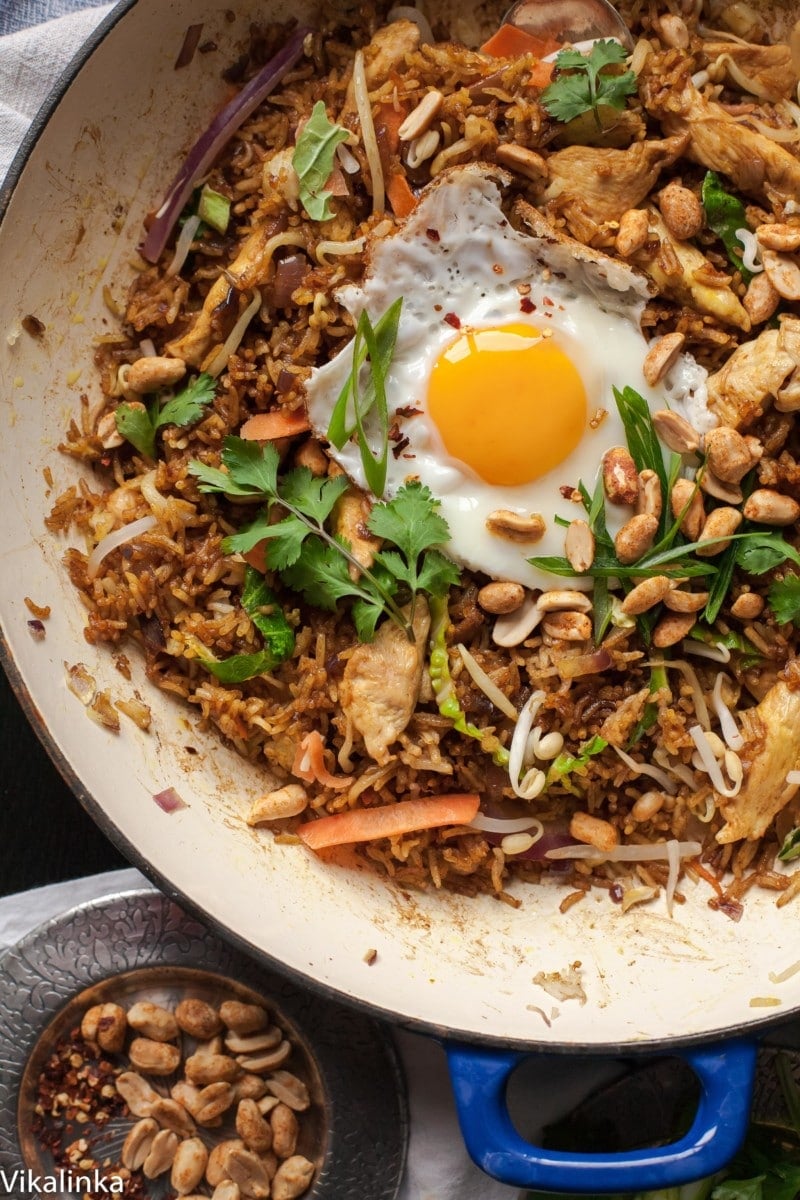 I had never come across nasi goreng until I had it served to me at the house of a friend. I wasn't quite sure what I was eating but loved every bite! The combination of so many textures and flavours in one dish was a revelation.
I am no stranger to fried rice recipes having spent a year in South East Asia in my early 20s but this one caught my attention. I love fried rice as much as the next person but this recipe is so much more flavourful. Perhaps flavourful is not the right word…fragrant.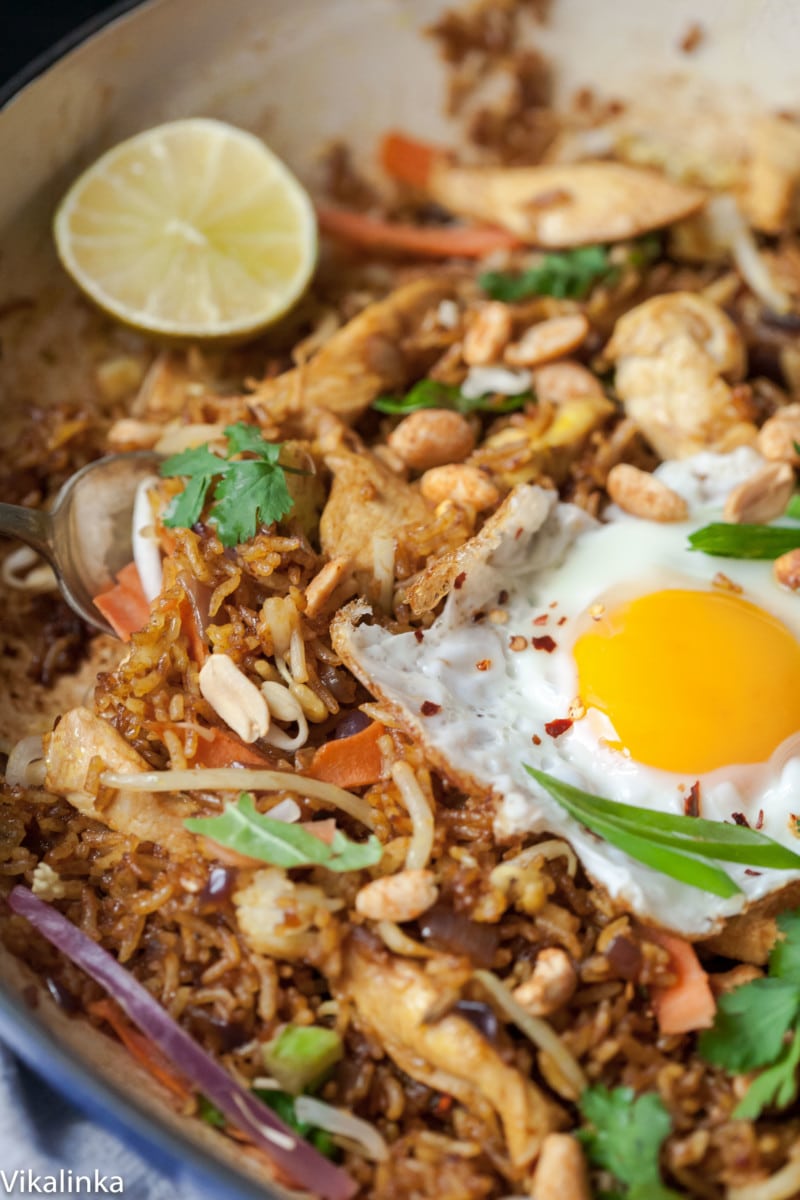 It has since become a staple at our house, especially when we have leftover rice to use up. The combination of fragrant yet gentle spice with a range of savoury and fresh flavours was an instant hit even with the fussiest of kids.
What is Nasi Goreng?
Nasi Goreng has the same concept as any other fried rice. That is, repurposing last night's leftovers and making them into breakfast. That's why many fried rice recipes have eggs in them – only one of the many reasons I love fried rice!
Although commonly a breakfast food, it is eaten at any time of the day. It's also a common street food made to order according to a preferred level of spiciness.
You will absolutely love rice flavoured with warm aromatic spices like turmeric and coriander that is livened up by spicy chillies and spring onions.
The contrast of fluffy rice and crunchy peanuts is absolutely irresistible. And glorious fried egg with runny yolk tops it all! Pure luxury.
Ingredients for Nasi Goreng
When I first got the recipe from my friends I looked at the ingredient list and spotted unfamiliar items like Sambal Oelek (raw chilli paste) and Ketjap Manis (thick, sweet, rich, syrupy Indonesian version of soy sauce containing sugar and spices).
Although they might not be in everyones pantry, they are not as hard to find as I feared. It should be possible to find them in almost every supermarket. It's amazing how we pass by unfamiliar ingredients without registering their presence.
Another authentic ingredient you might want to use is fish paste. I couldn't find it where I live, so it has been omitted in my version.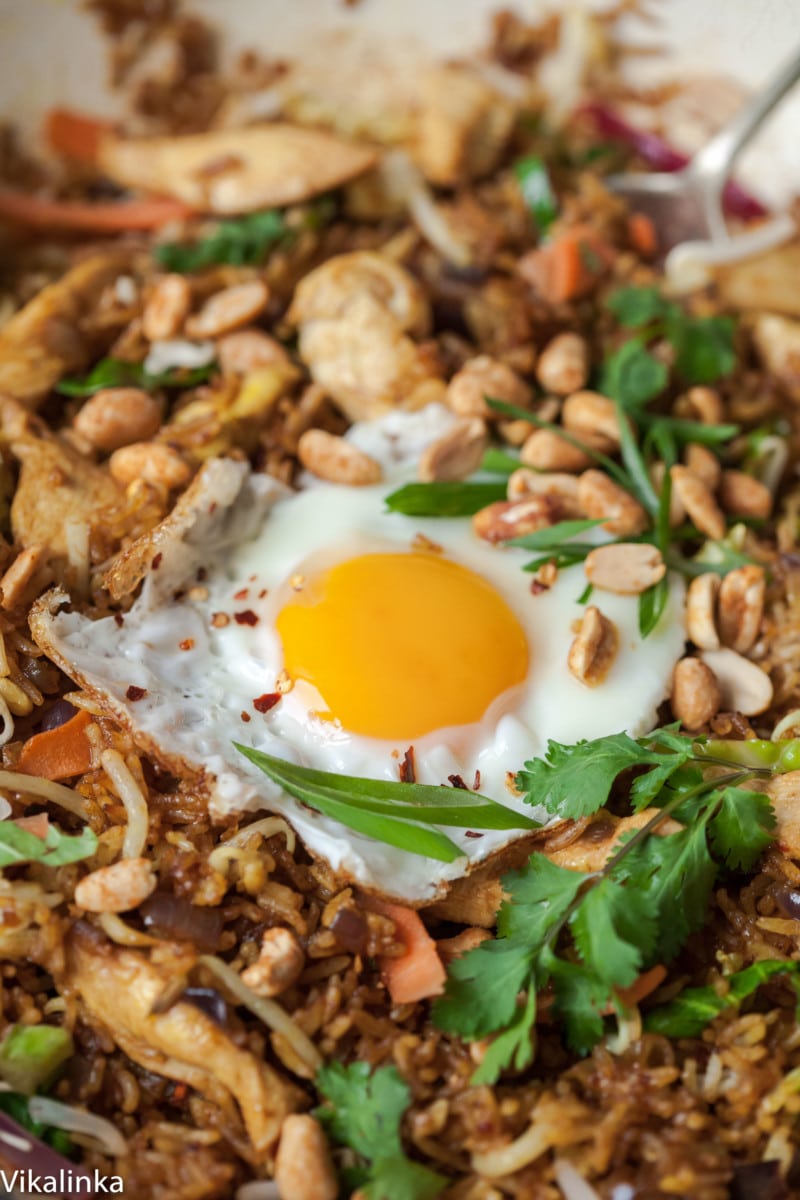 Making Nasi Goreng
Heat up oil in a large pan or wok and add chopped onions and, after five minutes, minced garlic. Let it cook for another minute then add the ginger, tumeric and cumin and cook stirring until you smell the lovely spices.
Add the diced chicken breast and let it cook for a few minutes to seal all the pieces. Now add in the rice along with sambal oelek, soy sauce and ketjap manis. If you are using leftover rice, leave it covered for a couple of minutes with the temperature lowered to let the steam soften the rice.
Give it a good stir to coat the rice with the spices and to break up any clumps. Bring the vegetables to the pan and stir-fry for 2-3 minutes. While this is happening, fry your eggs in a separate pan.
Now squeeze the juice of half of a lime over the whole dish and sprinkle with green onions, cilantro/coriander, peanuts and the egg. I serve extra peanuts, green onions, cilantro and chillies on the side so the nasi goreng can be personalised to taste.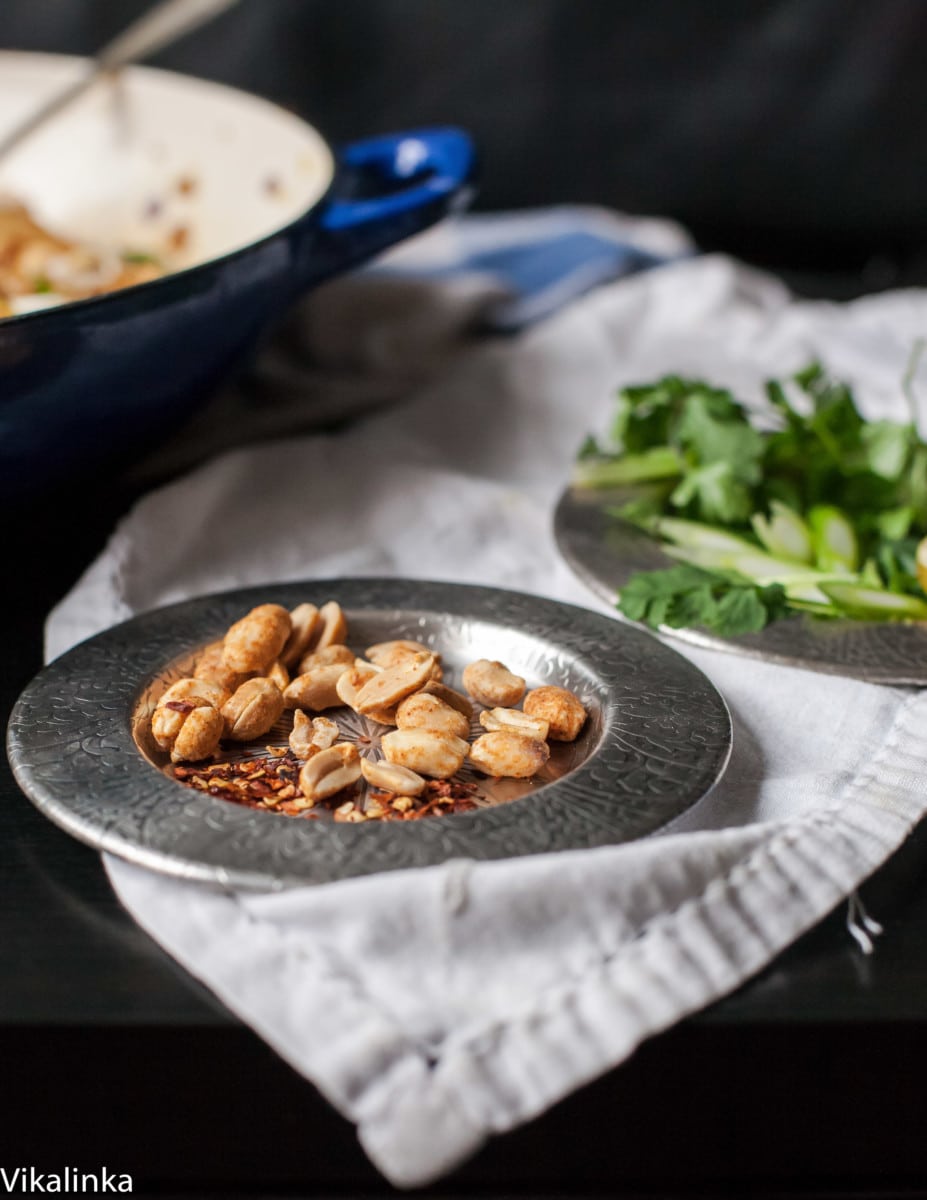 Authentic recipe
As with many recipes, it is challenging to say what exactly is an authentic recipe for this dish. As is often said, there are as many 'authentic' versions as there are cooks who make it!
Because the concept for nasi goreng is to reuse leftovers, the ingredients used depend on what is available when it's time to prepare it. This version of this recipe is my own and uses ingredients that are readily available where I live.
I have kept the spirit of the original, but this version of the recipe is not going to be what you can find on the streets of Jakarta. I don't claim this recipe to be pure Indonesian Nasi Goreng but it is, my friends, PURE LOVELINESS!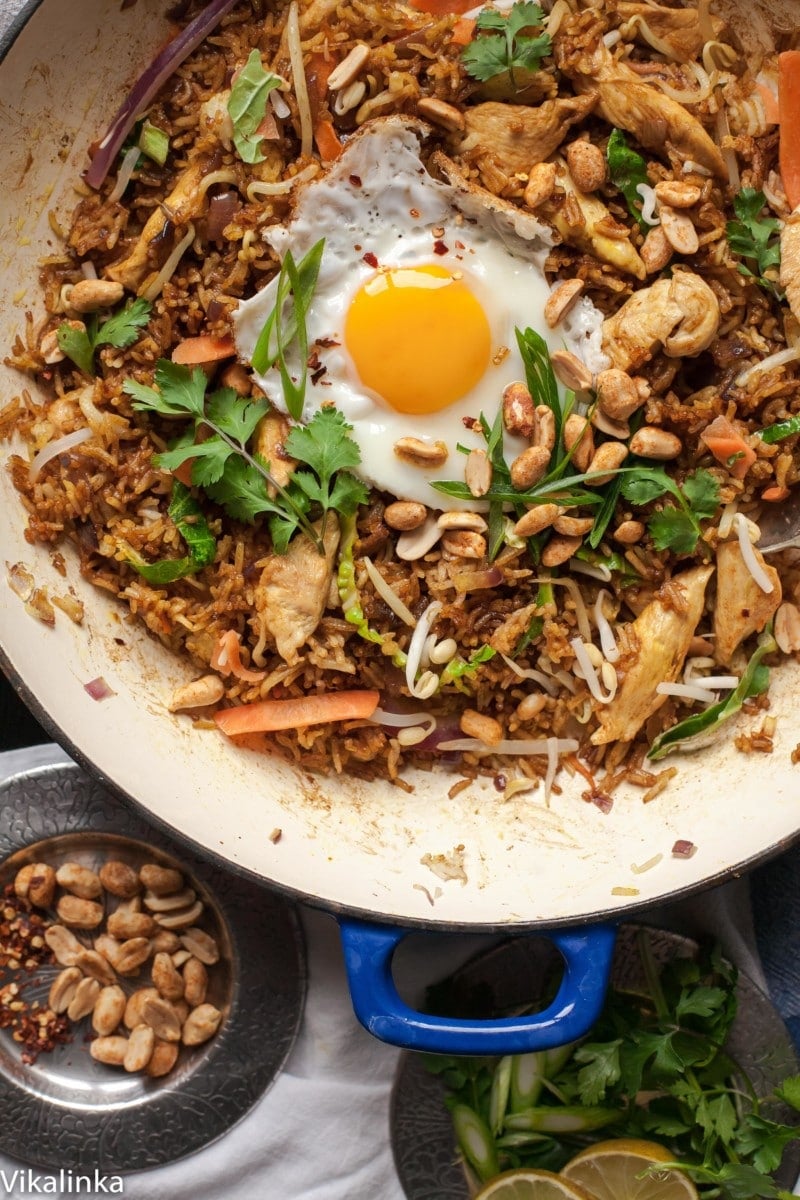 Recipe tips and notes
If you don't have leftover rice for this recipe, you can make it specifically for the recipe. Cook your rice first and spread it on a baking sheet in a thin layer to cool off, then proceed with the recipe below.
Chicken can be replaced with pork, beef, shrimp or other seafood.
Other vegetables can be used in place of those suggested. Beans, peas and broccoli would work well.
For a spicier version, add sriracha, chilli flakes or a spicy chilli paste to taste.
I avoid adding extra salt to this recipe as soy sauce brings enough salt. If you feel that it needs more salt, add some towards the end of the cooking process to avoid over-salting.
Serve with peanuts, cilantro/coriander, chillies and green onions on the side so more can be added if preferred.
More Delicious Recipes with Rice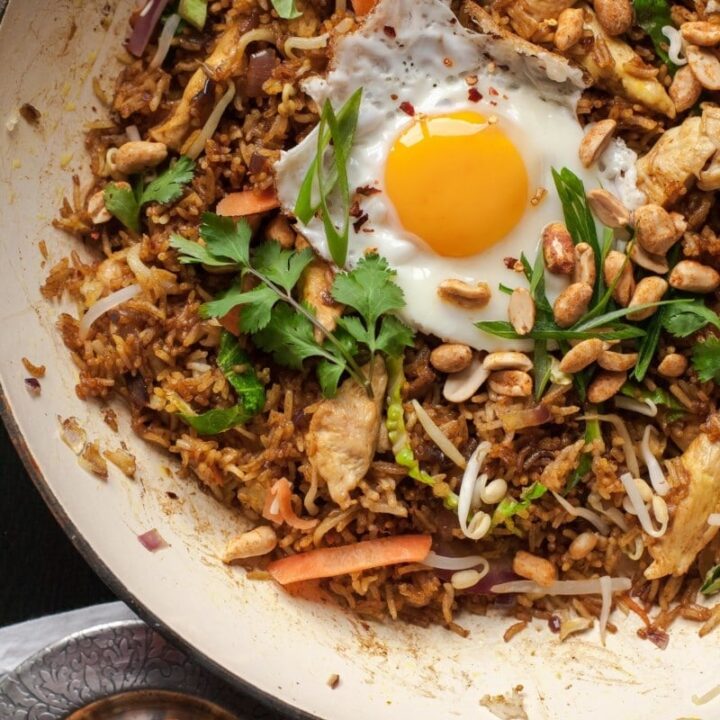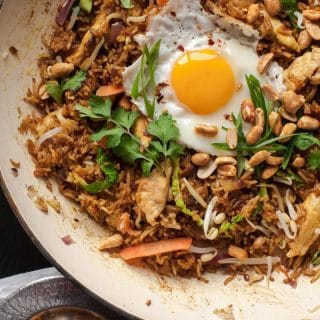 20-Minute Indonesian Fried Rice Nasi Goreng
Nasi Goreng is a fragrant Indonesian fried rice recipe, that is much easier to make at home than you think!
Ingredients
1

tbsp

vegetable oil

1

tsp

sesame oil

1

onion

chopped

2

garlic cloves

minced

¼

tsp

ground ginger

¼

tsp

turmeric

½

tsp

cumin

1

chicken breast

diced

2

cups

/400g basmati rice

cooked

2

tsp

sambal oelek

2

tsp

soy sauce

2

tsp

ketjap manis

¼

cup

/25g shredded carrot

¼

cup

/45g bean sprouts

¼

cup

/80g shredded green cabbage

1

tbsp

fresh cilantro

chopped

2

spring onions

sliced

1-2

eggs

¼

cup

/30g peanuts

½

lime

juice

Chilli flakes

optional
Instructions
Heat both oils in a large frying pan and cook chopped onion over medium heat for 5 minutes, add garlic and continue cooking for 1 minute longer.

Add ground ginger, turmeric and cumin and cook stirring for 1 minute until you start smelling the spices. Add diced chicken breast and cook for 5 minutes until all pieces are sealed.

Now add cooked rice to the pan together with sambal oelek, soy sauce and ketjap manis. I add no salt as soy sauce is quite salty but feel free to adjust to your own taste. If using rice dried out from being in the fridge overnight lower the heat and cover the pan with a lid to let it steam for 2 minutes to soften it a bit.

Take the lid off and start stirring to coat rice with spices and break up any large chunks of rice. Add your vegetables, the ingredients above are only suggestions, you may use anything you like-beans, peas, broccoli, etc. Stir fy for 2-3 minutes.

Meanwhile fry eggs on a separate pan for a topping. Alternatively, you can whisk your eggs, cook them like an omelette, slice in strips and use them as a topping.

To finish Nasi Goreng off, squeeze the juice of ½ lime all over it, sprinkle with sliced spring onions, chopped cilantro, peanuts and fried egg. Serve peanuts, sliced green onions, chopped cilantro and chillies on the side as toppings so people may add more if they wish.
Notes
Nasi goreng is very adaptable to the ingredients you have available. Other vegetables and protein options can be substituted without changing the recipe.
Nutrition
Calories:
641
kcal
Carbohydrates:
82
g
Protein:
40
g
Fat:
17
g
Saturated Fat:
3
g
Polyunsaturated Fat:
5
g
Monounsaturated Fat:
7
g
Trans Fat:
1
g
Cholesterol:
154
mg
Sodium:
684
mg
Potassium:
971
mg
Fiber:
6
g
Sugar:
13
g
Vitamin A:
2434
IU
Vitamin C:
32
mg
Calcium:
119
mg
Iron:
3
mg