This tandoori chicken will taste just like it came from your local Indian restaurant! Learn how to make this iconic Indian dish in your air fryer, which delivers an authentic taste fast and fuss free.
Serve this chicken recipe as an appetiser to your Indian feast or as a main course with Coconut Rice and Cauliflower and Potato Curry Aloo Gobi.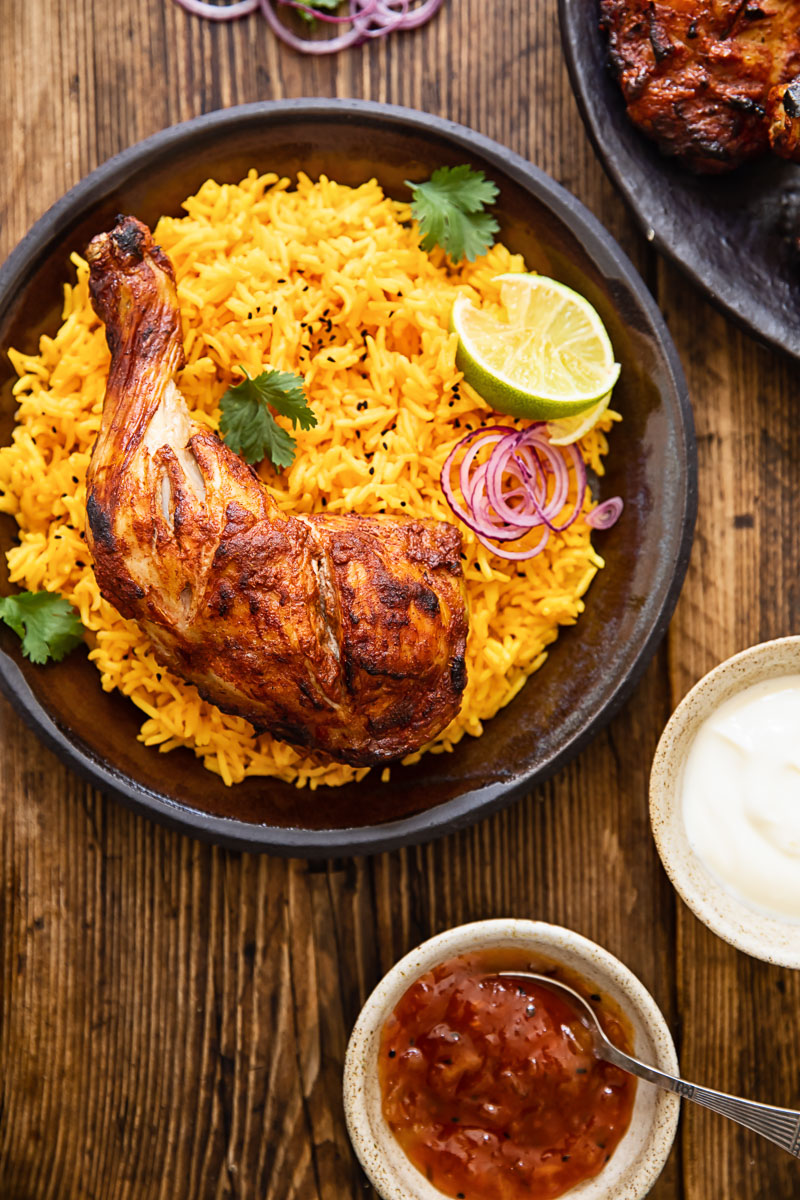 I have a long standing affection for crispy on the outside, fall off your bones tender, and flavour-packed tandoori chicken. Ever since I first tried it at an Indian restaurant as a college student more than two decades ago, I wanted to replicate it at home.
I was always discouraged from it by the lengthy description of the process, a long list of spices needed for the marinade but most importantly, by the lack of a very special oven.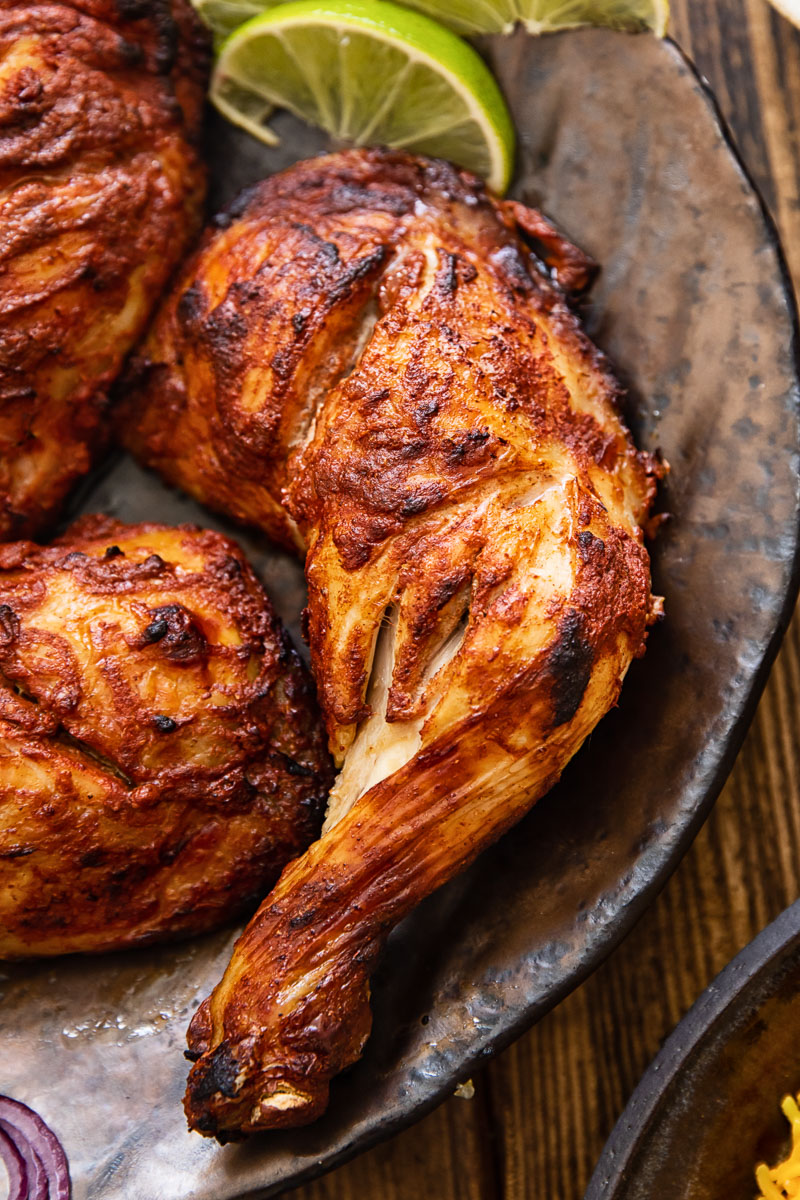 Tandoor Cooking
Tandoor is an ancient cooking device, which is still used in modern day India. It is a deep cylindrical oven, which is kept at 480C/960F! The benefit of such a high temperature is the speed, at which it cooks the food.
Its shape is responsible for a healthy method of cooking fatty meat. Excess fat simply drips off in the process, leaving the meat juicy, flavourful and lean. This is precisely the thing, which is needed for tandoori chicken as well as another Indian classic, naan.
Now, I don't own a tandoor oven, so what business do I have recreating a recipe, which gets its name after it?! I believe, I found a method, that mimics the process!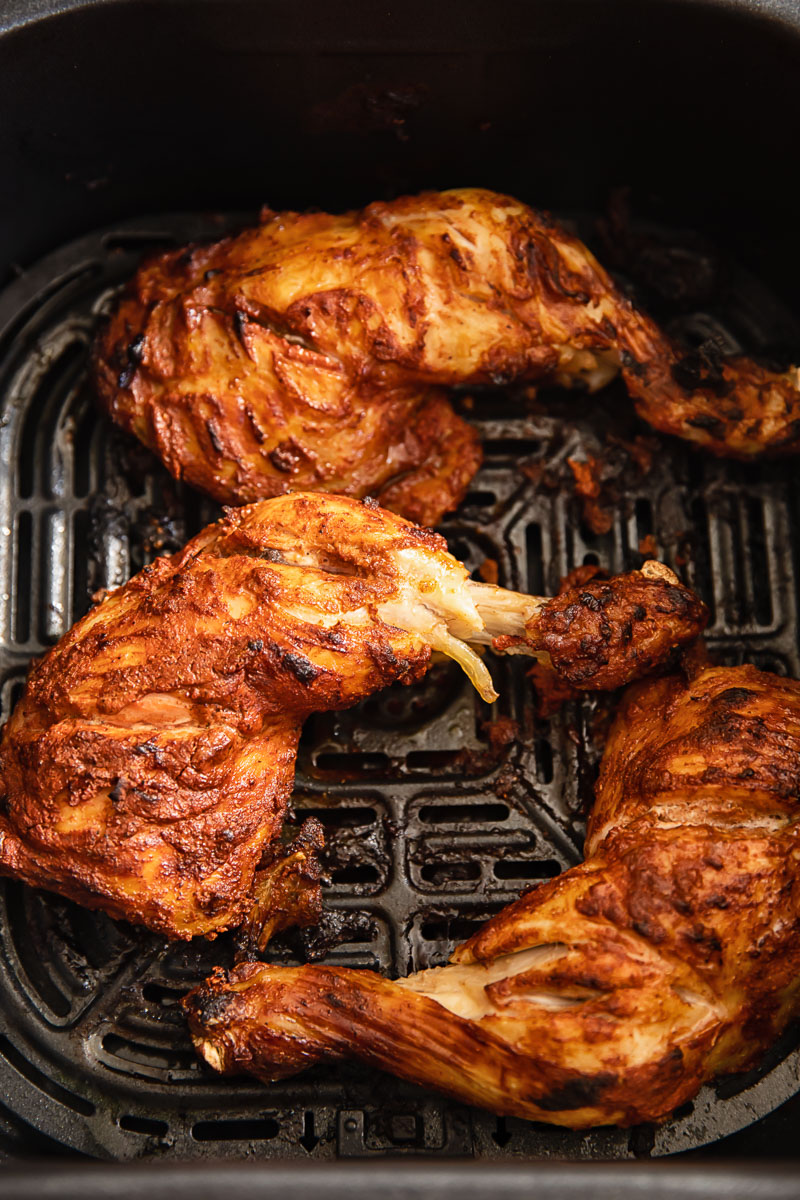 Air Fryer Chicken
As I mentioned above, two of the main features of the tandoor cooking method are high temperature and the ability to drain off fat.
Guess, which other cooking appliance is great at those? Yes, an air fryer! I realise that some people are still thinking that air fryers are a fad, an unnecessary gadget easily forgotten. Not me.
As someone, living in a big city and cooking in a small kitchen, equipped with a tiny oven, an air fryer provides additional oven space on top of other amazing features. I use mine daily!
Just like a tandoor oven, it gets up to very high temperatures and due to an air circulation technology, it cooks the food very quickly without drying it out.
And if you take a look at the image above, it also has an ability to dry off fat. It does that through the slots in the metal plate, inserted in the air fryer basket.
Chicken comes out absolutely delicious when cooked in an air fryer. You can roast an entire chicken in half the time like I did with the recipe for Greek Chicken. Or you can make the best tasting chicken wings; crispy on the outside and succulent on the inside.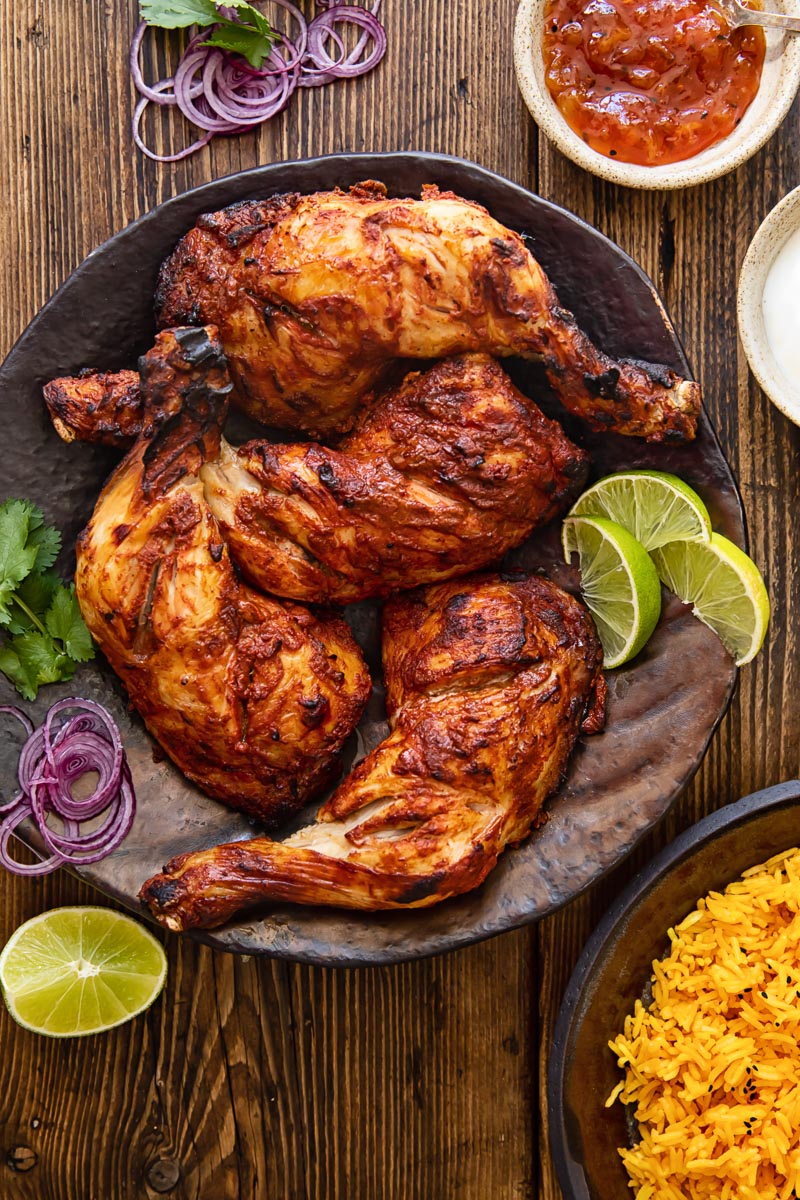 Tandoori Chicken Spice Mix
I realise that apart from replacing the tandoor oven with an air fryer, I haven't touched on the notoriously long and complex spice mix this chicken is known for.
Once again I have a simple solution for you. Instead of buying a bunch of spices you might not use again, I recommend buying one spice mix. It's called Tandoori Masala Spice Mix. You can buy it in any major supermarkets or online.
Just like any other spice mix, it does the difficult job for you. Another great thing is every spice mix is slightly different. Just like tandoori chicken recipe varies from cook to cook, so will yours depending on the mix you buy.
This trick was shared with me by a friend, who lived in India for several years and is known for her amazing Indian dishes. I've been using tandoori masala mix for a long time now, which allowed me to prepare delicious Indian classic like Butter Chicken without much hassle.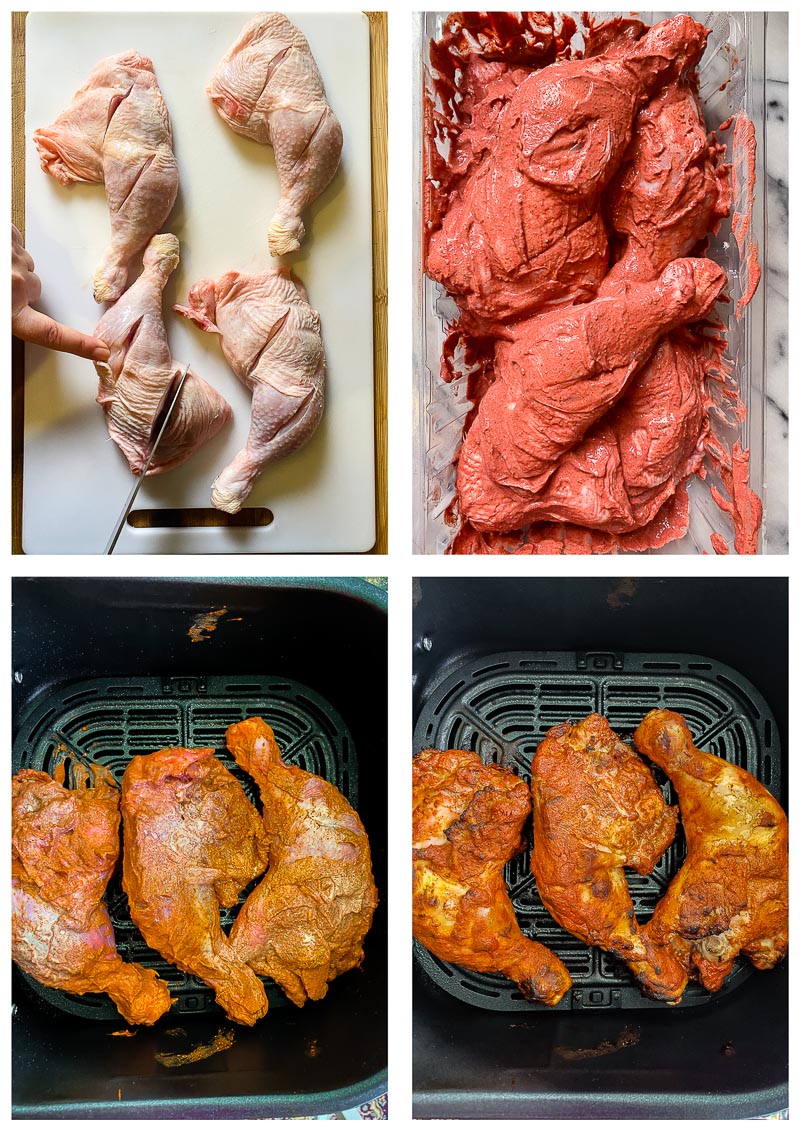 Recipe Tips and Notes
Traditionally whole chicken legs are used for this recipe but you can use chicken thighs and drumsticks separately. I've even used skinless and boneless chicken breasts. However, while my family loved them, I still prefer using bone-in chicken legs. They turn out juicier and more succulent.
The cooking time is very short but the chicken needs to be marinated for a couple of hours or overnight.
The marinade is very simple. Just a mix of plain yogurt and tandoori masala spice. The best plain yogurt to use is thick yogurt like Greek yogurt or Skyr. It could be full fat or even fat free as long as it's thick.
Before adding the chicken legs to the marinade, cut slits into them. This will allow the marinade to penetrate deeper and will shorten the cooking time as well.
You can take the skin off or leave it on. I do either depending on how I feel and how much time I've got.
Do not be tempted to cover the metal plate at the bottom of the air fryer basket with parchment paper or foil for an easy clean up. While convenient, it traps the fat and juices during the cooking process and leaves the chicken soggy instead of crispy.
Serve this chicken with basmati rice, plain yogurt and mango chutney for a delicious dinner.
More Indian Chicken Recipes to Try: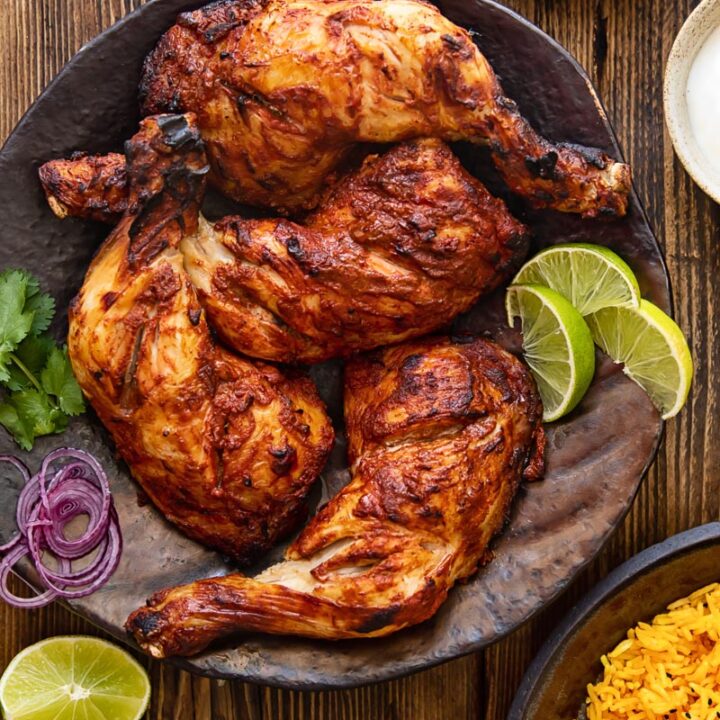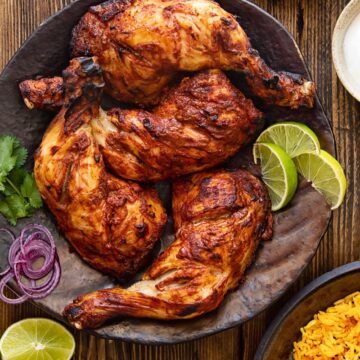 Easy Tandoori Chicken
This tandoori chicken will taste just like from your local Indian restaurant! Learn how to make this iconic Indian dish in your air fryer, which delivers an authentic taste fast and fuss free.
Print
Pin
Rate
Ingredients
3

lbs

chicken legs

6

tbsp

tandoori masala spice mix

500ml/2 cups

plain Greek yogurt

1

tsp

salt

cooking spray
Instructions
Cut two slits into each chicken leg to allow the spice mix to penetrate deep into the flesh. Mix the tandoori masala spice and salt with the yogurt. Cover the chicken with the marinade and marinate for at least 2 hours or overnight.

Preheat the air fryer to 190C/360F. Spray the air fryer basket with a cooking spray, then put the chicken legs in the basket the cut side down in a single layer and cook for 10 minutes. Flip the chicken legs, then air fry for 5-10 minutes longer, depending on the size of the legs until the internal temp is 165F/74C. Remove from the air fryer and keep warm. Repeat with the remaining chicken.
Nutrition
Calories:
355
kcal
|
Carbohydrates:
7
g
|
Protein:
30
g
|
Fat:
23
g
|
Saturated Fat:
7
g
|
Polyunsaturated Fat:
5
g
|
Monounsaturated Fat:
9
g
|
Trans Fat:
1
g
|
Cholesterol:
125
mg
|
Sodium:
532
mg
|
Potassium:
422
mg
|
Fiber:
2
g
|
Sugar:
4
g
|
Vitamin A:
3610
IU
|
Vitamin C:
1
mg
|
Calcium:
116
mg
|
Iron:
2
mg