This cauliflower and potato curry is a delicious vegetarian option that everyone will enjoy. Vegetables braised in an aromatic curry sauce until fragrant and delicious. I love Aloo Gobi so much I decided to make it even simpler and cook it more often!
Are you a fan of vegetarian curries? Then give my Chickpea and Butternut Squash Curry a try?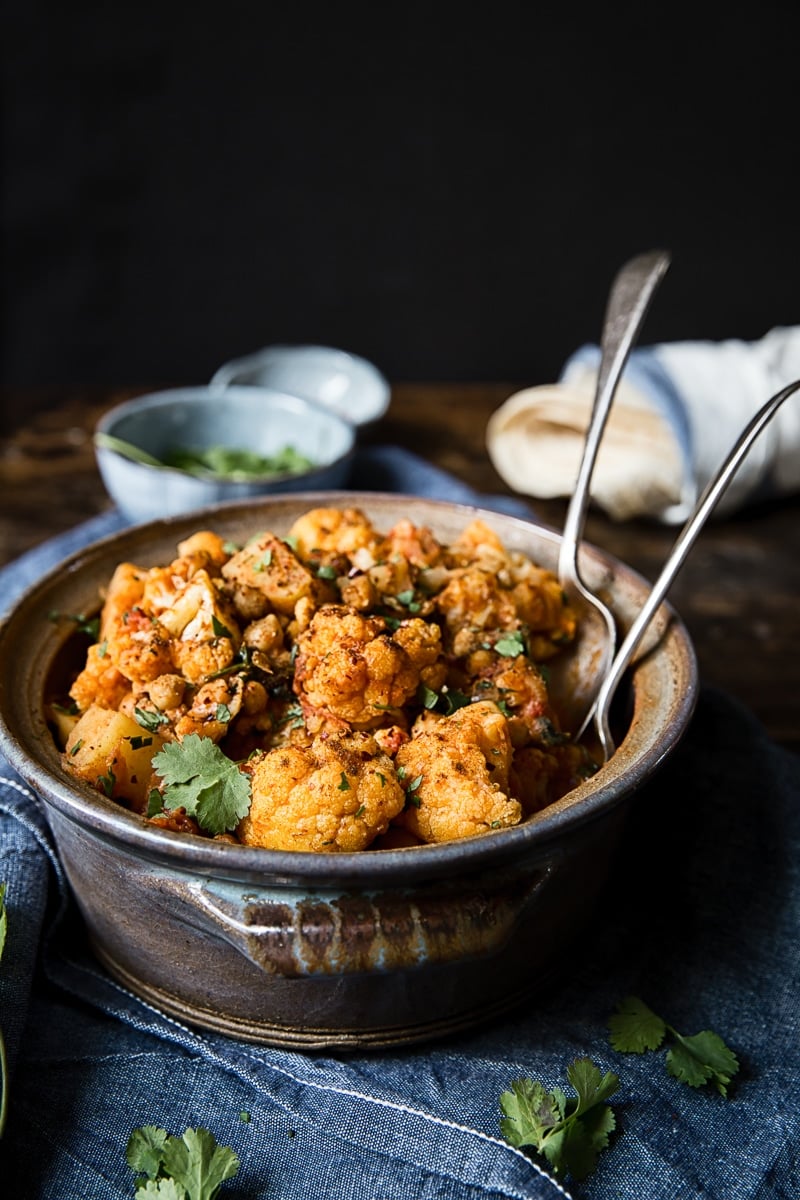 I think I've mentioned it more than once that our choice of a takeaway dinner is Indian curry. Partially because we love it but also due to a certain availability limitation in our parts of London.
If we spend the money and order in, it better be delicious and Indian food is just the best choice south of the river.
Aloo Gobi
We usually lean towards the familiar choices for the kids. Until recently their favourite curry was butter chicken but lately our son started favouring the vegetarian Aloo Gobi.
I was quite surprised my growing by the hour teenager consistently chose a cauliflower and potato curry over meat but was also pleased!
What is it?
Aloo gobi stands for two main vegetables this curry consists of potatoes and cauliflower respectively. Every cook has their own recipe and I don't claim mine to be authentic but it is simple and very delicious.
I've also added a can of drained chickpeas to the mix to make this curry one nutritious and satisfying vegetarian meal.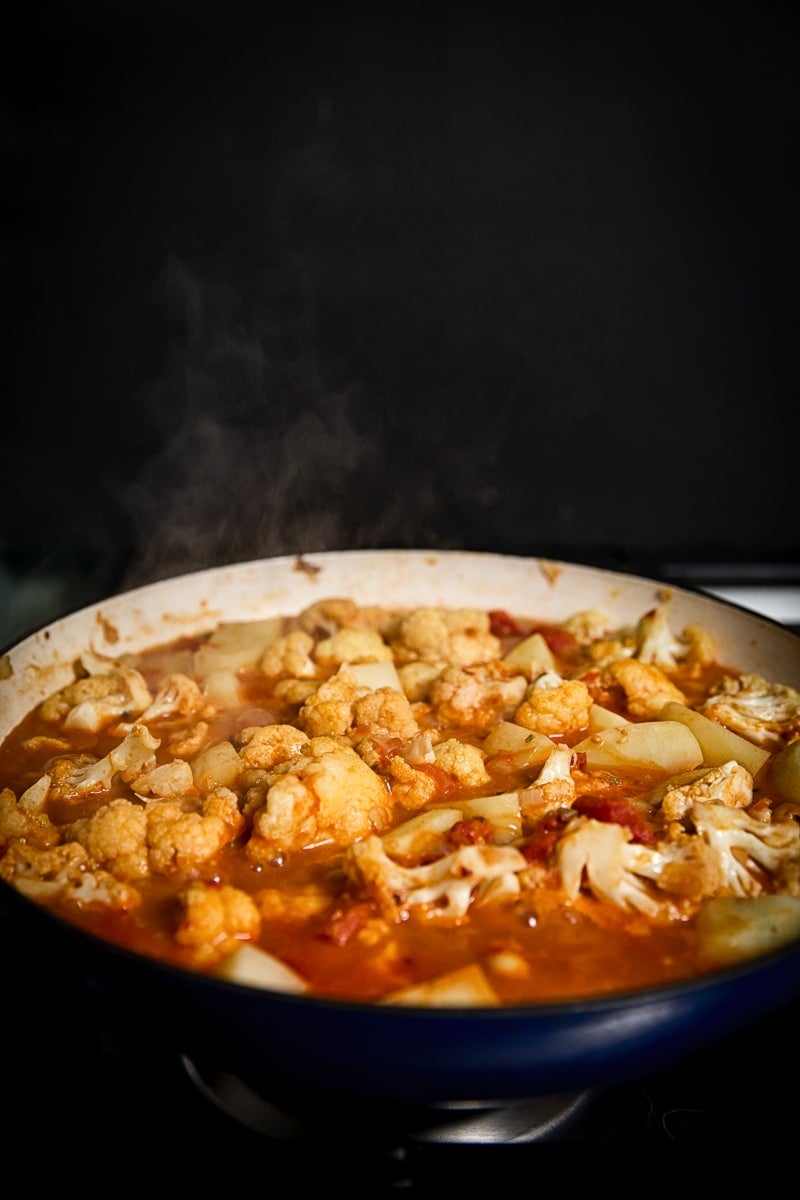 To be honest, our kids never turned their noses up at the sight of vegetables.
They loved them since they were very little but they only ate them raw, so seeing my kids choosing cooked vegetable dishes is a small victory for sure!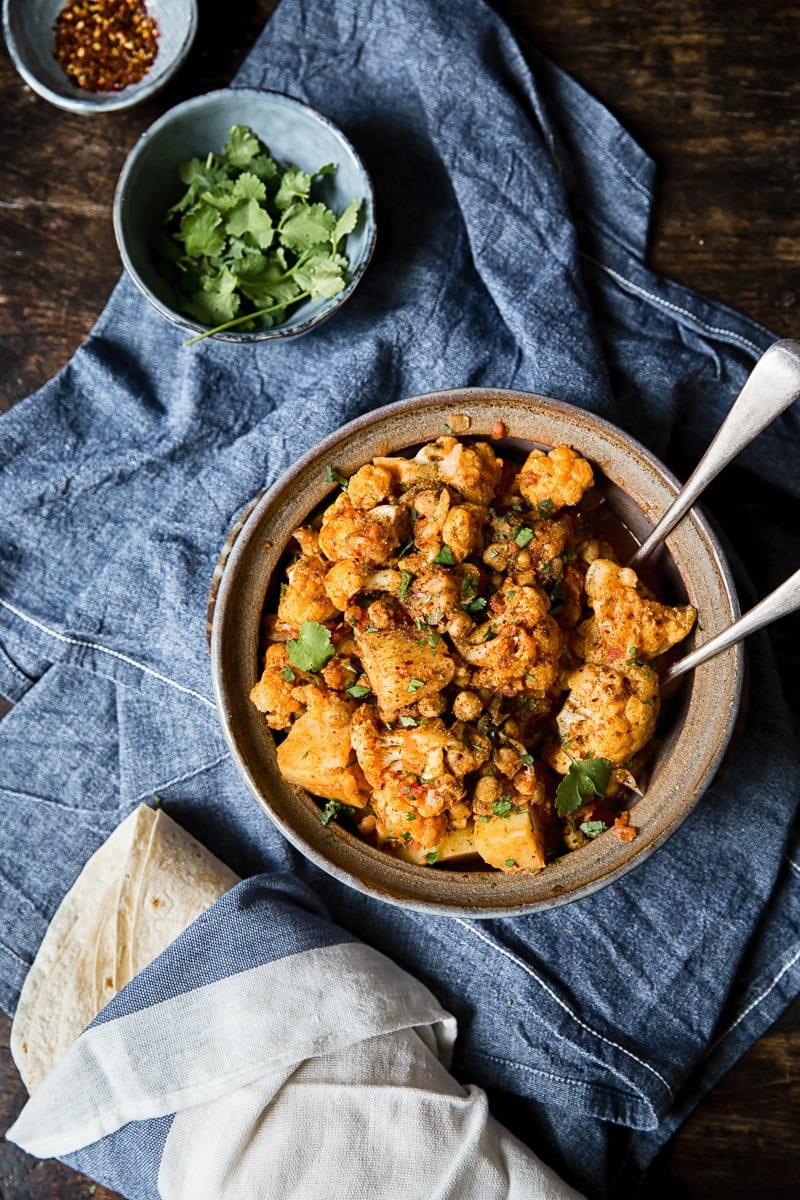 Frugal way to feed a family
I am happy about that for two reasons. Vegetarian dishes are so good for us and they are sooooooo cheap to make!
Not to mention that a head of cauliflower, a couple of potatoes and a can of chickpeas go a long way to feed a crowd!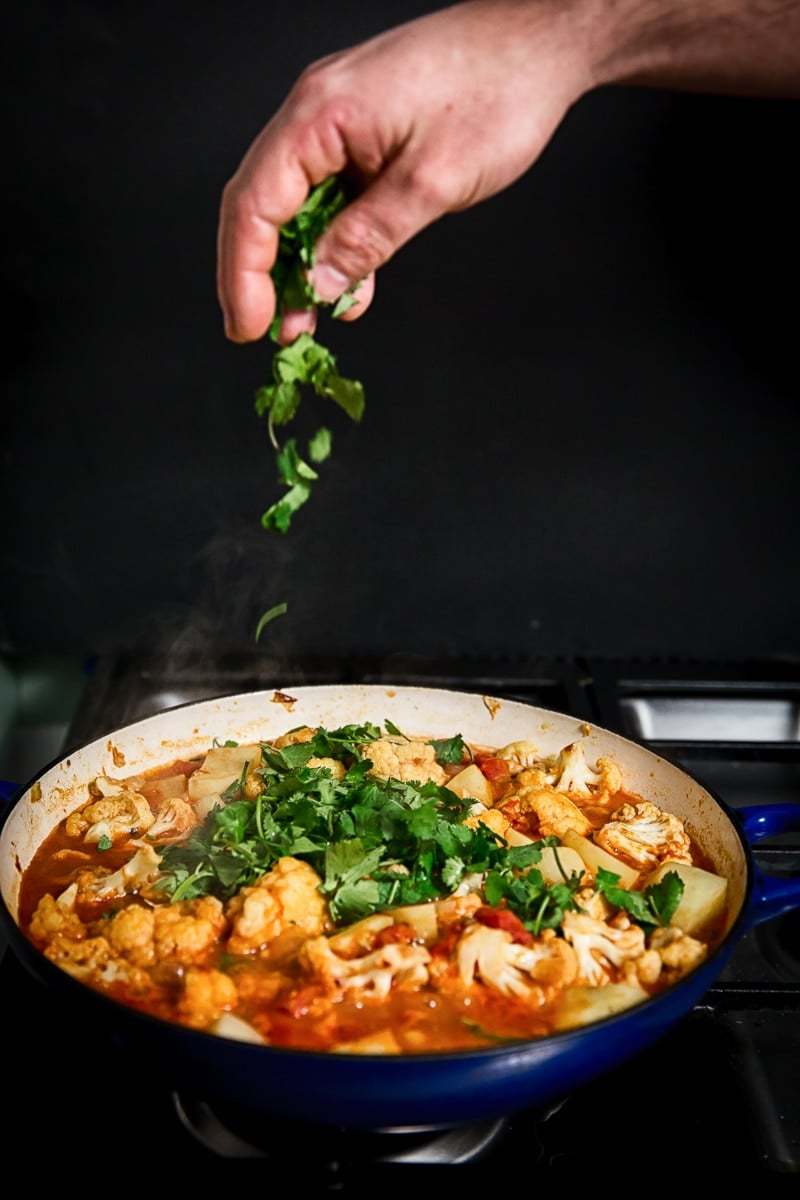 I usually use pre-made curry pastes to make my curries to save time but this time I went for a curry powder my husband brought from India a couple of months ago.
I didn't really know what exactly it was as there wasn't much written on the package but the weight and the name of the store, so I emptied the content of the package into an old coffee can and labeled it "Curry Powder from India"!
Of course it turned out to be delicious and so, so fragrant!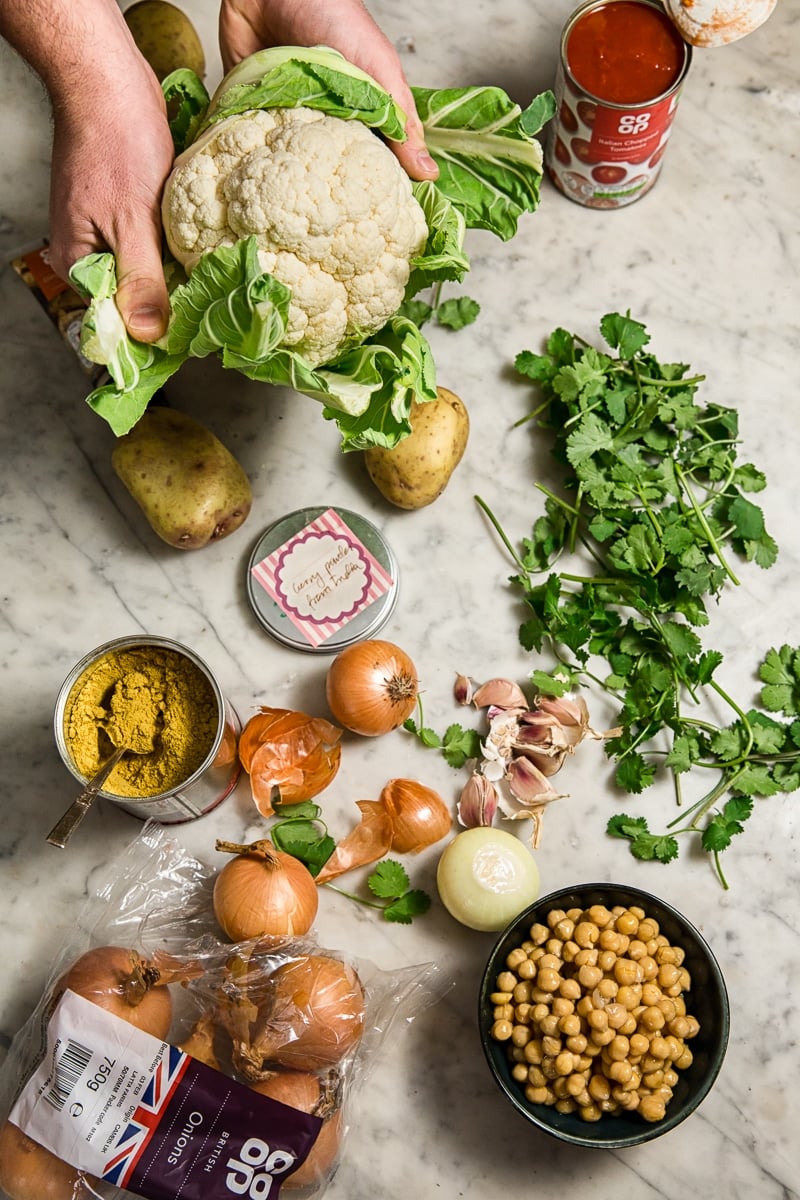 How to make cauliflower potato curry
Here are the step-by-step photos of this cauliflower and potato curry.
Sometimes a picture is worth a thousand words, so here is your visual guide for various stages of this fragrant cauliflower and potato curry Aloo Gobi.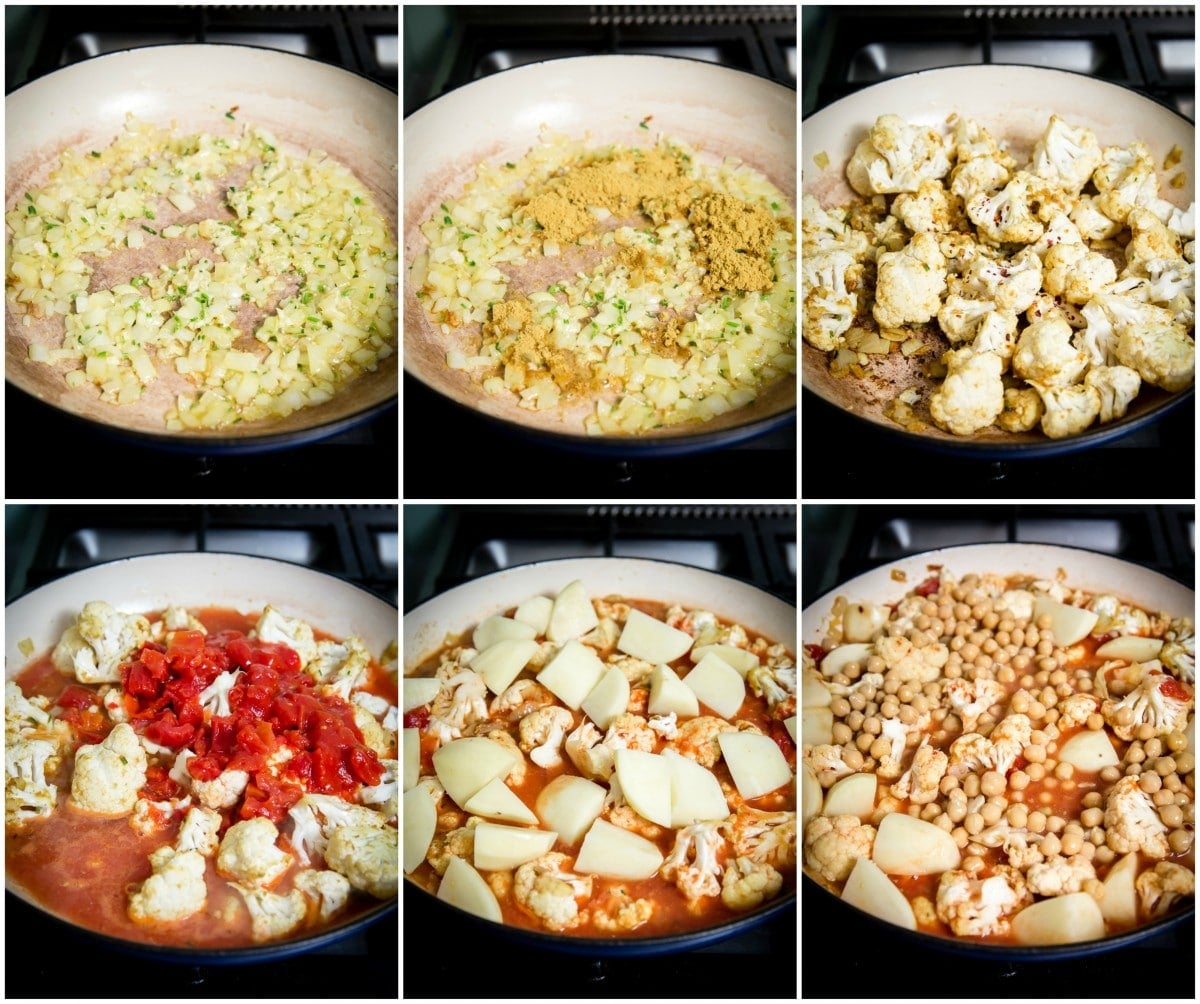 What to serve with the curry
After my cauliflower and potato curry was cooked I sprinkled it with a touch of garam masala for extra fragrance and flavour before serving but that is completely optional. I also add fresh cilantro as I love the freshness that it adds.
I always serve my curries wit with some basmati rice, pickles, chutneys and flatbread!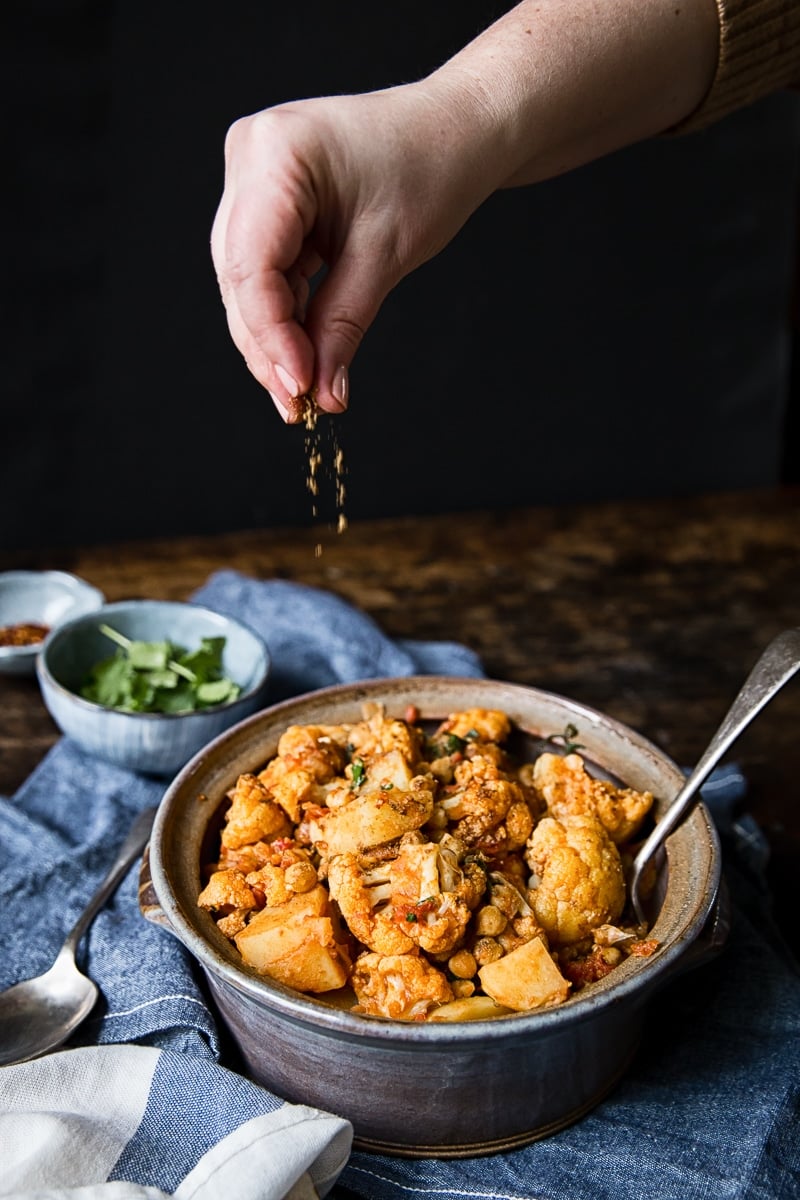 This recipe was originally published in 01/2018. Updated and republished in 03/2020.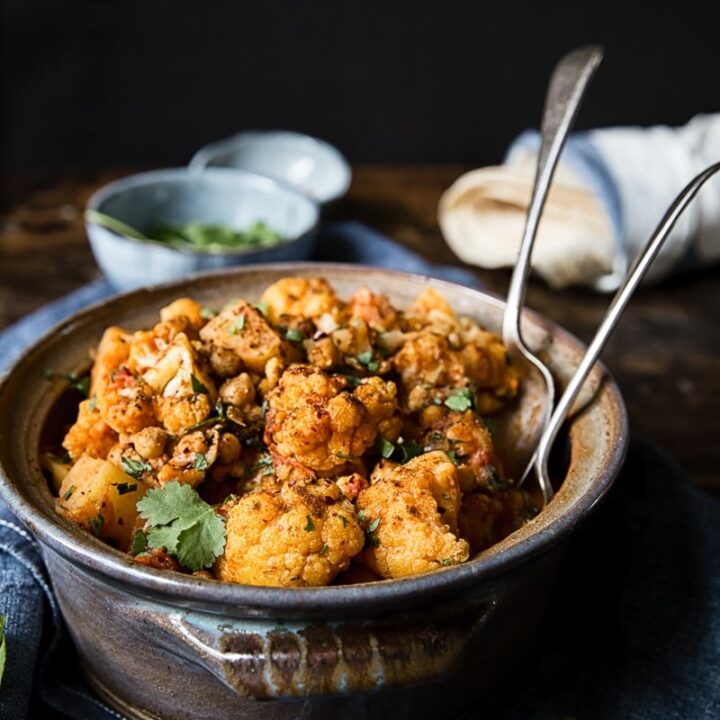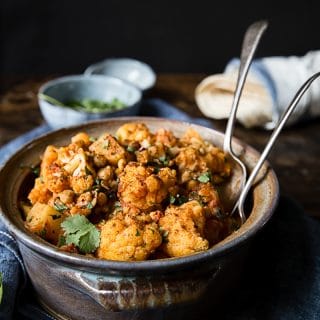 Simplified Cauliflower and Potato Curry "Aloo Gobi"
This cauliflower and potato curry is a delicious vegetarian option that everyone will enjoy. Vegetables braised in an aromatic curry sauce until fragrant and delicious.
Print
Pin
Rate
Ingredients
2

tbsp

oil

1

onion

chopped

2

tsp

cilantro/coriander stems

chopped

1

tbsp

fresh ginger

grated or ginger paste

2-3

garlic cloves

minced

3

tbsp

curry powder of your choice

1

tsp

dried chilli flakes

1

cauliflower head

broken into florets

1

X400g/14 oz can chopped tomatoes

water

2-3

small potatoes

peeled and cut into large chunks

1

X400g/14oz can chickpeas

drained

salt to taste

cilantro/coriander leaves

chopped

1

tsp

garam masala
Instructions
Heat the oil in a deep and large pan and saute chopped onion, minced cilantro stems (they add much flavour), grated ginger and minced garlic over low heat for 5-7 minutes. Add the curry powder of your choice and stir to combine until you smell the curry aroma, add the chilli flakes.

To the same pan add the cauliflower florets, canned chopped tomatoes, then fill the empty tomato can with water and pour it into the pan, then add potatoes, chickpeas, a pinch of salt and bring to a boil, then cover with a lid and cook on medium heat for 15 minutes.

Take the lid off and add chopped cilantro/coriander leaves, stir to combine and cook uncovered on medium-high for 10 minutes longer or until desired consistency. The curry shouldn't be watery but should form a thick tomato based sauce around the vegetables. Taste and add salt if needed. Then sprinkle with 1 tsp of garam masala.

Serve with rice, flatbreads and chutney.
Nutrition
Calories:
268
kcal
|
Carbohydrates:
43
g
|
Protein:
11
g
|
Fat:
8
g
|
Saturated Fat:
1
g
|
Sodium:
142
mg
|
Potassium:
1078
mg
|
Fiber:
11
g
|
Sugar:
10
g
|
Vitamin A:
290
IU
|
Vitamin C:
61
mg
|
Calcium:
104
mg
|
Iron:
5
mg