Try my Nepalese Red Lentil Dahl for a nutritious and vegetarian dinner option! Red lentils cooked with onions, garlic, ginger and aromatic spices into a delicious curry served over plain rice.
Pair this dahl with Simplified Cauliflower and Potato Curry "Aloo Gobi" for a complete vegetarian meal!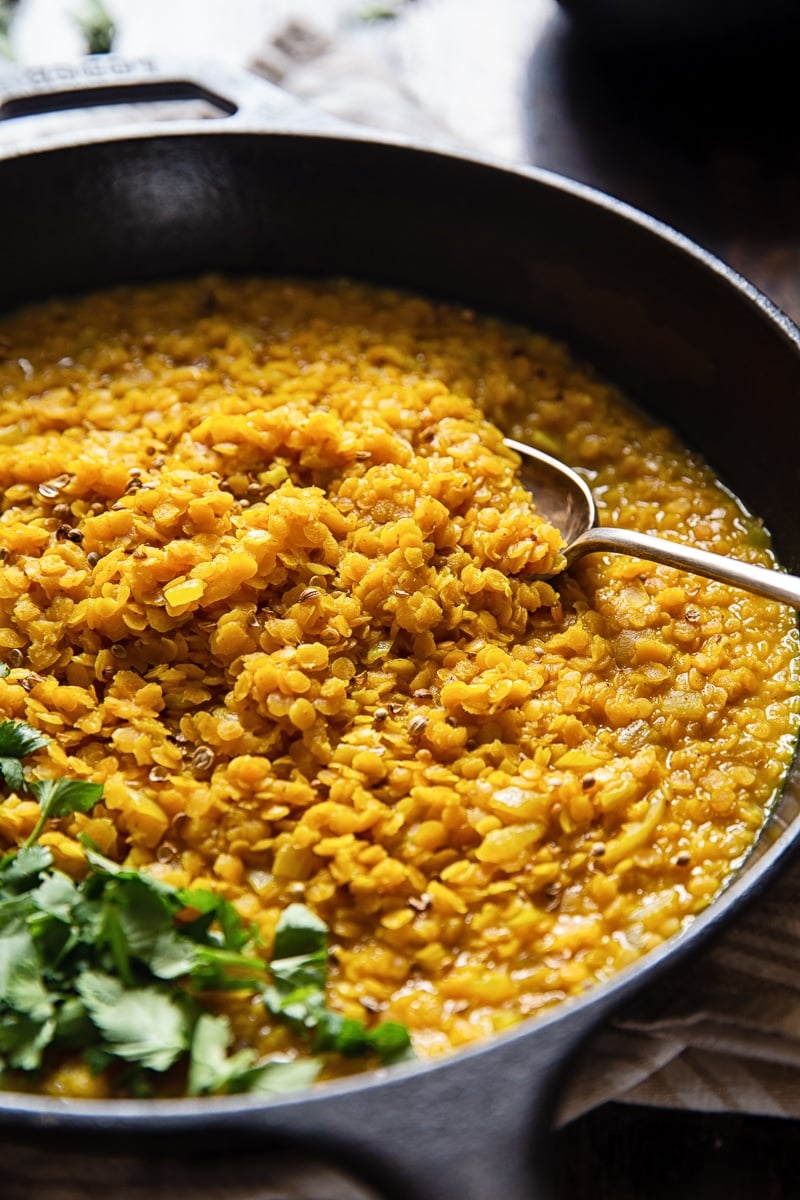 I'm always on the lookout for dishes that are packed with goodness and won't break the bank while still having a taste to get excited about. This is just such a dish – nutritious, cheap and surprisingly delicious!
My husband developed a love for red lentil dahl while travelling in Nepal. It has since become a common addition to our dinner table, especially alongside an Indian curry.
For such a simple dish it is amazingly fragrant and comforting. The flavour is built gently and without a lot of ingredients, but it all comes together beautifully to make a dish that is creamy, comforting, and aromatic.
What is lentil dahl?
Dahl, dhal or dal is a lentil soup/curry that is often present at meals in Nepal and India. Traditionally it is served with rice, accompanied by another dish with vegetables and a variety of chutneys. If you want to try a next level dal recipe, take a look at Dal Makhani by The Veg Connection.
Nepalis take this dish, called dahl baht, very seriously and consider it their national dish. It is rare to find a Nepali who doesn't eat this at least once a day! It is filling and nutritious, which makes it a great part of a balanced diet.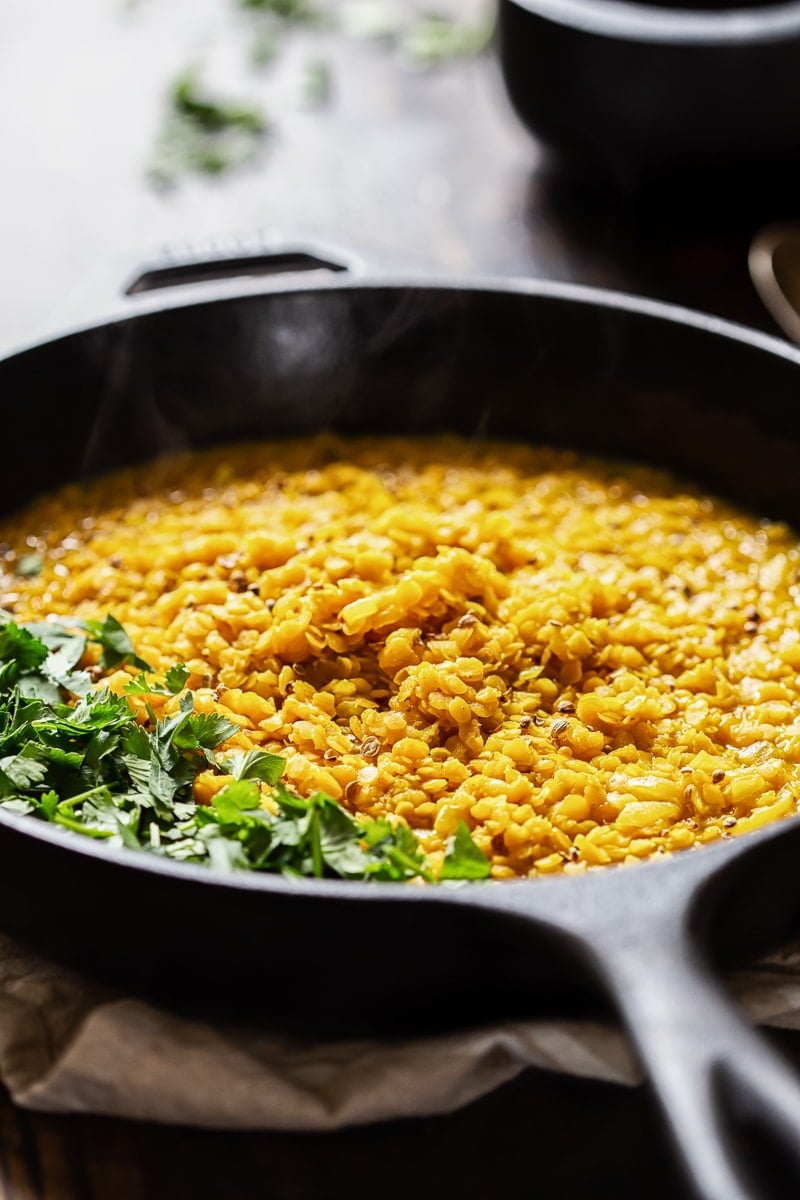 Every cook has their own recipe that slightly differed from the other but the basics hold true. And while I've made this recipe using red lentils, other lentils can be used instead depending on personal taste and what is available.
When I first had dahl, I was amazed that such simple ingredients could produce such deep and rich flavours. It is subtle but beautifully fragrant and such a comforting food to eat!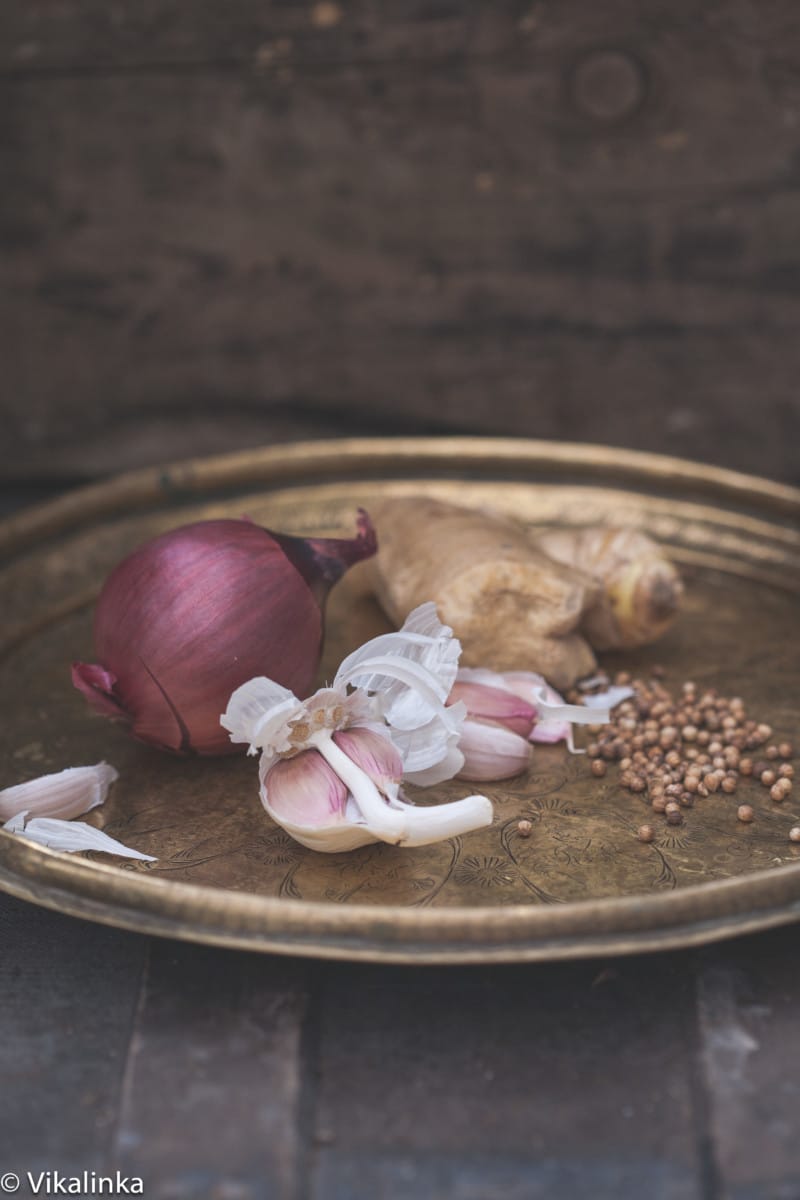 What spices to add
One of the best parts of this simple dish is the combination of spices – ginger, coriander, garlic, just a hint of red chillies. It does not have a lot of spice as the flavouring is quite gentle, which is why chutney often accompanies dahl.
The gentle flavours and lack of spicy heat make this a very kid-friendly meal option!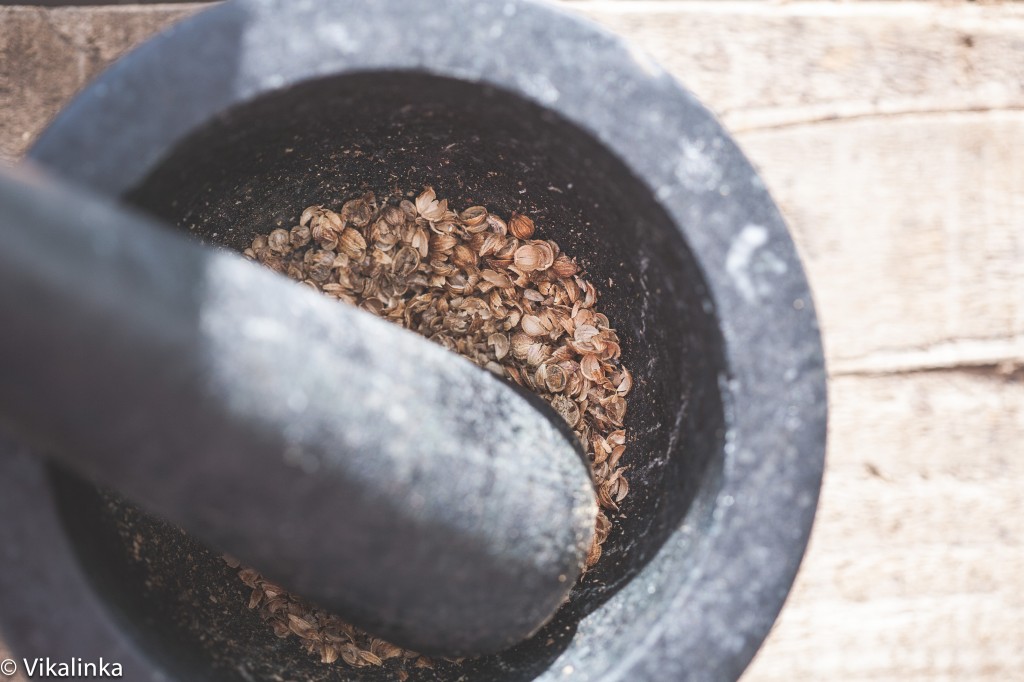 What to serve with dal
Whenever we have dal for dinner, we always have other dishes to complement it. Although it could be served on its own over basmati rice, it's so much more delicious in combination with various curries, pickles, and chutneys.
Dal is also often served with flatbreads such as naan and chapati. Either of these can take the place of rice or be served alongside.
You'll love dal as a side to a traditional curry, reach for chicken curry with potatoes or one of the suggestions below!
Favourite curries: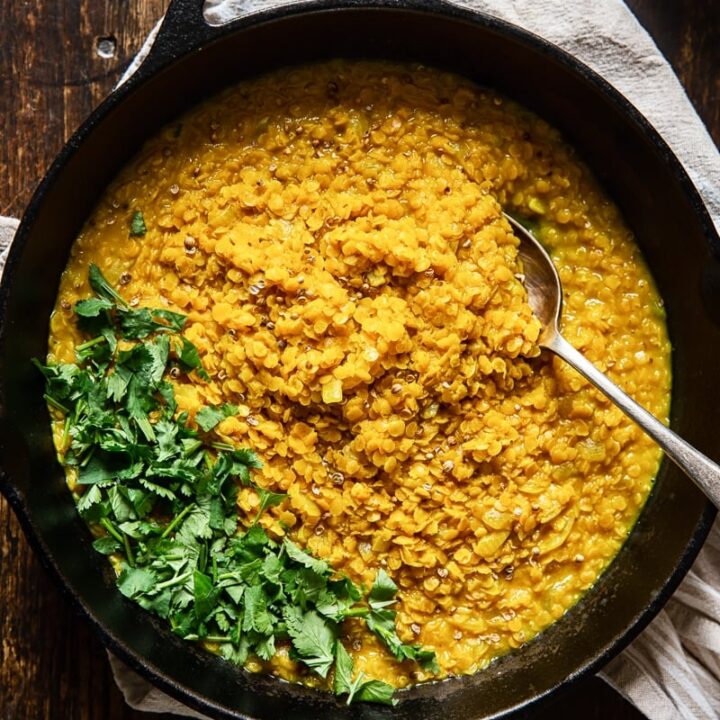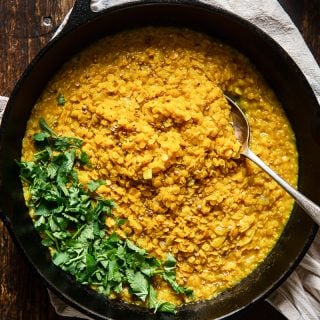 Nepalese Red Lentil Dahl
Red lentil stew with ginger, garlic and turmeric.
Ingredients
2

tbsp

ghee or oil

1

onion

chopped

2

cloves garlic

crushed

2"

piece ginger

grated (about a size of your thumb)

1

tsp

coriander seeds

crushed

½

tsp

turmeric

½

tsp

red chilli powder

225

g

/1 cup red lentils

750

ml

/3 cups water

½-1

tsp

salt

2

tbsp

cilantro

chopped
Instructions
Heat ghee or oil in a deep pan and and cook onion over medium heat for 5-7 minutes without browning too much.

Turn heat to low and add garlic, ginger, crushed coriander seeds, turmeric and red chilli powder, stir to combine and cook for 3-5 minutes longer.

Add washed red lentils and stir to coat them with the onion and spice mixture, cook them while stirring for 2-3 minutes. (This step helps the lentils to keep their shape and texture).

Add water, turn heat up and bring it to a boil, add salt, then turn it to a medium-low and simmer for 15 minutes.

When the lentils are tender but still mostly hold their shape, stir in fresh chopped cilantro and take it off the heat.
Nutrition
Calories:
283
kcal
Carbohydrates:
38
g
Protein:
15
g
Fat:
8
g
Saturated Fat:
5
g
Polyunsaturated Fat:
1
g
Monounsaturated Fat:
2
g
Cholesterol:
19
mg
Sodium:
310
mg
Potassium:
612
mg
Fiber:
18
g
Sugar:
2
g
Vitamin A:
110
IU
Vitamin C:
5
mg
Calcium:
52
mg
Iron:
5
mg