My sticky Asian chicken recipe is the one you need when takeout cravings kick in. I can show you how to make it at home healthier and cheaper!
This chicken goes so well with our Asian Noodles Salad!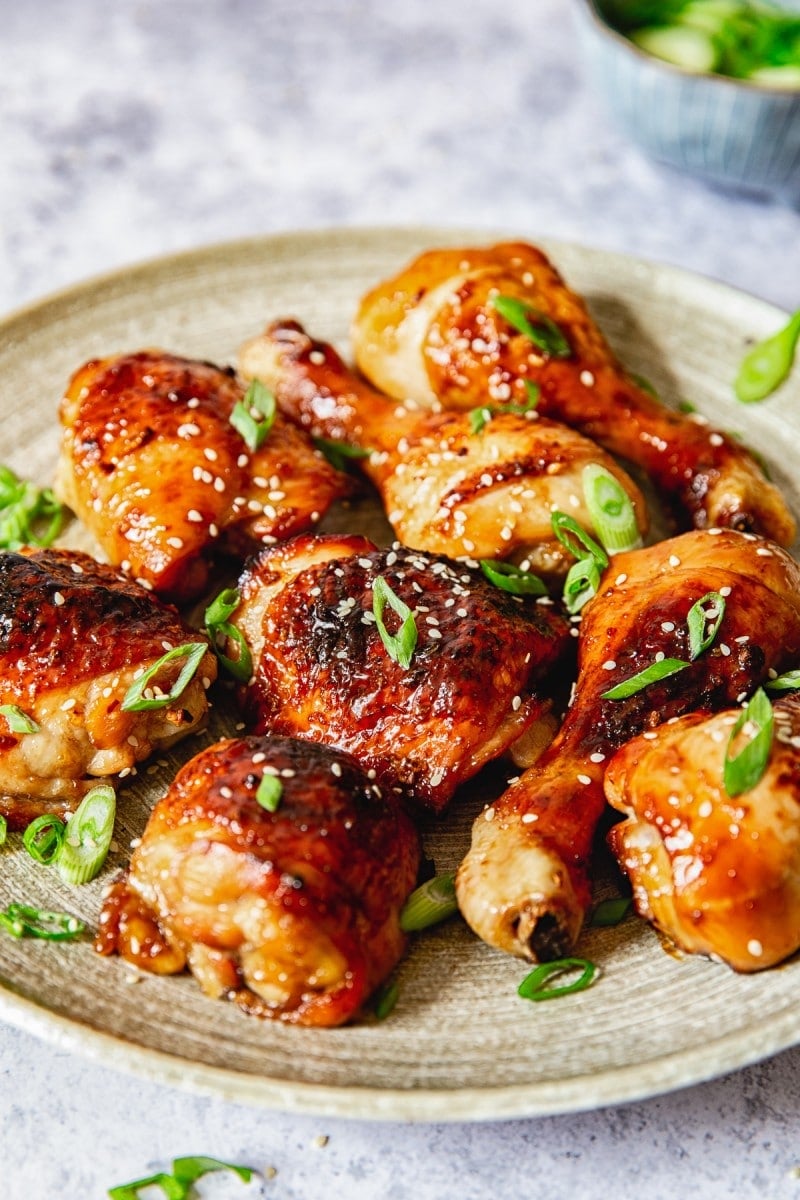 Is it really a surprise that by the time midweek rolls around all we want to do is to come home from work, put our feet up and dial the local takeout number for the usual?
I get you, guys! We work hard and the last thing we want to do is more work when we get home. I am the first to admit I get tempted to order in instead of cooking my own dinner often.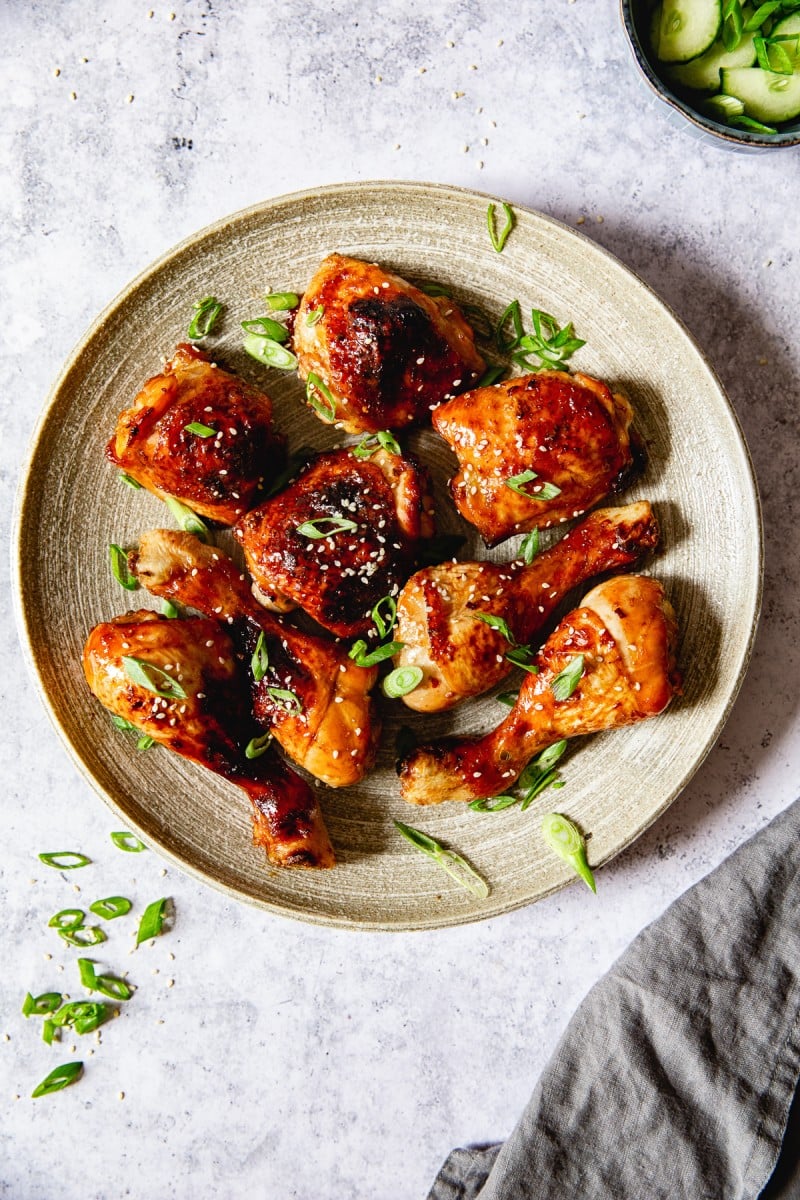 But what is truly keeping me away from ordering takeout is…money. That's right it's expensive! It's also rarely healthy! That is why I love recreating our favourites at home. Curious? Take a look at our ever growing Asian takeout recipe collection.
This chicken recipe is a great homemade version of something I'd usually order in. But unlike the takeout food, it's inexpensive and won't make you feel guilty afterwards!
What is even better, it's so easy. All you do is marinate it overnight and pop it in the oven after work the following day!
The Marinade
What makes this chicken taste so fantastic is the marinade. It imparts an incredible flavour and tenderises the chicken, so we kill two birds with one stone!
The aromatic mix I use in this recipe consists of easy to source ingredients like soy sauce, honey, ginger and garlic with a touch of chilli flakes.
If you want to add something very special, mix in 1 tablespoon of Korean Gochujang paste instead of chilli flakes. This condiment used to be quite rare. You'd have to go to a specialty store to find it. Nowadays, you can buy it in most supermarkets.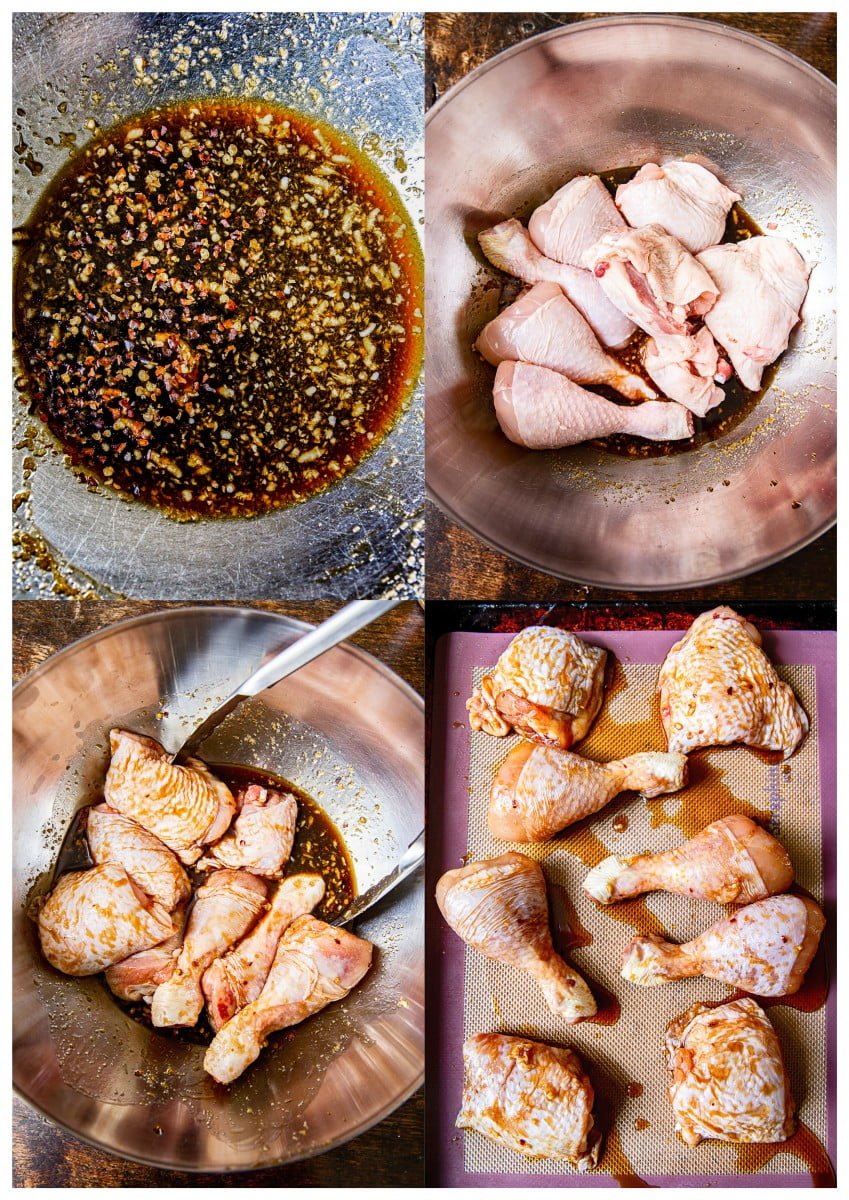 Recipe Tips
Marinade the chicken for at least 3 hours or better yet overnight
Ensure your chicken pieces are fully submerged in the marinade
Baste your chicken half way through the baking for more flavour and sticky glaze.
Stick to cooking temperature and times given to avoid dry chicken.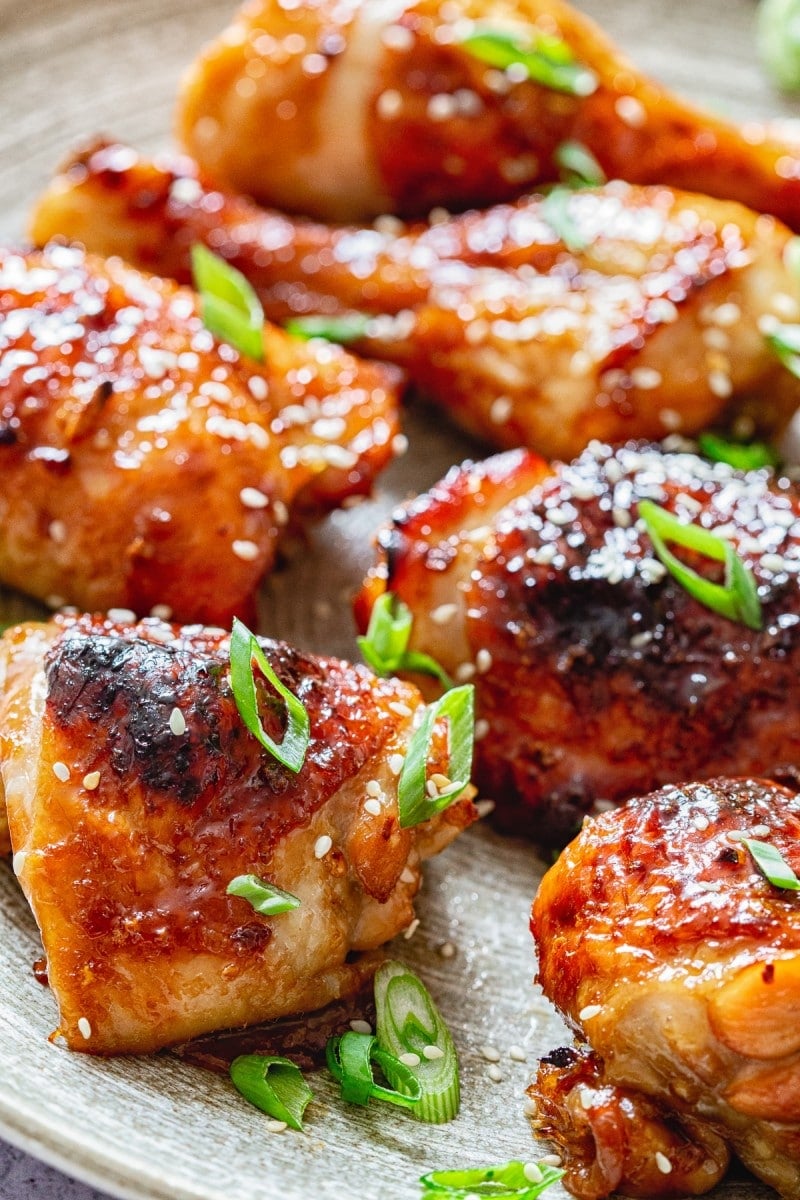 For best results I recommend using bone-in chicken legs and thighs. They will come out juicy and the marinade with make the chicken skins deliciously sticky.
If you must substitute, use skinless, boneless thighs and reduce the cooking time by 10 minutes.
Serving Suggestions
I know that when we order takeout, we order a feast and we want to recreate some of it at home, don't we? At the same time that is the reason we overeat.
What I would recommend is making either plain or fried rice and a healthy salad like this Rainbow Slaw with Lemon Garlic Tahini Dressing.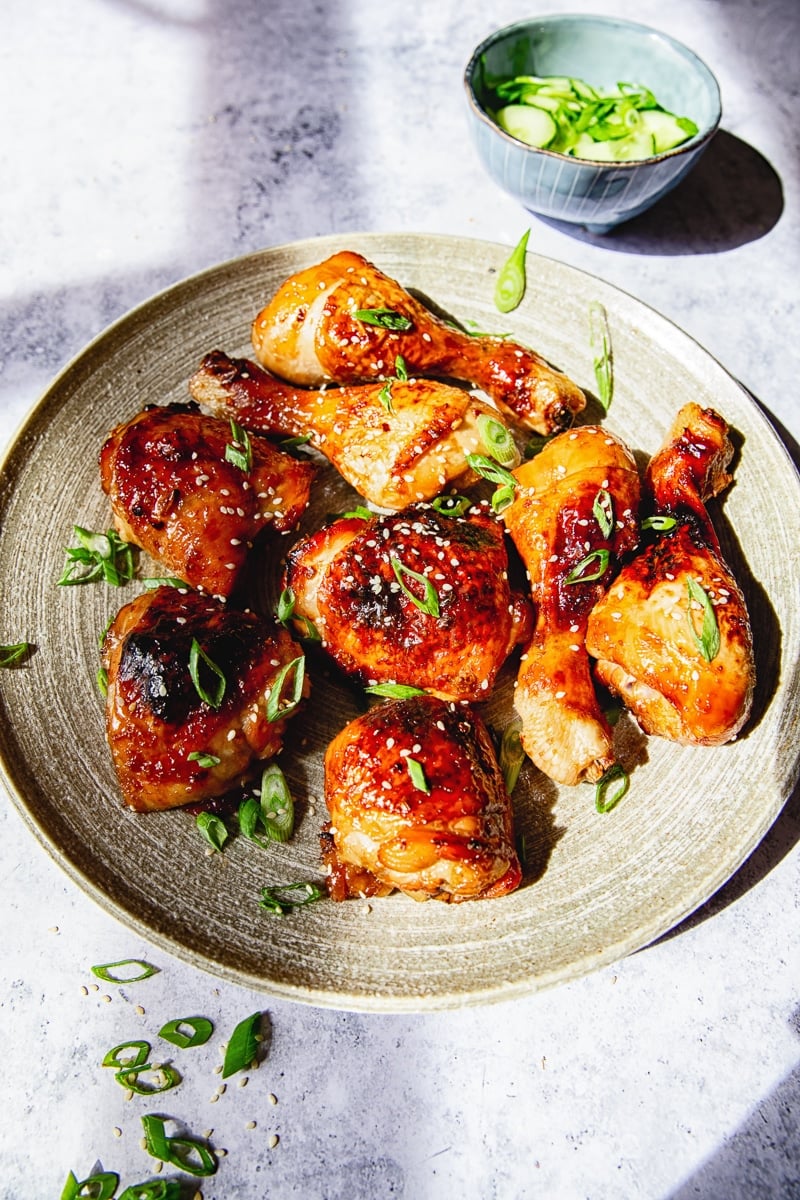 Favourite Asian chicken recipes to try or explore out Asian Chicken Recipe Collection:
This recipe was originally published in 08/2018. Updated and republished in 06/2021.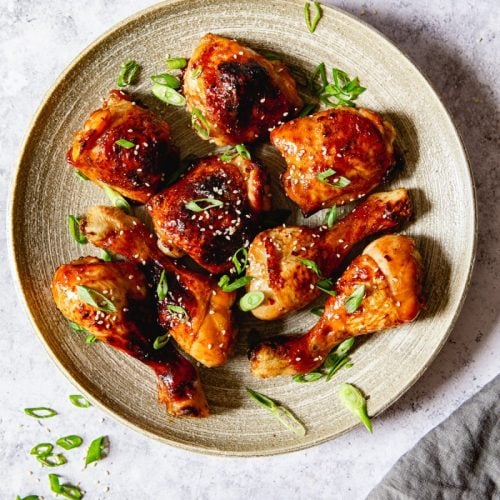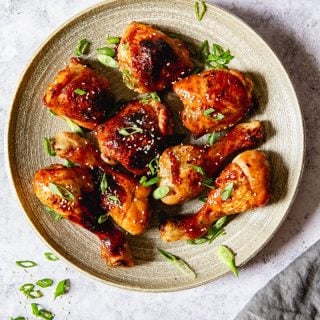 Sticky Asian Chicken Recipe
This sticky Asian chicken recipe showcases how great the marriage of the sweet and the savoury could be!
Ingredients
For the marinade
70ml/1/4 cup

soy sauce

100g/1/3cup

honey

1

tbsp

fresh ginger

grated

4

cloves

garlic

minced

1

tbsp

vegetable oil

1

tsp

red chilli flakes

optional
For the chicken
3

lbs

chicken legs and thighs

bone-in, skin-on

3

spring onions

1

tbsp

sesame seeds
Instructions
To marinade the chicken
In a large bowl mix the soy sauce, runny honey, ginger, garlic, vegetable oil and red chilli flakes if using. Add the chicken pieces ensuring they are fully submerged in the marinade.

Marinade for at least 3 hours in the refrigerator or better overnight. Turn the chicken in the marinade once in a while.
To cook the Sticky Asian chicken
Preheat the oven to 190C/375F. Line a shallow baking tray with parchment paper and arrange the chicken pieces on it, avoid over crowding. Reserve the marinade.

Cook for 20 minutes, then brush the chicken with the remaining marinade, return to the oven and cook for 15-20 minutes longer until if pierced, juices run clear and the skin is darkened. (Internal temperature should read 82C/180F on meat thermometer).

Take out of the oven and arrange on a serving plate, sprinkle with sesame seeds and sliced spring onions before serving.
Nutrition
Calories:
531
kcal
Carbohydrates:
2
g
Protein:
37
g
Fat:
40
g
Saturated Fat:
12
g
Cholesterol:
222
mg
Sodium:
181
mg
Potassium:
503
mg
Vitamin A:
335
IU
Vitamin C:
1.7
mg
Calcium:
41
mg
Iron:
1.9
mg
This chicken recipe is the same as sticky Korean Chicken, that I originally created for Natasha's Kitchen.