Chicken breasts gently poached in the aromatic mixture of soy sauce, ginger, garlic, mirin and brown sugar. No marinating necessary for this shoyu chicken recipe without compromising on flavour!
If you like this recipe, try Teriyaki Salmon Donburi Bowl as well!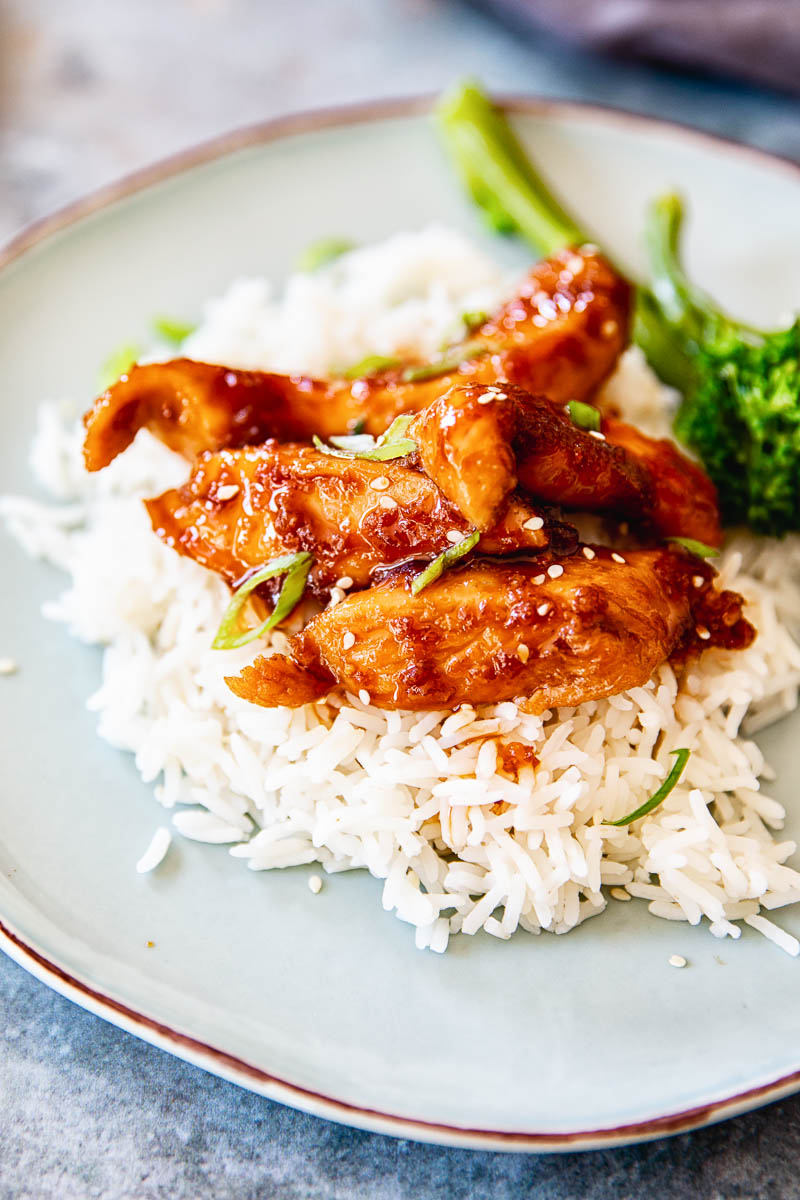 The recipe for chicken shoyu might not be on everyone's radar and it's a real shame because knowing how to quickly whip it up on a busy midweek night is a game changer!
With tender chicken pieces simmered in a stunning marinate until the flavours have melded together, it's a memorable dish that the whole family can get behind!
What is shoyu chicken?
A culinary staple in Hawaii, the origins of this chicken recipe can be traced to Japanese immigrants who arrived in the early 20th century. With them came their culinary techniques and ingredients, including soy sauce.
In fact, shoyu means soy sauce in Japanese, which says a lot about what this dish is all about. It's possible that it is an evolution of teriyaki chicken, which also uses soys sauce as a main ingredient.
Japanese ingredients were combined with local flavours, creating this fabulous chicken dish with a fusion of Japanese and Hawaiian tastes. Shoyu chicken has become a much-loved comfort food in Hawaii and can be found at all sorts of lunch spots and gatherings of all types.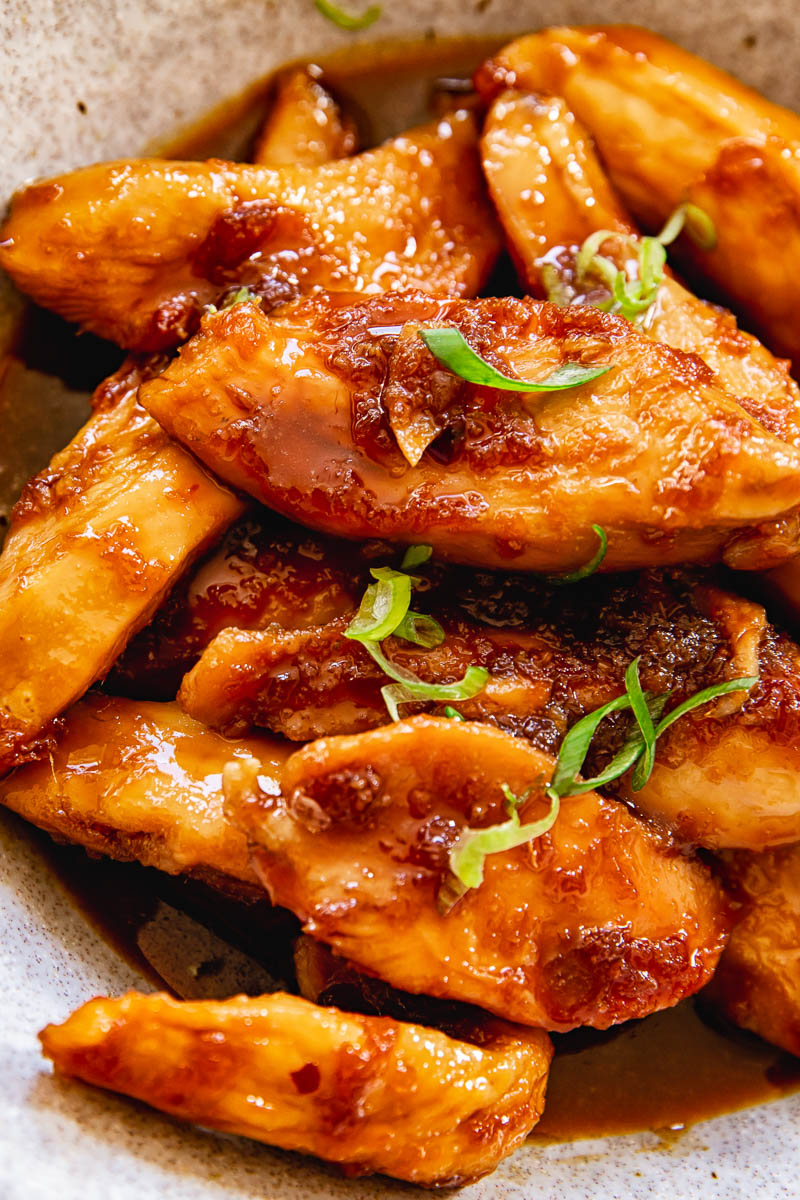 What does it taste like?
Shoyu chicken is all about the balance of salty and sweet. The first comment I got from my teenager after tasting this dish was, "Mmm, I like salty foods!"
But to say "salty" is the main descriptor of this chicken recipe would be a huge understatement!
As with all Japanese dishes, the taste is multifaceted. Sweet, salty, spicy and tangy.
All of the above notes come from the mixture of soy sauce, mirin, garlic, ginger and brown sugar with just a hint of chilli flakes.
Recipe tips and notes
The method for this recipe is simpler than most. It only requires us to mix the soy sauce, mirin, garlic, fresh grated ginger, chillies and brown sugar in a pot, then poach chicken breasts in it until done. What poaching does is nothing short of a miracle. The flavours penetrate the chicken breasts and flavour them better than an overnight marinade would!
The shoyu sauce can be made before you plan to use it and kept in the fridge to make meal prep even easier.
The final step is boiling the poaching liquid with a bit more brown sugar to create a sticky glaze that we coat the chicken with. What we end up with is delicious shoyu sauce. Poaching uses low temperature and plenty of liquid to cook the chicken gently, making it moist and tender. It's also leaner because there is no need to introduce fat such as oil to the cooking process.
It's recommended to marinade chicken for a minimum of 30 minutes and a maximum of 3 hours. Beyond this, there is no real benefit.
There are different types of soy sauce, like regular, dark, or low sodium. Dark soy sauce can make this sauce too salty, so best to use regular soy sauce.
The entire recipe takes only 40 minutes including prep, which is quite minimal.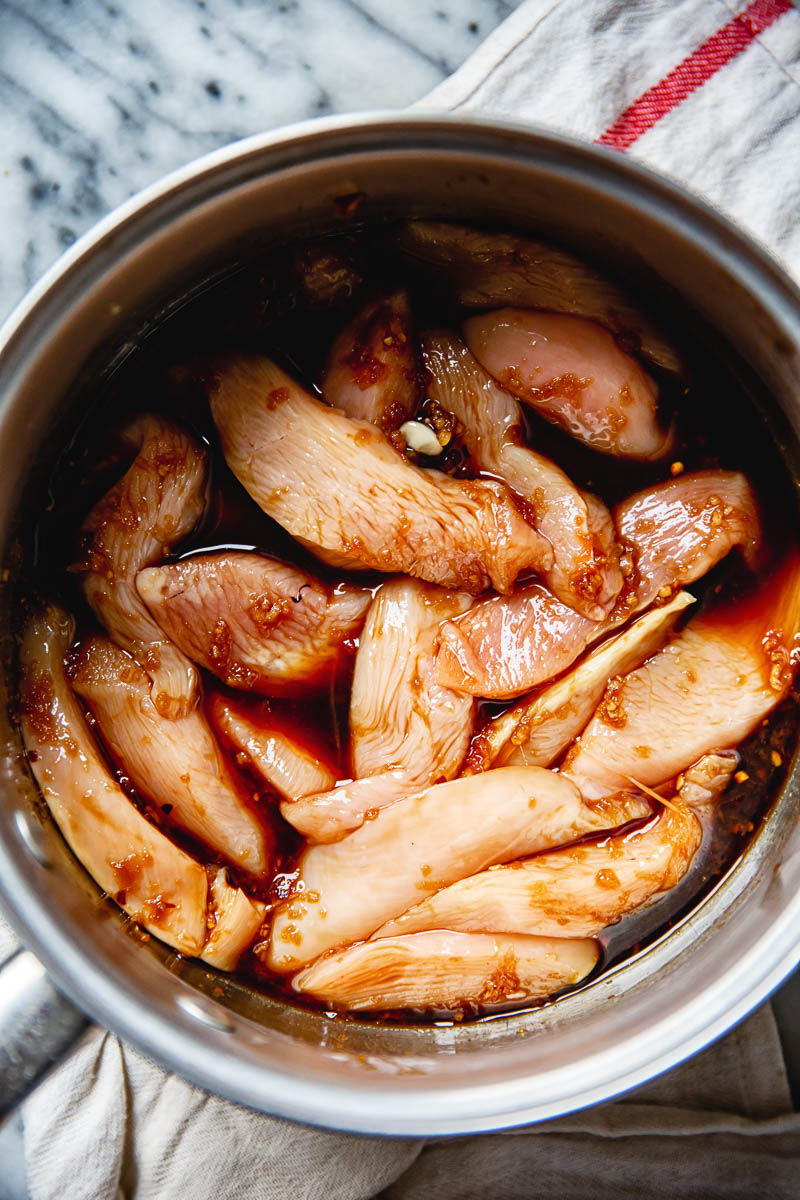 Serving suggestions
The obvious choice is steamed Japanese rice, which is what I cooked with a side of broccoli. That being said, any type of vegetables will do. My preference is for tasty green vegetables like green beans, bok choy, and asparagus, or a veg side dish that matches the flavours here, like Miso Roasted Carrots.
You can also turn this chicken recipe into a ramen. How cool is that?! Here is a recipe for Shoyu Ramen to give you ideas for how to proceed.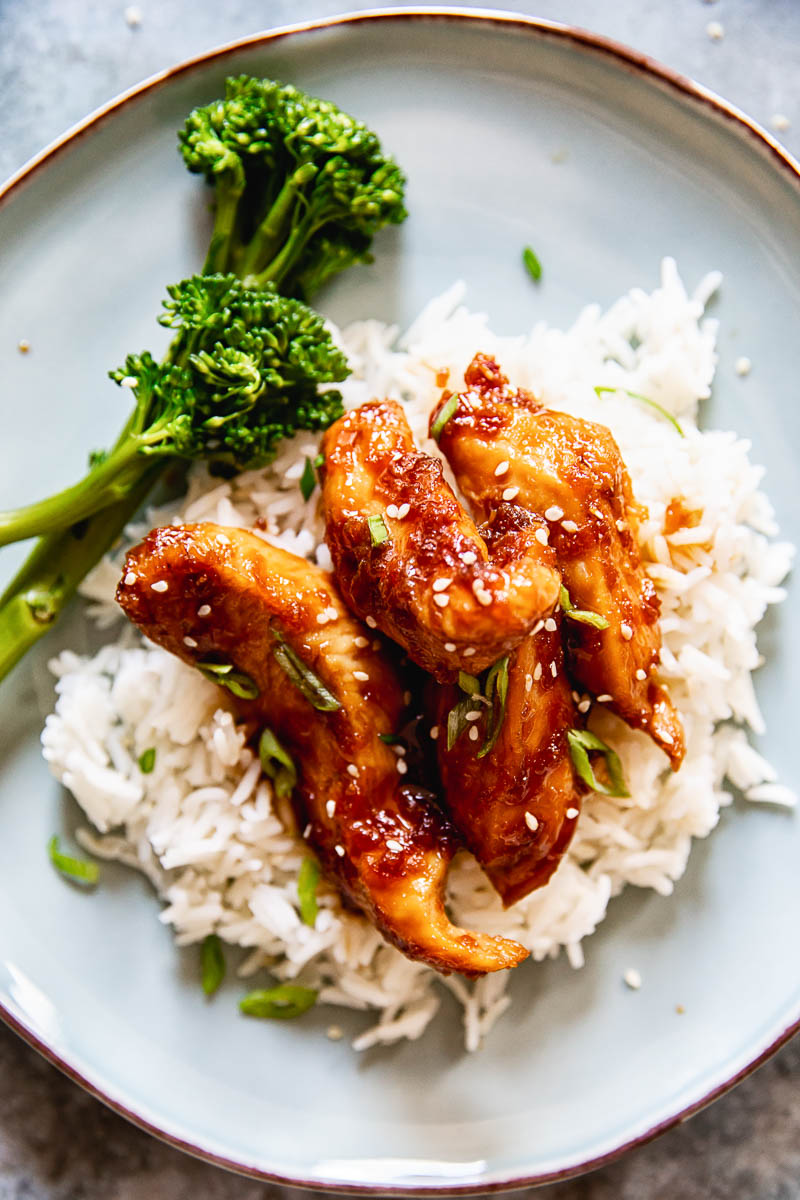 Storage and leftovers
This is an incredibly forgiving recipe. It reheats beautifully. You can double this recipe and freeze the leftovers for another day when you don't feel like cooking.
To reheat, add a splash a water to loosen the sauce and warm in a pan over medium heat until the chicken is hot all the way through.
All you'd have to do is to cook a pot of rice and steam some vegetables. So much better and healthier than ordering an Asian takeout!
You can also mix up the poaching liquid a day ahead and keep it in the fridge until needed to save time on a busy midweek night.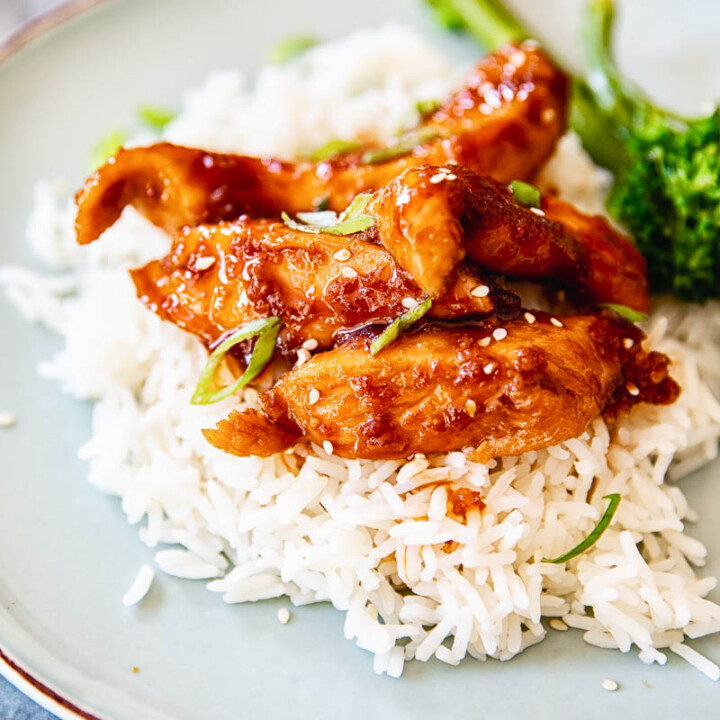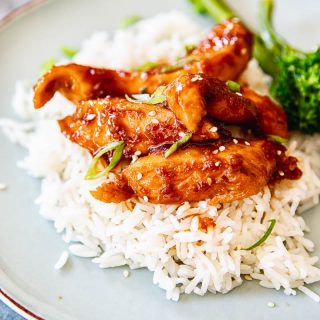 Shoyu Chicken Recipe
Chicken breasts gently poached in the aromatic mixture of soy sauce, ginger, garlic, mirin and brown sugar, served over rice.
Ingredients
2

tbsp

grated fresh ginger

¼

tsp

chilli flakes

4

cloves

garlic

crushed

75

ml

/ ¼ cup soy sauce

I used Kikkoman or Tamari for gluten free version

50g

g

/ ⅓ cup brown sugar

1

tbsp

mirin

700

g

/ 1 ½ lbs skinless, boneless chicken breasts

cut into large strips

2

tbsp

brown sugar

2

green onions

1

tbsp

sesame seeds
Instructions
Combine the ginger, chilli flakes, garlic, soy sauce, mirin and brown sugar in a medium pot, then add chicken breasts cut into large strips. The liquid should partially cover the chicken, cover with a lid and poach the chicken over medium heat for 15-20 minutes, depending on the size of chicken pieces.(If you don't have enough of the poaching liquid, add a little of water. See photos for reference.) Turn the chicken strips over half way through the cooking.

Remove the chicken from the pot to a separate bowl and keep warm until needed. Add 2 tbsp of brown sugar to the poaching liquid and bring to a boil, continue simmering until you have a sticky glaze. Take it off the heat. Return the chicken back to the pot and coat it with the glaze. Serve over steamed white rice sprinkled with sliced green onions and sesame seeds.
Notes
To speed up a dinner prep process, you can mix up the sauces and spices ahead of time and store the mixture in the fridge till needed.
Nutrition
Calories:
304
kcal
Carbohydrates:
24
g
Protein:
39
g
Fat:
6
g
Saturated Fat:
1
g
Cholesterol:
109
mg
Sodium:
1287
mg
Potassium:
739
mg
Fiber:
1
g
Sugar:
20
g
Vitamin A:
150
IU
Vitamin C:
4.1
mg
Calcium:
59
mg
Iron:
1.6
mg