This recipe for yaki udon delivers stellar results and only requires 20 minutes of your time! Noodles tossed with simple vegetables and chicken are flavoured by a savoury sauce that is so easy to put together.
Can't get enough of thick and slurpy udon noodles? Take a look at our 20 minute Udon Noodle Soup!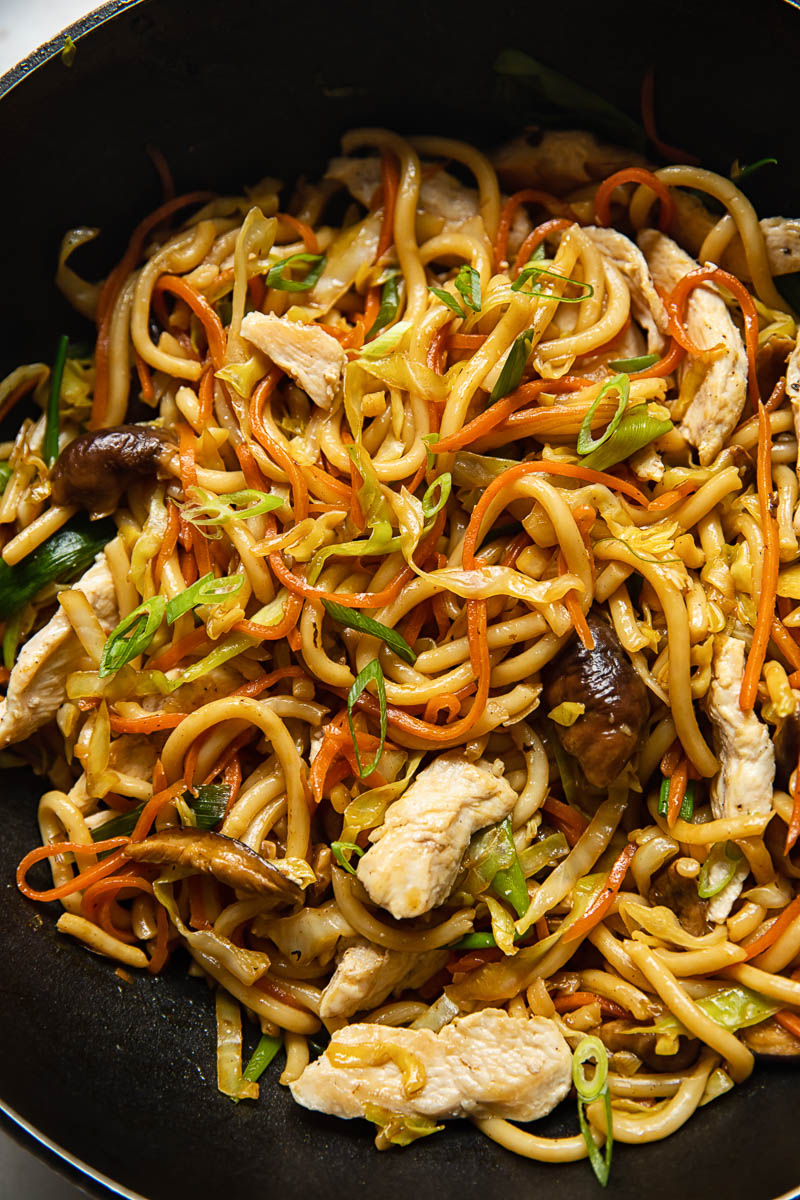 Don't you love it when you learn that your favourite Asian takeout dish is not difficult to make? I know I do but not as much as my teenagers.
The recipe for yaki udon is something we love ordering from our local Japanese takeout but we had no idea it's so simple to make at home. In fact, my kids now make it for themselves. Then they boast theirs is as good as mom's! I feel like my job here is done.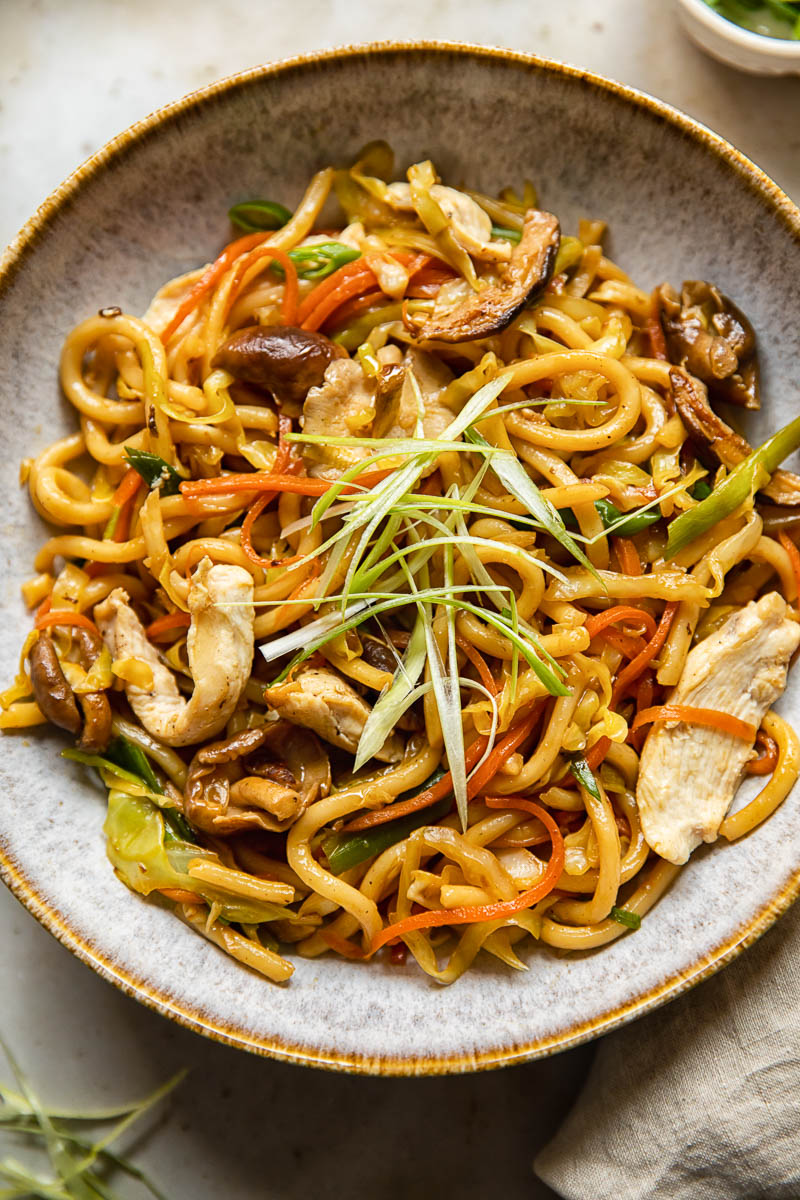 What is Yaki Udon?
Japanese stir fried noodles tossed with a very simple vegetable mix like cabbage, mushrooms and carrots is what we are cooking today. The recipe is claimed to gain popularity after the WW2 when the food was in short supply.
Yaki udon dish is very similar to the famous yakisoba noodles with one main difference. The type of noodles used. As you can guess from the name, thick udon noodles are the star of the show instead of the thinner ones in yakisoba.
I've also used chicken in my recipe but pork or seafood are also very popular choices.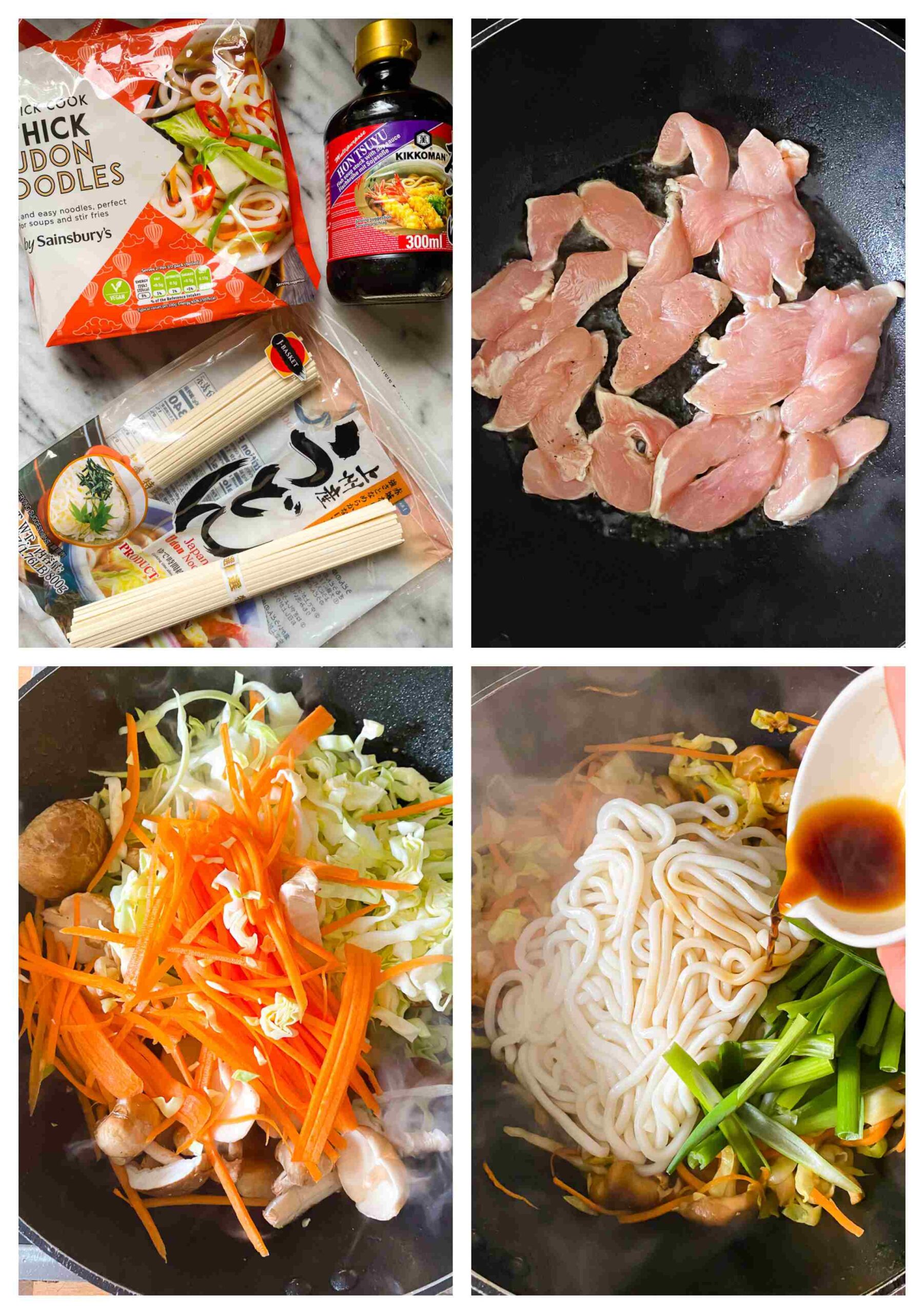 Recipe Tips and Notes
One of the main contributors to the taste of this dish is the the dashi stock, a fundamental of the of the Japanese cuisine. For this recipe I used tsuyu, which is concentrated dashi stock plus soy sauce and mirin. It is traditionally used with udon noodles. You can easily find it online if your local supermarket doesn't carry it. If you can't find it, substitute with Worcestershire sauce.
Feel free to use either dried or pre-cooked udon noodles. Bare in mind that while pre-cooked noodles are convenient, they tend to break up when being tossed.
Make sure vegetables and chicken used in this recipe are sliced before you begin as cooking process moves very fast and there is no time to stop and chop.
If using shiitake mushrooms, get rid of the stems as they have a tough and unpleasant texture.
Finally, I used chicken breast for my recipe but the most traditional meat used is a small amount pork belly. Feel free to use whatever you like. Shrimp will taste particularly delicious.
More Asian Noodle Dishes to Try: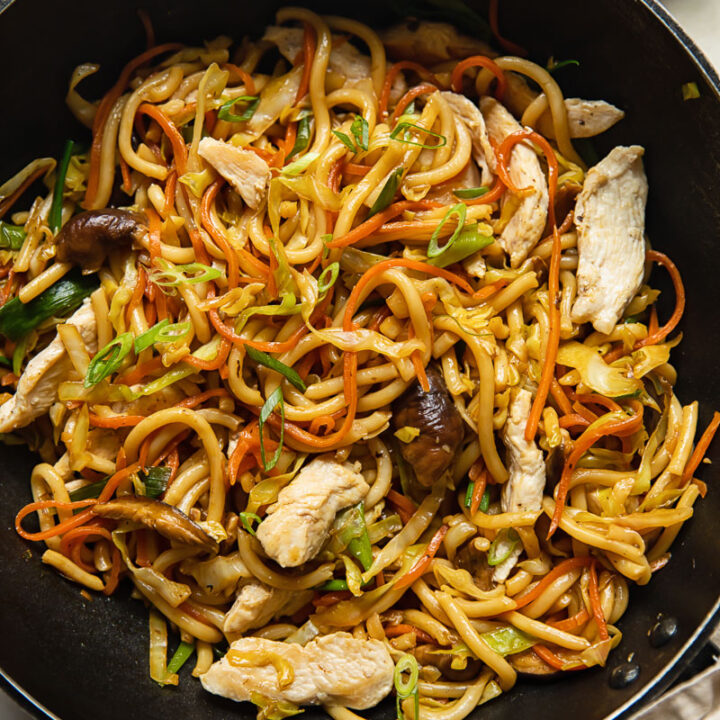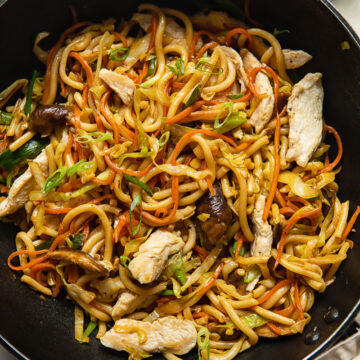 Chicken Yaki Udon
Noodles tossed with simple vegetables and chicken are flavoured by a savoury sauce that is so easy to put together.
Ingredients
300g

pre-cooked Udon noodles or 150 dried

1

tbsp

vegetable oil

2

chicken breasts

salt and pepper to taste

100g/1 cup

white cabbage

sliced

100g/1 cup

shiitake mushrooms or button mushrooms

1

carrot

julienned

3

green onions

green parts cut in 2 inch pieces, white parts sliced

2

tbsp

soy sauce

2

tbsp

mirin or dry sherry

1

tbsp

tsuyu/dashi stock or Worcestershire sauce

1

tsp

sesame oil

optional
Instructions
Prepare the vegetables by finely slicing the cabbage, cutting the carrot into thin matchsticks. Remove the stems from large shiitake mushrooms as they tend to get a bit woodsy and trim the stem for the small ones, then cut the mushrooms into bite-sized pieces or leave the small ones whole. Finally, cut the chicken breasts into bite-sized pieces and season with salt and pepper.

Cook the udon noodles according to package instructions if using dry noodles. Rinse after cooking. If using pre-cooked noodles, skip this step.

Meanwhile in a wok or a large pan, heat the oil and cook the chicken until sealed on the outside, then add the vegetables together with the sliced white parts of the green onions and continue stir frying for 5-7 minutes until cooked but still firm to the bite. The vegetables will reduce in volume by a half.

Add the udon noodles and the green onions to the pan, then add in the soy sauce, mirin and the dashi stock, toss to combine and heat through for 2-3 minutes. Drizzle with sesame oil before serving.
Nutrition
Calories:
316
kcal
Carbohydrates:
30
g
Protein:
31
g
Fat:
8
g
Saturated Fat:
4
g
Trans Fat:
1
g
Cholesterol:
72
mg
Sodium:
1680
mg
Potassium:
633
mg
Fiber:
4
g
Sugar:
7
g
Vitamin A:
2696
IU
Vitamin C:
13
mg
Calcium:
31
mg
Iron:
1
mg