This delicious and wholesome Udon Noodle Soup comes together in less than half an hour and tastes just like in your local restaurant. If you want to learn the secrets to the authentic flavours, read on!
If love noodles, give our easy Thai Noodle Soup a try!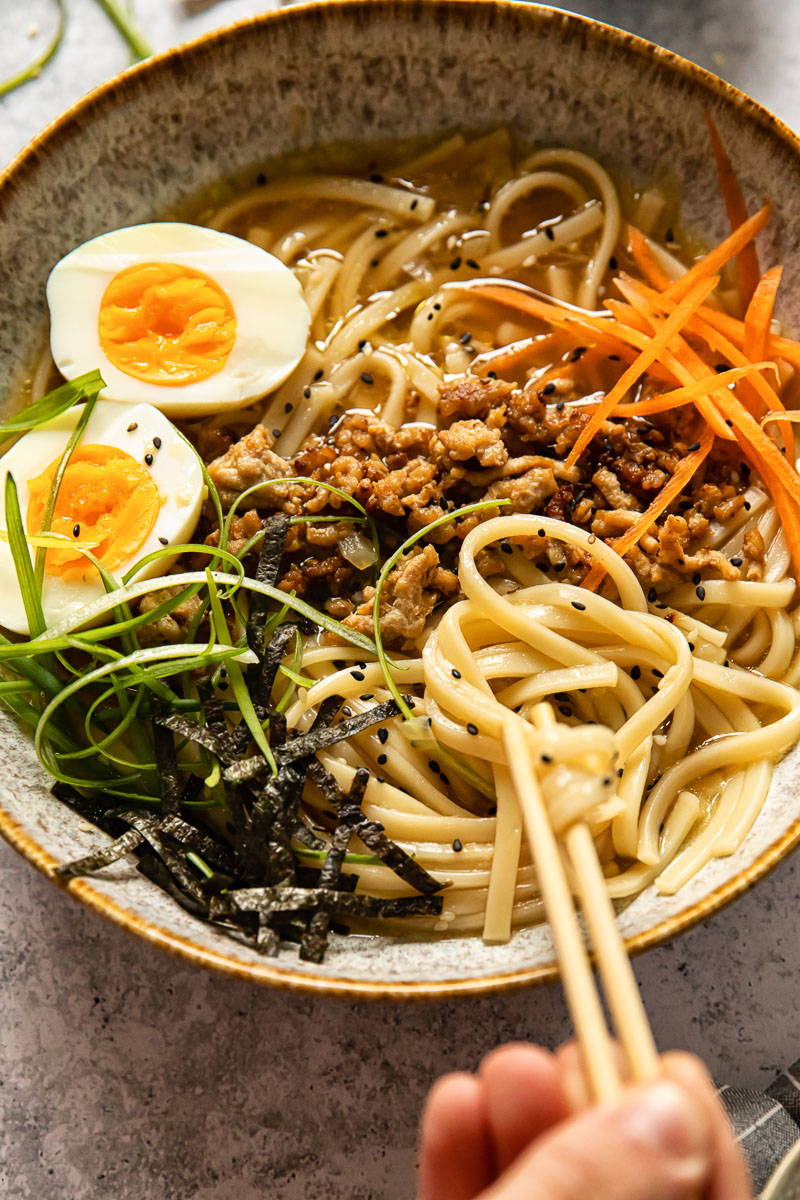 Our family has been slightly obsessed with Japanese food lately. It is definitely our number one takeout indulgence. We love Japanese food so much, we had to figure out how to bring those delicious flavours home without breaking the bank.
After a fair amount of research, this recipe for Udon Noodle Soup came to be. If you can't get enough of ramen, you will also fall in love with udon noodles.
They are thicker and paler in colour compared to the ramen noodles but just as delicious in soups. They are also readily available in most supermarkets or online. Udon noodles are sold in both cooked and uncooked varieties.
If you can't find udon noodles, feel free to substitute with ramen noodles or even linguine!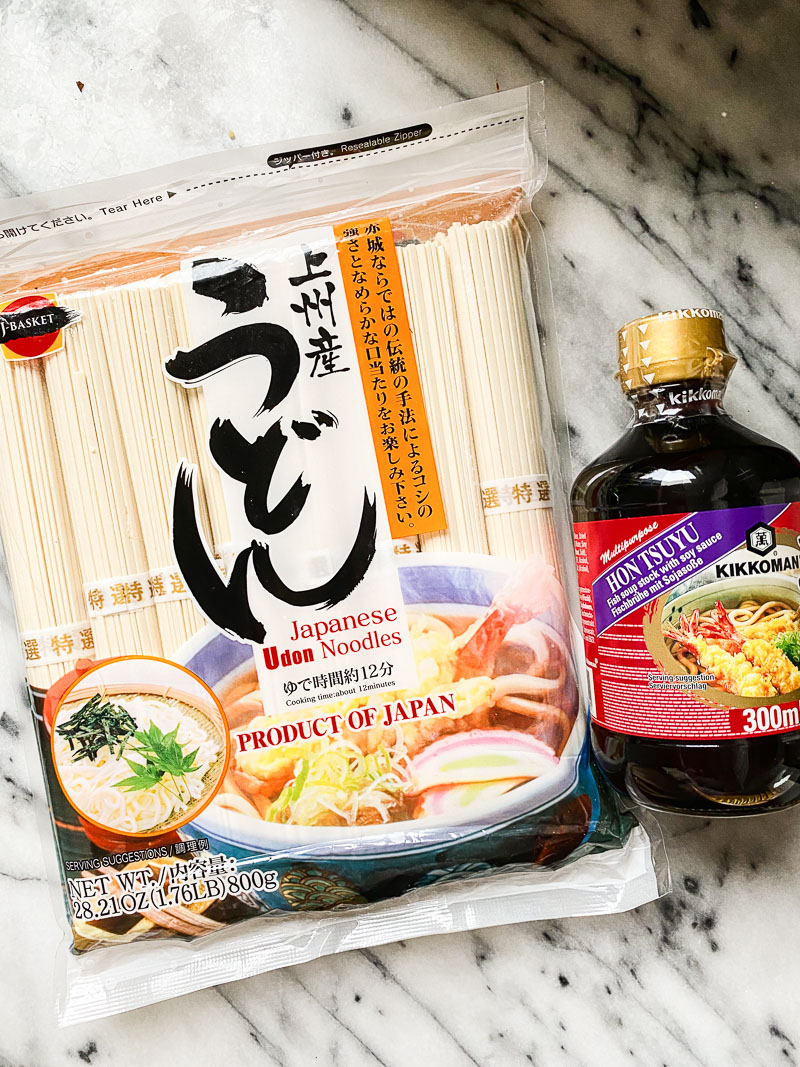 Authentic Japanese Taste
If you want your Japanese dishes to taste like in your favourite restaurant, you need to get one very important ingredient. Dashi stock concentrate, which is the foundation of the Japanese flavour. Look online if your local supermarket doesn't carry it. It's easier to find than you think and well worth it!
For my udon noodle soup I used Tsuyu soup stock, which is Dashi plus soy sauce and a couple of other ingredients like mirin and such. Apart from its use in soups, tsuyu is also used as a dipping sauce. Just think of dipping gyoza into it. Yum!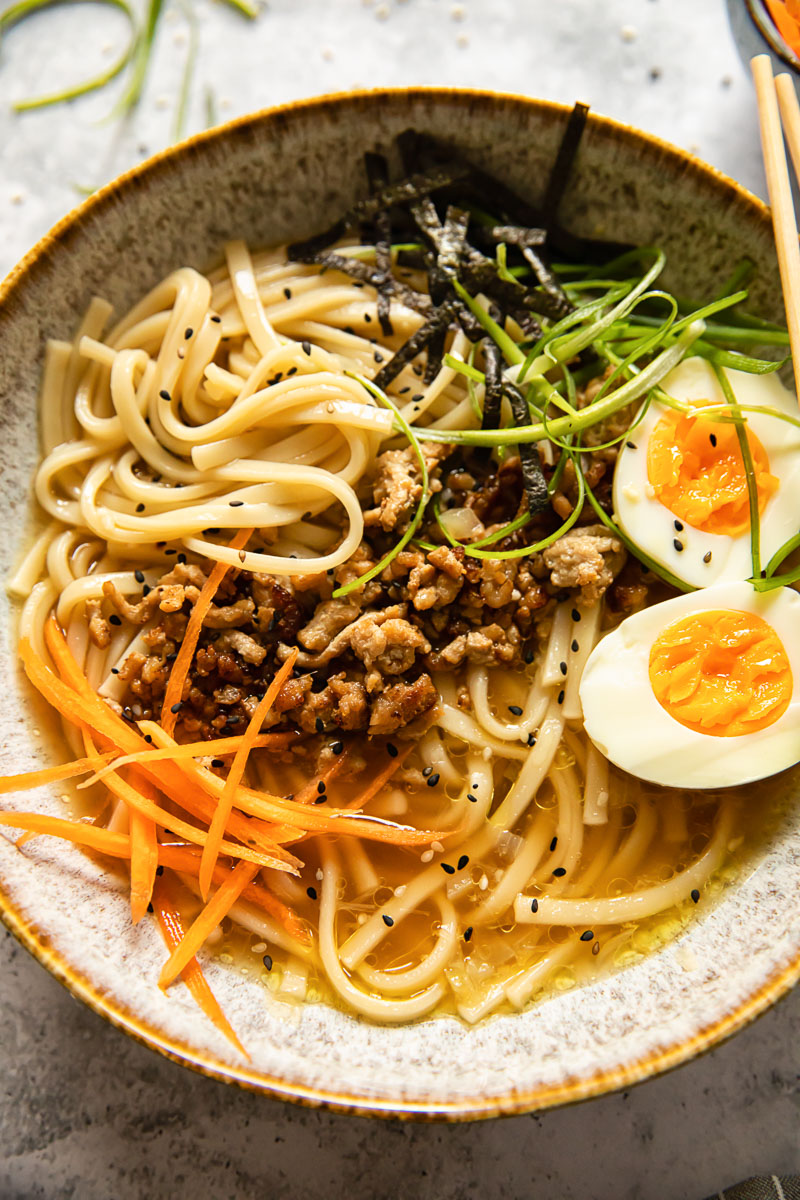 You might be wondering what it tastes like. If you are a Japanese food fan, you've tasted it already! It's the ultimate ingredient to bring that umami factor to your food.
Salty, tangy, sweet and a touch bitter. Tsuyu brings the perfect balance of flavours. It will make your soups so much more interesting.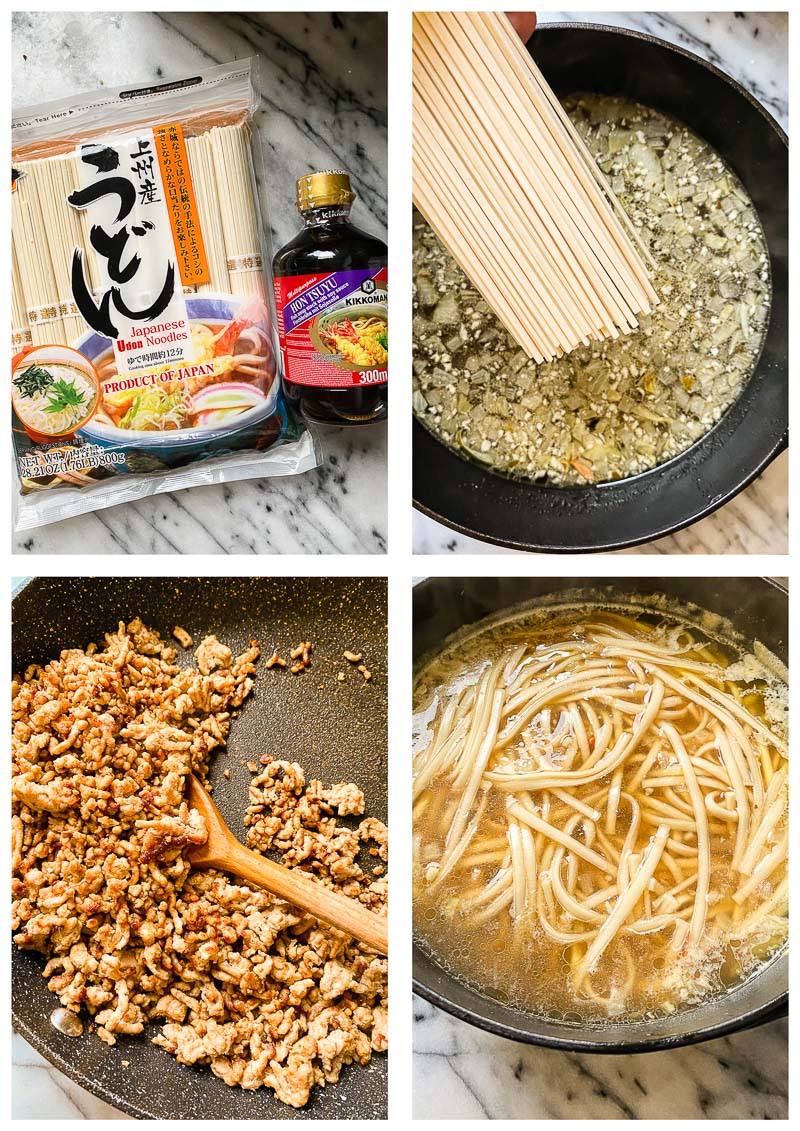 How to Make Easy Udon Noodle Soup
You will be happy to find out that making this soup is actually extremely easy and fast!
To start you will cook the eggs, so they will have a chance to cool slightly before you peel them.
Then you will cook the aromatics like onions, garlic and ginger to boost the flavour of your soup. Then add the chicken or beef stock, soy sauce, Dashi or Tsuyu stock and udon noodles.
Cook till the noodles are soft, which takes about 12 minutes. If your udon noodles come pre-cooked, they will only require heating through. Easy!
I added fried ground pork flavoured with garlic, ginger, soy sauce and mirin, which I cook in a separate pan at the same time as the soup. You can leave the pork out if you wish.

The Toppings
Apart from the delicious taste Japanese cuisine is known for its penchant for the strong visuals. To put it plainly, their food is just so pretty!
While it doesn't seem as important to some I can assure you all the extras add to the taste and texture as well. Here are my usual topping, which are easy enough to find.
soft boiled egg
green onions
carrots cut into matchsticks
Nori sheets, the same ones you use for wrapping sushi
black and white sesame seeds
More Japanese Recipes to Explore: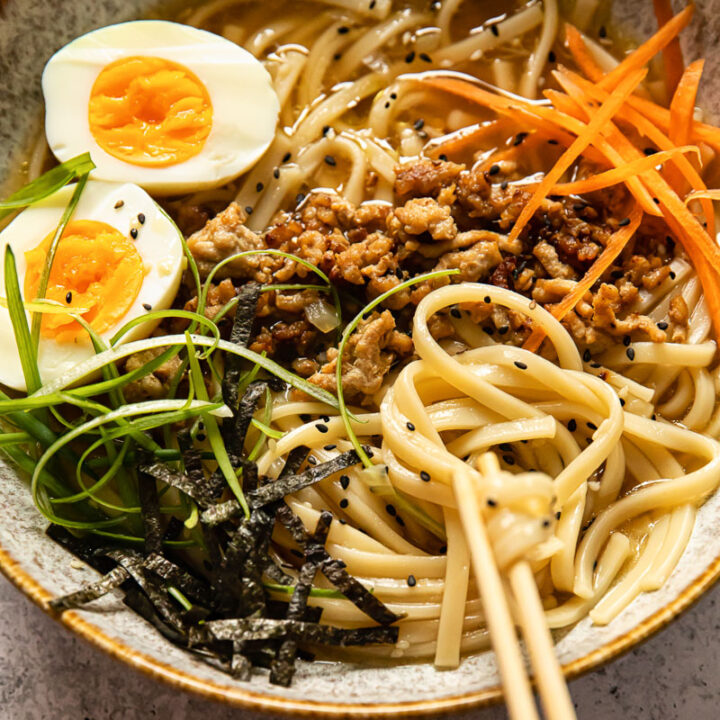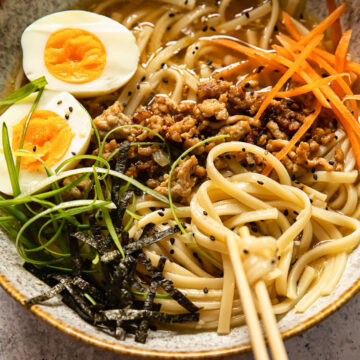 Udon Noodle Soup
This delicious and wholesome Udon Noodle Soup comes together in less than half an hour and tastes just like in your local restaurant.
Ingredients
For the soup
2

tbsp

vegetable oil

½

onion

chopped

2

cloves

garlic

1

tbsp

fresh ginger

grated

2 litres/8 cups

chicken or beef stock

1

tbsp

dark soy sauce

4

tbsp

Japanese soup stock Dashi or Tsuyu

300g/2

packs

Udon noodles
For the pork
1

tbsp

vegetable oil

1

tbsp

fresh ginger

grated

2

cloves

garlic

500g/1lbs

ground pork

I used extra-lean pork

1

tbsp

dark soy sauce

1

tsbp

mirin

optional
For the toppings
4

eggs

soft boiled

½

carrot

cut into matchsticks

4

green onions

sliced into strips

1

tbsp

black or white sesame seeds

1

Nori sheet

cut up into matchsticks
Instructions
In a pot filled with water bring to 4 eggs to a boil, take off the heat and let it sit in hot water for 5 minutes, then drain and fill the pot with ice cold water. Let the egg cool completely.

In a separate pot heat the oil and add minced onion, cook for 5 minutes, add garlic and ginger and cook over low heat for 30 seconds, then add the chicken stock, dark soy sauce, fish stock (Dashi or Tsuyu) and udon noodles ,cook until noodles are done, approximately for 12 minutes.

Meanwhile heat the oil in a frying pan and add ginger, garlic and cook briefly over medium heat. Turn up the heat and add ground pork, soy sauce and mirin if using, cook until the pork is done.

Divide among 4 bowls and top with shredded green onions, carrots cut into matchsticks, soft set egg, cut up nori sheets and sesame seeds.
Nutrition
Calories:
563
kcal
Carbohydrates:
49
g
Protein:
37
g
Fat:
24
g
Saturated Fat:
11
g
Trans Fat:
1
g
Cholesterol:
173
mg
Sodium:
1528
mg
Potassium:
742
mg
Fiber:
4
g
Sugar:
11
g
Vitamin A:
1120
IU
Vitamin C:
4
mg
Calcium:
67
mg
Iron:
4
mg