Make your takeout favourite Shrimp Chow Mein at home in less than 30 minutes. Easy, foolproof recipe with authentic results! Juicy shrimp tossed with flavour packed vegetables and noodles. This dish is healthy, easy and affordable.
Take a look at our Honey Garlic Shrimp if you are a seafood lover.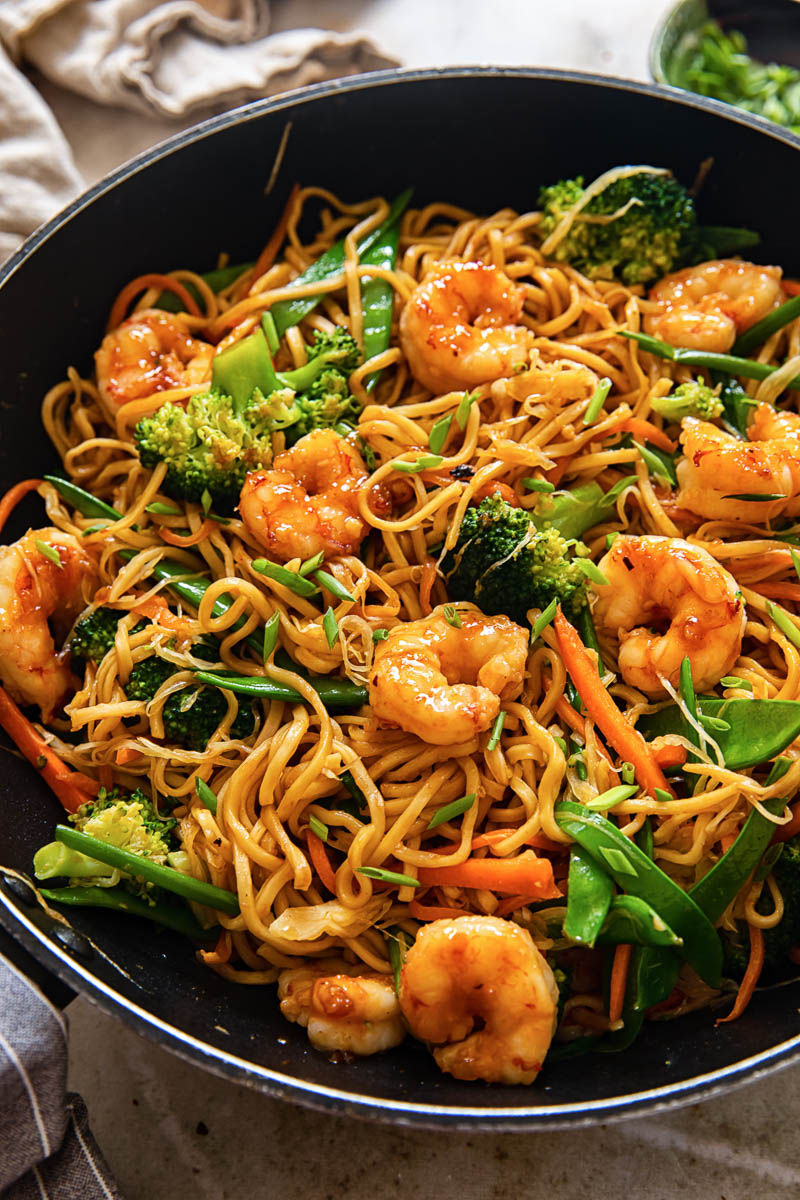 I've challenged myself lately to recreate our favourite Asian takeout recipes, and my family has been loving the results of that challenge.
The order-in meals, that are usually loaded with fat and sugar, get a healthier makeover in my kitchen. Vegetable-centric dishes are very authentic to many Asian countries. It's a shame it's not the case here.
Chinese food, that I had in China a few years back, was fresh and absolutely loaded with vegetables. Meat and tofu were only used in very small quantities for flavour. So in my recipes I attempt to emulate that authentic fresh taste!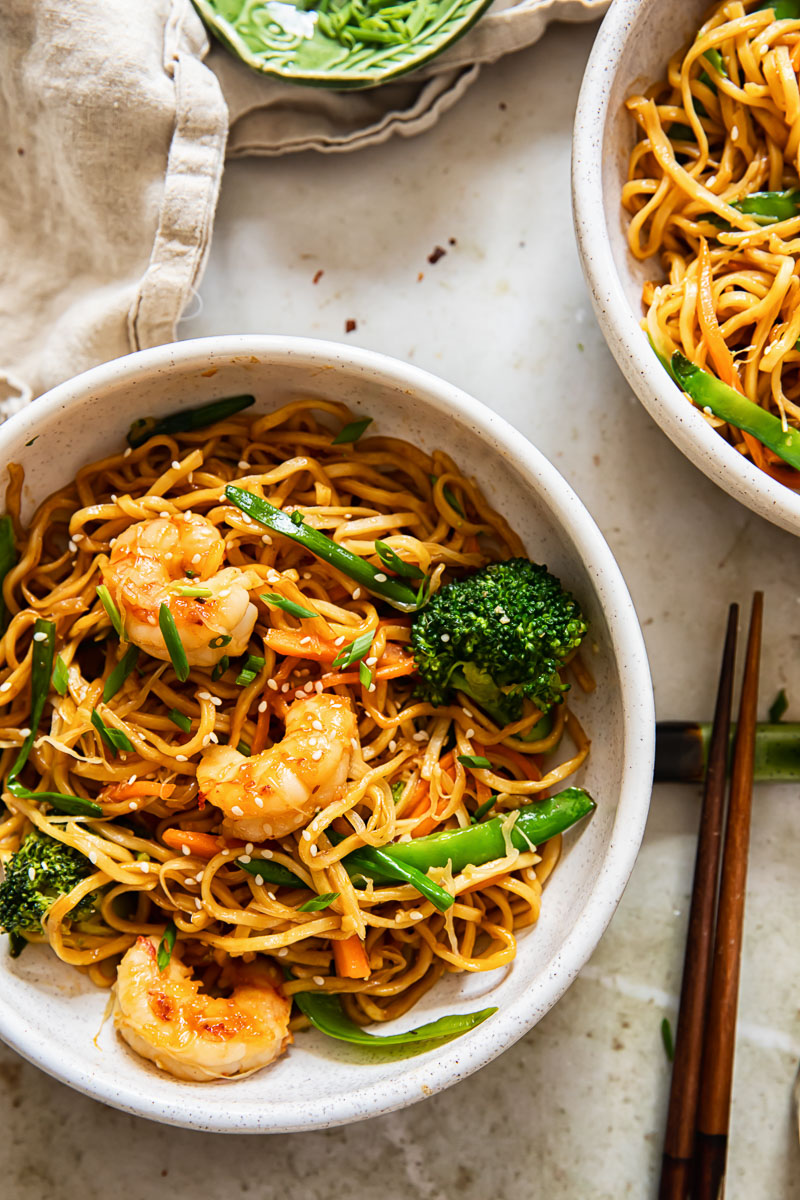 Chow Mein Recipe
Chow mein is a Chinese vegetable and noodle stir fry, that could also be flavoured with chicken, pork, shrimp or tofu. I am using shrimp in my recipe, as it cooks so fast, but thinly sliced chicken or pork could also be used.
Chow mein literally means "fried noodles" but don't let the word "fried" mislead you into thinking it's a heavy dish. You don't need a lot of oil for the job!
When it comes to vegetables, let you imagination guide you! We all have our favourites. And for my recipe I chose broccoli, snow peas, carrots, cabbage and green onions.
I also love using bok choy, cauliflower or green beans in my chow mein recipes.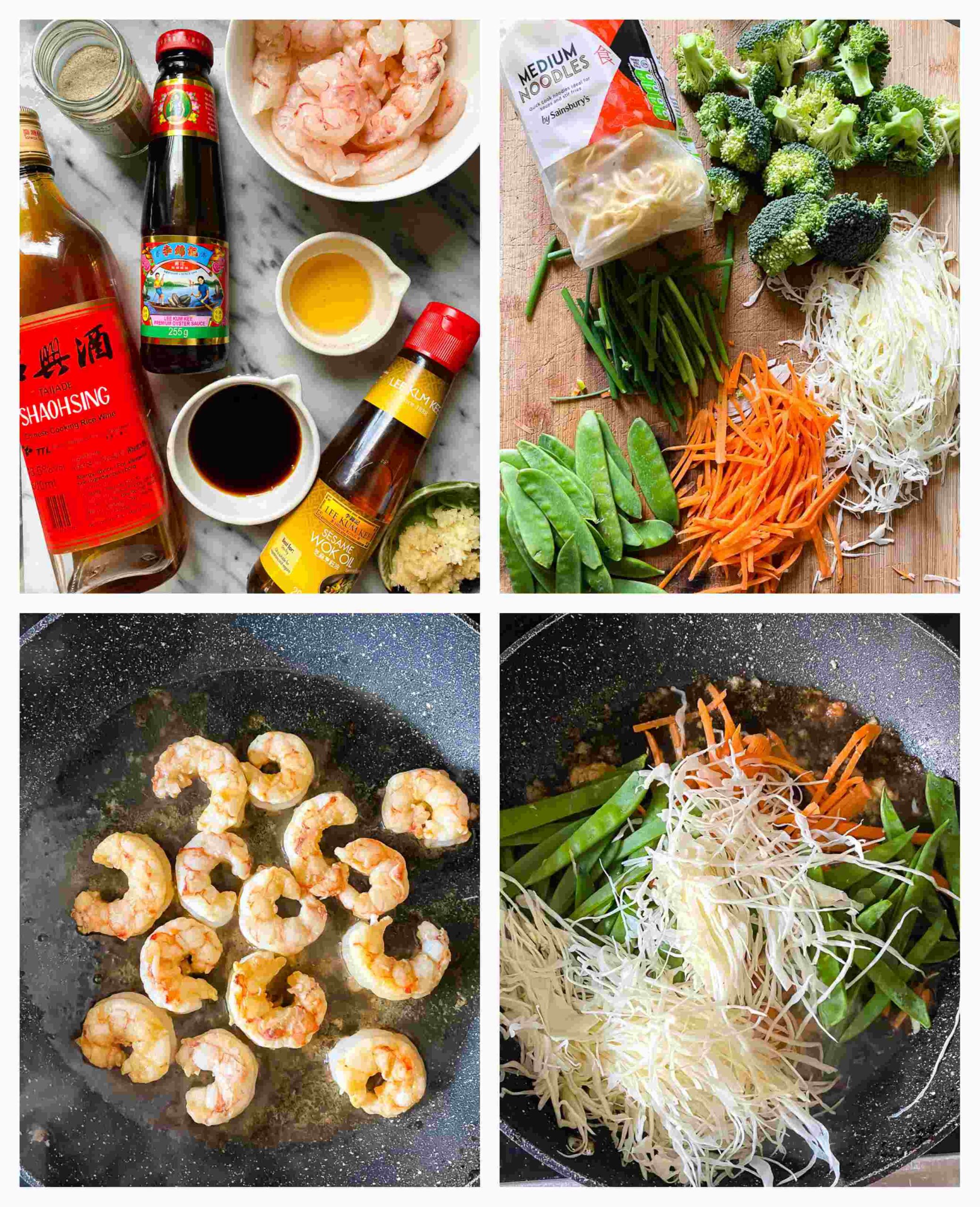 Recipe Tips and Notes
The key to the authentic taste is to cook vegetables briefly in a hot pan until they soften slightly but remain firm to the bite. Then remove them from the pan before the noodles and the sauce are added. Everything comes together eventually. But this way we will keep the veg from getting overcooked and soggy.
Apart from perfectly cooked vegetables, much of the flavour comes from the sauce. This is where the fear might creep in. Many think it's difficult to achieve that delicious taste we crave from a takeout menu. Fear not all ingredients are readily available!
For the sauce you will need a combination of oyster sauce, Shaoxing wine (Chinese cooking wine), dark soy sauce, sesame oil and a touch of honey or sugar for balance. All these ingredients are easy enough to find due to Chinese food's extreme popularity in the West. Take a good look at the Asian aisle of your supermarket. They should all be there. Together they bring that taste we crave!
It makes a difference how you prepare your vegetables. Since both cabbage and carrots are quite dense they take a while to cook. Make sure you slice them as thinly as possible. I use mandoline for this task but a sharp knife will do! Broccoli needs to be blanched before adding to the main dish, so it will cook within the same amount of time.
For convenience I cook the noodles and broccoli in the same pot.
Make sure your shrimp is of decent quality. You don't need a lot, just one pound will easily feed 4 or 6 people.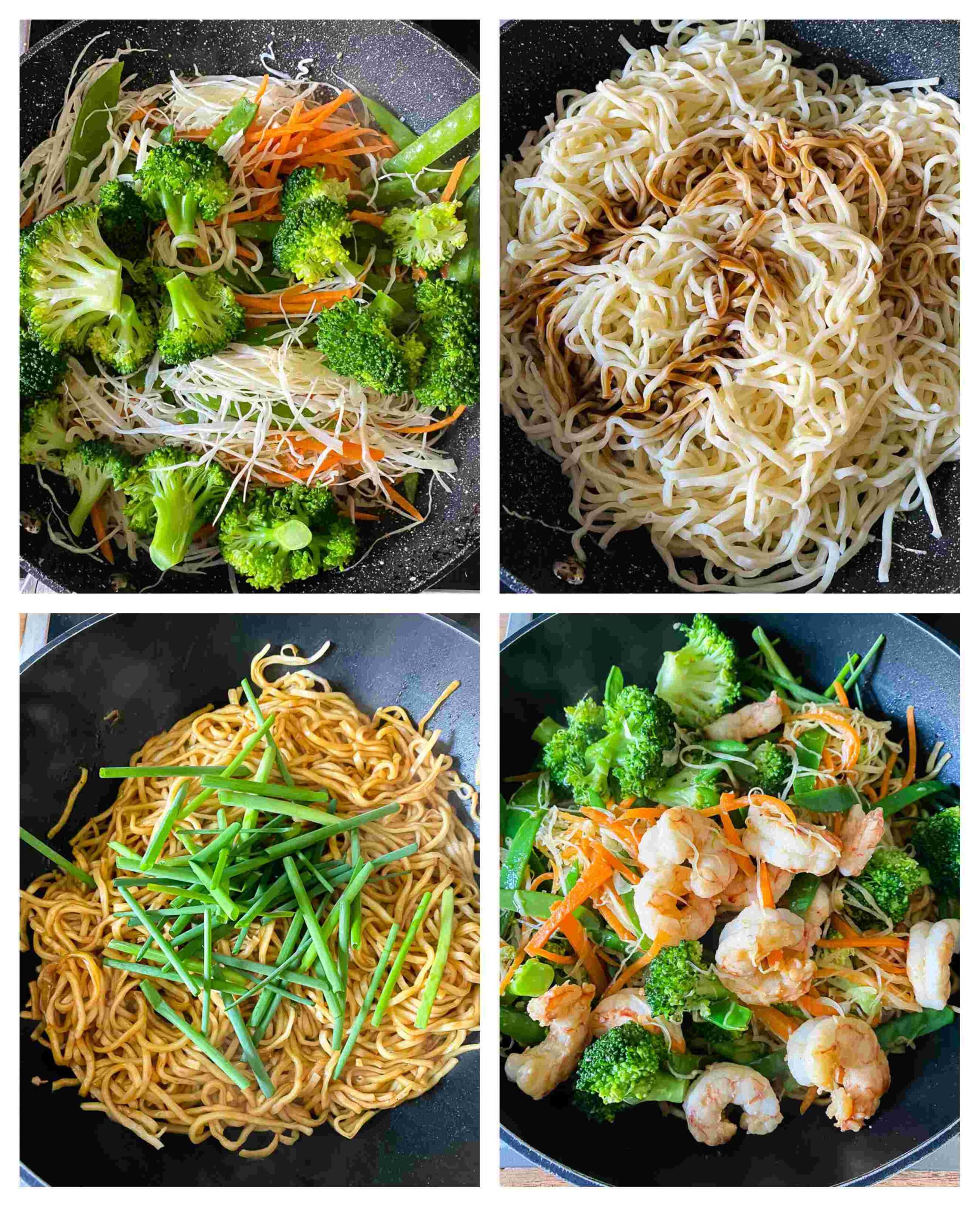 What noodles to use
I used medium egg noodles, that are available in an Asian aisle in all major supermarket in the UK. They often go by the Chow Mein Noodles name in the US.
If you can't source the egg noodles, opt in for spaghetti or linguine as they are made very similarly. However, Asian egg noodles usually only require 3 minutes to cook, while Italian spaghetti will take more than double of that. Read the instruction on the package carefully.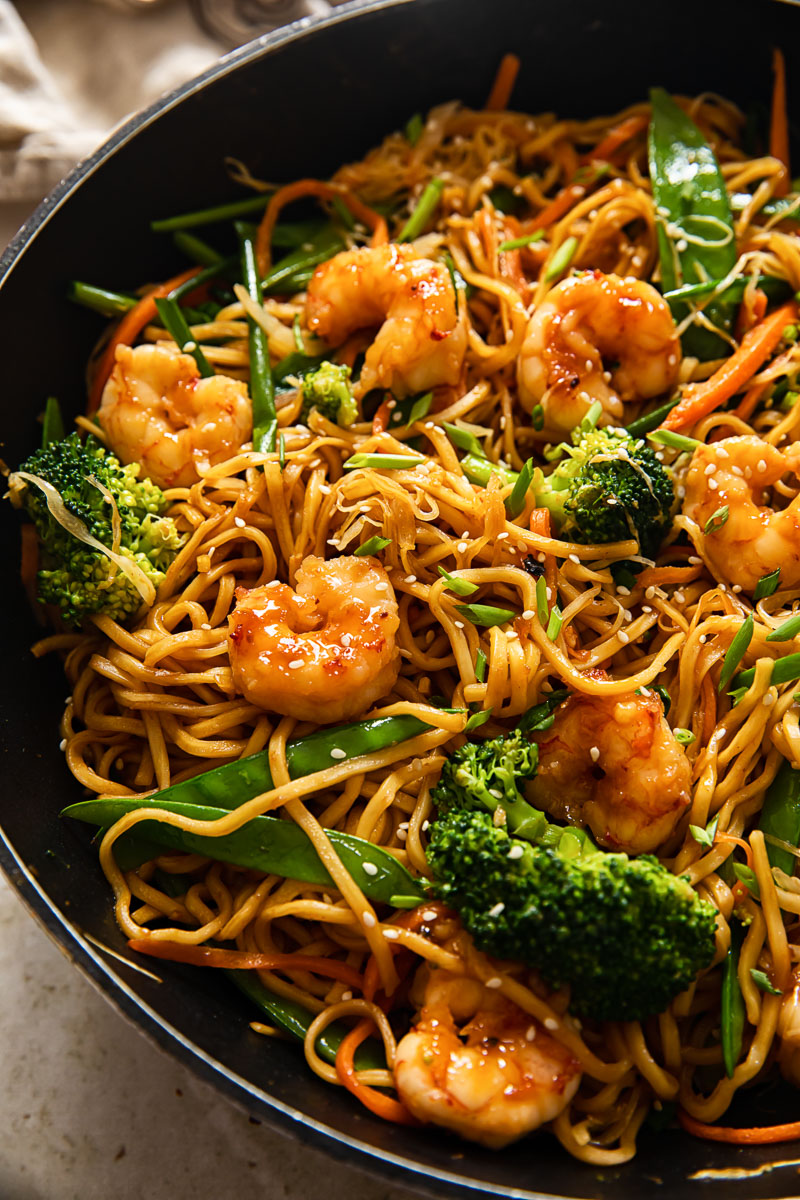 More Asian Noodle Recipes: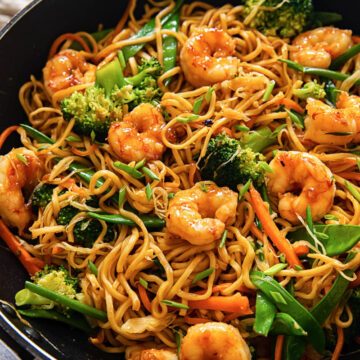 Shrimp Chow Mein
Easy, foolproof recipe with authentic results! Juicy shrimp tossed with flavour packed vegetables and noodles.
Print
Pin
Rate
Ingredients
250g/1/2 lbs

Asian medium egg noodles or spaghetti

2

tbsp

oyster sauce

2

tbsp

Shaoxing wine (Chinese cooking wine) or dry sherry

1

tbsp

dark soy sauce

1-2

tsp

sesame oil

2

tsp

honey or sugar

½

tsp

white pepper

2

tbsp

vegetable oil

1

lbs

shrimp

peeled and deveined

2

cloves

garlic

1

tsbp

ginger paste or grated ginger

1

carrot

cut into matchsticks

200g(1 small head)

broccoli

broken into florets

70g/1/2 cup

cabbage

shredded

50g/1/2 cup

snow peas

cut in half lengthwise

4

green onions

white parts sliced, and green parts cut into 3 inch pieces
Instructions
Boil noodles with broccoli, drain, rinse the noodles and set aside. (Dried egg noodles take approximately 3-4 minutes to cook.)

While the noodles are boiling prepare the vegetables. Cut the carrots into matchsticks, slice the cabbage and cut the green onions in 3 inch pieces, cut the snow peas in half lengthwise.

Make the sauce by mixing together the oyster sauce, Shaoxing wine, dark soy sauce, honey, white pepper and sesame oil.

Take 2 tbsp of the sauce and marinate the shrimp in it until needed. Reserve the rest for later.

Heat 1 tbsp vegetable oil in a large frying pan or a wok. Cook the shrimp on medium-high until just done, 1 or 2 minutes on each side depending on the size. Remove from the pan to a separate plate.

To the same pan add another tablespoon of oil, then add the chopped white part of the onions, garlic, and ginger, stir fry for about 30 seconds over medium heat. Then add the carrots, broccoli broken into florets, cabbage, snow peas and green onions, stir fry for 2-3 minutes until the vegetables are cooked but still firm to the bite. Remove to the same plate with shrimp.

Add the noodles with the green onions to the pan and pour in the sauce. Toss the noodles with the sauce until even coated and heated through. Then bring the shrimp with the vegetables back to the pan and toss to combine, allow the stir fry to heat through, then serve.
Nutrition
Calories:
354
kcal
|
Carbohydrates:
32
g
|
Protein:
29
g
|
Fat:
11
g
|
Saturated Fat:
7
g
|
Cholesterol:
286
mg
|
Sodium:
1516
mg
|
Potassium:
394
mg
|
Fiber:
4
g
|
Sugar:
6
g
|
Vitamin A:
3121
IU
|
Vitamin C:
64
mg
|
Calcium:
218
mg
|
Iron:
5
mg