This pork belly, slowly braised in honey soy sauce with ginger and other aromatics, produces tender and juicy meat with a crispy crackling. Absolutely mouthwatering and so easy to make!
Add our Asian Noodle Salad with Spicy Peanut Dressing for the ultimate pairing!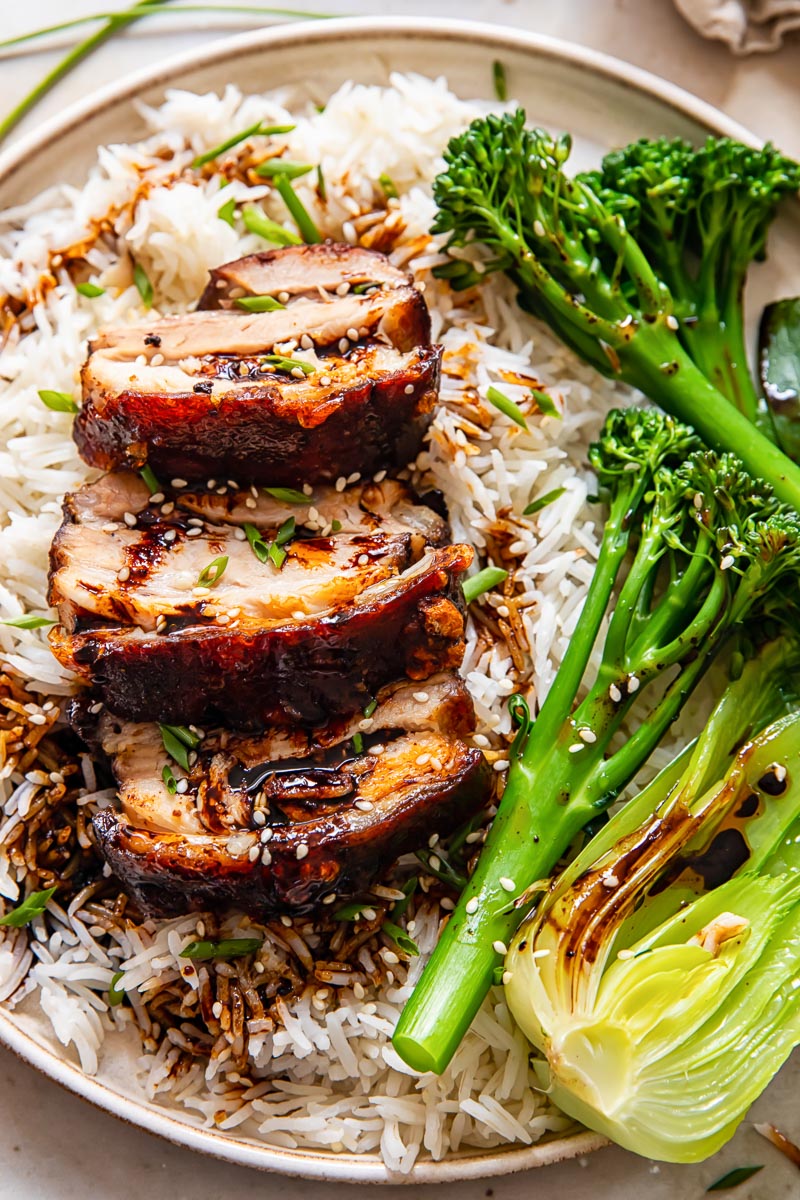 What is Pork Belly?
Pork belly may not be familiar to everyone, but is the same cut of meat used for bacon. Because it is taken from the belly of a pig, it has a high fat content. When cooked properly, the fat renders and creates succulent meat and adds incredible flavour.
Along with bacon slices, pork belly can come in thicker slices or whole slabs. Ideally there should be approximately equal amounts of fat and meat, and the fat should be a creamy white colour.
Even though pork belly is hugely popular in much of the world it is a very cheap cut of meat, which makes it a great choice to feed a crowd!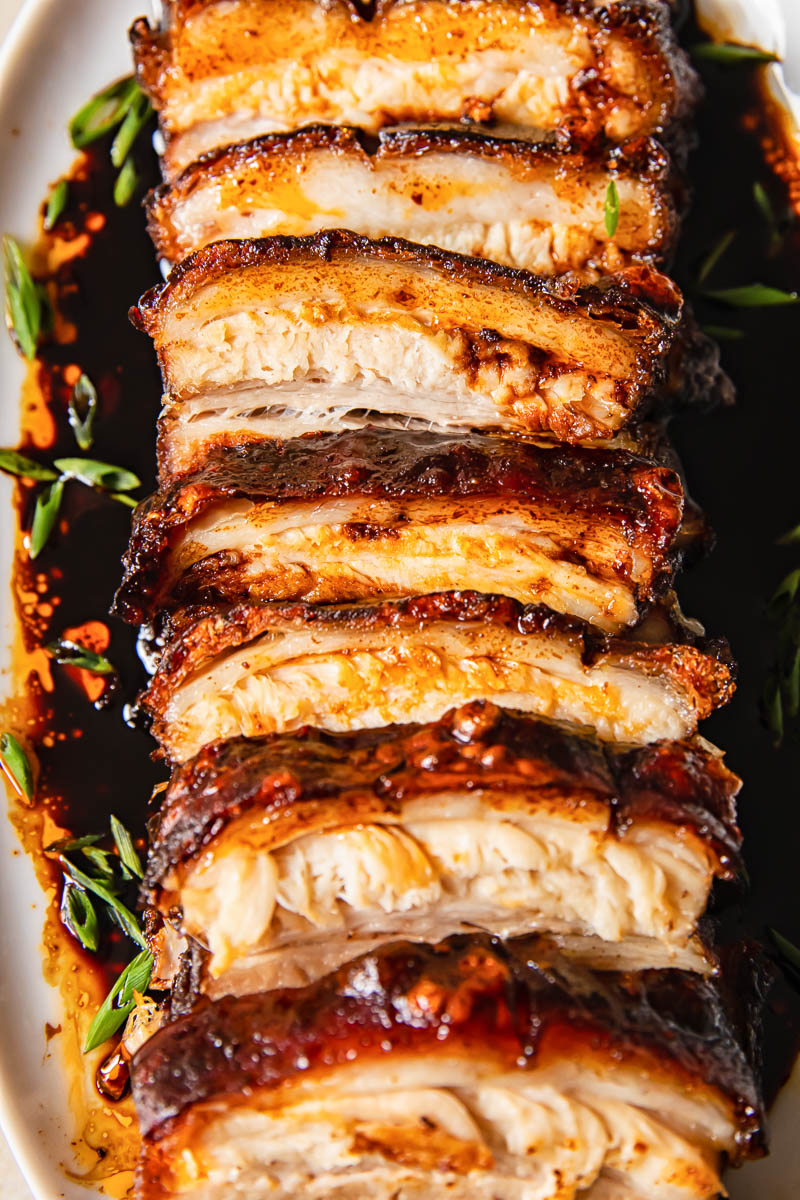 This cut of meat is very commonly featured in many Asian recipes. The recipe we are sharing today is inspired by the Chinese flavours.
There are several ways to cook a pork belly to yield amazing results. The most common ones for the whole pork belly are roasting and braising and grilling for pork belly slices.
This recipe for pork, braised in aromatic soy and honey sauce, is off the charts delicious.
Because the pork belly is slowly cooked over low heat, the fat renders beautifully and leaves a tender, flavourful meat that melts in the mouth.
Then turn the heat up to get that perfect crackling! Not to mention, the braising liquid, which turns into a savoury sticky glaze. This simple recipe is a great example of very little effort, that produce amazing results!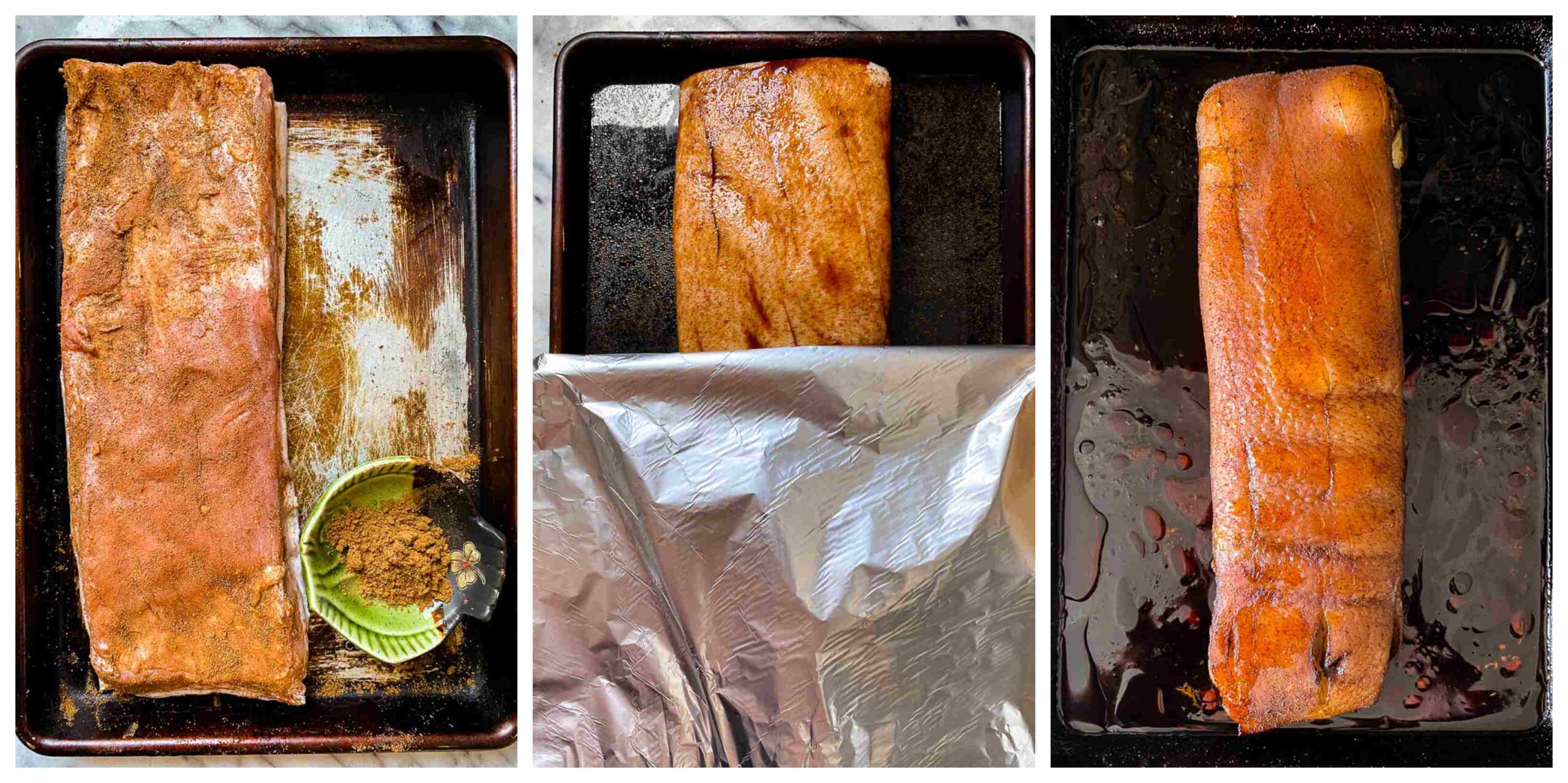 Recipe Tips and Notes
When scoring the skin, make sure the cuts are deep and frequent. This allows the heat to penetrate deeply and evenly and results in crisper crackling. It's worth mentioning that only the skin should scored.
Take the meat out of a fridge one hour before cooking it, which will allow it to come to room temperature and will result in more even cooking.
Rub the meat with the Chinese 5 spice powder and let it infuse for that hour before cooking.
The method of cooking we chose here is braising, which cooks the meat slowly in the oven while partially submerged in liquid. Braising produces very tender and flavourful meat.
Choose a roasting pan that roughly fits the size of the piece of meat. We want it to be quite snug in the pan, so not too much liquid would evaporate.
The liquid the pork is cooked in, later turns into a glaze. Halfway through the cooking check if it's too dry. You might want to add a splash of water to it.
The final step is turning the skin into crispy crackling. For that you would need to turn the oven to the highest setting. Monitor the liquid while this is happening and add more water if it's burning. We want to end up with thick glaze in the end.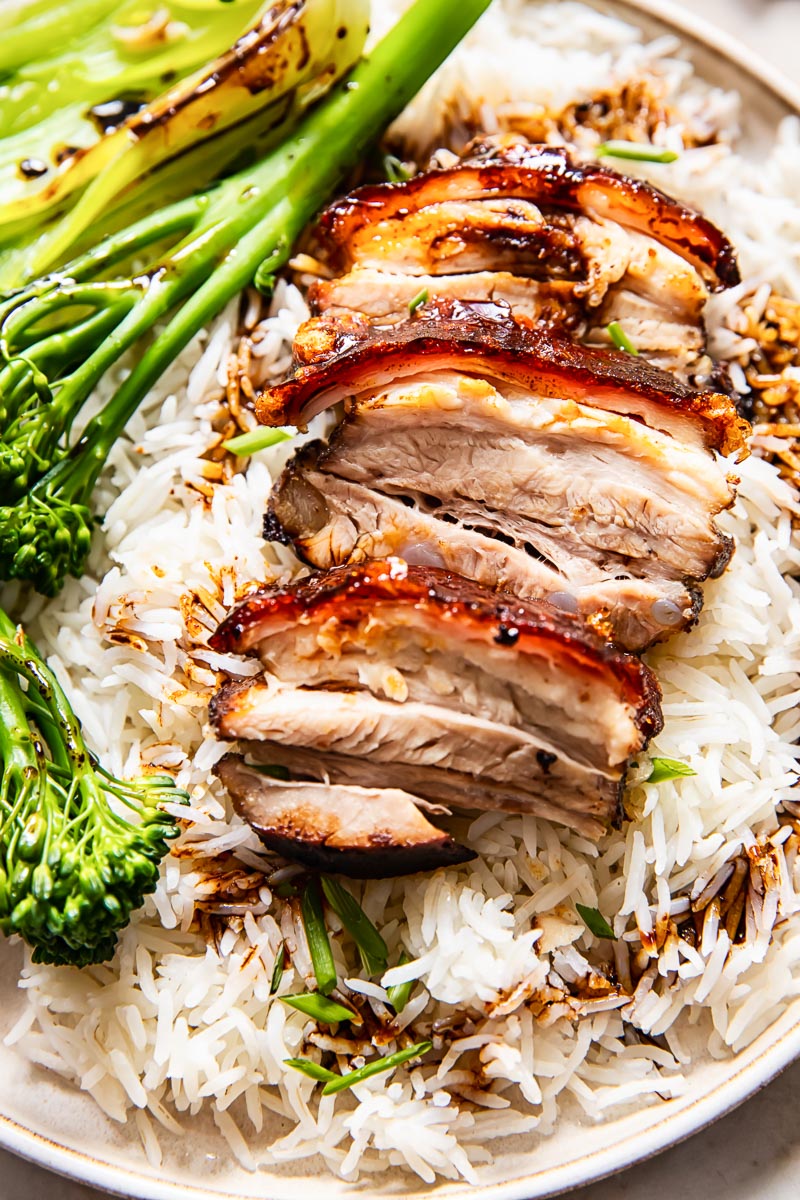 Serving Suggestions
Crispy honey soy pork belly can be served with rice and some steamed vegetables like broccoli, bok choy or cauliflower. I like adding this Carrot, Zucchini and Radish Slaw for extra crunch and flavour!
More Asian inspired recipes to try: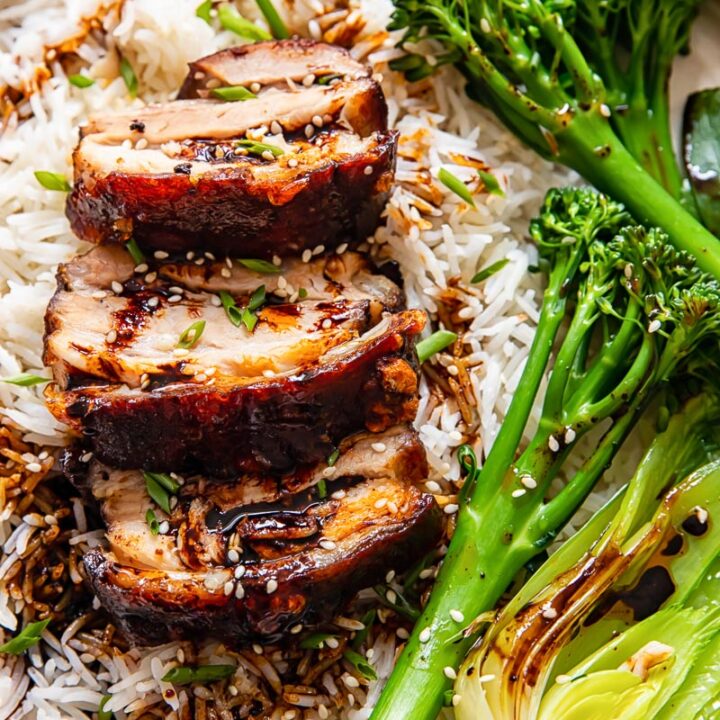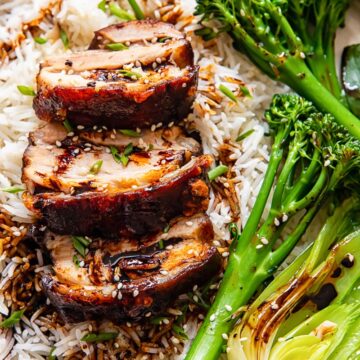 Crispy Honey Soy Pork Belly
This pork belly, slowly braised in honey soy sauce with ginger and other aromatics, produces tender and juicy meat with a crispy crackling.
Ingredients
2-3

tsp

Chinese five spice powder

4

tbsp

dark soy sauce

2

tbsp

honey

125ml/1/2 cup

Shaoxing Wine or dry sherry

4

tbsp

rice vinegar or any other vinegar you have

1

tsp

sesame oil

½

tsp

ground white pepper

1

tbsp

Korean gochujang paste or 1 tsp chilli flakes

optional

1kg/2.2 lbs

pork belly with the skin attached

might have some rib attached
Instructions
Take the pork belly out of the fridge 1 hour before cooking to bring to room temperature. Check if your pork belly comes pre-scored. If not, score the skin with a very sharp knife. Rub the pork belly with the Chinese five spice all over and let it sit at room temperature for one hour.

Mix the dark soy sauce, honey, Shaoxing wine or dry sherry, rice vinegar, white pepper, sesame oil and the gochujang paste if using.

Put the pork belly in a shallow roasting dish, which fits the size of the pork, pour the sauce all over, cover with aluminum foil and braise in the oven at 300F/150C for 2.5 hours.

Take the foil off and turn the temperature to the highest setting your oven has. Cook for 30 minutes longer or until the skin is crisp and the sauce is syrupy. You might need to add a splash of water to the bottom to keep the sauce from going dry and burning. Rest the pork for 20 minutes before slicing.
Nutrition
Calories:
699
kcal
Carbohydrates:
6
g
Protein:
13
g
Fat:
67
g
Saturated Fat:
24
g
Cholesterol:
90
mg
Sodium:
544
mg
Potassium:
272
mg
Fiber:
1
g
Sugar:
4
g
Vitamin A:
16
IU
Vitamin C:
1
mg
Calcium:
16
mg
Iron:
1
mg