This classic Cobb salad uses lemon pepper flavoured salmon instead of chicken and a delicious lemon dill dressing. A salad that is a meal in itself!
But if you not a fan of salmon, take a look at our Traditional Cobb Salad with the most delicious dressing.
It's no secret I crave salads whenever the weather turns warm. Not just a wimpy salad with a bit of lettuce and a slice of tomato but a salad you can eat for a meal.
Cobb is definitely one of those meals! It's got absolutely everything for a satisfying lunch of dinner. It also boasts buckets of flavour.
The Ingredients
For the most part this recipe follows the classic Cobb salad. The standard version features chicken breast, bacon, eggs, cheese, tomatoes and avocado piled on top of salad greens. It is usually dressed with a vinaigrette or a creamy dressing.
Since I wanted to use salmon instead of chicken I also decided to adjust some of the ingredients to compliment my fish.
First of all, I seasoned my salmon with classic fish flavours; lemon and pepper with a good pinch of salt. When seasoning fish, I find that grating a bit of lemon zest does wonders for the flavour. Something that lemon juice alone can never do.
I cooked my salmon in the air fryer, which is quick, easy and fuss free. It delivers fish that is perfectly cooked and it takes less than 10 minutes. But you can also use your oven!
I got rid of the bacon in my version. The rich flavour of the salmon didn't need any help in my opinion. However, I kept cheese but instead of the usual blue cheese I opted for creamy and tangy goat cheese. Perfect companion!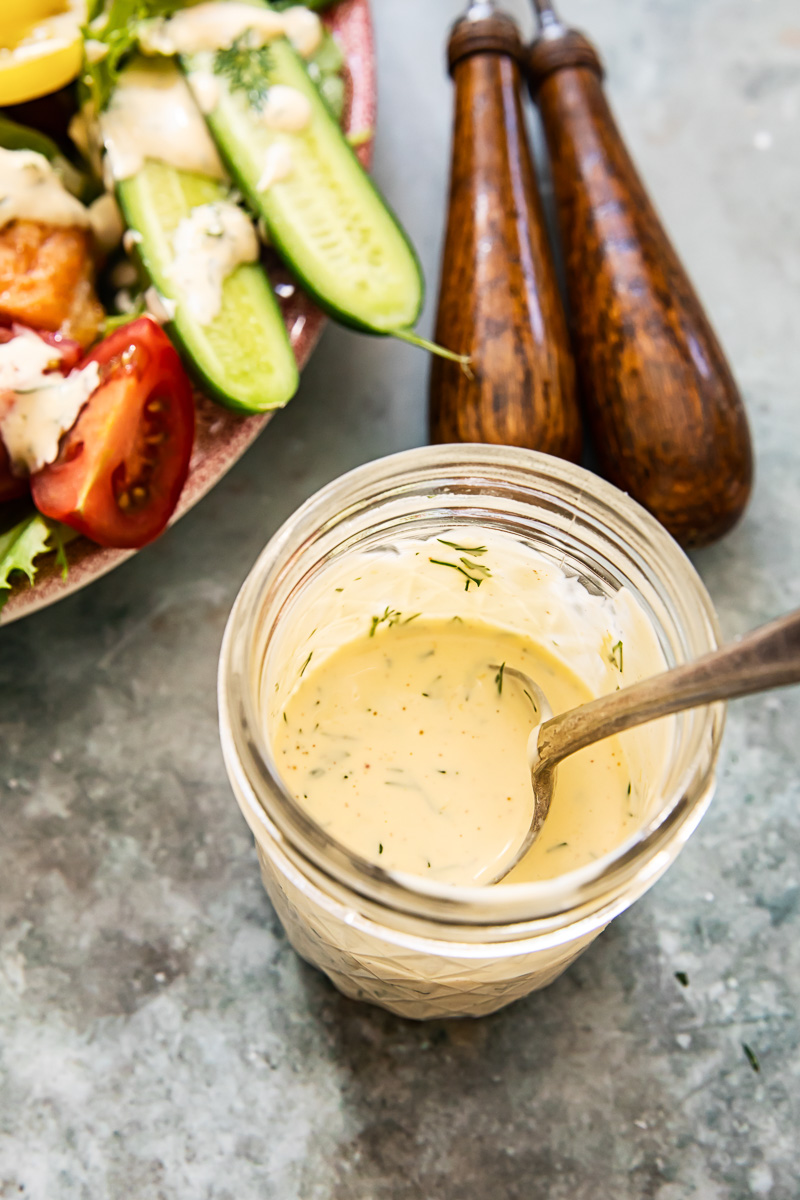 Lemon Dill Dressing
As mentioned above, I flavoured the salmon with lemon and pepper. Lemon pairs beautifully with fish, so I wanted to include it in my salad dressing as well.
To make things simple I used mayonnaise as a base with a touch of mustard for the depth of flavour.
When it comes to summer salads I want all ingredients to be as fresh and real as possible. So I used the juice and zest of a lemon to give my salad dressing a real zing and brightness.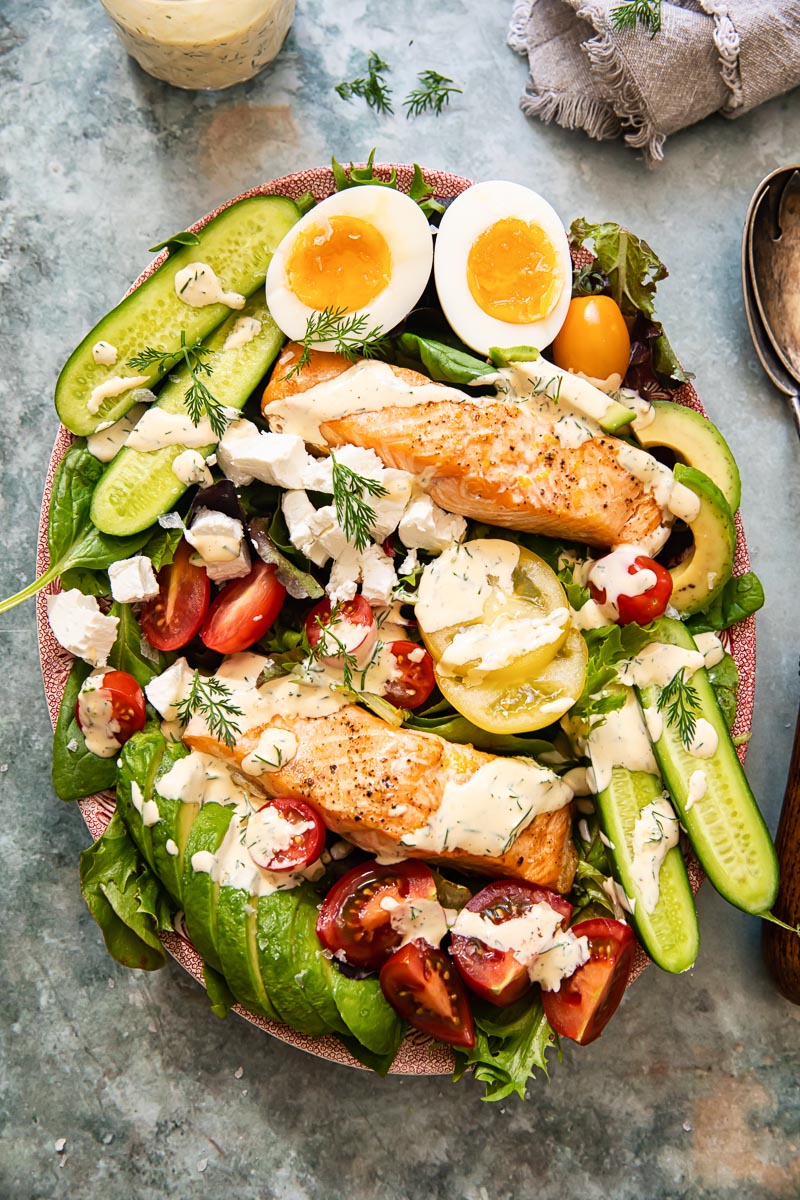 Freshly chopped dill is another classic, which gets paired with fish. And if you follow me, you know I am impartial to dill. A healthy dose of the herb went right in!
I honestly think the dressing is one of the best part about this salad and it can be used in ANY salad, so make a double batch and enjoy!
More Big Salad Recipes to Try: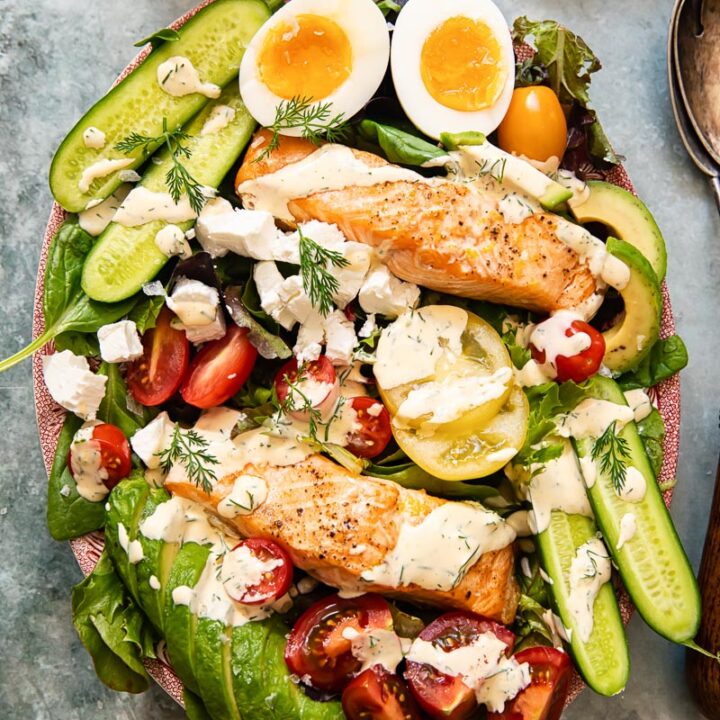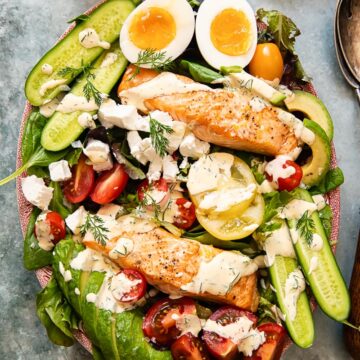 Salmon Cobb Salad with Lemon Dill Dressing
This classic Cobb salad uses lemon pepper flavoured salmon instead of chicken and a delicious lemon dill dressing.
Ingredients
For the dressing
125g/1/2 cup

mayonnaise

1

tsp

Dijon mustard

½

lemon, juice and zest

1

tbsp

chopped dill

2

tbsp

water to thin it out
For the salad
2X125/4oz

salmon fillet pieces

1

tbsp

olive oil

salt and pepper

½

lemon, zest only

4

tomatoes

2

cucumbers

small

2

eggs

1

avocado

4

tbsp

crumbled goat cheese

170g/4 cups

mixed salad greens
Instructions
Make the salad dressing by whisking together the mayonnaise, Dijon mustard, lemon juice and zest with chopped dill. Add warm water one teaspoon at a time to thin it out, continue adding water until desired consistency. Set aside till needed.

Brush the salmon pieces with the olive oil, then season with salt and pepper. Grate the zest of ½ lemon directly on top. Cook in the preheated to 180C/350G oven for 10-12 minutes. Or cook in the air fryer at 200C/400F for 8 minutes.

While the salmon is in the oven, cook the eggs. For soft boiled eggs, put the eggs in cold water in a saucepan, bring to a boil, then turn the heat off and let the eggs sit in the water for 5 minutes. Afterwards, transfer the eggs to ice cold water until completely cool, then peel.

To assemble the salad pile the salad greens on a platter, then top with the salmon, tomato slices, cucumbers halves, sliced avocado and soft boiled eggs cut in half. Then arrange the crumbled goat cheese in the middle. I like to sprinkle all vegetables with a bit of salt before adding the dressing. Drizzle with the lemon dill dressing and serve.
Nutrition
Calories:
395
kcal
Carbohydrates:
18
g
Protein:
22
g
Fat:
27
g
Saturated Fat:
6
g
Polyunsaturated Fat:
8
g
Monounsaturated Fat:
12
g
Trans Fat:
0.03
g
Cholesterol:
128
mg
Sodium:
1569
mg
Potassium:
1184
mg
Fiber:
6
g
Sugar:
7
g
Vitamin A:
2011
IU
Vitamin C:
44
mg
Calcium:
91
mg
Iron:
3
mg