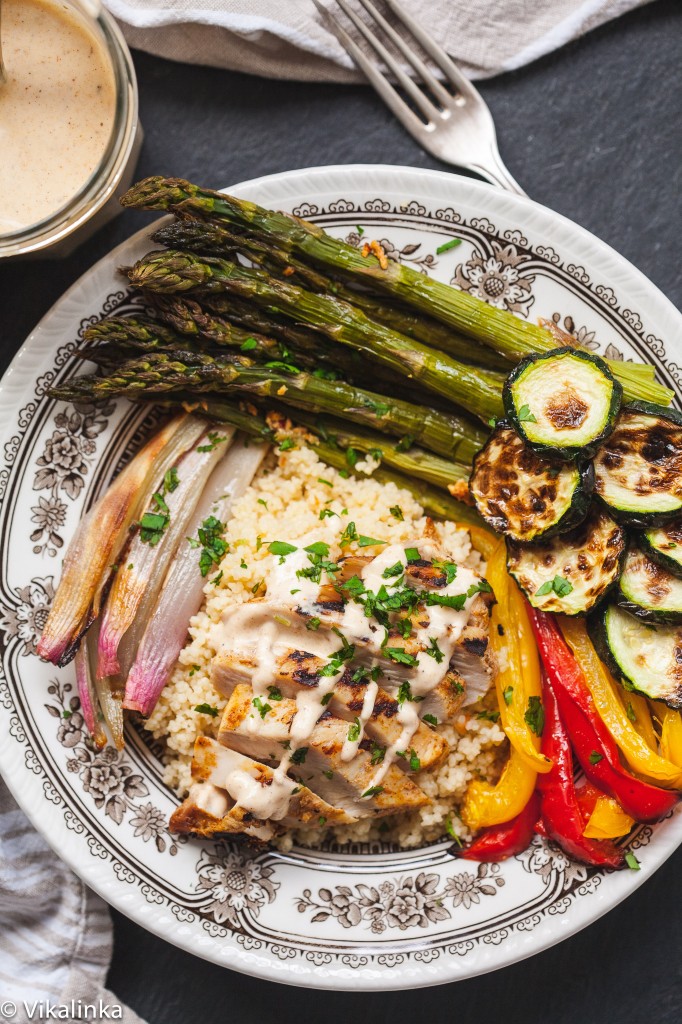 Whenever I am out grocery shopping I can't help but check out a foreign food aisle or a world food aisle, whatever it's called at your local store. I always come out with something interesting. One of the latest discoveries was Moroccan spice…twice. Apparently, I forgot I found it fascinating the first time, and bought it all over again. There I was with two jars of Moroccan spice and no idea how to use it. My ignorance aside, I knew I had to do something before Brad would bring up the fact we are running out of kitchen cabinet space and I need to stick to my shopping list.
With that thought in mind, I poured a handful of the vibrant concoction into the mortar and started bashing it until I had a fragrant, nostril tickling powder. An idea of what this dinner should be was beginning to develop.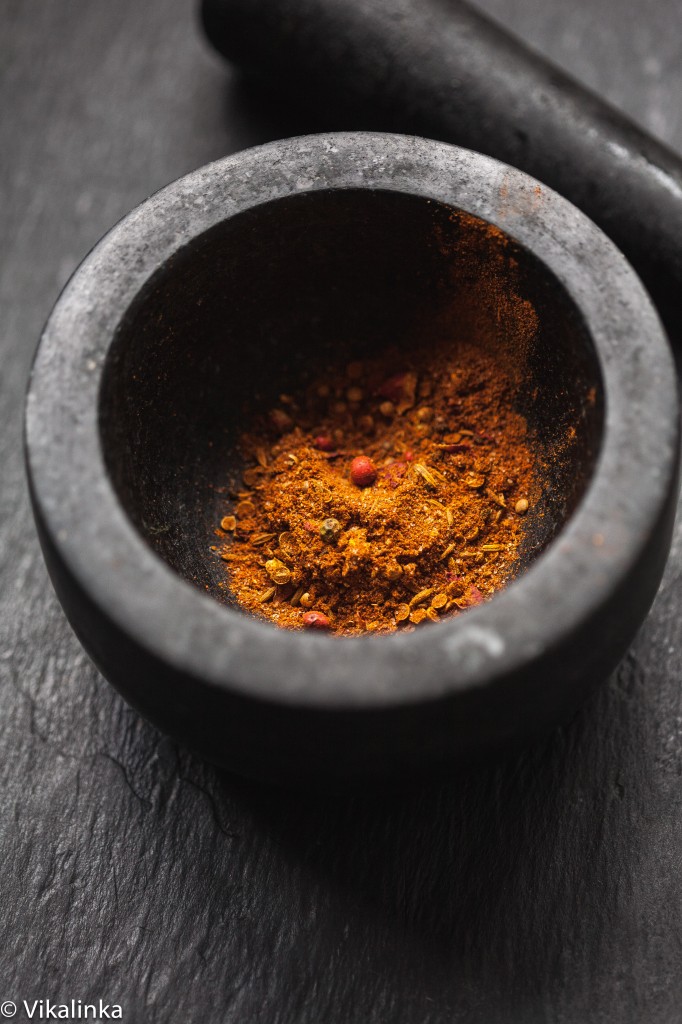 Next I grabbed some Greek yogurt, mixed it with the spice blend and smothered it all over the chicken. While it was marinating I tackled my veggies.Can we quickly discuss asparagus right now? Am I the last person to discover how great roasted asparagus is?! I kept seeing the recipes for it all over the web but couldn't believe the taste would alter too much from a regular steamed asparagus. While cooking our Easter dinner a week ago I noticed all the burners were taken so I threw asparagus in the roasting pan with some garlic, lemon zest and an olive oil drizzle. Who could've known that such simple ingredients can create such beauty! I will never go back to my steamed asparagus. Never.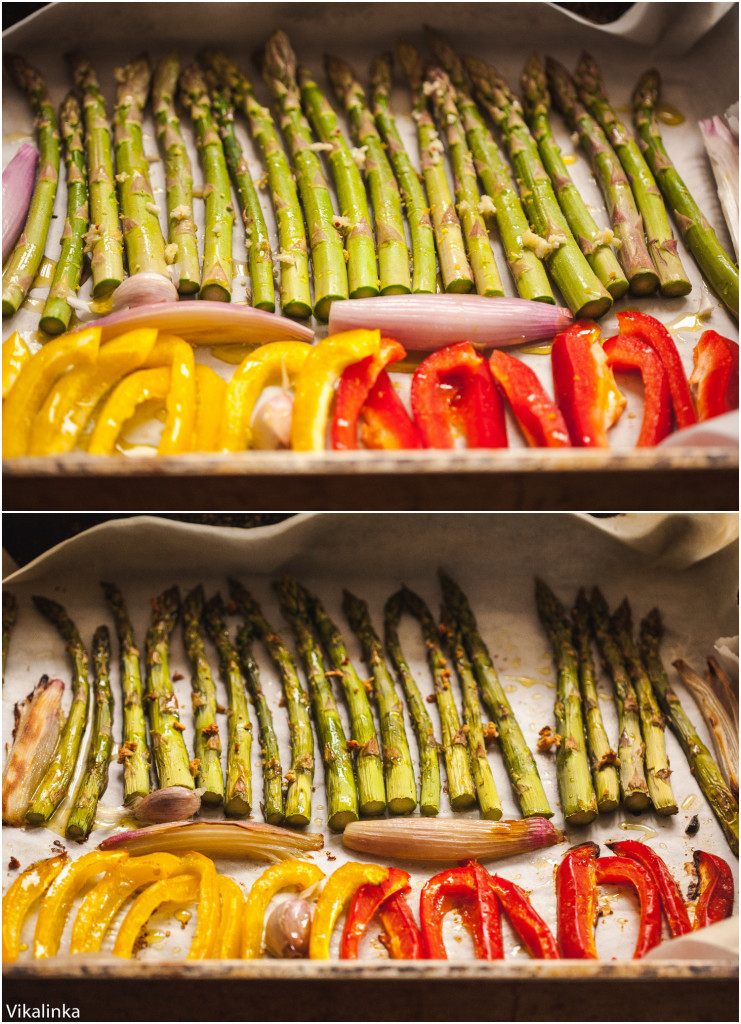 So that's what I've done here as well. I also added some red and yellow peppers, shallots, garlic and zucchini. The smell that was coming out of the oven was absolutely mouthwatering, thus making waiting till dinner time pretty painful! I was pretty sure I could make a dinner out of just veggies but throw some couscous into the mix and you've got yourself a pretty delicious meal!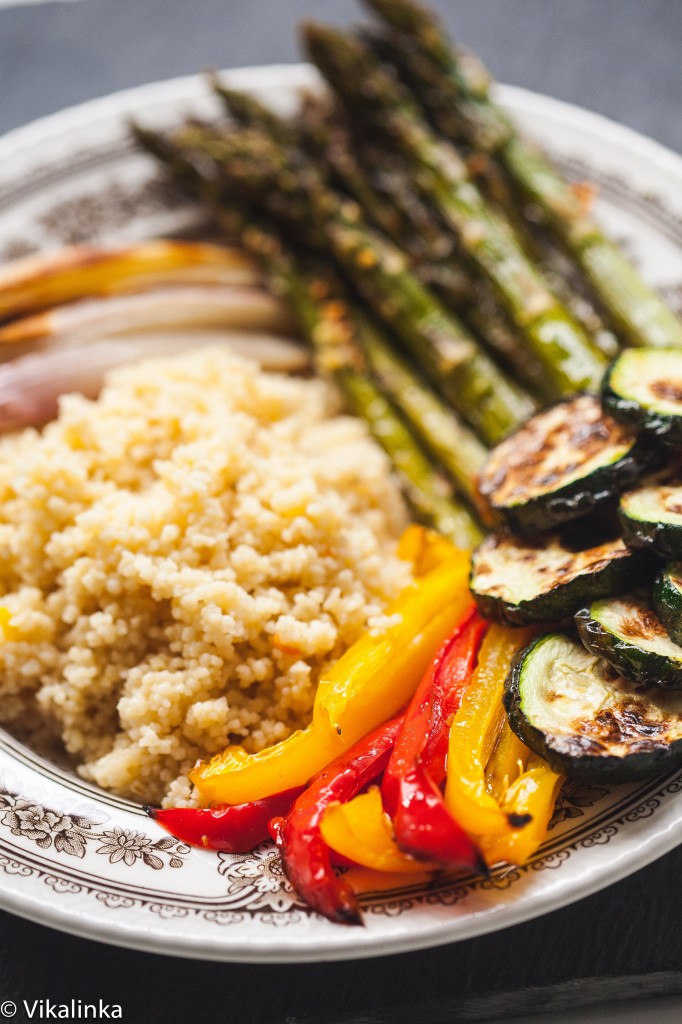 If you are a vegetarian stop right here and enjoy…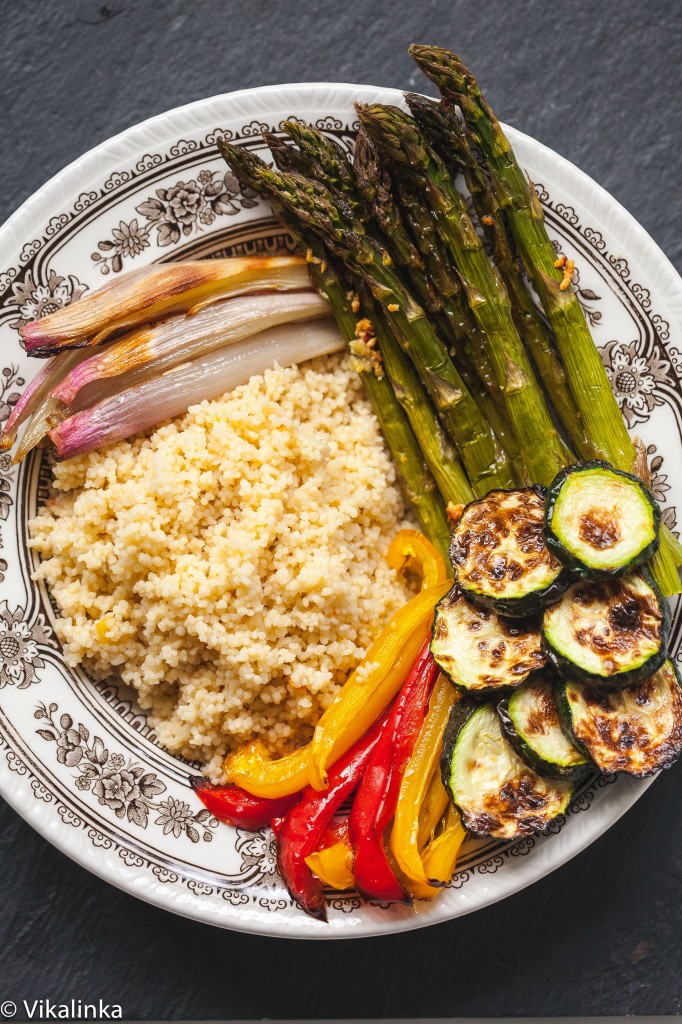 If you are however, a meat loving carnivore, read on. I had that chicken marinating for a couple of hours, so it would've been a crime not to grill it, which I did. Ta-da!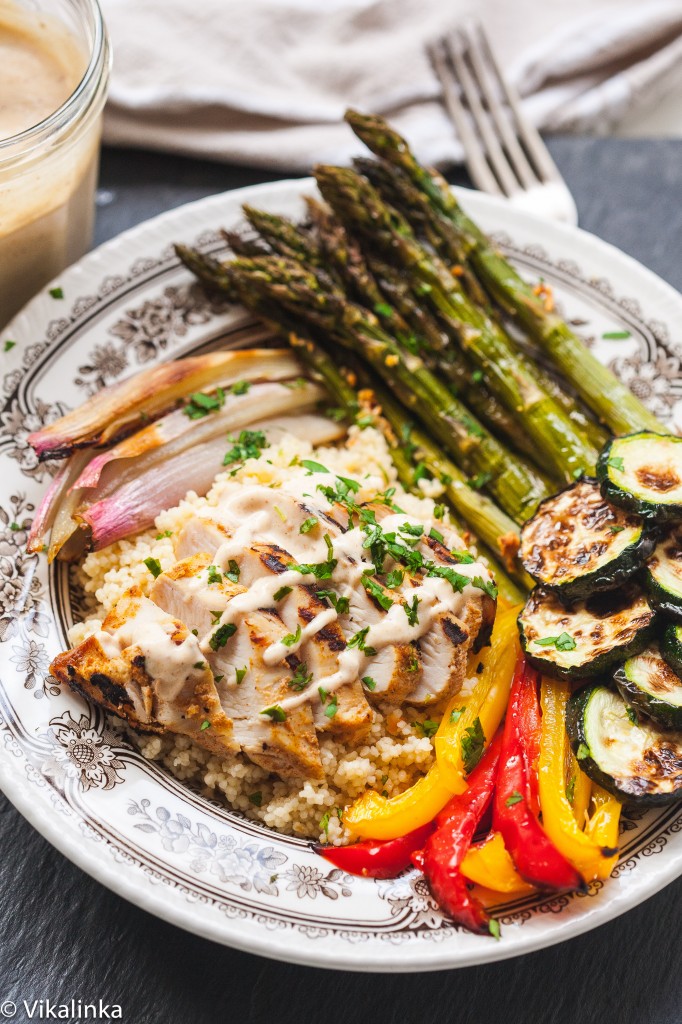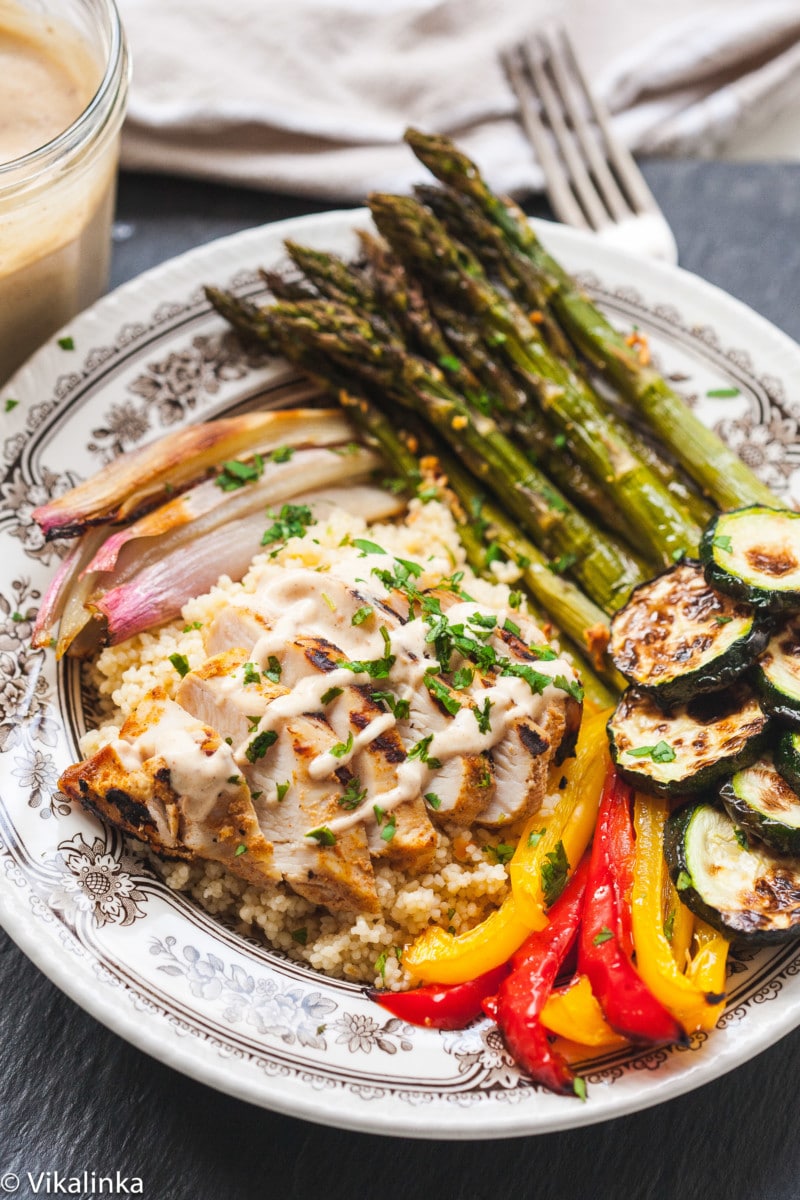 Ingredients
For the marinade
2

tbsp

Moroccan spice

125ml/1/2

cup

Greek yogurt

3-4

chicken breasts
For the roasted vegetables
400g/14 oz

asparagus

1/2

red bell pepper

sliced

1/2

yellow bell pepper

sliced

1

shallot

quartered lengthways

1

zucchini

sliced

3

cloves

garlic

1

zest of one lemon

1

tbsp

olive oil

salt
For the Spicy Moroccan sauce
2

tbsp

of reserved marinade

3

tbsp

mayonnaise

2

cloves

roasted garlic

3

tbsp

water
For the couscous
150g/1 cup

couscous

500ml/2 cups

chicken stock

chopped cilantro
Instructions
Mix Moroccan spice ( grind it first in a spice grinder if it contains whole spices) with Greek yogurt, reserve 2 tbsp of the mixture and set aside. Smother chicken with prepared marinade, cover and refrigerate for 2 hours or overnight.

Preheat the oven to 400F/200C. Place thickly sliced vegetables and 2 cloves of garlic not-peeled in a big roasting pan, don't overcrowd or the vegetables will steam. Sprinkle with lemon zest, salt, 1 remaining clove of crushed garlic, 1 tbsp of olive oil and roast for 30 minutes.

Take the chicken out of the marinade and grill on a barbecue or a griddle for 8-10 minutes on one side and 5 minutes on the other, reduce or increase time depending on the thickness.

Put couscous in a medium bowl, bring chicken stock to a boil and pour over couscous, cover and let it absorb the liquid for 8-10 minutes, then fluff it with a fork.

When the vegetables are done remove them from the oven, cover and keep warm.

Peel the roasted garlic and put it in a food processor with the reserved marinade, mayonnaise and water, blend until smooth, add more water if needed to a desired consistency.

Place sliced chicken breast on top of couscous along with roasted vegetables and serve with additional sauce and chopped cilantro.
Nutrition Facts
Roasted Vegetables and Couscous Bowl with Moroccan Spiced Chicken
Amount Per Serving
Calories 558
Calories from Fat 162
% Daily Value*
Fat 18g28%
Cholesterol 118mg39%
Sodium 468mg20%
Potassium 1307mg37%
Carbohydrates 46g15%
Protein 51g102%
Vitamin A 1400IU28%
Vitamin C 67mg81%
Calcium 115mg12%
Iron 4mg22%
* Percent Daily Values are based on a 2000 calorie diet.