This Moroccan Chicken Tagine flavoured with warm and aromatic spices and cooked with preserved lemons and sweet butternut squash is a huge crowd pleaser due to its delicious and exotic taste.
Serve it with our Winter Salad with Red Cabbage, Kale and Pomegranate. The sweet and zingy pomegranate molasses dressing will compliment and highlight the flavours of this chicken tagine.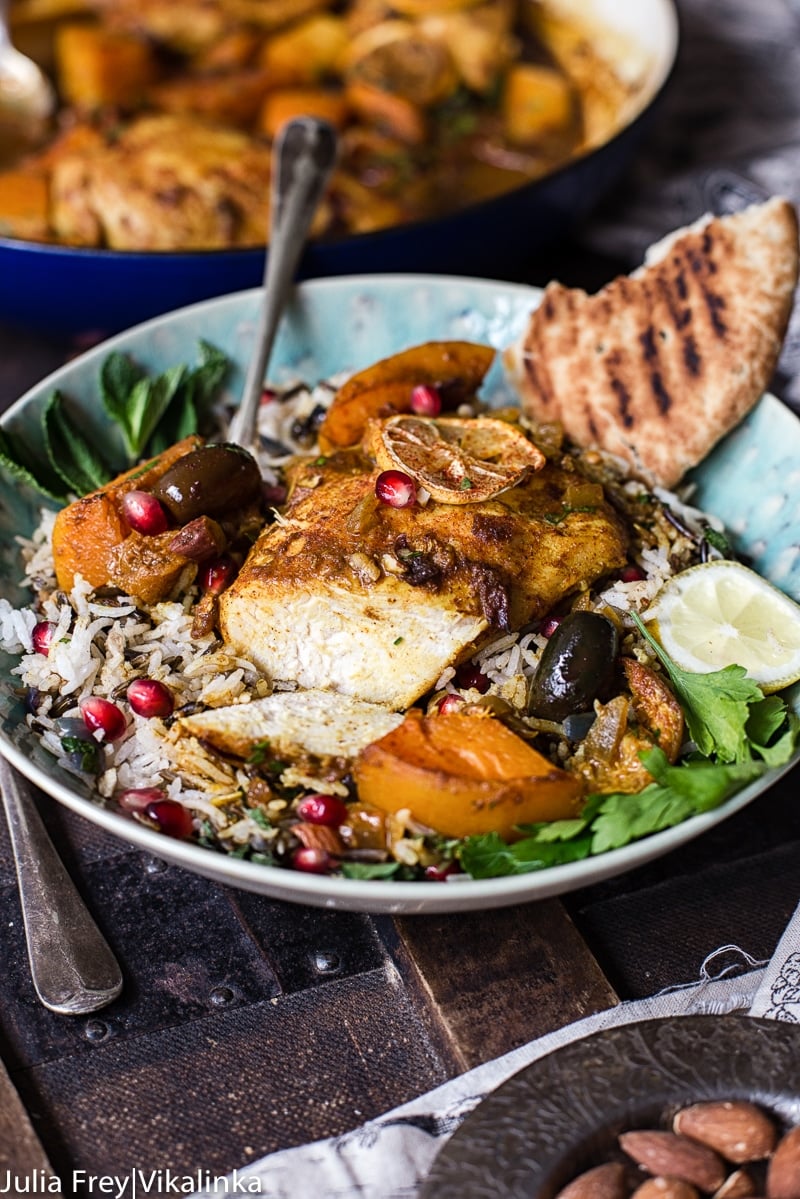 Today was one of the darkest, gloomiest days I've seen in awhile. The sky looked menacing, the blustering wind downright aggressive. I didn't want to leave the comfort of my covers and do the adulting.
The newly implemented 'sensible eating plan' didn't allow for the joy of a flaky croissant in the morning, so I thought to myself, "What is the point of getting out of bed?"
But things needed to be done and food cooked so I made this vibrant and warming Chicken tagine to combat the weather blues.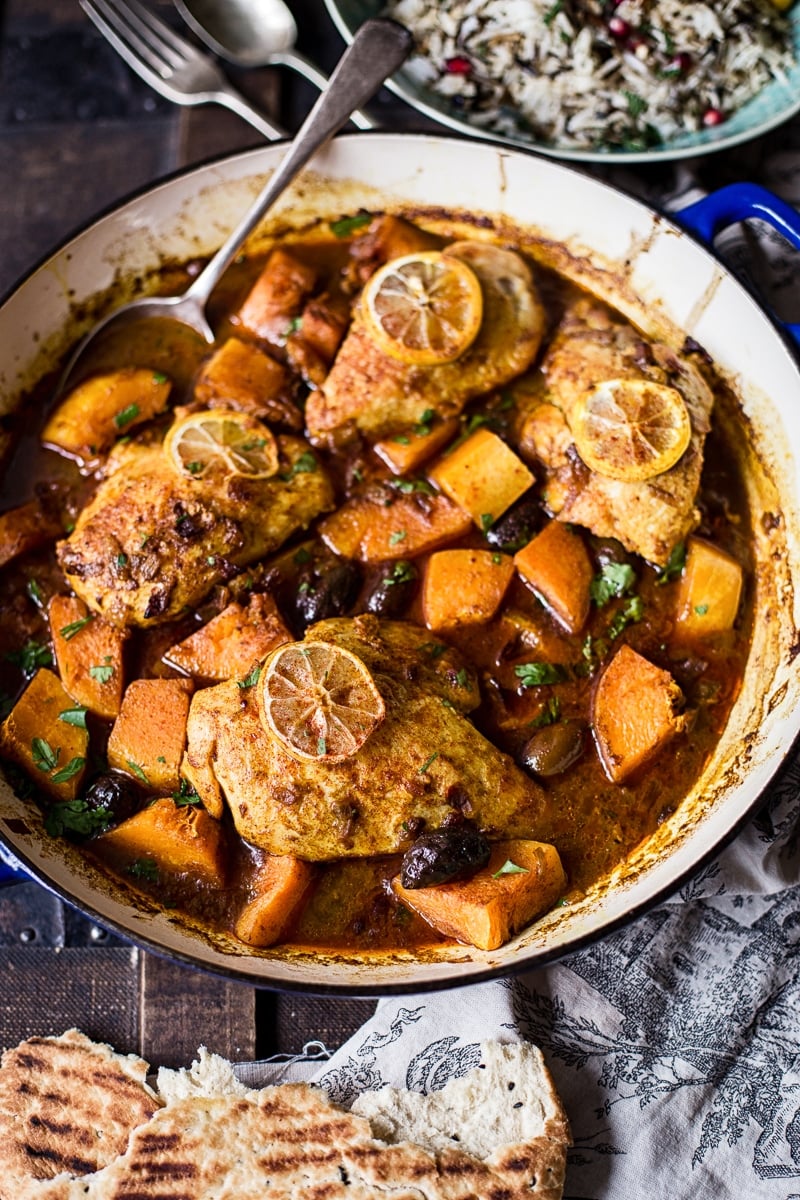 I've been slightly obsessed with North African flavours of ras el hanout, which first appeared on my blog six years ago in the form of Roasted Vegetables and Couscous Bowl with Moroccan-spiced Chicken.
I had no idea how to use it, so I invented a recipe, which turned out to be delicious. Since then I've been doing a lot of research and even attended a cooking class that taught me how to use it properly, which resulted in Middle Eastern Salad Bowl.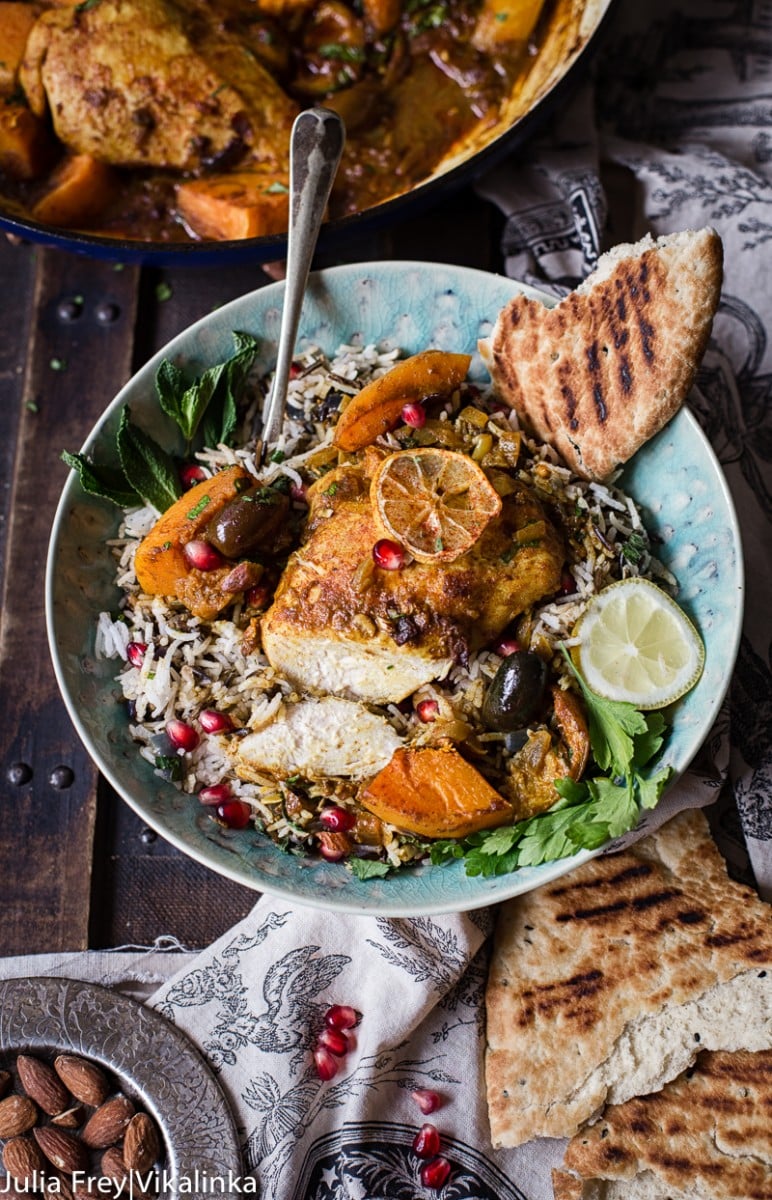 This recipe for Chicken Tagine is although Moroccan doesn't use ras el hanout spice but it calls for a variety of everyday spices like cinnamon, paprika and turmeric most modern cooks will have in their pantries.
What is Moroccan Chicken Tagine?
Chicken Tagine is a slow cooked chicken dish. It is cooked in a cone-shaped pot called tagine that is traditional to Morocco and that is where it gets the name. It's not necessary to buy the pot to achieve great flavours. A combination of aromatic spices, chicken and vegetables cooked in a casserole type dish in an oven will produce similar results.
This dish was created by generations of home cooks and not restaurant chefs, so it's easy to prepare. What makes it even more special is the addition of preserved lemons. They give this dish an unforgettable fragrance and a unique delicious taste.
If you are worried about being able to find preserved lemons, don't be! They usually come in jars and are most likely stocked in the ethnic aisle of your supermarket or you can always try Amazon.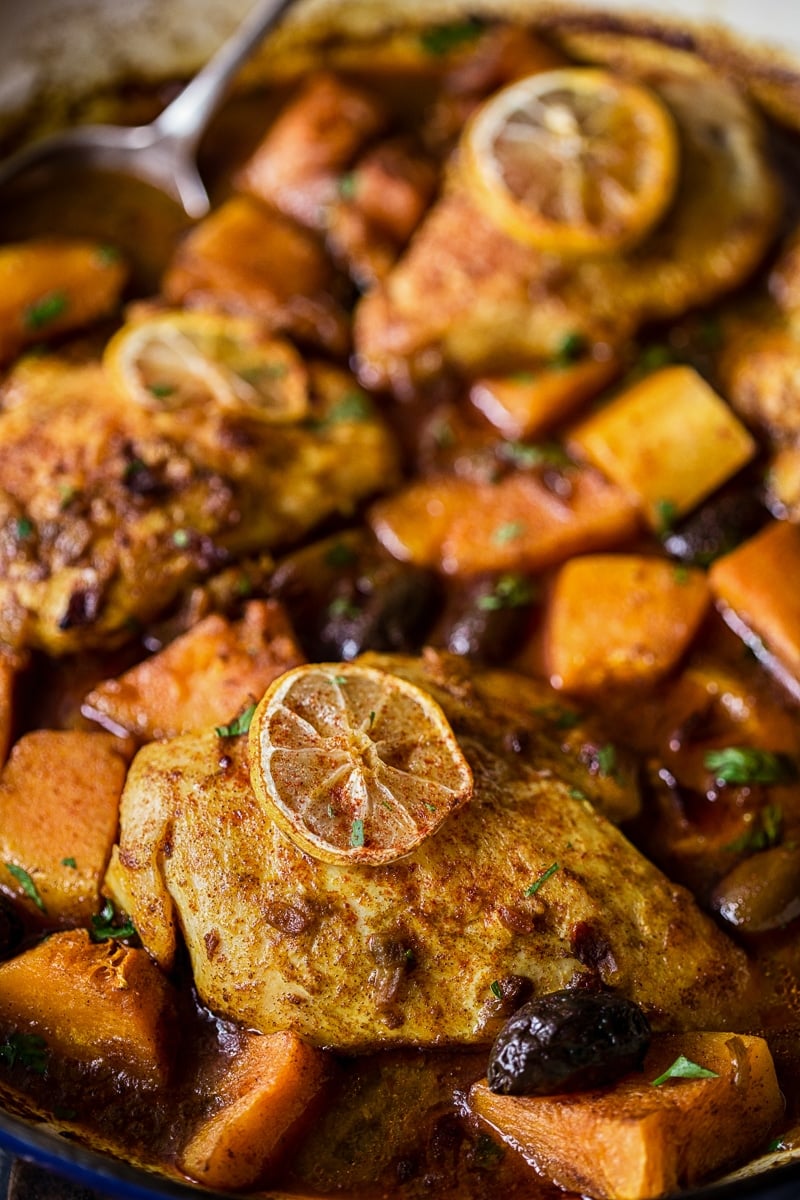 How do I make it?
Traditionally Moroccan Chicken Tagine is made with chicken parts but I know how much you friends love chicken breasts, so I adjusted the cooking times for them.
I also added some butternut squash, I had previously frozen and needed to use up. You can successfully use regular or sweet potatoes instead, which would make this into a great one-pot dinner!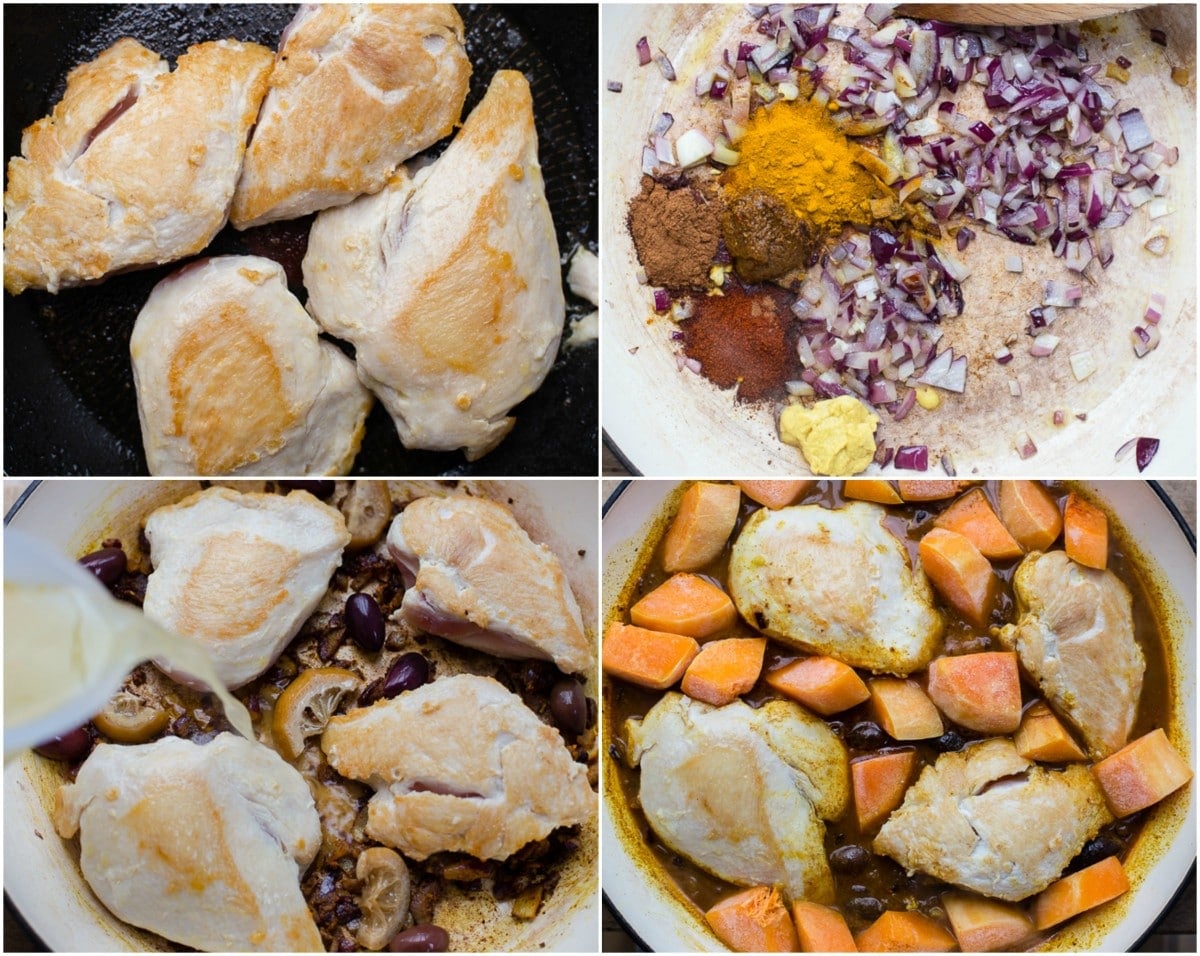 What do you serve with chicken tagine?
This recipe is delicious with plain couscous or rice although I went a bit more fancy and did a combination of basmati rice and wild rice, then fried it with some onion and 1 tablespoon of ras el hanout and chopped parsley.
Traditionally dried apricots would be added to Moroccan rice but I left them out (kids are not fans) and sprinkled with some Pomegranate seeds instead. There were no leftovers.
This Fattoush salad made of crunchy cucumbers, ripe tomatoes a toasted pita bread will also be a delicious addition.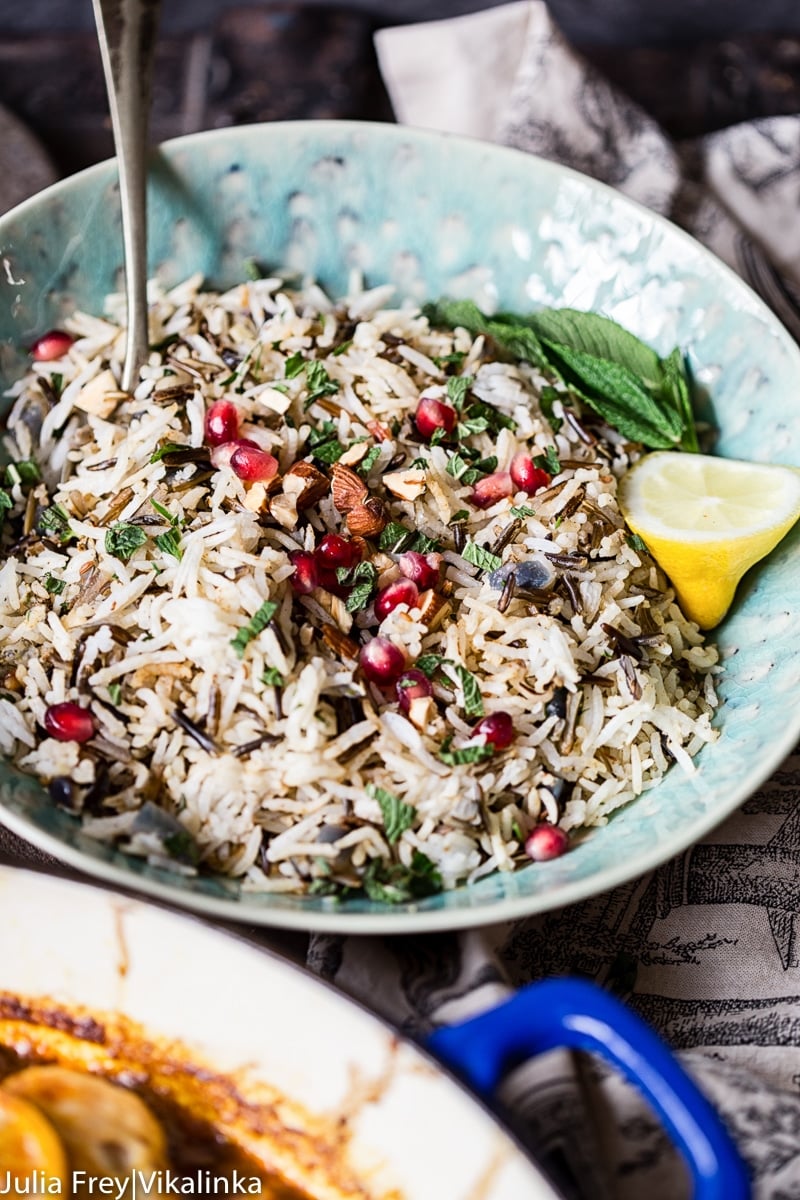 Do you have a favourite dish that is out of the ordinary? What is it? Share with us in comments!
This recipe was originally published in 05/2017. Updated and republished in 02/2020.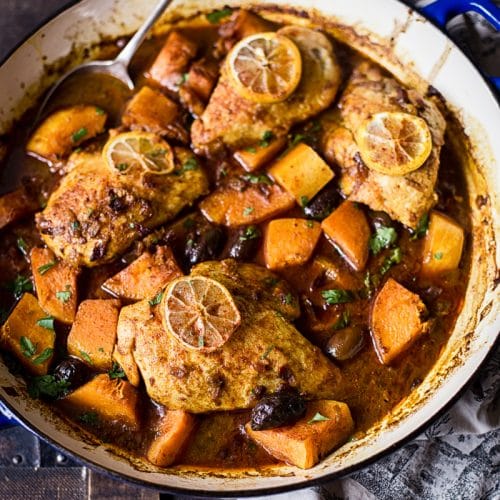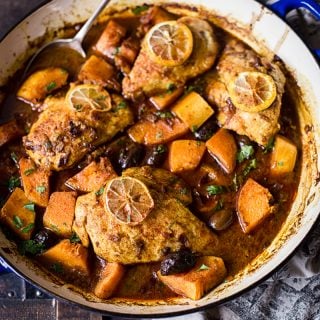 Moroccan Chicken Tagine
This Moroccan Chicken Tagine flavoured with warm and aromatic spices and cooked with preserved lemons and sweet butternut squash is a huge crowd pleaser due to its delicious and exotic taste.
Ingredients
1

tbsp

olive oil

4

chicken breasts

1-2

garlic cloves

minced

1

medium onion

chopped

1

tbsp

turmeric

1

tbsp

curry powder or curry paste

2

tsp

smoked paprika

1

tsp

mustard powder or prepared mustard

2

tsp

cinnamon

salt to taste

1

cup/250 ml chicken stock

6-8

black olives

4

slices

of preserved lemons

2

cups/700g butternut squash

cubed (I used frozen)
Instructions
Preheat the oven to 350F/180C.

Brown salted chicken breasts in 1 tbsp of olive oil in a large, deep pan for approximately 5 minutes over medium heat on each side. They will not be cooked all the way through. Remove to a separate plate and set aside.

To the same pan add onions and saute for 5 minutes, then add garlic and cook for a minute longer, then add all the spices, return the chicken to the pan, add chicken stock, preserved lemons, olives and butternut squash, lightly stir and bring to a boil.

Then cover it with a lid and cook in the preheated oven for 20 minutes, then uncover and cook for 15 minutes longer. Do not overcook as chicken breasts will become dry.

Serve with rice or couscous.
Nutrition
Calories:
382
kcal
Carbohydrates:
17
g
Protein:
51
g
Fat:
12
g
Saturated Fat:
2
g
Cholesterol:
146
mg
Sodium:
448
mg
Potassium:
1276
mg
Fiber:
4
g
Sugar:
4
g
Vitamin A:
8040
IU
Vitamin C:
20
mg
Calcium:
75
mg
Iron:
3
mg