So you've been waiting. And waiting. And waiting. But now it's time to take matters into your own hands with this Marry Me Chicken recipe. It's a commitment-inspiring, ahem, marriage of chicken, cream and sun-dried tomatoes. In just 30 minutes the waiting will be over forever*!
*proposal not guaranteed
But what if my partner is vegetarian?? Try my Silky Smooth Vodka Sauce for Pasta, also rich with ripe tomatoes and velvety cream. And, you know, if there's no ring at the end of it, at least the vodka bottle's open.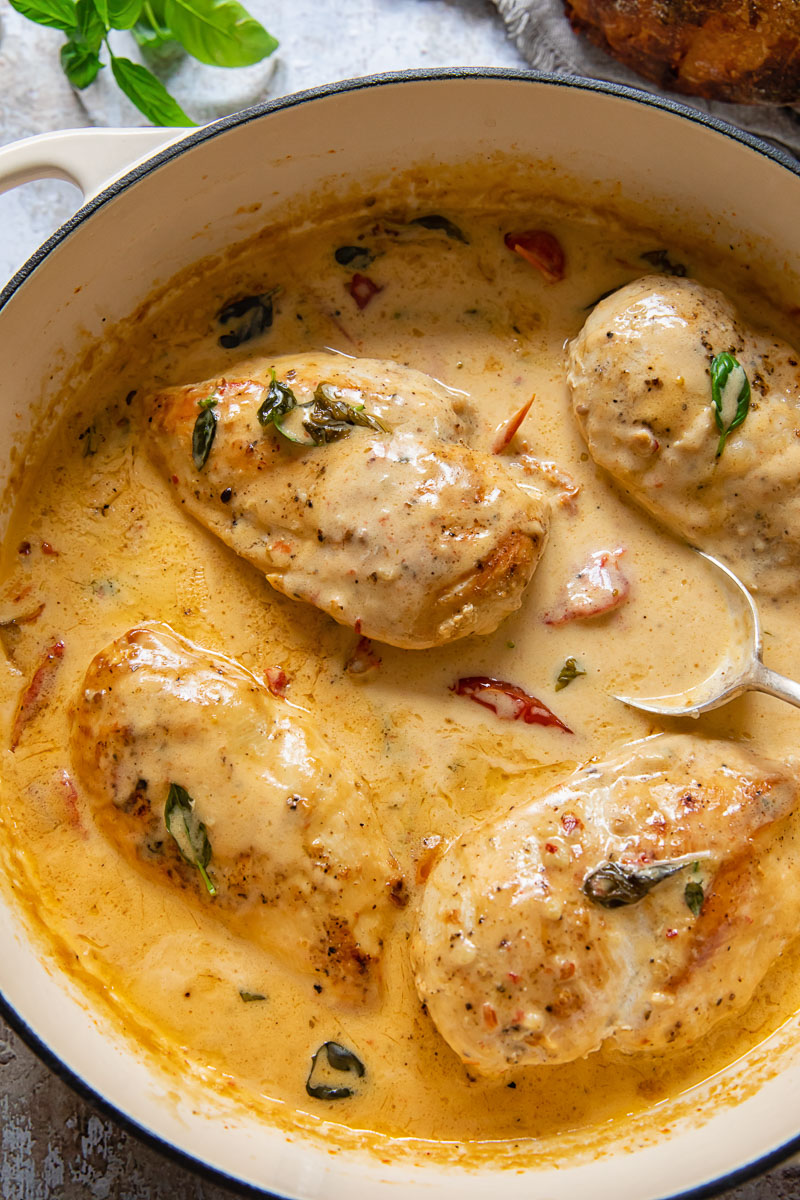 Viral TikTok Recipe
If you're an avid TikTokker you'll already know about Marry Me Chicken. If not, you might have encountered its original (greener) version; Tuscan Chicken. Tuscan Chicken dates way back to the 16th century and Marry Me Chicken is the latest, freshest riff on the chicken dish, and it's ditched the spinach.
If you're other half prefers fish to chicken, you could try your engagement luck with Tuscan Salmon instead. It has all the same Italian-inspired ingredients as Marry Me Chicken, but with added spinach and substituting for fish.
The modern Marry Me Chicken recipe has also picked up an ingredient: chilli flakes. As it sounds like your partner needs a fiery kick up the a** when it comes to commitment.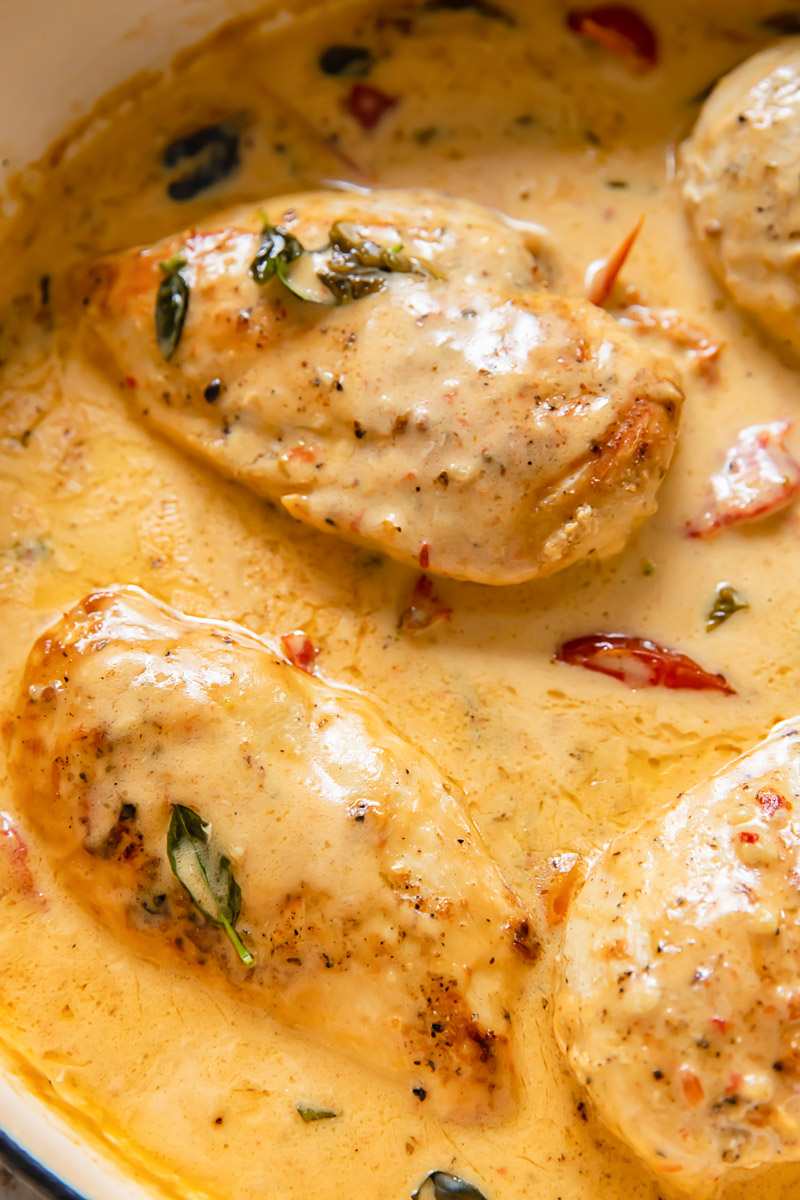 Parmesan Cream Sauce for Chicken
It is the sauce that makes this dish proposal-worthy. It's a lip-licking parmesan cream, delicately infused with garlic, sun-dried tomato and chilli, that laps gently around the chicken breasts. But also works as satisfyingly over pasta.
There is really no substitute for freshly grated parmesan. A smaller amount is needed, compared to the pre-grated stuff, and it offers a sharp tang that you just don't get otherwise. With a proposal on the line, you've got to pull out all the stops, right?
If the amount of heavy (double) cream in the recipe is making you nervous (understandably, you have your life-long-spouse-to-be's heart health to think about) you can use half and half (or single cream) as an alternative. But be warned, any tampering with the original recipe may not yield the acclaimed outcome!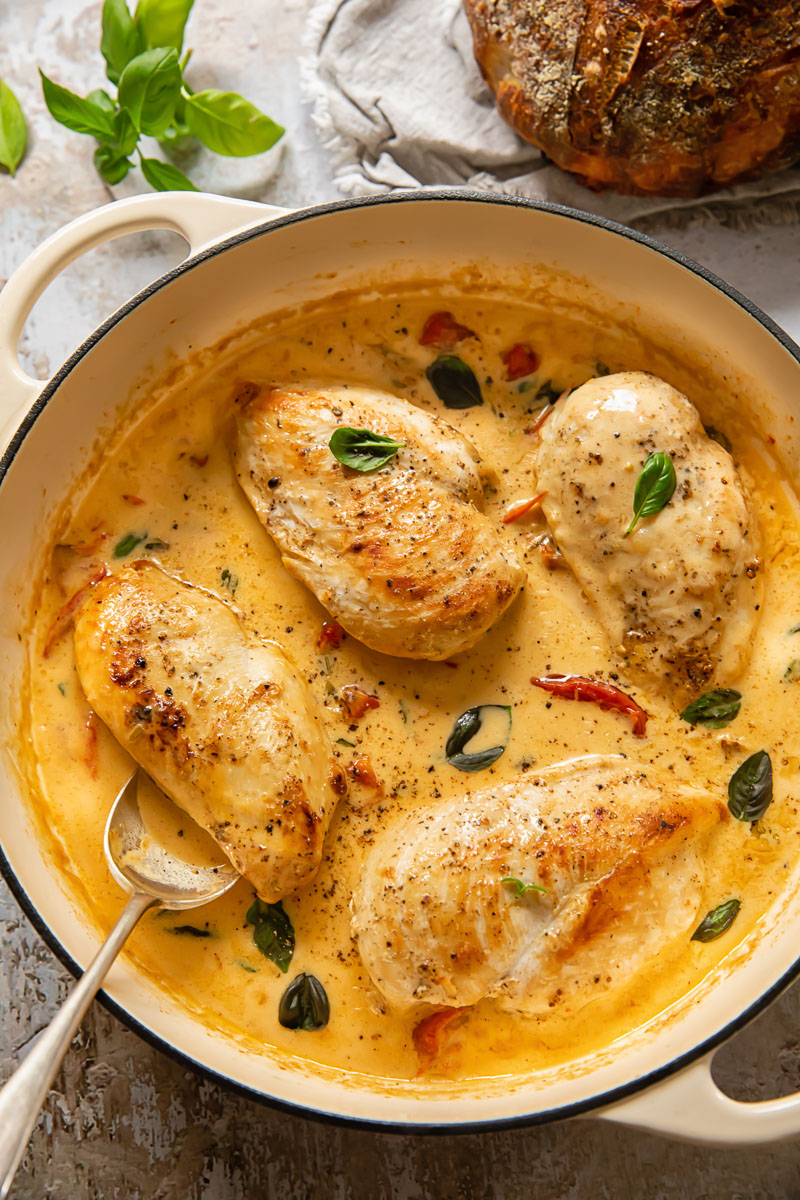 Why you'll love it (and why your partner will)
You will love it because 1) it seems fancy but is actually very easy to put together. 2) It's ready in under 30 minutes, so you have hours of time to get dressed up, do your hair and lower your heart rate ready for the Big Question. And 3) There's only one pan to wash up! So your preemptive manicure won't get chipped.
Your partner will love it, and therefore love you more for it, because chicken in a creamy parmesan sauce is a perfect marriage in itself. Juicy chicken breasts bathing in a smooth cream sauce with a hint of tomato and a waft of fragrant basil.
And the secret ingredient- chilli. An almost imperceptible spark at first and then a warming glow that grows into something wonderful. A bit like your relationship, right?
Recipe Tips and Notes
If 30 more minutes seems just too long to wait for that bended knee, you can slice the chicken breasts length-ways for a quicker cook time. Leaving them whole, however, maintains their succulence, which could be a contributing factor to that all important proposal.

The traditional Marry Me Chicken recipe uses chicken breast, but feel free to use thighs or whole legs.

I find that sometimes sun-dried tomatoes can be a little chewy and overpowering. I prefer semi-dried, or sun-blushed, tomatoes for this recipe. Their milder flavour and softer texture make for a more pleasant mouthful.

The oil from the sun-dried tomato jar is a usable resource! I use a tablespoon of it to brown the chicken breasts in. The delicious ripe tomato-yness will permeate the meat and encourage a juicy bite.

I like to deglaze the pan with dry white wine. A spark of acidity cuts through the richness of the creamy sauce.

Secure that commitment by serving with a slurpingly romantic tagliatelle, sauce-sopping crusty bread or dainty baby potatoes.
Storage and Leftovers
If you don't get an instant proposal, you can try again in 2-3 days. Just keep the chicken in an airtight container in the fridge until then. You can't hold out too long though, due the the cream element, this dish won't freeze well.
Favourite Creamy Chicken Recipes to Try: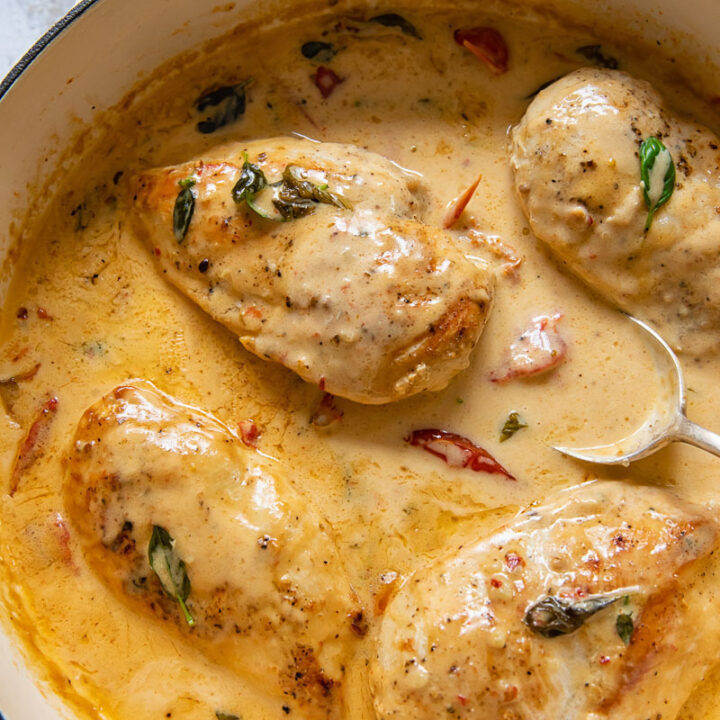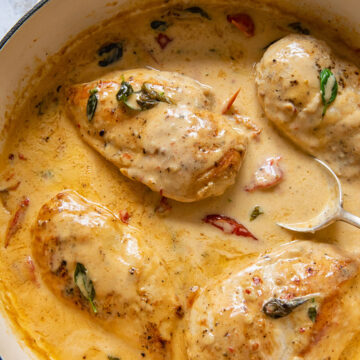 Marry Me Chicken
Marry me chicken is a marriage of chicken and sun-dried tomatoes in a rich, creamy sauce.
Ingredients
1

tbsp

olive oil

4

chicken breasts

skinless and boneless

salt and pepper

2

cloves garlic

¼

tsp

chilli flakes

5-6

basil leaves

sliced

3-4

sun-dried tomatoes packed in oil, sliced or semi-dried (sun-blushed) tomatoes

1

tbsp

flour

125ml/1/2 cup

dry white wine such as Chardonnay or Sauvignon Blanc

250ml/1 cup

chicken stock

125ml / ½ cup

double/heavy cream

50g / ½ cup

Parmesan cheese
Instructions
Season the chicken breasts with salt and pepper, heat 1 tbsp olive oil and 1 tbsp oil the sun-dried tomatoes were packed in a frying pan, then brown the chicken breasts over medium high heat until golden. This should take approximately 8-10 minutes. The chicken doesn't have to be cooked all the way through at this point. Remove the chicken to a plate until later.

To the same pan add the garlic, sliced sun-dried tomatoes and tiny pinch of chilli flakes, sauté for about 30 seconds over very low heat. Sprinkle with flour and stir, so the flour combines with the fat creating a paste, cook it for about a minute, then deglaze the pan with the white wine and let it simmer for about 5 minutes until the liquid is reduced by a half.

Add the chicken stock, sliced basil leaves, heavy cream and grated Parmesan cheese, stir until the cheese is incorporated into the sauce, then bring the chicken back into the pan, cover with a lid and let the sauce simmer over medium heat for 15 minutes.
Nutrition
Calories:
507
kcal
Carbohydrates:
7
g
Protein:
55
g
Fat:
25
g
Saturated Fat:
11
g
Polyunsaturated Fat:
2
g
Monounsaturated Fat:
8
g
Trans Fat:
0.03
g
Cholesterol:
191
mg
Sodium:
1149
mg
Potassium:
1030
mg
Fiber:
0.3
g
Sugar:
3
g
Vitamin A:
706
IU
Vitamin C:
4
mg
Calcium:
191
mg
Iron:
2
mg