The easiest recipe for a silky smooth vodka sauce. It's amazing what some canned tomatoes, a splash of vodka and cream can do to make your pasta dish sing.
Try your hand at homemade fresh pasta using our comprehensive guide and serve it with this stunning sauce!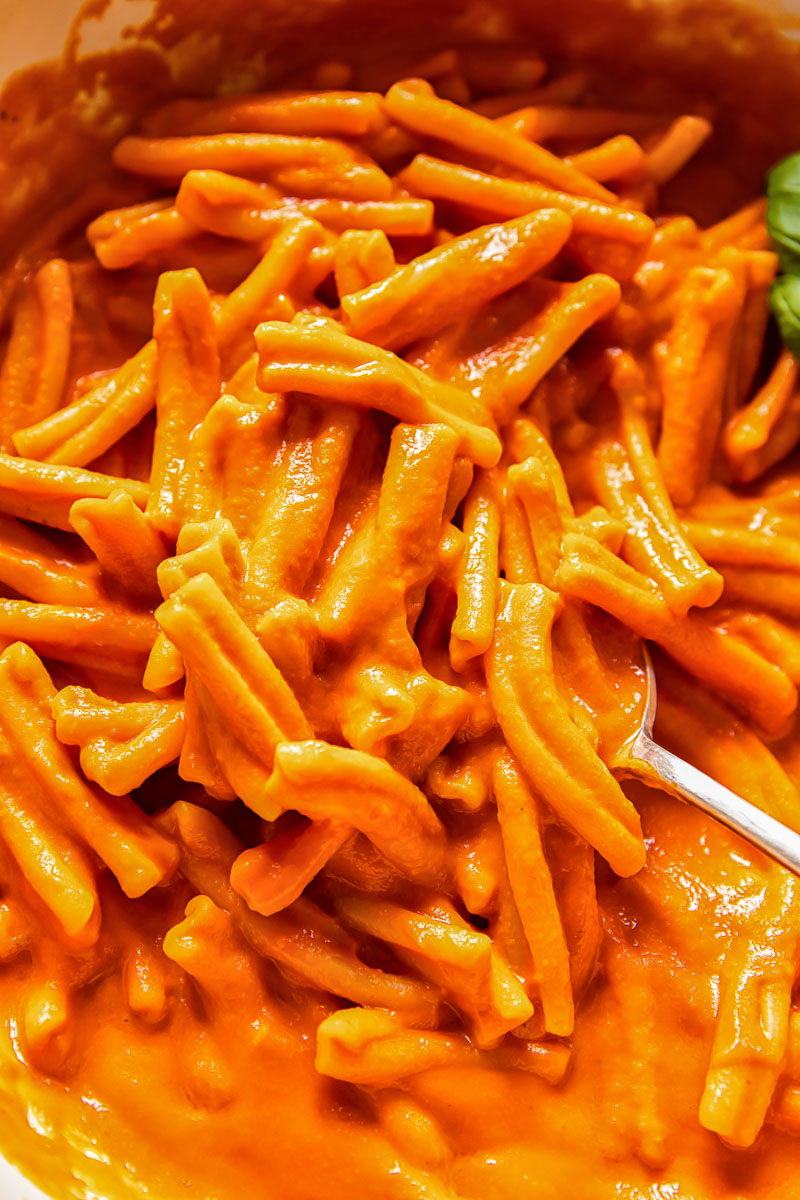 We all know that pasta is nothing without a good sauce. Different sauces give pasta life and bring incredible variety to our dinner table.
Pasta Sauce Recipes
It's so helpful to know a few good pasta sauce recipes, which could be quickly whipped up in a matter of minutes. When I crave a creamy pasta I turn this my easy 3 Ingredient Pasta Cream Sauce. It's a simple sauce that could become the base for so many recipes.
Another quick sauce recipe, that I love, takes FIVE minutes to make and is absolutely perfect for stuffed pasta like ravioli or tortellini.
My classic Bolognese Sauce is what I turn to when I have more time in the kitchen and don't mind a pot of sauce slowly braising for hours on my stovetop.
The vodka sauce is another quick recipe. It is also an absolute classic. It does take longer than 5 minutes but the process is simple and straightforward. The origin of it is Italian American. And the most common pasta used for the sauce is penne but feel free to experiment with the pasta shape you love most.
For example, I am using casarecce here. It is one of my favourite pasta shapes. I love that each piece is first rolled and then slightly twisted creating grooves, which vodka sauce pulls in! This pasta holds smooth and creamy sauces perfectly!
Vodka Sauce Ingredients
Vodka sauce starts as a tomato sauce flavoured with onion, garlic and basil just like a basic sauce you'd use for spaghetti but there are a couple of twists involved, that change everything.
First of all, you spike the sauce with a shot of vodka. What does it do? I used it to deglaze the pan, which releases the flavour into the sauce.
Vodka also adds a nice kick…almost like an infusion of spice to the sweet tasting and rich sauce.
Lastly, you hit the tomato sauce with some heavy cream, and this is where magic happens. First, the colour changes from a deep red to orange. Then the sauce becomes less acidic through the addition of cream and it's a very good thing!
What you end up with is silky smooth sauce, that can be added to anything. Traditionally it's served with pasta but you can can actually serve it with chicken, fish or seafood. Yum! My Shrimp Penne alla Vodka is a good example of it!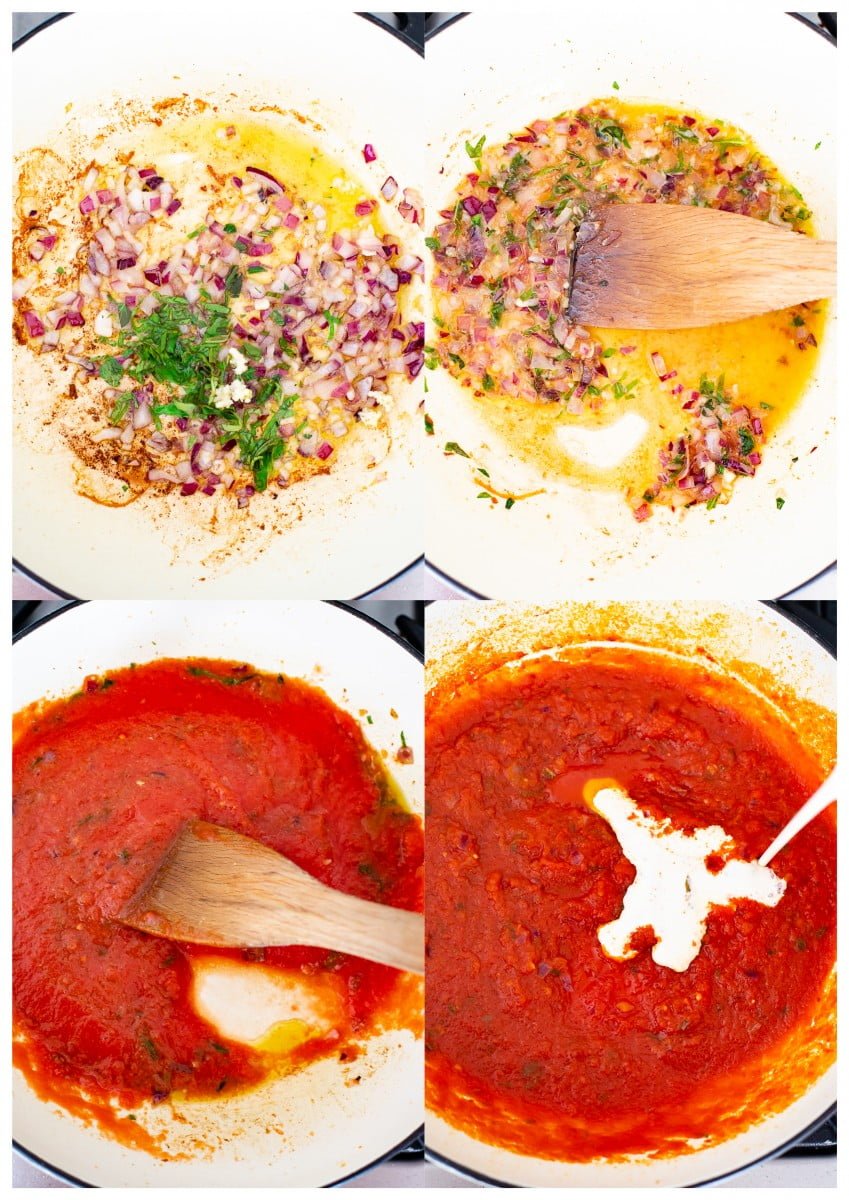 Recipe Tips
Use good quality canned tomatoes. The better your tomatoes are the tastier your sauce will be.
Make sure the onion are cooked till tender before moving to the next step of deglazing the pan with vodka. If you rush the process, they will remain crunchy and won't add much flavour to the sauce.
I love using fresh basil for a full flavoured sauce but dried basil will also do the trick.
Use either crushed or diced canned tomatoes. However if you blend the sauce at the end, that won't make the difference.
For the silkiest texture process the sauce in a blender or a food processor at the very end. The easiest way to do it is to use a hand held aka stick blender if you have one.
If the smooth texture is not what you are after, leave it as is.
This sauce recipe is enough to cover 1 lbs of pasta.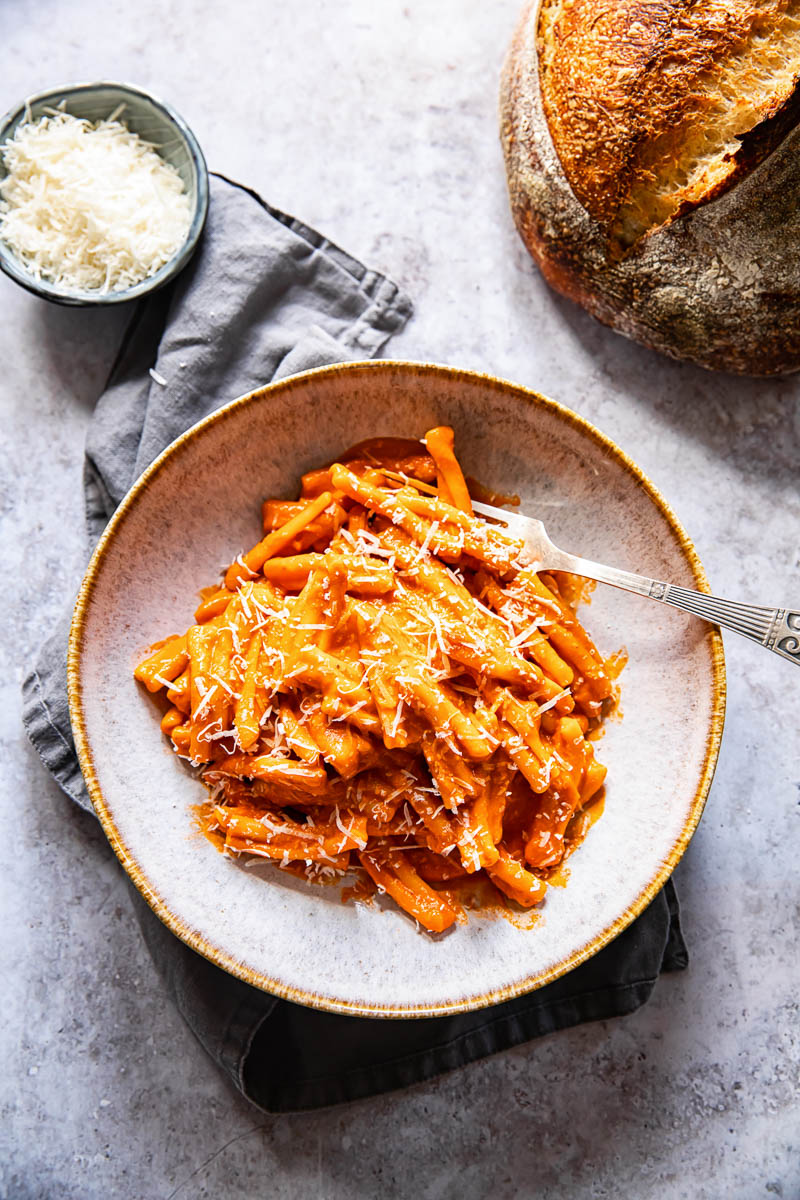 More Pasta Sauce Recipes to Try: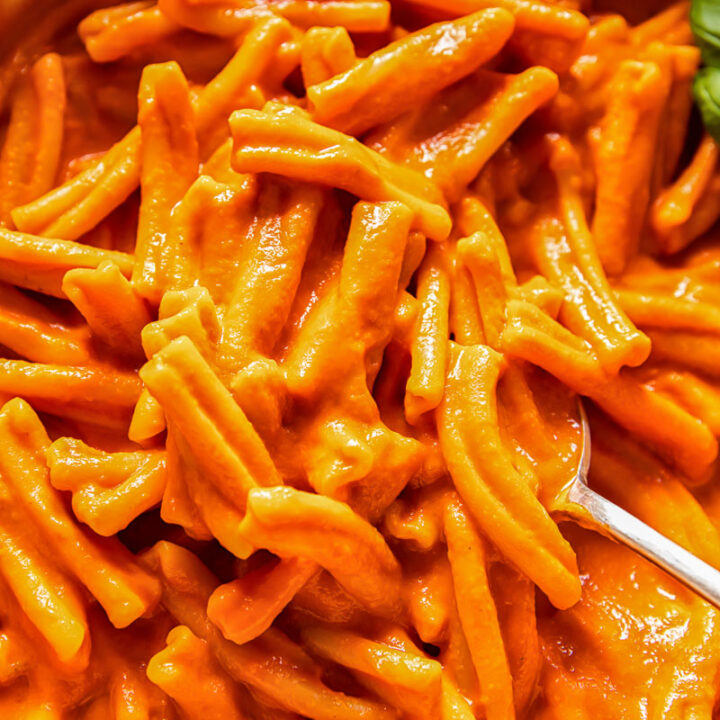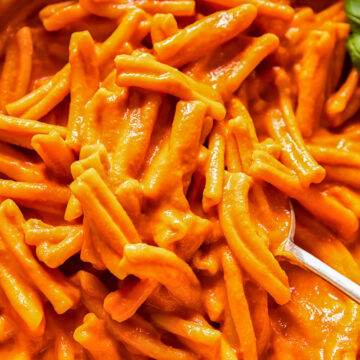 Pasta Vodka Sauce Recipe
Canned tomatoes, a couple of herbs, a splash of cream and vodka create the most beautiful sauce for your pasta in this easy foolproof recipe.
Ingredients
1

tbsp

olive oil

½

onion

chopped

2

cloves

garlic

4-5

leaves

fresh basil or 1 tsp dried basil

70m/1/4 cup

This is an affiliate link.

vodka

can be omitted

400ml/14 oz

tomato passata/canned crushed tomatoes

85ml/1/3 cup

double/heavy cream

salt to taste
Instructions
In a deep pan heat the olive oil, then add the chopped onion and saute over low heat for about 7-10 minutes until soft but not coloured. Add the minced garlic, sliced fresh basil leaves or dried basil and and cook while stirring for 30 seconds. Pour in the vodka and scrape the bottom of the pan with a spatula to release the brown bits, allow the vodka to reduce by simmering for about 1-2 minutes.

Add the tomatoes, bring the sauce to a boil, then reduce the heat and let the sauce simmer over low heat for about 10 minutes. Pour in the heavy cream and stir to combine, allow the sauce to warm through, then season with salt to taste and take it off the heat. Process the sauce in a blender or food processor until smooth. Then return it to the pan and warm it up before serving with pasta.
Nutrition
Calories:
185
kcal
Carbohydrates:
10
g
Protein:
2
g
Fat:
12
g
Saturated Fat:
5
g
Cholesterol:
29
mg
Sodium:
723
mg
Potassium:
337
mg
Fiber:
2
g
Sugar:
5
g
Vitamin A:
554
IU
Vitamin C:
11
mg
Calcium:
55
mg
Iron:
1
mg