My Middle Eastern Salad is healthy, delicious and packs buckets of flavour!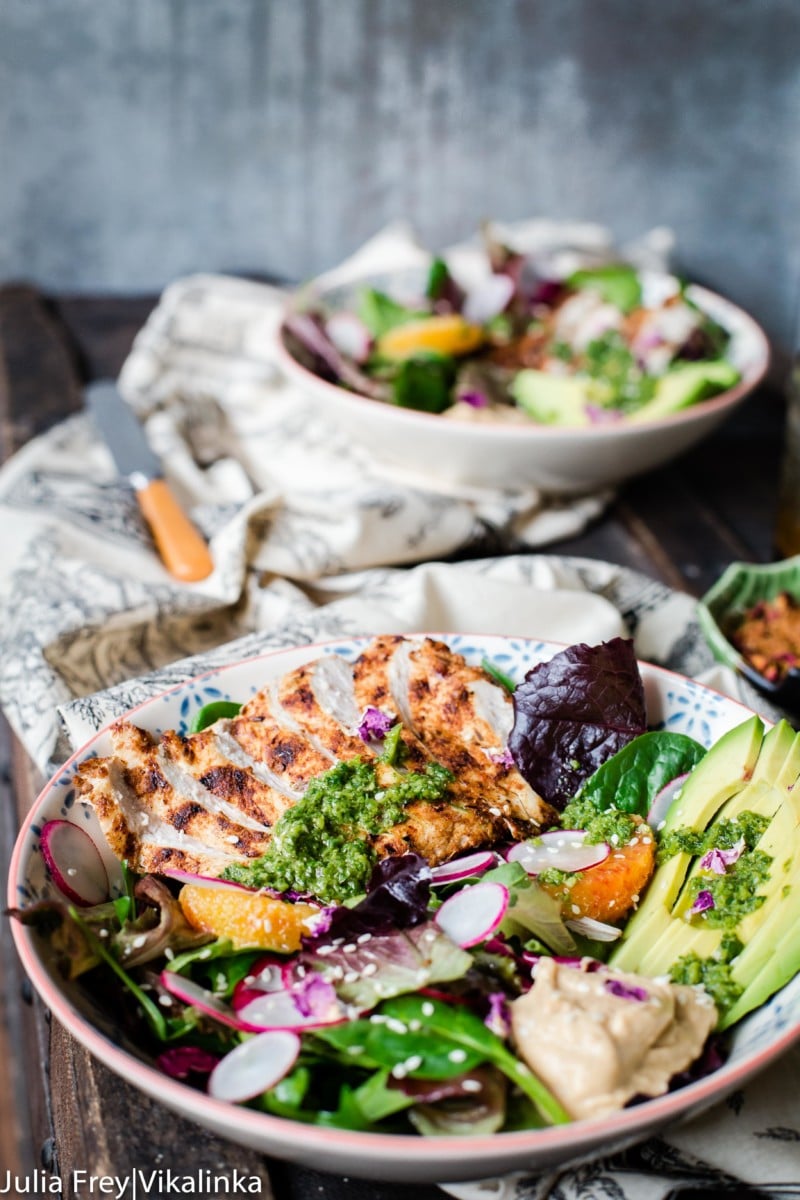 I've been in a creative slump lately, so naturally I've picked up a book about the relationship between inspiration and a creative process. I don't have a lot of time to read; between work, family and my blog I rarely have a few moments to myself, so I do most of my reading on my commute to work, which is an hour each way.
Learning of another woman's thoughts and experiences with how ideas are born and realised creates a stark contrast between where I am and where I feel I should be in order to create something extraordinary as I pull myself away from the world of magic the book describes into a world of busyness and monotony.
I step out of the train into the chaos of an early morning commute and wonder if it's possible at all to create while being immersed into such a life, and I am not necessarily talking about writing a novel that wins a Booker Prize or painting the new Mona Lisa.
I am talking about being creative with what's been alloted to me. Cooking. Photography. Maybe writing. Maybe small potatoes but significant enough to keep me motivated, happy and fulfilled as an individual. The desire or perhaps the need to create is planted in all of us by the one who created us in his image. It is truly Divine.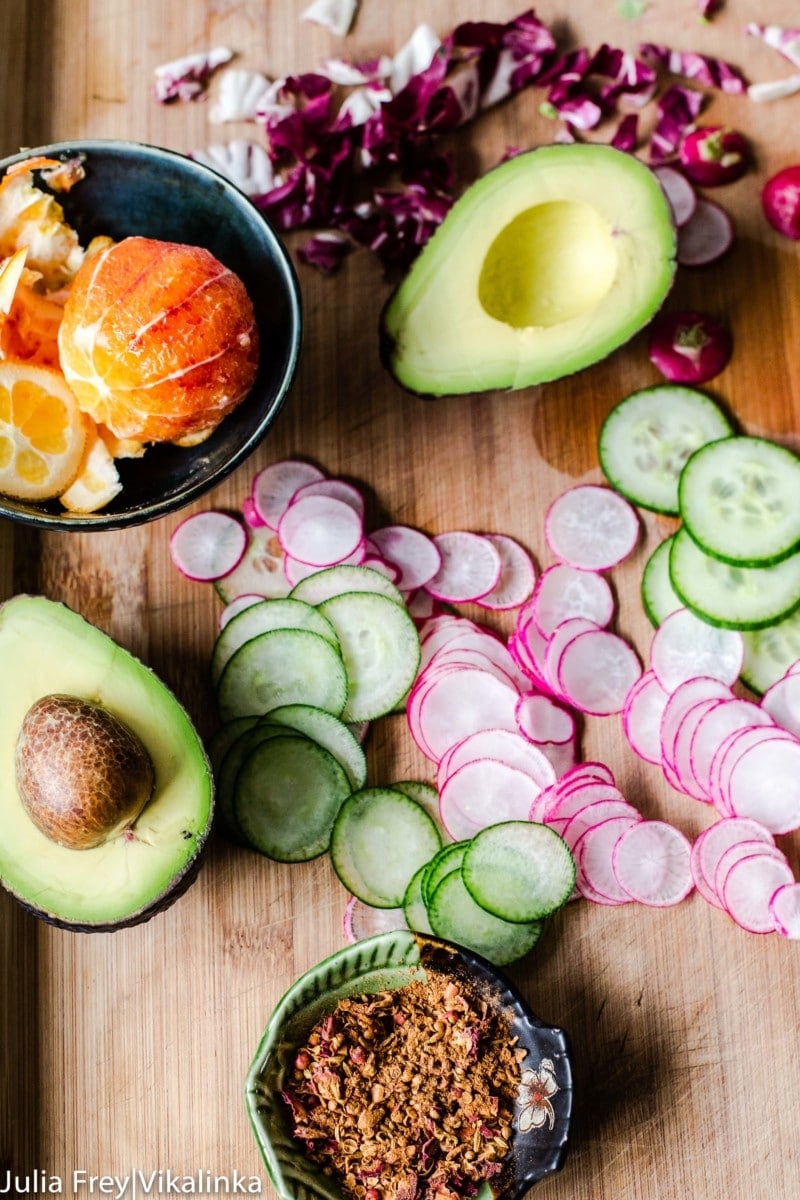 Understanding how inspiration works is perhaps key to being able to harness it. Inspiration is elusive by nature and when not given full attention right there and then it tends to move on.
How many times have you had genius ideas while in bed, in that hour before you've fallen asleep, and if you don't get up and write them down you find they vanish by the time morning comes? Not you?
How about having a brilliant thought while in the shower? Recently inspiration has been paying me visits while on a treadmill. They all seem like random places but they do have one common factor. Focus.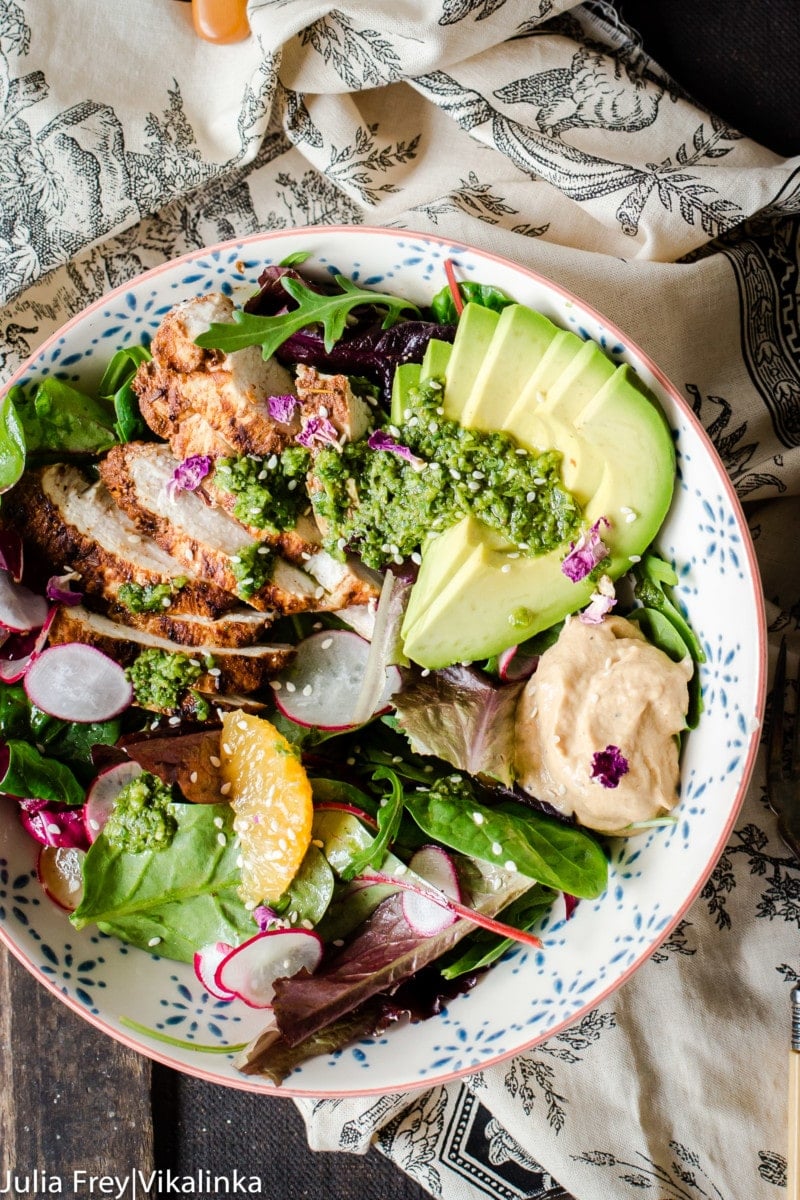 If I am to name a place that is devoid of creativity that would undoubtedly has to be social media in every shape and form . I have not once been struck by creative genius while scrolling thought an endless Facebook newsfeed, Instagram or Pinterest. Not even once.
Envy maybe of someone else's brilliance but nothing interesting or original. So maybe the problem is not time scarcity but time distribution.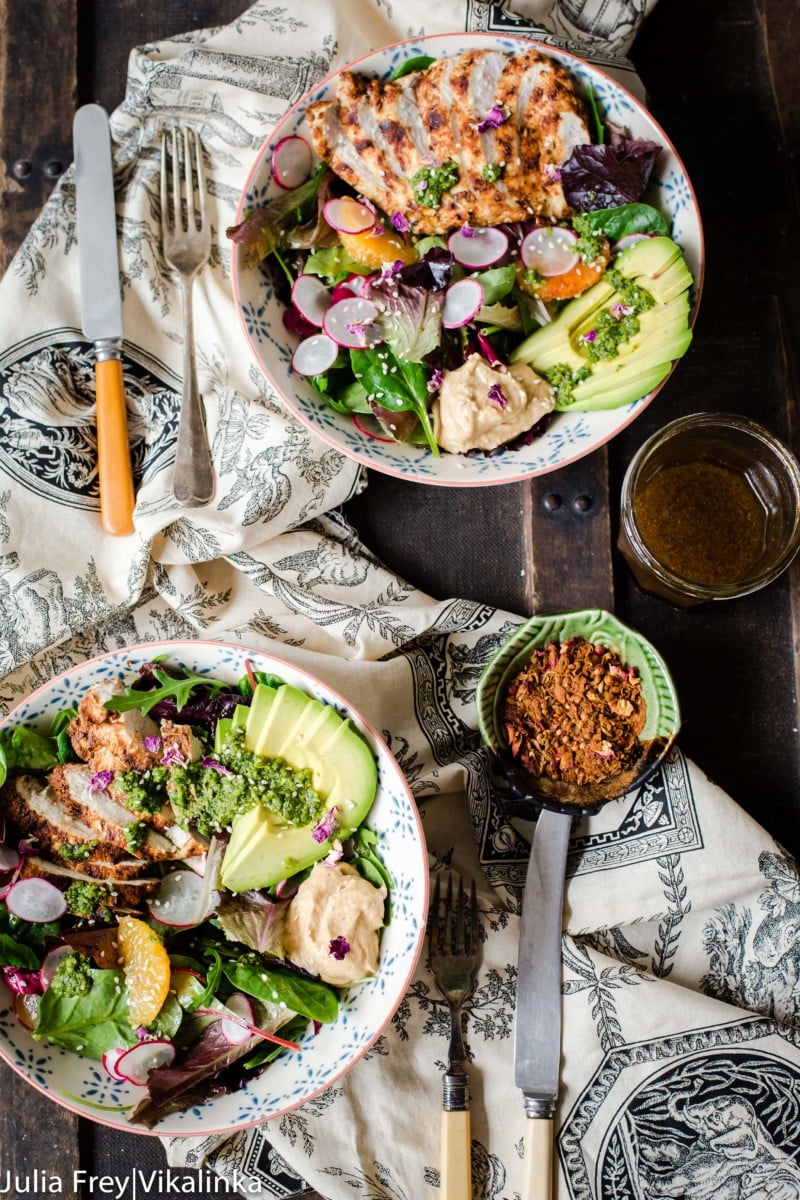 The idea for this lovely Middle Eastern salad bowl was inspired by a cooking class I took recently with my friend Lucy. We kept our expectations low in fear of being disappointed but instead we were completely blown away the chefs/teachers at Waitrose Cookery School.
We were truly inspired. I came home and made this salad putting together various elements of Middle Eastern cuisine we learned and, as usual, added my own twist.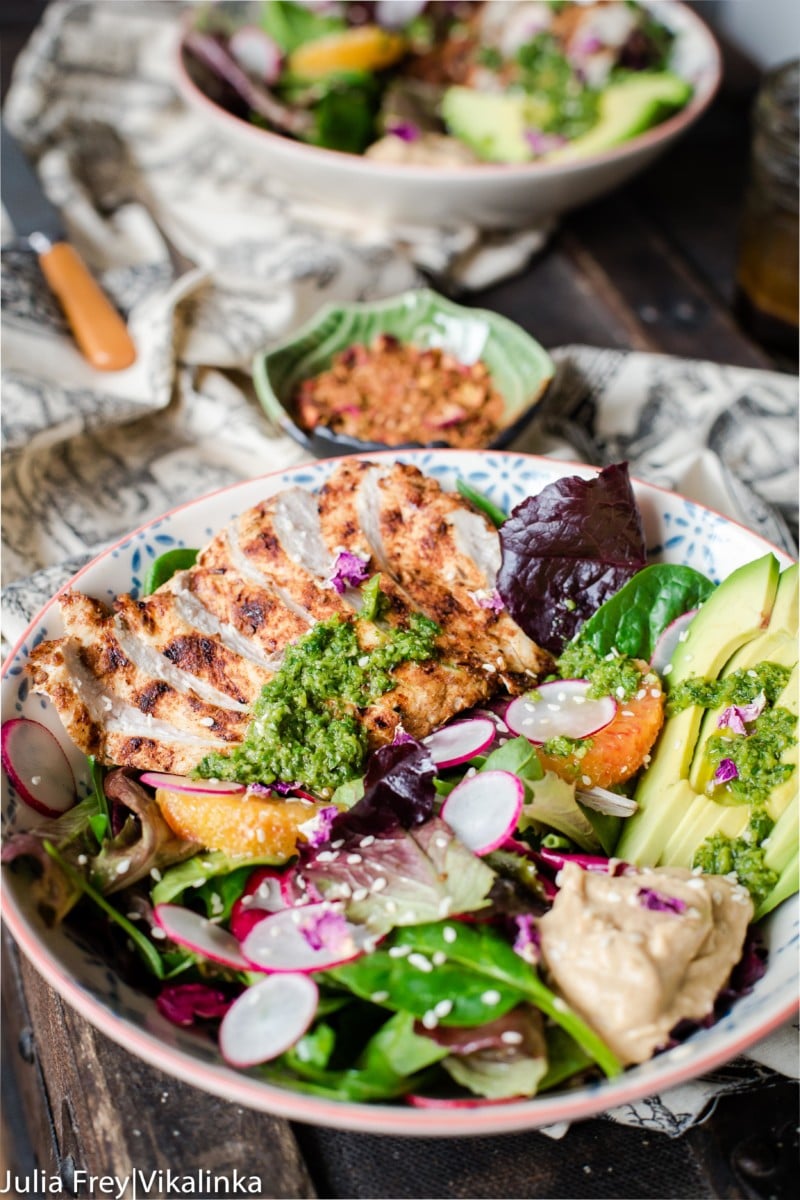 This salad consists of a mix of various greens-baby lettuce, spinach for fresh spring taste and chicory and arugula for a bit of crunch and peppery zest.
It is also topped with grilled chicken breast coated in Moroccan spice ras el hanut, sliced avocado, thinly shaved cucumbers and radishes, segmented blood orange slices, then drizzled with absolutely out of this world delicious and refreshingly new green sauce, a Middle Eastern chimichurri if you wish, zhoug and a good dollop of extra smoky baba ganoush.
All of this goodness is coated in sweet and tangy pomegranate vinaigrette, with the dressing pulling this salad together into with one gorgeous Middle Eastern bowl.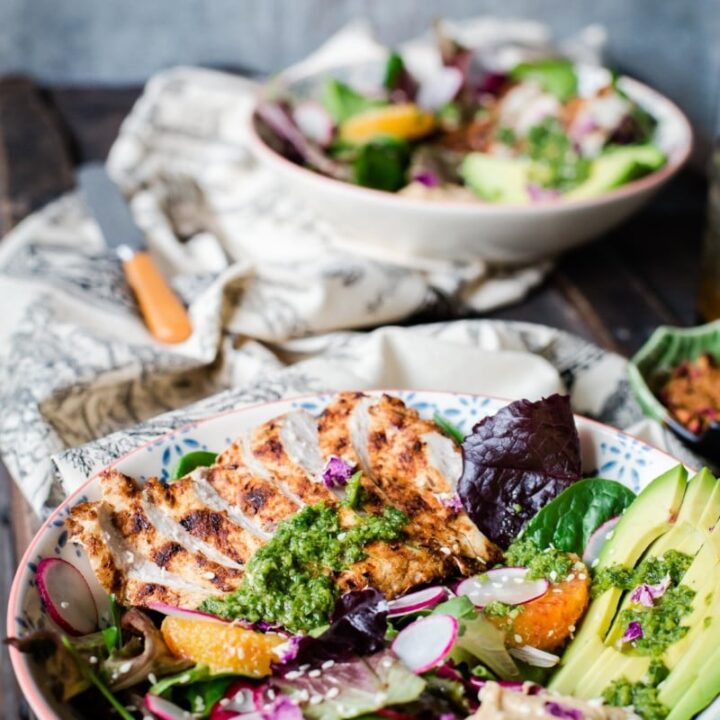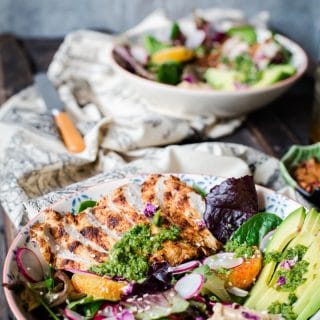 Middle Eastern Salad Bowl
(Both Baba Ganoush and Zhoug could be prepared in advance and stored in the refrigerator up to a week)
Print
Pin
Rate
Ingredients
For the salad
2

chicken breasts

2

tbsp

ras el hanout

3

cups

salad greens

4

radishes

¼

cup

thinly sliced cucumber

1

blood orange

sesame seeds
For the pomegranate vinaigrette
2

tbsp

pomegranate molasses

2

tbsp

red wine vinegar

¼

cup/4 tbsp olive oil

½

tsp

sumac
For the baba ganoush
2

eggplants/aubergines

medium

1

garlic clove

1

tbsp

tahini

1

lemon

juice of

1-2

tbsp

olive oil

salt

1

tsp

smoked paprika
For the zhoug
3

green chillies

25

g/1 small bunch cilantro

leaves and stalks

2

garlic cloves

1

tsp

cumin

1

tsp

ground coriander

¼

tsp

cardamom

ground (optional)

½

lemon

juice of

2

tbsp

olive oil
Instructions
For the Baba Ganoush
Set your oven to a broil/grill mode on a highest temperature and set an oven rack approximately 6" away from the top element. Place two eggplants on an aluminium lined shallow baking tray and cook for 15 minutes until the outside is charred and smoky and the inside collapses and turns into a mush.

Cool until safe to handle and remove the burned skin.

In a food processor or a blender combine eggplant flesh, sliced garlic, tahini, lemon juice, smoked paprika and run until smooth and creamy, then open the shoot and add olive oil with the motor still running until baba ganoush is desired consistency. Add salt to taste.
For the Zhoug
Place all ingredients except for the oil in the bowl of a food processor and blend until the smooth, with the motor still running open the shoot and add the oil, blend for a few more seconds.

Add salt to taste.
For the pomegranate vinaigrette
In a mason jar combine all the dressing ingredients, cover with a lid and shake for a few seconds until combined.
For the salad
Place chicken breasts on parchment paper or plastic wrap double the size of them and coat chicken with ras el hanout, then cover them with parchment paper. Pound the thick end of the chicken breast with a meat mollet or a rolling pin until the entire chicken breast is not thicker than ½".

Grill for 2 minutes on each side and set aside.

In a large salad bowl combine salad greens, radishes, cucumbers, peeled and segmented blood orange slices. Add 3 tbsp of pomegranate vinaigrette and toss to coat.

Top with sliced grilled chicken breasts, sliced avocado, dollops of baba ganoush, drizzle with zhoug and sprinkle with sesame seeds.