This Middle Eastern inspired salad is made with aromatic grilled chicken breast, avocado, baba ganoush and zesty zhoug with a pomegranate vinaigrette. It's healthy, delicious and packs buckets of flavour!
For more Middle Eastern flavours, try my simple but delicious Falafel Salad Bowl!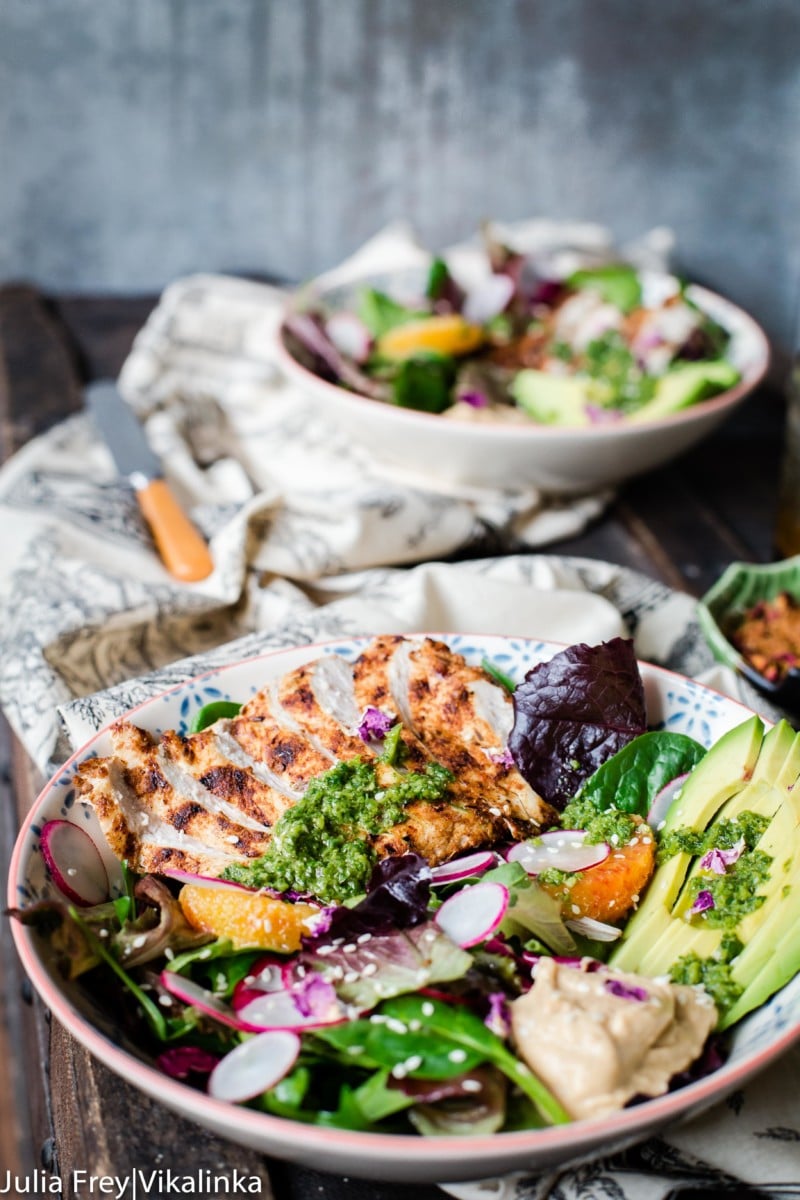 Food from the Middle East has always been a real treat for me. One of my favourite restaurants is a tiny Lebanese diner on a hidden street. And my favourite food truck sells falafel wraps with grilled halloumi and a spicy chilli sauce.
Cuisine from that part of the world stands out because of how brilliantly they combine fresh fruit and vegetables with savoury, smokey ingredients. Food from the region is incredibly diverse, of course, yet is tied together by seasonality and the knowledge of how to make flavour really pop.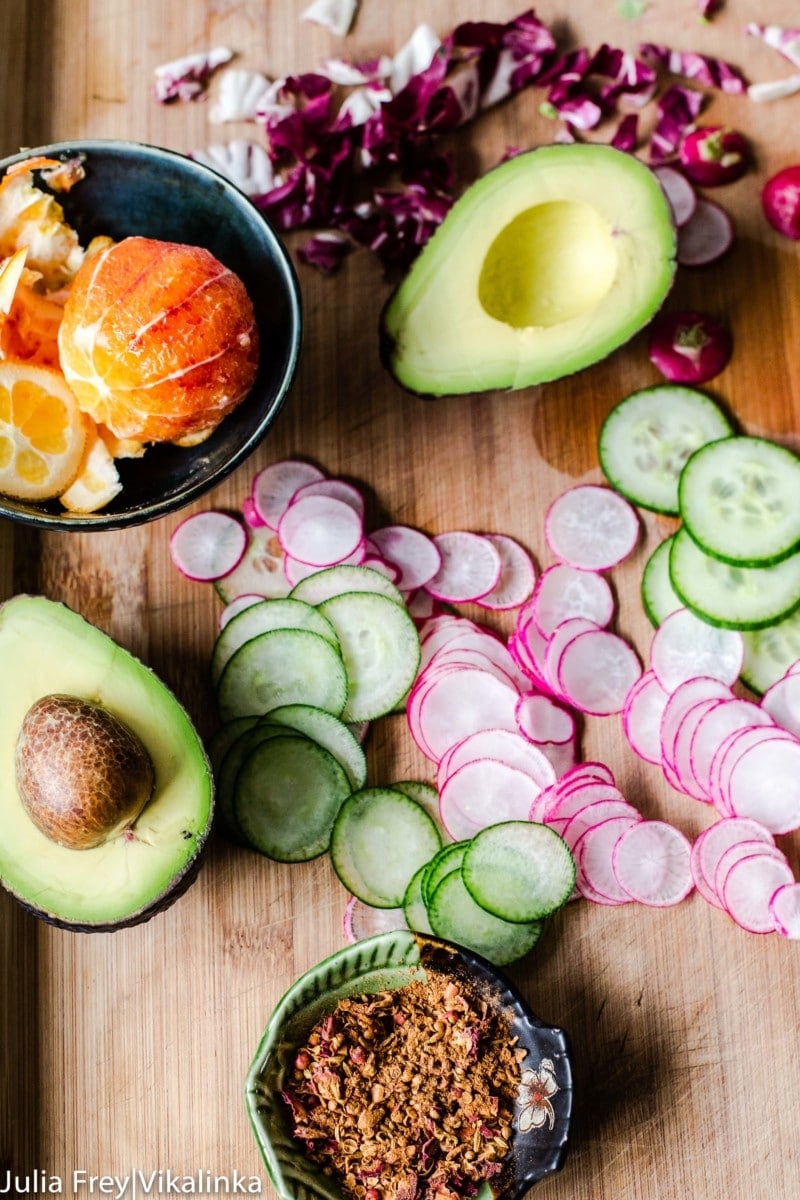 Salad bowl
A cooking class, I took recently, inspired me to make this lovely Middle Eastern salad bowl. I deeply enjoyed watching creative and skilled chefs bring so much flavour from fresh, simple ingredients.
The class focused on the cuisine from the Middle East so came home and made this salad bringing various elements of those cuisines. And, as usual, I added my own twist.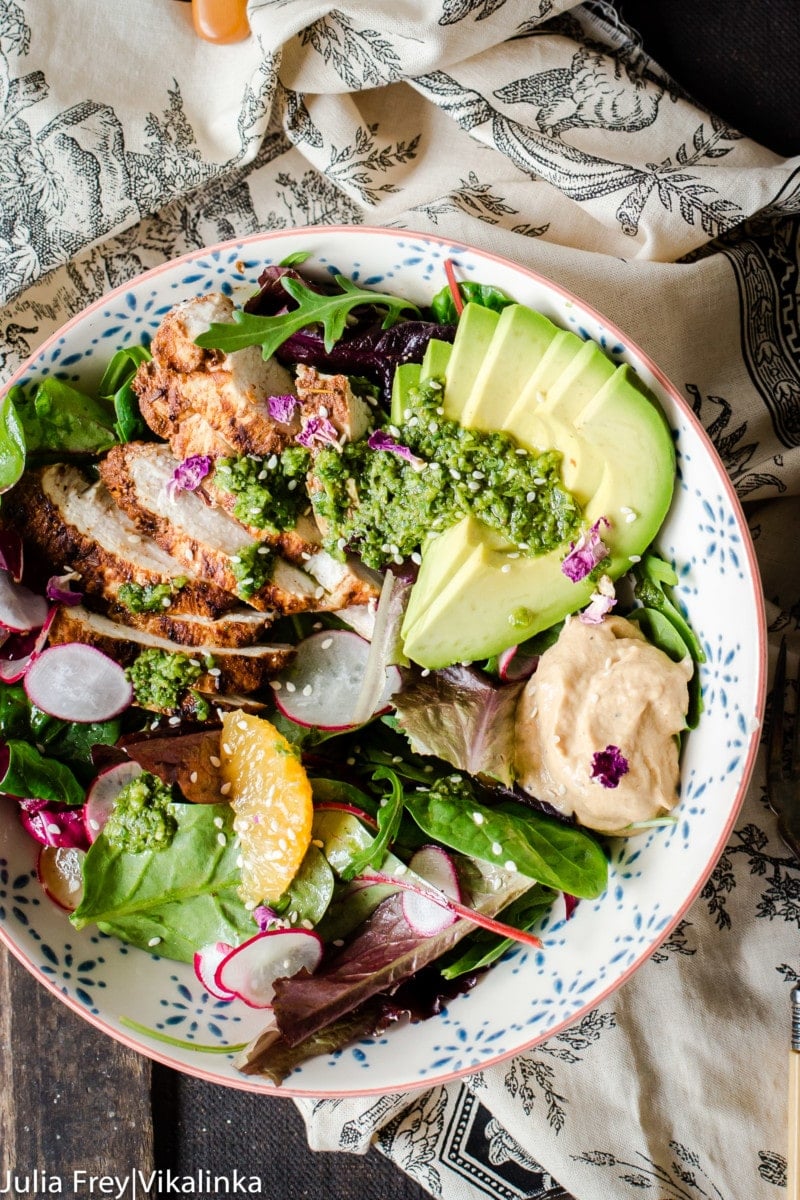 This salad consists of a mix of various greens-baby lettuce, spinach for fresh spring taste and chicory and arugula for a bit of crunch and peppery zest. I also added grilled chicken breast coated in Moroccan spice ras el hanut.
I then added sliced avocado, thinly shaved cucumbers and radishes, and segmented blood orange slices. Then the crowning jewel, a good dollop of extra smoky baba ganoush with some unreal dressings!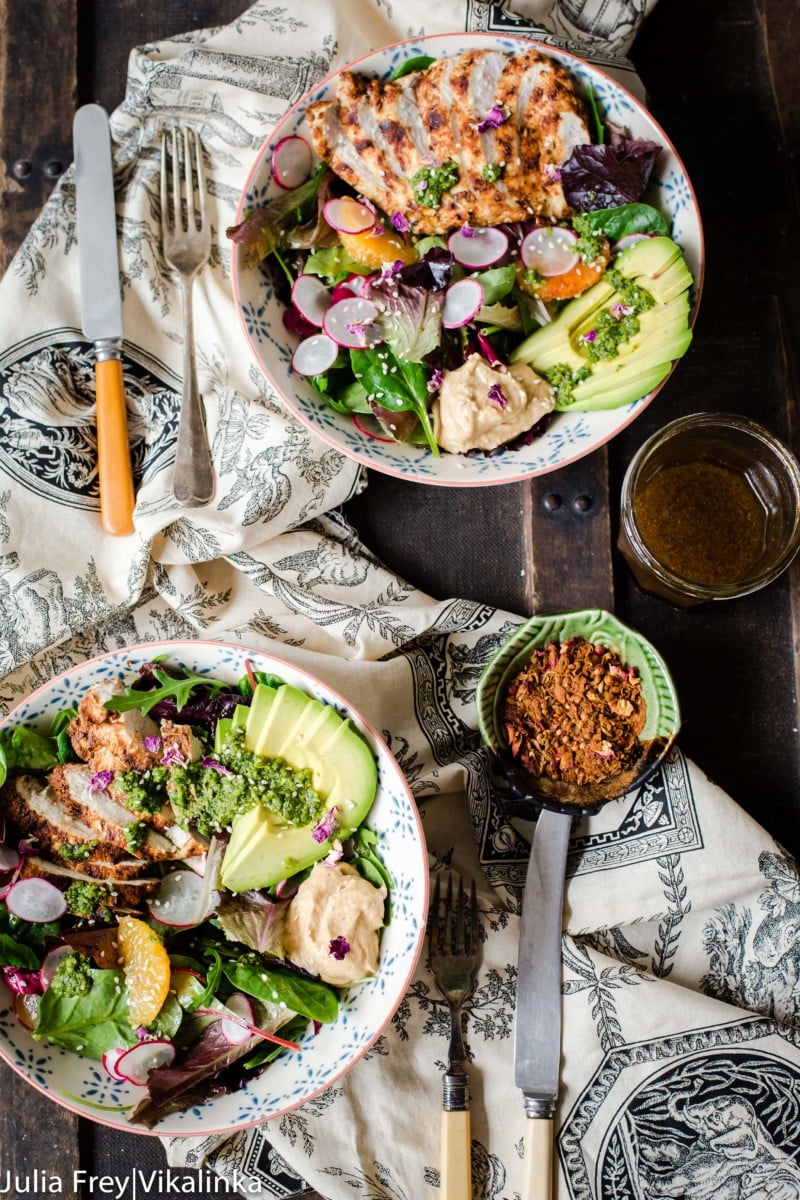 Middle Eastern salad dressings
Drizzled over is an absolutely out-of-this-world delicious and refreshingly green sauce, zhoug. Zhoug was a new discovery for me. The idea reminded me of a Middle Eastern chimichurri.
And like chimichurri, zhoug goes amazingly well with grilled meats and all sorts of vegetables. It has a way of adding freshness to anything it touches, which is quite exciting in a salad bowl like this one.
All of this goodness is coated in sweet and tangy pomegranate vinaigrette. The dressing pulls this exciting salad together into with one gorgeous Middle Eastern bowl.
If you aren't familiar with pomegranate molasses, it is a common additive in Middle Eastern cooking. The molasses has a quite concentrated flavour in a potent syrup so a little goes a long way!
Because pomegranate molasses is so effective at adding flavour to anything it touches, I try to keep a bottle around my kitchen at all times. One of my favourite uses of it is in Sweet and Sour Meatballs in Pomegranate Sauce!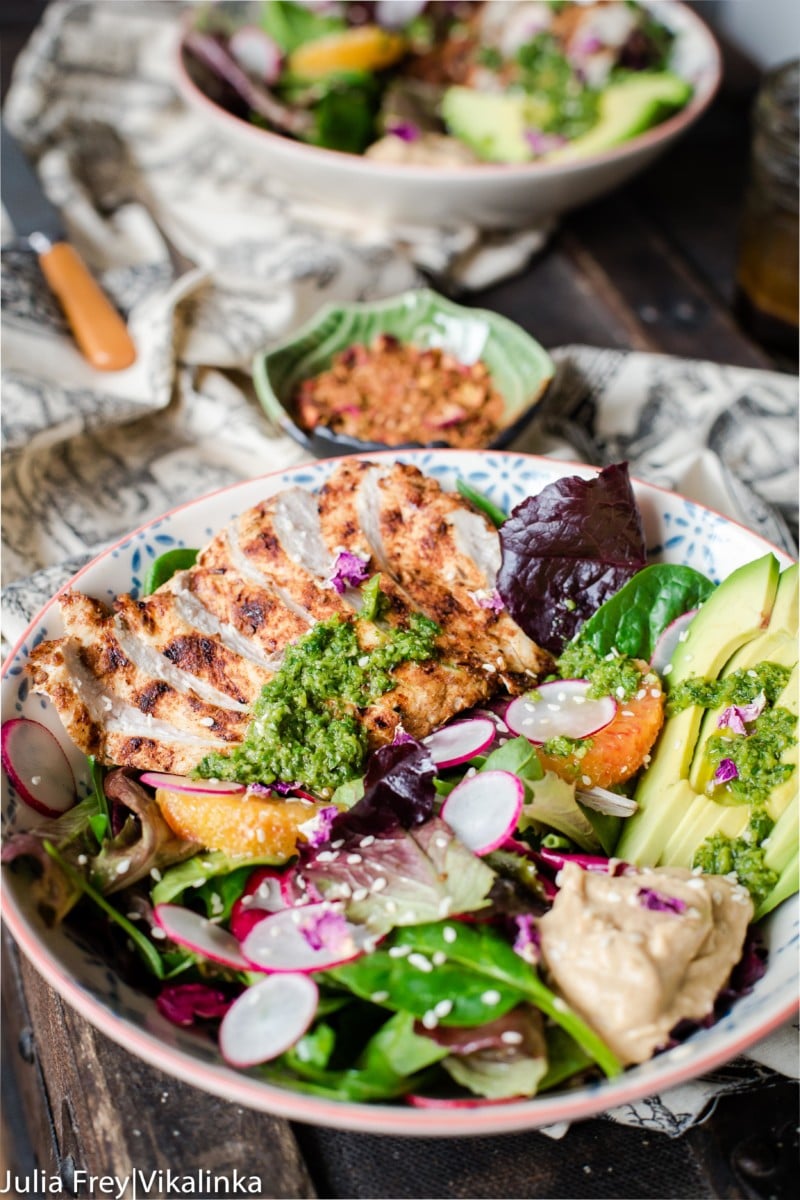 More Middle Eastern recipes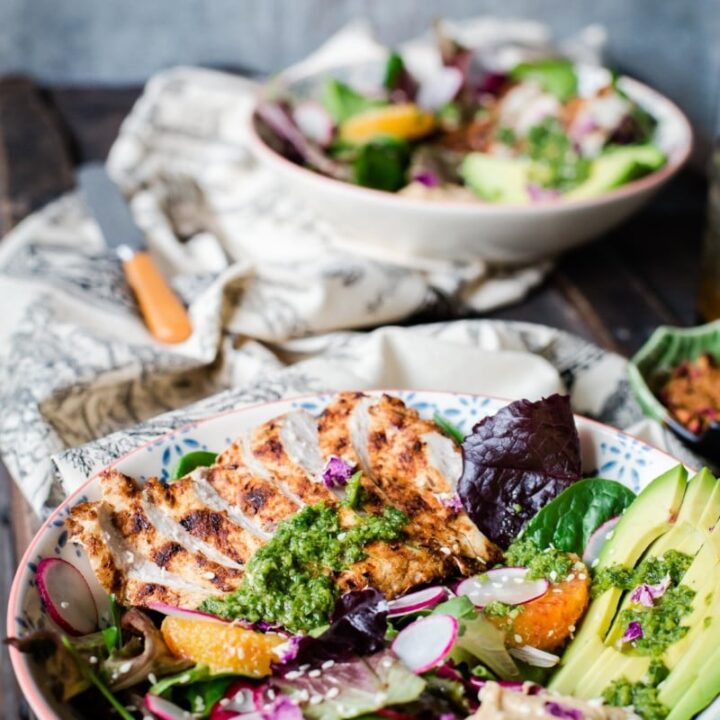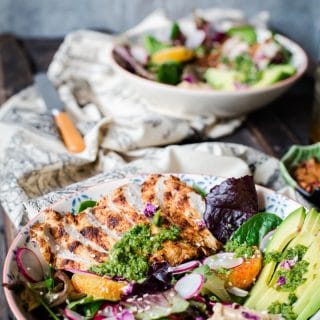 Middle Eastern Salad Bowl
(Both Baba Ganoush and Zhoug could be prepared in advance and stored in the refrigerator up to a week)
Ingredients
For the salad
2

chicken breasts

2

tbsp

ras el hanout

3

cups

salad greens

4

radishes

¼

cup

thinly sliced cucumber

1

blood orange

sesame seeds
For the pomegranate vinaigrette
2

tbsp

pomegranate molasses

2

tbsp

red wine vinegar

¼

cup

/4 tbsp olive oil

½

tsp

sumac
For the baba ganoush
2

eggplants/aubergines

medium

1

garlic clove

1

tbsp

tahini

1

lemon

juice of

1-2

tbsp

olive oil

Salt

1

tsp

smoked paprika
For the zhoug
3

green chillies

25

g

/1 small bunch cilantro

leaves and stalks

2

garlic cloves

1

tsp

cumin

1

tsp

ground coriander

¼

tsp

cardamom

ground (optional)

½

lemon

juice of

2

tbsp

olive oil
Instructions
For the Baba Ganoush
Set your oven to a broil/grill mode on a highest temperature and set an oven rack approximately 6" away from the top element. Place two eggplants on an aluminium lined shallow baking tray and cook for 15 minutes until the outside is charred and smoky and the inside collapses and turns into a mush. Cool until safe to handle and remove the burned skin.

In a food processor or a blender combine eggplant flesh, sliced garlic, tahini, lemon juice, smoked paprika and run until smooth and creamy, then open the shoot and add olive oil with the motor still running until baba ganoush is desired consistency. Add salt to taste.
For the Zhoug
Place all ingredients except for the oil in the bowl of a food processor and blend until the smooth, with the motor still running open the shoot and add the oil, blend for a few more seconds. Add salt to taste.
For the pomegranate vinaigrette
In a mason jar combine all the dressing ingredients, cover with a lid and shake for a few seconds until combined.
For the salad
Place chicken breasts on parchment paper or plastic wrap double the size of them and coat chicken with ras el hanout, then cover them with parchment paper. Pound the thick end of the chicken breast with a meat mallet or a rolling pin until the entire chicken breast is not thicker than ½". Grill for 2 minutes on each side and set aside.

In a large salad bowl combine salad greens, radishes, cucumbers, peeled and segmented blood orange slices. Add 3 tbsp of pomegranate vinaigrette and toss to coat.

Top with sliced grilled chicken breasts, sliced avocado, dollops of baba ganoush, drizzle with zhoug and sprinkle with sesame seeds.
Nutrition
Calories:
830
kcal
Carbohydrates:
46
g
Protein:
56
g
Fat:
50
g
Saturated Fat:
7
g
Polyunsaturated Fat:
9
g
Monounsaturated Fat:
30
g
Trans Fat:
1
g
Cholesterol:
145
mg
Sodium:
529
mg
Potassium:
1910
mg
Fiber:
17
g
Sugar:
19
g
Vitamin A:
2285
IU
Vitamin C:
83
mg
Calcium:
307
mg
Iron:
8
mg