I am so happy I can share my healthy stuffed peppers with you!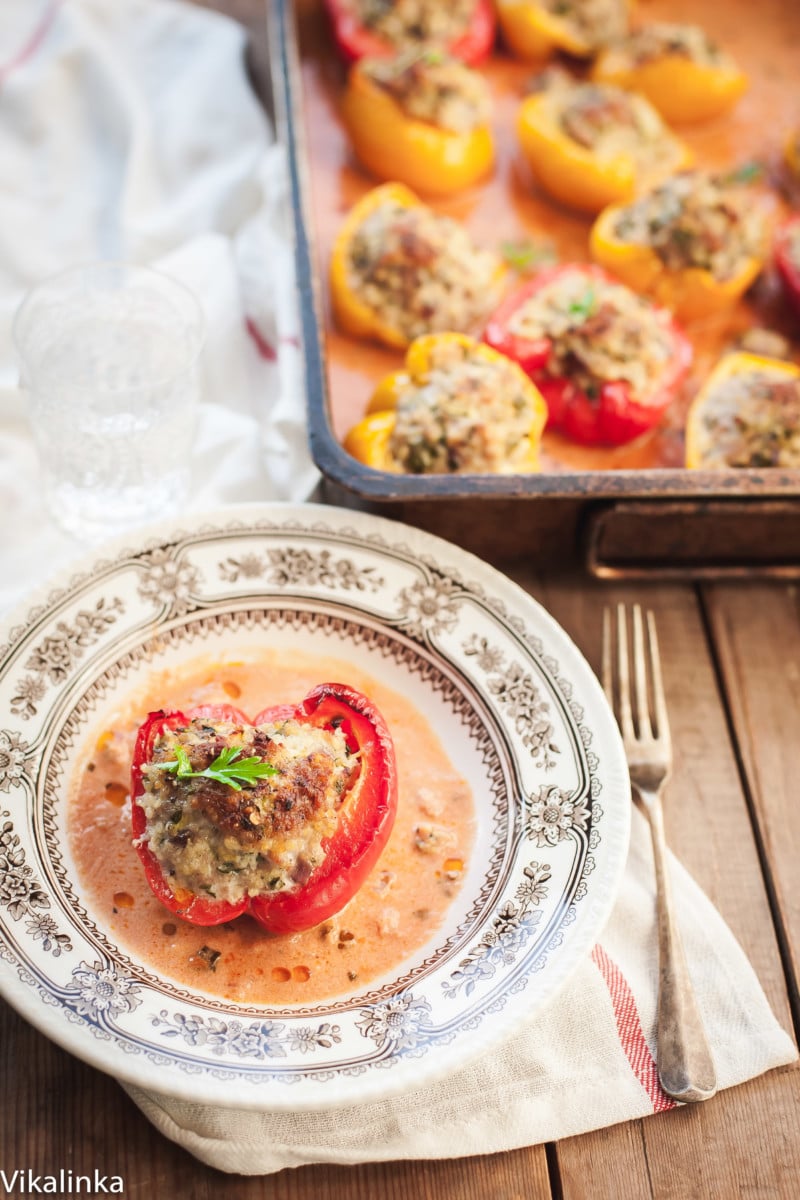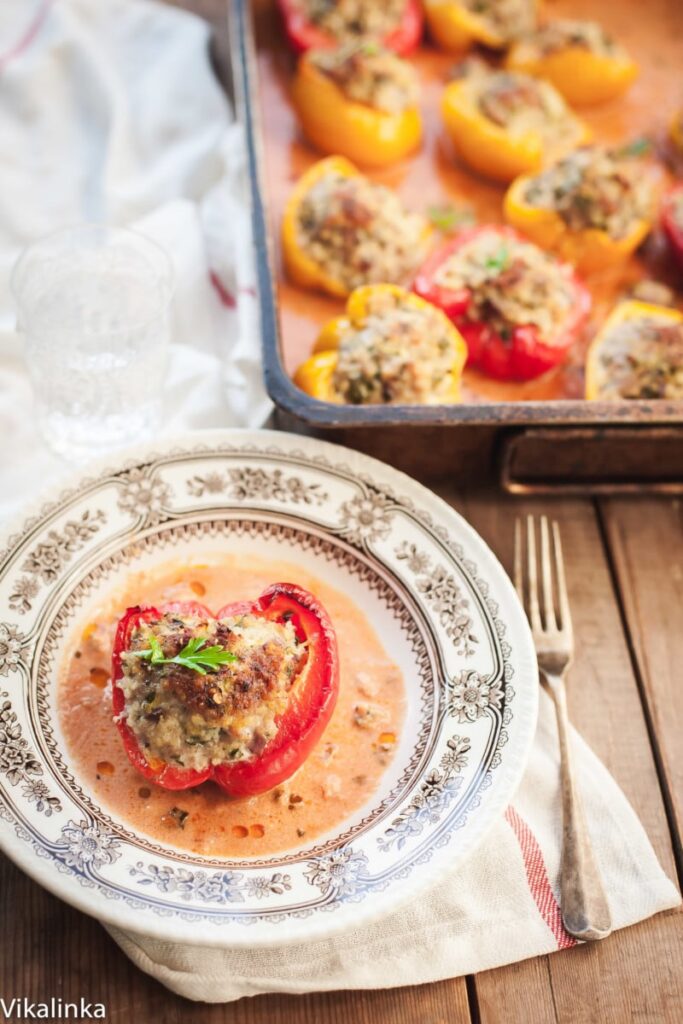 We might not be experiencing the hottest or the busiest summer as I talked about it here but what we are enjoying is a never ending glut of glorious summer produce. A bag of peppers for under £1. Yes, please! I know just the recipe for them!
Stuffed peppers is one of the classic Russian recipes. I grew up absolutely loving my mom's creation, which I often cook for my family. Today I took a few liberties with the original recipe and lightened it up a bit. I have to say the result wasn't just lighter, it was better because what I ended up with is healthy stuffed peppers!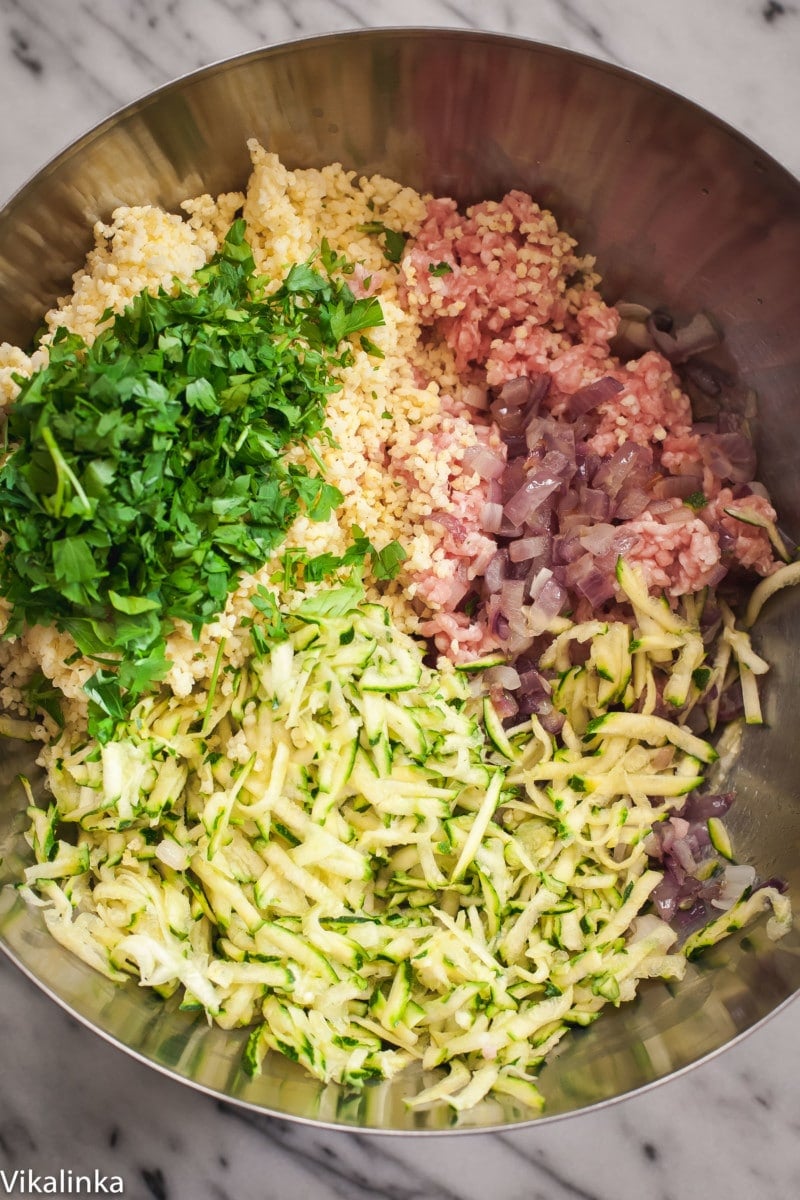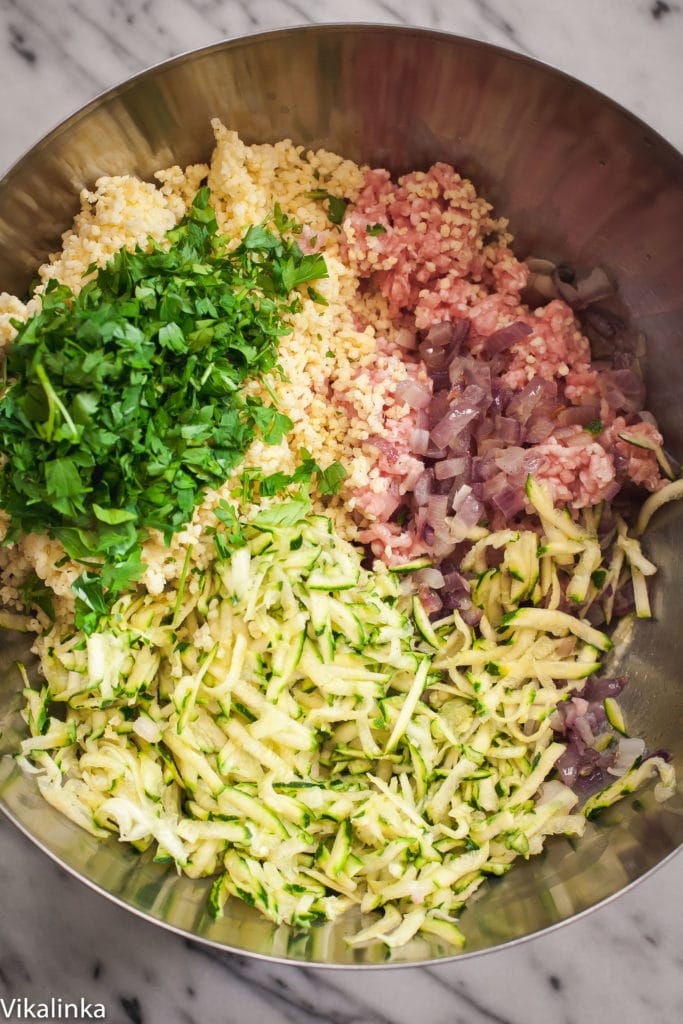 Usually I use a mixture of lean beef, pork and rice for stuffing peppers and cook them in a thick sour cream and tomato sauce. The result is lovelier than lovely but who is to say it can't be improved. Summer living often calls for lighter eating, so I replaced beef with shredded zucchini and minced parsley and rice with millet, a naturally gluten-free grain I grew up eating and really loving lately again. Don't worry if you can't find millet, you can use rice or couscous.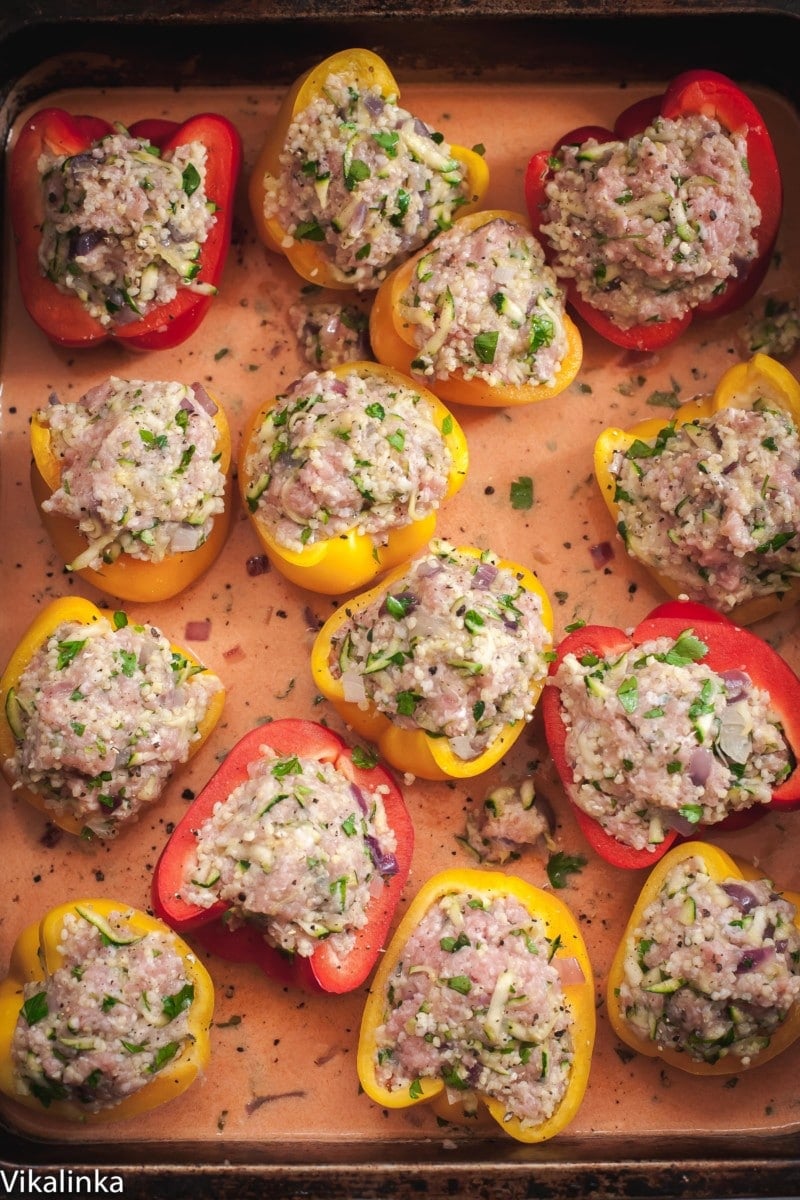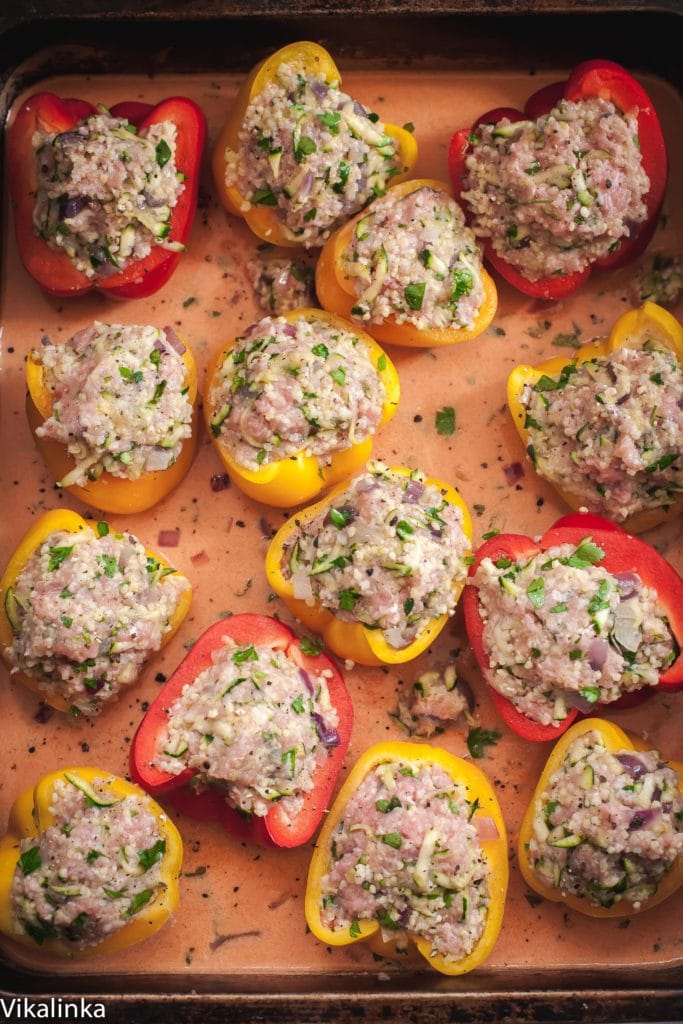 Instead of cooking peppers in a deep Dutch oven swimming in a rich sauce, I opted for a shallow roasting pan with the sauce barely covering the bottom. It still added incredible flavour but cut calories in more than half plus you get these beautiful, slightly charred and caramelised peppers that have been roasted in the oven at high temperature. Delicious!
My entire family was very impressed and never did they guess that they were eating healthy stuffed peppers!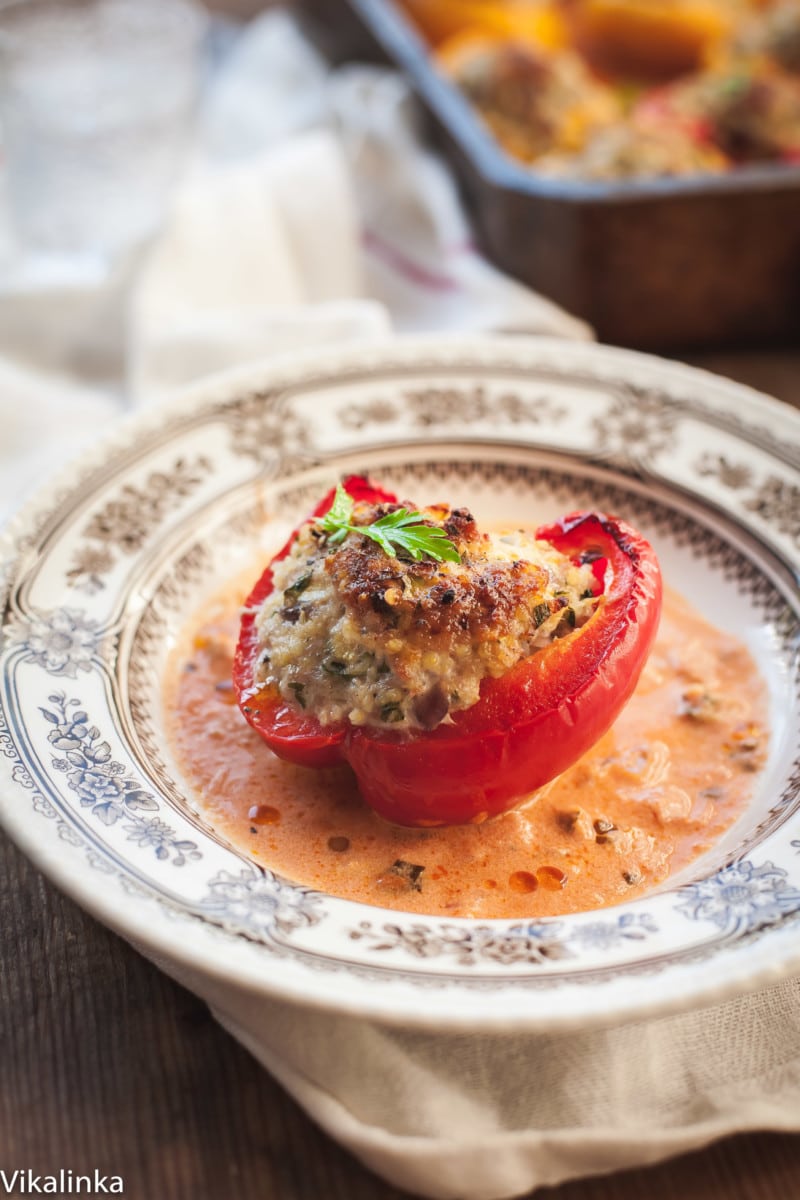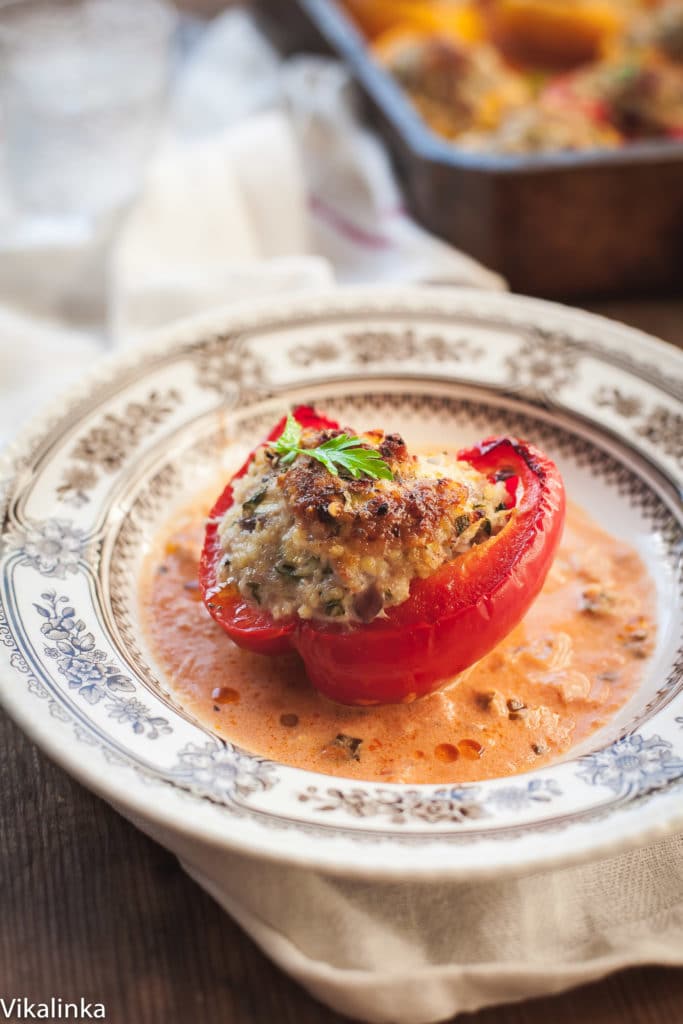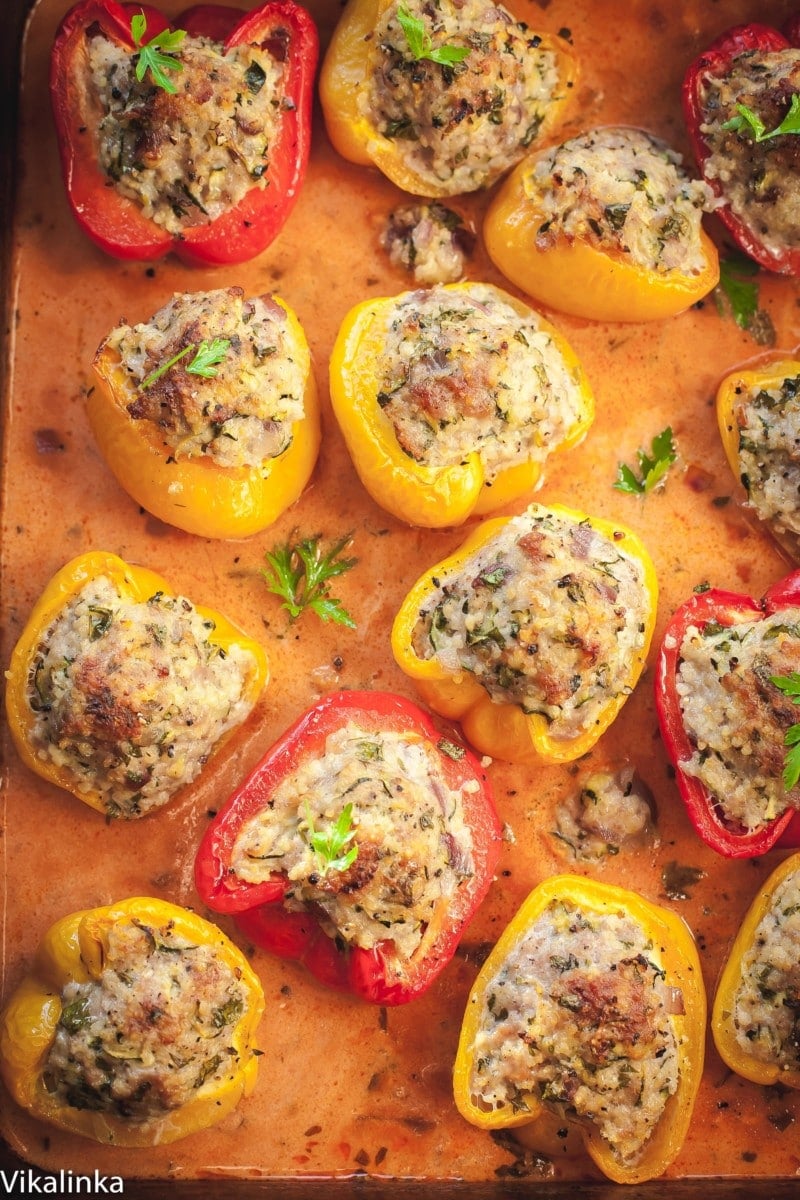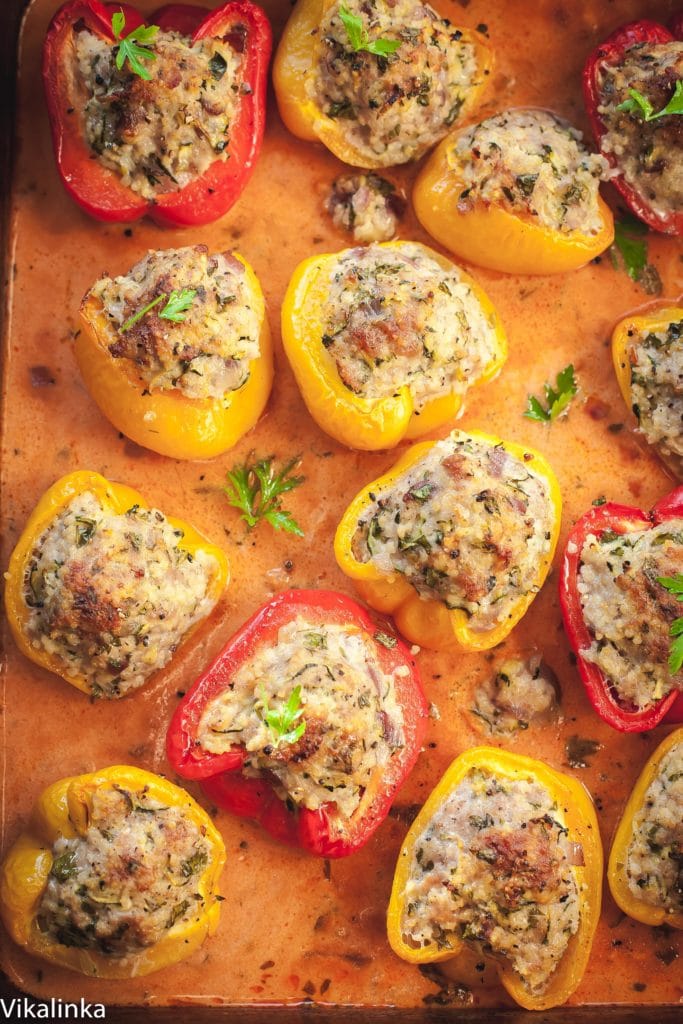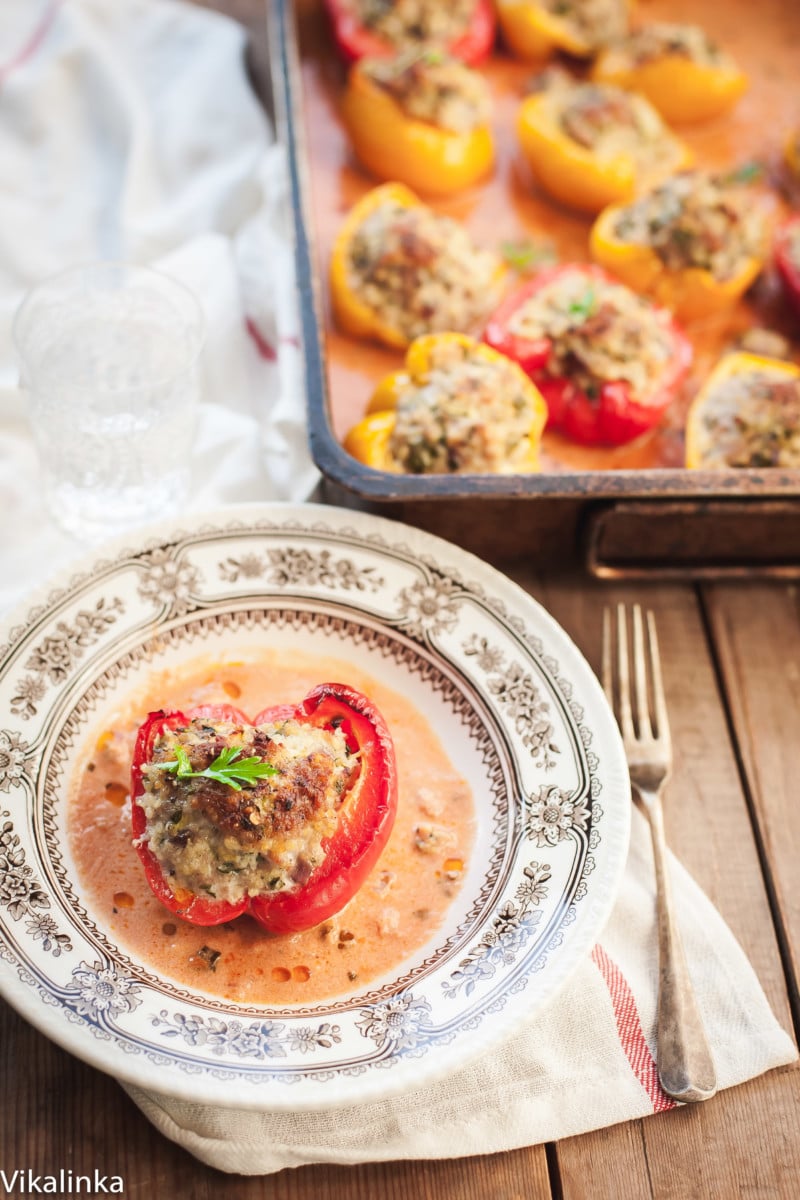 Ingredients
For the sauce
1

tbsp

olive oil

2

onions

chopped, divided

400

g/14 oz

caned chopped or crushed tomatoes

½

cup/125 ml sour cream or creme fraiche

1

cup/250 ml chicken stock

salt

pepper
For the peppers
7-8

medium red and yellow bell peppers

split in half and cored

1 ½

lbs/750 g extra-lean ground pork

2

medium zucchini

shredded

½

cup

millet

uncooked

½ cup/20

g

fresh flat-leaf parsley

2

tsp

salt

1

tsp

pepper
Instructions
Pour millet in a small pot of boiling water and cook for 7 minutes until tender, drain and set aside.

Preheat oven to 400F/200C.

In a pan cook 2 chopped onions over low heat for 10 minutes until tender but not coloured. Scoop half of the onions and put them in a large mixing bowl.

To the pan with the remaining onions add a can of chopped tomatoes previously processed in a food processor until smooth, chicken stock and a pinch of salt and pepper, simmer on low heat for 7-10 minutes.

While your sauce is simmering, to the large bowl with cooked onions add pork, shredded zucchini, chopped parsley (reserve 1 tbsp. for the sauce), cooked millet, salt and pepper and mix thoroughly. To check whether the mixture has a right balance of salt and pepper pinch off a meatball-sized portion of the filling, flatten it into a patty, fry on both sides and taste for seasoning. Add more salt if necessary.

Add sour cream to the sauce and 1 tbsp of chopped parsley, stir to combine and take off the heat.

Pour the sauce to cover the bottom of a large roasting pan.

Fill halved and cored peppers with meat and zucchini mixture and place them filling side up in the roasting pan with sauce.

Roast uncovered in the preheated oven for 45 minutes.
Nutrition Facts
Herby Pork, Zucchini and Millet Stuffed Peppers
Amount Per Serving
Calories 512
Calories from Fat 288
% Daily Value*
Fat 32g49%
Cholesterol 92mg31%
Sodium 957mg42%
Potassium 1116mg32%
Carbohydrates 32g11%
Protein 25g50%
Vitamin A 5021IU100%
Vitamin C 203mg246%
Calcium 93mg9%
Iron 4mg22%
* Percent Daily Values are based on a 2000 calorie diet.