These stuffed spaghetti squash boats are a healthy and delicious take on the famous Spaghetti Bolognese. Don't forget to top with melty mozzarella!
If you can't get enough of winter squash this season, take a look at our Turkey and Wild Rice Stuffed Squash recipe.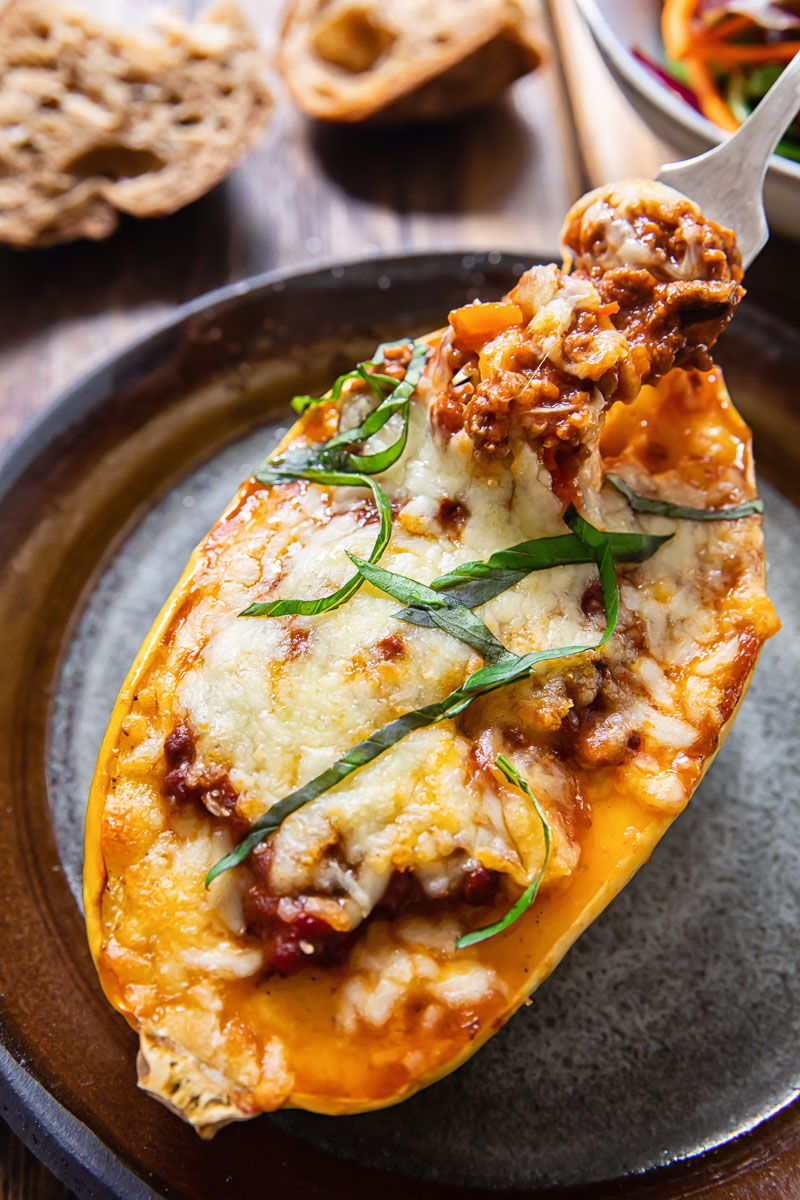 I definitely have a bit of an obsession with winter squashes of all kind. Over the years I have shared many recipes, which include them. Butternut squash is definitely my favourite but I also love spaghetti squash, which was unavailable to me in the UK until this year.
Using a healthy, full of nutrients vegetable instead of pasta is such a great way to expand your diet. And spaghetti squash is definitely one of those quirky gourds, that transforms when cooked. After about 40 minutes in the oven its dense flesh turns in stringy, spaghetti-like strands.
It's no wonder home cooks love using it in Italian inspired dishes! And that's exactly what I did. I stuffed it with a hearty bolognese sauce and topped with mozzarella cheese to create a low carb spin on the classic.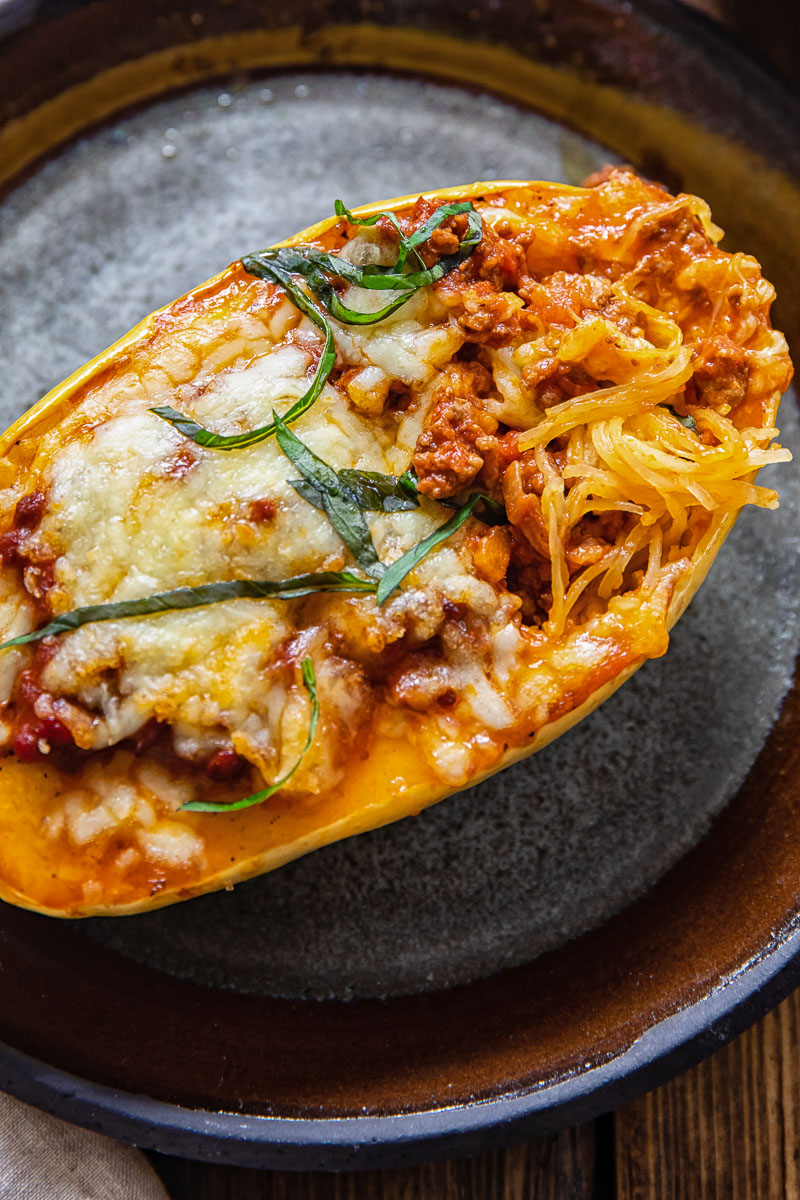 Bolognese Sauce Filling
Whenever I make my meaty Bolognese sauce, whether on a stovetop or in a slow cooker, I double the ingredients with a view to freeze a half of it for later. In fact, my classic recipe is large enough to last you for two full meals.
I love doing it because the sauce is so versatile. It could be used in a lasagna, in any pasta bake or in this case to be a filling for a spaghetti squash. If you have the sauce stashed in the freezer somewhere, the recipe itself is a breeze to make.
If you are short on time to make the classic recipe, which takes a couple of hours to simmer for a deep flavour, I will teach you how to make a quick sauce in 20 minutes.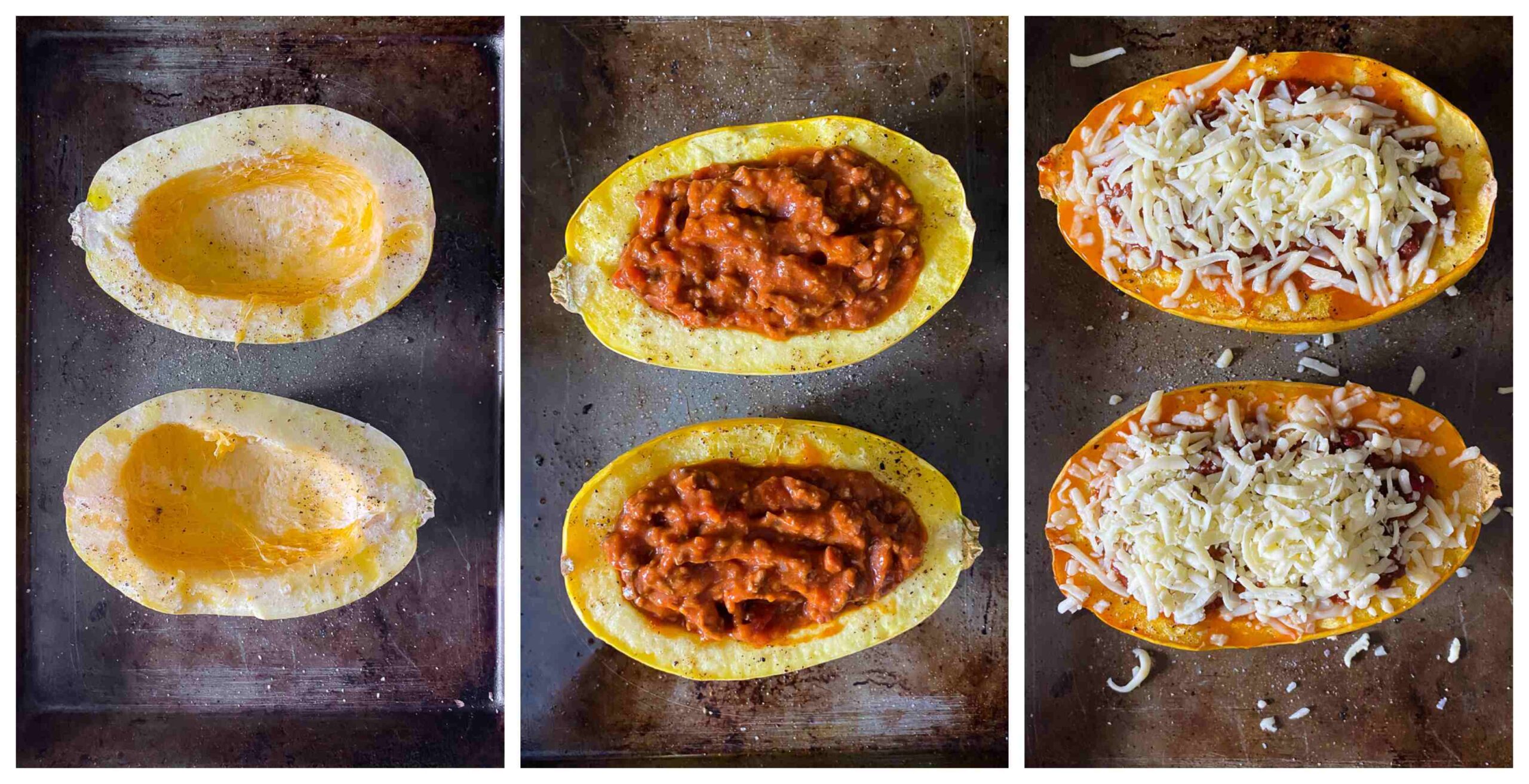 Roasting Spaghetti Squash
The tastiest way to cook spaghetti squash is definitely roasting it in the oven. And one of the best things about roasted squash is the ease of preparation, which gets rewarded with stellar results. Nothing to do with me or you. Just the magic of roasting vegetables, which concentrates flavours and delivers that amazing caramelisation.
The most difficult part is undoubtedly cutting it in half evenly! Spaghetti squash is very hard and it tends to crack when you insert a knife into it. To ensure it cracks in the way you want it to go, insert your sharpened knife in the centre first, then press down and cut the squash in half.
Since we are stuffing it with a very flavourful sauce, you don't have to do much to flavour it. Just a little bit of olive oil, salt and pepper will do the trick.
I recommend pre-cooking it for 30 minutes unstuffed to soften it. Then and only then you can fill up the halves with the meat sauce and top with grated mozzarella cheese. Cooking the squash for 20-25 minutes further usually does the trick.
If you, like my daughter, are not into the meat filling, try this incredible vegetarian version. Spinach and Artichoke Stuffed Spaghetti Squash. Yes, it is exactly like the famous dip but it is baked in the squash. Yum!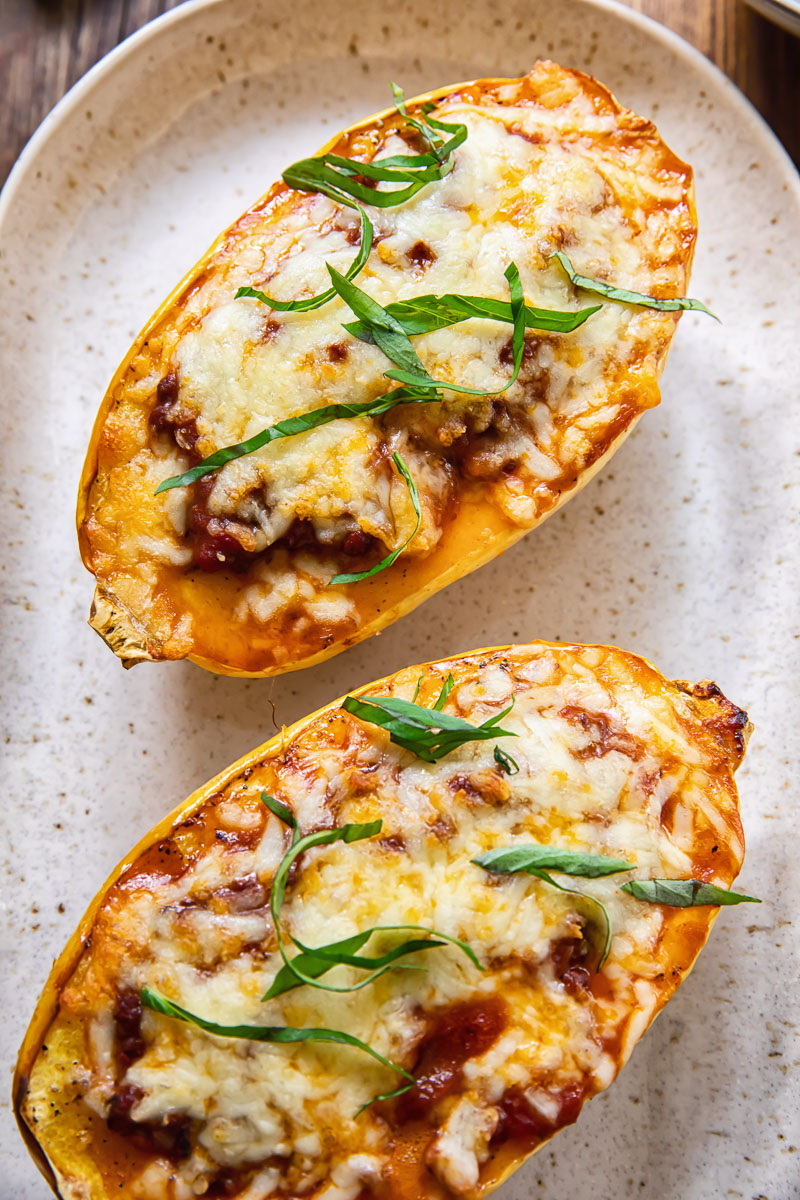 Recipe Tips and Notes
You can pre-roast your spaghetti squash several days ahead and keep in an air-tight container in the fridge till needed.
The same goes for the Bolognese sauce, you can make it days ahead and freeze it. This way this meal becomes easier than easy and very convenient.
If you can't source spaghetti squash or don't like it, feel free to use butternut or acorn squash instead.
Needless to say this amazing meal is low carb and gluten-free.
You can store leftovers in the fridge for 3-4 days.
Favourite Squash Recipes to Try: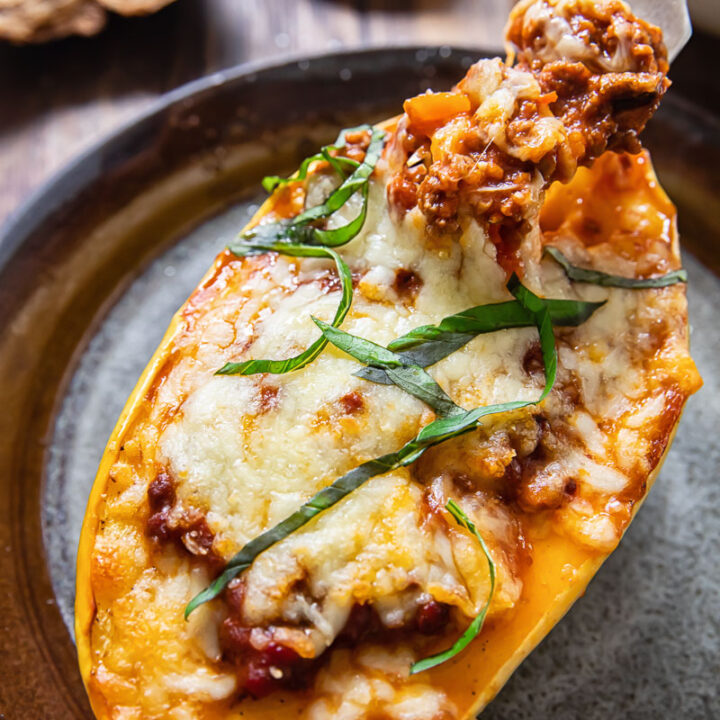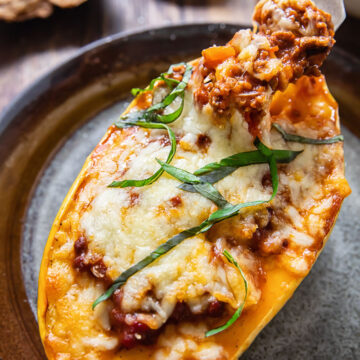 Spaghetti Squash Bolognese
These stuffed spaghetti squash boats are a healthy and delicious take on the famous spaghetti bolognese, topped with melty mozzarella.
Ingredients
2

spaghetti squash

2

tbsp

olive oil

divided

salt and pepper

1

lbs

ground beef

extra lean, 5% fat

1

clove

garlic

1

tsp

dried oregano

5-6

leaves

fresh basil

or 1 tsp dried basil

800g/28 oz

canned crushed tomatoes or tomato passata

250g/1 cup

grated mozzarella
Instructions
Preheat the oven to 200C/400F. Cut the spaghetti squash in half lengthwise, scoop out the seeds with a spoon and discard. Brush the inside with 1 tablespoon of olive oil or spray with a cooking spray, season with salt and pepper. Place on a baking sheet and roast in the preheated oven for 30 minutes.

Meanwhile, make the sauce. Heat 1 tbsp of olive oil in a large pan, then brown the ground beef until no longer pink inside. Add the crushed garlic, torn basil leaves (set aside 2 leaves for later), oregano, canned tomatoes or tomato passata and bring to a boil, salt to taste. Simmer over low heat for 15-20 minutes.

After 30 minutes take the squash halves out of the oven and fill with the meat sauce, then top with grated mozzarella. Put back in the oven for 20-25 minutes longer until the mixture is bubbling and the cheese is melted and golden. Slice the remaining basil leaves and sprinkle over the squash before serving.
Nutrition
Calories:
621
kcal
Carbohydrates:
50
g
Protein:
45
g
Fat:
30
g
Saturated Fat:
12
g
Polyunsaturated Fat:
3
g
Monounsaturated Fat:
12
g
Trans Fat:
0.4
g
Cholesterol:
120
mg
Sodium:
1395
mg
Potassium:
1559
mg
Fiber:
11
g
Sugar:
23
g
Vitamin A:
1473
IU
Vitamin C:
29
mg
Calcium:
516
mg
Iron:
7
mg