This roasted butternut squash and sweet potato soup blended with warming spices and creamy coconut milk is the recipe for chilly days!
It goes so well with a slice of fresh Sourdough Bread or this Grilled Goat Cheese and Fig Chutney Sandwich.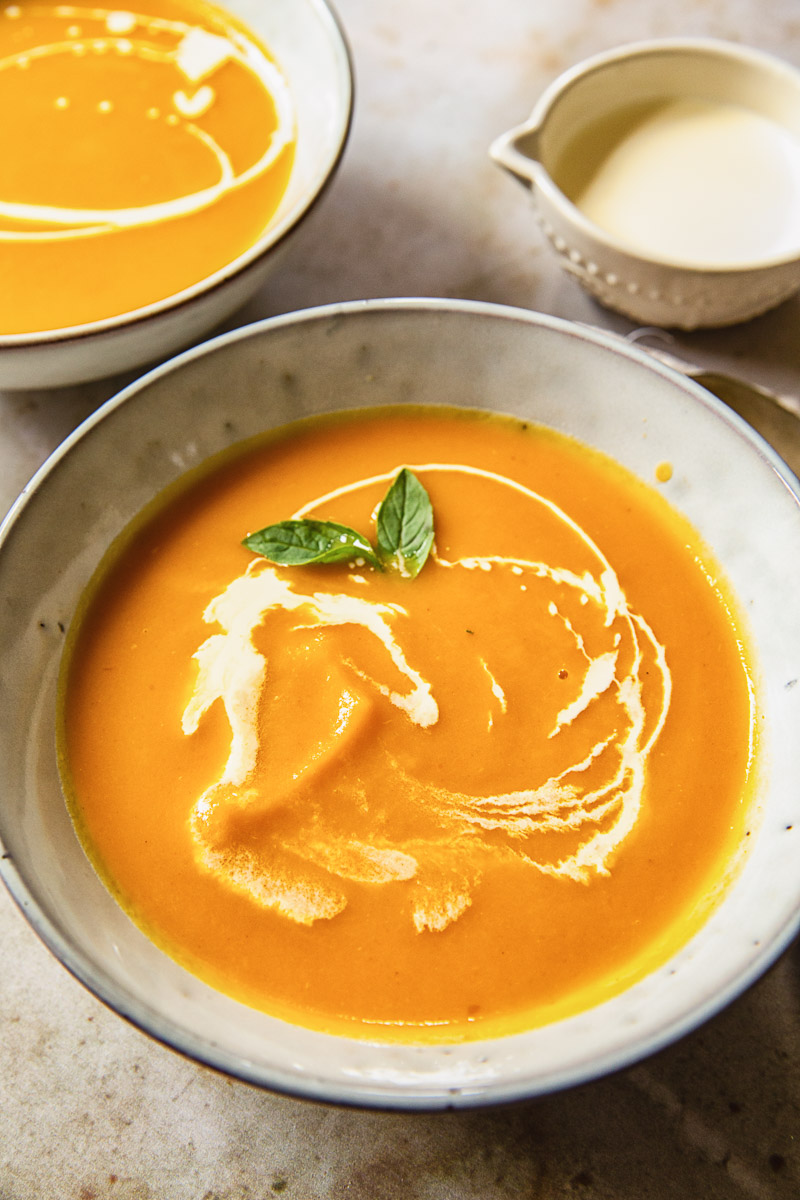 Soup Recipes
I ate a lot of soups growing up. In fact lunch implied soup in our house, and I didn't like it. Not one bit. I especially couldn't stand vegetable soups, they were my mortal nemesis. Luckily I didn't stick to my 10-year old tastebuds.
I also learned to make more interesting soups like this one. It is made with roasted butternut squash, sweet potato and just a hint of spice. Besides that I have quite an extensive soup category on Vikalinka, a wide selection, which is bound to suit any taste.
From elegant and creamy blended soups to rustic and chunky ones. In my soup category I am sharing recipes from various parts of the world, which became staples in our home, and I hope will become yours as well.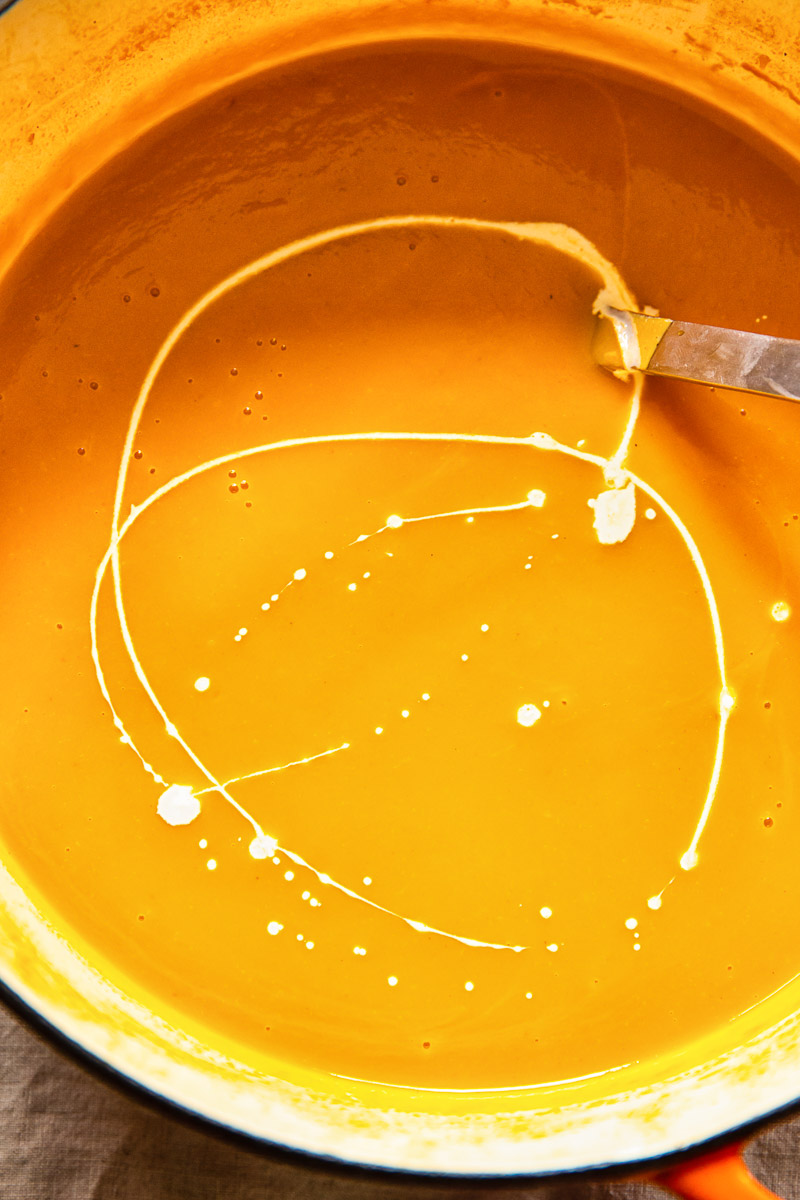 I am nursing a cold as I am writing this, and it's a truth universally acknowledged that nothing brings more comfort,when sniffles attack, than a warming bowl of soup.
My choices were a chicken and dumpling soup, a soup I grew up on, or a pot of spicy Thai flavoured squash and sweet potato soup.
As much as I love my childhood classics, I was really into the idea of a spicy and creamy soup, that warms the insides and clears sinuses.
This soup recipe is so easy, and although it boasts bold and vibrant Thai flavours, it doesn't require an array of spices in your cupboards. I simply use 2 tablespoons of store bought Thai red curry paste to take care of the spice profile. Easy and convenient!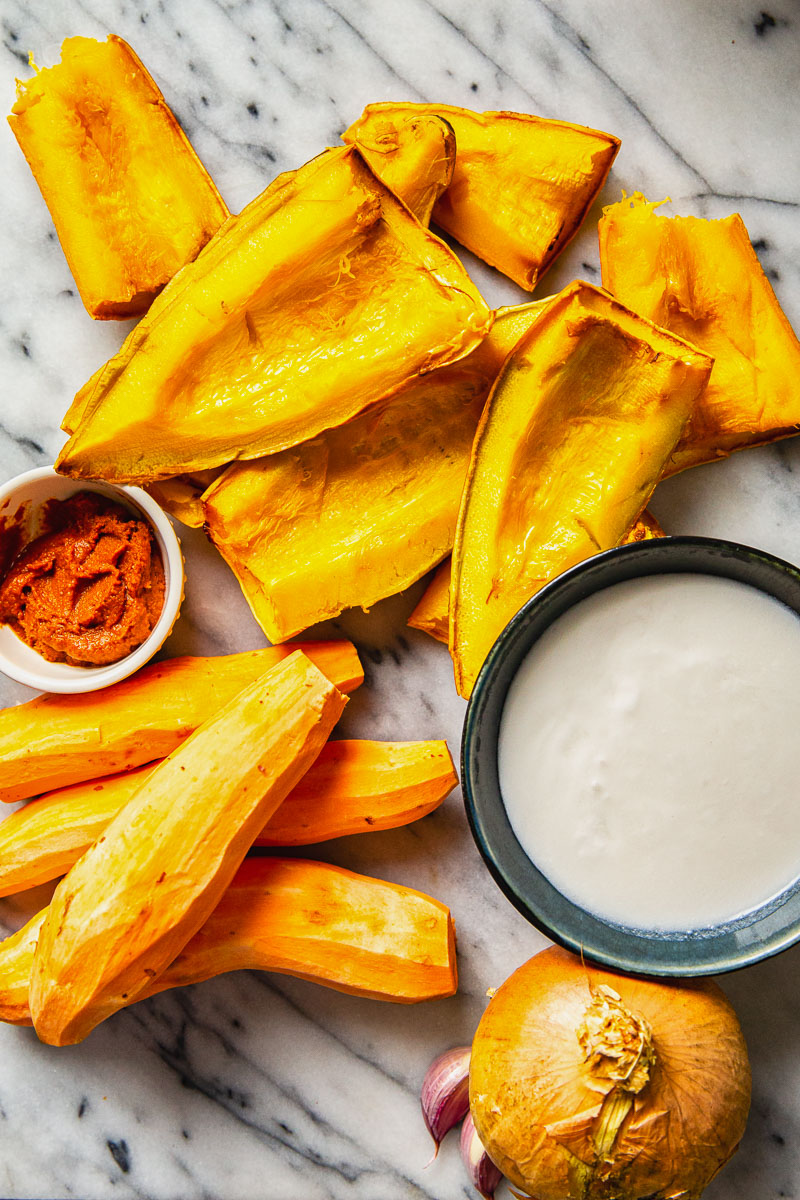 How to Make Butternut Squash and Sweet Potato Soup
I can't even begin to describe how rich and luscious this soup is while it uses only healthy vegetables. Butternut squash, sweet potatoes, onion and garlic, vegetable stock and 1 cup/250 ml of coconut milk are all you need.
Like I mentioned above, I was inspired by the classic butternut squash soups. However I put my own spin on in it by flavouring the soup with a touch of Thai red curry paste.
I adore butternut squash and to make the flavour of this nutritious vegetable even deeper I roasted it prior to putting it in the soup. However, you can skip that step and cook the squash in the pot together with sweet potatoes if you are short on time.
This soup is 100% vegetarian and vegan but is also loved by meat eaters, that is our family. It is surprisingly filling and satisfying for a blended soup!
The creaminess is easily achieved by putting a blender to work. It whizzed through my pile of vegetables in under 1 minute, and turned them into a velvety smooth soup.
Both butternut squash and sweet potato are wonderful at being used in blended soups and sauces due to their mild flavour and sweet taste.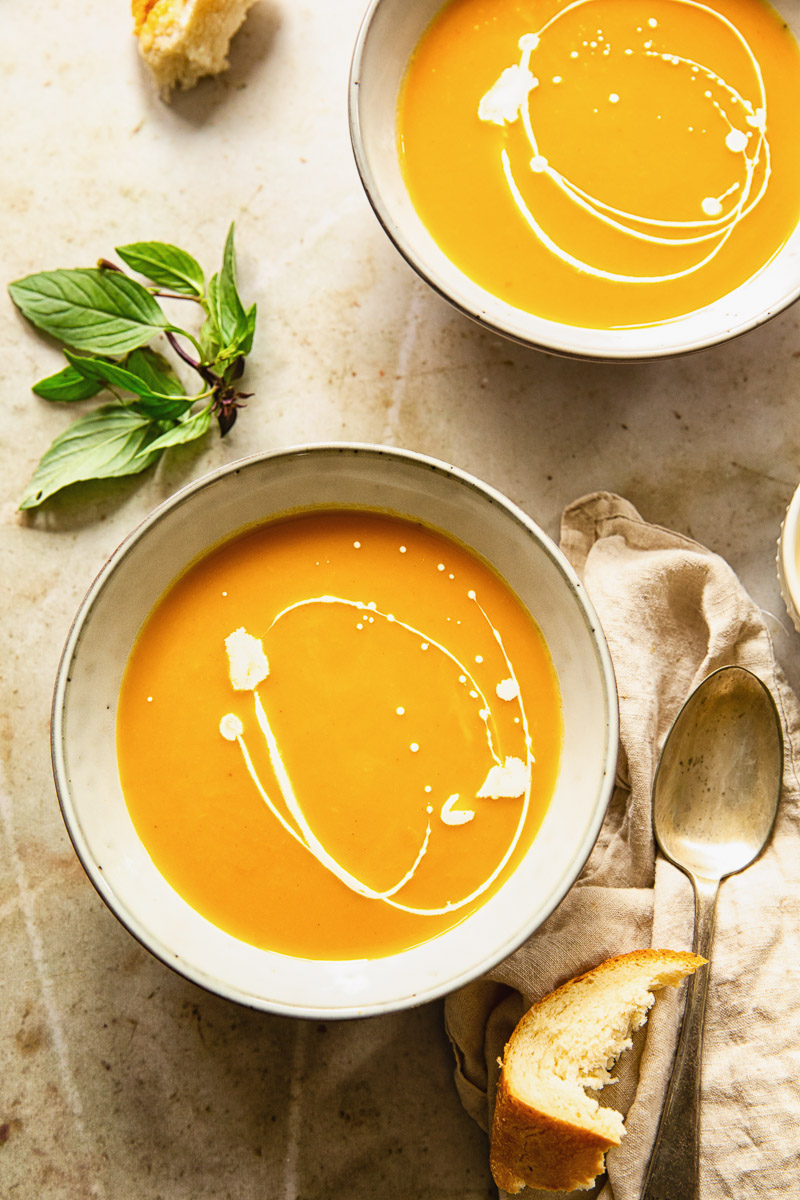 For more creamy soup recipes, check out our favourites:
What is your favourite soup?
This recipe was originally published in 11/2015. Updated with new photos and text and republished in 10/2020.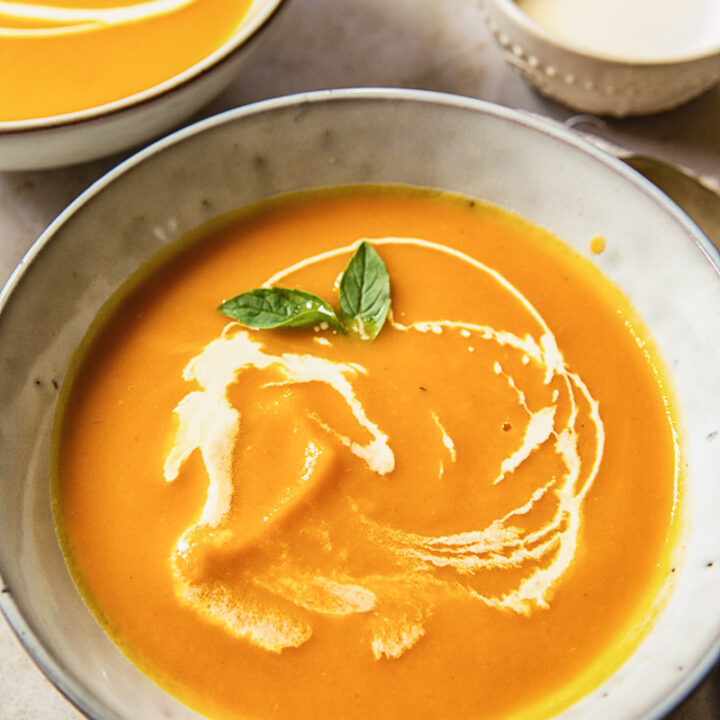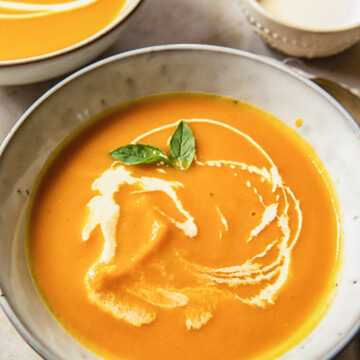 Roasted Squash and Sweet Potato Soup
This roasted butternut squash and sweet potato soup blended with warming spices and creamy coconut milk is the recipe for chilly days!
Ingredients
2

lbs

squash

any kind

2

tbsp

vegetable oil

1

lbs

sweet potatoes

1

onion

chopped

2

cloves

garlic

minced

1-2

tbsp

spicy Thai red curry paste

250ml/1 cup

coconut milk

1.5 litre/ 6 cups

vegetable stock

salt to taste
Instructions
Preheat the oven to 200C/400F

Cut the squash in half and scoop out the seeds, place on a roasting tray cut side down and roast until fork tender for 45 minutes. Peel and cut sweet potatoes into chunks and set aside.

While the squash is roasting, heat olive oil in a soup pot, add chopped onion and cook over low heat until softened but not coloured for 5-7 minutes. Add minced garlic to the soup pot and cook while stirring for about 30 seconds.

Then add sweet potatoes, Thai red curry paste and coconut cream, stir to coat the sweet potatoes. Add the stock and salt, turn the heat up and bring it to a boil, then turn it down and let simmer for 20 minutes.

When the squash is tender, take it out of the oven and let it cool for about 5 minutes or until it's safe to handle. Use a kitchen towel to prevent your hands from burning. Scoop out the tender squash flesh out of the skin and add directly to the soup pot.

Cook the soup for 10 minutes longer.

Taste the broth and add more salt if needed. Make sure the soup is sufficiently seasoned. Sweet flavour of squash and sweet potatoes need salt to balance out the flavours.

Blend the soup in a blender for silky smooth texture. Add a little swirls of coconut milk to each bowl before serving. (I also garnished mine with Thai basil leaves.)
Nutrition
Calories:
266
kcal
Carbohydrates:
36
g
Protein:
4
g
Fat:
14
g
Saturated Fat:
12
g
Sodium:
55
mg
Potassium:
905
mg
Fiber:
6
g
Sugar:
7
g
Vitamin A:
27191
IU
Vitamin C:
36
mg
Calcium:
112
mg
Iron:
3
mg