Sweet spaghetti squash stuffed with deliciously savoury spinach and artichoke filling. A spectacular way to make this seasonal vegetable.
Make this a complete meal by pairing with the bold flavours of Gochajang Short Ribs!
When autumn starts to kick in with shorter days and colder temperatures, it's a signal to me that we are well and truly into squash season. And what a great time of year it is!
All varieties of squash can work amazingly well as the base for a main course. I end up preparing it in many ways – I love it roasted! – but this stuffed squash is truly fantastic!
This stuffed spaghetti squash recipe was developed when I purchased some spaghetti squash at the same time that I was feeling nostalgic for classic spinach and artichoke dip. Seemed like fun combo!
Happily, they worked together fantastically well. I hope you enjoy it as much as me!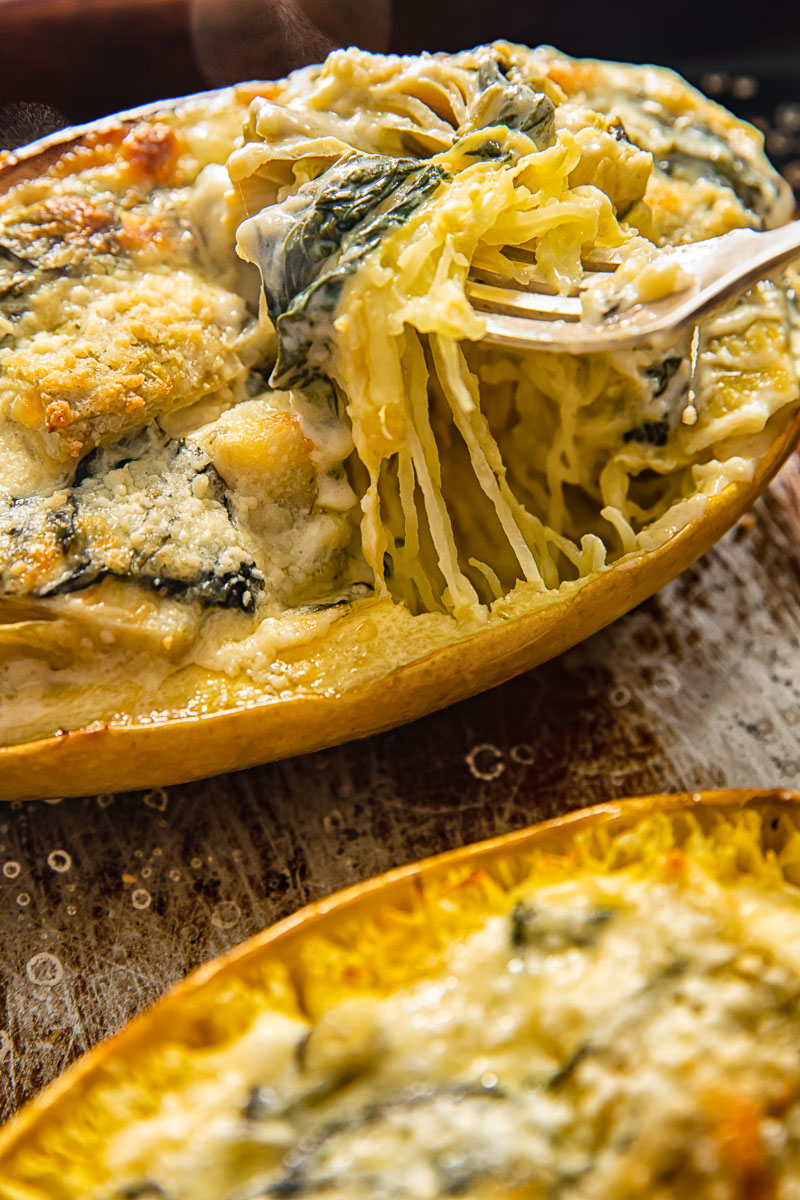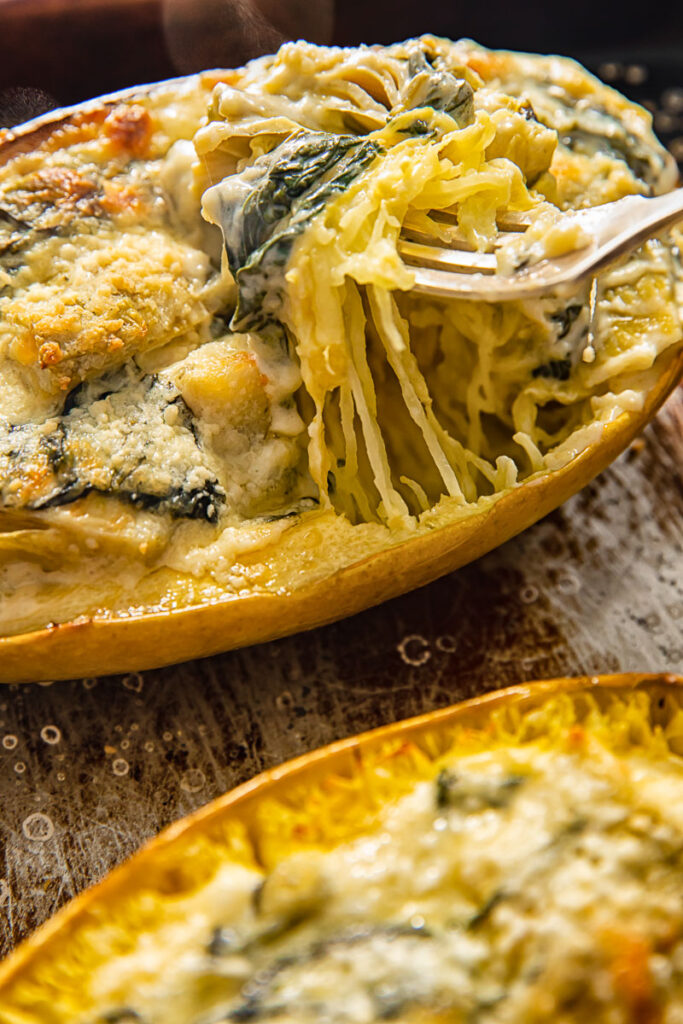 Spaghetti squash
There are a number of types of squash that get grouped together under the name of spaghetti squash. They can come in a few different colours and shapes, but they can be cooked in the same way.
If you cut open a spaghetti squash when raw, the flesh is solid and similar to other types. It's when cooked that spaghetti squash gets its name. It breaks up into long ribbons that come out like the pasta it is named for.
The taste is naturally sweet without being overwhelming, similar to other squash varieties. And because of the remarkable squash strands, it can be a brilliant substitute for pasta.
If you are a fan, try deliciously savoury Spaghetti Squash Bolognese! It follows a similar idea of stuffing the spaghetti squash boats with amazing stuffing!
Spinach and artichoke stuffing
I knew that spaghetti squash would be great with any number of stuffings, but I've been looking for an excuse to use spinach and artichoke dip in a new way. It's commonly used with bread, but it's just too good to not find new ways to eat it.
The dip can be prepared while the squash are roasting to save time. Heat up a tablespoon of olive oil in a large pan or large skillet, then minced garlic and the fresh spinach. Stir until it has wilted.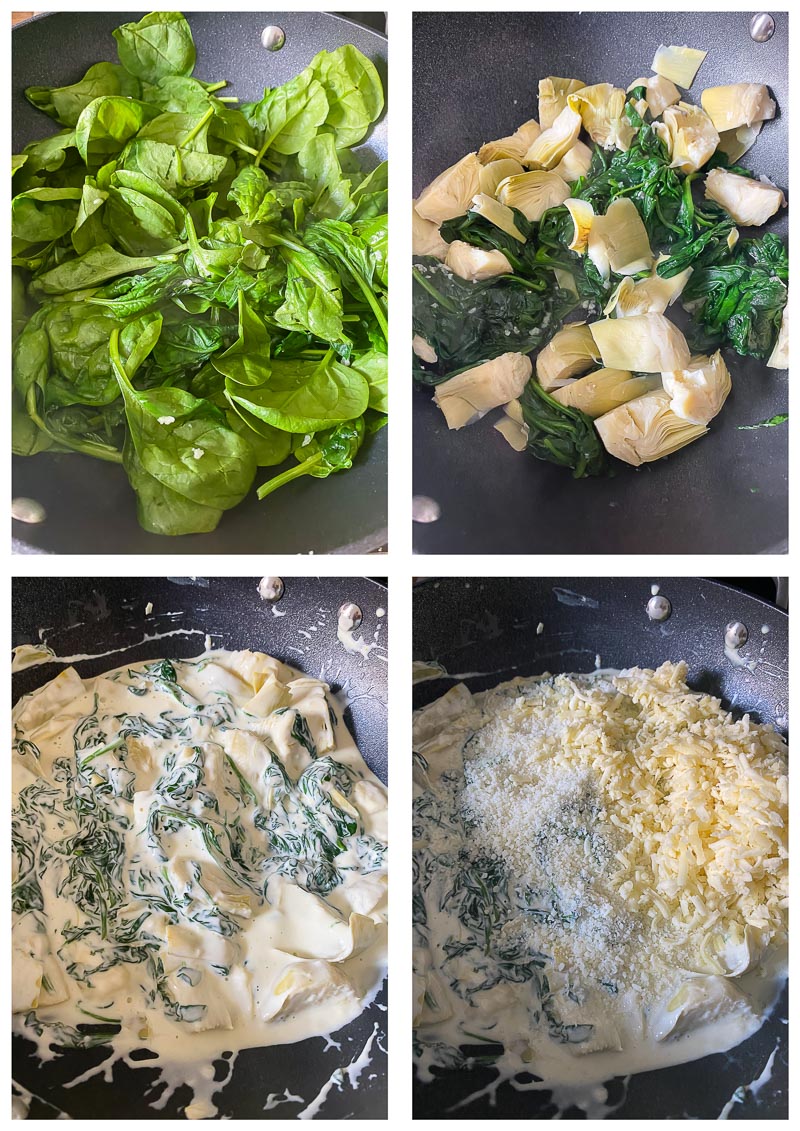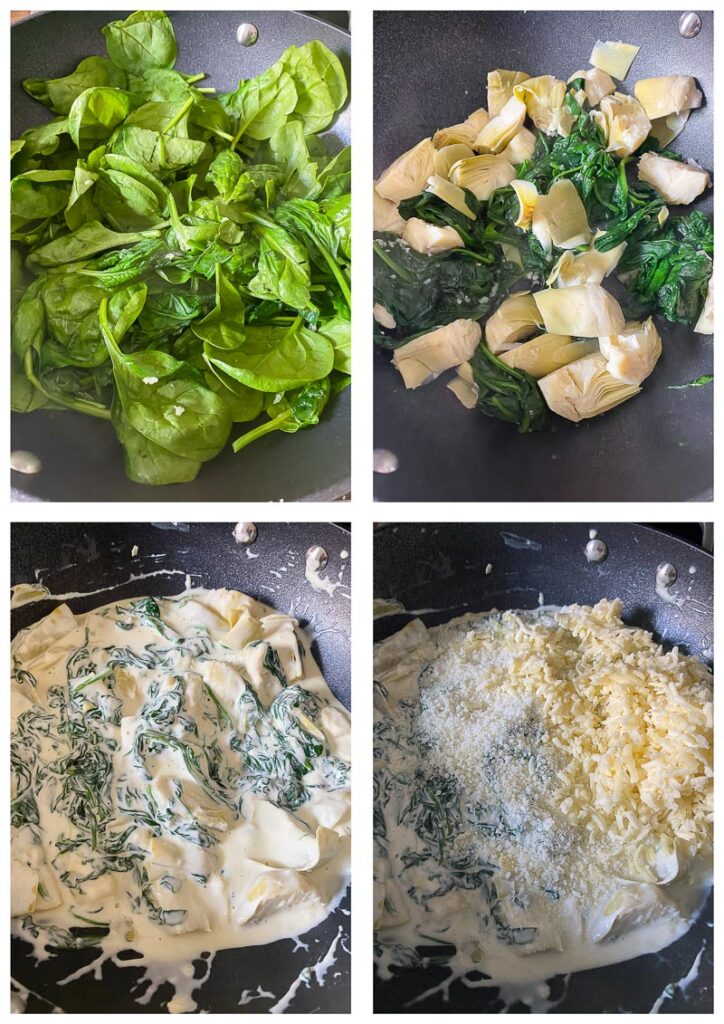 Now add the artichokes, giving then a minute to sauté, and then the cream cheese and let it melt in over low heat. Don't forget to keep stirring.
The pan can be removed from heat, then add the mayonnaise, Parmesan and mozzarella. Make sure to keep some of the grated Parmesan cheese to sprinkle over each squash half.
The stuffing is now good to go and can be split between the squash halves to finish baking. Take a look at the recipe card for full instructions.
The whole process will take a bit more than an hour to finish, most of this is letting the squash roast in the oven. The cooking time you'll need to be present for is pleasantly short.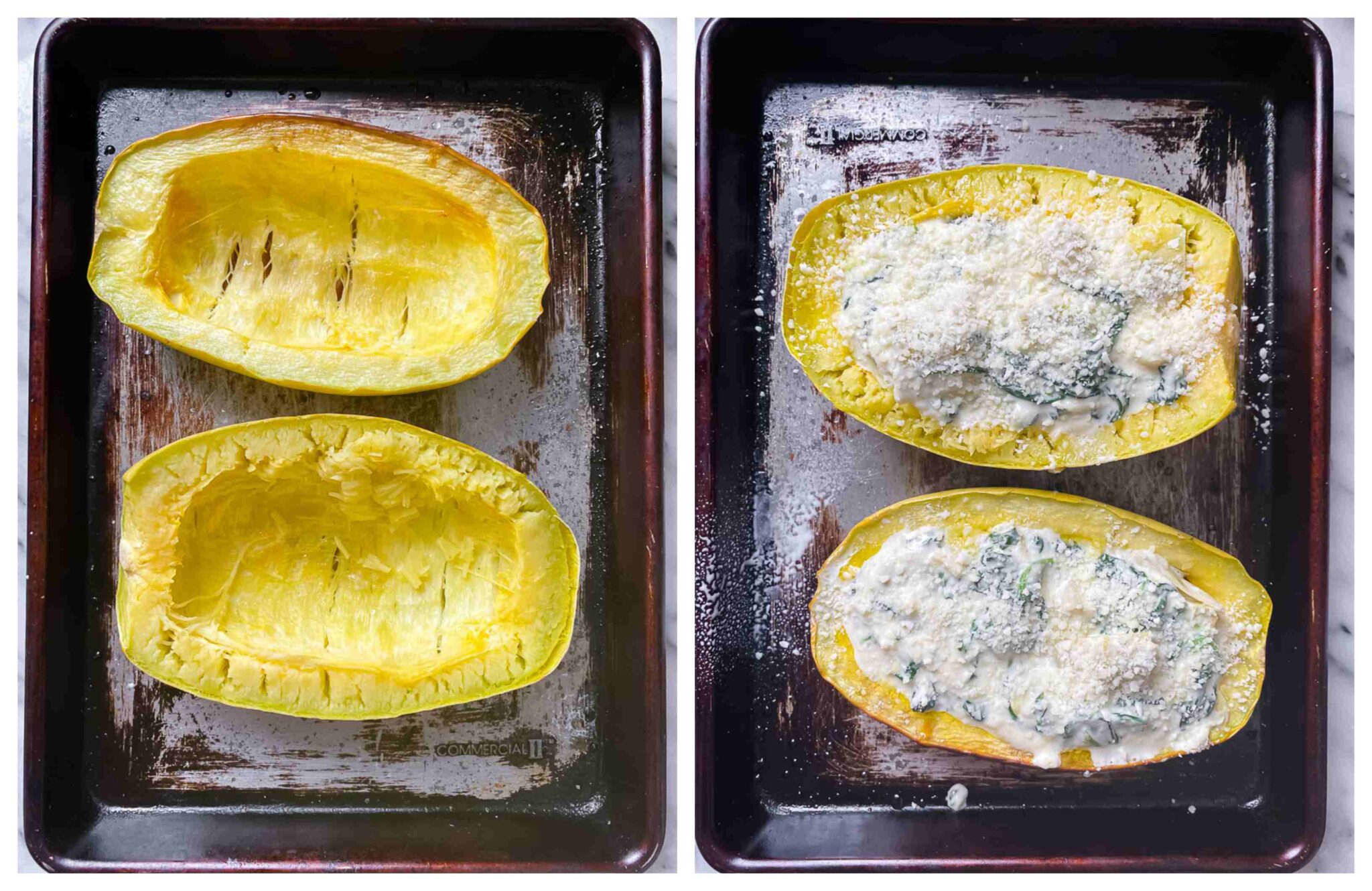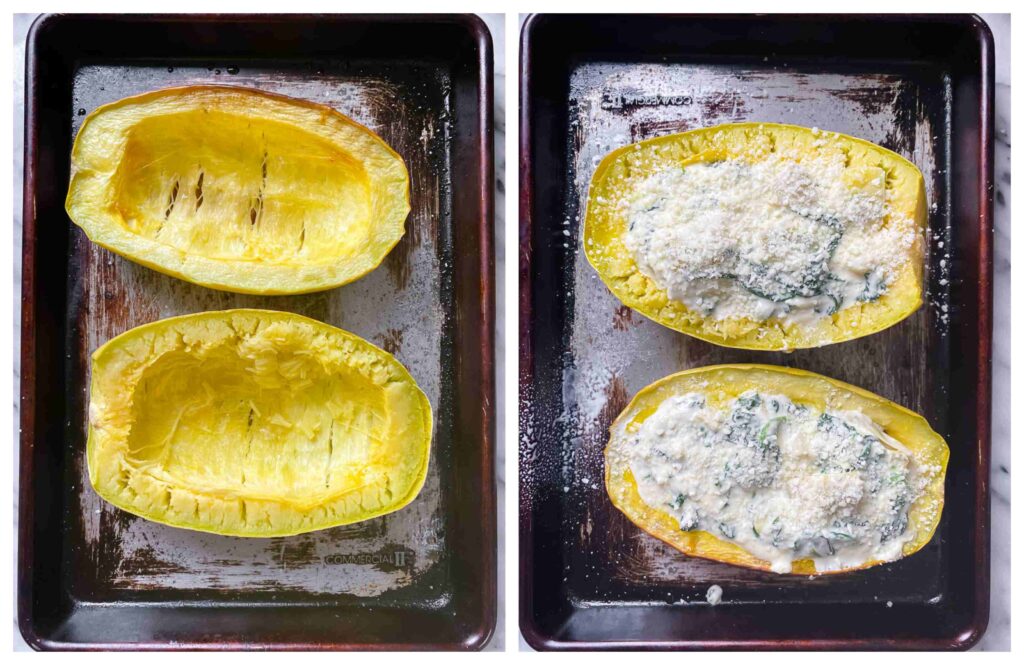 Serving suggestions
The idea behind this recipe was to create a vegetarian main dish to serve at dinner time. It works amazingly in that role, or as a low-carb meal, especially when paired with a hearty salad.
If sticking to a vegetarian diet is not your priority or looking for a hearty meal, stuffed squash is a wonderful side dish to a meaty main. Try it with Braised Short Ribs or Beef Fillet for a spectacular five-star dinner!
Recipe tips and notes
While the recipe works best with spaghetti squash, but if you struggle to find it, try butternut or acorn squash instead.
Spaghetti squash is very hard and can crack when you try to cut it. Make sure you use a sharp knife so it will crack in the way you want it to. First insert the knife in the centre, then press down to cut the squash in half.
It is easy to make this recipe into two portions if you don't mind leftover stuffing. The spinach and artichoke mixture can be stored in an airtight container or wrapped with plastic wrap in a fridge for several days. It can be used stuffed in squash or the next time you get a craving for a fantastic dip.
To make meal prep quicker it is a good idea to roast the spaghetti squash a couple days in advance. Store it in an airtight container and store in the fridge until ready to use.
It is best to buy a block of mozzarella and shred it yourself, rather than purchasing shredded cheese. Pre-shredded mozzarella cheese is coated with an anti-caking agent that keeps the cheese from sticking together, but also stops it from melting properly.
Storage and leftovers
Leftovers can be kept in an airtight container in the fridge for 3-4 days. Reheat in the oven set to 180C/350F for 15-20 minutes or in a microwave.
It can also be frozen for up to 3 months. Let them fully defrost and come to room temperature then reheat in the same way as refrigerated leftovers.
More squash recipes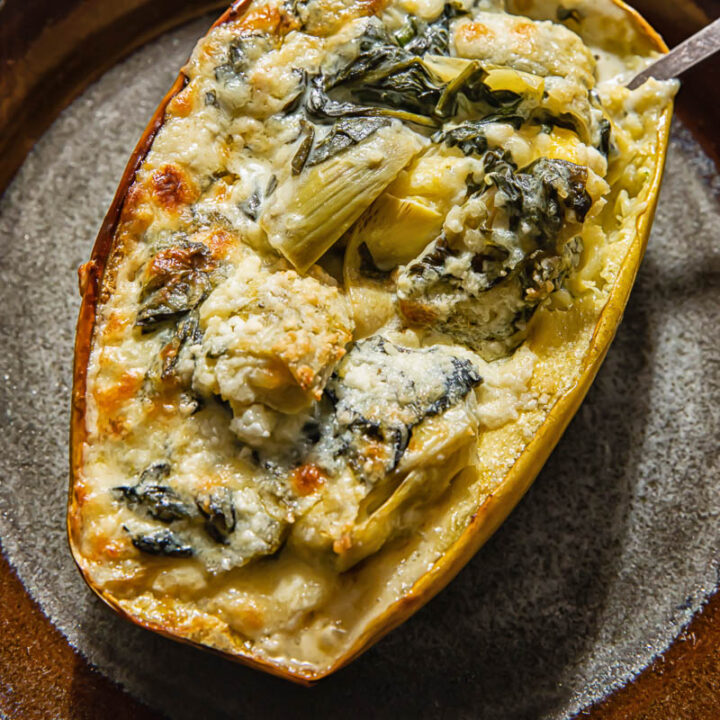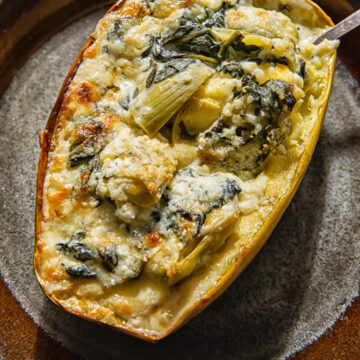 Spinach and Artichoke Stuffed Spaghetti Squash
Sweet spaghetti squash stuffed with savoury spinach and artichoke filling.
Ingredients
2

spaghetti squashes

2

tbsp

olive oil

divided

2

cloves garlic

220

g

/ 7 cups fresh spinach

400

g

/ 14 oz canned artichokes

drained and chopped

250

ml

/ 1 cup cream cheese

full fat

4

tbsp

mayonnaise

50

ml

/ ½ cup grated Parmesan cheese

or vegetarian hard cheese

120

g

/ 1 cup mozzarella

grated
Instructions
Preheat the oven to 200C/400F. Cut the spaghetti squash in half lengthwise and scoop out the seeds. Brush the surface with 1 tbsp of olive oil, season with salt. Place on a baking sheet the cut side up and roast in the preheated oven for 40 minutes.

Meanwhile heat 1 tbsp of the olive oil in a large pan and add the minced garlic, cook briefly for a few seconds, then add the spinach and stir until it's wilted and the liquid has evaporated.

Add the drained and chopped artichokes and sauté for a minute, then bring in the cream cheese and let it melt over low heat while stirring.

Take off the heat and stir in the mayonnaise, grated Parmesan cheese (keep 2 tbsp behind) and mozzarella.

Evenly divide the mixture among 4 squash halves, sprinkle with the remaining Parmesan cheese and bake in the oven for 20-25 minutes or until the filling is bubbly and golden on top.
Nutrition
Calories:
620
kcal
Carbohydrates:
49
g
Protein:
19
g
Fat:
42
g
Saturated Fat:
19
g
Polyunsaturated Fat:
5
g
Monounsaturated Fat:
14
g
Trans Fat:
0.01
g
Cholesterol:
91
mg
Sodium:
1003
mg
Potassium:
950
mg
Fiber:
10
g
Sugar:
18
g
Vitamin A:
6951
IU
Vitamin C:
30
mg
Calcium:
428
mg
Iron:
9
mg