These bold and punchy, strong and beefy Korean-inspired short ribs will have your mouth watering and your fingers tingling in anticipation. Tricky to pronounce, so simple to prepare. The hardest part is waiting out the long process to slow-cooked perfection.
Offset the rich meaty flavours with a light and tangy Korean Carrot Salad or go for a full on spice blast with some kimchi.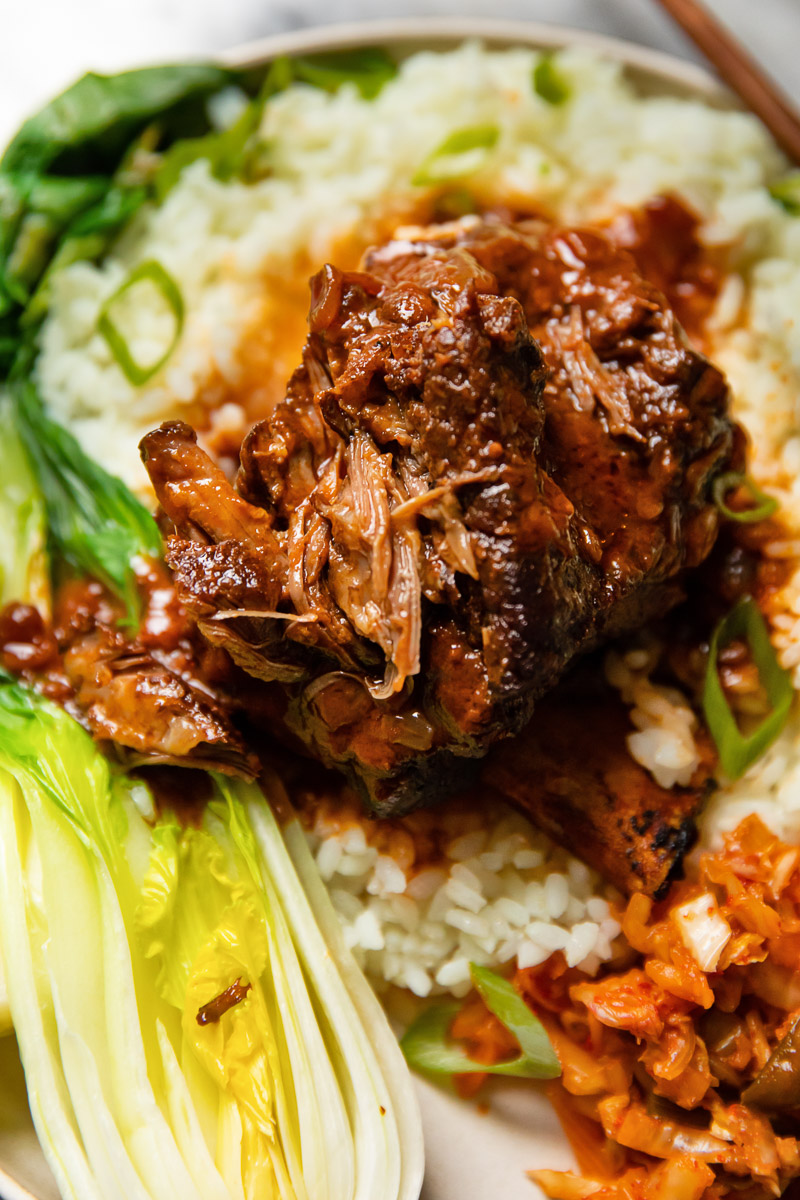 I've long been a lover of Asian food. In the West, we tend to imagine bowls of rice and piles of noodles, with meat as the sidekick, but these Korean short ribs are the true hero. The traditional recipe is usually served at a special occasion; a wedding, a birthday. Or in my case; a homecoming.
My eldest is away doing his first year at university. He's almost the whole length of the country, hours and hours away, and I miss him intensely.
So I chose to make these braised beef short ribs to celebrate his return for the weekend. As the meat cooked and the tantalising aromas filled the house it only served to increase my impatience for him to get home!
And I wasn't the only impatient one. It took all my maternal strength to defend the pot and prevent my husband from giving in to temptation too soon! Slow-cooked short ribs are worth the wait, and so's my boy.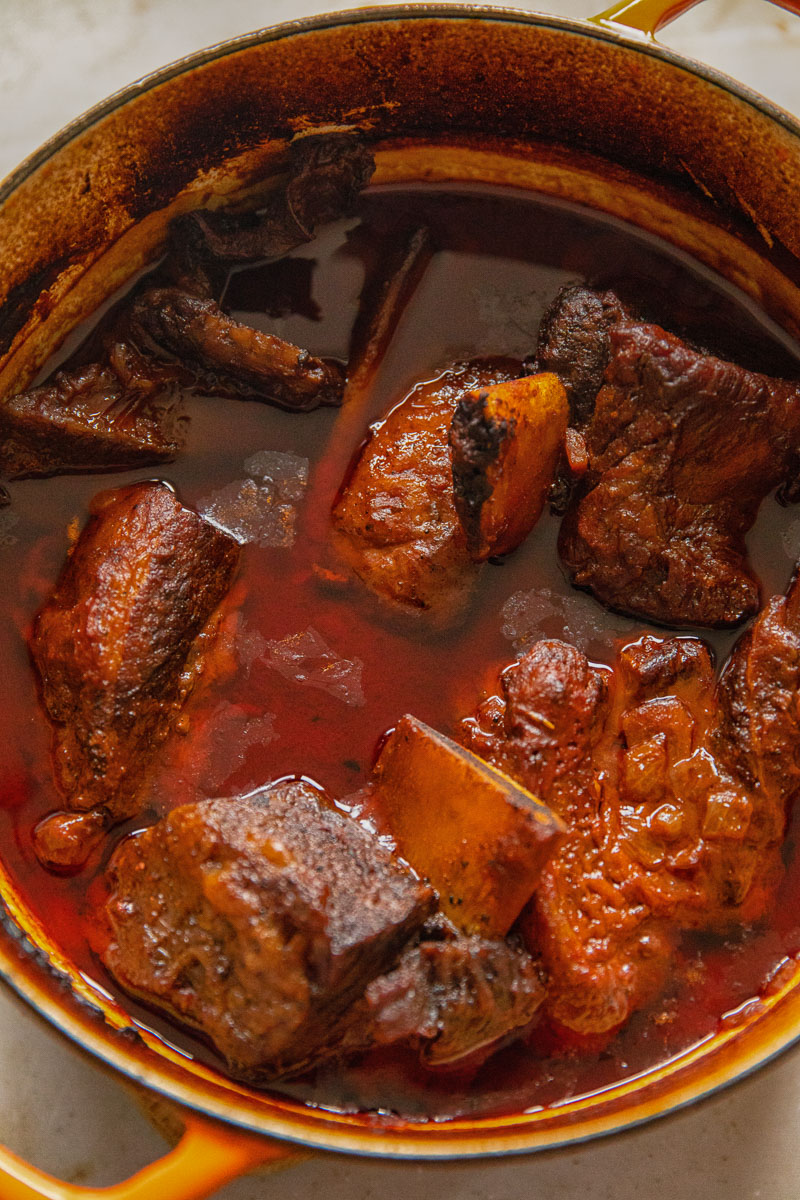 Korean Short Ribs
This recipe is Korean in essence, coming mainly from gochujang paste. Gochu meaning chilli pepper and jang is any Korean fermented bean paste, it's a deep red colour with a fiery kick to it and an underlying sweetness.
In my recipe, I pare back it's potency with tomato passata and red wine for less aggressive, but still indulgent braise.
On-the-bone ribs enhance the unctuous texture on the tongue, that slick melted marrow mouthfeel. So most recipes will call for bone-in short ribs, however, boneless will do.
And they're not called short ribs for nothing. About the length of a thumb and encased in meat, the rib bone should be just sticking out of the end- making for a useful handle when chopsticks getting too taxing.
Short ribs will come with some fat. They're less expensive and less flavoursome than other ribs for that reason, but in my book, that's what makes a great slow-cooking cut.
A traditional Korean recipe will encourage you to strip the excess fat, or even boil it away in aromatic water, but I am a firm believer in fat. It adds a rich flavour, a silken texture and is just more sumptuous. Why waste it?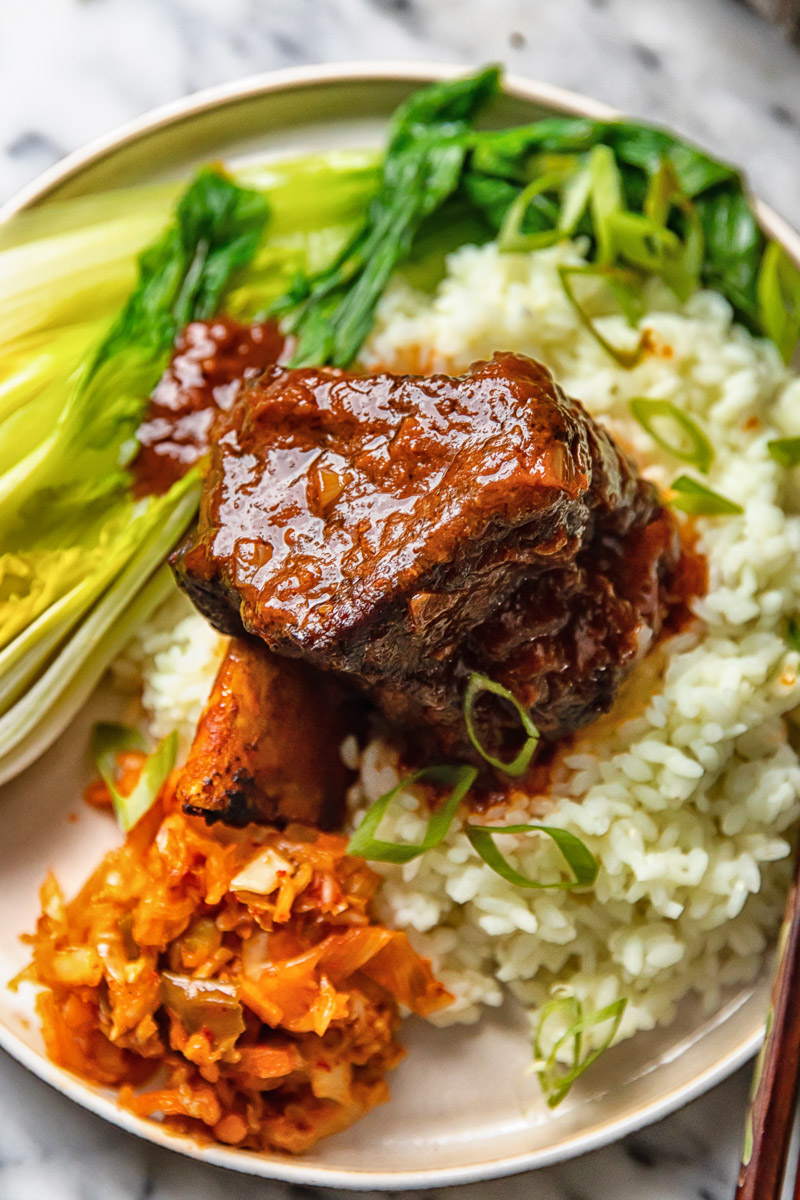 Recipe tips and notes
Ribs come in all sizes. Most recipes allow for one rib per person, and each rib weighing about 200g or just under half a pound. In the UK, they tend to be sold quite large, so you might want to take the meat off the bone and split them in two.

I like to render the fat through searing and then use it to fry the onions. It will spit all over your hob and work tops, but it's a small price for a more robust flavour. Make sure you wear an apron!

I use red wine in my braising liquid, but if that's not to your taste, you can substitute with beef stock instead. Try one cup wine to one cup stock, or a proportion of your choosing.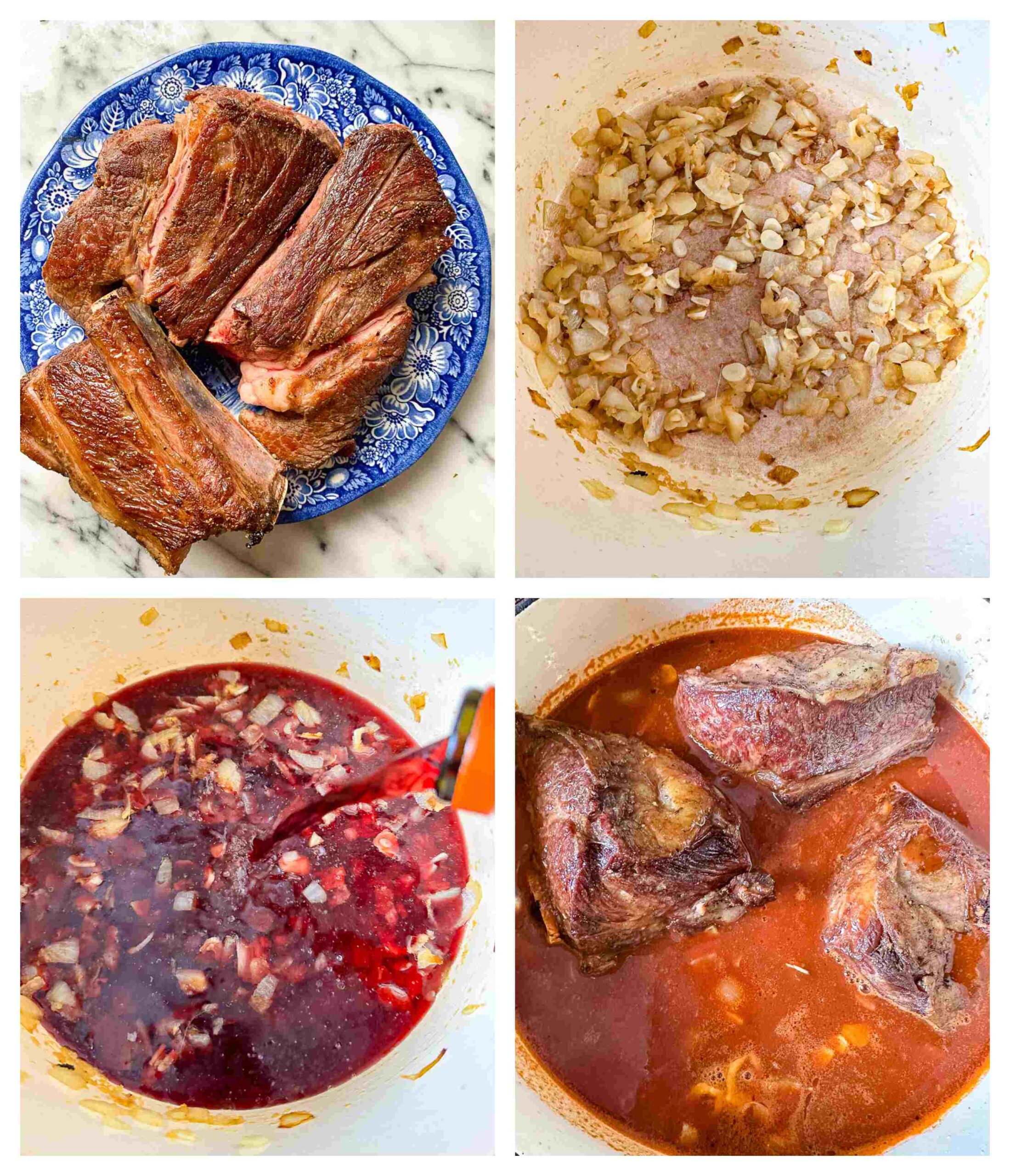 A Dutch oven, or cast iron pot, are the closest modern relatives to the original ancient cooking pots. Using one will gently persuade the meat to melt off the bone and the flavours to meld deliciously. You can't argue with years of history.

Sometimes it's just not possible to pot-sit for 2.5 hours! If you have a slow-cooker, follow the recipe and set to cook for 8 hours on low.

Gochujang already has a heavy salt content, so I've gone for low salt soy sauce to keep the sodium level down and the flavour in balance.

It would be difficult to replicate the unique funk of gochujang, but at a push you could mix Sriracha with a tablespoon of honey or sugar as a sweet-spicy alternative.
Storage and leftovers
This is a dish that will intensify over night and will come back punchier than ever in the second round. If you have any leftovers, cover super tightly so other foods in the fridge aren't permeated, and store for 2-3 days.
The ribs also freeze beautifully. Just pop them in an airtight container and freeze up to 2 months. Defrost in a refrigerator overnight.
To reheat, put back on the hob with a splash of water and cook over a medium heat until hot all the way through.
More Slow Cooked Beef Recipes to Try: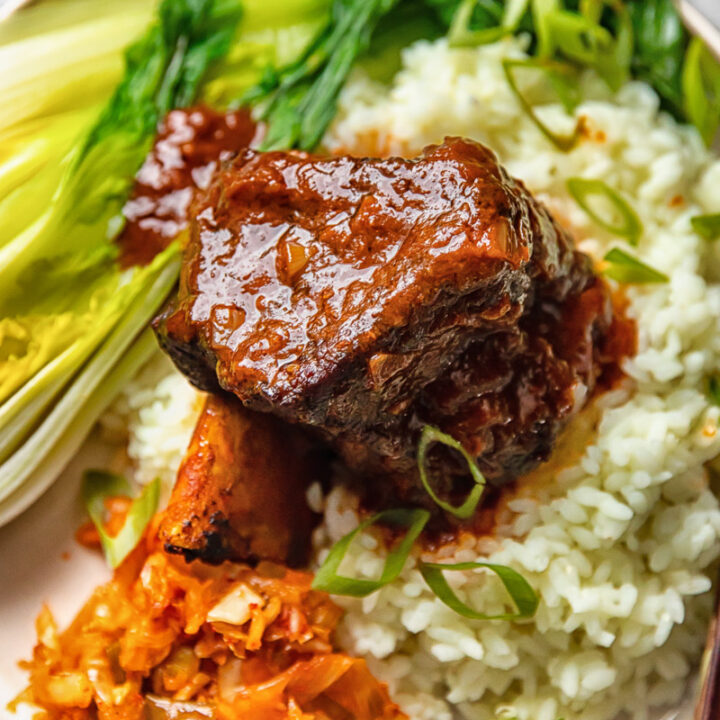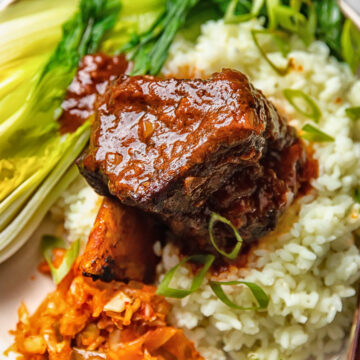 Gochujang Short Ribs
This bold and punchy, strong and beefy Korean-inspired short ribs will have your mouth watering and your fingers tingling in anticipation.
Ingredients
5lbs/4

beef short ribs

large

½

tsp

salt

1

tbsp

vegetable oil

1

onion

2-3

cloves

garlic

1

tbsp

grated ginger

2

tbsp

less salt soy sauce

125ml/1/2 cup

tomato passata/crushed tomatoes

500ml/2 cups

dry red wine

Merlot, Cabernet Sauvignon, etc.

125ml/1/2 cup

water

2

tbsp

Gochujang paste
Instructions
Preheat the oven to 180C/350F. Salt and pepper the short ribs. Heat the oil in a large and deep Dutch Oven, then brown the ribs all over on high heat. Remove to a plate.

To the same pot, add the diced onion and cook for 5 minutes over low heat, then add sliced garlic and grated ginger, cook for 30 seconds, add the less salt soy sauce, tomato passata or crushed tomatoes, the red wine, water and the gochujang paste. Mix everything to combine. Return the short ribs back to the Dutch oven, they will be partially submerged in the liquid, cover with a lid and cook for 2.5 hours or until very tender and easily come off the bones.

Alternatively, you can cook these short ribs in a slow cooker for 8 hours on LOW. Follow the recipe as written until the last part of putting the meat in the oven and use your crock pot instead.
Nutrition
Calories:
573
kcal
Carbohydrates:
8
g
Protein:
54
g
Fat:
28
g
Saturated Fat:
12
g
Polyunsaturated Fat:
1
g
Monounsaturated Fat:
12
g
Cholesterol:
163
mg
Sodium:
596
mg
Potassium:
1122
mg
Fiber:
1
g
Sugar:
2
g
Vitamin A:
57
IU
Vitamin C:
5
mg
Calcium:
39
mg
Iron:
6
mg