This colourful pasta dish boasts all the flavours of the fall. Roasted squash, pancetta and Swiss chard add much flavour and vibrancy to this penne recipe!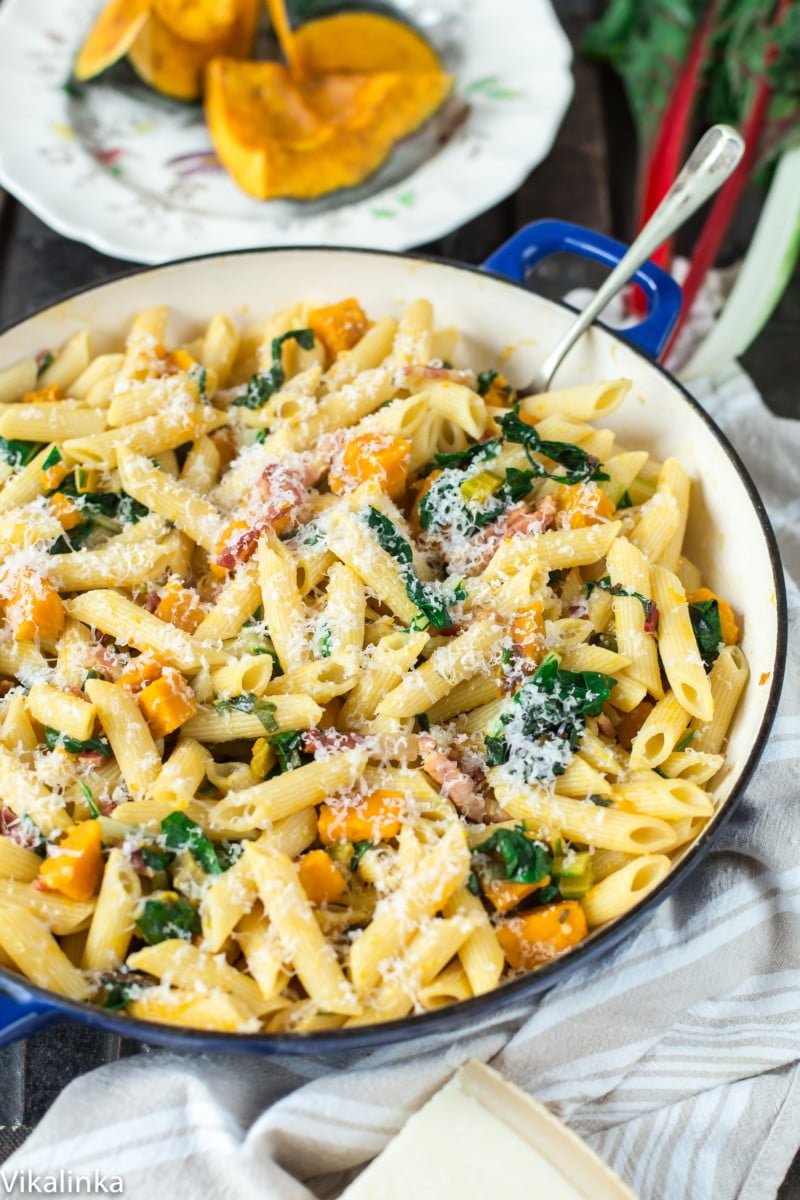 (This post was created in partnership with Vetta pasta)
I have always wanted to eat more seasonally but it seemed like a lot of work, like too much thought had to be put into our daily meals for it to happen and I felt like my brain activity was already capped with little kids running around.
Recently I have been noticing that seasonal eating is not that difficult and it's happened a lot more naturally since we moved to England. It seems that shops here are a lot more in tune with the farmers.
I often just walk in and pick the most affordable and best looking produce, no special research necessary.
This roasted squash, pancetta and swiss chard penne is the most autumnal pasta ever! My whole family absolutely loved it and I am sure so will yours!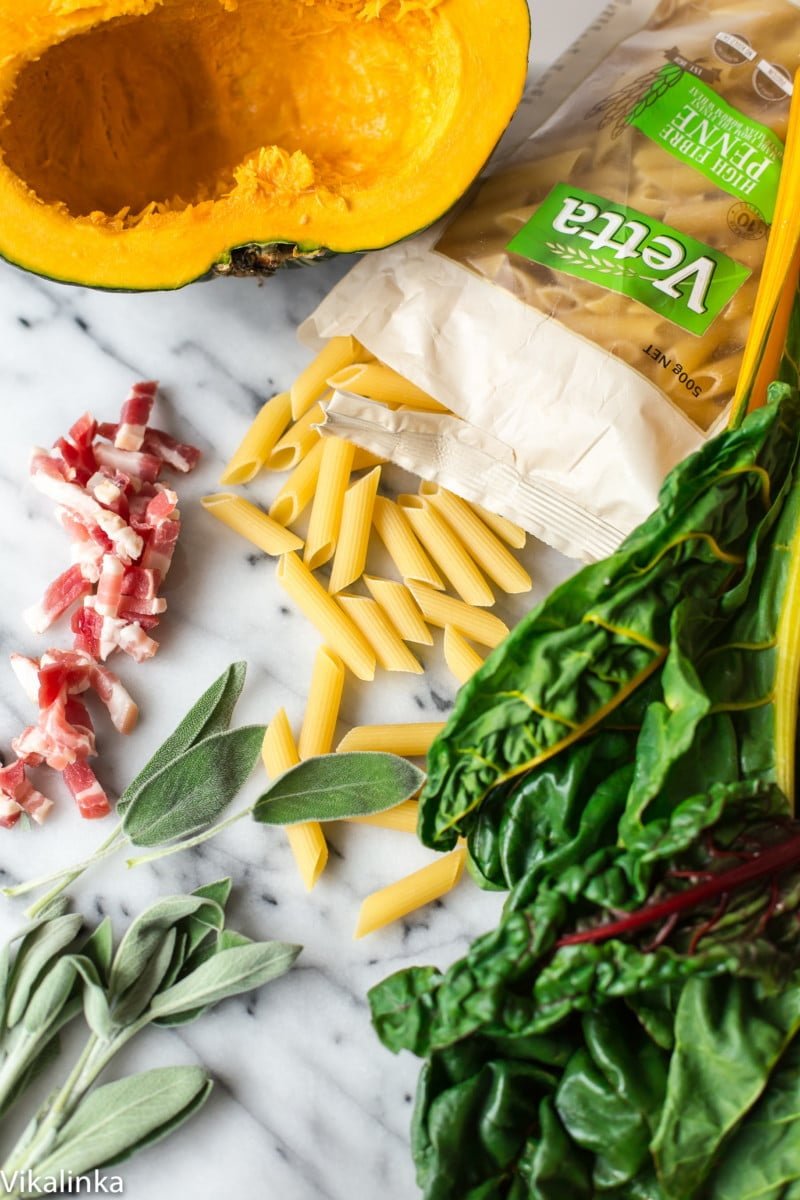 How can you not fall in love with all the gorgeous colours and amazing flavours! I am seriously excited to share this recipe with you because I think that roasted squash is something very, very special and pairs exceptionally well with sage.
Throw a small amount of pancetta or bacon in the mix and it will take your penne to the next level. Then a few handfuls of chopped swiss chard for a bit of texture and vibrant green colour.
I've used Vetta High Fibre Penne for this recipe, a pasta brand I've tried before and loved!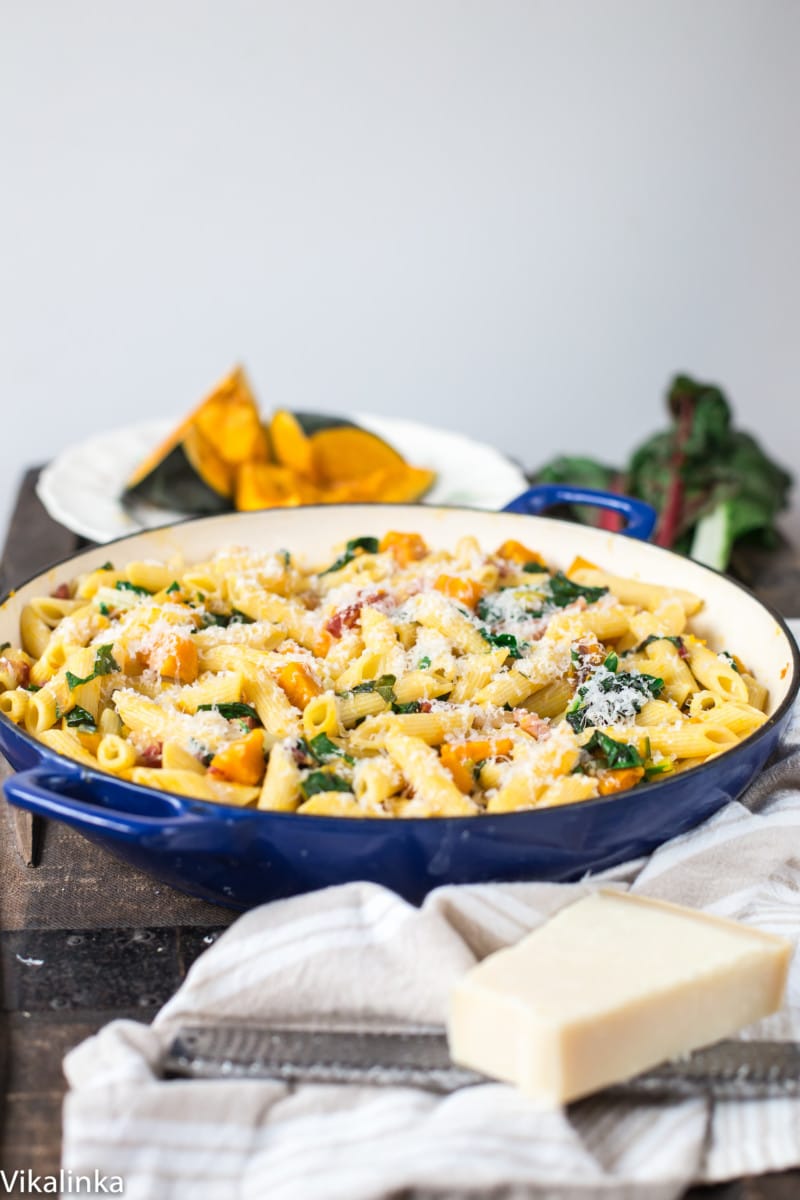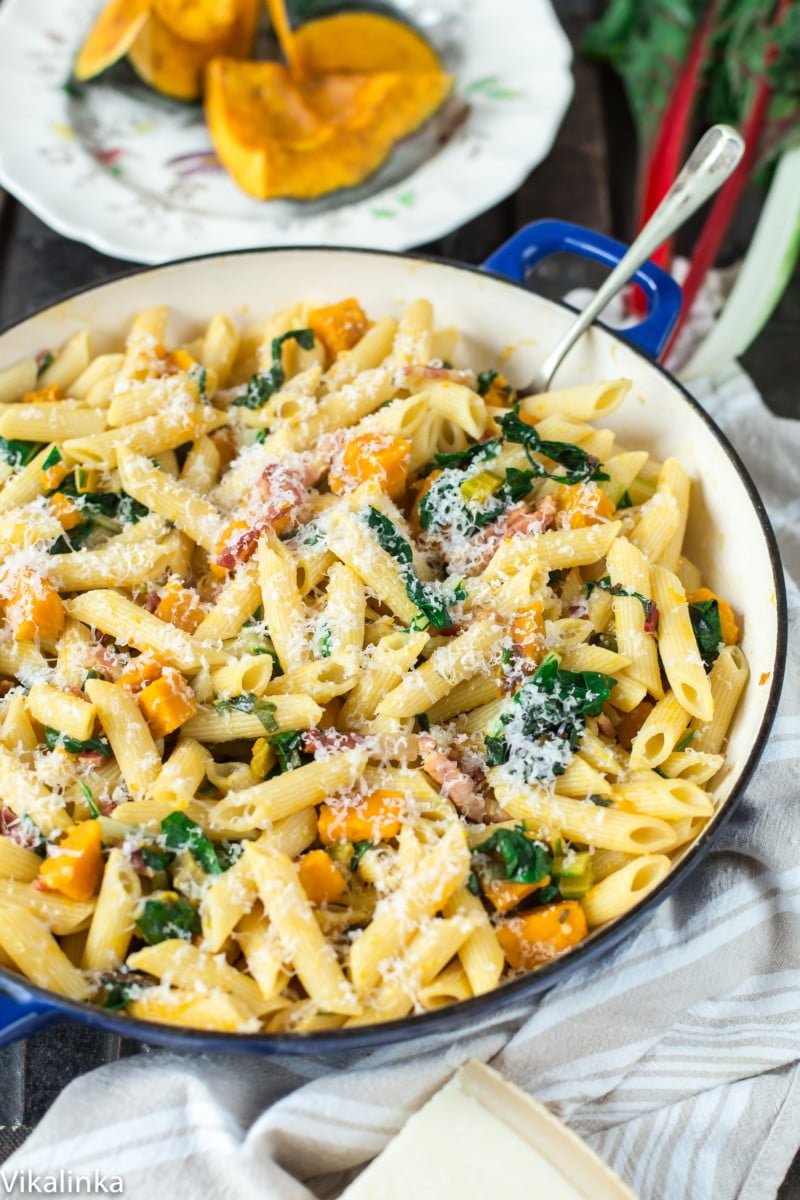 Ingredients
400-500

g

squash

any type

2

tbsp

olive oil

divided

50

g

pancetta

cubed

4

leaves

of fresh sage

chopped

4-5

leaf stalks of Swiss Chard

chopped

1

lbs

of Vetta High Fibre Penne

salt

pepper

2-3

tbsp

Parmesan cheese

freshly grated
Instructions
Preheat the oven to 220C/450F.

Half the squash and and scoop out seeds, cut into quarters. Put the squash in the roasting pan and drizzle with 1 tbsp of olive oil, sprinkle with salt and pepper.

Roast in the oven for 15-20 minutes until it could be easily pierced with a knife.

Let it cool until it is safe to handle.

Meanwhile cook penne in a large pot of salted boiling water according to package directions.

When squash is cool enough to handle, peel it and cut into 1" dice.

Heat 1 tbsp of olive oil in a large frying pan and cook pancetta over medium heat for 5-7 minutes. (It will take less time if you are cooking sliced pancetta.)

Add cubed roasted squash, swiss chard and sage and cook while stirring for 2-3 minutes longer.

When the pasta is ready drain and reserve 1/2 cup of water it was cooked in.

Mix in hot pasta, Parmesan cheese and a splash of reserved water to loosen the pasta, stir gently.

Taste and add salt and pepper to taste.