Pasta tossed with quickly roasted cherry tomatoes with garlic and basil. Serve it topped with toasted pine nuts and a generous sprinkling of Parmesan cheese. Homemade roasted tomato pasta sauce done in 15 minutes! Fresh and scrumptious!
Bake a loaf of crusty bread for dipping into olive oil and Balsamic vinegar for a delicious and simple dinner. Or make my Chicken Marsala to serve alongside this pasta if a vegetarian fare is not your thing.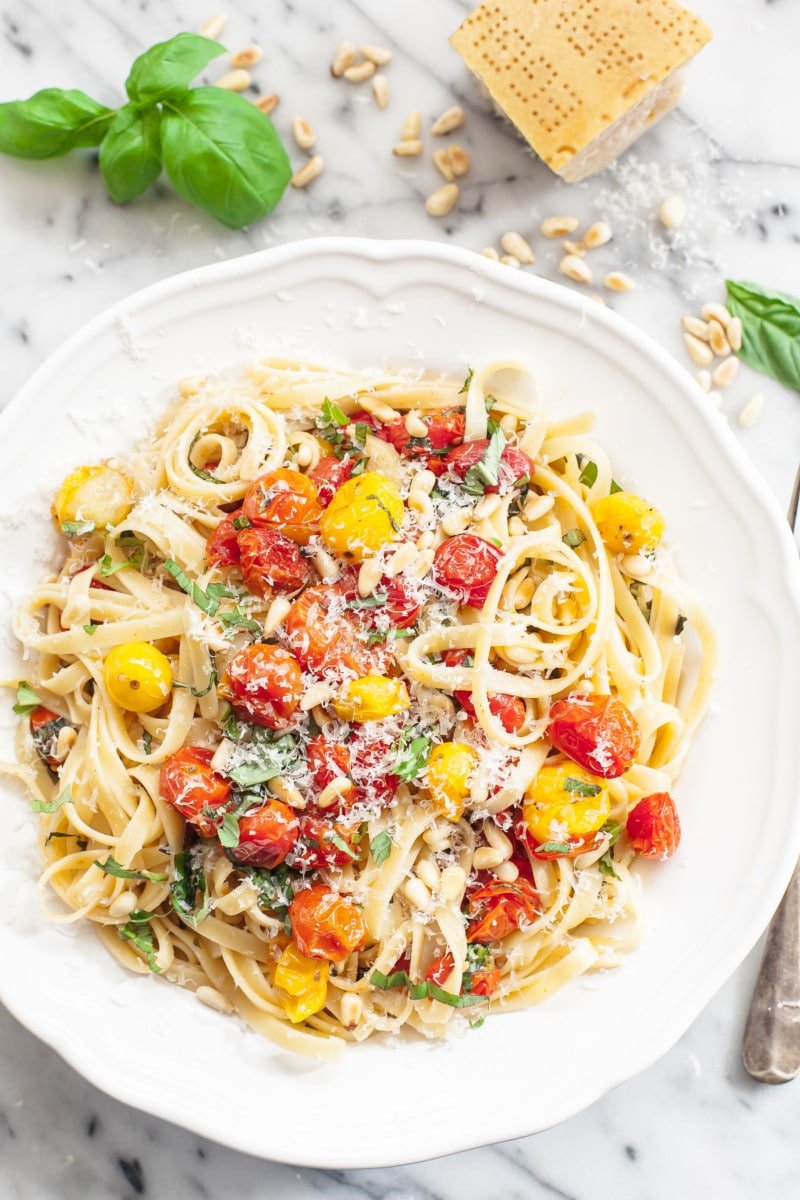 Some Italian pasta sauces take hours to prepare like this Bolognese sauce. The longer and the slower you cook it the better it will be. But others take minutes and they taste just as delicious!
For this quick and fresh pasta sauce I decided to marry the flavours of sweet and plump cherry tomatoes with punchy garlic and fragrant fresh basil although dried basil can be used.
The result is a chunky sauce that is light, fresh and packs a lot of flavour.
How to make roasted tomato pasta sauce
The process couldn't be easier and only takes about 10-15 minutes in the oven. Simply spread cherry tomatoes on a large rimmed baking pan, season with salt and drizzle with olive oil and smashed garlic.
Roast in the oven at 220C/450F until the skins burst and tomatoes release their juices but remain whole. Take out of the oven and combine with freshly sliced basil.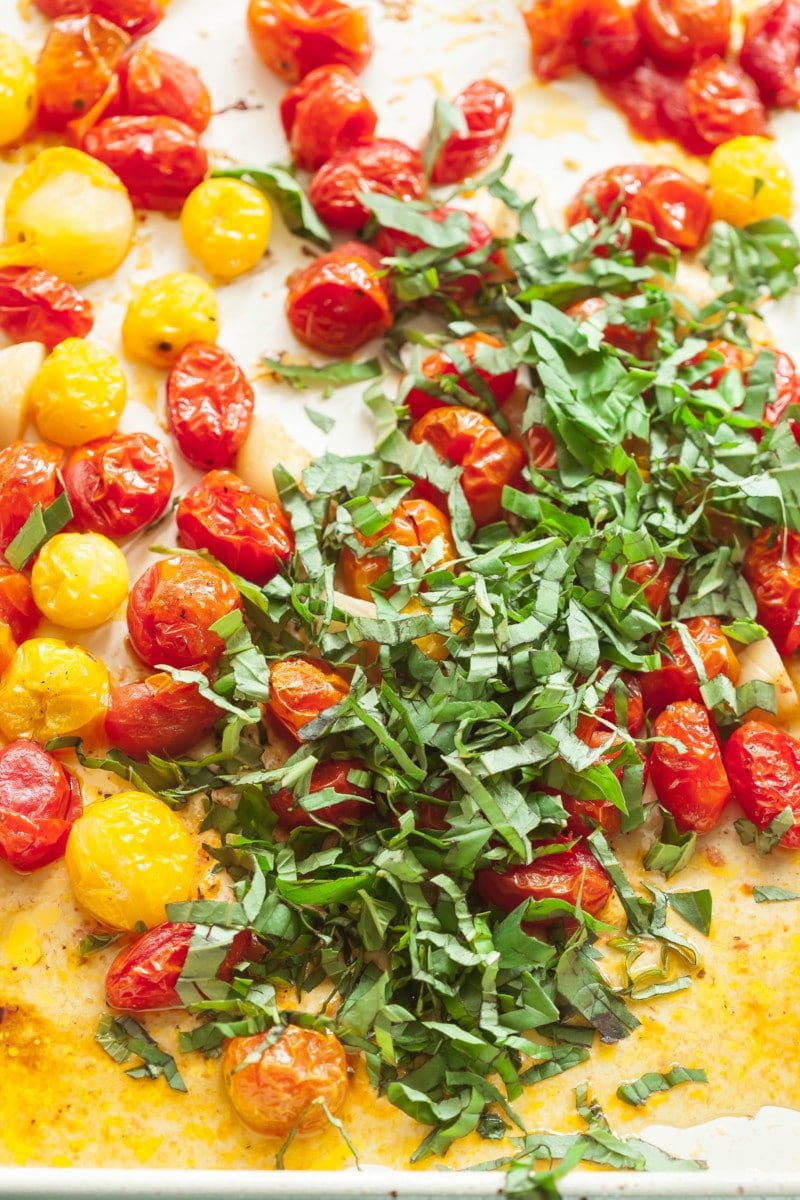 Julia's Tips for tomato basil sauce
First of all, I recommend using cherry tomatoes as they are so much sweeter than regular tomatoes when out of season. Also if you have them in different colours, use them! Yellow, red, orange cherry tomatoes will bring slightly different flavour and a variety to your sauce.
Cherry tomatoes also have thinner skins and are more pleasant to bite into when roasted. The flavour of this sauce depends on the quality of ingredients and their freshness. Use fresh garlic instead of jarred stuff, you will be amazed at the aroma!
Fresh basil is recommended but could be substituted with 1 tsp of dried basil.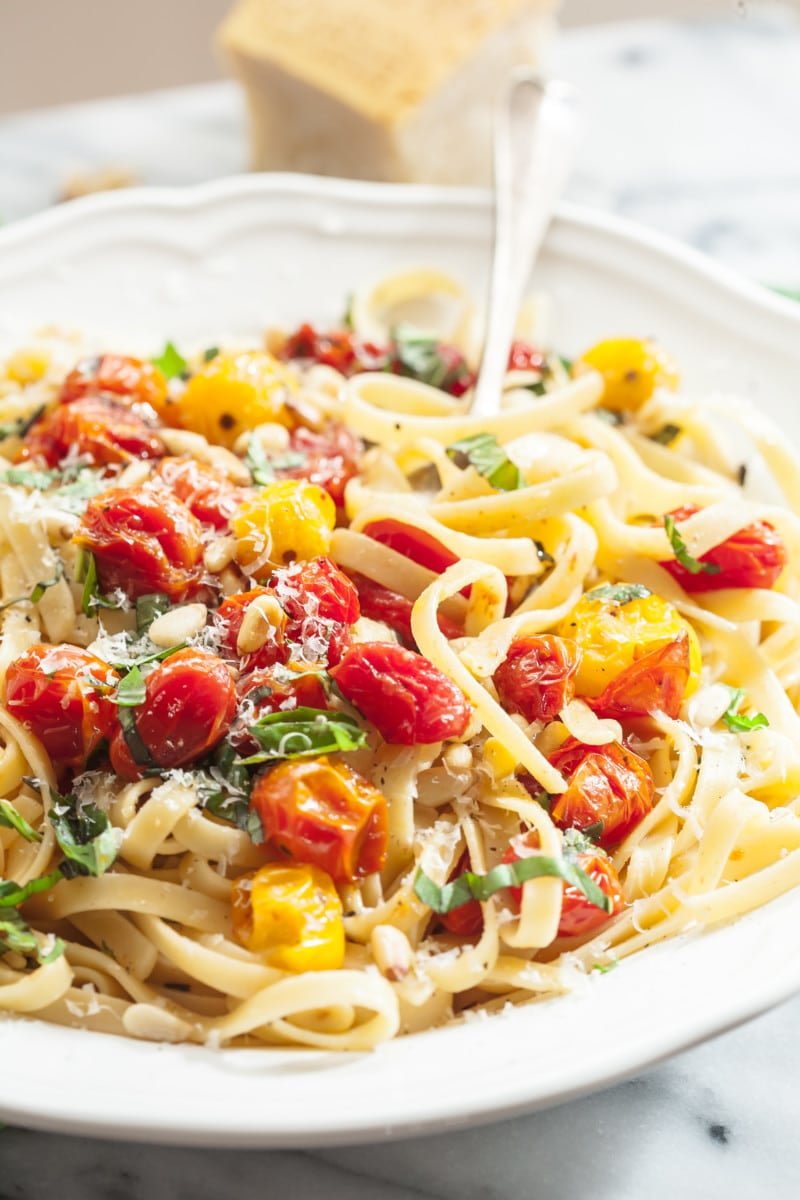 My last piece of advice is to toss your pasta with the sauce instead of simply adding it to plain pasta. And do it directly in the roasting pan.
This way you won't lose any precious tomato juices that developed in the process of roasting. They all contribute to the overall flavour.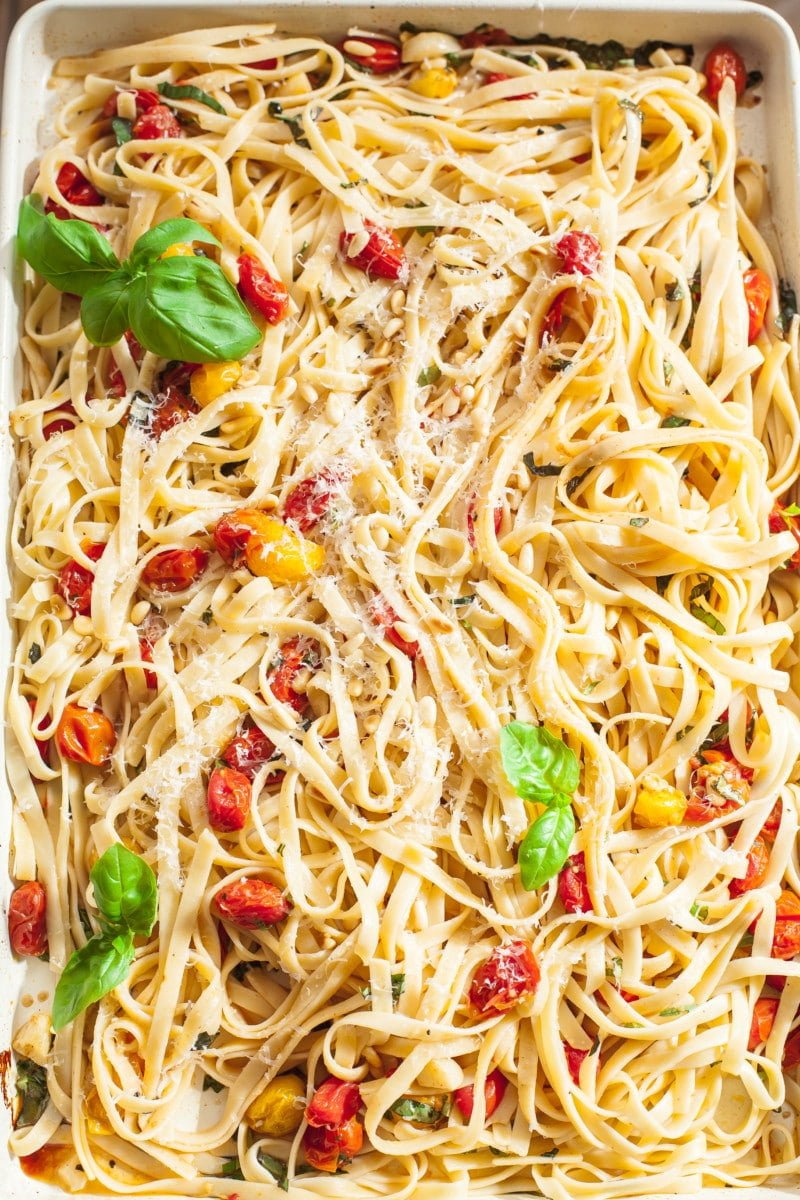 Finishing touches and serving suggestions
Serve your cherry tomato and basil pasta topped with toasted pine nuts and grated Parmesan cheese. Fresh Parmesan cheese will add more flavour and toasted pine nuts will contribute a nice crunch.
Substitutions
You can also use walnuts or hazelnuts if pine nuts are not available.
If you are not able to find cherry tomatoes, use this recipe for Tomato Basil Sauce with canned tomatoes.
This recipe was originally published in 10/2015. Updated with new text and republished in 03/2020.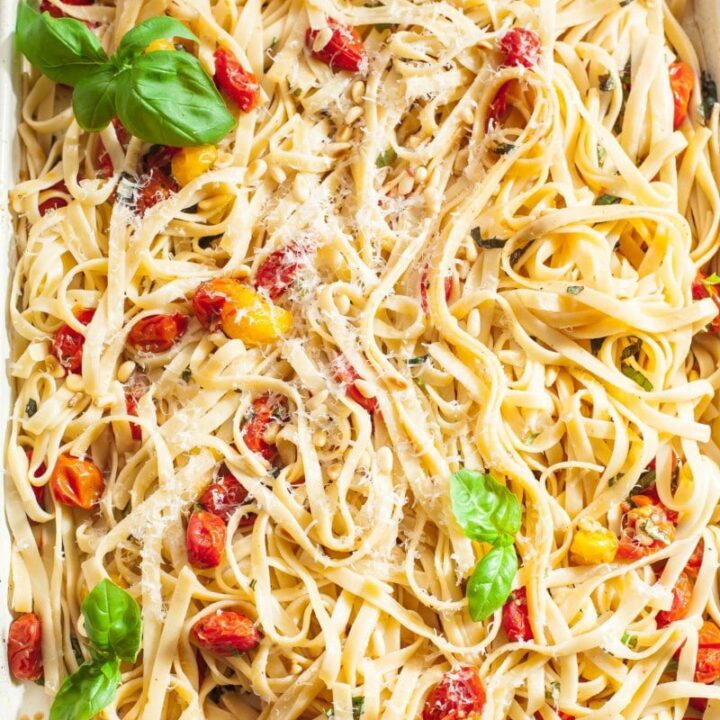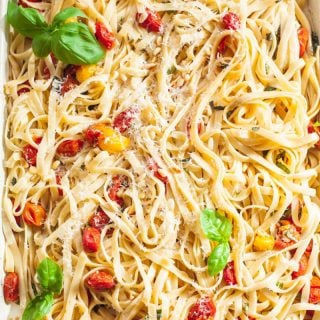 Quick Roasted Cherry Tomato and Basil Fettuccine
Pasta tossed with quickly roasted cherry tomatoes with garlic and basil.
Ingredients
1

lbs

red and yellow cherry tomatoes

6

cloves

of garlic

smashed

2

tbsp

extra virgin olive oil

a pinch of salt and pepper

6-8

leaves

fresh basil or 1 tsp dried basil

chopped

1

lbs

Fettuccine or any other pasta

2

tbsp

pine nuts

2

tbsp

Parmesan cheese

freshly grated
Instructions
Preheat the oven to 220C/450F. Toss cherry tomatoes with olive oil, smashed garlic, salt and pepper and arrange in a shallow roasting pan or a rimmed baking sheet. Roast in the oven for 10-15 minutes until tomatoes burst and release their juice but still hold their shape.

While tomatoes are roasting cook pasta in a pot of salted boiling water according to package instructions.

Toast pine nuts in a dry frying pan over medium heat for 2 minutes until they turn slightly golden and fragrant.

Take roasted tomatoes out of the oven and add basil to the pan. Drain pasta while reserving ½ cup of starchy water from the pot.

Add hot pasta to the same roasting pan with tomatoes, garlic and basil and toss lightly making sure not to smash all tomatoes. Add a splash of reserved starchy water so all pasta is coated with sauce. Add more salt if necessary.

Serve sprinkled with some pine nuts and freshly grated parmesan cheese.
Nutrition
Calories:
207
kcal
Carbohydrates:
32
g
Protein:
7
g
Fat:
6
g
Saturated Fat:
1
g
Cholesterol:
35
mg
Sodium:
240
mg
Potassium:
208
mg
Fiber:
2
g
Sugar:
2
g
Vitamin A:
249
IU
Vitamin C:
10
mg
Calcium:
33
mg
Iron:
1
mg