This decadent truffle risotto with wild mushrooms is the very essence of a romantic walk through rain-soaked woods. A labour of love date-night dish that should only be shared with someone worthy. And who likes truffles.
If one truffle recipe just isn't enough, or your more of a pasta person, try my creamy tagliatelle with bacon, mushrooms and truffle oil.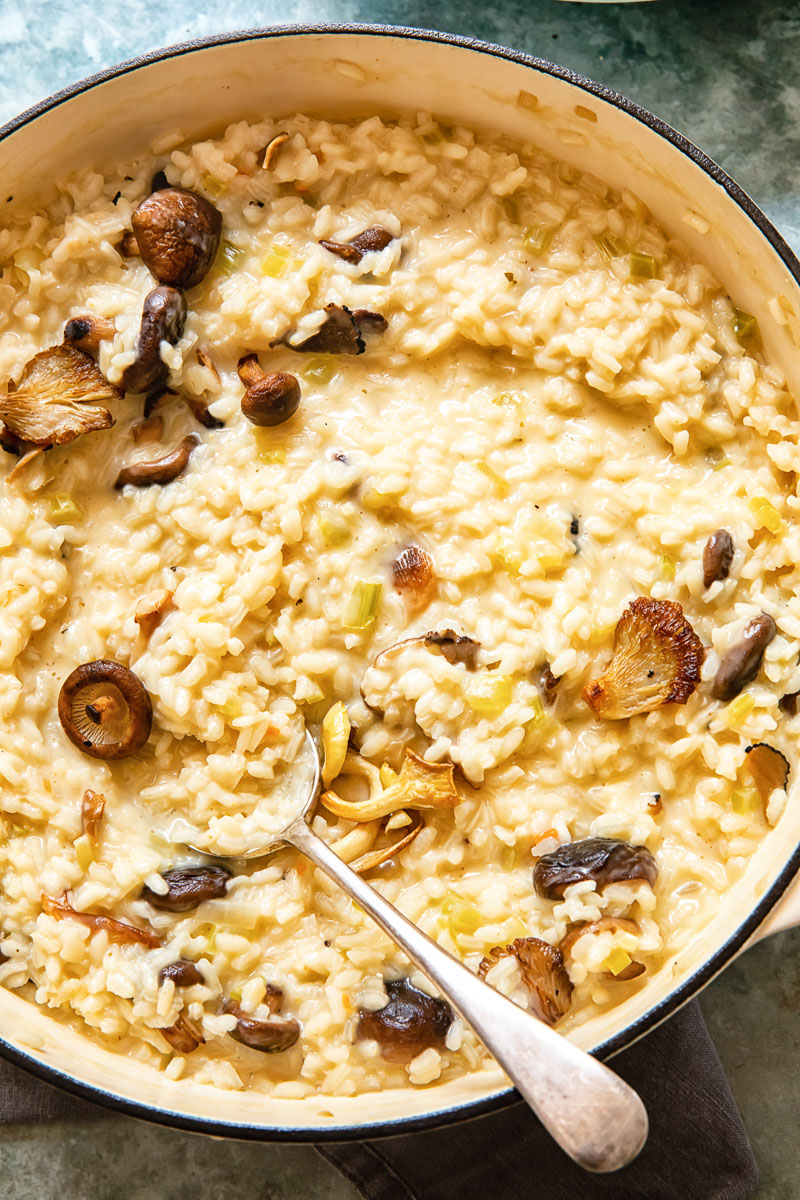 Truffle mushroom risotto
This truly special black truffle risotto is brimming with indulgence. The heady fragrance of truffle swirled through pearly pale risotto studded with fresh and earthy wild mushrooms.
And it's no secret that risotto is a painstaking meal to prepare. So what better way to show your devotion than with a creamy, steamy bowlful?
What rice to use
It might be tempting to reach for the rice in your cupboard, but when you're working with luxury ingredients like truffles and wild mushrooms, why take the risk?
A typical long grain rice like basmati or jasmine will not yield a creamy consistency but a mushy mushroom porridge, so it's worth shopping for a decent risotto rice.
Arborio rice is the most common. Its short grains absorb liquid and exude an oozy sauce thanks to the starch content. Carnaroli is less familiar but said to be higher quality. Its plumper grains have a higher starch content making for an even richer, creamier texture.
Whichever you choose, do not wash your risotto rice. The starch is the secret to the sleek sauce.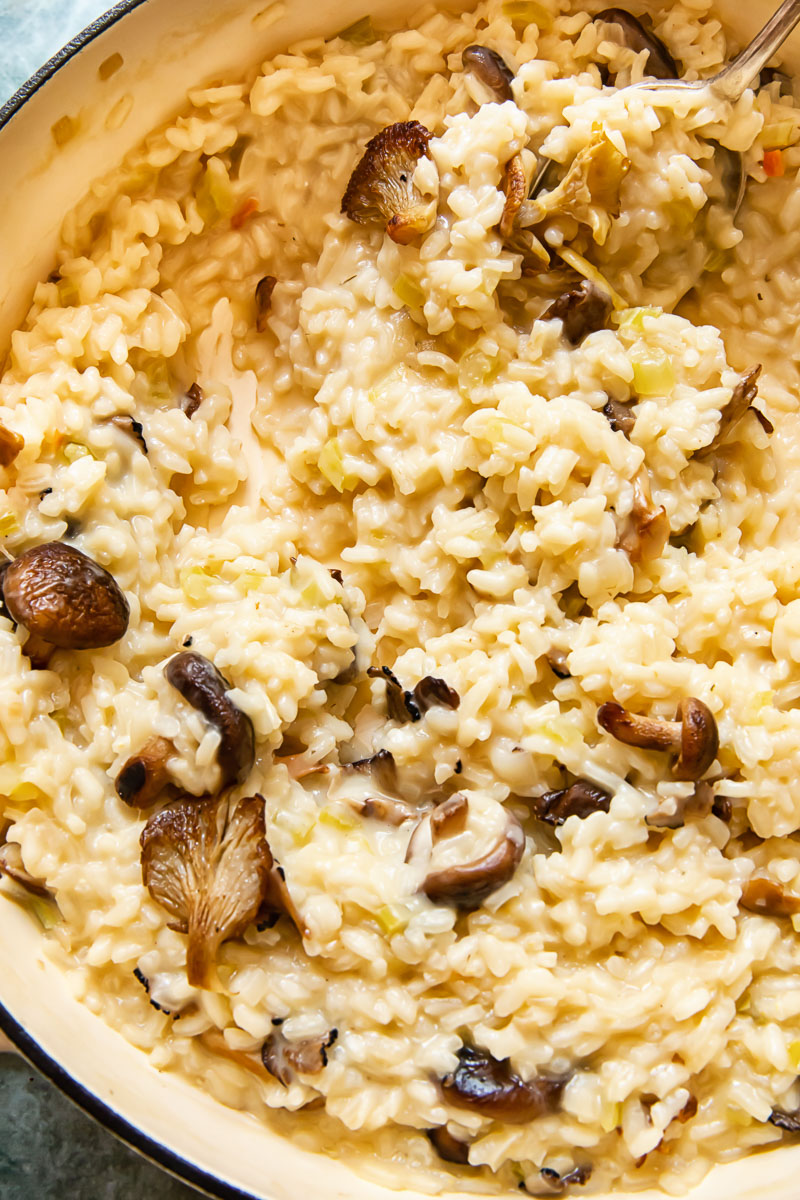 What truffles to buy
If this isn't your first truffle recipe rodeo, you might already have an idea of what to look for. If you're in the woods on this, let me guide you out.
Truffles tend to be black or white. White are prohibitively expensive and rare, so I use black. They are easily accessible and still offer that distinguishable aroma and sense of opulence. Essentially, truffles are sold in three forms:
Fresh truffles. Unsurprisingly, these are the top of the range and the highest price category. If you splurge, take care of your remaining truffles! It's recommended you wrap them in kitchen paper and then refrigerate them in an airtight jar. They should be consumed within 4-5 days – and that's a lot of truffle recipes in a short time frame!

Whole preserved truffles. These ones suit me. They are reliably truffley without the extreme expense of fresh. They'll last up to two weeks in the fridge once opened, so you can get a few

truffled egg soldier

breakfasts out of them at least!

Truffle flavoured oil or butter. Approach with caution. Check the label for 'real truffle', or examine the contents for actual pieces. Some of these products are flavoured synthetically, which makes them more affordable, but less appetising.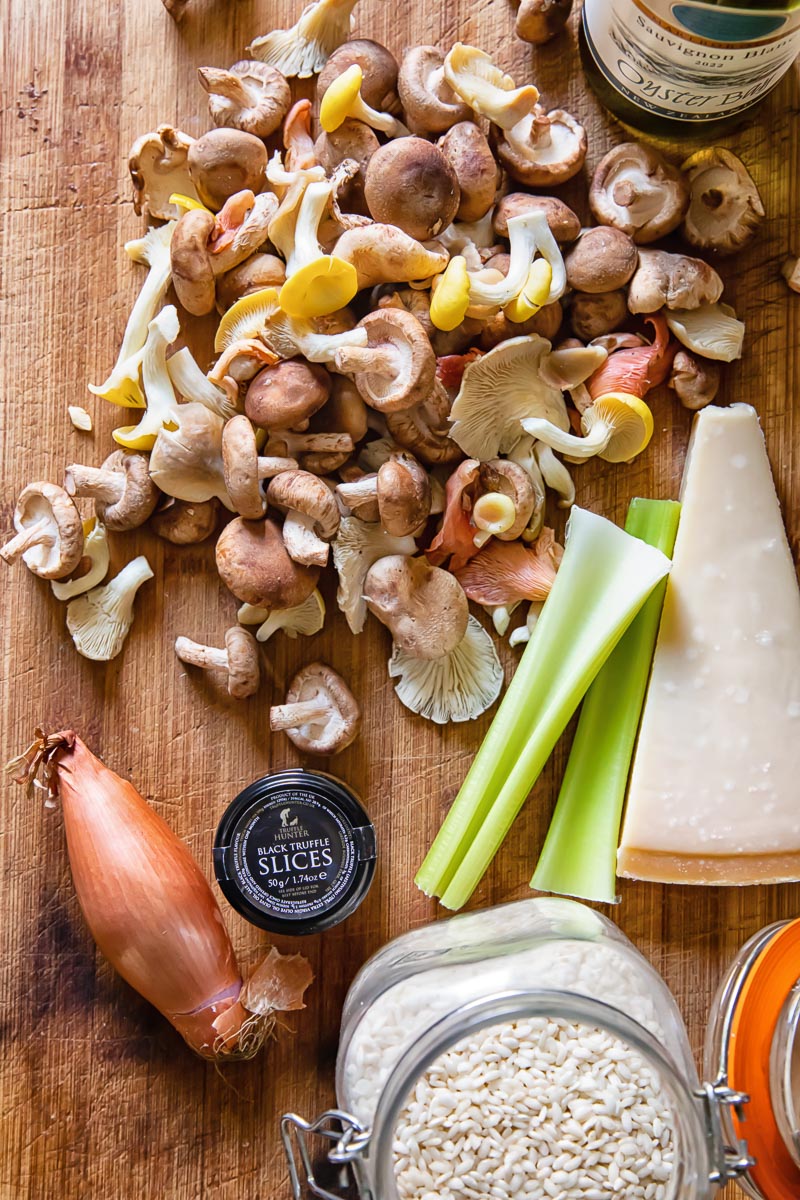 Wild mushrooms
Mushrooms are certainly in my top 5 ingredients to cook with. And wild are particularly exciting due to the variety out there.
Generally, you can pick up a pack of wild mushrooms from the supermarket, but if you have the opportunity to pick your own, here are a few that suit a mushroom truffle risotto well:
Shiitake are earthy and smoky, which compliment the truffle no end! A sublime risotto combination.
Porcini are deeply nutty and give good bite.
Chanterelle (or girolles) are fruity, peppery and chewy.
Oyster are delicate and mild, soft on the tooth.
Portobello are flat and chunky with a hefty texture.
As a lifelong mushroom lover, I like to incorporate a mixture of mushrooms into my risotto recipe, but you might like to stick to one or two.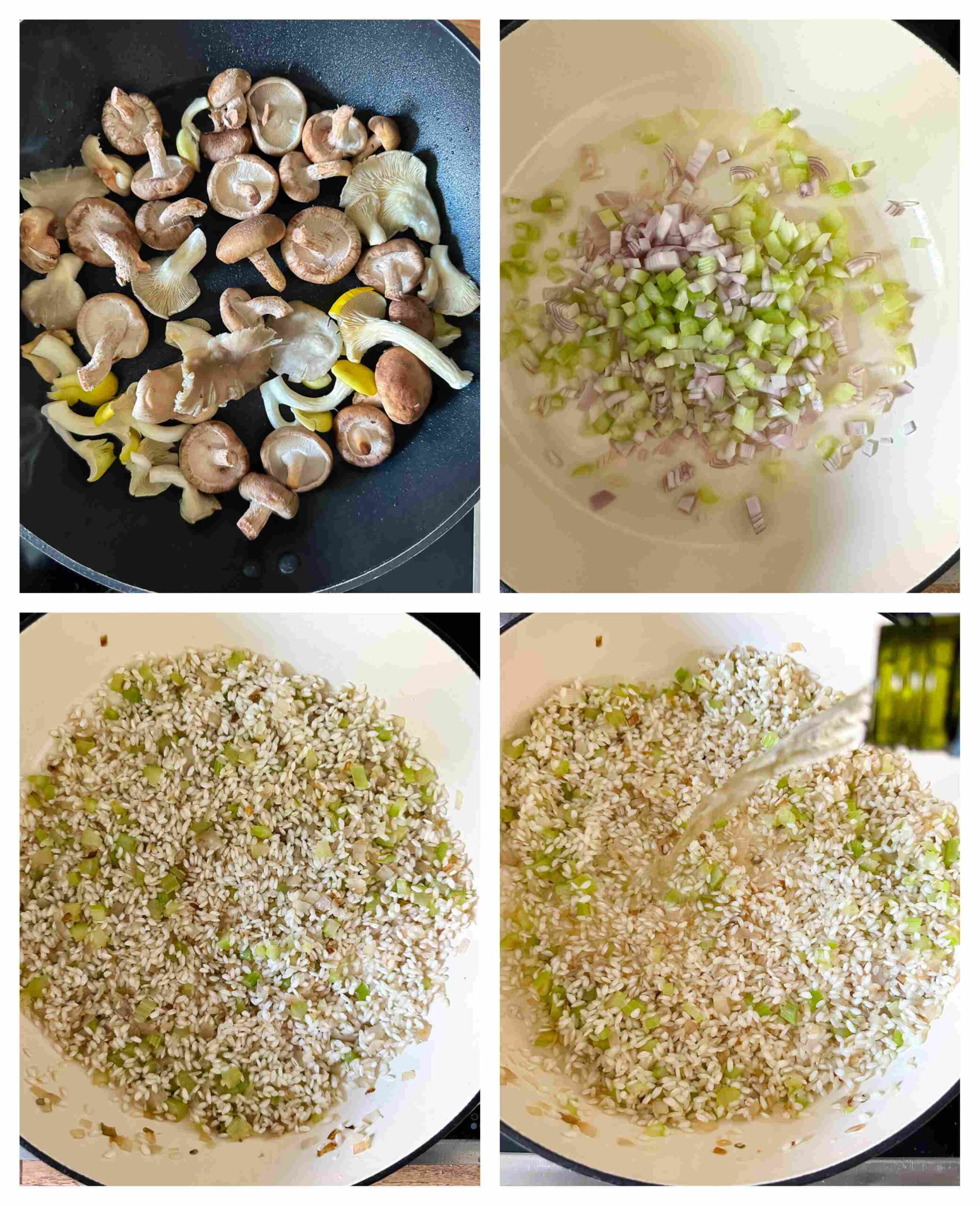 Recipe tips and notes
The trademark creamy texture is all down to rice. Get your rice right and you can't go wrong. A starchy rice like arborio or carnaroli are perfect, but sometimes the packet will just be helpfully labelled 'risotto rice'.

A touch of acidity really elevates any risotto, which is why I use a little white wine. However, if you cook with wine more than you drink it, it's worth investing in a bottle of Vermouth. It does the same trick but once opened it will last longer.

Risotto relies on retaining moisture, so you need to choose the right pan. I use a large, high-sided saucepan.

A mix of wild mushrooms not only offers a variety of texture and flavour, there is a visual element too. Their different shapes and colours against the pale rice make for a beautiful plate. Be adventurous!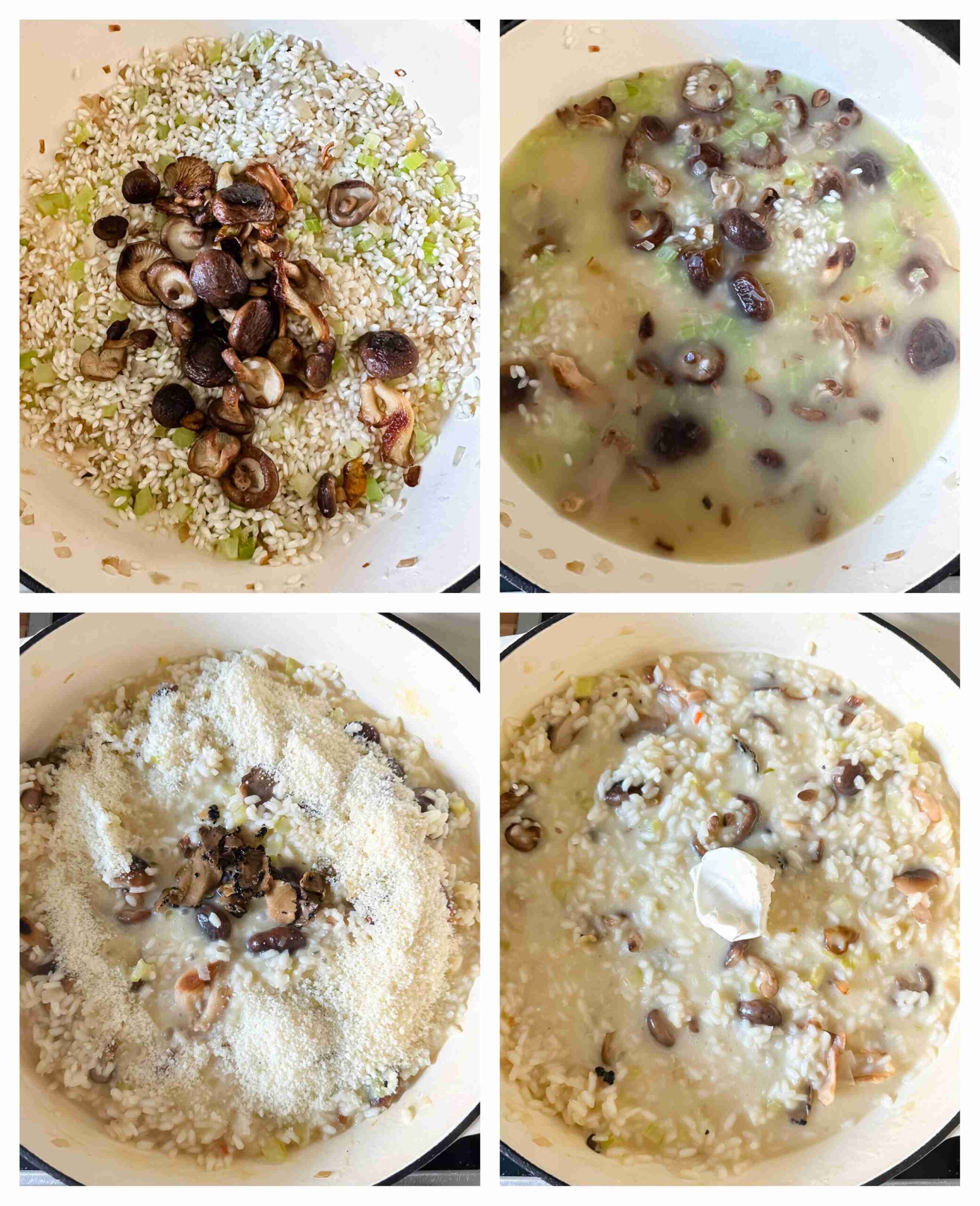 It's important to brown your mushrooms before adding them to the risotto. This gives them a gorgeous caramel colour and concentrated flavour.

The sliced black truffle should be added at the very end. It doesn't need long to infuse the whole dish.

Still nervous? Let me walk you through how to make the perfect risotto with

this video

.

Or read my top risotto-making tips in

this article

.
Storage and leftovers
Risotto is an infinitely satisfying dish, couple it with truffle and you probably won't be able to eat as much as you might like! Fortunately, this truffled risotto will keep well if covered tightly and stored in the fridge. Make sure you eat it within 3-4 days.
Try these other risotto recipes: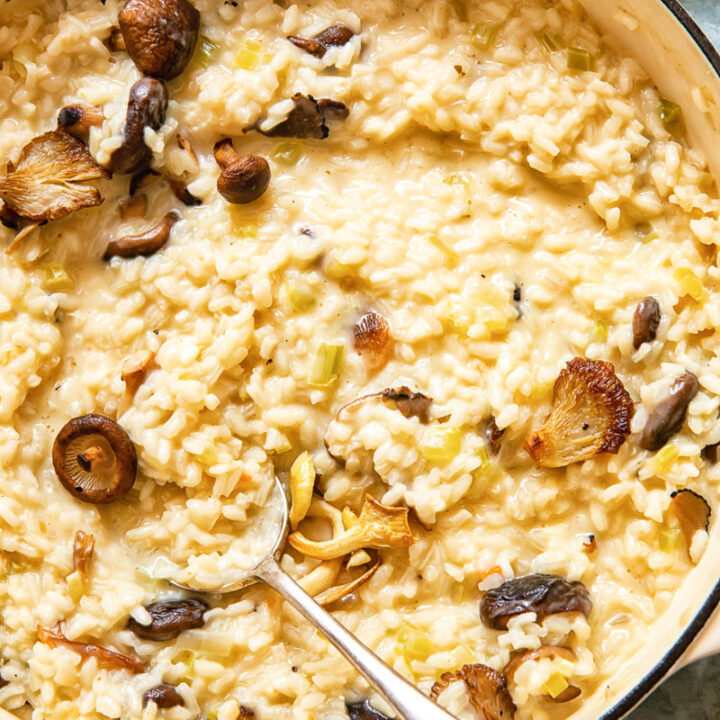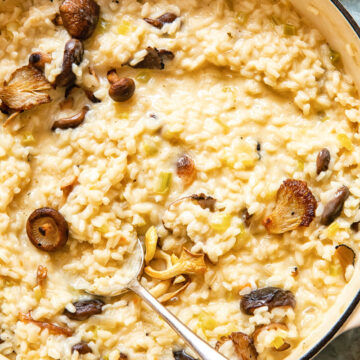 Truffle Risotto with Wild Mushroom
Truffle risotto with wild mushroom recipe has the fragrance of truffle swirled through pearly pale risotto studded with earthy wild mushrooms.
Ingredients
2

tbsp

olive oil

200

g

wild mushrooms

any mix you can find

1

large shallot

diced

1

celery stalk

diced

300g / 1.5 cups

risotto rice

arborio or carnaroli

125ml / ½ cup

dry white wine

1 litre / 4 cups

vegetable or chicken stock

salt to taste

25g

black truffle slices from a jar

50g / ½ cup

Parmesan cheese

1

tbsp

mascarpone cheese (optional) or butter
Instructions
Heat one tablespoon of olive oil in a large deep pan or in a large saucepan, then add finely diced celery and shallot, saute over low heat for 10 minutes. Meanwhile, add the remaining tablespoon of olive oil in a frying pan and fry the mushrooms whole or sliced in half if very large over medium high heat for 5 minutes or until golden on the outside, season with salt and cook for a couple of minutes longer. Take off the heat and set aside till needed.

Once the celery and shallot are softened, add the rice and toast for a couple of minutes until every grain is evenly coated with oil. Pour in the white wine and simmer for a minute until nearly evaporated.

Pour in a quarter of the stock, so it is just above the rice level and stir, then add the cooked mushrooms and let everything simmer for a few minutes over medium heat. The water should be just above the rice when you first add it. Once you see the water going down add a bit more and stir. Repeat until all water is gone and the rice is cooked but still slightly chewy. Give it a quick stir every time you add more water or stock if using.

When the rice is cooked to your liking, stir in the black truffle slices, Parmesan cheese, a tablespoon of Mascarpone cheese or butter, stir one more time, cover with a lid and take it off the heat. Let it sit for 5 minutes, then uncover and serve.
Nutrition
Calories:
453
kcal
Carbohydrates:
65
g
Protein:
13
g
Fat:
13
g
Saturated Fat:
4
g
Polyunsaturated Fat:
1
g
Monounsaturated Fat:
6
g
Cholesterol:
17
mg
Sodium:
1716
mg
Potassium:
351
mg
Fiber:
3
g
Sugar:
3
g
Vitamin A:
160
IU
Vitamin C:
2
mg
Calcium:
174
mg
Iron:
4
mg