This Chicken Cacciatore is a recipe you need to have in your repertoire! Crispy on the outside chicken legs and thighs are simmered in a savoury tomato sauce with rosemary and garlic. This magic dish will leave you so impressed and happy!
Serve this delicious chicken with Warm Zucchini Salad on the side. You won't regret it!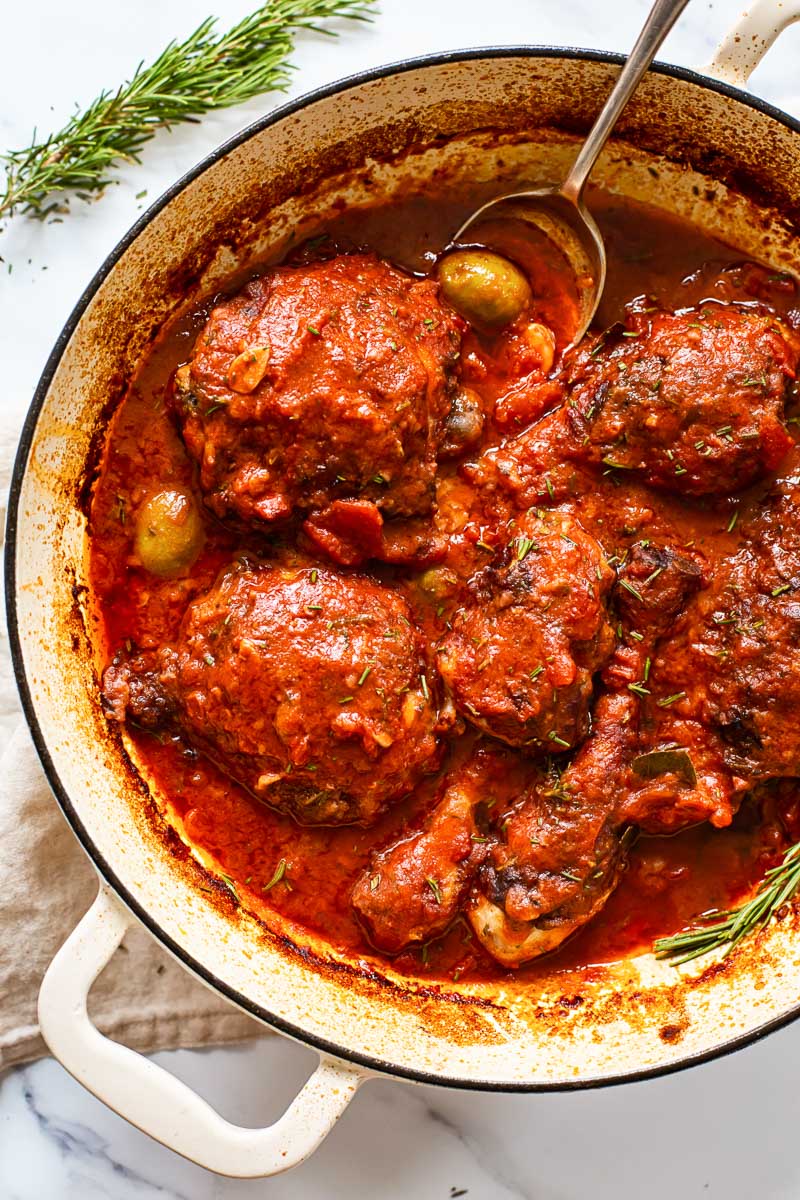 Chicken Cacciatore Recipe
Chicken Cacciatore, aka Pollo alla Cacciatora in Italian, is well known outside of its country of origin but I can't say it's quite as tasty as the original.
Every time I've had it at an Italian restaurant in North America, it tasted like a piece of fried chicken smothered in a basic…read 'bland"… marinara sauce, which gave me an impression that all Italian food tasted the same.
On my very first trip to Italy a few years ago I quickly learned that statement couldn't be further from the truth.
Cacciatore sauce is not just an extension of marinara sauce, that's been pimped up with some chicken. It has a taste of its own and a great one at that!
It's delicious with surprisingly crisp chicken skin simmered in a mildly tangy tomato sauce, infused with aromas of rosemary and garlic, rounded off with good old red wine.
Is it easy to make?
Yes, it is because it mostly cooks itself in the oven while you could be doing something much more interesting with your time.
The divine taste and the ease of preparation are the reasons chicken cacciatore could be an amazing everyday meal option and a stunning dinner party idea.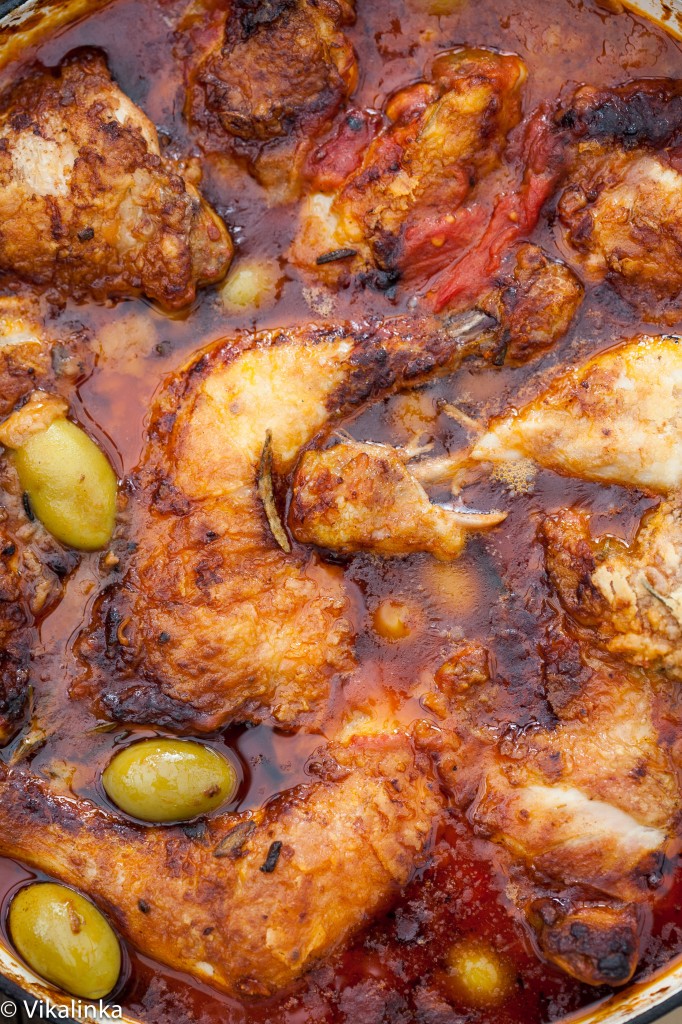 How to make it
Making chicken cacciatore involves 3 easy steps.
Marinating it in red or white wine, rosemary, garlic. (This is where flavour building happens.)
Browning it in olive oil. (Improves texture.)
Making the sauce. (Double the flavour.)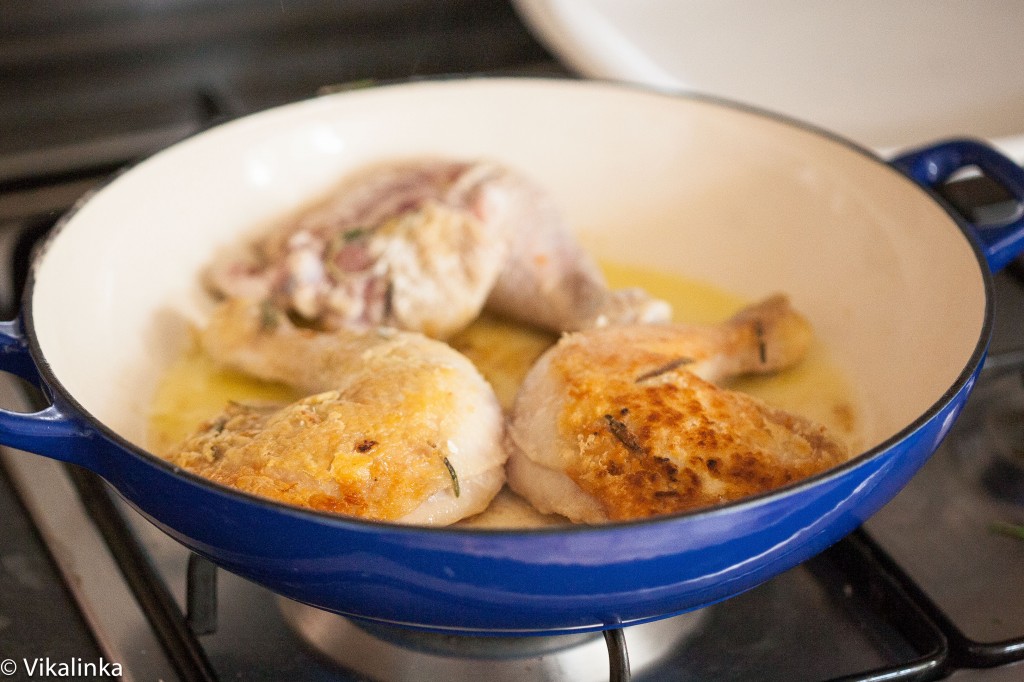 The Epic Sauce
Listen up, friends, this sauce is so delicious mostly due to one secret ingredient. No, not the olives seeing that they are in the picture below. The secret ingredient is anchovies.
Don't be scared, the sauce tastes NOTHING like fish. All anchovies do is add salt and complexity to the tomato sauce.
They disintegrate into the sauce, so no one will even know they were there in the first place.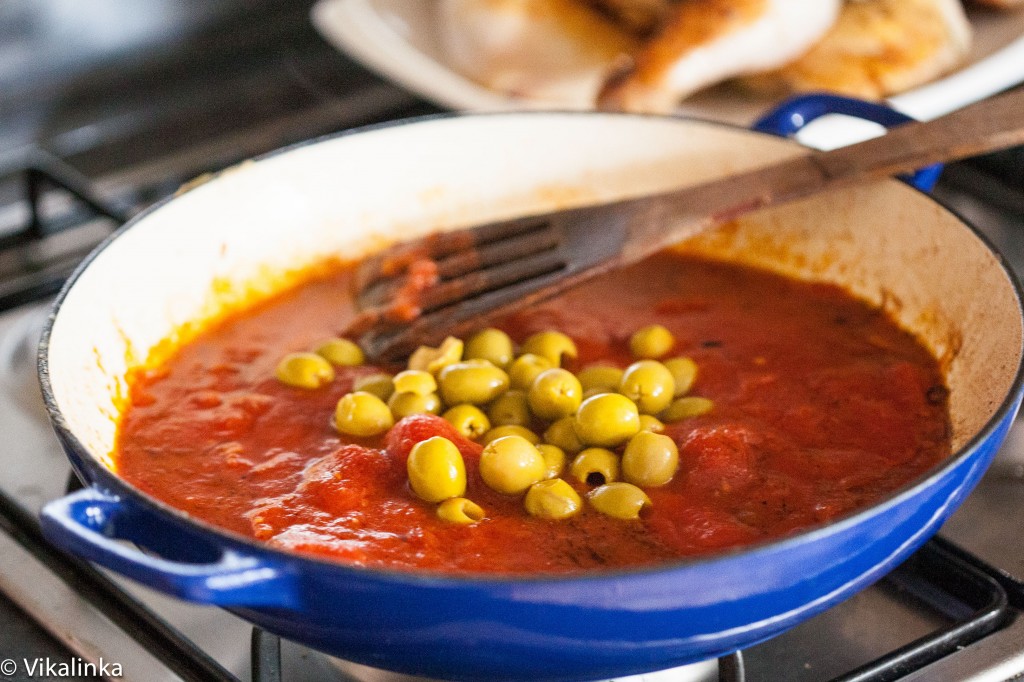 After you've done those 3 steps your job is done and your oven takes over. Just pop it in at 350F/180C for 1 hour and a beautiful mouthwatering chicken is ready.
What to serve with chicken cacciatore
Traditionally Italian meat dishes are served as the second course on their own but we are not Italian. So here are my suggestions.
This chicken recipe is delicious with rice or potatoes. Any type of plain rice and any type of potatoes. Take your pick. However, here is what I prefer.
Cook any pasta of your choice. Rigatoni stands up to this hearty sauce especially well. Take the chicken out of the pan and cover with aluminium foil to keep it warm. Add the cooked pasta directly to the sauce and toss to coat. This is my favourite way to enjoy chicken cacciatore. I often add my homemade No Knead Bread as well.
I also like to add my Roasted Parmesan Broccoli with Sun-dried Tomatoes and Chillies on the side. Then finish this incredible Italian feast with Amaretti Tiramisu.
Chicken Cacciatore is also delicious with Borlotti beans as a low carb option.
This recipe was originally published in 03/2014. Updated and republished in 05/2020.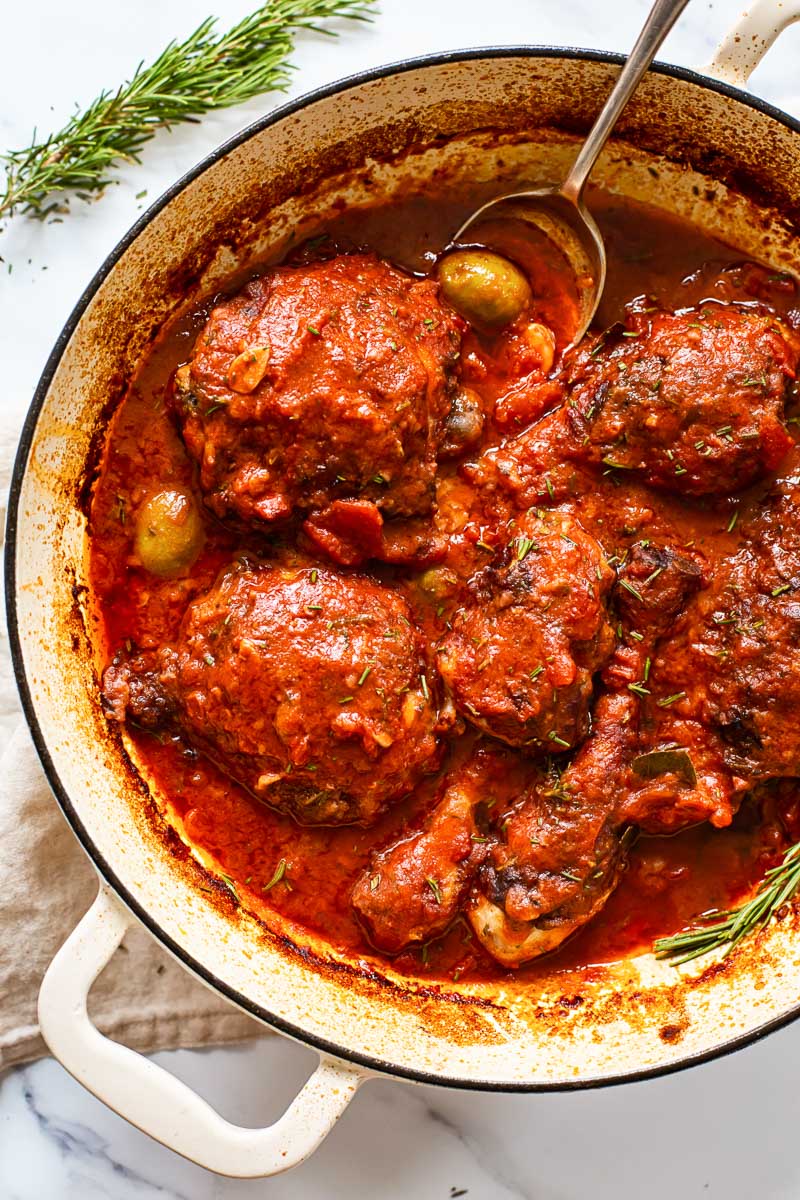 Ingredients
3

lbs

chicken legs and thighs

salt

freshly ground black pepper

8

bay leaves

2

sprigs

fresh rosemary

or 1 tsp dried

5

cloves

garlic

peeled and sliced

375ml/1.5 cups

dry red or white wine

such as Chianti, Shiraz or Cabernet Sauvignon

flour

for dredging

1

tbsp

extra virgin olive oil

4

anchovy fillets

chopped

80g/1/2

cup

green or black olives

pitted

800g/28oz

canned chopped tomatoes
Instructions
Sprinkle chicken pieces with salt and pepper and put them in a a bowl or a resealable plastic bag, add rosemary leaves, bay leaves, 3 cloves of sliced garlic and red or white wine. Marinade overnight or at least for one hour.

Preheat oven to 350F/180C

Take chicken out of the marinade, dredge them in flour and brown evenly in hot olive oil in a large pan. Reserve the marinade. Chicken doesn't have to be cooked all the way through at this stage. If all of your chicken pieces don't fit, brown them in batches and remove on a separate plate.

Add remaining sliced garlic, anchovies and olives to the pan and cook for a minute. Add canned tomatoes, reserved marinade and chicken to the pan. Bring to a boil and put it in the oven uncovered at 350F/180C for 1 hour.
Nutrition Facts
Chicken Cacciatore
Amount Per Serving
Calories 749
Calories from Fat 297
% Daily Value*
Fat 33g51%
Cholesterol 168mg56%
Sodium 727mg32%
Potassium 682mg19%
Carbohydrates 66g22%
Protein 37g74%
Vitamin A 289IU6%
Vitamin C 10mg12%
Calcium 72mg7%
Iron 6mg33%
* Percent Daily Values are based on a 2000 calorie diet.