Take a trip to the Renaissance capital of the world with this tantalising Tuscan ragu. Rich in tomato, magnificently meaty and the perfect pasta partner, create your own masterpiece with this authentic recipe.
Keep the meal local with a Tuscan Panzanella Salad or Mushroom Crostini.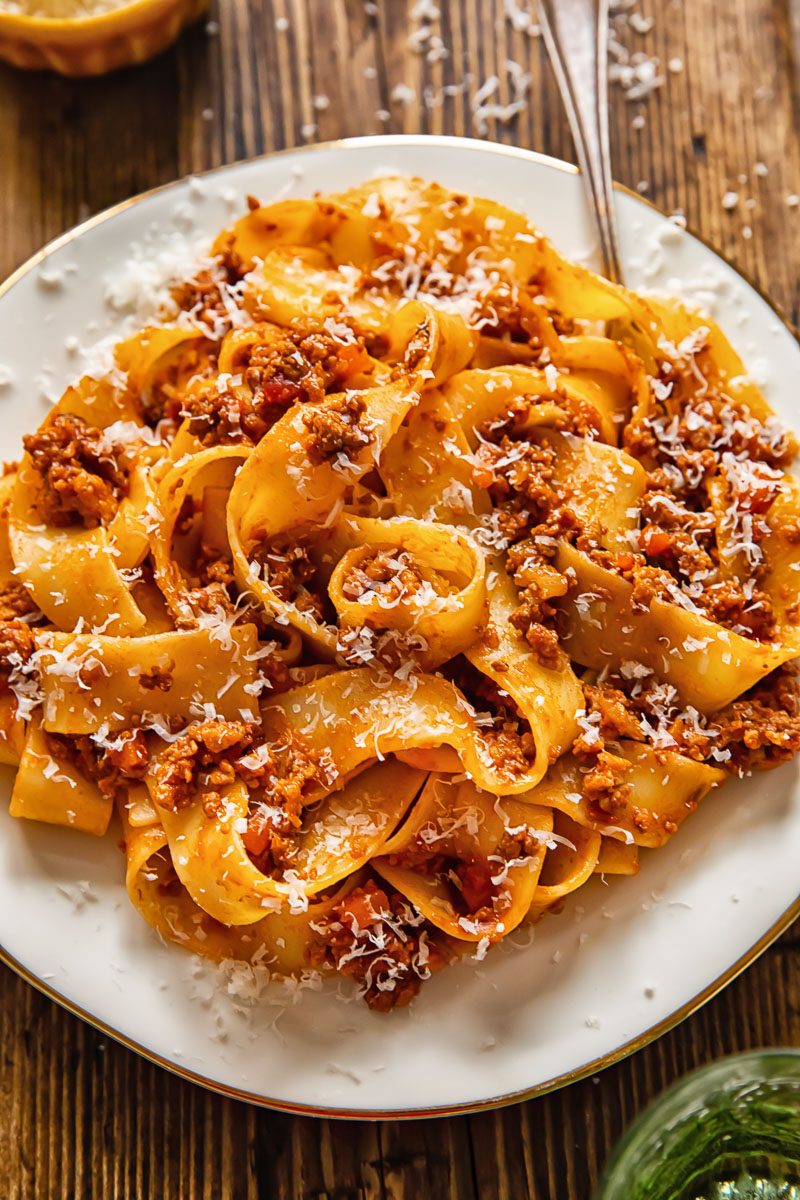 Tuscany evokes dreamy scenes of rolling hills, drenched in sunshine. An inspiring landscape and history brimming with food, paintings and sculpture.
Vines dripping with plump grapes and juicy olives, platters of locally cured meats and cheese washed down with wine and a view. It's a fresh produce paradise. And when I need to revisit, I have this Tuscan ragu to take me there.
What is ragu?
Here's a riddle for you: Ragu is not bolognese, but bolognese is ragu. How is this possible?
If you know your Italian, or your Italian food, you will have solved this pronto. Ragu literally means 'meat sauce', while bolognese is a meat sauce coming from the region of Bologna. The two are not interchangeable! And don't go asking for 'spaghetti bolognese' in Italy. You'll be met with a blank stare. They've never heard of it!
The meat in ragu can vary from region to region. Here is my take on Venetian ragu fore example. I made mine with chicken thighs while traditionally it is made using rich and succulent duck.
This ragu sauce recipe mixes ground beef and pork sausage as they are easily available and a family favourite. However, for a more adventurous ragu di carne, try rabbit or even wild boar. These two variations are typical of the Tuscan region.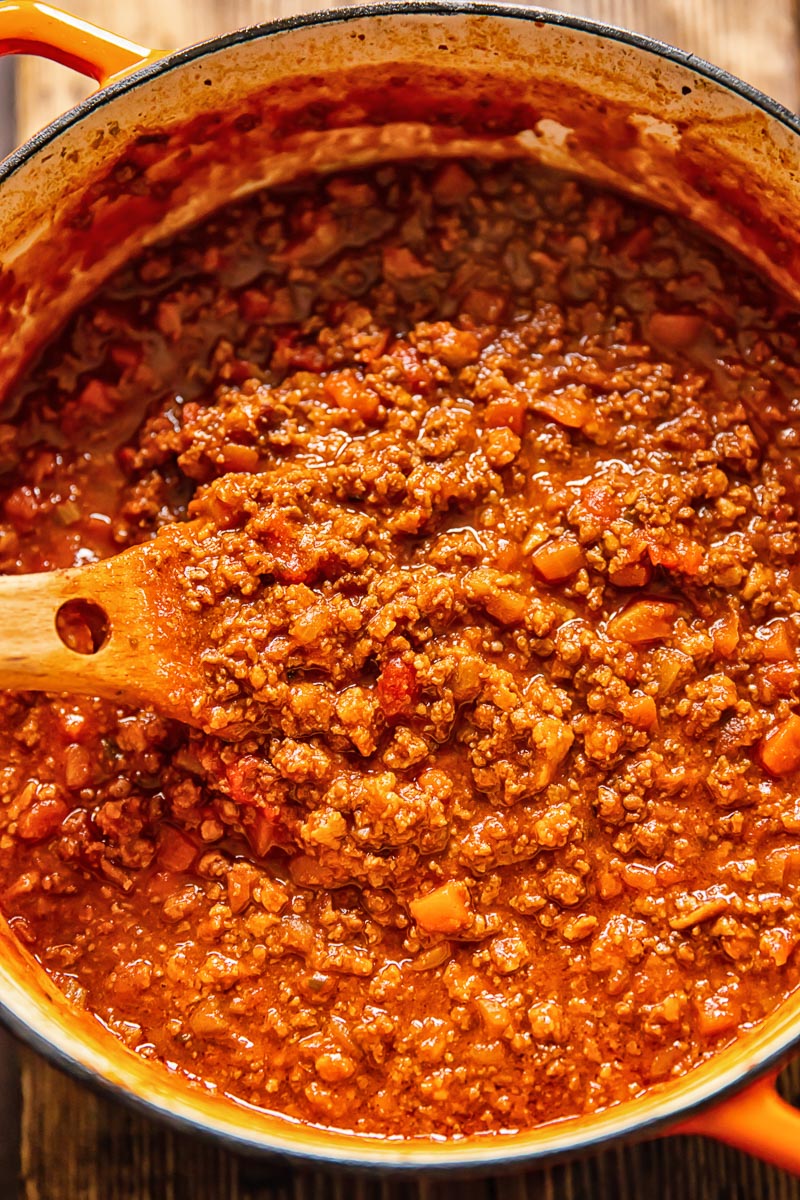 But there is more to ragu than just meat. The other key elements are soffritto and patience.
Soffritto means 'slow fried' and is an invisible trinity of onion, carrot and celery that is the base of many a tomato and meat sauce, stew or soup like Pasta e Fagioli. A cunning way of sneaking in one of the five a day for the veg-averse.
And patience. Your ragu won't be rushed. It's crucial to allow the flavours of the meat, vegetables, herbs and wine to meld and develop. It's the only way to achieve the intensity and complexity of a true Tuscan ragu.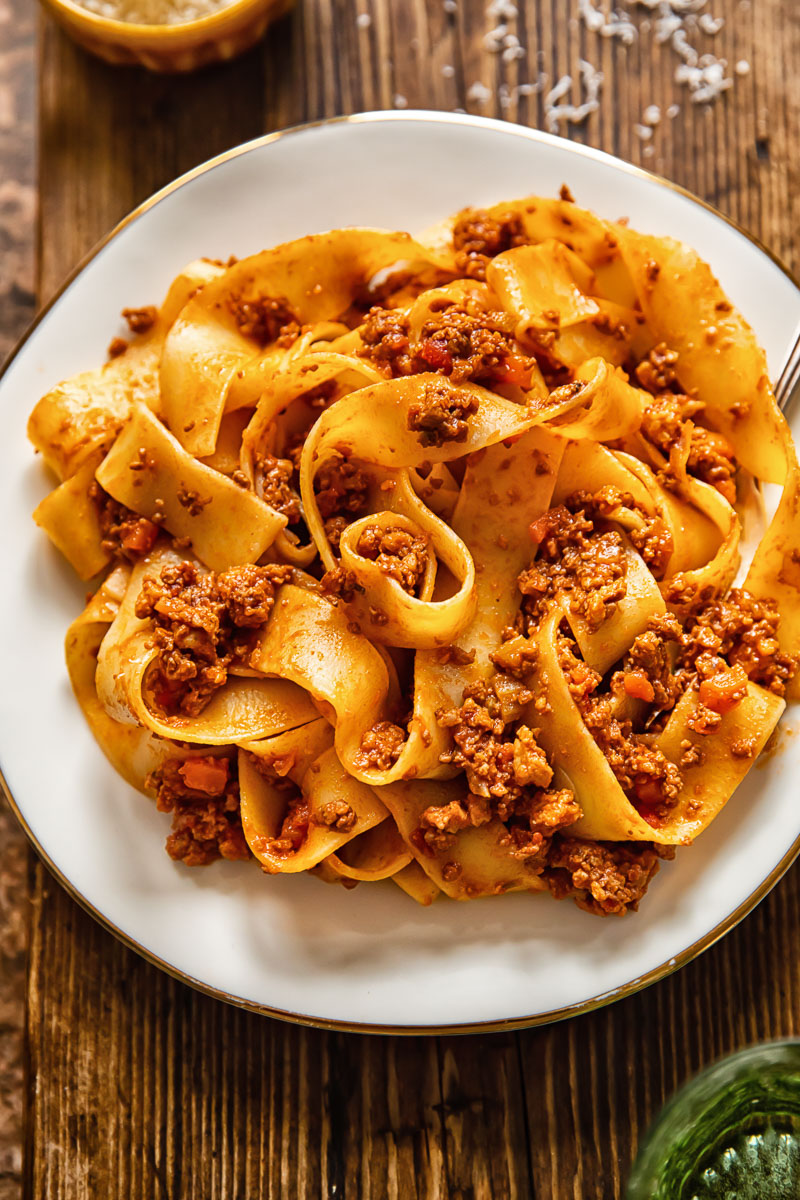 Tuscan flavours
Summer days in Tuscany average 11 hours sunshine. Imagine what this does for agriculture! Think heaps of glistening olives, garnet-coloured sun-dried tomatoes, leafy cavolo nero aka Tuscan kale and vibrant basil. Not to mention beans, cheese, steak and, of course, wine.
Tuscan fare is fresh, hearty and honest. It's no wonder that there are recipes upon recipes created from native ingredients. Make sure you search my blog further if you're hungry for more!
The most typical pasta you will see all over Tuscany is pici, which is hand rolled and looks like thicker spaghetti. If you can find pici, serve it with this ragu. If not, widely available pappardelle is a great choice for this hearty, meaty sauce.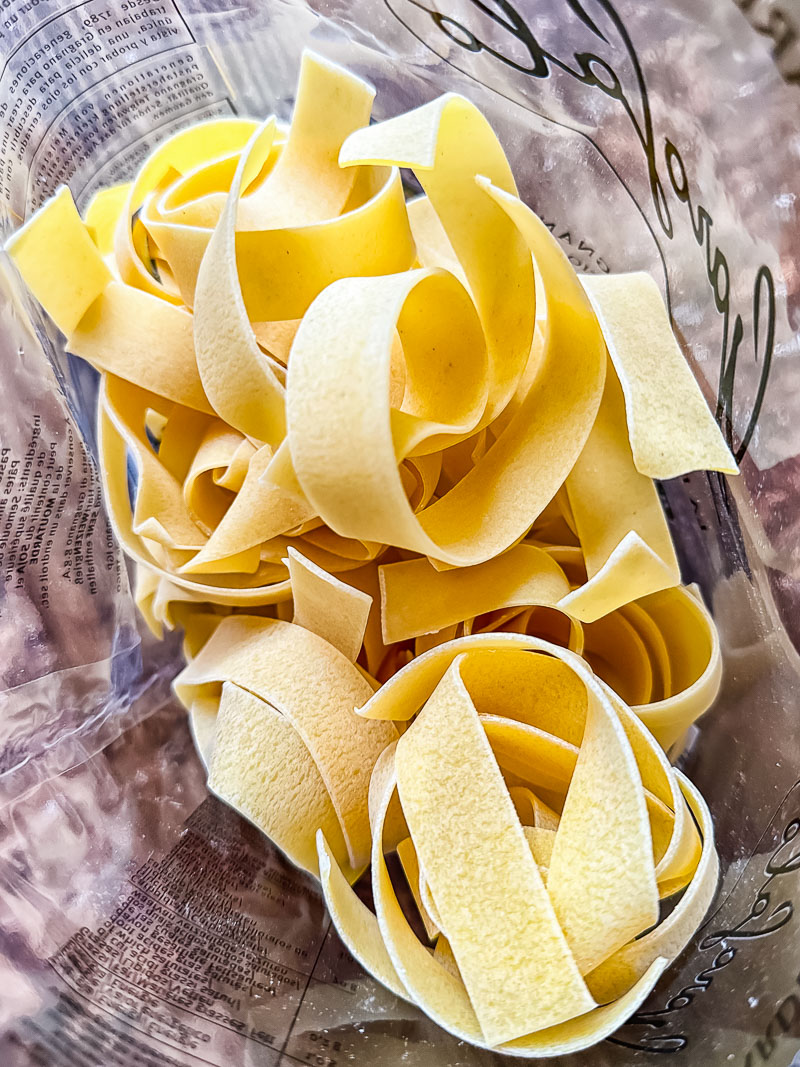 Recipe tips and notes
The soffritto should be sautéed for no less than 10 minutes. This is so the earthy vegetable flavours can seep out into the oil and permeate what will be a rich sauce.

What makes this particular ragu di carne unique to Tuscany is the sausage. Opt for a decent quality one to maximise the meaty depth.

Call me crazy, but I prefer rosemary in my Tuscan ragu. I think it pairs well with pork. But basil and beef make a great team too. The choice is yours.

There are few things more Italian than red wine. It works to deglaze the pan, tenderise meat, maintain moisture and adds dimension to the sauce. I couldn't imagine a ragu without it, but if you must, replace the liquid component with beef stock.

It's all about the simmer. That low subtle bubble that teases out the flavours in some kind of tantalising torture. Simmer for as long as you can bear it (but at the very least 1.5 hours!).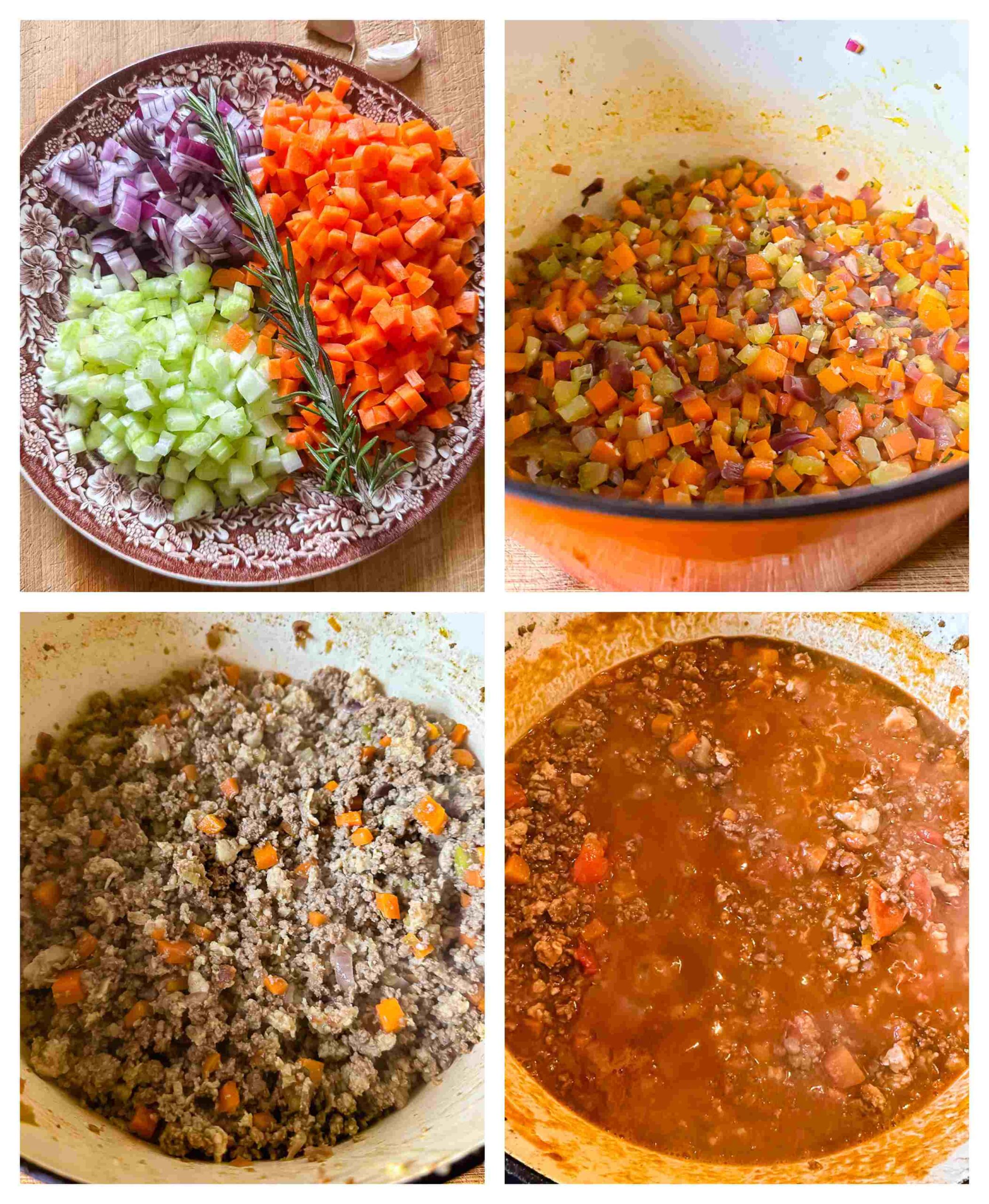 Storage and leftovers
This is a double-or-nothing recipe. Unless you're having a big Italian style family get together, you should be able to set aside half the ragu for freezing. Put the sauce in an air tight freezer-safe container and store for up to 6 months.
Defrost before using in your next ragu based dish, like my Best Lasagne Recipe. Or if you want to go low carb, try my Stuffed Spaghetti Squash Recipe.
Ragu makes for great leftovers! The sauce will be even more satisfying a few days later when the flavours have steeped in the sauce. Cover and keep in the fridge for 2-3 days.
I tend not to keep any leftover pasta though and reheat the sauce on the stove top in the time it takes to cook a fresh serving.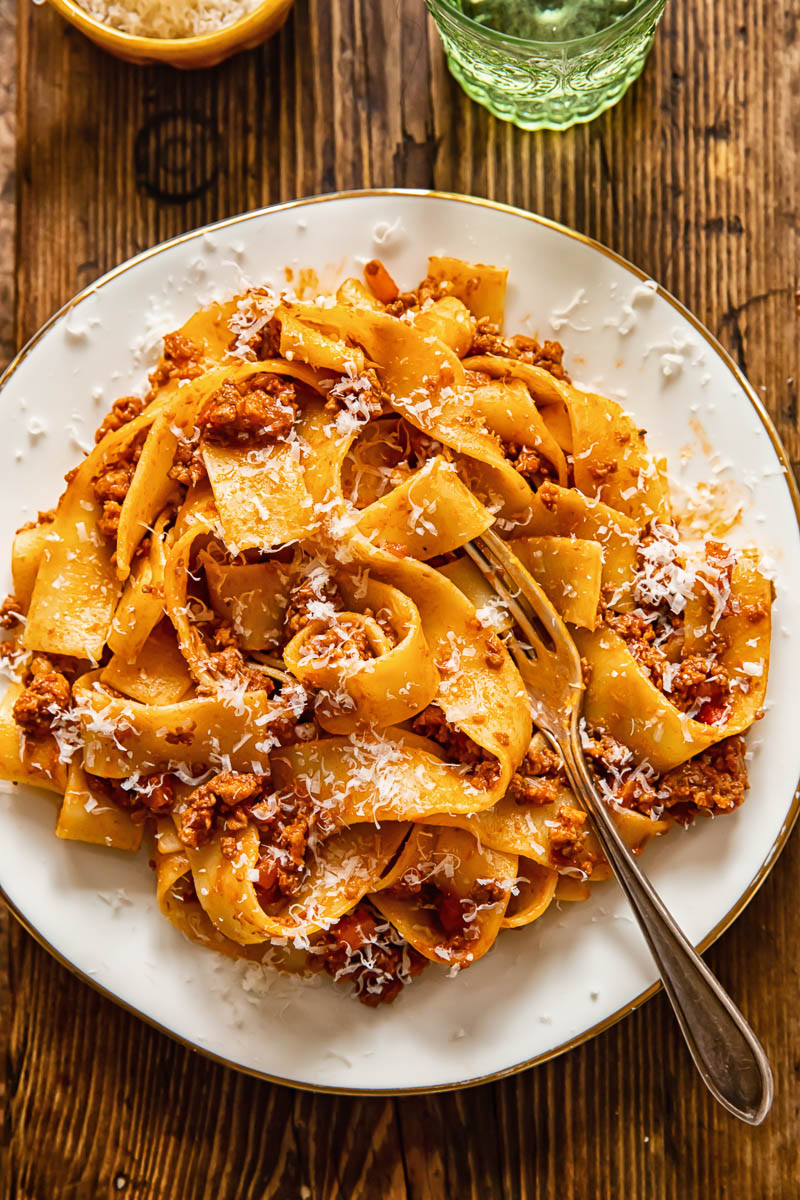 More Tuscan Recipes to Try: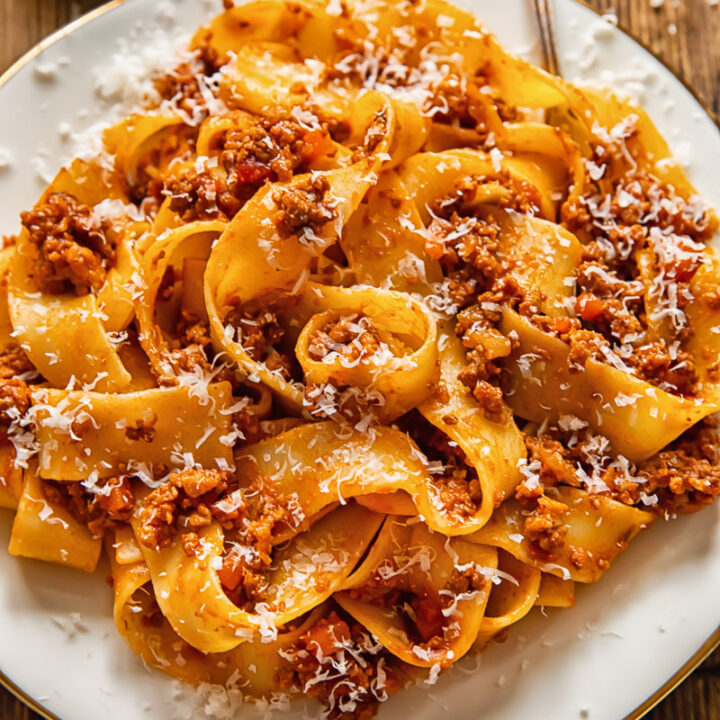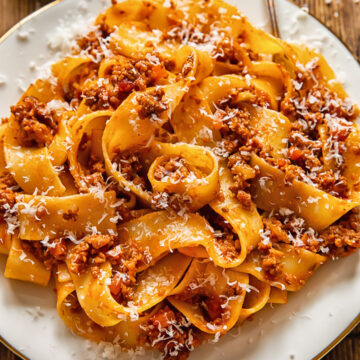 Tuscan Ragu
Rich in tomato, magnificently meaty and the perfect pasta partner, create your own ragu sauce with this authentic recipe.
Ingredients
1-2

tbsp

olive oil

1

onion

chopped

2

ribs

celery

diced

2

carrots

chopped

2-3

cloves

garlic

1

sprig

rosemary

leaves only

2

lbs

beef mince (ground beef)

1

lbs

good quality pork sausage

casing removed

250ml/1 cup

dry red wine

anything you like but not cooking wine

400g/14oz

canned chopped tomatoes

500ml/17.5 oz

tomato passata or crushed tomatoes

3

tbsp

tomato paste

salt to taste

½

tsp

black pepper
Instructions
In a large and deep frying pan or a Dutch Oven heat 1 tbsp of olive oil, then add diced onions, carrots, celery, minced garlic and chopped rosemary leaves and cook on low heat for 10 minutes without colouring the vegetables. Then add ground beef, sausages, break up the beef and sausages with a spatula and brown it until the meat is no longer pink inside while stirring the whole time.

Pour in the red wine and cook for about 10 minutes over medium heat, then pour in both types of canned tomatoes and tomato paste with a pinch of salt and pepper. Allow the sauce to come to a simmer, then lower the heat and cover with a lid, cook the ragu for 1.5 hours over low heat. Stir it once in a while, so it doesn't burn. If it gets a bit too thick, add a splash of water and continue cooking. At the end you should have a thick and very meaty sauce. Tastes it and add more salt if needed.
Video
Nutrition
Calories:
338
kcal
Carbohydrates:
11
g
Protein:
28
g
Fat:
18
g
Saturated Fat:
6
g
Polyunsaturated Fat:
2
g
Monounsaturated Fat:
8
g
Trans Fat:
0.4
g
Cholesterol:
89
mg
Sodium:
706
mg
Potassium:
862
mg
Fiber:
2
g
Sugar:
5
g
Vitamin A:
2499
IU
Vitamin C:
13
mg
Calcium:
47
mg
Iron:
4
mg