This pasta, tossed with homemade Tuscan kale pesto and topped with buttery garlic breadcrumbs, is the simple, everyday dinner you will cook over and over again.
Not a fan of kale, make this recipe with basil pesto instead!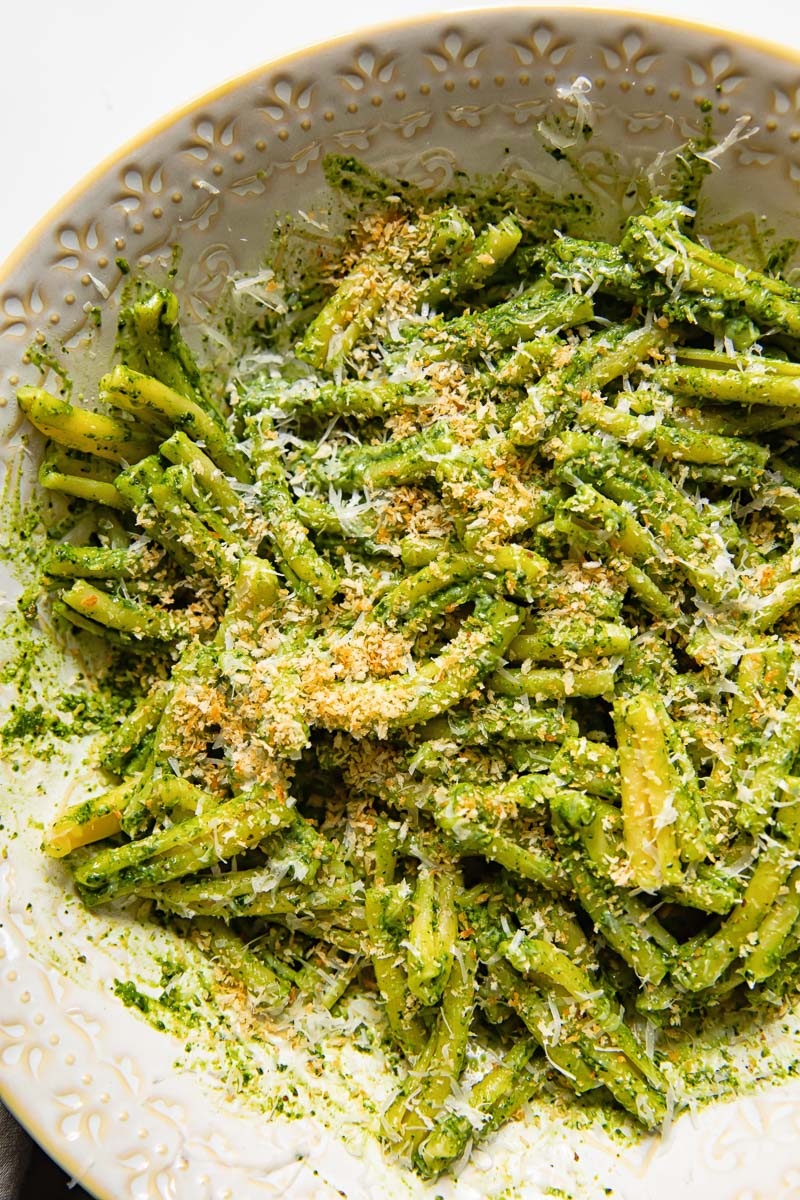 We all have our beloved family recipes, the ones we choose when life is too busy to even think of cooking! Pesto pasta is ours. My kids grew up eating simple pasta, tossed with a mix of pesto and water to create creamy and vibrant green sauce. They hated tomato sauce but loved pesto!
Over the years, I've shared many pasta recipes and pesto sauce earned a prominent place on my website. It's such a magic ingredient. Full of flavour, healthy and easily found in most shops.
The recipe I am sharing today involves a homemade version, made using Tuscan kale aka cavolo nero. It's also incredibly simple to make and packs a wallop of nutrients.
I wish I knew of this recipe when my kids were little. I would've happily stuffed their bellies full of this great stuff.
Pasta with Pangrattato
Apart from a delicious flavour of homemade pesto, this recipe also boasts an amazing texture.
Let's get acquainted with an Italian secret ingredient, which makes almost any pasta dishes infinitely better. Pangrattato aka buttery garlic breadcrumbs.
The word itself translates as "grated bread", and was invented out of necessity. Poor families couldn't afford Parmesan cheese to boost the flavour of their pasta dishes, so they invented pangrattato!
And what a brilliant invention it is! Crunchy texture and garlicky umami flavour are what you can expect from each bite!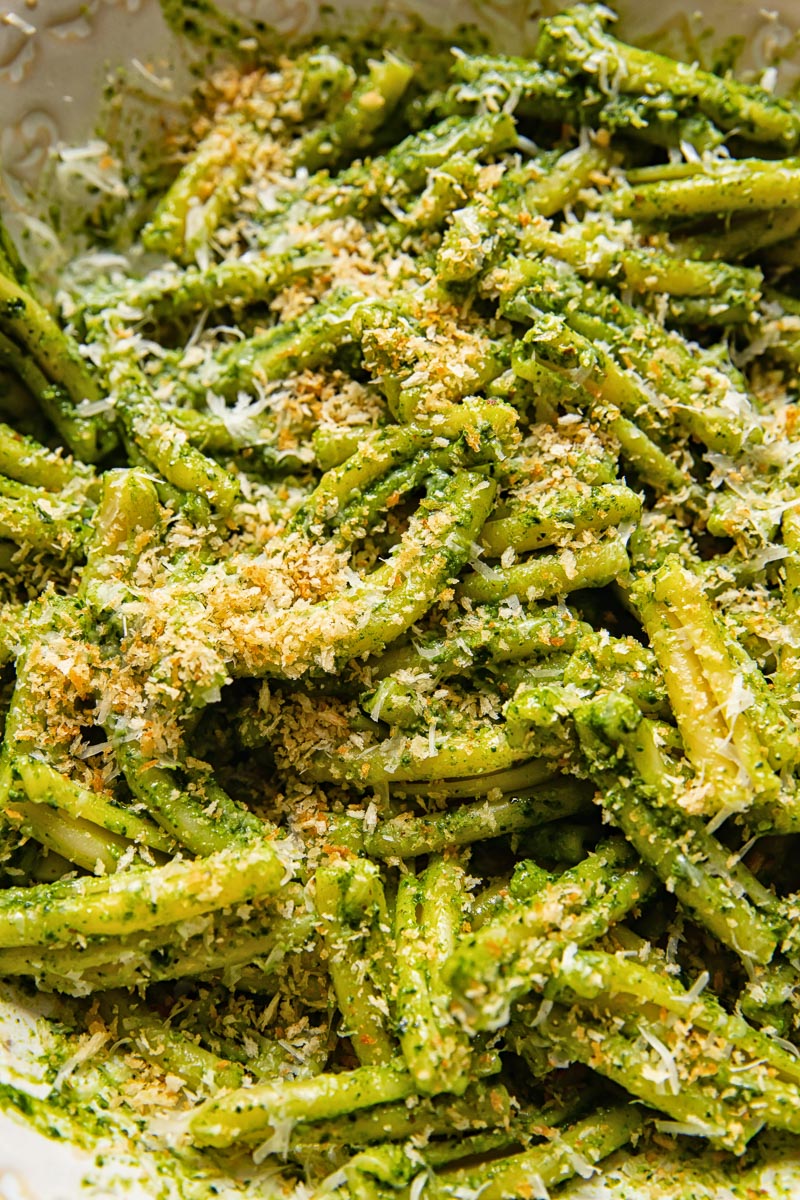 We can all agree that baked macaroni and cheese, topped with golden breadcrumbs, tastes divine. So why stop there?
I started using pangrattato topping when I first made my Sausage and Broccoli Pasta, which was inspired by a classic dish from Puglia. That experience really opened my eyes on what simple toasted breadcrumbs can do.
And it doesn't have to be just pasta. Seasoned breadcrumbs are delicious on chicken too. Just take a look at my Chicken Arrabiata or Spatchcock Roast Chicken in Breadcrumbs. Such an easy and affordable trick to elevate your everyday dishes.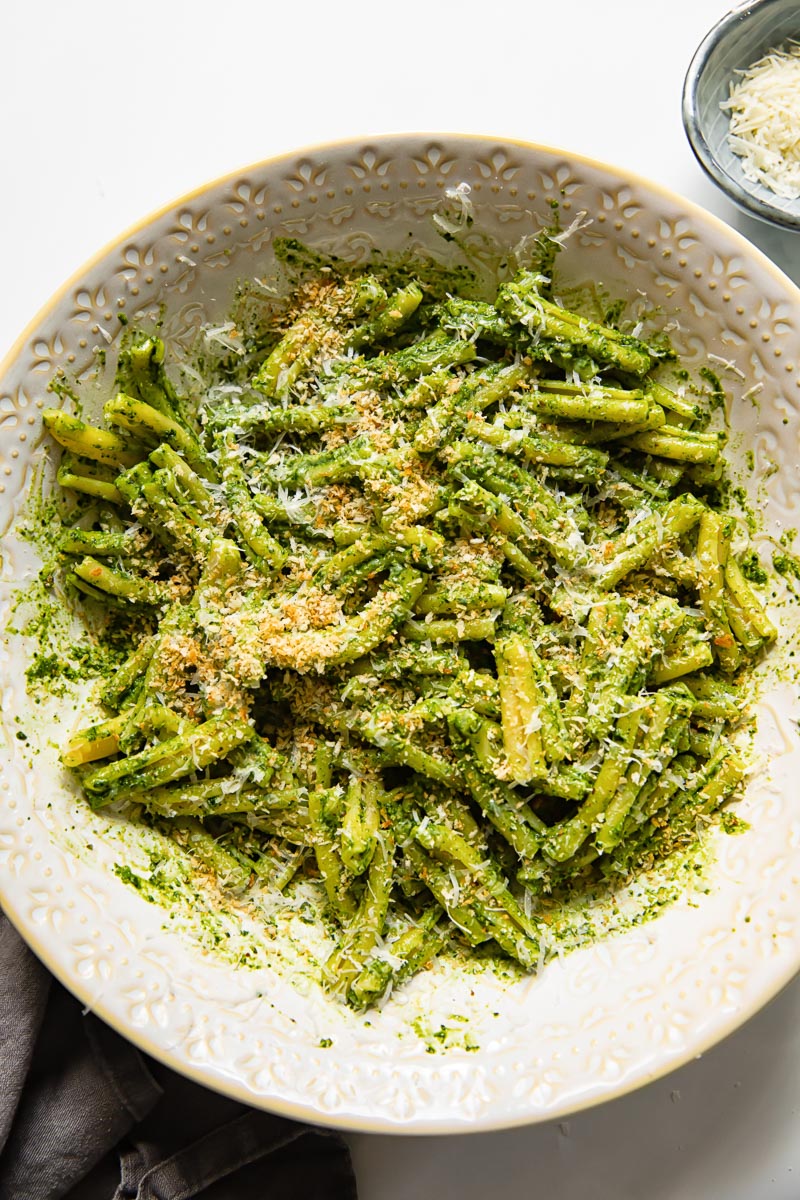 Pesto Pasta Recipe Tips and Notes
Although this recipe is made with homemade kale pesto, you can substitute it with store bought pesto of any flavour.
If you want to make your own kale pesto, take a look at this detailed recipe.
My main tip for giving your pesto that luxurious, creamy consistency is very simple. Combine 2-3 heaping tablespoons of pesto with a splash of hot water, you reserved from cooking pasta. Quickly mix the two to form a sauce. Only then, add your drained pasta.
Don't be tempted to simply plop your pesto into the pasta without any water. The result will be dry and clumpy pasta. Not at all what we are looking for.
Choose pasta shape that has groves like casarecce, conchiglie (shells) or rigatoni to trap delicious pesto sauce. If you choose smooth pasta like spaghetti, the pesto sauce will have hard time clinging to it.
Top with the breadcrumbs either right before serving or serve them separately in a bowl and allow people to help themselves. Otherwise they will get soggy quickly!
Top with additional Pecorino Romano or Parmesan.
Favourite Dishes with Pesto: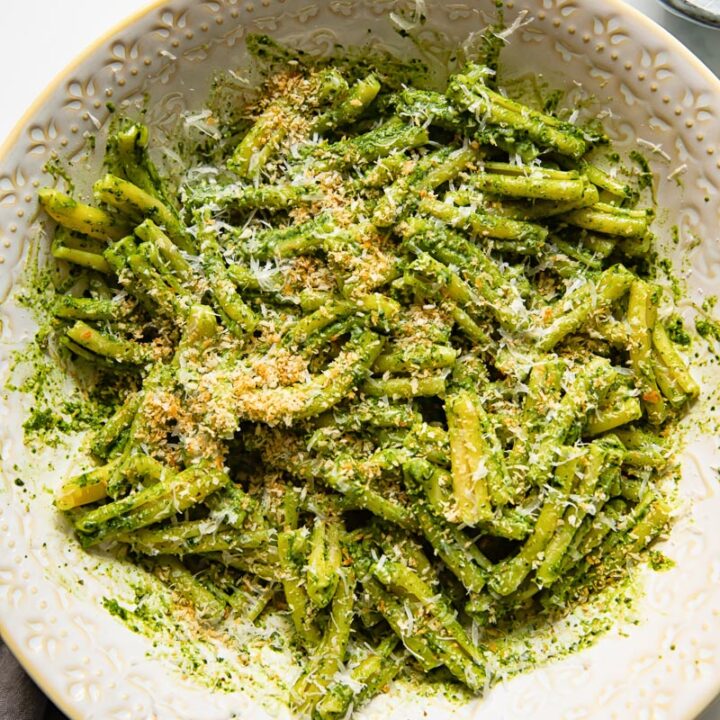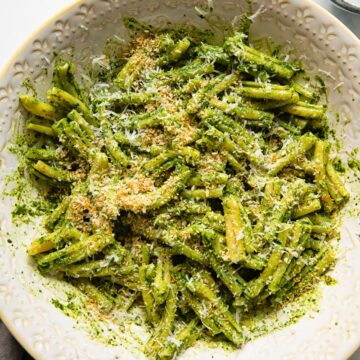 Kale Pesto Pasta with Pangrattato
This simple pasta, tossed with kale pesto and topped with garlic breadcrumbs, is the everyday dinner you will cook over and over again.
Ingredients
1

lbs

short pasta

such as casarecce, shells or rigatoni

4

tbsp

kale pesto recipe

or store bought pesto of any flavour

salt to taste

50g/1/2 cup

breadcrumbs

I prefer Panko breadcrumbs

1

tbsp

butter

1

clove

garlic

small or ¼ tsp garlic powder

Parmesan

for serving
Instructions
Start by cooking the pasta in a large pot of salted water according to package instructions. While the pasta is cooking prepare the breadcrumbs. In a frying pan melt the butter, then add the minced garlic and fry for a few seconds over low heat, add the breadcrumbs and fry while stirring once in a while until golden for approximately 2-3 minutes. Remove from the pan and set aside.

Reserve ½ cup of pasta water and drain the rest in a colander. To the empty pot, in which you cooked pasta, add the pesto sauce with a couple of tablespoons of the hot reserved pasta water and mix to form a sauce. Add the pasta and toss to coat. You might need to add more water to make the sauce a bit runnier. Season with salt to taste and a bit of grated Parmesan cheese.

Sprinkle with the toasted breadcrumbs right before serving or serve the breadcrumbs separately in a bowl and allow people to help themselves to avoid them going soggy.
Nutrition
Calories:
370
kcal
Carbohydrates:
63
g
Protein:
12
g
Fat:
7
g
Saturated Fat:
2
g
Polyunsaturated Fat:
1
g
Monounsaturated Fat:
1
g
Trans Fat:
0.1
g
Cholesterol:
6
mg
Sodium:
562
mg
Potassium:
188
mg
Fiber:
3
g
Sugar:
3
g
Vitamin A:
260
IU
Vitamin C:
0.2
mg
Calcium:
49
mg
Iron:
1
mg