This roasted spatchcock chicken in breadcrumbs and golden potatoes make a quick and delicious one pan meal that is so satisfying!
Serve it with Spinach Apple Salad and No Knead Farmhouse Bread for a dinner to remember!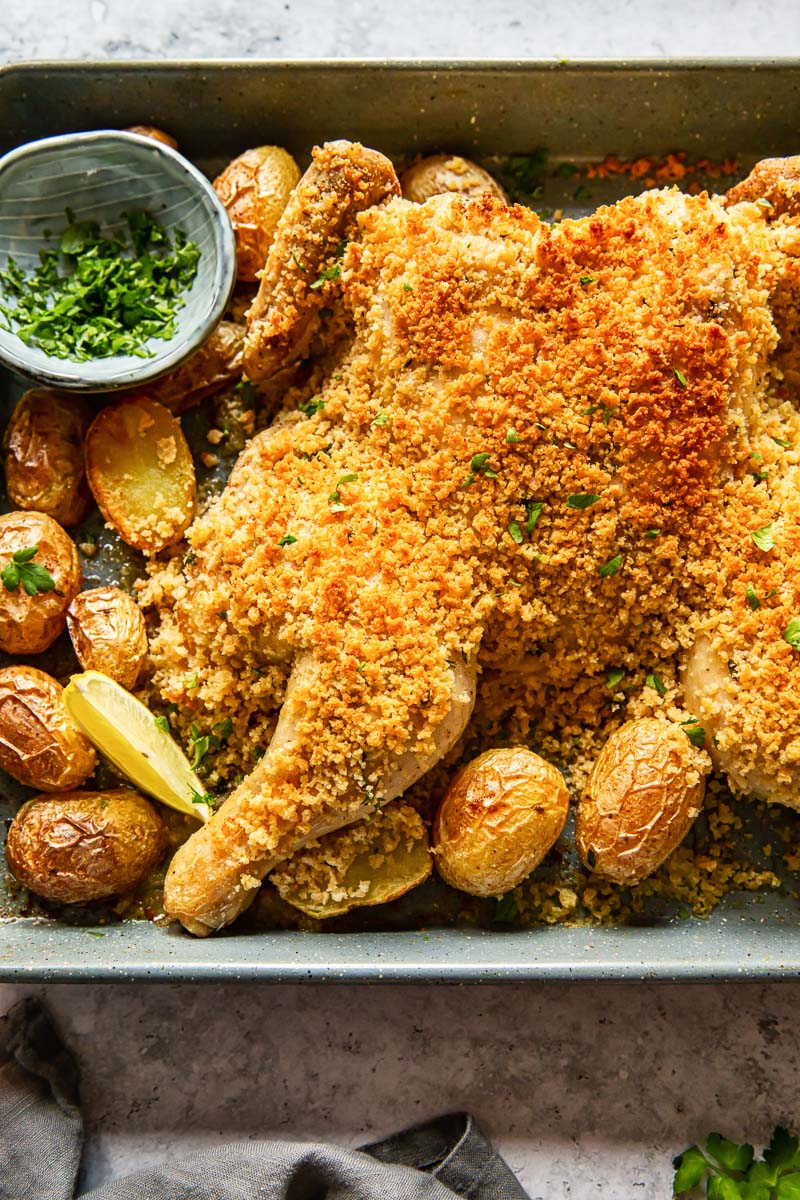 We are all about comfort food right now, which brings so much reassurance in the world of uncertainty! Roasted chicken and potatoes are one of those meals that never disappoint. Sadly they are often reserved for weekends and special occasions only since they take a while to cook.
Today I am sharing a recipe that will change that. Spatchcock chicken takes half the time and delivers outstanding results.
Juicy and flavourful chicken served alongside crispy potatoes all cooked together at the same time.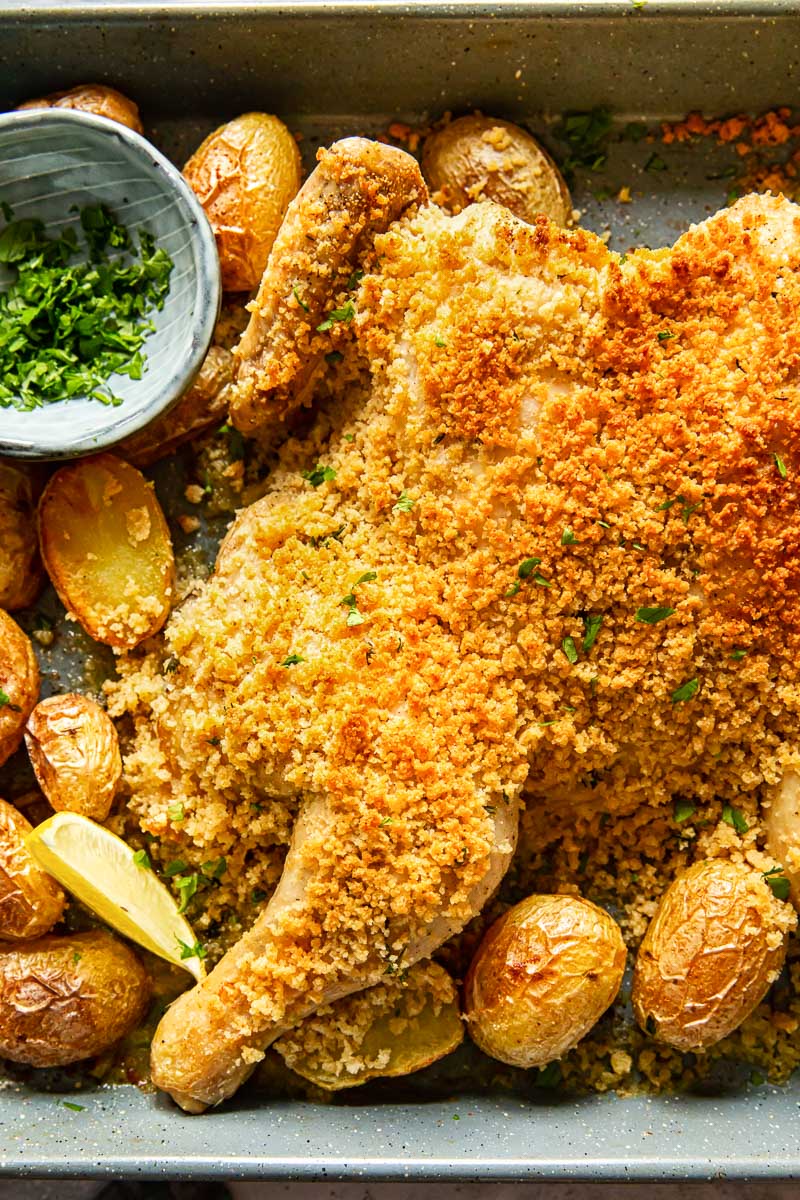 How to spatchcock a chicken
The process, that sometimes is also called "butterflying", is much simpler than it may seem.
This method works best with small chickens between 2.5-3lbs.
All you have to do is to remove the back bone of a chicken with either a pair of scissors or a sharp knife.
Then flip the chicken over and with the palm of your hand push firmly on the breasts to flatten it. (You will hear the breast bones cracking.)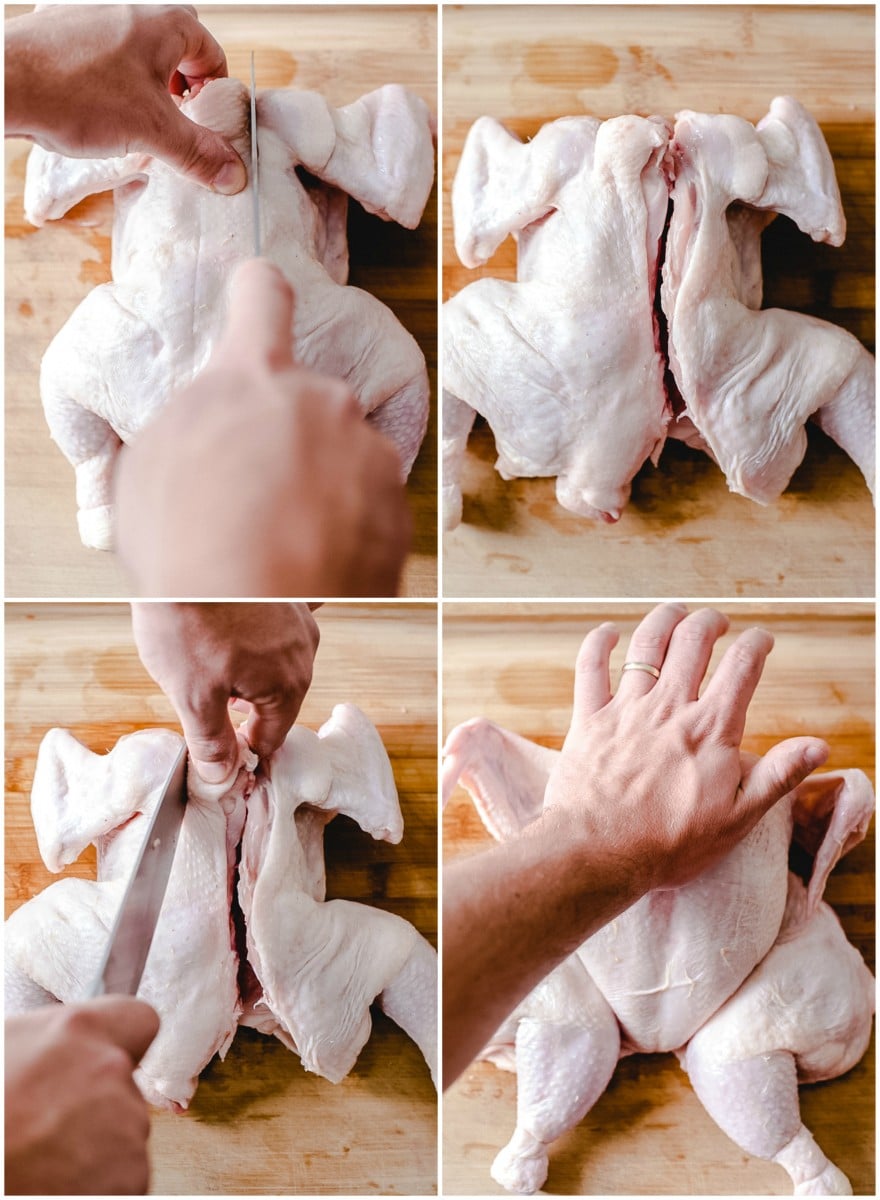 The are two main reasons for spatchcocking a chicken:
First of all, it cuts the cooking time in half.
Secondly, it allows for the chicken to cook more evenly by flattening it. You will no longer get dry chicken breasts if using this method. Both drumsticks and breasts will come out juicy and flavourful!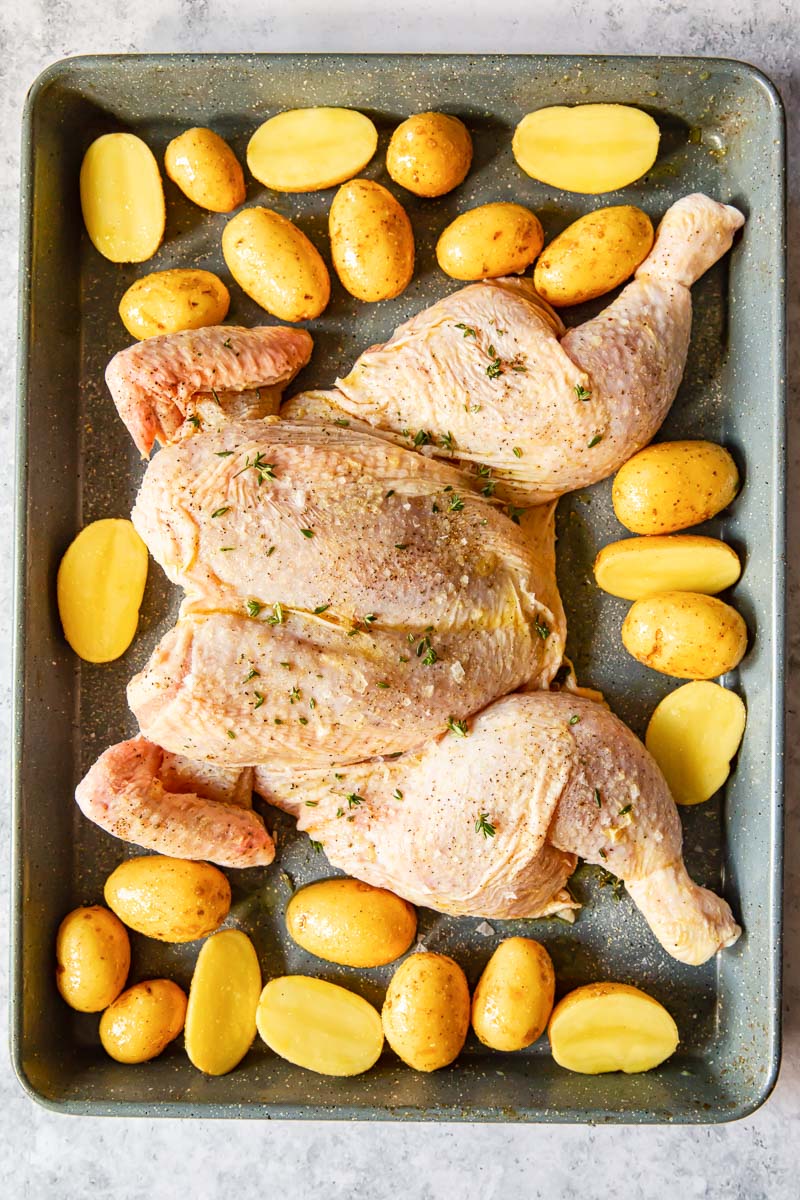 How to roast chicken and potatoes
I believe roasting a spatchcock chicken is the best way of cooking it, followed closely by grilling. To achieve the best results choose a bird that is not too large. It should be in the 2.5-3lbs range.
Season the chicken with salt, pepper, and a sprinkling of herbs. My personal favourite is thyme or rosemary. I used fresh herbs but dried are also fine.
Whenever I cook a chicken, I always add a touch of fresh garlic to flavour it. Since roasting happens at a high temperature in this recipe I didn't want the garlic to burn and turn bitter, so I opted out for garlic powder instead.
The best part of this chicken is perhaps the crispy skin coated with breadcrumbs. The breadcrumbs get applied at the end of cooking to insure the skin underneath would be crispy, then quickly broiled until golden.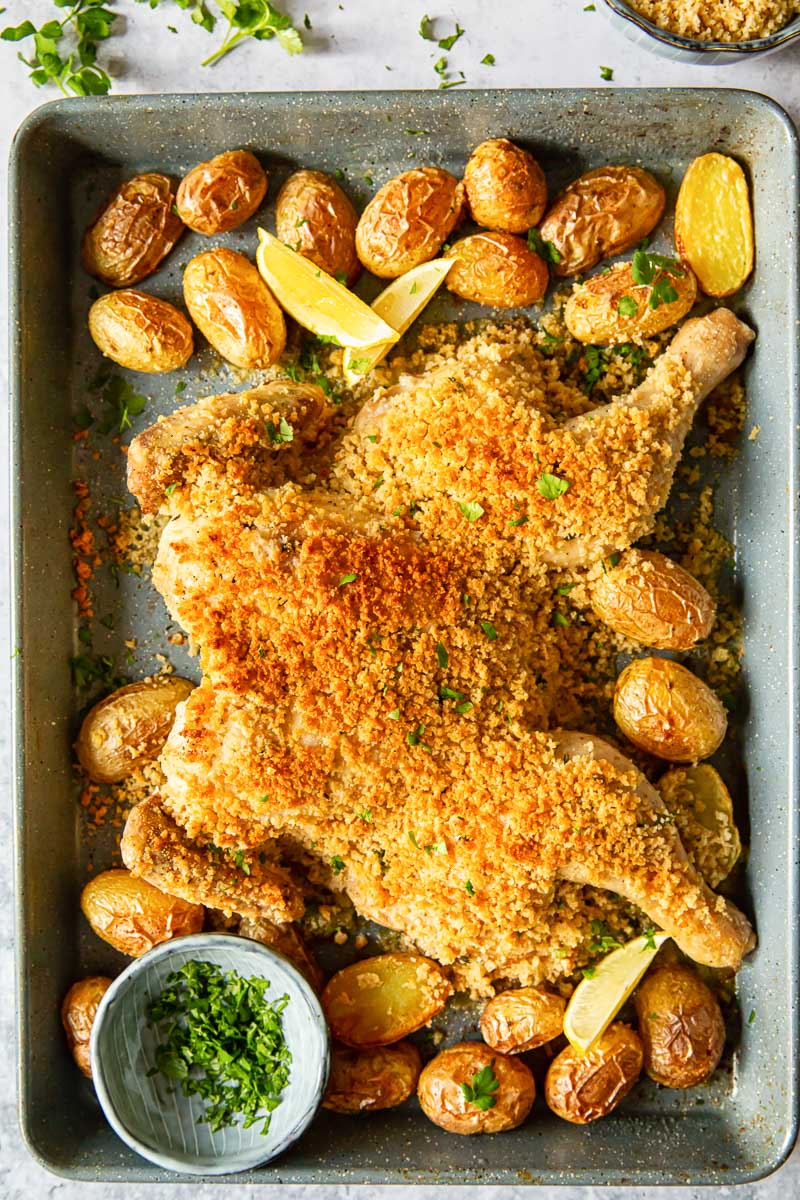 Although adding potatoes to the pan with the chicken is optional, it is highly recommended. With minimum effort you get a whole meal out it.
I chose baby potatoes but regular potatoes, that are cut into smaller chunks for quick roasting, will be just as delicious!
For other ways to cook a spatchcock chicken take a look at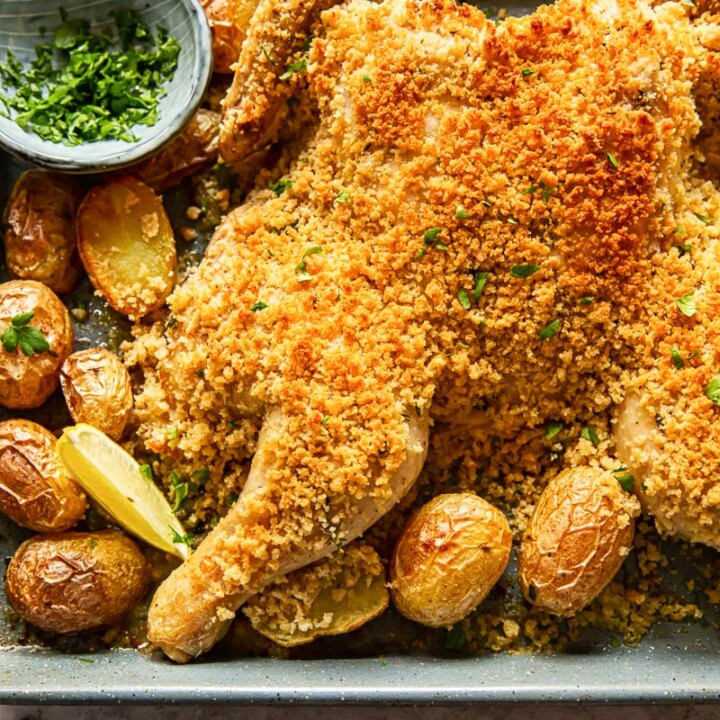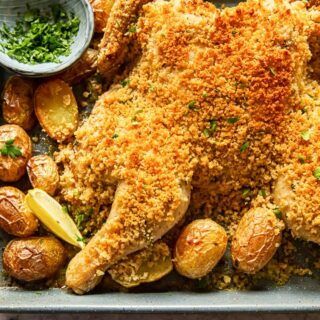 Spatchcock Roast Chicken in Breadcrumbs and Potatoes
Spatchcok chicken roasted in breadcrumsb with potatoes.
Print
Pin
Rate
Ingredients
1

whole chicken

approximately 3lbs

2

tbsp

olive oil

salt

pepper

2-3

sprigs

thyme leaves or 1 tsp dried thyme

1

tsp

garlic powder

1.5-2

lbs

baby potatoes

2

tbsp

olive oil

salt

125g/1 cup

dried breadcrumbs

0.5

tsp

garlic salt

2

sprigs

thyme, leaves only or 0.5 tsp dried thyme

4

tbsp

melted butter
Instructions
Preheat the oven to 200C/400F

To spatchcock a chicken place it breast side down and with a sharp knife or kitchen scissors cut along one side of a backbone, then repeat with the other side. Remove the backbone and turn the bird the cut side down. Place the palm of your hand on the chicken breast and push down firmly to flatten it. Tuck the wing tips under the breasts to avoid burning.

Brush the chicken with olive oil, season with salt, pepper, garlic powder and thyme leaves. Cut the bigger baby potatoes in half, so they are all the same size, then toss in olive oil and salt and scatter around the chicken. Roast at 200/400 for 40 minutes until 165F/74C in the thickest part of the bird.

Mix melted butter with breadcrumbs and scatter over the chicken, broil until golden. It might take 2-3 minutes or longer depending on how close the chicken is to the element.
Nutrition
Calories:
893
kcal
|
Carbohydrates:
53
g
|
Protein:
43
g
|
Fat:
56
g
|
Saturated Fat:
18
g
|
Cholesterol:
173
mg
|
Sodium:
1927
mg
|
Potassium:
1146
mg
|
Fiber:
5
g
|
Sugar:
3
g
|
Vitamin A:
664
IU
|
Vitamin C:
38
mg
|
Calcium:
102
mg
|
Iron:
5
mg