Homemade chicken noodle soup is one of the easiest and most comforting dishes out there! Making it entirely from scratch is so easy. The taste is definitely in the broth.
Yes, you can even make your own noodles just like grandma used to!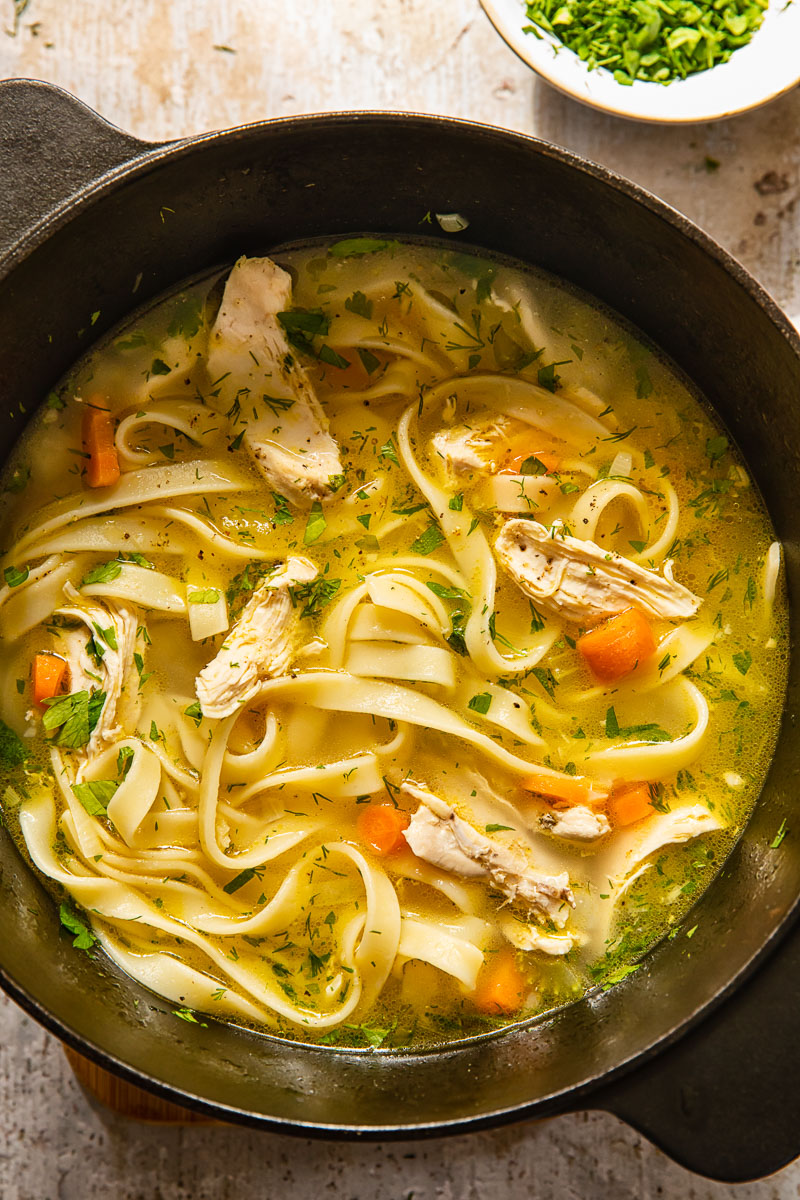 Chicken Noodle Soup is synonymous with words like comfort, well being and nourishment. Chances are you grew up eating and loving your mother's or grandmother's version of this iconic dish. And you crave its nostalgic taste whenever any type of adversity strikes. Even as insignificant as bad weather!
The recipe, I am sharing today, is fashioned after my paternal grandmother's. She mader hers entirely from scratch. She also made her own noodles.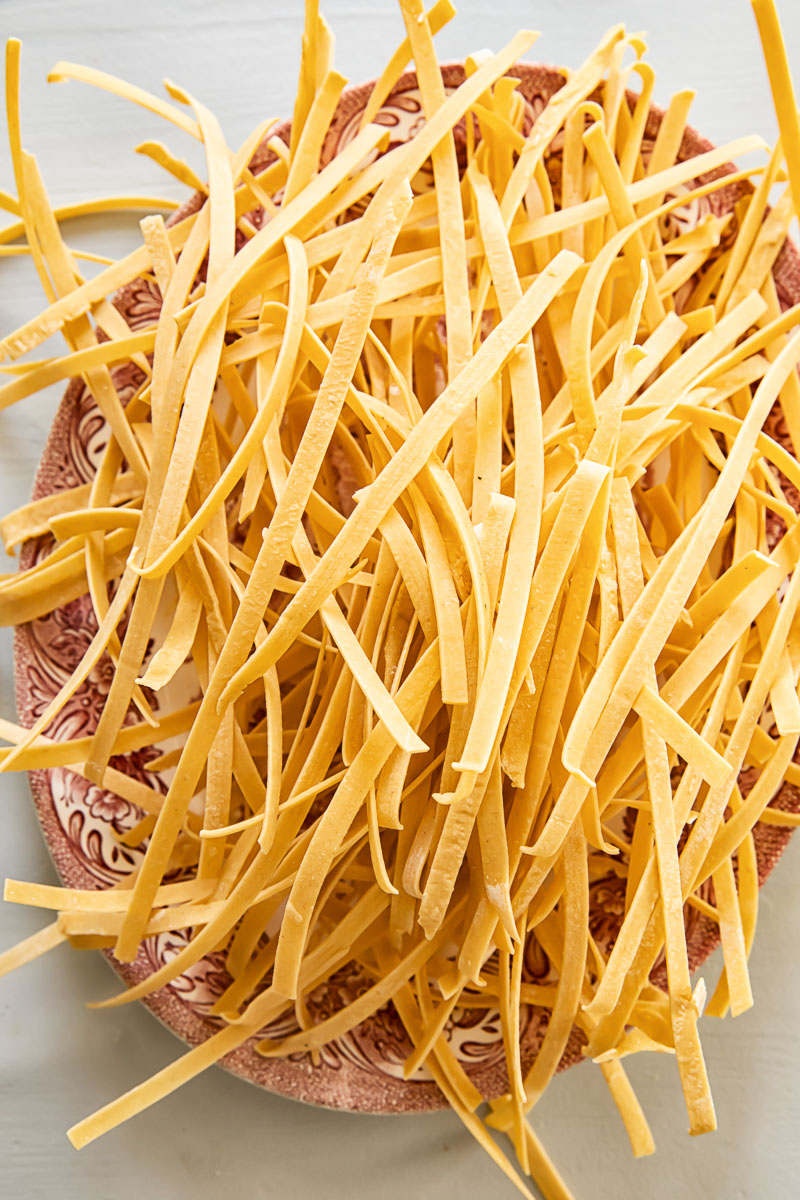 I am not saying you have to do that. But if you are after a slow afternoon in the kitchen, take a look at my recipe for homemade fresh pasta. I used a pasta machine, which made it super easy and quick, but granny definitely rolled her noodles by hand!
Rolling them by hand made the noodles thick and, somehow, incredibly satisfying to slurp!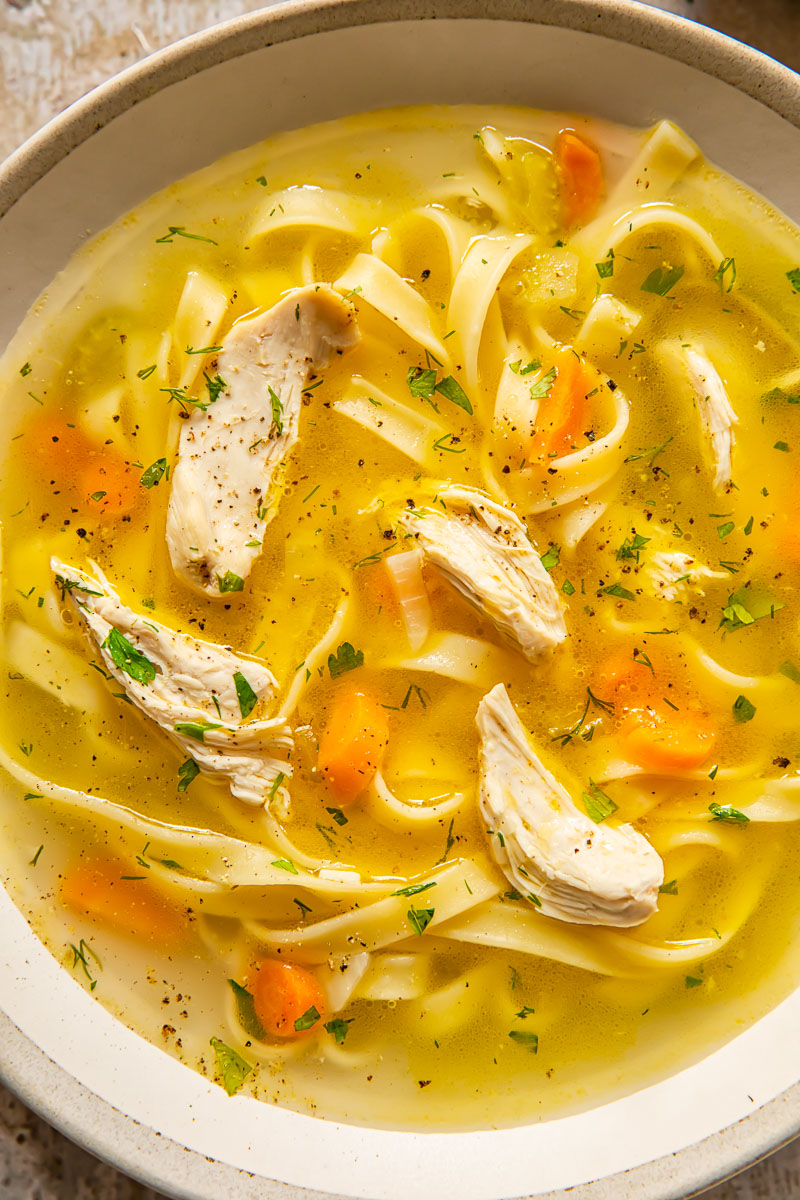 Recipe Tips and Notes
I said it before and I will say it again that the broth is the most delicious and essential part of any soup. That is why I advocate for making a homemade stock whenever possible. It's much easier than it sounds. No, you don't need hours for that! Mine took 30 minutes.
The main ingredient for achieving rich, flavourful broth is found in chicken bones. I know many people love to eat boneless chicken breasts in their soup. Fair enough, however they simply don't provide enough flavour for the stock. That is why I included 2 bone-in chicken thighs in addition to the breasts for maximum flavour.
I also added a couple of bay leaves, whole peppercorns and salt to the pot get my stock started. Always skim the impurities that float to the top to keep the broth clear. I also strain it at the end of the cooking time because I love it to extra clear but you don't have to if you are short on time.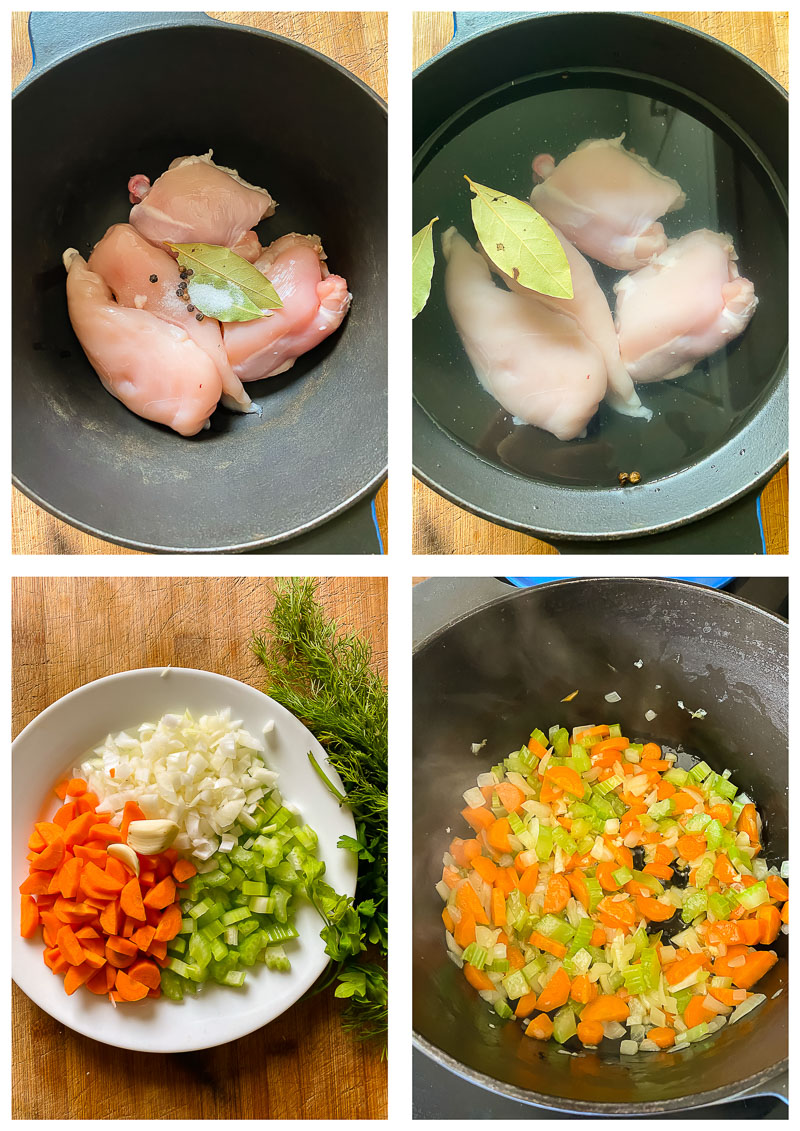 I start with the classic three vegetables for the base flavour of the soup. Onion, celery and carrot. But I can never resist not adding a clove of garlic as my mother always did as well as fresh dill and parsley.
Saute the vegetables in butter, which will add another layer of flavour.
Drop the noodles in at the end and cook no longer than 7-8 minutes. Otherwise they will be overcooked.
Serve with extra sprinkling of fresh herbs. They are not expensive and readily available in the winter nowadays. Fresh herbs perk up any soup or stew as well as remind us of summer days.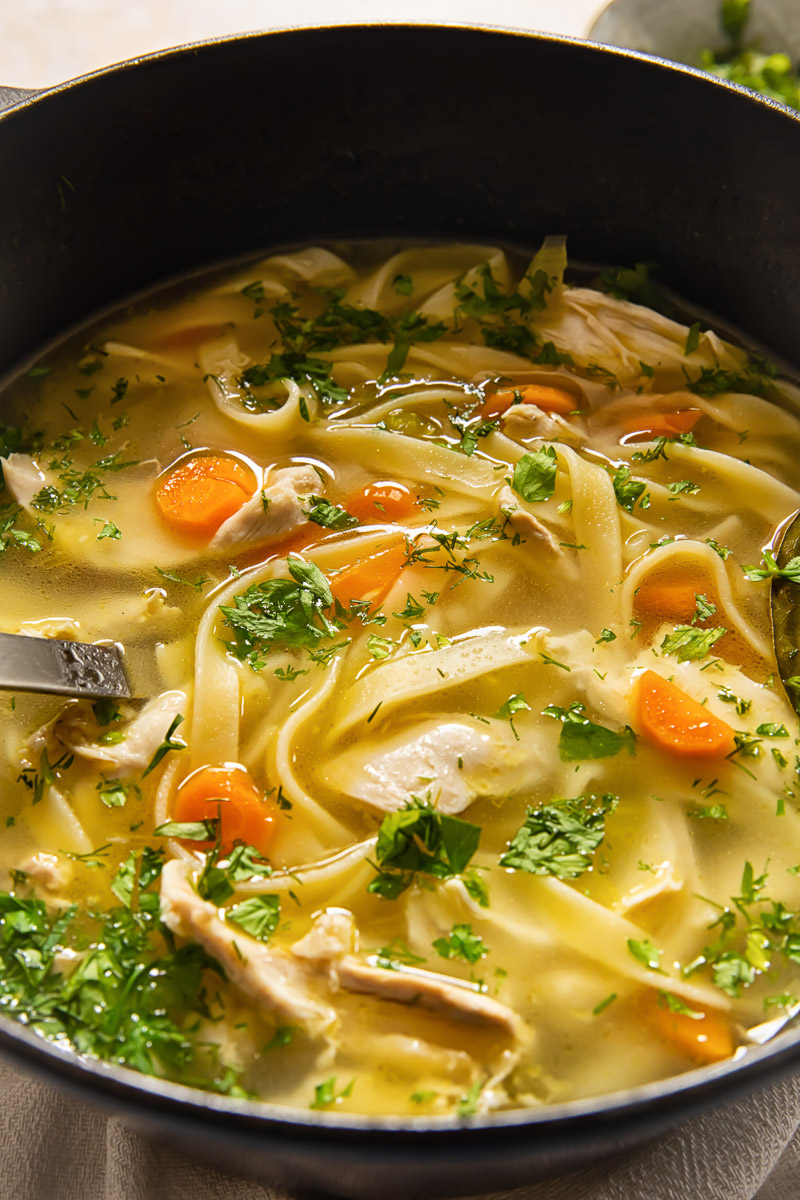 This soup could be eaten for lunch or dinner. If you are serving it as a main course, I would recommend adding crusty bread. My easy No Knead Oven Bread or Sourdough Bread will make the meal extra delicious.
Favourite Chicken Soup Recipes: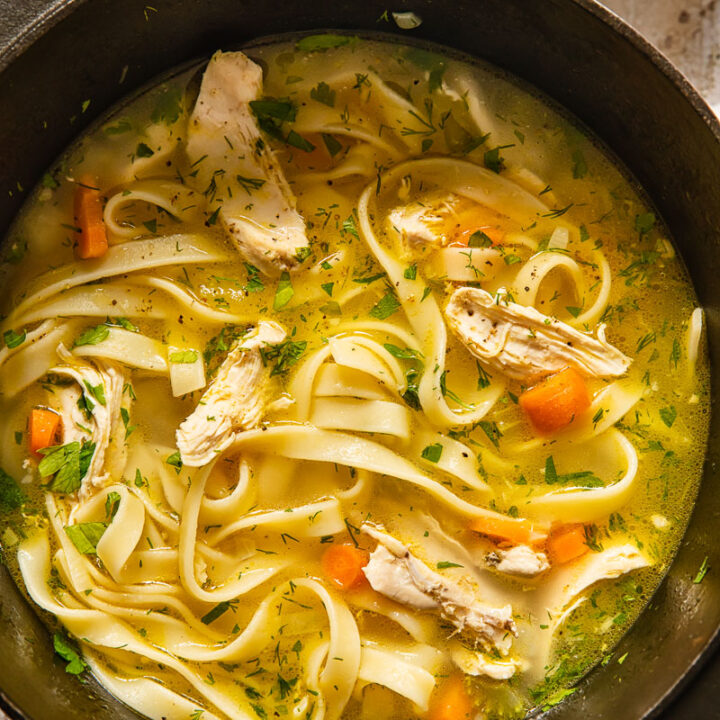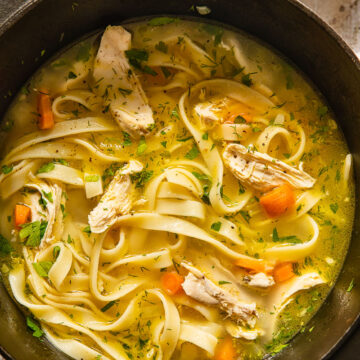 Homemade Chicken Noodle Soup
Homemade chicken noodle soup is one of the easiest and most comforting dishes out there! Making it entirely from scratch is so easy.
Ingredients
2 litres/8 cups

cold water

2

skinless, boneless chicken breasts

2

skinless bone-in chicken thighs

3

bay leaves

4-5

whole peppercorns

1

tsp

salt

1

tbsp

butter

1

carrot

1

onion

1

stalk

celery

1

clove

garlic

125g/4 oz

egg noodles
Instructions
To the soup pot, add 2 chicken breast and 2 chicken thighs, 2 bay leaves, the peppercorns and a pinch of salt. Pour in cold water and set to boil over medium heat. Once it boils, lower the heat to simmer and cook for 30 minutes with a lid slightly ajar. Make sure to skim the foam off the top to keep the broth clear.

At the end of the cooking time, remove the chicken and set aside to cool. Shred with two forks into bite-sized pieces. Strain the broth through a sieve to remove the impurities, the bay leaves and the peppercorns. Set the clarified broth aside till needed.

In the same pot melt the butter and saute the onions, celery and carrots for 5 minutes over medium heat, then add 1 pressed garlic clove and cook briefly for 30 seconds. Pour the broth over the vegetables, and add the chicken back to the pot, bring everything to a boil. Then add the noodles and cook for 8-10 minutes until al dente. Sprinkle with fresh dill and parsley before serving.
Nutrition
Calories:
194
kcal
Carbohydrates:
18
g
Protein:
18
g
Fat:
5
g
Saturated Fat:
2
g
Polyunsaturated Fat:
1
g
Monounsaturated Fat:
2
g
Trans Fat:
1
g
Cholesterol:
79
mg
Sodium:
496
mg
Potassium:
354
mg
Fiber:
1
g
Sugar:
2
g
Vitamin A:
1823
IU
Vitamin C:
3
mg
Calcium:
25
mg
Iron:
1
mg