This Mushroom Wellington is so stunning, it's worthy to crown your holiday table. Savoury mushroom filling is flavoured with roasted garlic, thyme and Parmesan cheese, then baked in flaky puff pastry, it was created for vegetarians but is also loved by carnivores!
Serve it with our Port Cranberry Sauce and Herb and Garlic Mashed Potatoes.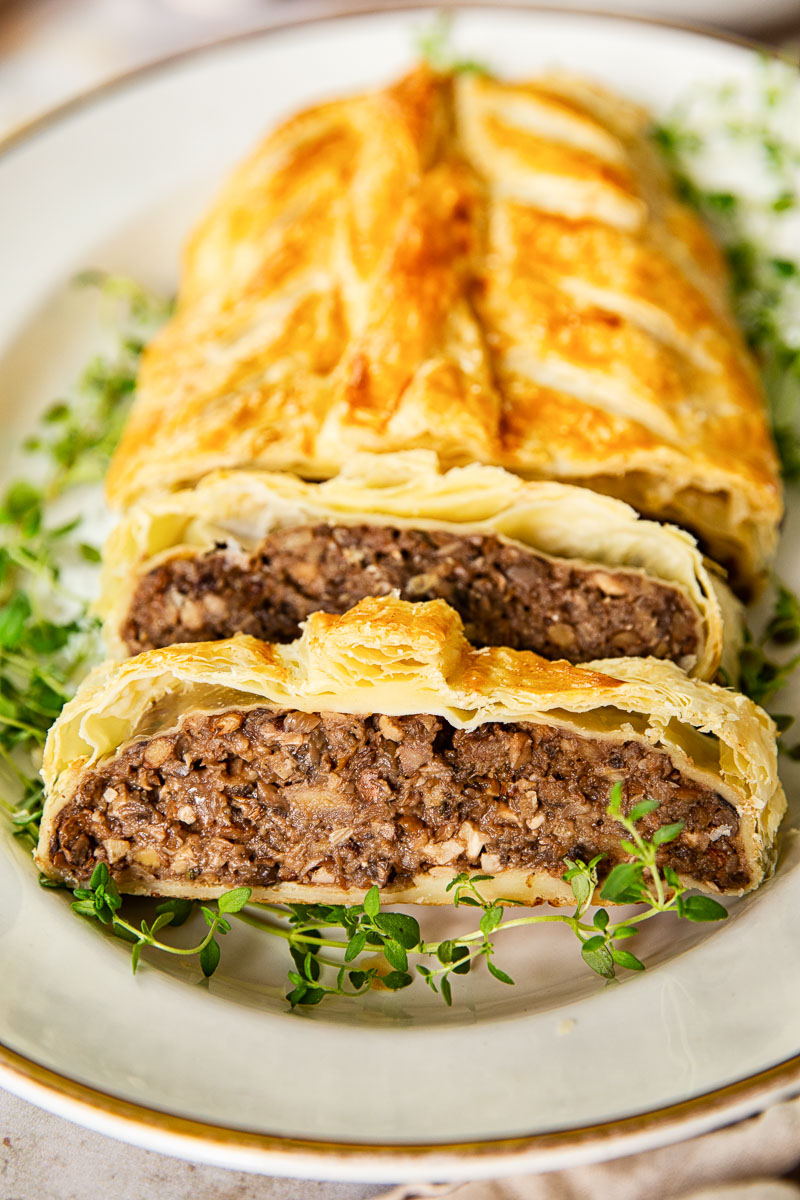 Vegetarian Thanksgiving Recipes
I often hear from my vegetarian friends that despite turkey being the main attraction of the Thanksgiving and Christmas table, they love the holiday food! And I get it.
When else do we get to enjoy such an array of magnificent side dishes. Homemade and made entirely from scratch Green Bean Casserole and Herb and Garlic Mashed Potatoes are just a few of my personal favourites!
What my friends are saying is that they skip the turkey and enjoy the vegetarian sides. I am not sure about you but it doesn't seem fair to me. So I set out to create a show stopping vegetarian main dish to delight my veggie readers and friends.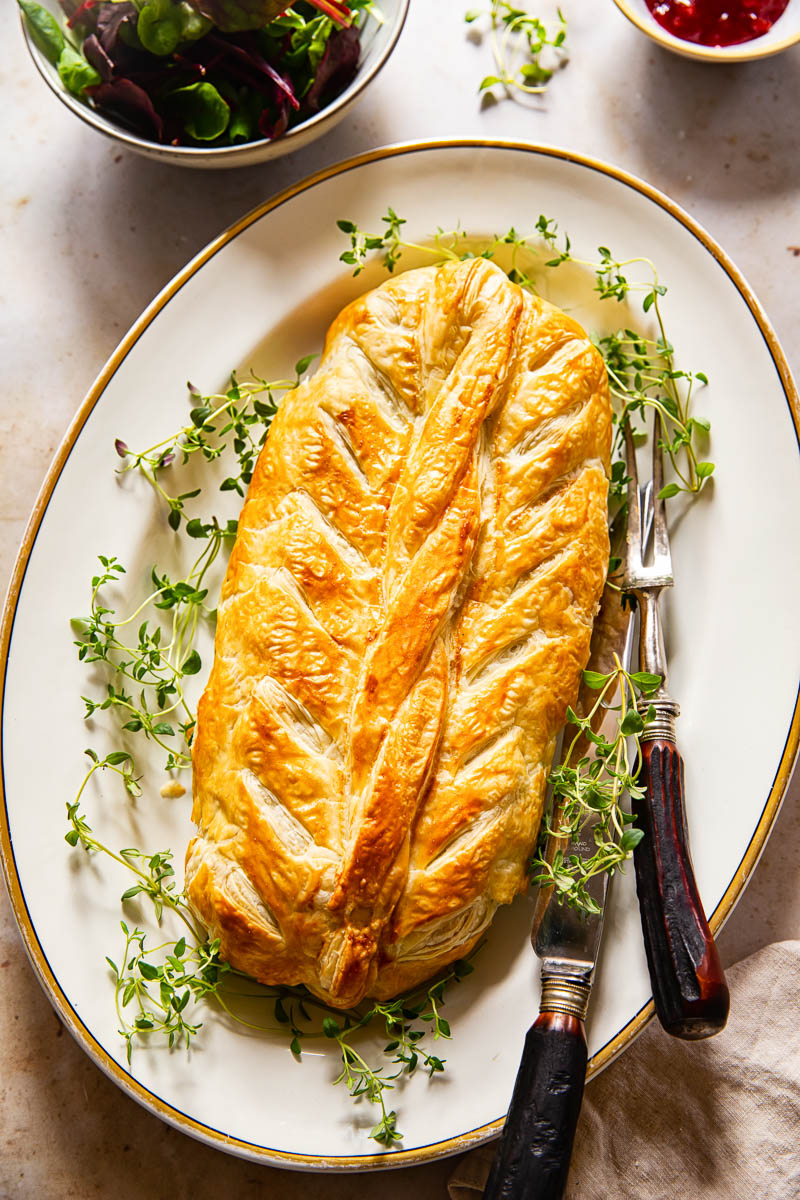 Mushroom Wellington
I am very excited and quite proud to introduce this fabulous vegetarian dish. Made from three types of mushrooms, green lentils, roasted chestnuts, mixed nuts and Parmesan cheese, this Wellington is truly glorious.
Our mushroom loving family and our next door neighbours enjoyed it on several occasions. Yes, I tested this recipe a few times to get to this perfection.
I am no stranger to a Wellington. My ground beef Wellington is a well loved recipe in our house and is highly favoured by our readers.
Our Salmon Wellington aka Salmon en Croute is an elegant dish that will make any dinner feel special. Making a vegetarian version seemed like the right way to go.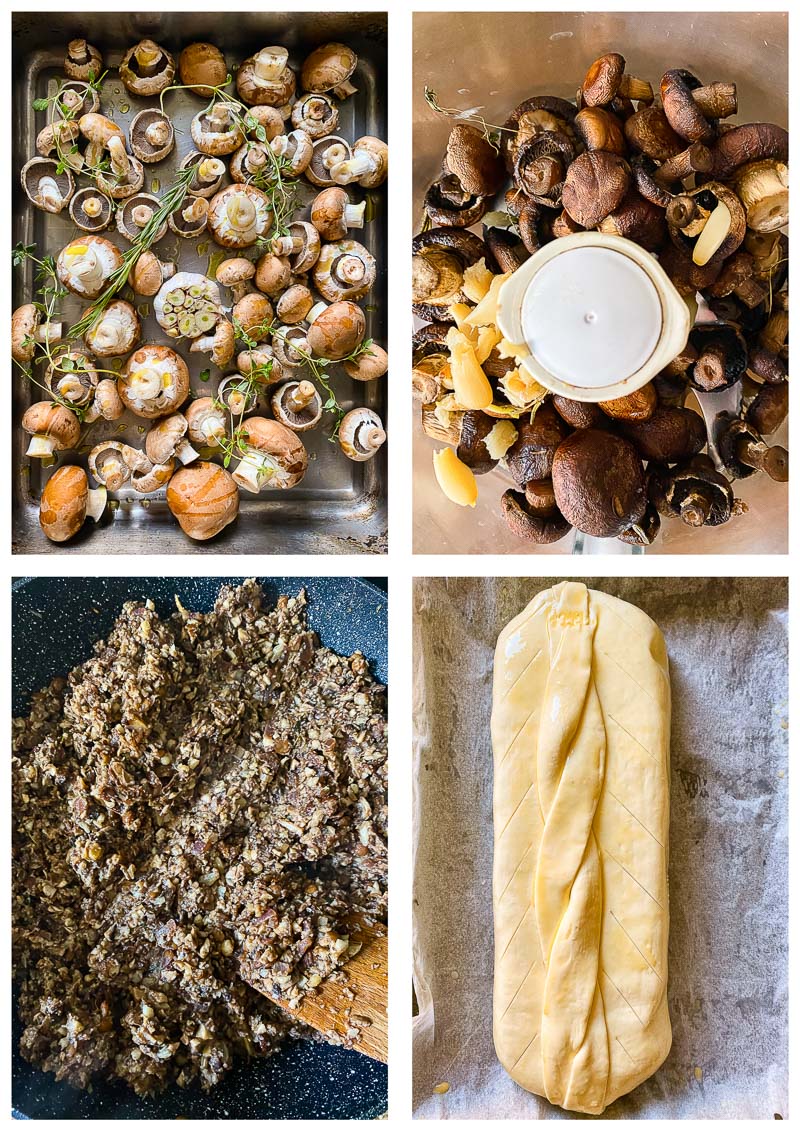 How to Make It
The filling for this dish is no different from a mushroom loaf. The only difference is you wrap it in prepared puff pastry and bake. This way a humble looking loaf transforms into a stunning main dish, which is fit for your festive table.
What makes it a great holiday dish is the preparation method requires chilling before baking. You can make the filling the night before, then wrap it in puff pastry and bake on the day of the celebration. Stress free cooking indeed!
To make the savoury filling I combined the chestnut aka cremini, portobello and porcini mushrooms for maximum flavour. I roasted the first two with a head of garlic and thyme. Then I reconstituted dried porcini mushrooms and added them to the mix as well.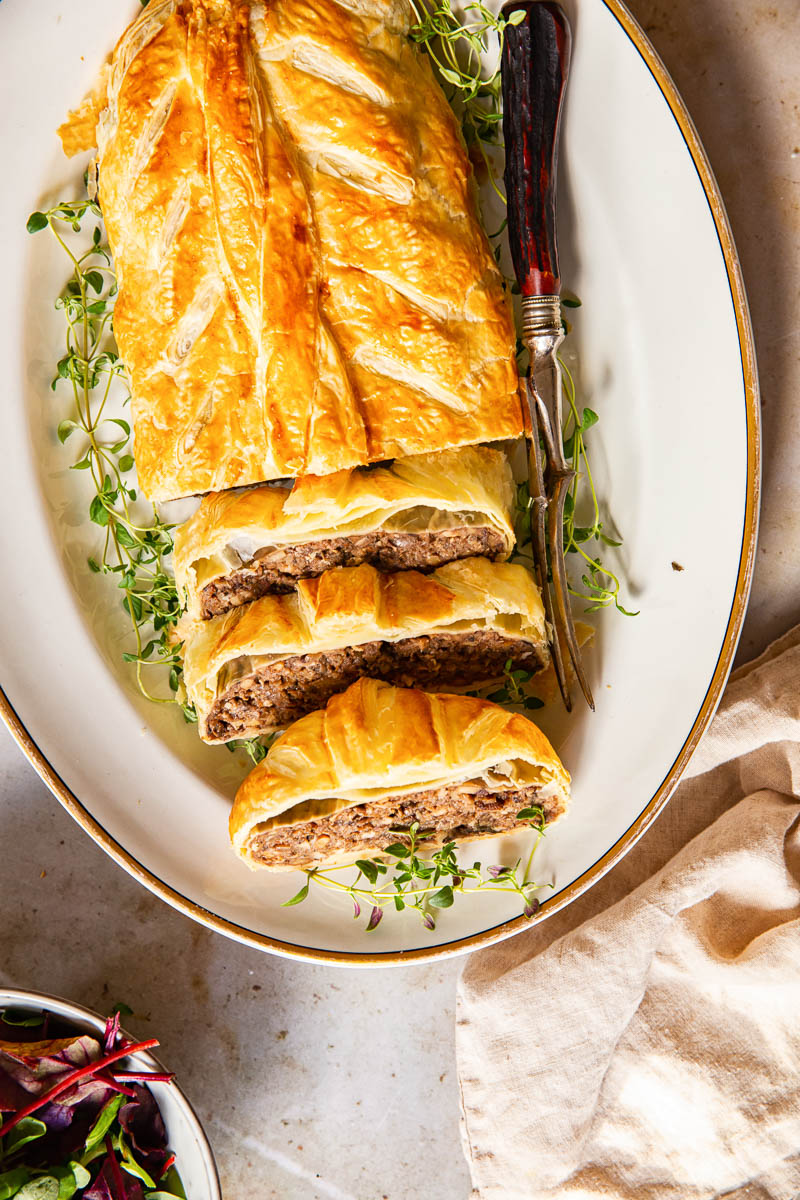 Other ingredients, that went into the filling, had two purposes
Enhance the Flavour and Texture (thyme, roasted garlic, red wine, Parmesan, roasted chestnuts, mixed nuts)
Bind the Loaf (lentils, breadcrumbs)
What Sauce to Serve
We highly recommend serving this vegetarian Wellington with our Port Cranberry Sauce. The sweet and tart taste of the sauce bring a perfect balance to the deep and earthy flavour of the mushrooms.
They are a match made in heaven!
Alternative Serving Ideas
You can also half this recipe and make this Mushroom Wellington into small individual bakes if you have only a couple of vegetarians at the table.
Or make the full version and serve slices of this delicious Wellington as a side dish to your meat loving friends and family. We are sure there won't be any leftovers!
More Vegetarian Holiday Dishes to Try: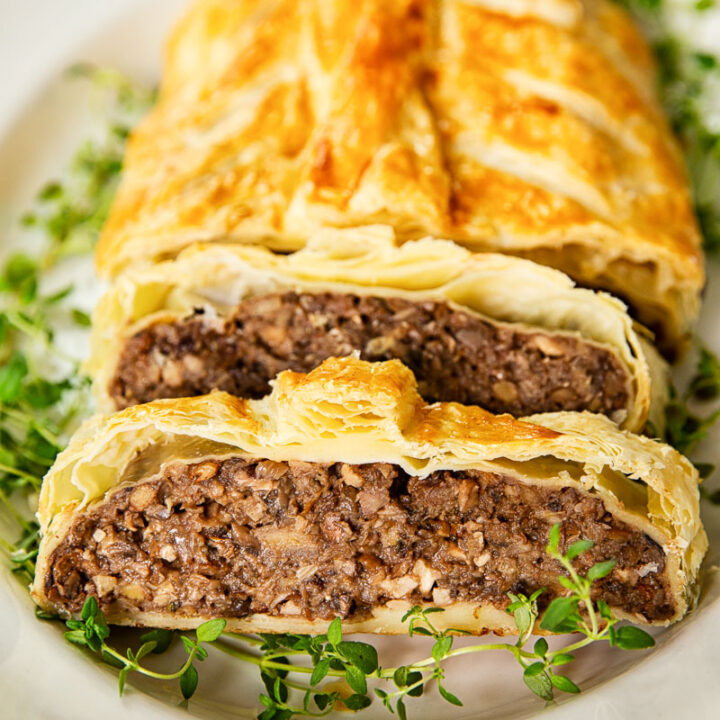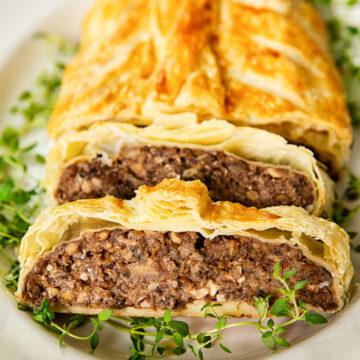 Mushroom Wellington Recipe (Vegetarian)
This Mushroom Wellington is so stunning, it's worthy to crown your holiday table. Savoury mushroom filling flavoured with roasted garlic, thyme and Parmesan cheese, then baked in flaky puff pastry.
Ingredients
500g/16oz

mushrooms

chestnut/cremini and portobello mix

3

tbsp

olive oil

divided

6-8

sprigs

fresh thyme or 1 tsp dried thyme

1

head

garlic

small

1

onion

chopped

135g/1 cup

canned or cooked green lentils

20g/1/4 cup

dried porcini mushrooms

125ml/1/2 cup

dry red wine

4

tbsp

mushroom liquid

from reconstituted dried porcini

50g/1/3 cup

cooked chestnuts

store bought

50g/2/3 cup

mixed nuts

chopped

50g/ ½ cup

dried breadcrumbs

50g/ ½ cup

Parmesan cheese

grated

350g/ 13 oz

puff pastry

one package

1

egg for brushing
Instructions
Preheat the oven to 200C/400F. In a small bowl soak the dried porcini mushrooms in 125ml/1/2 cup of boiling water for 15-20 minutes. In a roasting pan combine the fresh mushrooms with the olive oil, thyme and salt. Cut the top of a small head of garlic to expose the cloves, wrap the garlic in aluminum foil and place in the same pan as the mushrooms. Roast in the preheated oven for 20 minutes, then take the mushrooms out but leave the head of garlic for 10 minutes longer or until the garlic is soft. Let the mushrooms and the roasted garlic cool slightly until needed.

While the mushrooms are roasting, heat the olive oil in a large frying pan and saute the chopped onion over low heat with 2-3 sprigs of thyme or ¼ tsp of dried thyme. Add the drained lentils, drained and chopped reconstituted porcini mushrooms, chopped chestnuts, a pinch of salt, red wine and the liquid from the dried mushrooms. Bring to a boil and let it simmer over low-medium until most of the liquid has evaporated for 5-7 minutes.

Add the roasted mushrooms and peeled garlic cloves to a food processor and pulse until the mixture is minced and but still has some texture. Alternatively, you can mince the mushrooms and the roasted garlic by hand if you don't have a food processor.

To the same pan add the breadcrumbs, grated Parmesan cheese, mixed nuts and the minced roasted garlic and mushrooms mixture. Mix to combine, then add salt and pepper to taste. The mixture should be moist but not wet. (Watch the video for the texture guidance.) Remove to a bowl and cool completely. (This could be done overnight)

On a floured surface roll out the puff pastry into a rectangle of ¼ inch thickness or use already rolled puff pastry. Add the mushroom mixture to the centre of the rectangle and form into a log, leaving 1 inch border on the shorter sides to seal. Brush all 4 sides with a beaten egg. Pick up the long sides of the puff pastry sheet and wrap them around the mushroom log making sure the edges overlap, then seal by pressing on the edge with a fork dipped into a beaten egg.

Carefully transfer the Wellington on a parchment paper lined baking pan placing it seam down. Then brush with the egg wash all over. Score with a sharp knife to form an attractive pattern. (Crisscross is a classic pattern used for Wellingtons or you can decorate as you wish) Bake in the preheated 200C/400F oven for 40-45 minutes until golden. Cool for 10 minutes before slicing.
Notes
The mushroom filling can be made a day ahead before baking.
Nutrition
Calories:
459
kcal
Carbohydrates:
39
g
Protein:
12
g
Fat:
28
g
Saturated Fat:
7
g
Cholesterol:
25
mg
Sodium:
269
mg
Potassium:
458
mg
Fiber:
4
g
Sugar:
3
g
Vitamin A:
114
IU
Vitamin C:
7
mg
Calcium:
115
mg
Iron:
3
mg