Whether for a nutritious meal, the showpiece for a dinner party, or adding a twist to your holiday season, a tasty vegetarian Wellington is always going to be a hit! Combine sweet roasted squash and savoury lentils into one golden package with this Lentil and Butternut Squash Wellington!
Try serving this Wellington with Roasted Carrots with Garlicky Lemon Tahini Sauce!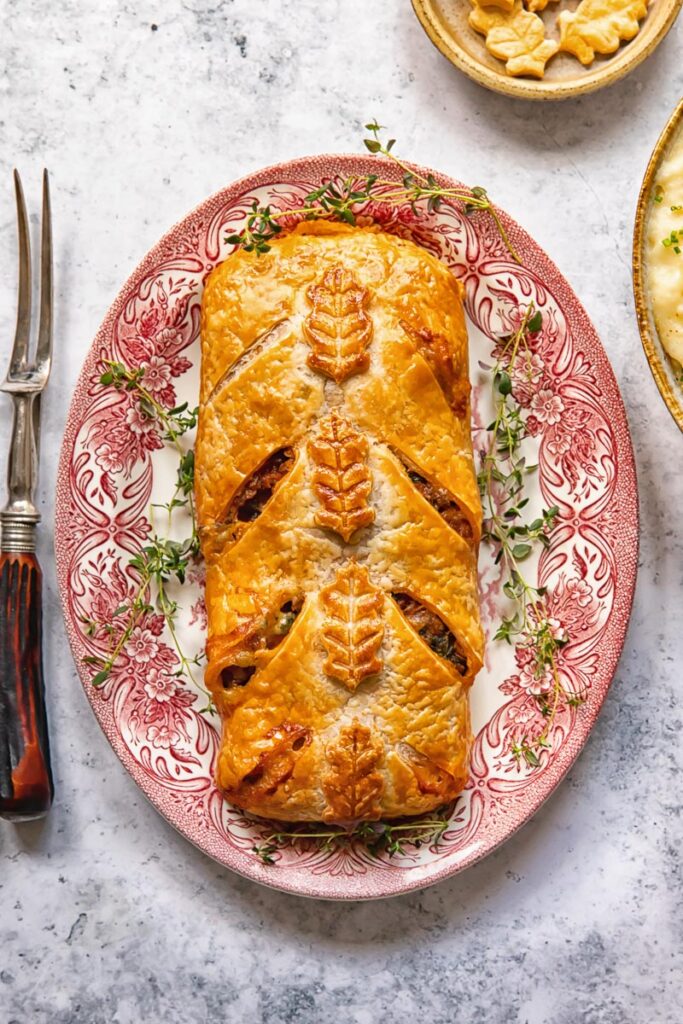 I'm a sucker for anything in pastry. Whether sweet or savoury, buttery, flaky pastry is the perfect packaging for pretty much anything.
So when looking for vegetarian main dish idea, that would add some flair to my dinner table, a Wellington seemed like the obvious choice.
This Lentil and Butternut Squash Wellington is the result of my experimentation, and honestly I couldn't be more pleased! My family loved it even more than I hoped, and I'm sure it'll be a hit in your home too!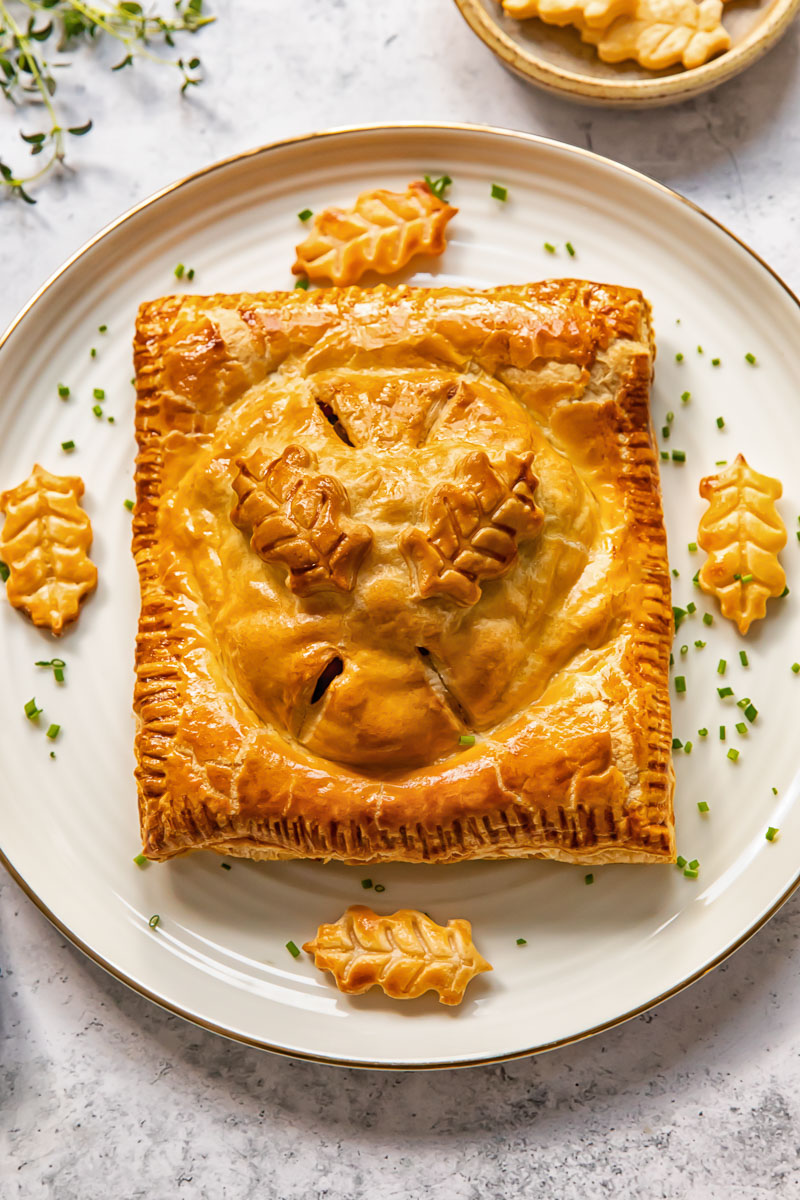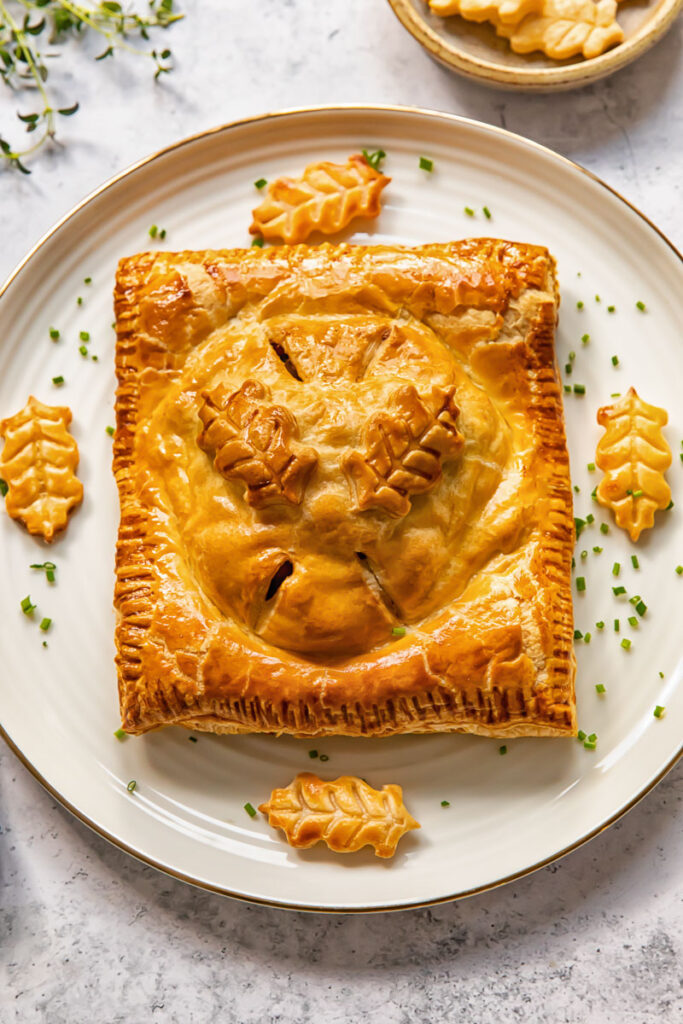 Wellington recipes
Although the British will claim the classic Beef Wellington as their own creation, the truth is that people have been baking meat in pastry for centuries. Unfortunately for British patriotism, the dish is probably based on the very similar French filet de boeuf en croûte.
But I still rate this as one of the cornerstone dishes of criminally underrated British cuisine, where chunks of beef and roast dinners matter an awful lot.
The name itself is based on the Duke of Wellington, hero of the Napoleonic Wars. One almost certainly not true legend says it was invented by one of his chefs. It's more likely that it was named in his honour.
While beef fillet is at the centre of Beef Wellington, there are lots of different ways to make something similar with different hero ingredients. Salmon, mushrooms for a vegetarian version, and ground beef have all made it as my own Wellington recipes.
Why you'll love it
Lentils and butternut squash are ingredients that belong together. Adding nutty, savoury green lentils to caramelised butternut squash is just too perfect.
I think they are particularly good together when a little sharpness is added, like blue cheese or feta. The cheese will also bring a bit of richness we all expect from a holiday centrepiece. I also added a healthy portion of spinach for a splash of vibrant green.
All of it together is the perfect filling to package into buttery, flaky puff pastry. Perhaps it's not a traditional Wellington, but it is stunningly good!
The recipe is also easy to adapt, whether with twists to the filling or playing with the format. I've made both one large Wellington and individuals pastry pockets, and I'm still not sure which one I love more!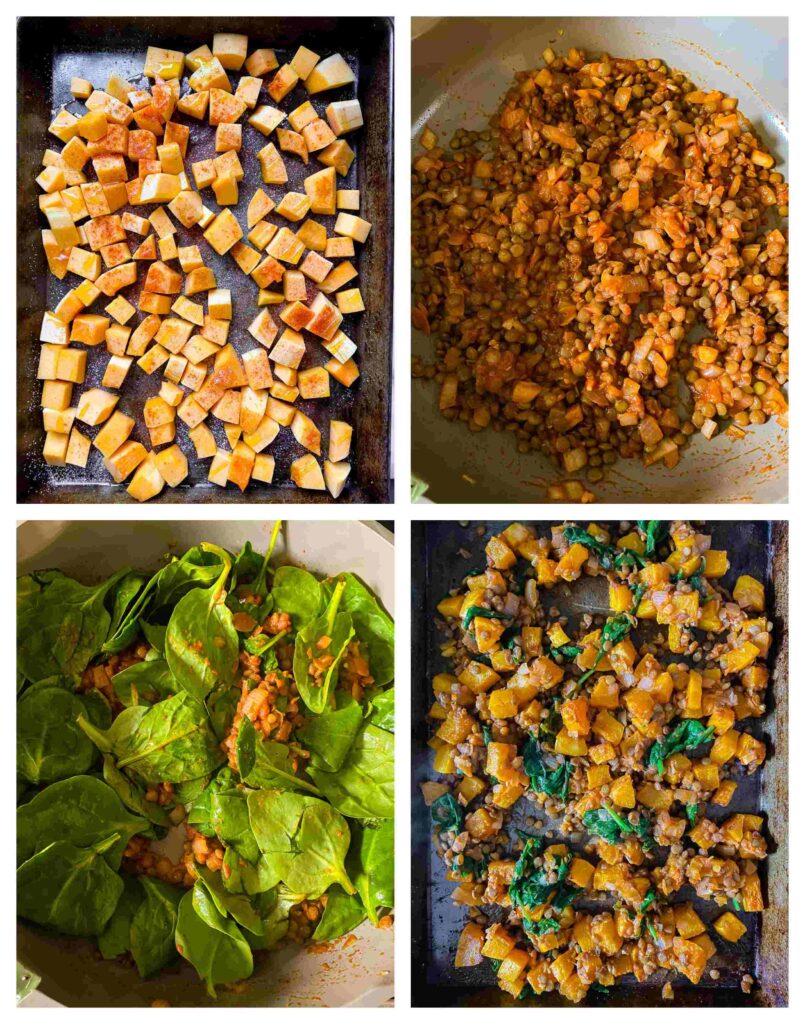 Recipe tips and notes
Walnut pieces will add a festive twist to the recipe and a bit of variety to the texture. Stir approximately 50g of walnut pieces into the stuffing mixture before baking. Sunflower seeds will also work.
Blue cheese adds a beautifully sharp and salty twist to the vegetarian Wellington recipe and is a great match for the cooked lentils and sweet butternut squash. If blue cheese isn't your thing, feta will be a good substitute.
This recipe is suitable for vegetarians, but it can also be made into a vegan Wellington recipe. Use aquafaba or another substitute for egg wash, as well as vegan butter and vegan puff pastry, to ensure that butter isn't part of the dish. Both should be available in most grocery stores. Also leave out the blue cheese in a vegan version.
If you only have one or two vegetarians at your meal, it may make more sense to make individual sized portions. It's likely that you will have a couple leftover, so store unbaked wrapped in plastic wrap and use within a couple of days, or if frozen, within three months.
All butter pastry has the best combination of flakiness and good taste. Choose this whenever possible. Using store-bought puff pastry makes this a far easier recipe, and be sure to brush with egg wash. Egg-washed puff pastry is the only way to get that lovely golden colour!
While the scoring of the puff pastry does make the finished dish far more attractive, it also serves an even more vital purpose. The slits allow moisture to escape and prevent the Wellington from bursting as it bakes. Diagonal slits forming a crisscross pattern is traditional. Using a very sharp knife makes it a far neater, easier job.
You'll get best results with the pastry if it is allowed to warm up slightly before use, enough that it is pliable but not yet at room temperature. Don't let it warm up too much though as it will prevent flaky layers from developing. Place the puff pastry sheet on parchment paper to make it easier to work with.
For a festive touch, use leftover pastry scraps to make decorations for your Wellington. I used a leaf cookie cutter for mine.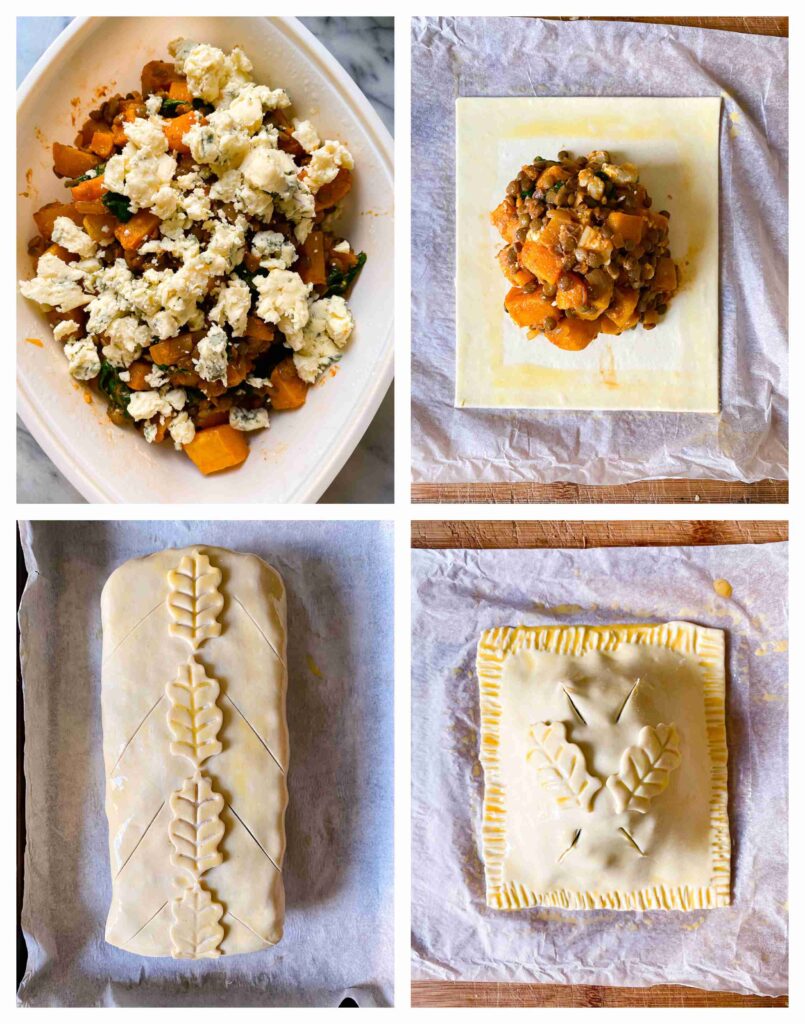 Serving suggestions
This vegetarian Wellington just screams special occasion. It's a showstopper that will be suitable for a holiday table! Thanksgiving or Christmas dinner perhaps?
A stunner like this deserves to be placed next to a selection of magnificent side dishes. Homemade, entirely from scratch Green Bean Casserole and Herb and Garlic Mashed Potatoes are always winners! As is Port Cranberry Sauce!
And for a zesty, fresh option, I love adding roasted Tenderstem broccoli.
I've also given instructions in the recipe card for making smaller, individual sized Wellingtons to serve if only a couple of vegetarians are are joining for the meal.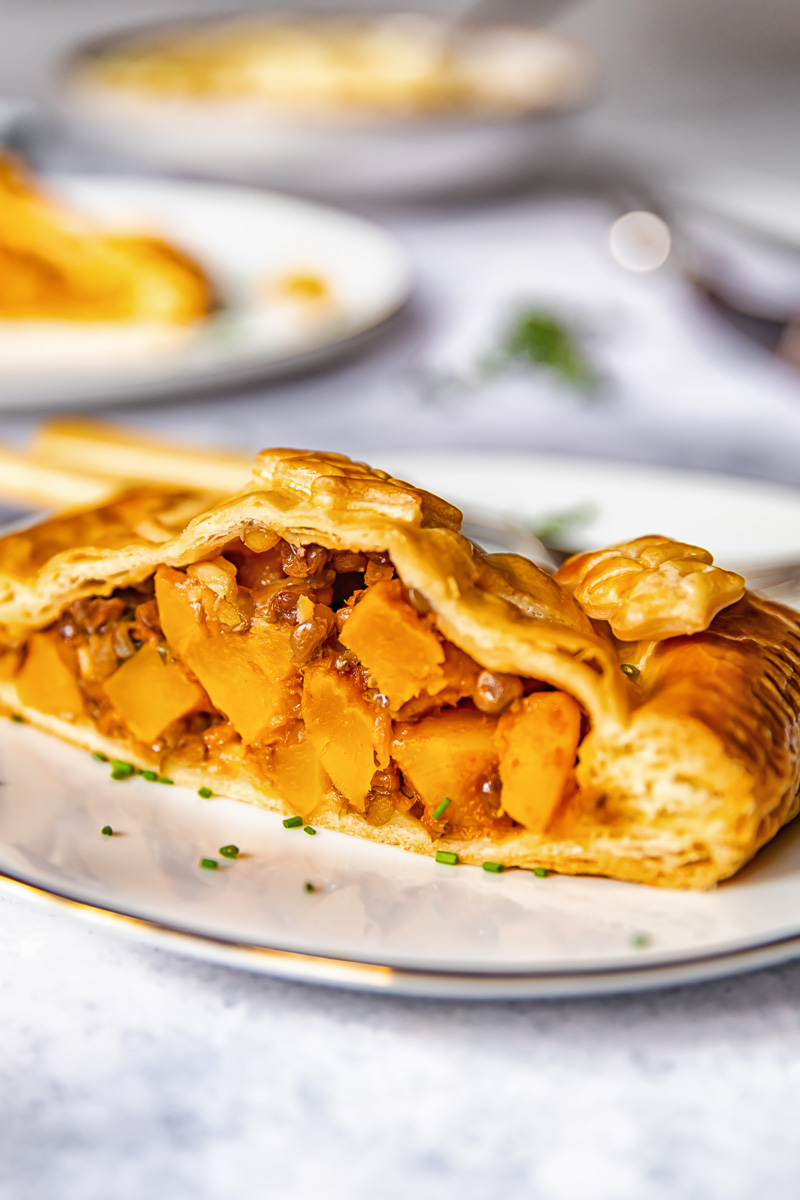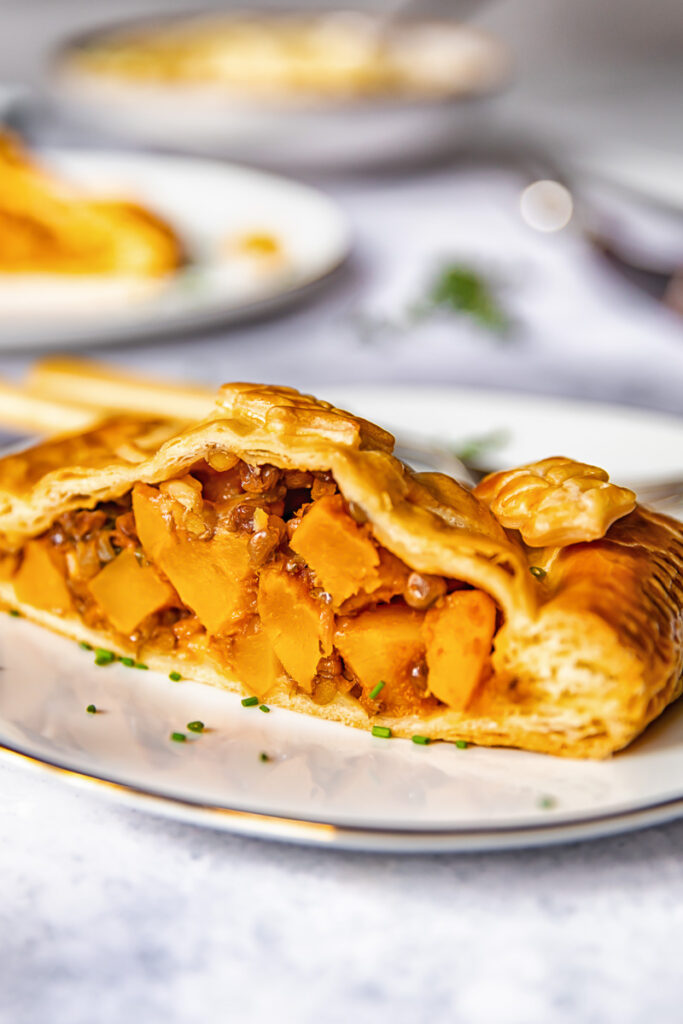 Leftovers and storage
This vegetarian Wellington will last for a short while when stored in a refrigerator in an airtight container. But the pastry will start to get soggy so eat within a day or two.
It can be reheated in a pre-heated oven at 180 degrees for 15 minutes, or until hot throughout.
But even better than an oven is an air fryer, which will do wonders for making the pastry crisp again. I cut mine into pieces and reheated at 180 degrees for 10 minutes.
More butternut squash recipes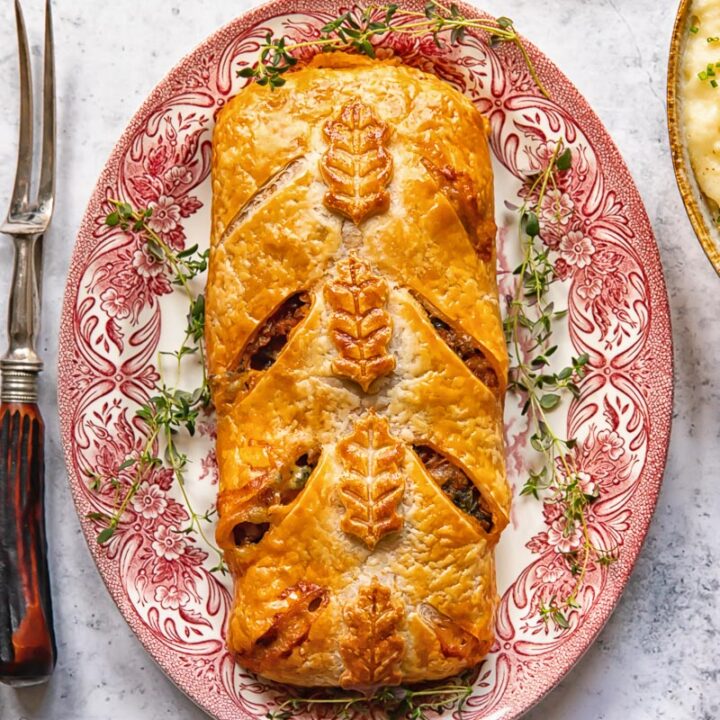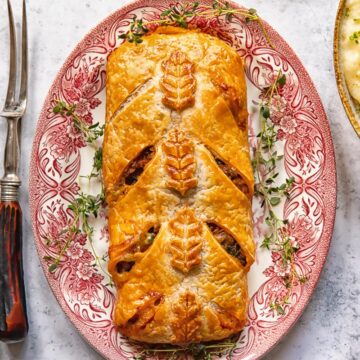 Lentil and Butternut Squash Wellington
Vegetarian wellington with savoury lentils, sweet butternut squash and tangy blue cheese.
Ingredients
1

kg

/ 2 lbs butternut squash

cubed

2

tbsp

olive oil

divided

½

tsp

salt

½

tsp

garlic powder

½

tsp

paprika

1

onion

2

cloves garlic

1

tsp

paprika

smoked

½

tsp

coriander

150

g

/ 1 cup green lentils

cooked or canned

85

ml

1/ ⅓ cup tomato passata

50

g

/ 1¾ cup spinach

100

g

/ 3.5 oz blue cheese

320

g

/ 12 oz puff pastry

1

egg
Instructions
Peel the butternut squash, cut in half and scoop out the seeds, then cut into cubes. Preheat the oven to 200C/400F, spread the butternut squash chunks on a baking sheet, then drizzle with 1 tbsp of the olive oil and season with ½ tsp salt,½ tsp garlic powder and ½ tsp paprika, toss to coat evenly. Roast in the preheated oven for 30 minutes. Remove from the oven and set aside till needed.

Meanwhile, heat the remaining tablespoon of the olive oil in a pan, add the chopped onion, 1 tsp paprika nd ½ tsp ground coriander and cook over low heat for 7-10 minutes till tender, than add the minced garlic and cook for no longer than 30 seconds. Then bring in the cooked or canned green lentils, tomato passata and a pinch of salt. Mix everthing together and cook for 10 minutes over low heat. Then add in spinach and let it wilt, which should take 2-3 minutes. Take of the heat and combine with roasted butternut squash, allow the mixture to come to room temperature. Then mix in crumbled blue cheese.

On a floured surface roll out the puff pastry into a rectangle of ¼ inch thickness or use already rolled puff pastry. Add the butternut squash mixture to the centre of the rectangle and form into a log, leaving 1 inch border on the shorter sides to seal. Brush all 4 sides with a beaten egg. Pick up the long sides of the puff pastry sheet and wrap them around the butternut squash log making sure the edges overlap, then seal by pressing on the edge with a fork dipped into a beaten egg.

Carefully transfer the Wellington on a parchment paper lined baking pan placing it seam down. Then brush with the egg wash all over. Score with a sharp knife to form an attractive pattern. (Crisscross is a classic pattern used for Wellingtons or you can decorate as you wish) Bake in the preheated 200C/400F oven for 40-45 minutes until golden. Cool for 10 minutes before slicing.

Alternatively you can make 4 individual Wellingtons. Reduce the cooking time to 35 minutes.
Nutrition
Calories:
527
kcal
Carbohydrates:
53
g
Protein:
13
g
Fat:
31
g
Saturated Fat:
9
g
Polyunsaturated Fat:
4
g
Monounsaturated Fat:
17
g
Trans Fat:
0.003
g
Cholesterol:
40
mg
Sodium:
548
mg
Potassium:
922
mg
Fiber:
7
g
Sugar:
6
g
Vitamin A:
18991
IU
Vitamin C:
41
mg
Calcium:
201
mg
Iron:
4
mg