Minestrone is the ultimate vegetarian soup recipe, ticking all my winning-in-the-kitchen boxes. Cost-effective: tick. Nutritious: tick. Low prep and cooking time: tick tick. Filling: tick. Delicious: tick tick tick tick tick! This dish sits comfortably somewhere between a soup and vegetable stew; thick, filling, wholesome and a complete meal in one autumnal steaming pot.
This gorgeous meat-free soup is protein-rich thanks to a healthy portion of pulses, but if you have a meaty itch to scratch and don't want to miss out on these Italian flavours, try this recipe for Chicken Meatball Soup with Tortellini.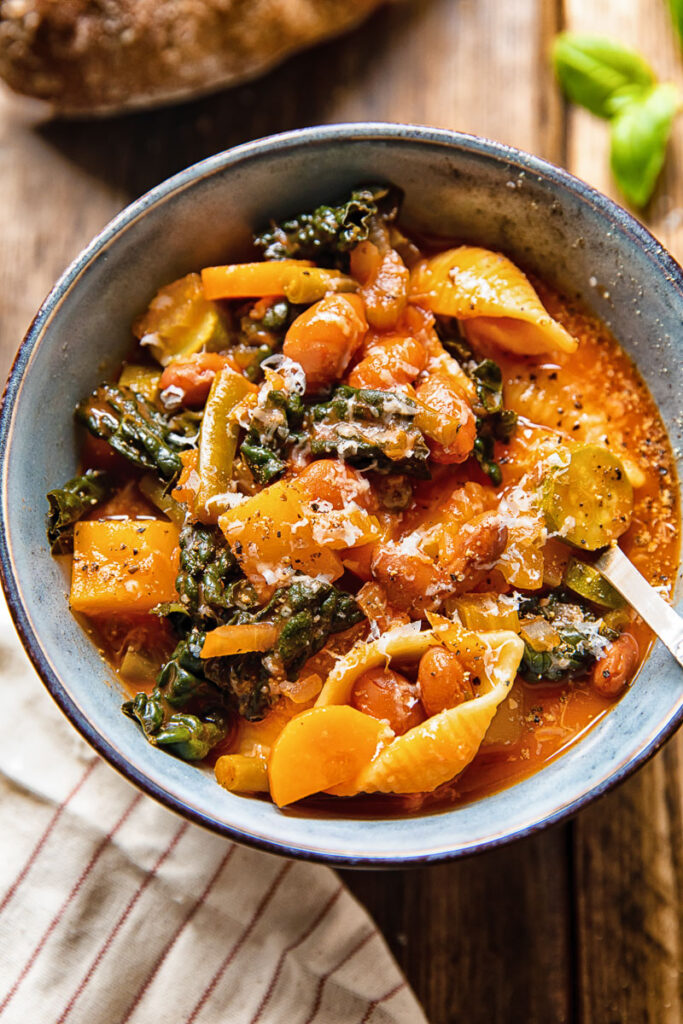 Honestly, what is more satisfying than using up all the random vegetables and herbs, half empty pasta packets and long-forgotten tins haunting your kitchen? I say, nothing! Try it yourself by ransacking your kitchen and turning what you find into a wholesome, delicious and filling family meal.
What is minestrone soup?
This world-famous Italian soup comes from very humble origins. The minestrone dates back as far as the Romans and until its explosion in popularity in (comparatively) recent history, it was considered a peasant food. It was a frugal way of making the most of seasonal grains, pulses and vegetables and rarely contained meat.
An example of cucina povera, a kind of cooking movement that literally means 'poor kitchen' or 'kitchen of the poor', the recipe and many others from that style, aims to ensure nothing of what is available is wasted.
The result is a delicious, varied, adaptable and nutritious one-pot meal. It's no wonder the recipe has survived for centuries!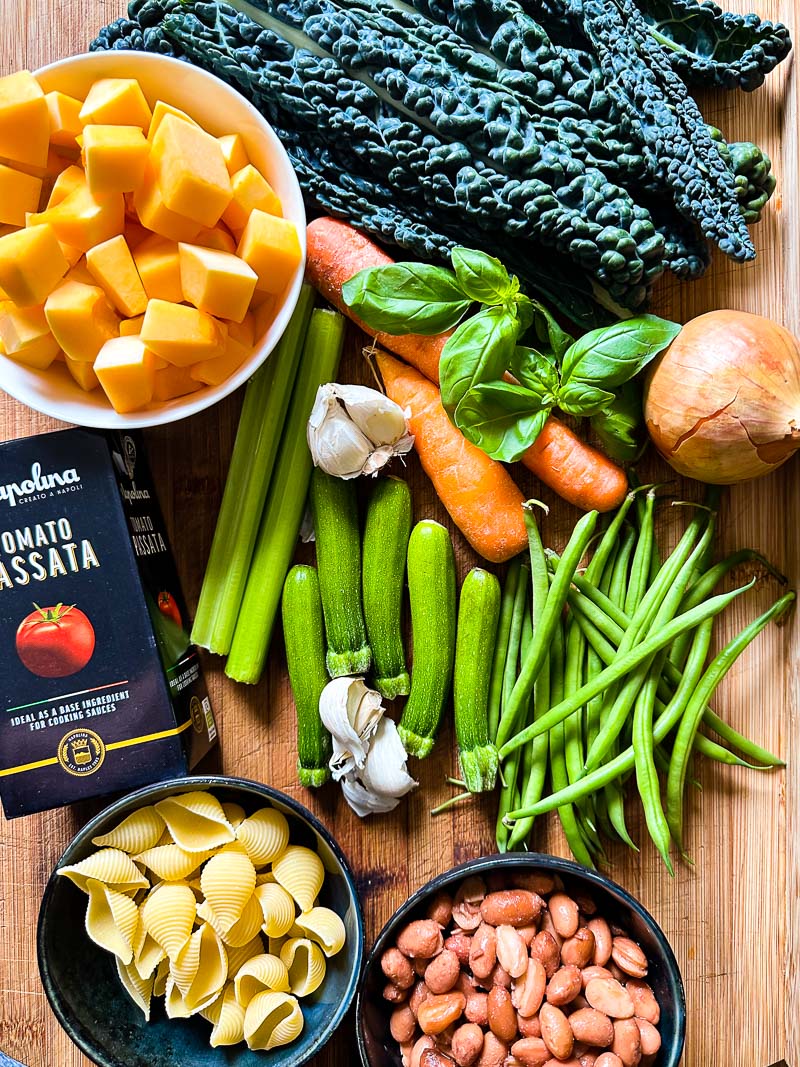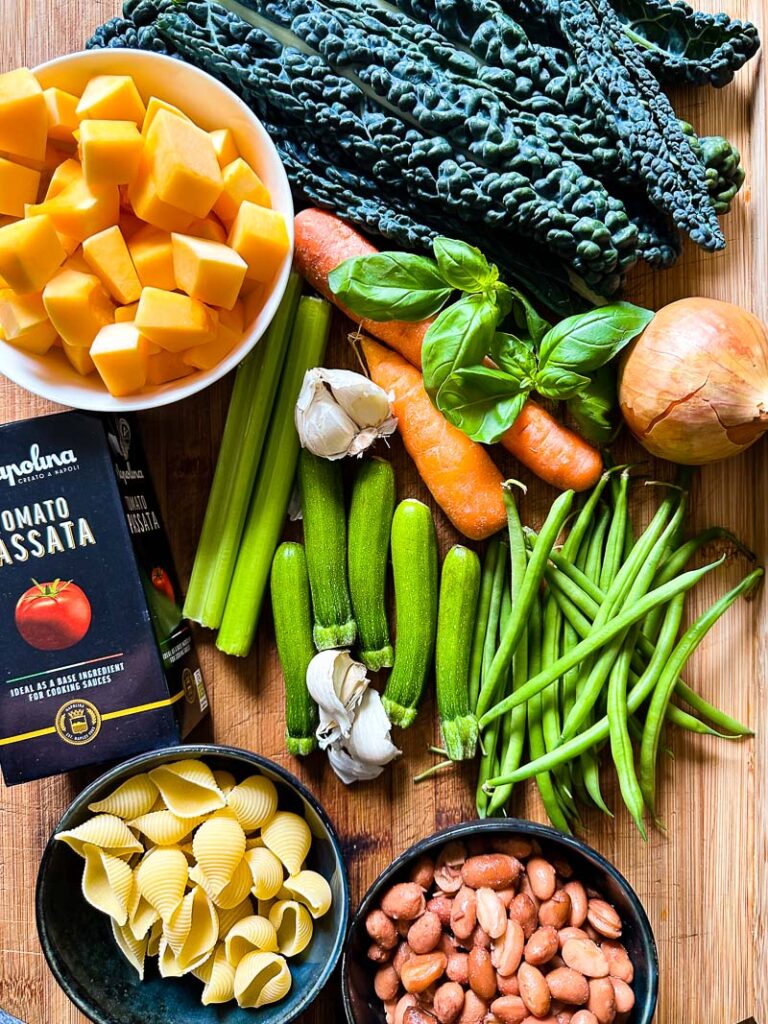 Substitutions and variations
To be a true minestrone recipe, the soup should contain pasta, legumes, tomato, vegetables and parmesan cheese. But within those hearty and nourishing confines; anything goes.
There really is no set recipe as in the days before refrigeration it depended on seasonality and locality. A trend we're seeing a resurgence in today.
My recipe consists of small pasta, borlotti beans, green beans, butternut squash, zucchini and Tuscan kale. Today!
But on another day, it might be the remaining fusilli pasta bashed into bits to make small pasta, cannellini beans, spinach, broad beans and potato. The beauty of it is that it can be tweaked and tailored to your own tastes and available ingredients.
Although it's usually a vegetarian recipe, go ahead and throw in a bit of meat if it suits you. Bacon, pancetta, even spicy chorizo. Or if you're feeling adventurous and a bit peasant-y, sweetbreads (look it up!).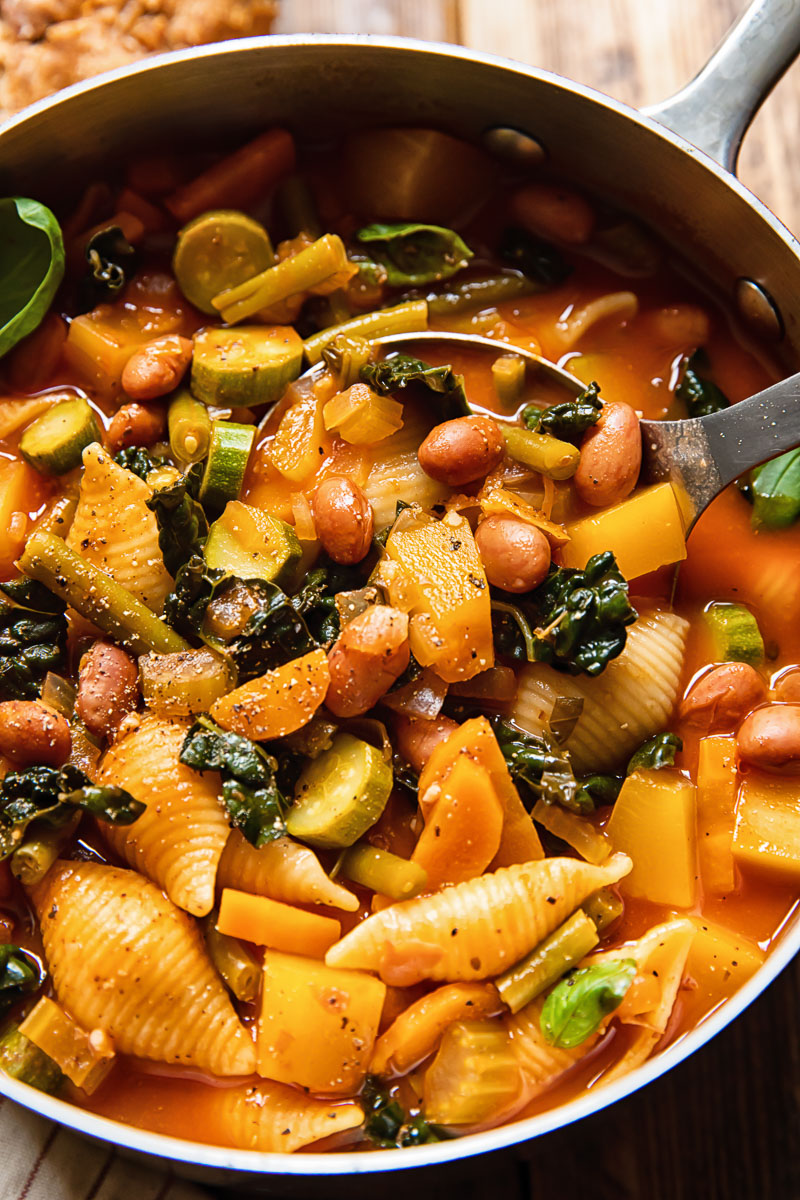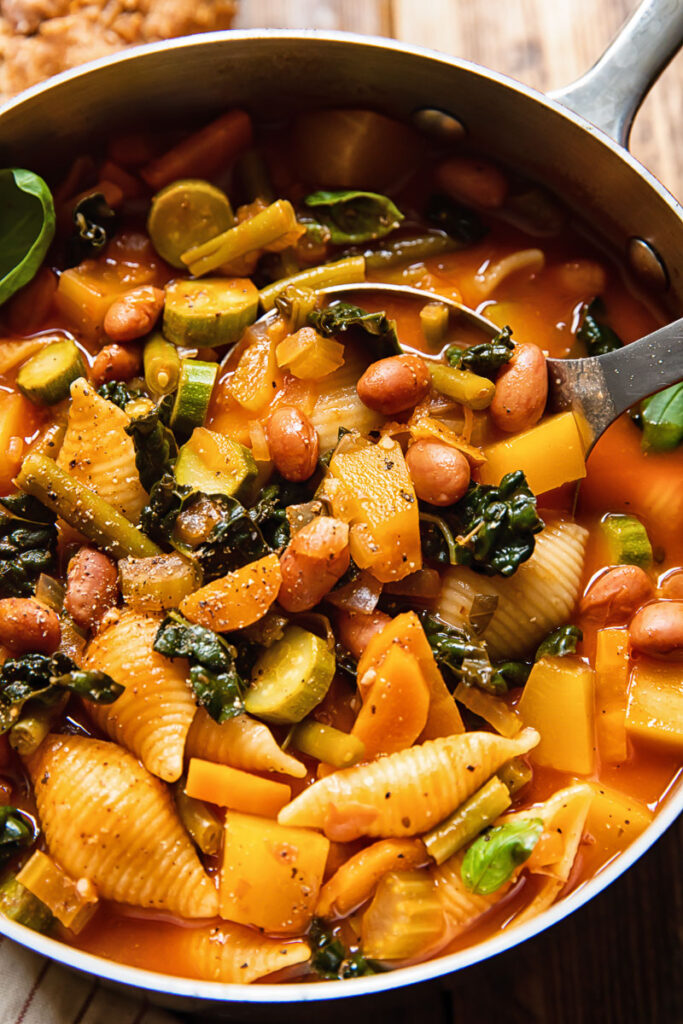 Recipe tips and notes
Minestrone is more of a method than a specific recipe, which means you can go off-script and use up any of the lonely or aging vegetables waiting sadly in the bottom of the fridge.
Generally, and originally, a vegetarian soup, that's another rule that can be broken. Whether a meal is not complete without meat in your book, or there are two slices of bacon left that will doubtlessly be fought over at breakfast time, they will make a welcome addition. Pancetta also works well for a salty edge. Or for a more substantial meat component, try sausage or sliced chicken.
FYI, I appreciate this meat-free soup for what it is: a low-cost, efficient meal that minimizes waste and has maximum flavour. My philosophy aligns with cucina povera so I don't buy ingredients especially for it, but use what I have available.
You absolutely can buy fresh though if that feels safer at first! But I sense that after a few goes you'll get the hang of minestrone making and be going freestyle yourself.
Don't be tempted to throw all your ingredients in at the same time! Your squash and your pasta do not have the same cooking time. Be considerate of your legumes, vegetables and pasta so you are rewarded with texture and flavour. Not minestrone mush.
Nothing goes better with this soup than a hunk of rustic bread. A springy and spongy focaccia speaks the same language, or a dense and chewy sourdough will soak up every soupy drop. Or perhaps soup and a sandwich is more your style?
Minestrone is typically a thick, stew-like soup. If you prefer it brothy, up the stock.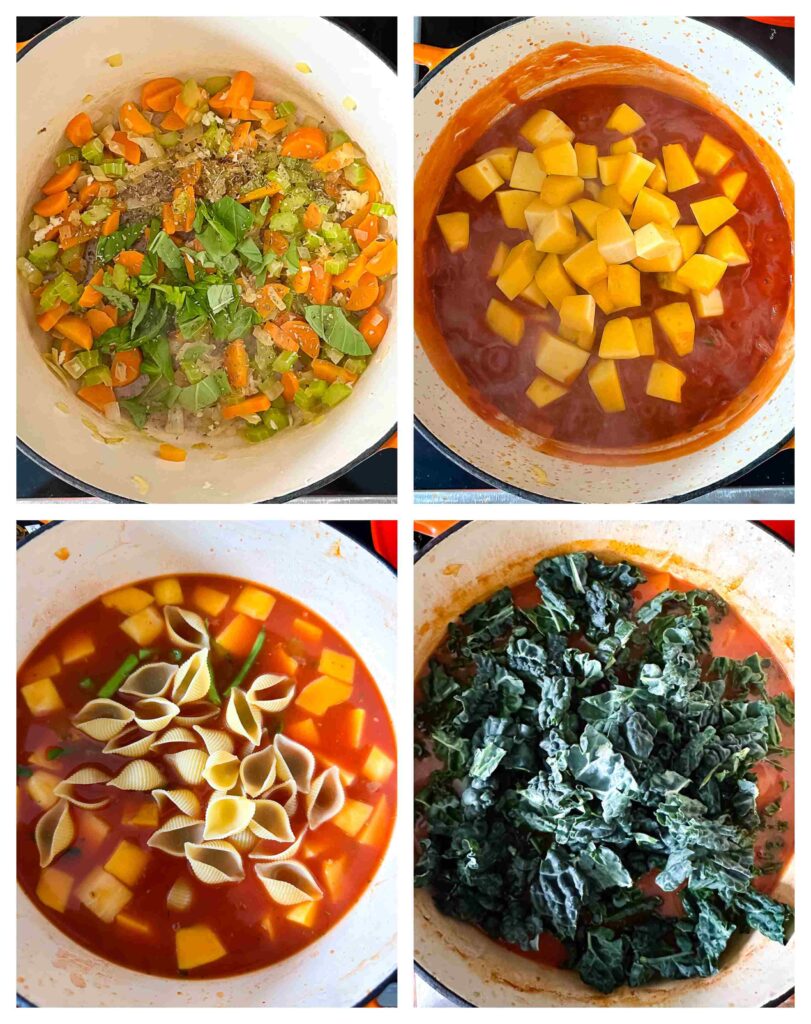 Storage and leftovers
If, in the true spirit of cucina povera, you find you have cleared the fridge and cupboards of all the odds and ends and now have a vat of minestrone soup large enough to feed a small Italian village, freeze it.
It will keep in a freezer-safe container for up to 3 months. Thaw it overnight in the fridge and reheat on the stove top. Make sure it has come to the boil and then simmered before serving.
Leftovers on the day can be refrigerated for 2-3 days. The pasta will probably absorb some of the liquid while in the fridge (or freezer) so add a couple of splashes of water if you want more of a soup and a less of a stew.
More hearty soup recipes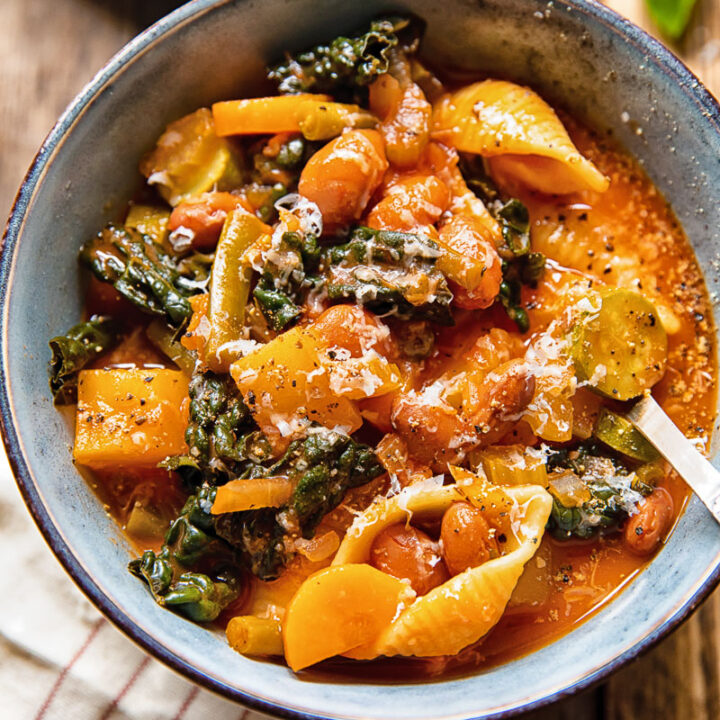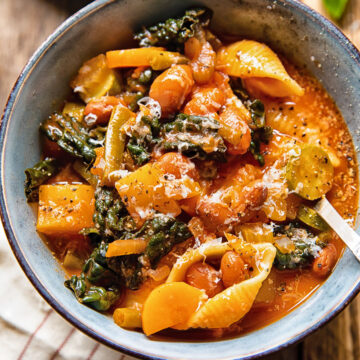 Harvest Minestrone
The ultimate vegetarian soup: filling, wholesome and a complete meal in one autumnal steaming pot.
Ingredients
1

tbsp

olive oil

extra virgin

1

stalk celery

1

carrot

½

onion

3

cloves garlic

500

ml

/2 cups canned tomato passata or crushed tomatoes

4-5

basil leaves or ½tsp dried basil

½ tsp

dried oregano

Salt to taste

1

litre

/4 cups vegetable or chicken stock

350

g

/2 cups butternut squash

peeled and diced

100

g

/1 cup green beans

400

g

/14 oz canned borlotti beans

drained

100

g

/5 baby zucchini

sliced

70

g

/1 cup small pasta

50

g

/1½ cups cavolo nero/tuscan kale

1-2

tbsp

parmesan cheese

grated
Instructions
Heat the olive oil in a soup pot, then sauté the chopped onion, sliced carrot and celery for 5 minutes over low heat, then add the minced garlic and cook for 30 seconds.

Pour in the canned chopped tomatoes, diced butternut squash, sliced fresh basil or dried basil and oregano with a pinch of salt, mix to combine, then let the vegetables cook for 5-7 minutes with a lid on. We are looking for the tomatoes to cook down and for the flavours to blend.

Pour in the vegetable or chicken stock, green beans, canned borlotti beans and pasta, bring to a boil and cook for 10 minutes.

Then add the diced zucchini and kale, cook for 5 minutes longer. Taste and season with salt and pepper.

Serve topped with grated Parmesan cheese.
Nutrition
Calories:
248
kcal
Carbohydrates:
46
g
Protein:
11
g
Fat:
4
g
Saturated Fat:
1
g
Polyunsaturated Fat:
1
g
Monounsaturated Fat:
2
g
Cholesterol:
1
mg
Sodium:
1106
mg
Potassium:
1073
mg
Fiber:
11
g
Sugar:
9
g
Vitamin A:
9755
IU
Vitamin C:
39
mg
Calcium:
131
mg
Iron:
4
mg