Green Bean Casserole that is made entirely from scratch. Fresh green beans in delicious mushroom cream sauce, baked under a layer of seasoned with herbs and garlic Parmesan breadcrumbs.
Looking for recipes for your Thanksgiving table? Why not check out our Thanksgiving Recipe Collection. Everything you need from the main dishes to desserts in one place!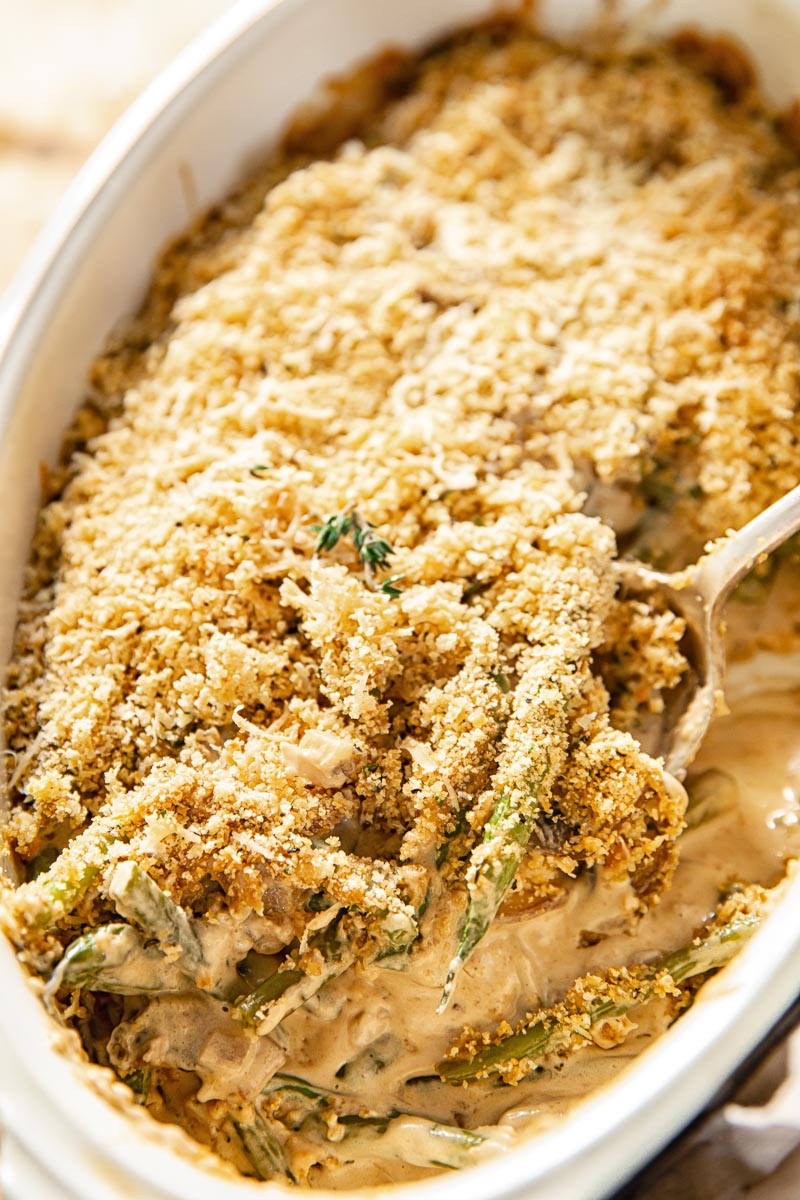 It's hard to escape the fame of the Green Bean Casserole. Whether you are a green bean casserole lover or hater, you know exactly what it is or eat least you think you do!
It's firmly embedded in North American pop culture, and you can hardly find an individual who's never tasted a version of this infamous casserole.
Now those experiences could be good or bad depending on the quality of said casserole. In my younger days, I was much more tolerant of the canned greens beans being smothered in Campbell's cream of mushroom soup but I find them difficult to swallow nowadays. Pun intended.
That is why I came up with my own version. Made entirely from scratch, this green bean casserole will win you over and will earn a permanent place on your holiday table. That's a promise.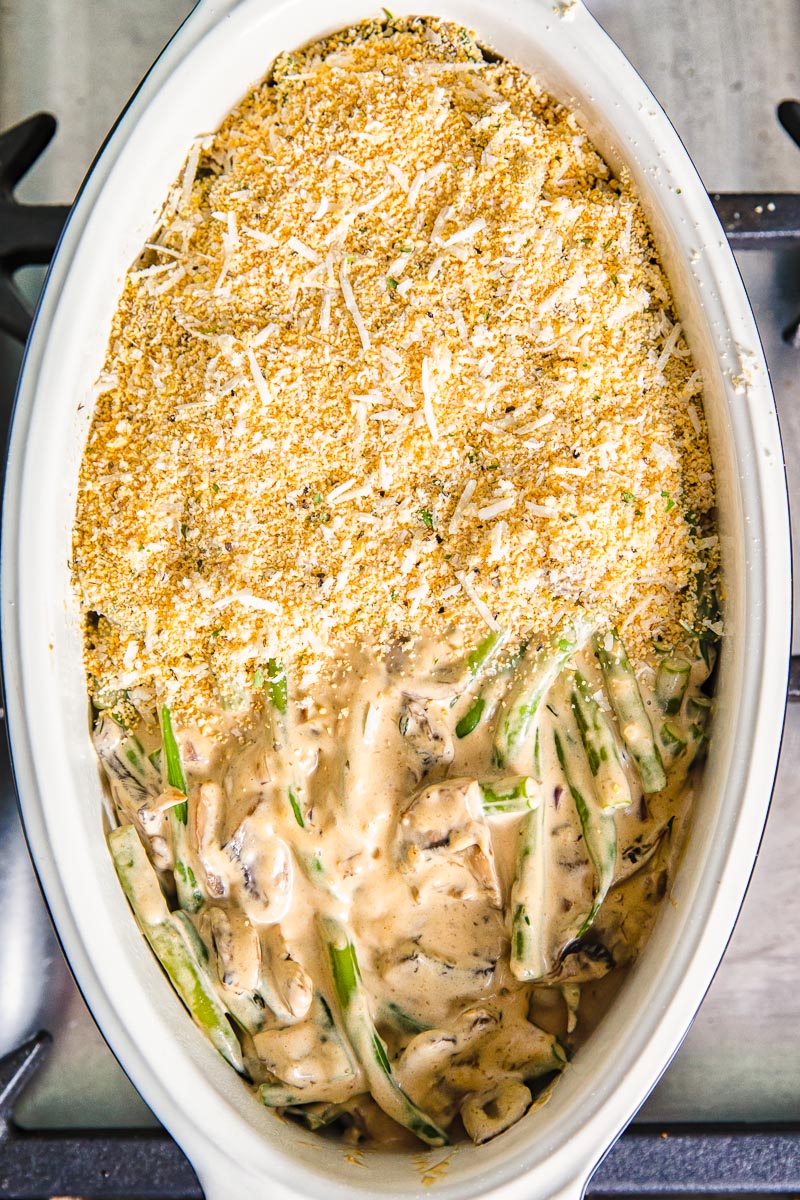 What goes in it?
When I set out to recreate this famous casserole without the canned cream of mushroom soup all I had to do was to dissect what this dish was.
Once I realised that a green bean casserole is no more than a simple vegetable gratin, I was confident I can make this recipe a success while using fresh wholesome ingredients.
The Original Casserole Main Components
Canned Green Beans
Cream of Mushroom Soup
Fried Onion Topping
This is how I tackled each of them. Canned green beans obviously had to go ,and I replaced them with fresh green beans that I previously blanched. Then I turned to the cream of mushroom soup aka mushrooms cream sauce.
Fresh green beans are the star of the show but the creamy sauce, they are baked in, are no less important. It's not difficult to make a creamy mushroom sauce. I already have plenty of recipes on the blog that are similar. This Creamy Cognac Mushrooms Sauce is one of them.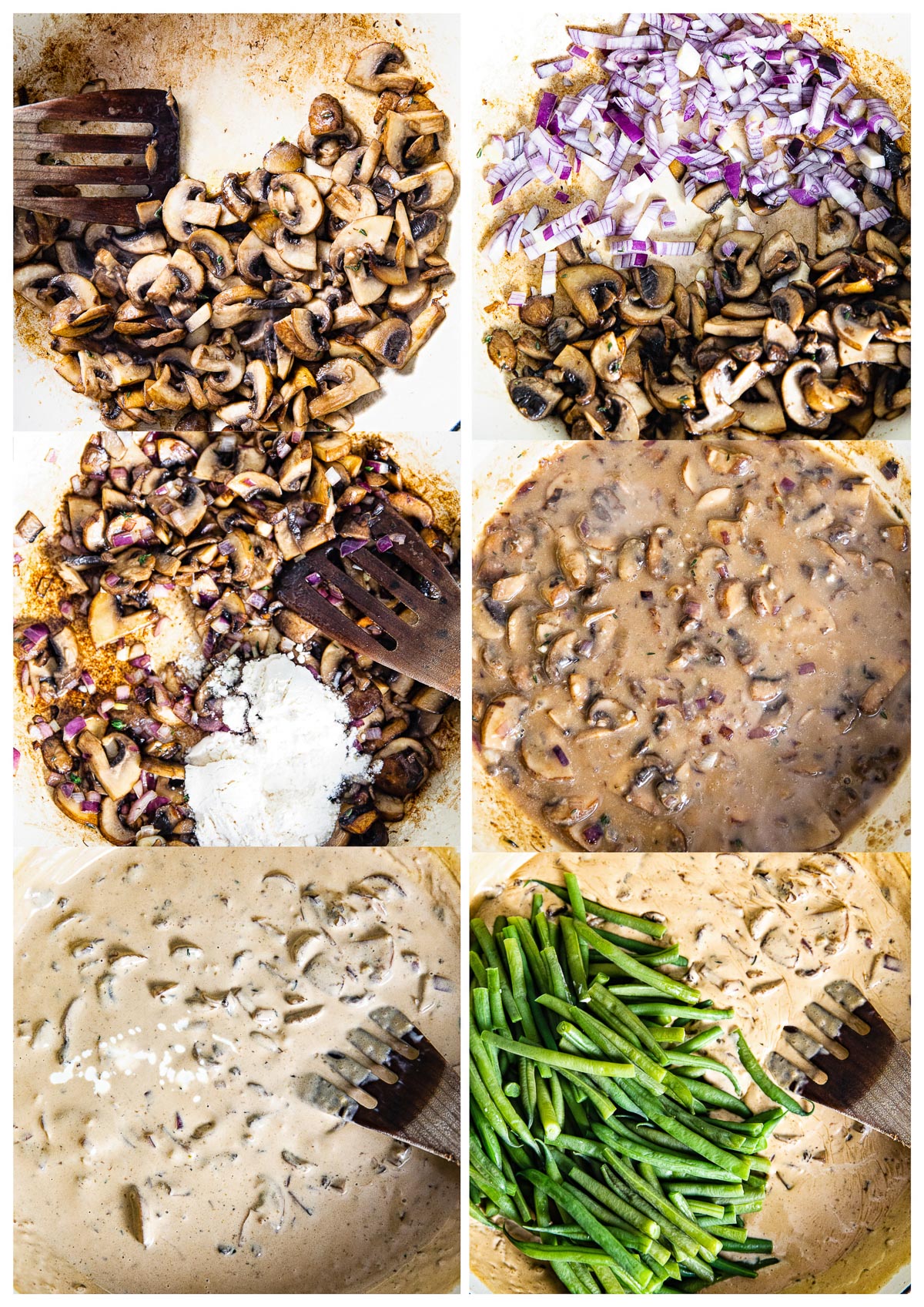 Butter, mushrooms, maybe some garlic and flour for thickening plus heavy cream is the basis for a mushroom sauce. It's easy, quick and luxurious!
However delicious that mushroom sauce is, it doesn't taste quite the same as Campbell's cream of mushroom sauce. It lacks the saltiness since it's not processed! Whether it's good or bad is a topic of another discussion, but for our intent and purposes it wasn't good enough. The taste wasn't close enough to the original.
I tried to add a touch of Worcestershire sauce and that moved it closer but still not quite all the way there. A tablespoon of soy sauce and all of a sudden…BINGO. I've got my homemade cream of mushroom soup that tastes so similar to the original but BETTER.
The last part was the most difficult. The crunchy topping.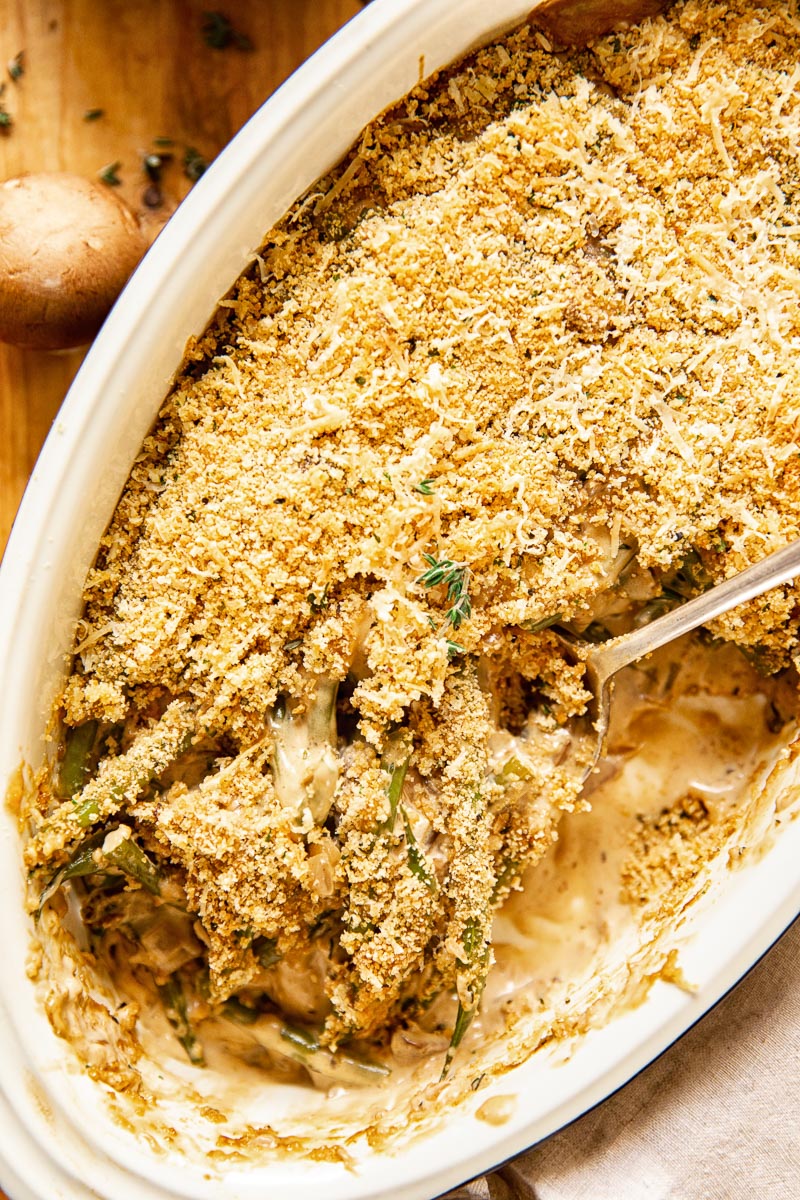 What to us instead of French's Fried Onions?
I detest deep frying. I never do it. If anything was to deter me from making anything from scratch it would be deep frying. So I decided to replace the fried onion topping with Parmesan breadcrumbs that I seasoned with herb and garlic mix.
Same crunchy topping and the garlic in the breadcrumbs brought in similar to fried onions savoury notes. Job done!
If you really want to stay a bit closer to the original, just purchase French's Fried Onions and top your casserole with them. No judging here!
More Thanksgiving Recipes to try:
I originally created this recipe for Natasha's Kitchen in 2018.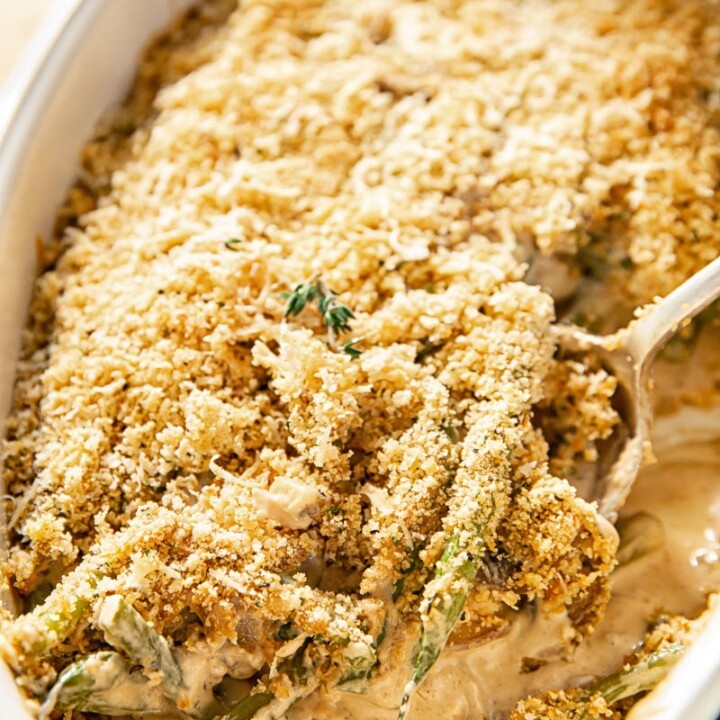 Fresh Green Bean Casserole
Fresh green beans in delicious mushroom cream sauce baked under a layer of seasoned with herbs and garlic Parmesan breadcrumbs.
Ingredients
1

lbs

fresh green beans, ends trimmed

1

tbsp

olive oil

1

tbsp

butter

250g/8oz

button mushrooms (brown or white)

1

medium

onion, chopped

2

cloves

garlic, pressed

2

tbsp

all purpose flour

125ml/1/2cup

chicken or vegetable stock

250ml/1cup

double/heavy cream

1

tbsp

Worcestershire Sauce

1

tbsp

soy sauce

salt and pepper to taste
For Parmesan Herb and Garlic Breadcrumb Topping
70g/1/2cup

dried breadcrumbs

40g/1/3cup

Parmesan cheese, grated

¼

tsp

garlic powder

1

tsp

dried parsley
Instructions
Preheat oven to 190C/375F. Cook trimmed green beans in a large pot of boiling water for 5 minutes for firmer beans and 8 minutes for softer beans. Drain and set aside until needed.

While the beans are cooking, mix the breadcrumbs with grated Parmesan cheese, dried parsley and garlic powder. Set aside for later.

In a large pan heat olive oil with butter and saute sliced and seasoned with salt and pepper mushrooms over medium heat until golden and the liquid has evaporated. Move the mushrooms to the side to free some space on a pan and add chopped onions. Saute for 7-10 minutes longer over low heat, then add pressed garlic and cook for a half a minute longer.

Add flour and stir the mixture together until the flour has mixed in with the fat, continue cooking for a minute or so. Add chicken or vegetable stock and scrape down the bottom of the pan with a spatula to release the burned bits into the pan, add the double/heavy cream, Worcestershire sauce and soy sauce, bring to a boil and let it simmer until the sauce is thickened. (The sauce will get thicker in the oven.) Add more salt if necessary.

Add the green beans to the mushroom cream sauce and pour the mixture into a oven proof dish. Top with the Parmesan breadcrumb topping and bake in the preheated oven for 20 minutes, then broil/grill for 2-3 minutes longer until the topping is golden. Make sure to watch carefully this step as oven temperatures vary and the breadcrumbs it may burn quickly.
Video
Nutrition
Calories:
316
kcal
Carbohydrates:
22
g
Protein:
9
g
Fat:
23
g
Saturated Fat:
13
g
Cholesterol:
67
mg
Sodium:
846
mg
Potassium:
430
mg
Fiber:
3
g
Sugar:
6
g
Vitamin A:
1245
IU
Vitamin C:
12
mg
Calcium:
164
mg
Iron:
2
mg