Side dishes should never be boring! Give yours a twist by adding nutty depth with brown butter mashed potatoes. Time to let potatoes shine!
We have more amazing side dishes to try. Check out these Easy Roasted Parmesan Brussels Sprouts and Carrots!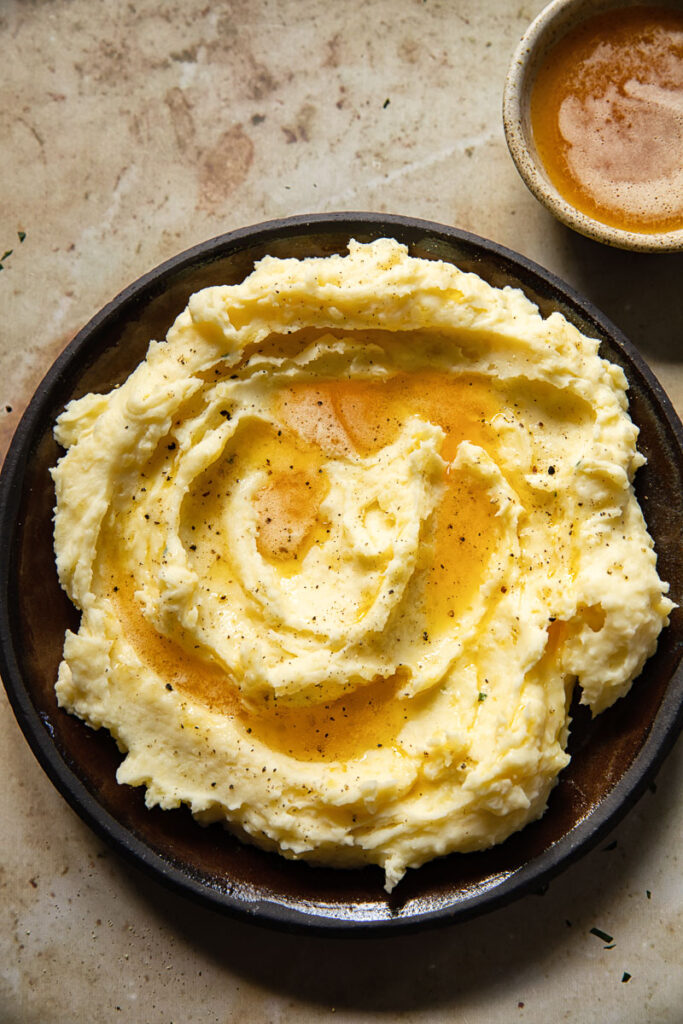 As enjoyable as classic mashed potatoes are, they can start to feel just a bit too familiar when we've had the same thing over and over again. Fear not, I bring you an easy way to take humble mashed potatoes and make them spectacular!
As with any good mashed potatoes, the best part of flavour comes from butter. The trick here? Brown butter!
Why you'll love it
Brown butter mashed potatoes are a complex tasting package hiding a very simple method of preparation. But taste them and you'd think there is a whole lot going on here.
Of course the potatoes need to be pillowy soft, the perfect nest for the butter to soak through and add flavour.
This brown butter adds a nutty complexity that melts into creamy mashed potatoes in a magical way. It's one more step that you will never regret taking!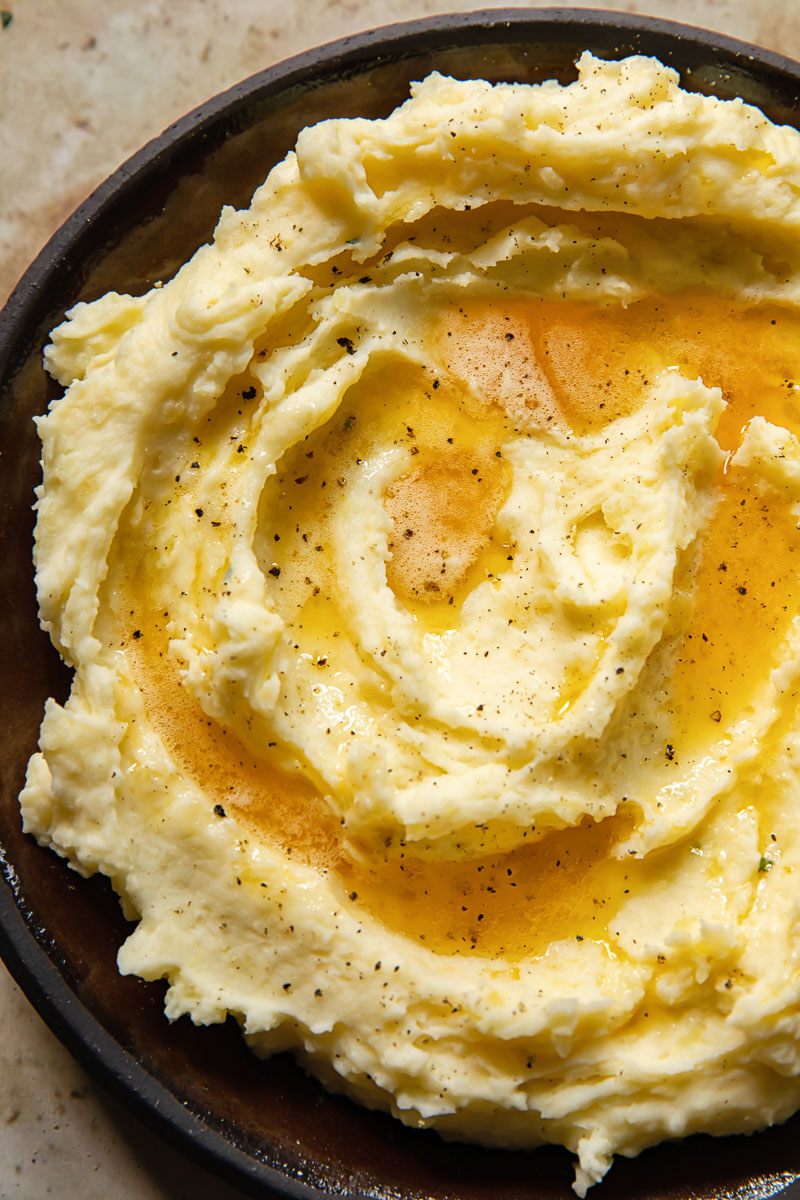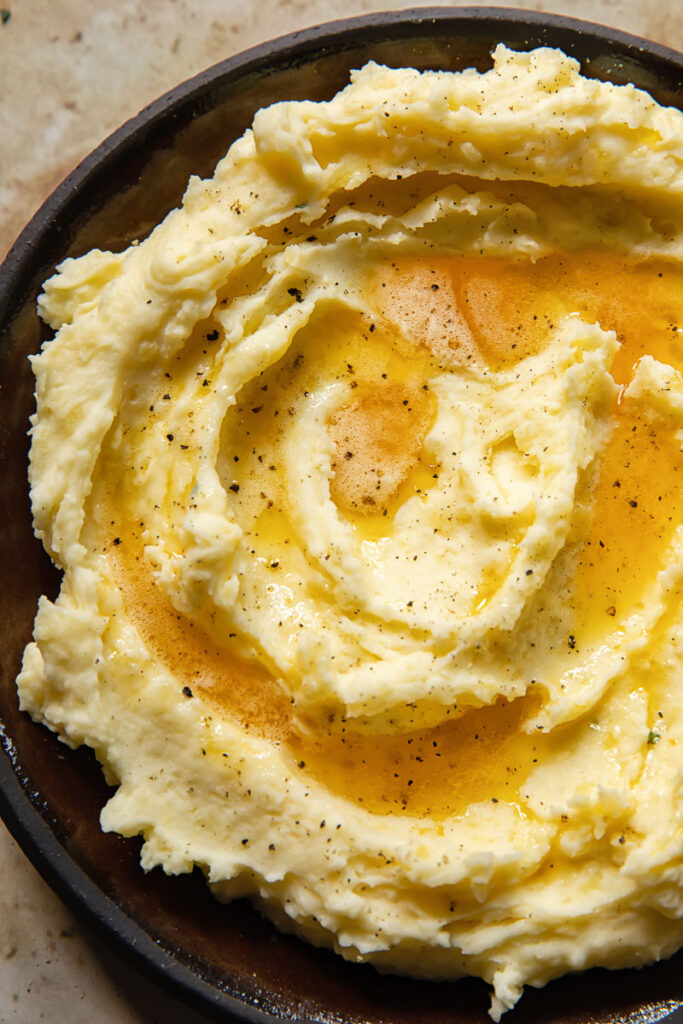 Making brown butter
Brown butter is also known as beurre noisette, and it's well worth knowing how to make it. Whether in sweet or savoury recipes, it brings a noticeable difference and toasted twist.
It's a handy trick and a simple one to try. The technique is French, and involves heating up the butter in a saucepan to brown the milk solids. The remains of the butter turn a lovely brown and take on a toasted, nutty flavour.
The purpose of browning the butter is to bring a richer flavour. Water evaporates from the butter while the Maillard reaction transforms the milk solids. What is left is deeper and nuttier than the butter is was made from.
The key thing to remember is not to walk away from the butter when it is on the heat. You'll need to remove it as soon as it turns brown or it'll burn.
Recipe tips and Notes
Choose a floury (not waxy) type of potato for the best mashed potatoes. Some common varieties to look for are Yukon Gold and Russet in North America, or Maris Piper, King Edward, Vivaldi and Desiree in the UK.
Be sure to keep a eye on the butter when it is being heated up. Burnt butter is not at all what you want, so be ready to take it off when it is brown.
Before serving, taste the mashed potatoes to make sure there is enough salt. Add more if it seems a bit lacking. Potatoes without enough salt will never be delicious!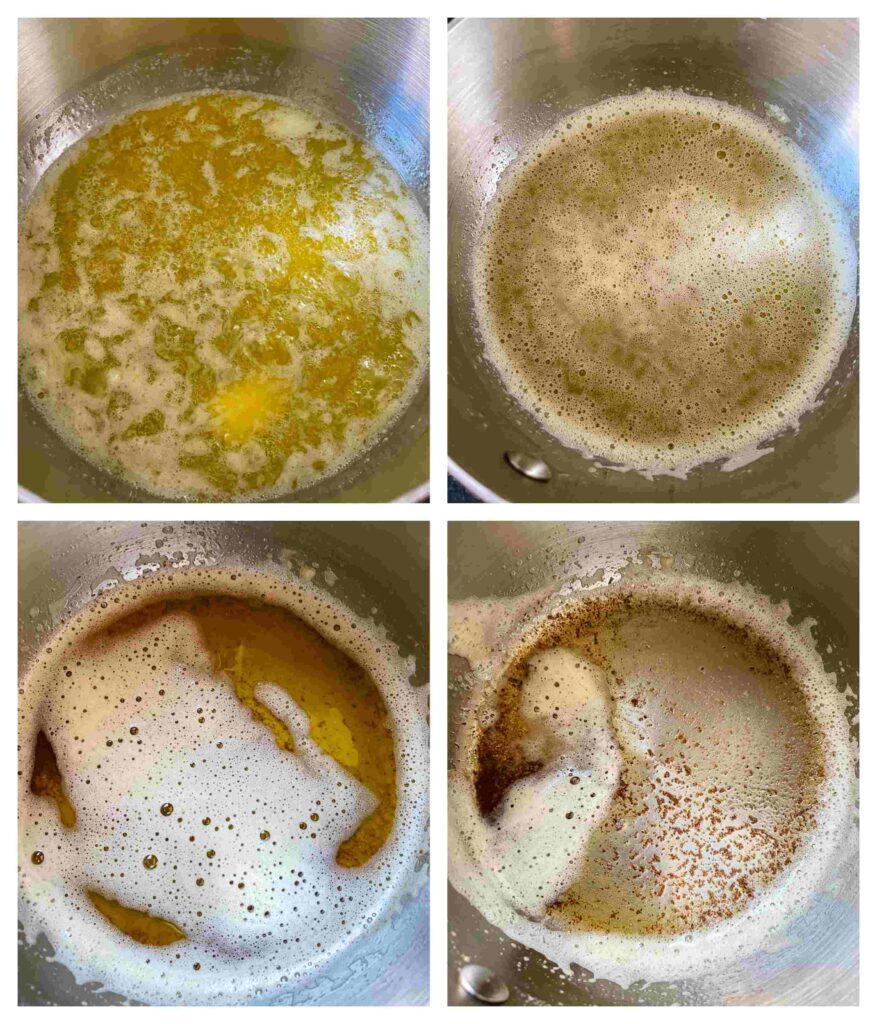 Serving suggestions
These potatoes can be served as a side dish to countless recipes! I think they are especially well suited to kicking potatoes up a notch when serving Thanksgiving turkey. It's also my first choice when creating Christmas dinner!
They are also fantastic when served with creamy meat dishes like Beef in Truffle Cream Sauce and Beef Bourguignon.
Storage and leftovers
Leftovers will keep perfectly well in an airtight container for 3-4 days and in the freezer for 2-3 months. Although they can be reheated in a microwave, they come out best when placed covered in an oven preheated to 180C/350F for 15-20 minutes, or until they are hot throughout.
If you happen to have leftovers, let me suggest a wonderful dish you can make. Salmon Cakes with Garlic Chive Yogurt Sauce uses a potato mash as a base instead of breadcrumbs, creating stunning texture!
Or if you have enough, use them as the top layer for Mashed Potato Casserole with Mushrooms and Caramelised Onions.
More potato recipes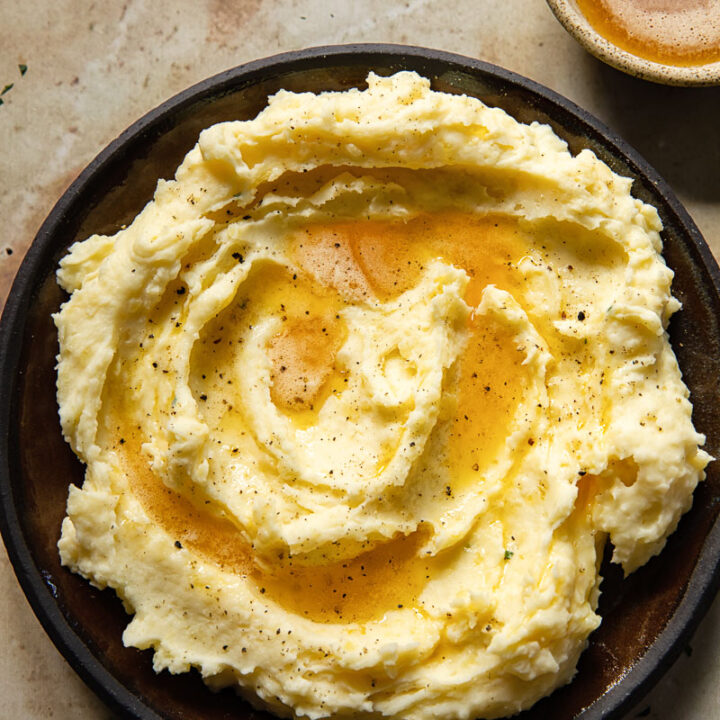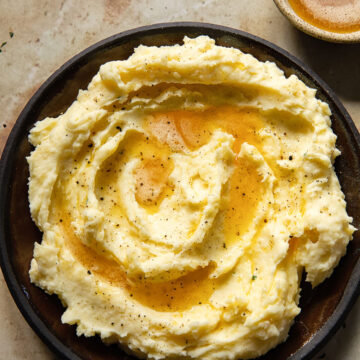 Brown Butter Mashed Potatoes
Mashed potatoes given a nutty twist with brown butter.
Ingredients
900

g

/ 2 lbs potatoes

50

ml

/ ¼ cup whole milk

hot

100

g

/ ½ cup butter

Salt to taste
Instructions
Add the butter to a small saucepan and start heating over medium heat. The butter will melt and then turn frothy. Start stirring once foam can be seen, which will eventually go down to reveal brown melted butter. Be sure to keen an eye on the butter throughout the process. Once the butter is brown, take it off the heat to cool.

Boil the peeled and quartered potatoes in salted water until they are tender. When done, drain and steam dry them to get rid of excess water. Return the potatoes to the pot and add hot milk. Mash with a potato masher until they are mostly smooth, then add the brown butter and keep mashing until smooth and most lumps are broken.

Season with salt to taste and serve hot with more butter if desired.
Nutrition
Calories:
240
kcal
Carbohydrates:
27
g
Protein:
3
g
Fat:
14
g
Saturated Fat:
9
g
Polyunsaturated Fat:
1
g
Monounsaturated Fat:
4
g
Trans Fat:
1
g
Cholesterol:
37
mg
Sodium:
507
mg
Potassium:
648
mg
Fiber:
3
g
Sugar:
2
g
Vitamin A:
433
IU
Vitamin C:
30
mg
Calcium:
33
mg
Iron:
1
mg