Give your creamy and cheesy scalloped potatoes an instant upgrade by adding a layer of luscious caramelised shallots.
This glorious potato dish goes down a treat with our Beef Tenderloin.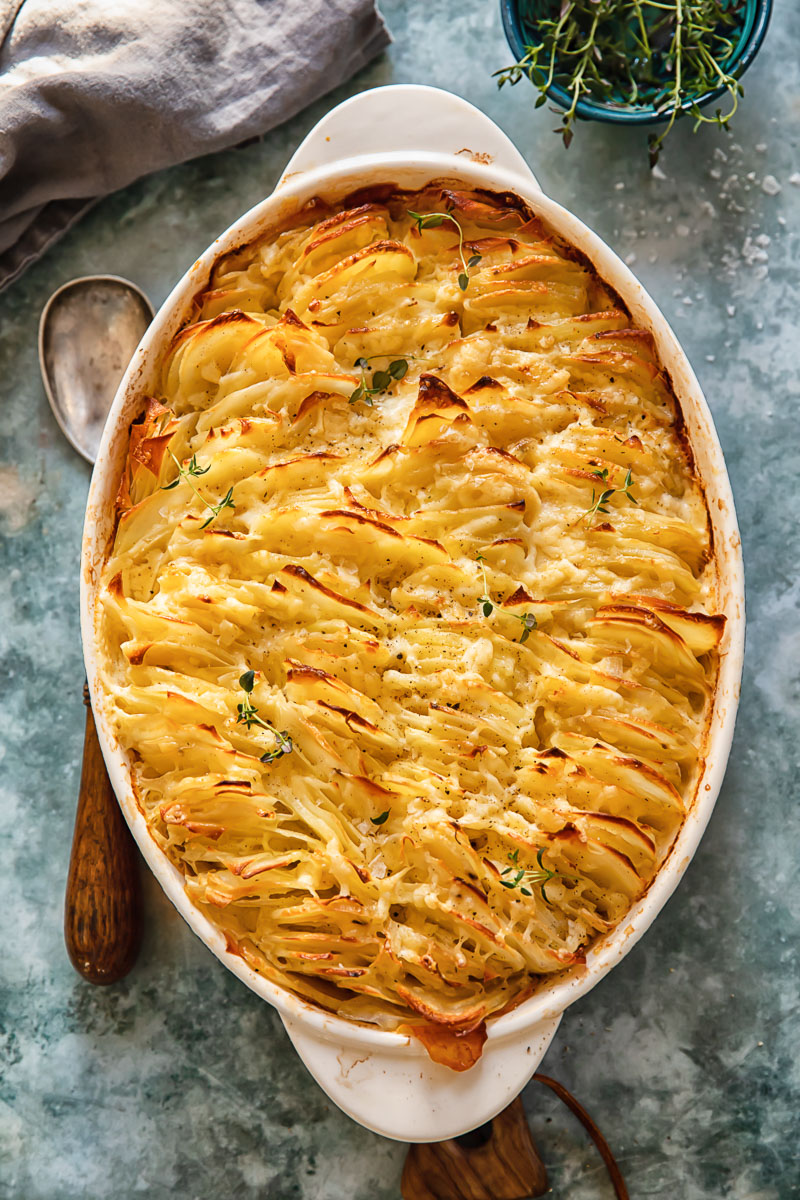 A great host can never have too many recipes for potato dishes in their repertoire. After all it's impossible to imagine a holiday table without potatoes! At least not in my house.
Scalloped potatoes or 'potatoes dauphinoise' as they are known in the UK are incredibly popular around here. Over the years I have used many different recipes and techniques in search of that creamy texture and a deeply savoury taste they are known for.
Some recipes were overly complicated and the others, while simple, didn't deliver the flavour I was after. Eventually I developed my own recipe that is not too fiddly and very satisfying.
Scalloped Potatoes vs Potatoes au Gratin
At first glance both potato recipes are very similar and are often used interchangeably. They both consist of sliced potatoes cooked in a creamy sauce, infused with herbs.
The biggest difference according to classic recipes is the inclusion of cheese in the gratin recipe. While that could have been the deciding factor in the past, nowadays many scalloped potato recipes are made with cheese as well.
What I think the biggest difference is the presence of a crispy topping either in the form of grated cheese or breadcrumbs, ergo baked au gratin. On a side note, you can cook other root vegetables in the same way. One of my favourites is butternut squash au gratin. Corn is also fantastic, so take a look at my scalloped corn.
Now let's talk about the actual recipe for my scalloped potatoes.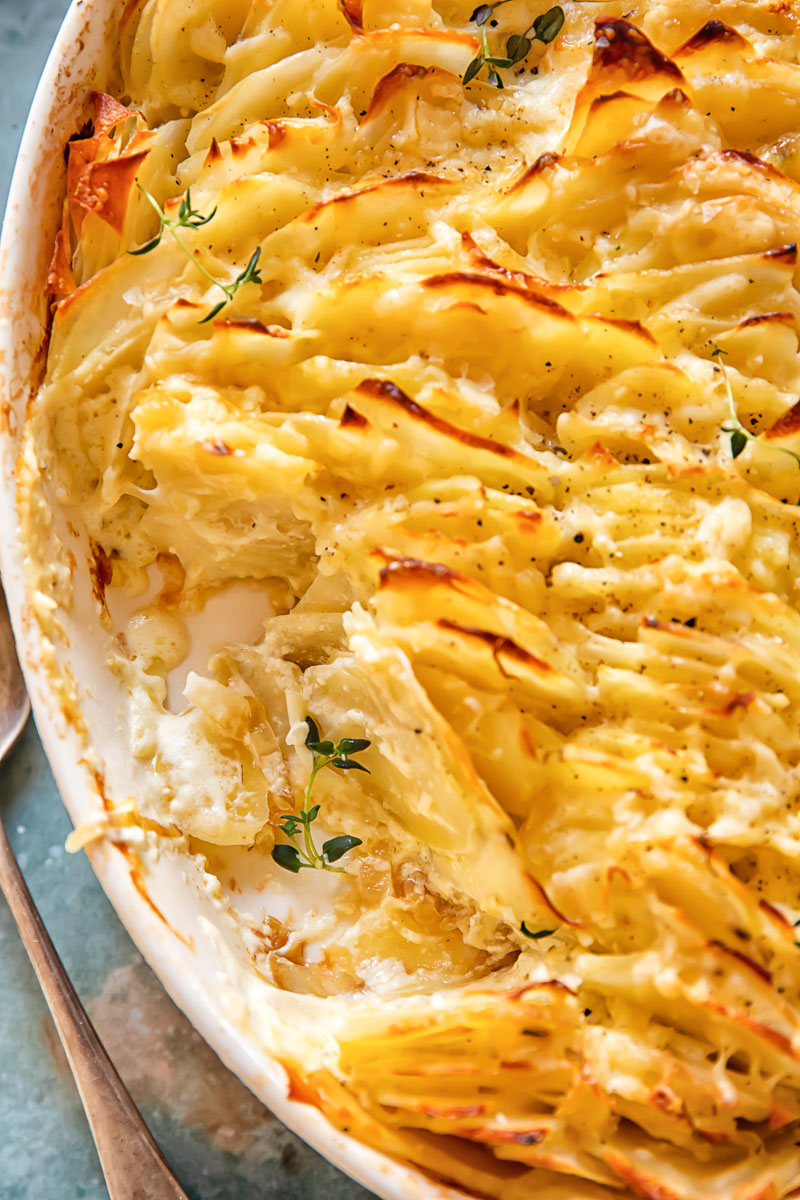 Ingredients
There are several ways to achieve the creamy texture and many recipes call for making the béchamel sauce. I however, don't see why that is necessary while heavy cream (double cream in the UK ) does the same and requires no extra work.
What I do see as necessary is to caramelise shallots or onions before adding them to the potatoes. I always disliked the idea and the taste of raw onions added to creamy potato bakes. They add little flavour and the texture remains unpleasantly crunchy.
Cooking shallots or onions is an extra step but worth spending a little time on. You will be rewarded with sweet, jammy like shallots with a deeply complex and savoury taste, which will balance out the rich and creamy potatoes.
People often wonder what potatoes to use for this type of recipe. I recommend using starchy or floury potatoes as they are called here in the UK. The reason for it is the starch, that gets released during baking and thickens the sauce.
However, there is also an argument for using waxy potatoes. They tend to keep their shape better and don't fall apart like Yukon Gold or Russets. If you are in the UK, go for Maris Piper, they are what they call all rounders and work well here.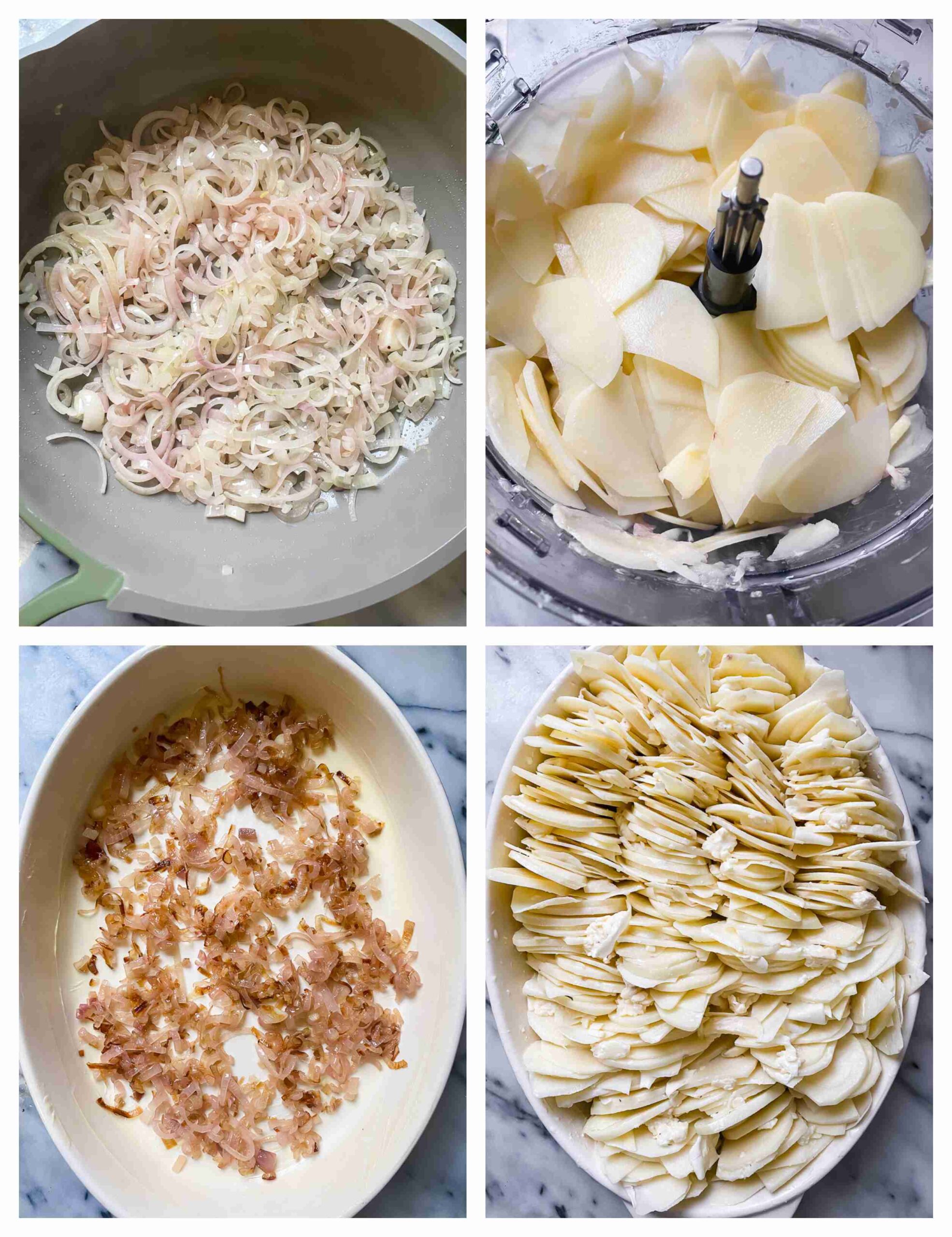 Recipe Tips and Notes
Start by caramelising the shallots. They take about 15-20 minutes on low heat. I slice mine very thinly, which speeds up the process considerably. I also add a teaspoon of apple cider vinegar to improve the taste and to balance out the flavours.
Another trick of mine is to use a food processor for slicing the potatoes. It takes roughly 5 minutes to go through 1.5 lbs of potatoes. You can't beat that. And although the slices are not as uniform as when you slice them on a mandoline, I see beauty in that.
Finally, coat the potato slices with the cream and cheese mix in a large bowl before adding them to the baking dish. Otherwise, the potato slices will stick together and not cook evenly.
As you can see from the photos, instead of layering the potato slices in a baking dish as per the classic look, I stood them upright. You can do either but the beauty of this method is a lovely crispy top!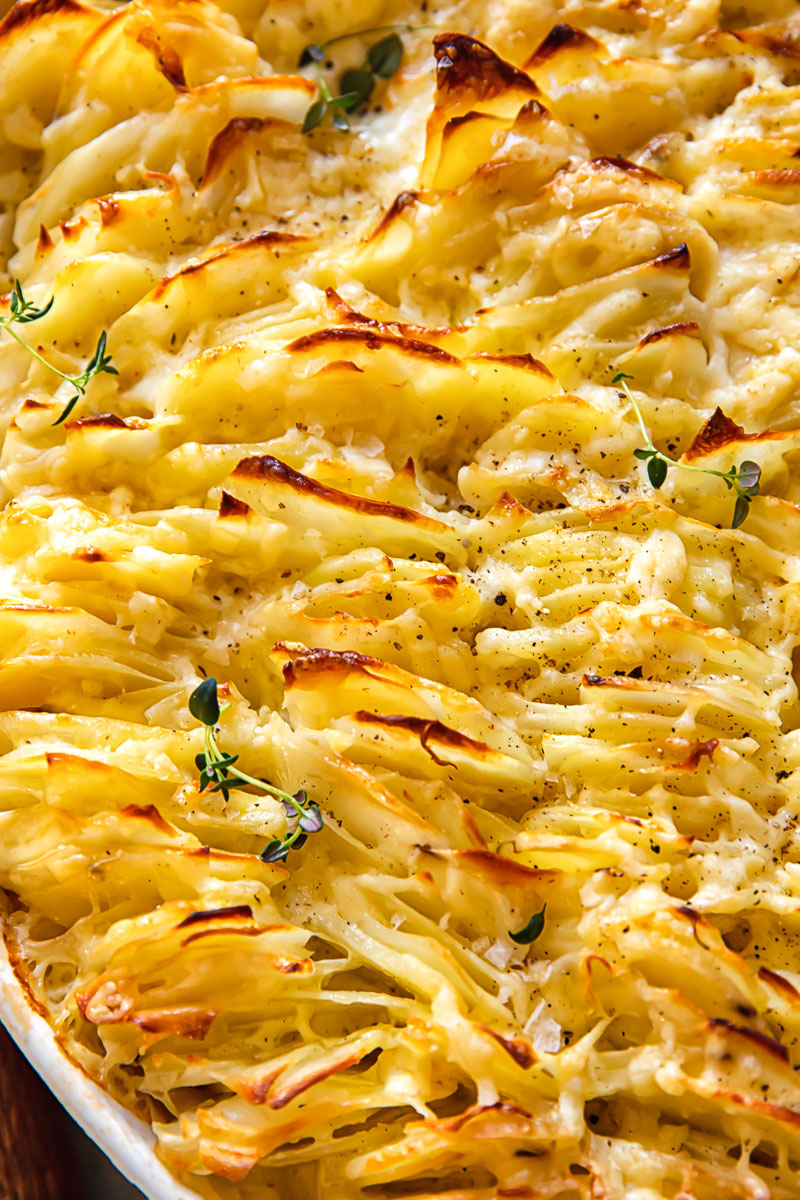 Serving suggestions
Almost anything can be served with scalloped potatoes or if you are like my daughter, they can be eaten as a main course!
My favourite dishes include Honey Glazed Ham and Prime Rib Roast. Both dishes are special and often reserved for holiday meals. I love pairing them together.
If you are not a fan of pork or beef, take a look at my Roast Turkey Crown (Breast) or Roast Chicken.
More potato dishes to try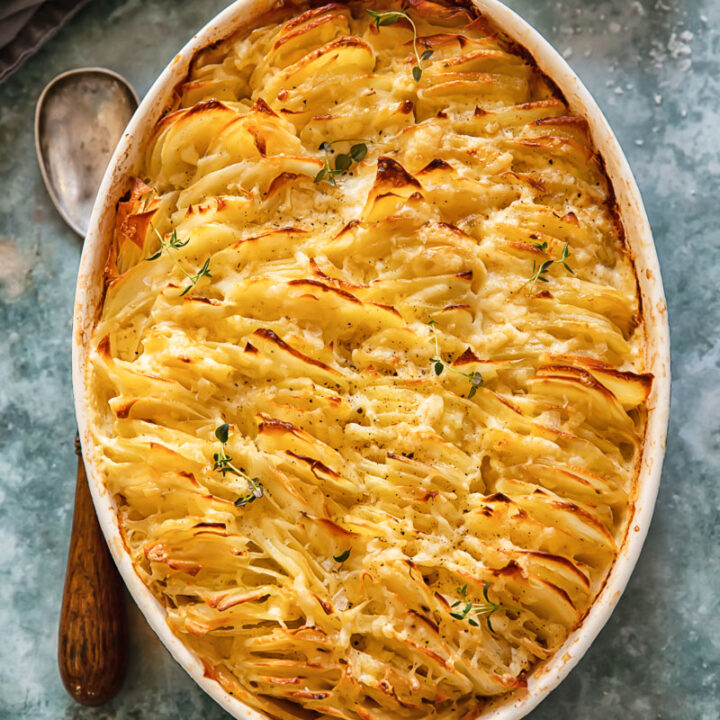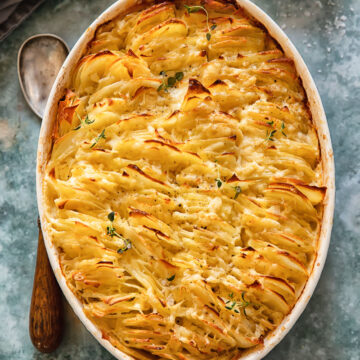 Scalloped Potatoes with Caramelised Shallots
Give your creamy and cheesy scalloped potatoes an instant upgrade by adding a layer of luscious caramelised shallots.
Ingredients
1

tbsp

olive oil

5

shallots

1

tsp

apple cider vinegar or red wine vinegar

1

tbsp

butter

1.5

lbs

starchy/floury potatoes

Yukon Gold (US) Maris Piper (UK)

375ml/1 ½ cups

double cream/heavy whipping cream

no half and half

¼

tsp

dried thyme or 3-4 sprigs fresh thyme (leaves only)

½

tsp

garlic powder

1

tsp

salt

120g/1 cup

grated extra mature cheddar

or Gruyère cheese

85ml/1/4 cup

double cream/heavy whipping cream

for the topping

60g/1/2 cup

grated extra mature cheddar

for the topping
Instructions
Peel and thinly slice the shallots. In a large pan, cook the shallots in olive oil over low heat, add a teaspoon of apple cider vinegar half way through. It will take 15-20 minutes for them to fully caramelise. Butter a 9X13 inch(3.5 Q or L capacity) baking dish and spread the caramelized shallots over the bottom. Preheat the oven to 450F/220C.

Peel the potatoes and slice them thinly either with a mandoline or in a food processor. Put them in cold water until needed.

Mix 375ml/1.5 cups double cream with the thyme, garlic powder, salt and 1 cup grated cheese, drain the potatoes slices and empty them into a large bowlm then coat them with the cream and cheese mix.

Arrange the potato slices in three or four rows in a prepared baking dish on top the shallots but instead of lying them down as usual, arrange them straight up like an accordion. Make sure the slices are not packed too tightly or they won't cook properly. Pour the remaining cream from the bowl all over, cover with foil and bake the preheated to 220C/450F oven for 50-60 minutes or until tender and easily pierced with a knife. (Spray the inside of the foil with cooking spray to prevent sticking to potatoes.)

Take out of the oven pour in ¼ cup of cream all over and ½ of the grated cheese, put back in the oven and broil (grill) for 7-10 minutes longer or until the potato slices look golden and crispy around the edges. Watch this stage carefully as ovens vary in temperature and the potatoes could be done sooner.
Nutrition
Calories:
393
kcal
Carbohydrates:
20
g
Protein:
9
g
Fat:
32
g
Saturated Fat:
19
g
Polyunsaturated Fat:
1
g
Monounsaturated Fat:
9
g
Trans Fat:
0.1
g
Cholesterol:
91
mg
Sodium:
472
mg
Potassium:
486
mg
Fiber:
2
g
Sugar:
4
g
Vitamin A:
1119
IU
Vitamin C:
18
mg
Calcium:
214
mg
Iron:
1
mg