Scalloped corn is an old fashioned dish of corn baked in a savoury cream sauce with a crispy breadcrumb topping. Don't overlook it at your next holiday dinner. Easy to make and pure comfort to eat!
Our Fresh Green Bean Casserole is another recipe you might like as it is equally creamy and tasty, and made using only with fresh wholesome ingredients.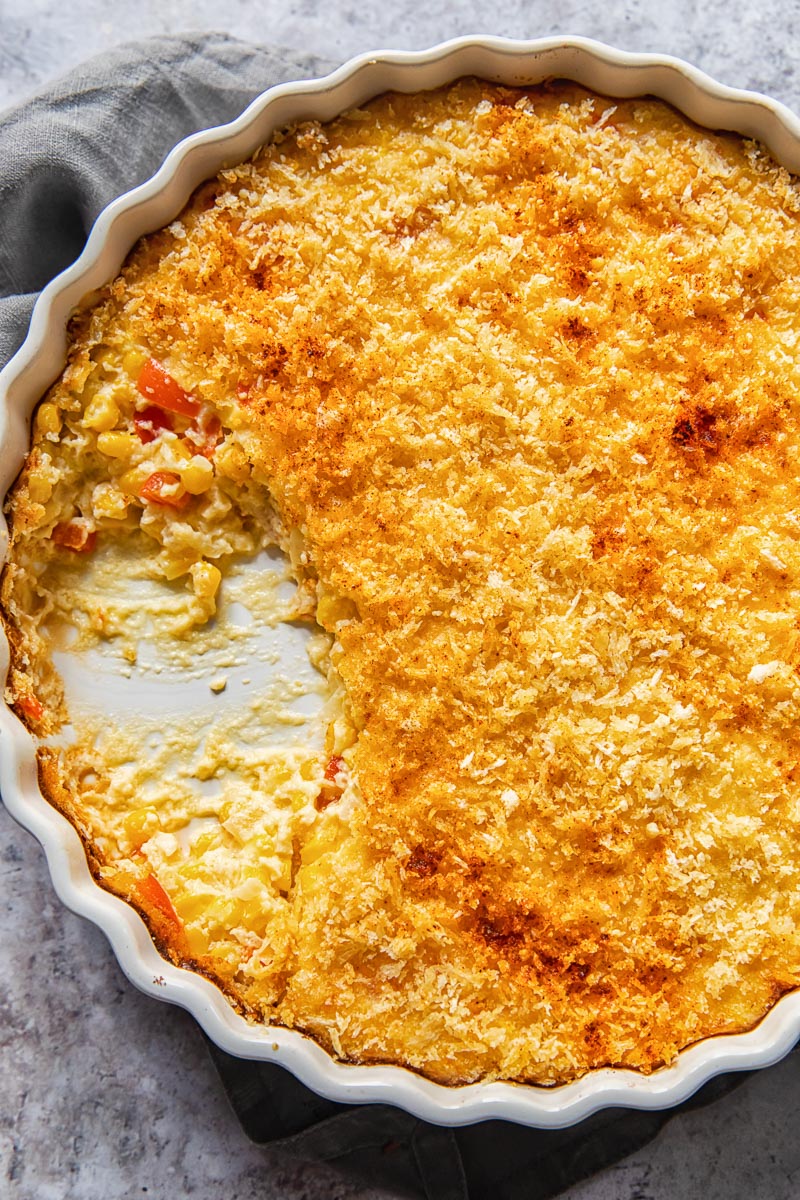 If you have a bag of frozen corn in your freezer, let me show you one delicious use for it! I love fresh corn in the summer. Whether it's grilled or simply boiled and eaten with butter and salt, I am all there for it.
Frozen corn is another story entirely. I can't get my kids to eat it for love nor money. This recipe however, got them super excited. Even my son, who is not a fan of corn in general, said it was "pretty good". High praise when coming from a teenage boy!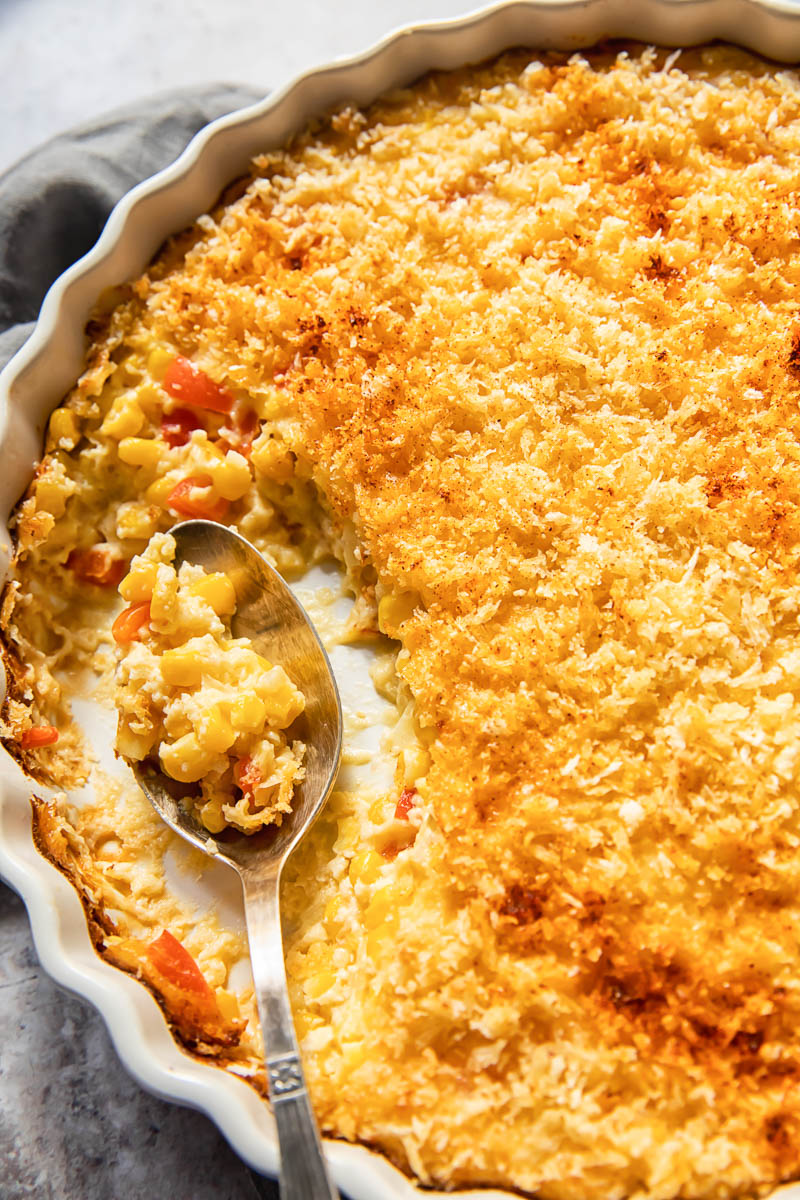 What is scalloped corn?
In principal scalloped corn is not too different from scalloped potatoes. Corn gets baked in a creamy sauce flavoured with sauteed onions, diced red bell peppers, a touch of paprika and most importantly Parmesan cheese. Essentially, it's a corn gratin.
If this doesn't entice you yet, let me tell you about the crispy topping. Traditional scalloped corn, as every other gratin, gets covered with buttery breadcrumbs. I take it up a notch by using Panko breadcrumbs mixed with Parmesan cheese for an uber crispy and savoury topping.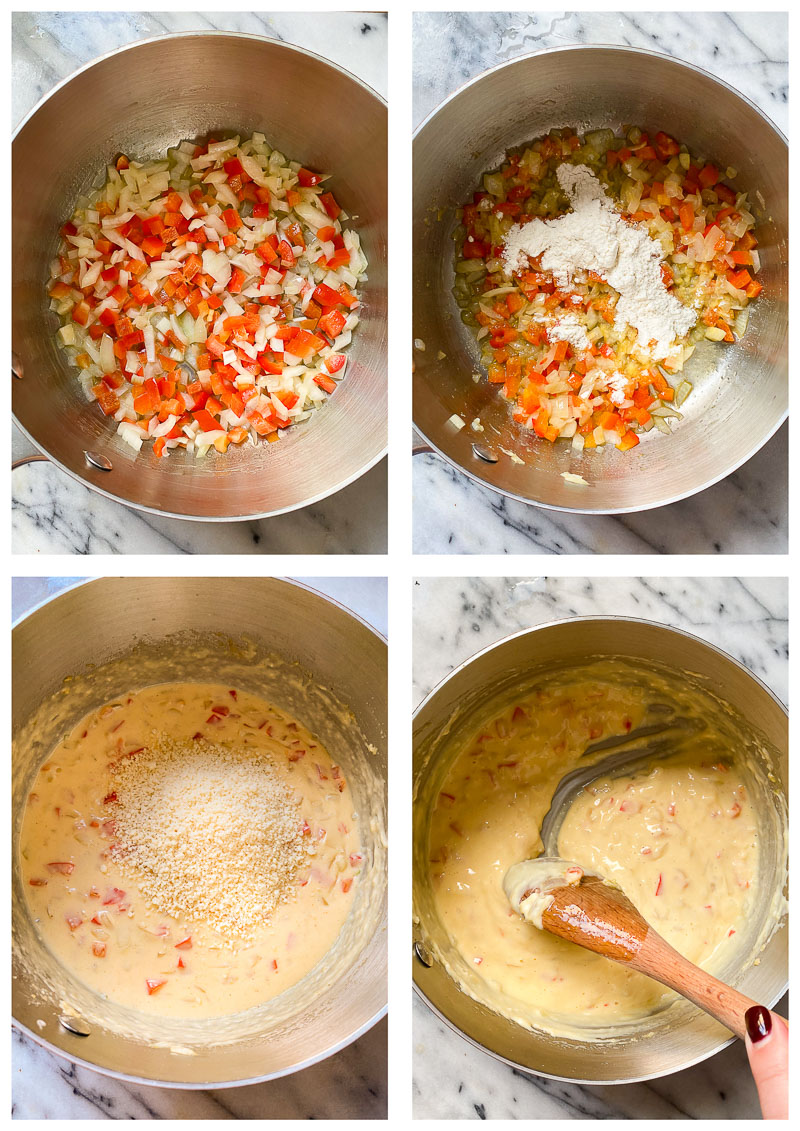 Recipe Tips and Notes
Despite the fact that there are many step-by-step photos, this recipe is not difficult. I just wanted to give you the visual aid of the whole process. I also wanted to show the consistency of the cream sauce.
First of all, you will need to make the white sauce aka Bechamel sauce. I added sauteed onions and bell peppers to the base of the sauce for more flavour.
I also added freshly grated Parmesan cheese to the sauce, which isn't traditional but it enhances the casserole and brings it into the 21st century.
The cream sauce should be thick enough, so the spoon would leave a temporary trail behind during stirring as shown in the picture above. Once it's the right consistency and slightly cooled, whisk in a beaten egg, which will give the sauce a custardy consistency once baked.
As I mentioned in the beginning, I used frozen corn, which I defrosted and drained. You can also use canned corn for this recipe.
I highly recommend using Panko breadcrumbs as they create the lightest and the crispiest topping for this gratin. I mixed them with melted butter and grated Parmesan cheese for a stronger savoury taste.
If you are after more flavour, dust a touch of smoked paprika on the topping but that is optional. The paprika also improves the visual appeal of this baked dish.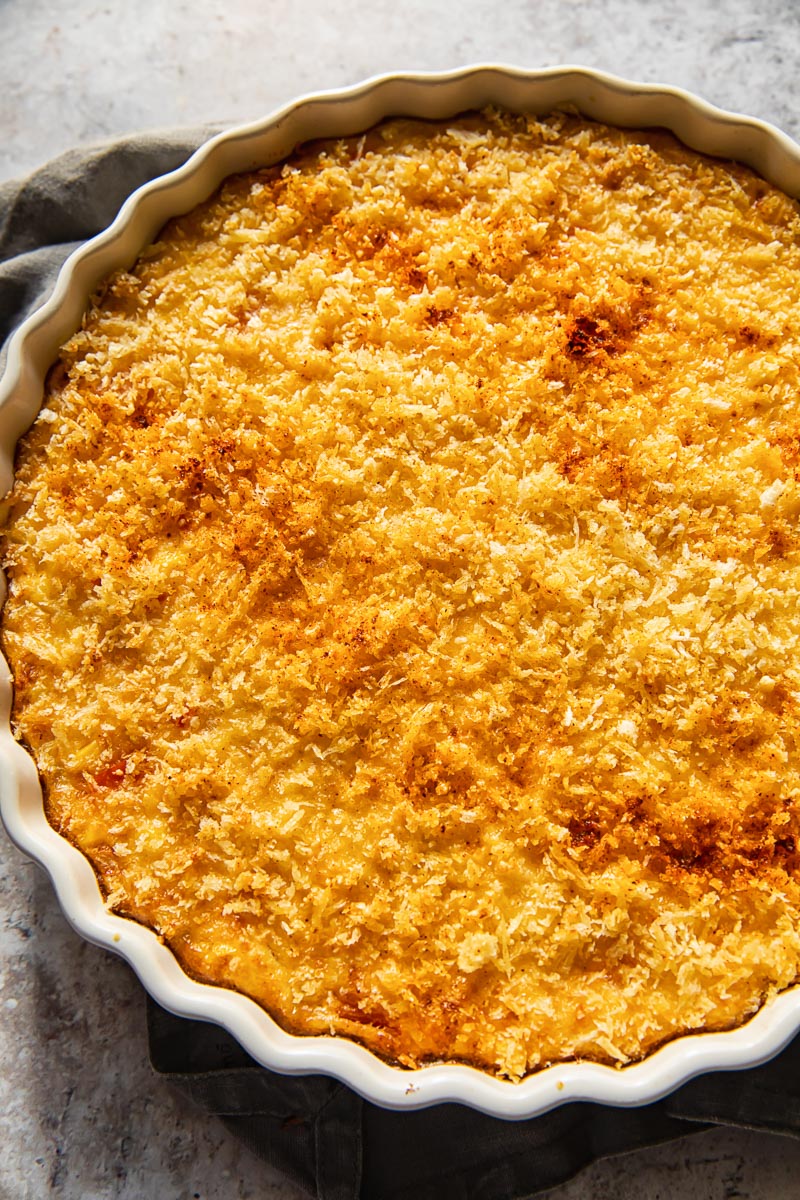 Serving Suggestions
This corn recipe is a fantastic side dish for holidays and special occasions. It could be served alongside a Roast Turkey, Prime Rib Roast, or a vegetarian Mushroom Wellington.
For more ideas of what to serve as side dishes take a look at our Thanksgiving Sides.
Our Favourite Side Dishes to Try: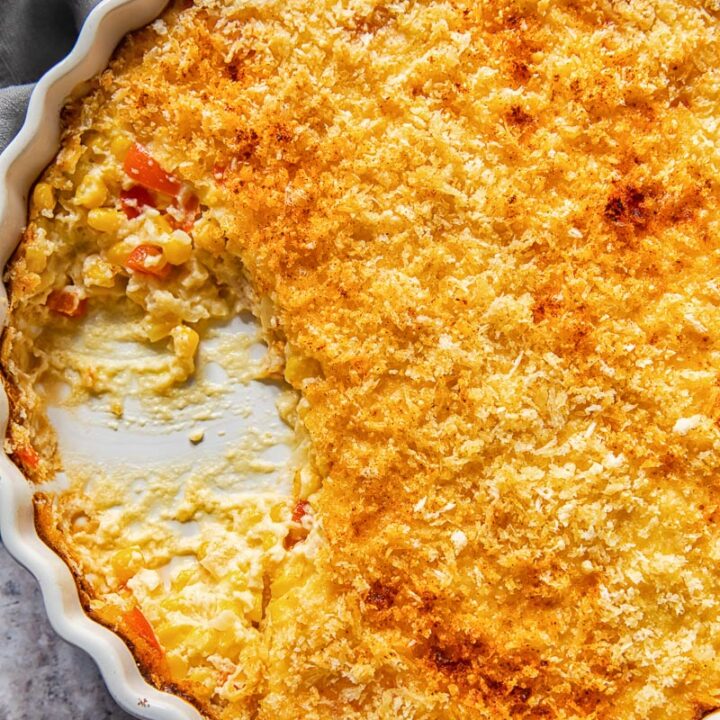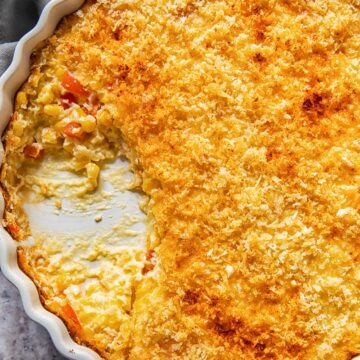 Scalloped Corn
Scalloped corn is an old fashioned dish of corn baked in a savoury cream sauce with a crispy breadcrumb topping.
Ingredients
2

tbsp

butter

1

onion

small, chopped

½

red bell pepper

diced

2

tbsp

flour

170ml/3/4 cup

whole milk

50g/1/2 cup

Parmesan cheese

salt to taste

¼

tsp

paprika

or smoked paprika

1

egg

large, beaten

500g/3 cups

frozen or canned corn

defrosted and drained

45g/1/2 cup

Panko breadcrumbs

1

tbsp

butter

2

tbsp

Parmesan
Instructions
Preheat the oven to 350F/180C. In a large saucepan melt 2 tablespoons of butter and cook the chopped onion and red bell pepper over low heat for 10 minutes till softened but not browned. Add the flour and continue cooking while stirring for 1 minute, then pour in milk and continue stirring until the mixture is thick and bubbly.

Take off the heat and stir in Parmesan, allow the grated cheese to melt and blend into the sauce, then leave the sauce to cool for a few minutes. Meanwhile, prepare the breadcrumb topping by melting the butter and sprinkling it all over the Panko breadcrumbs. Then mix the two together and combine with the 2 tablespoons of Parmesan.

Now beat 1 egg and stir it in the cheese sauce until well combined. Add the corn and mix well. Pour the mixture into an ungreased 1 quart/1 litre shallow baking dish, top with the breadcrumbs and bake in the preheated oven for 25-30 minutes until bubbly and the top is golden.
Nutrition
Calories:
247
kcal
Carbohydrates:
29
g
Protein:
10
g
Fat:
12
g
Saturated Fat:
6
g
Polyunsaturated Fat:
1
g
Monounsaturated Fat:
3
g
Trans Fat:
1
g
Cholesterol:
52
mg
Sodium:
677
mg
Potassium:
307
mg
Fiber:
3
g
Sugar:
7
g
Vitamin A:
910
IU
Vitamin C:
19
mg
Calcium:
178
mg
Iron:
1
mg