Learn how to roast the juiciest, herbed butter flavoured turkey crown aka turkey breast. So much easier and faster than fussing over a whole turkey! Serve with our easy homemade gravy!
For more festive recipes for your holiday table, visit our Thanksgiving and Christmas Collections.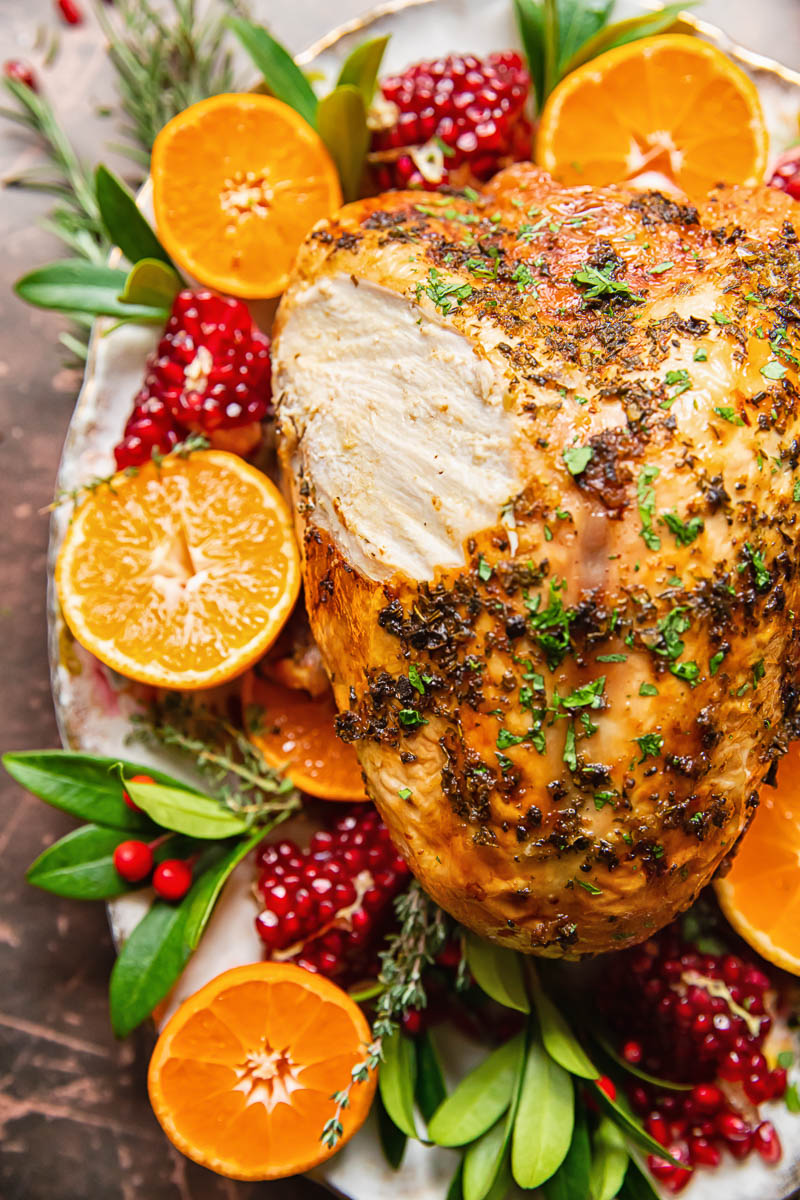 I am not going to lie it took me years to be convinced that cooking a turkey breast or a turkey crown, as it is known in the UK, is enough for my Thanksgiving table.
I felt like I would miss the drama of the whole turkey and knew I'd miss the dark meat. I was wrong! And this recipe will convince you to switch over to the breast as well. Or at least give it a try for smaller gatherings.
Why This Recipe Works
I've written about the challenges of cooking a whole turkey in the past. But the summary of it is the bird is giant and consists of white and dark meat, which cook within different amounts of time. It takes too long to roast an entire turkey and the end result is often dry.
My personal solution to the above problems was to limit my turkey size to no more than 10 lbs but I hear it's often not an option in the US! My solution number two is turkey crown. Plus herbed butter, which delivers both flavour and moisture.
What is Turkey Crown?
If you are not from the UK, this term might be new to you. I know I was mystified when I first heard it upon our arrival here. But despite a very regal name, turkey crown simply refers to the breast part of the bird with the bones and skin still attached.
As you've guessed it, you are only getting the white meat. And this makes it much easier to figure out how long to cook it. If you want to buy a boneless crown, it often costs a bit more. Before you start thinking, you would prefer the breast to be boneless, let me convince you otherwise.
The bones are beneficial to keeping the delicate white meat from drying out in the oven, especially when the turkey breast is still quite large. Mine was 5 lbs or 2.2 kg and took 1 hour 45 minutes at 350F/180C. However, if you choose to go with a boneless turkey breast, lower the cooking time accordingly.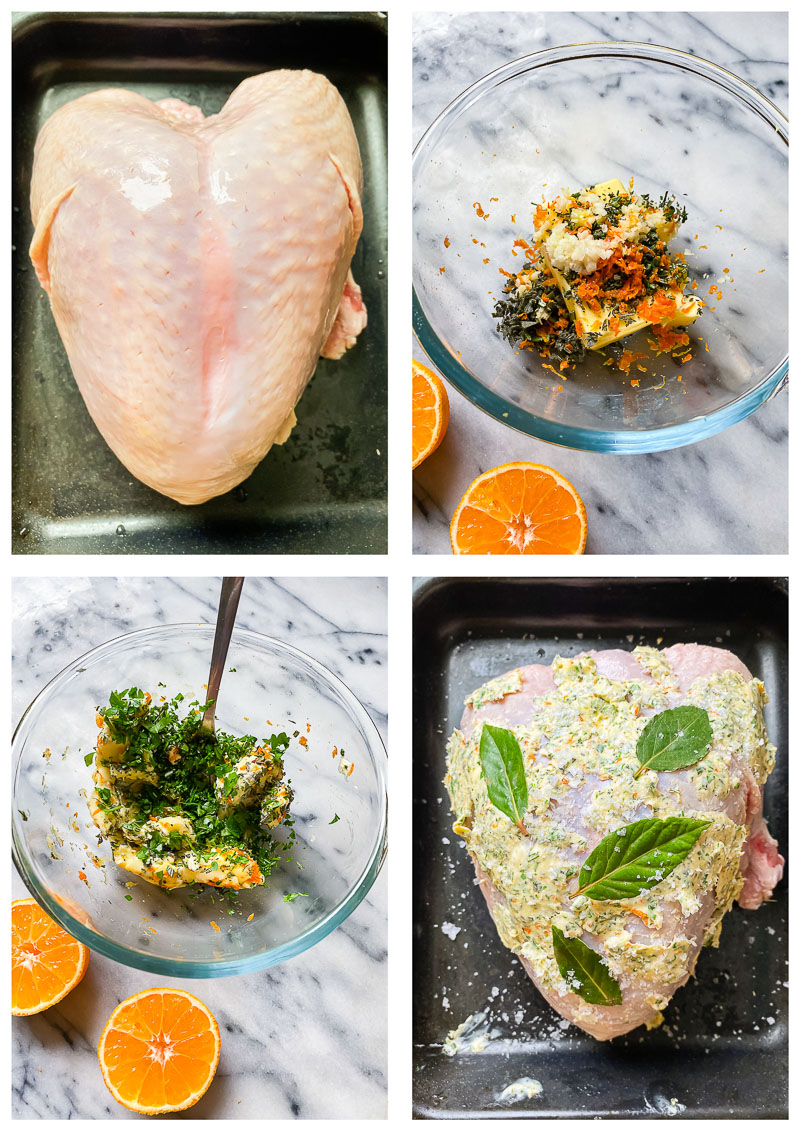 Recipe Tips and Tricks
It should go without saying but do make sure your turkey crown is completely defrosted before it goes in the oven. It take 1 day per 5 pounds to fully defrost a turkey in the fridge, which is the safest way.
You will notice that I added orange zest to to my herbed butter but not the juice. Keep the zested orange and stick it under the crown for flavour infusion and added moisture.
Don't forget to pat the skin of the turkey breast dry before applying herbed butter, so it would stick, otherwise it will slide down. Don't worry if the butter clumps up a bit and doesn't go on smoothly. The slippery surface of the turkey breast and the butter don't go too well together. Do your best and don't worry if it's not perfect. Approximately 30 minutes into the roasting, take the turkey out and baste it with the melted butter, which collected at the bottom of the pan for full coverage.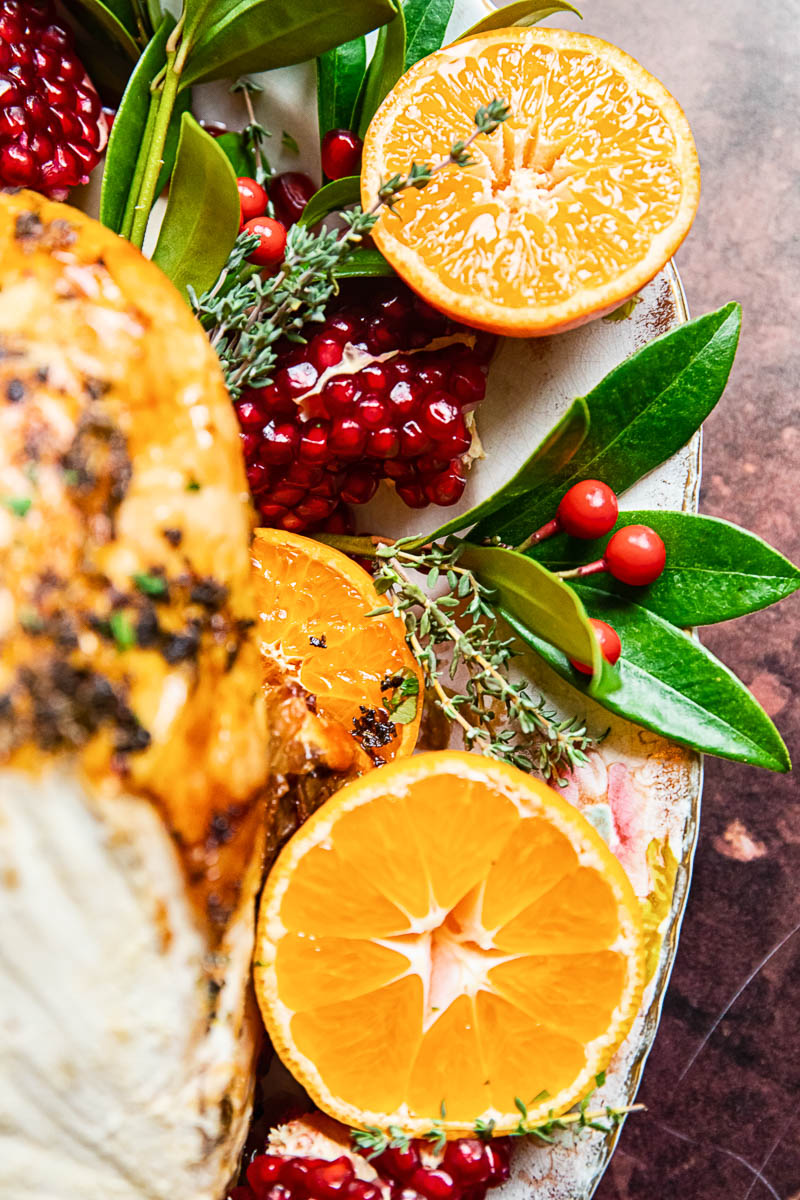 Season generously with salt before roasting. Salt is a huge contributor to that delicious crispy skin.
As a rule of thumb, your turkey will need about 20 minutes per pound to be fully cooked. Mine took 1 hour 45 minutes but rather relying on exact timing make sure you test the internal temperature for best results. It should read 160F-165F or 72C-73C. Why is it important? Because turkey sizes vary and domestic oven temperatures vary even more. The only thing that ensures a perfectly cooked turkey breast is measuring its temperature with an instant read thermometer.
Allow the cooked turkey to rest for 20-30 minutes before slicing.
Garnish as you wish or follow the image above.
What to Do with Leftovers
Apart from eating the turkey breast in your sandwich with a bit of cranberry sauce, you can transform your leftovers into something completely new and exciting. Here are our favourite recipes.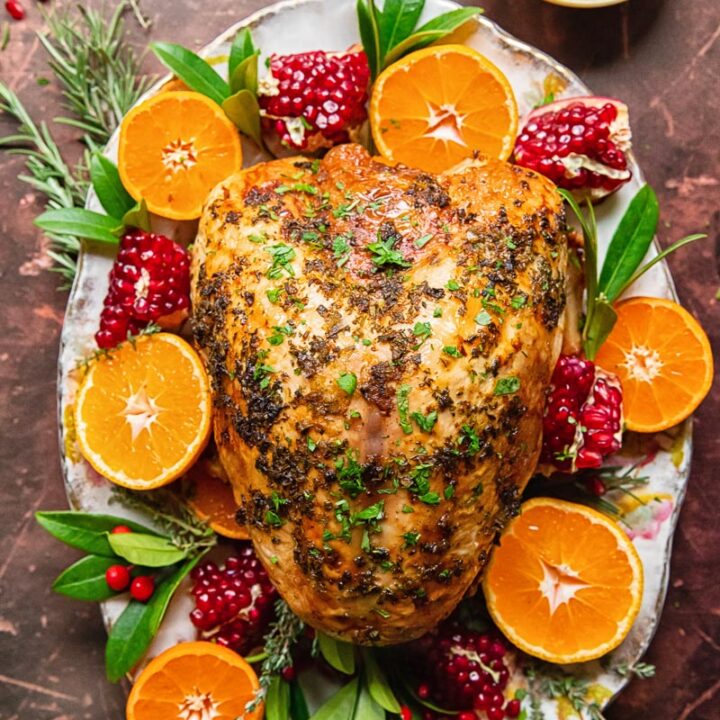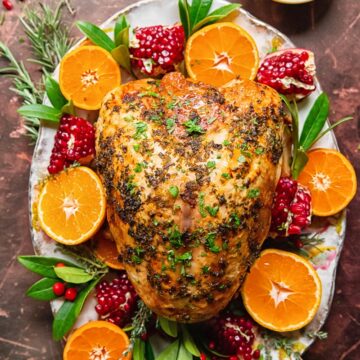 Herbed Butter Roast Turkey Crown (Breast)
Learn how to roast the juiciest, herbed butter flavoured turkey crown aka turkey breast. So much easier than fussing over a whole turkey!
Ingredients
2.2-2.5 kg/5 lbs-5.5 lbs

turkey crown(breast)

with the skin and bones attached

4

tbsp

unsalted butter

softened

2 sprigs/1

tbsp

fresh chopped rosemary

4 sprigs/2

tsp

fresh chopped thyme

3-4 leaves/1

tbsp

fresh sage

4-5 sprigs/1

tbsp

fresh parsley

3

cloves

garlic

1

mandarin orange, zest only

coarse salt

4-5

fresh bay leaves

optional
For the garnish
2-3

mandarin oranges

1

pomegranate

rosemary, thyme

greenary
Instructions
Preheat the oven to 350F/180C. Remove the turkey from its packaging and place inside a roasting pan skin side up. Remove turkey giblets from inside the turkey. Either keep them for other uses or discard. (I personally discard them. Whatever you do, don't forget to remove them!)

Take the herbs off their stalks and chop them, mince the garlic and zest the orange. Mix into the soft butter until well combined. Pat the turkey breast dry with paper towel. It will be impossible to spread the herbed butter over the breast if it's wet and slippery. Cover the turkey breast with the butter mixture until evenly distributed throughout, then stick the bay leaves all over. Sprinkle with coarse sea salt. Cut the zested mandarin orange in half and place both halves under the turkey breast.

Roast in the preheated oven for 1 hour 45 minutes or 2 hours until the internal temperature in the thickest part of the breast registers 160-165F/72C. Half hour into the cooking time, take the turkey breast out and baste with the juices from the bottom of the pan. You don't need to baste it more than once. On average, a turkey crown requires 20 minutes of cooking time per pound. If your are using a boneless crown, it will cook even faster. Check the internal temperature after one hour and adjust the timing accordingly depending on the size of your bird. Rest the turkey for 20-30 minutes before slicing.
Nutrition
Calories:
398
kcal
Carbohydrates:
4
g
Protein:
55
g
Fat:
20
g
Saturated Fat:
8
g
Polyunsaturated Fat:
1
g
Monounsaturated Fat:
2
g
Trans Fat:
1
g
Cholesterol:
162
mg
Sodium:
499
mg
Potassium:
38
mg
Fiber:
1
g
Sugar:
1
g
Vitamin A:
410
IU
Vitamin C:
5
mg
Calcium:
32
mg
Iron:
1
mg