This hearty turkey stew made with leftover turkey, bacon, leeks, carrots and potatoes is the comfort food your colder nights need! You can add a splash of cream or keep it as it is. Either way you will love this delicious and cozy recipe.
This turkey stew is a meal in itself but it would taste infinitely better is paired with our Dutch Oven Bread. If you don't have time to make a yeasted bread, try our easy Honey Buckwheat Soda Bread.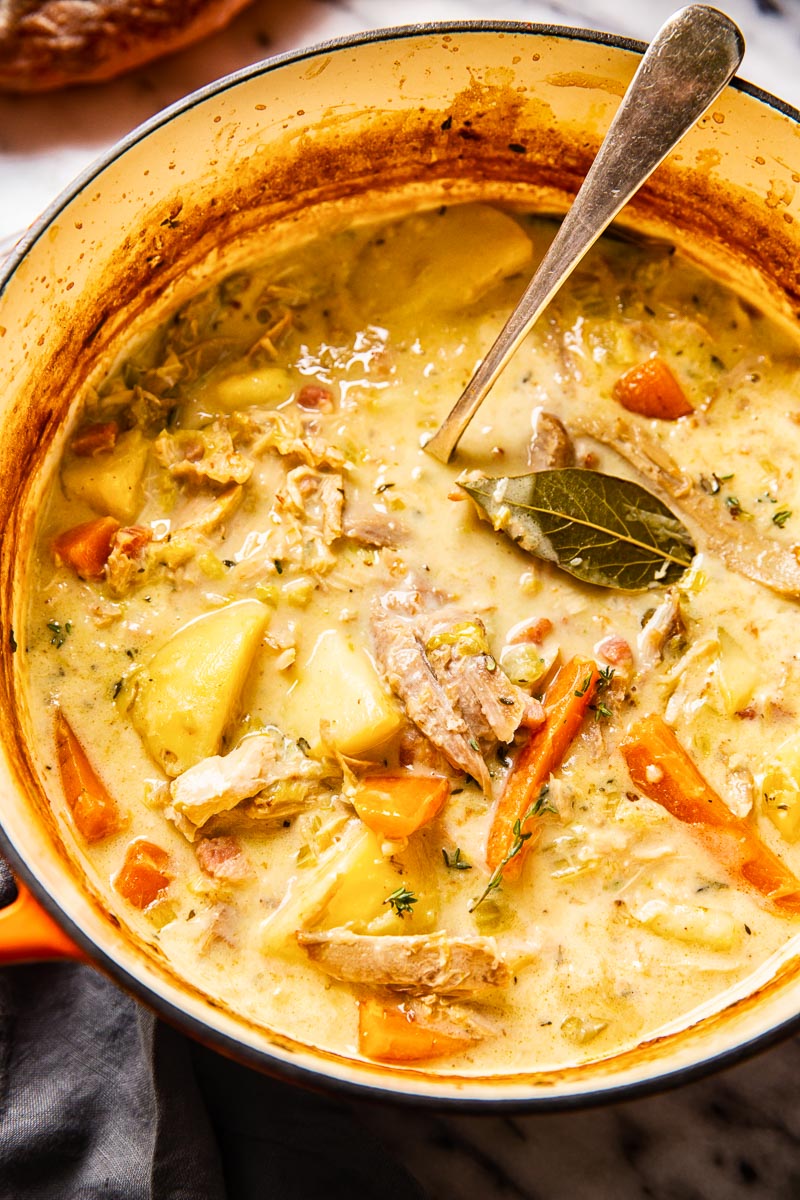 Not long ago I asked my readers about their cold weather cravings. What did they reach for more often? Soups, stews or casseroles?
Soup came on top, followed by a stew. No surprises here, we all long for hearty meals that warms us up from the inside when the weather gets chilly.
As much as I love soups, I have to admit that my preferences will always lie with stews. I am not sure what it is but it might have to do with the texture. I find thick and robust stews fill me with all the comfort and joy I need.
What do you put in a stew?
Anything you have in your fridge and pantry. Stews are excellent for getting rid of leftovers and are a very frugal way to feed a family.
Generally tougher cuts of meat and root vegetables like carrots, potatoes, parsnips, etc are used in stews as they require longer cooking times. Longer cooking time help stews develop delicious flavours.
Stews are also very similar to soups. The only difference is the ingredients are cooked in less liquid, so they are stewing together rather than being boiled/simmered in a liquid like soups.
The stew recipe I am sharing today was inspired by turkey leftovers I had to deal with rather quickly. I made a leftover turkey soup for all soup lovers. And I also made a turkey stew for myself in hopes you would love it too.
Apart from leftover turkey meat I added leeks, carrots, bacon lardons for a bit of smokiness, thyme and bay leaves for extra flavour and large potato chunks.
I couldn't decide whether I wanted to add cream to my turkey stew or leave it dairy free, so I've tried both ways.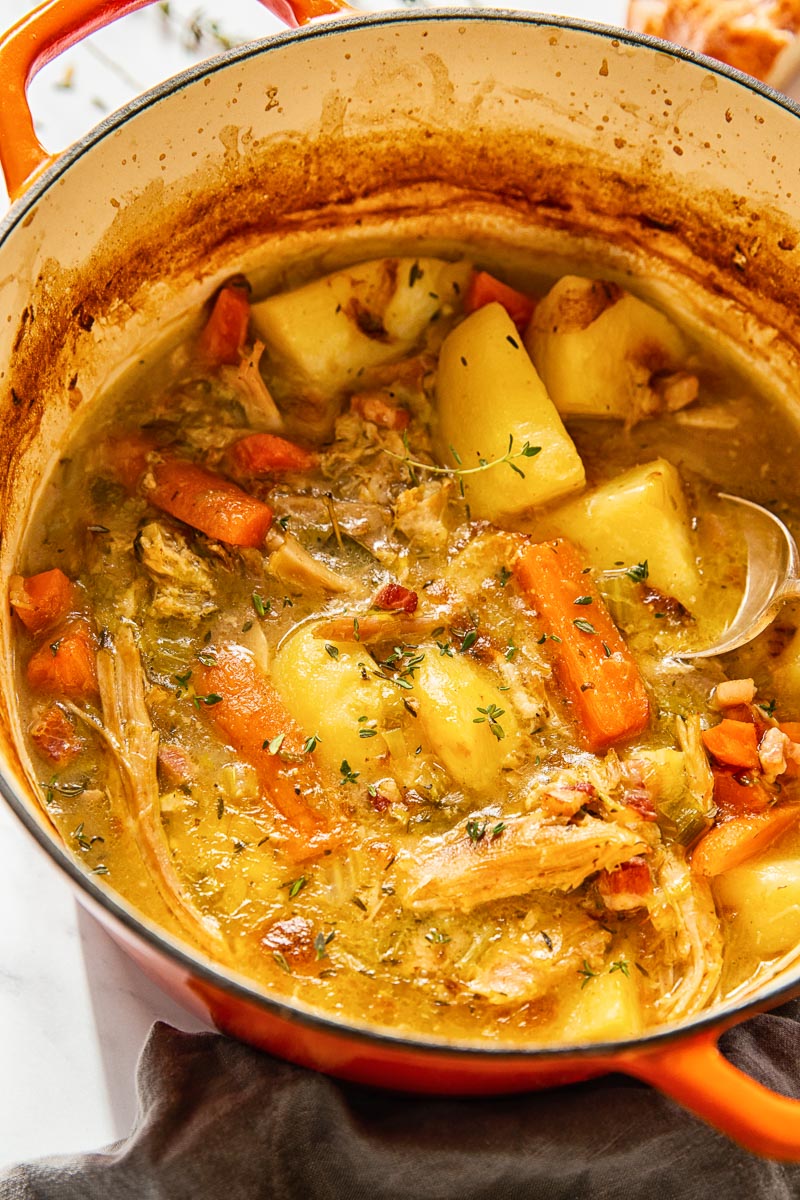 Here is what my stew looked like straight from the oven. It's nice, thick and incredibly flavourful.
At this point you can stir in ⅓ cup of double/heavy cream, which will make your stew so much more luxurious!
Tender turkey, large chunks of carrots and potatoes swimming in silky smooth gravy. I can't imagine a better meal in colder months than this creamy leftover turkey stew!
However, if you want to keep this stew dairy free, it's is just as delicious and less calorific without the cream. You choice!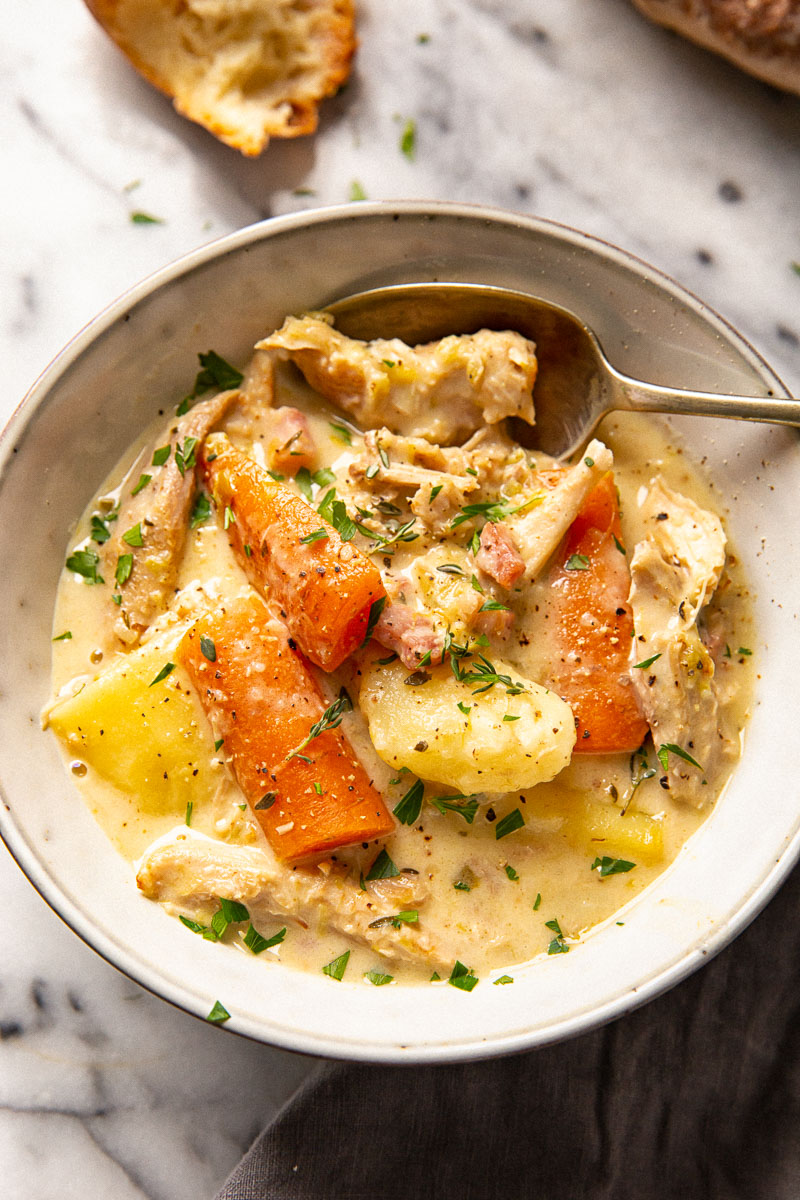 More delicious stew recipes from around the world: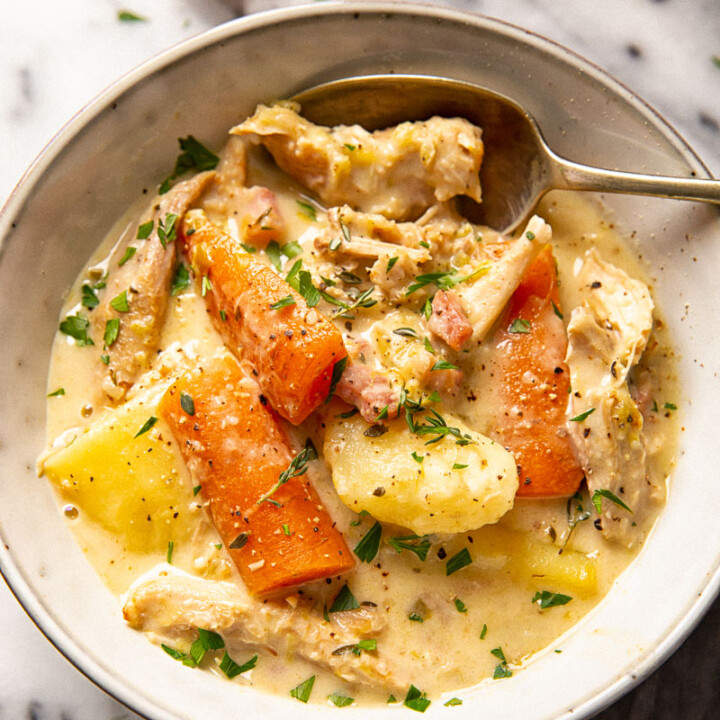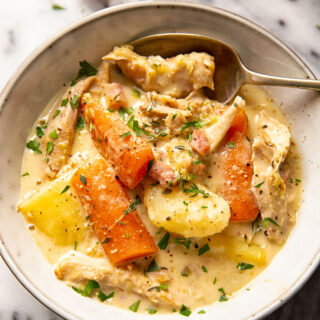 Hearty Turkey Stew
This hearty turkey stew made with leftover turkey, bacon, leeks, carrots and potatoes with a touch of thyme is the comfort food your colder nights need!
Ingredients
1

tbsp

butter

100g/4-5

strips,

bacon lardons or thick cut bacon

sliced

1

leek

2

carrots

cut into large pieces

2

stalks

celery

diced

2

cloves

garlic

pressed

2

tbsp

flour, heaped

1 litre/4 cups

chicken or turkey stock

250g/2 cups

cooker turkey or chicken

2

potatoes, large

cut into large pieces

2

bay leaves

1

tbsp

fresh thyme leaves or 1 tsp dried thyme

1

tbsp

fresh chopped parsley

salt and pepper to taste

80ml/1/3 cup

double/heavy cream (optional)
Instructions
Cook the bacon in 1 tbsp of butter( if using bacon lardons) in a large Dutch Oven over medium heat. Omit the butter if using fatty bacon (especially true for the US readers). Drain excess bacon fat but 2 tbsp. Add sliced leeks, carrots, celery and thyme and cook for 5 minutes over medium low heat, add pressed garlic and cook for 1 minute longer.

Add 2 heaped tablespoons of flour and mix, then add the stock gradually scraping down the bottom of the pot, bring to a boil, add salt and pepper to taste.

Add 2 potatoes in large chunks, turkey, bay leaves and and cook uncovered in the preheated oven at 350F for 45 minutes.

Once the stew is cooked, stir in double/heavy cream if desired. Sprinkle with chopped parsley before serving.
Nutrition
Calories:
378
kcal
Carbohydrates:
25
g
Protein:
22
g
Fat:
22
g
Saturated Fat:
10
g
Cholesterol:
93
mg
Sodium:
907
mg
Potassium:
852
mg
Fiber:
5
g
Sugar:
3
g
Vitamin A:
6121
IU
Vitamin C:
22
mg
Calcium:
93
mg
Iron:
5
mg