Made with wholesome buckwheat flour and sweetened with honey, this soda bread is delicious.
Let this Honey Buckwheat Soda Bread ease you into the art of bread making. It's so easy! No kneading or waiting for the bread to prove. Just mix, shape and bake!
For more recipes with buckwheat flour, try our Buckwheat Pancakes or Buckwheat Waffles with Rhubarb Cream.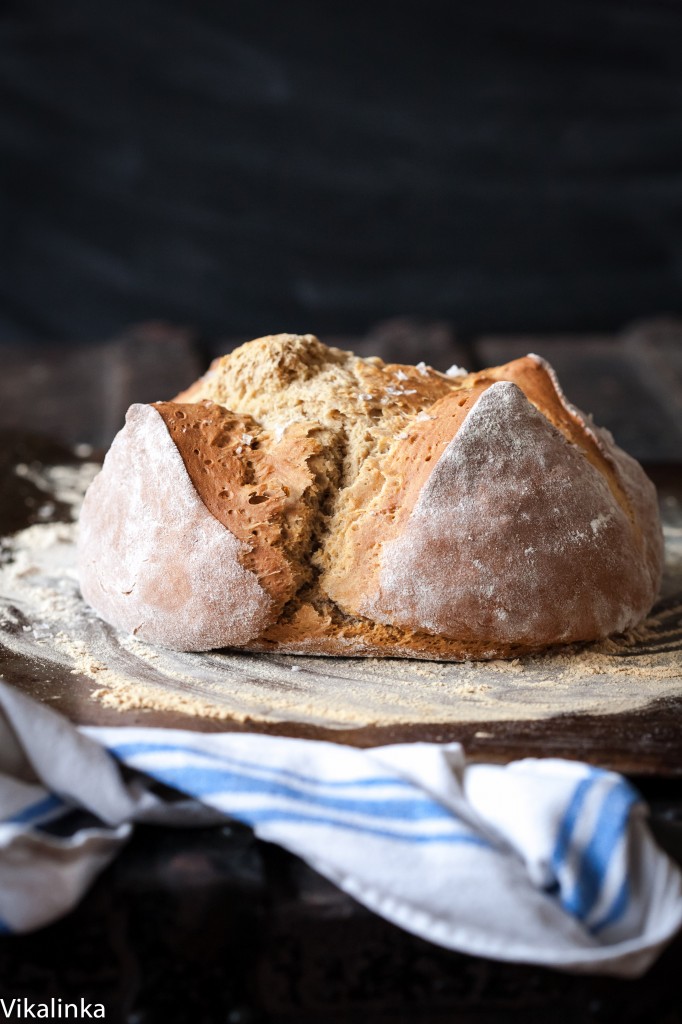 (Thank you Sainsbury's for sponsoring this post!)
Nothing can beat homemade bread, and as much as I am a fan of yeasted breads with their chewy crust and airy interior, they are quite a bit of work. They also take time to rise.
Soda bread, on the other hand, is quick, easy and dare I say, just as satisfying. And when baked with carefully chosen ingredients could be also nourishing for our bodies and mind.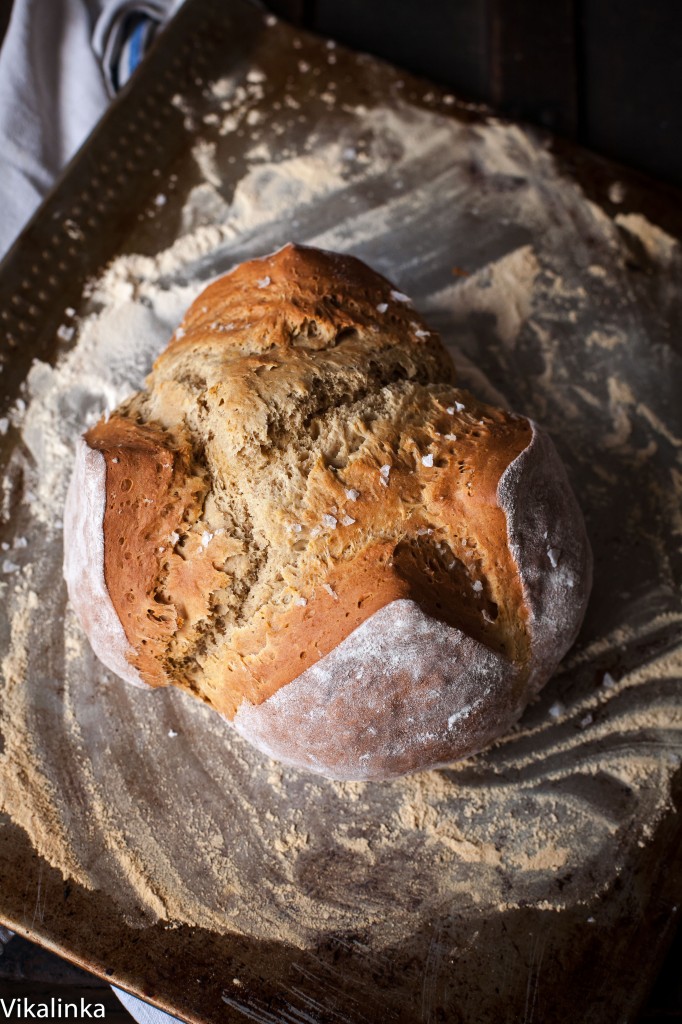 I believe the simple task of mixing flour, water and an egg, kneading it briefly… Sticky hands, flour flying through the air…Then smelling the most tantalising aroma of freshly baked bread wafting through the house could be very calming in the midst of busy and hectic of life.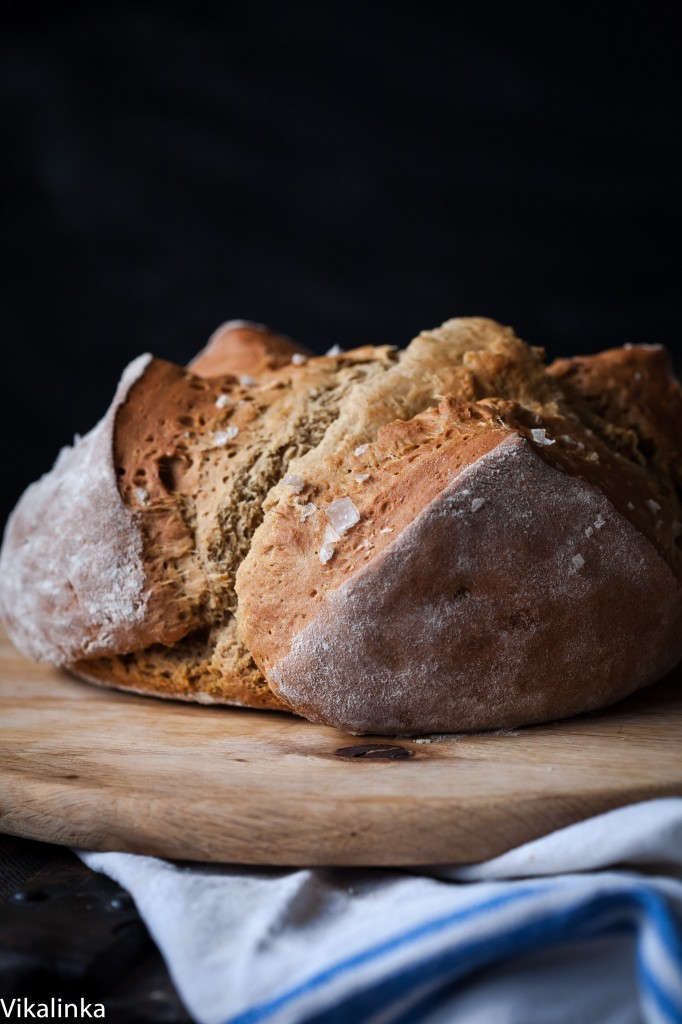 What is soda bread and where is it from?
Now let's talk about this bread. Traditionally Irish soda bread is made with wholemeal flour, and is soft and crumbly in texture as opposed to its brother yeasted bread, which is light and airy.
Is soda bread difficult to make?
It is the world's easiest loaf! Just mix all ingredients, form a rough loaf, after all it is half of the appeal, score a cross on top with a sharp knife, pop in the oven and 45 min later enjoy with butter and honey.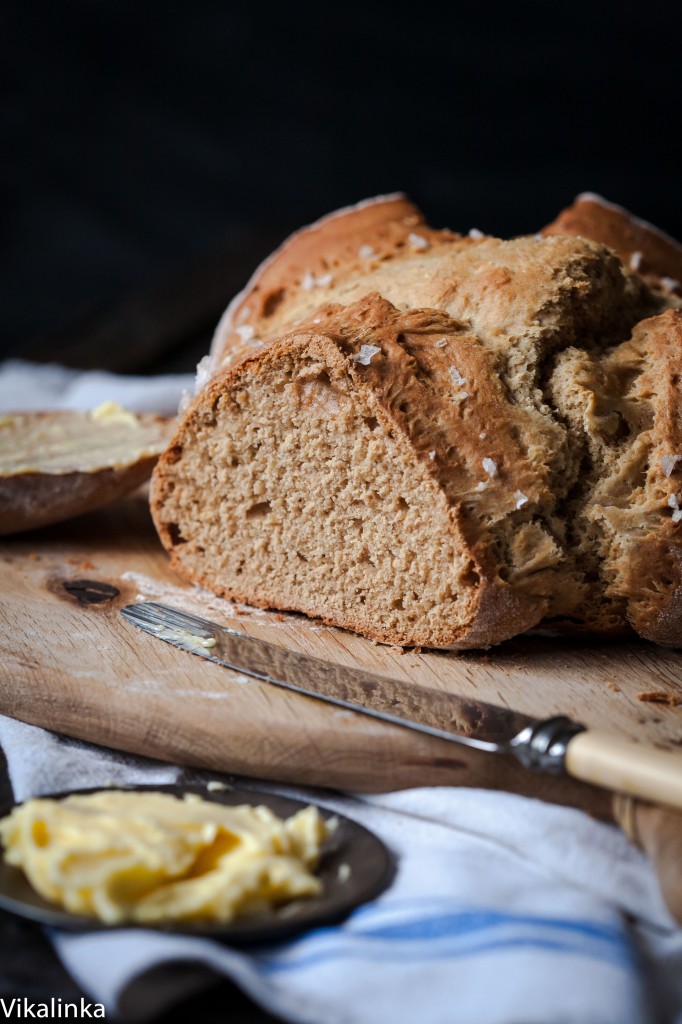 I chose to use buckwheat flour as I love the nutty taste it comes with. This wholemeal flour gives the bread a lot of character. It is naturally gluten free and soda breads are usually made with low gluten flours, so mixing the two is a good idea.
The addition of honey instead of sugar scents the entire loaf, which in combination with the smell of buckwheat, makes it irresistible. I had to pause while photographing it just to take the aroma in!
You can also make soda bread using 100% buckwheat flour, making this loaf gluten free.
The best part is you don't have to run to specialty shops. I found all these items at my local Sainsbury's.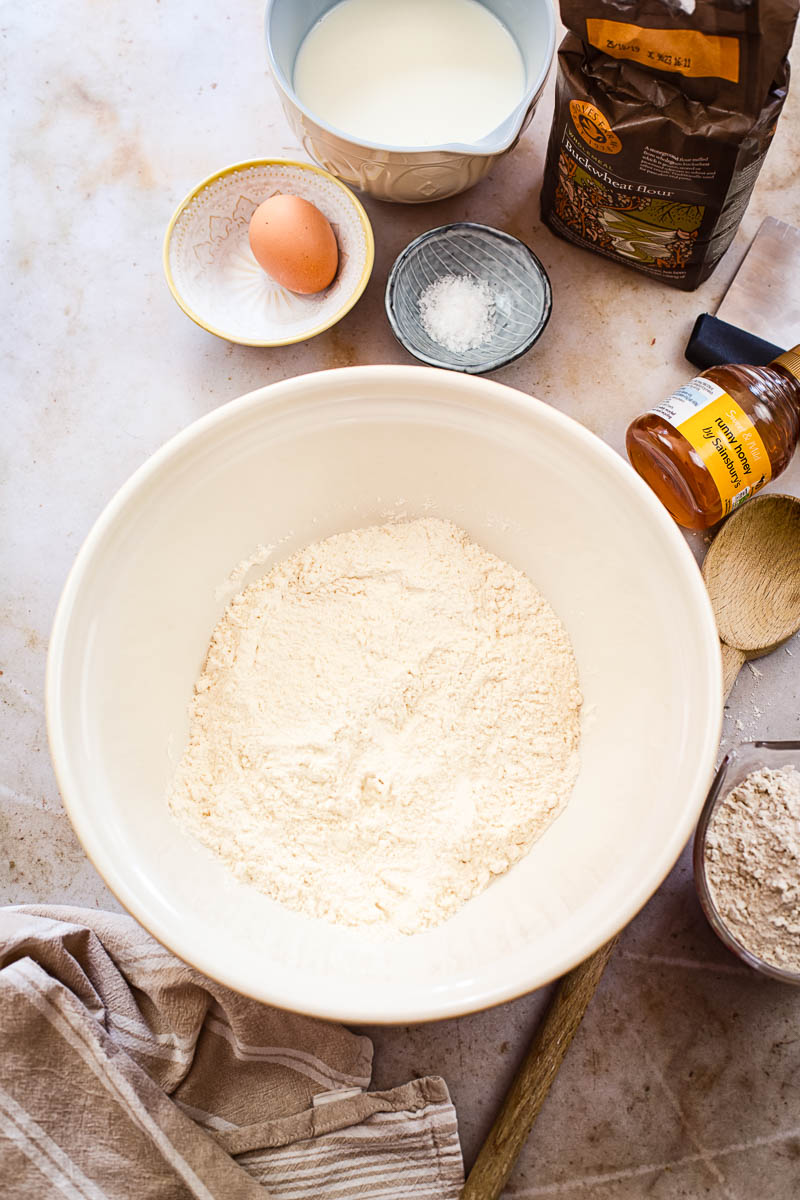 How do you make buckwheat bread?
This soda bread is equally tasty with butter and jam as it is spread with a little bit of soft goat cheese or cream cheese, but my son's favourite is peanut butter and blackcurrant jam!
How long does soda bread keep?
It's best enjoyed on the day it's been baked. If you have leftovers the next day, toasting soda bread will produce best results.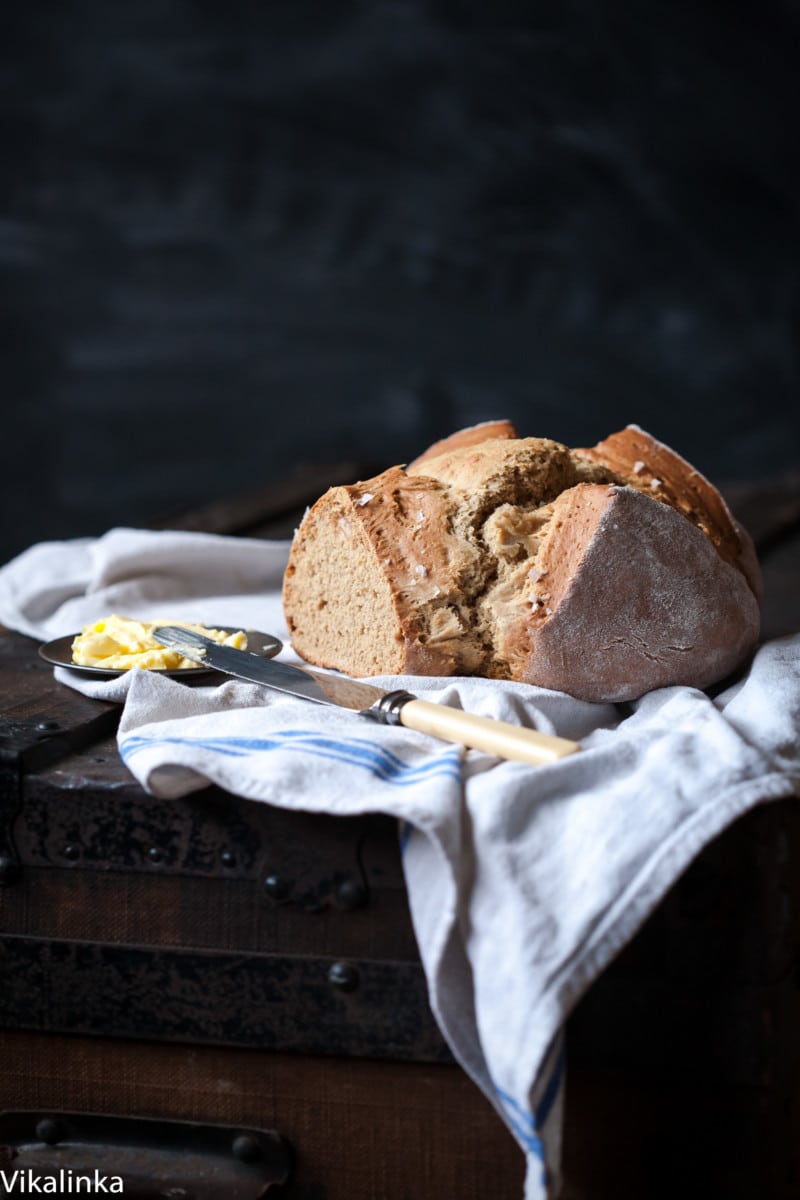 More bread recipes:
Originally published in 02/2015. Updated in 04/2019.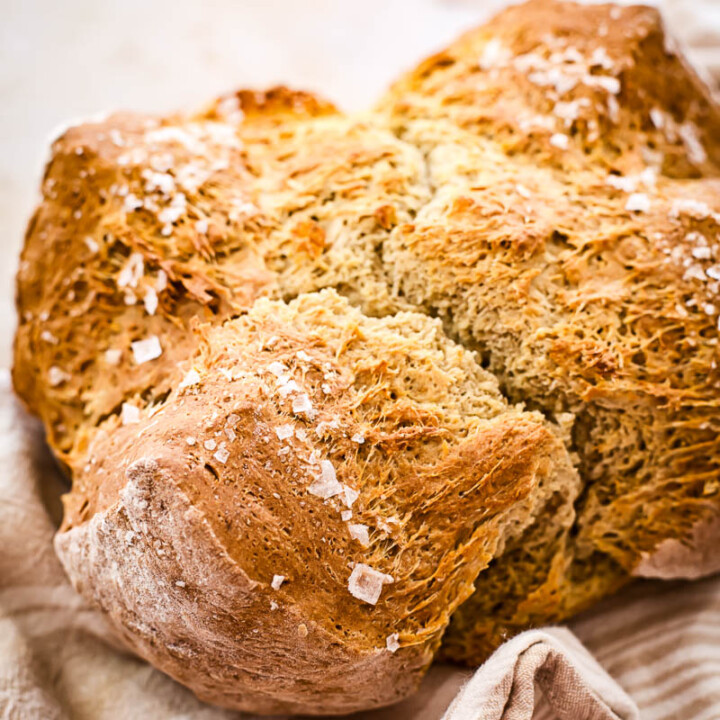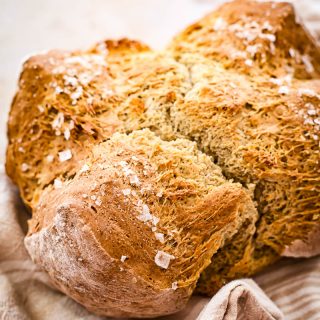 Honey Buckwheat Soda Bread with Sea Salt
Quick and delicious this soda bread is made with buckwheat flour and sweetened with honey.
Ingredients
275g/2 ½cups

Sainsbury's very strong Canadian bread flour

200g/1 ⅔cups

Doves Farm wholemeal buckwheat flour

350ml/1 ½cup

buttermilk

1 ½

tsp

baking soda

1

large egg

large

1

tsp

Sainsbury's runny honey

½

tsp

salt

1

tbsp

sea salt to sprinkle on top
Instructions
Preheat the oven to 190°C/375F.

Combine both flours, baking soda, salt in a mixing bowl.

In a small bowl whisk buttermilk with the egg and honey.

Make a well in the centre of the dry ingredients, and then pour in the wet mixture. Start mixing with a wooden spoon until comes together. Alternatively you can mix it in a stand mixer.

Turn out the dough on a flour surface and gently knead until smooth. It shouldn't take longer than 20-30 seconds. Add a little extra flour if you find the dough is too wet and sticky or a bit more buttermilk if it's too dry.

Shape into a ball and put on a floured baking sheet. Sprinkle with more flour and score a cross on it and top with flaky sea salt such as Maldon or your favourite.

Bake in the preheated oven for 40-45 minutes until the bread sounds hollow if you tap on it.
Nutrition
Calories:
246
kcal
Carbohydrates:
46
g
Protein:
8
g
Fat:
3
g
Saturated Fat:
1
g
Cholesterol:
25
mg
Sodium:
1310
mg
Potassium:
247
mg
Fiber:
3
g
Sugar:
3
g
Vitamin A:
100
IU
Calcium:
69
mg
Iron:
2.7
mg