Making homemade peanut butter is the easiest thing in the world. It's also the best thing in the world because you can flavour it with anything you like. Maple syrup is what I used in this recipe.
For other delicious nut butter recipes, take a look at our Honey Cinnamon Cashew Butter and Chocolate Almond Butter.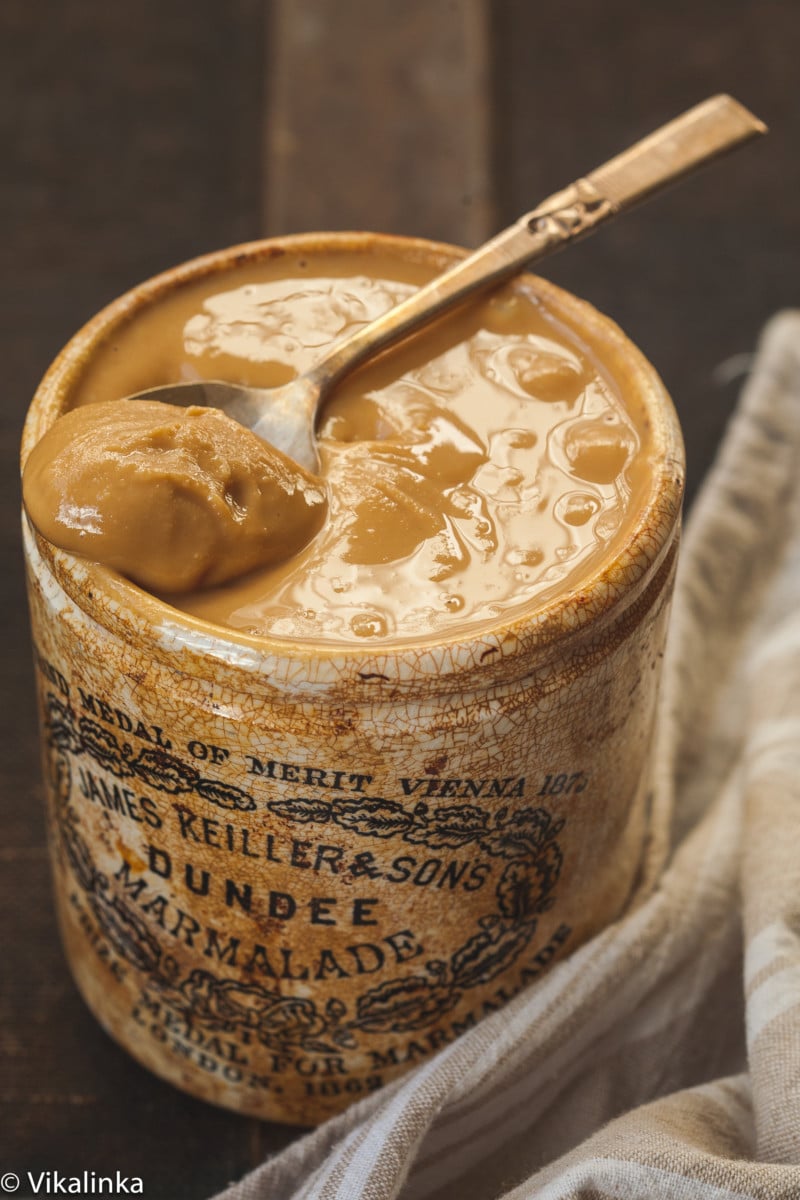 I remember when natural peanut butters first hit the market. I was really excited about having a no additives and preservatives product and while I really appreciated the health benefit of such peanut butter, I was quite disappointed with the texture.
It separated into thick, stodgy lumps of ground nuts and oil. Because it was natural it had to be refrigerated but the cold turned it into a solid, grainy mass. That made nearly impossible to stir it or spread on toast
Gradually, many people went back to the regular peanut butter.
Natural Peanut Butter
I remained convinced that lumpy peanut butter was the only way a natural peanut butter could be made.
Little did I know that throwing a bag of roasted peanuts into a food processor produces velvety smooth butter that begs to be spread. On everything. Or made into a peanut dressing for Asian Noodle Salad.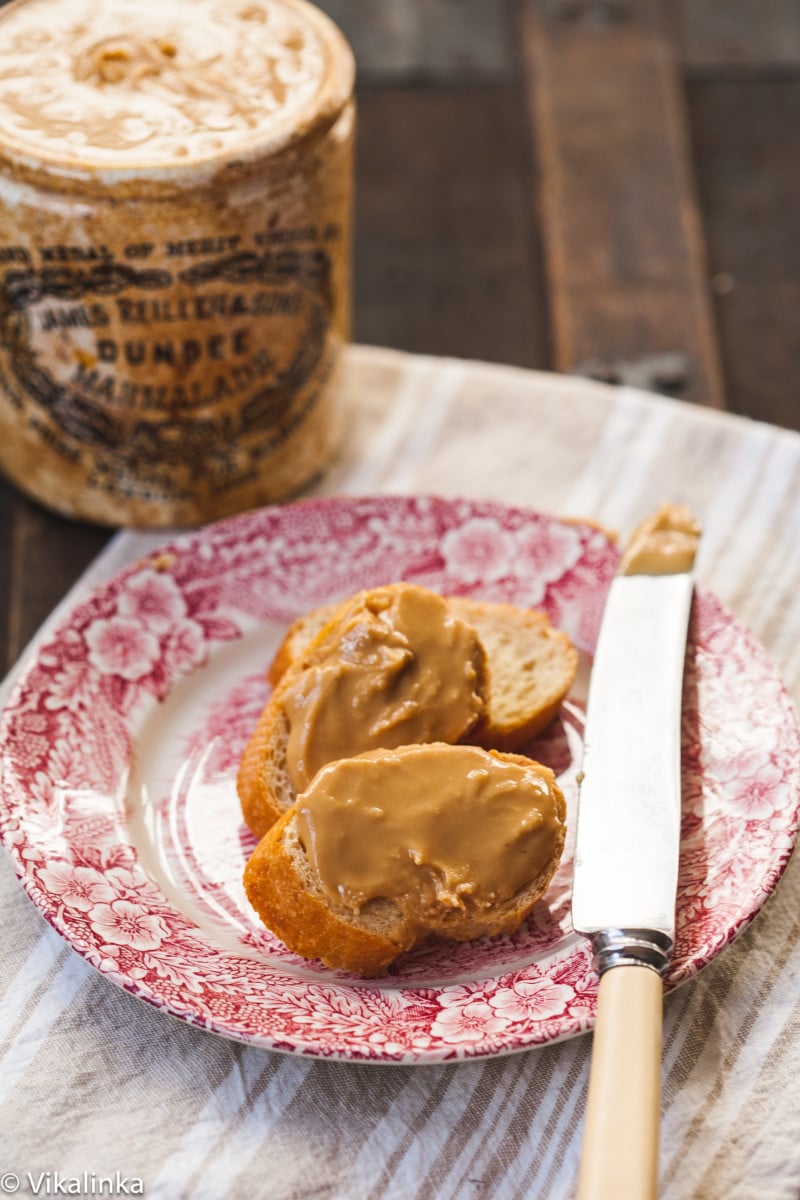 Ingredients
So here is my ingredient list. Ready?
Peanuts. That's it.
Okay there is one more ingredient. We want it to be a little sweet, right? So I stirred in a touch of real maple syrup.
If you are not a fan of maple syrup, you can replace it with honey, agave nectar, brown or white sugar.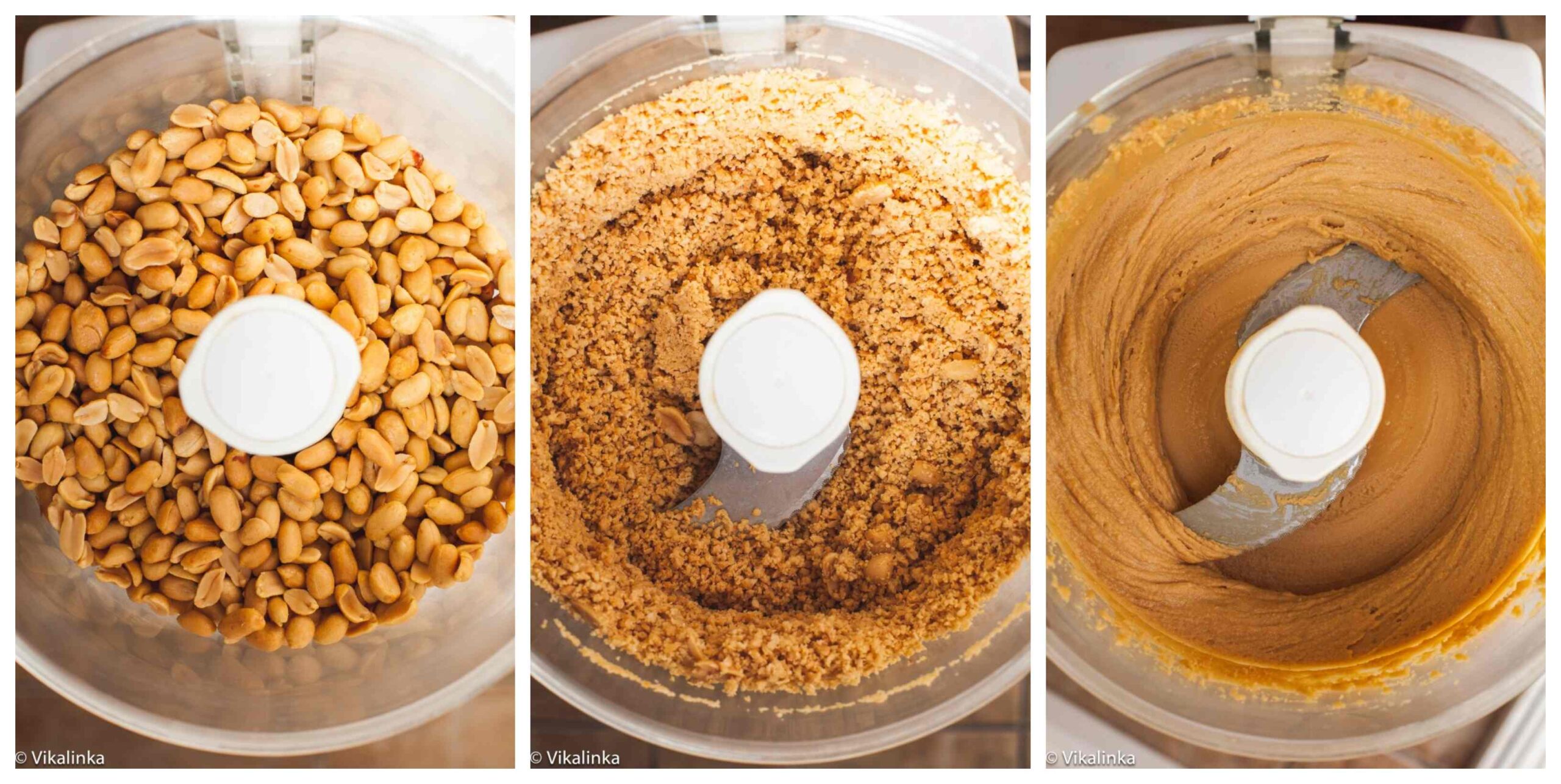 Recipe Tips
The key to a silky, smooth peanut butter is a good powerful food processor and patience. You start with a bag of peanuts.
Hit the START button and process for a minute or so, then stop the motor and scrape the sides. Keep blending.
At first it will turn into a thick mass, that is hard to stir with a spoon, not unlike the grocery store variety I was mentioning above.
At that point, add 2 tablespoons of real maple syrup and a pinch of salt and keep blending. It will take 3-4 minutes to get to an even and creamy texture.
Skip salt if using salted peanuts.
How long it keeps
I've had this homemade peanut butter in the fridge for a week before it was gone. No sign of separating and the texture remains smooth, creamy and easily spreadable.
I recommend keeping it in an airtight container and refrigerated otherwise homemade peanut butter will go rancid. It will keep well and fresh in your fridge for up to 3 months.
This recipe was originally published in 06/2014. Updated and republished in 03/2021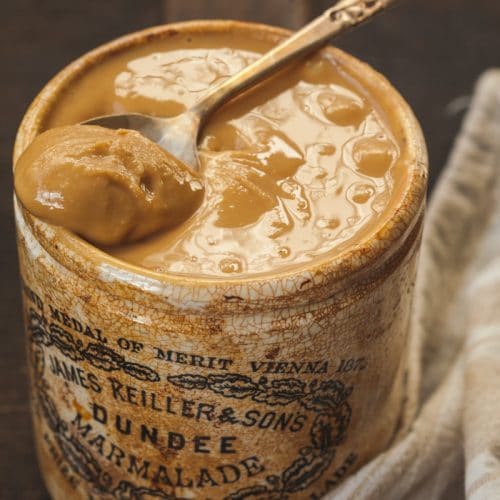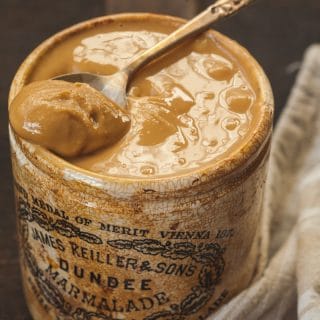 Maple Peanut Butter Recipe
Makes 2 cups of peanut butter.
Print
Pin
Rate
Ingredients
500

g

/3 cups Roasted peanuts

2

tbsp

Maple Syrup

1

tsp

Salt
Instructions
Add peanuts to the bowl of a food processor and process for 1-2 minutes. Open the lid and scrape the sides. The mixture will be grainy.

Continue blending for another minute. Open and scrape the sides once again, season with salt and maple syrup.

Blend for 2-4 minutes until silky smooth in consistency.

*If you like your peanut butter chunky, reserve ¼ cup of peanuts, coarsely chop them or lightly process in a food processor and mix in with the smooth batch.
Nutrition
Calories:
148
kcal
|
Carbohydrates:
5
g
|
Protein:
7
g
|
Fat:
12
g
|
Saturated Fat:
2
g
|
Sodium:
122
mg
|
Potassium:
191
mg
|
Fiber:
2
g
|
Sugar:
1
g
|
Calcium:
29
mg
|
Iron:
1
mg