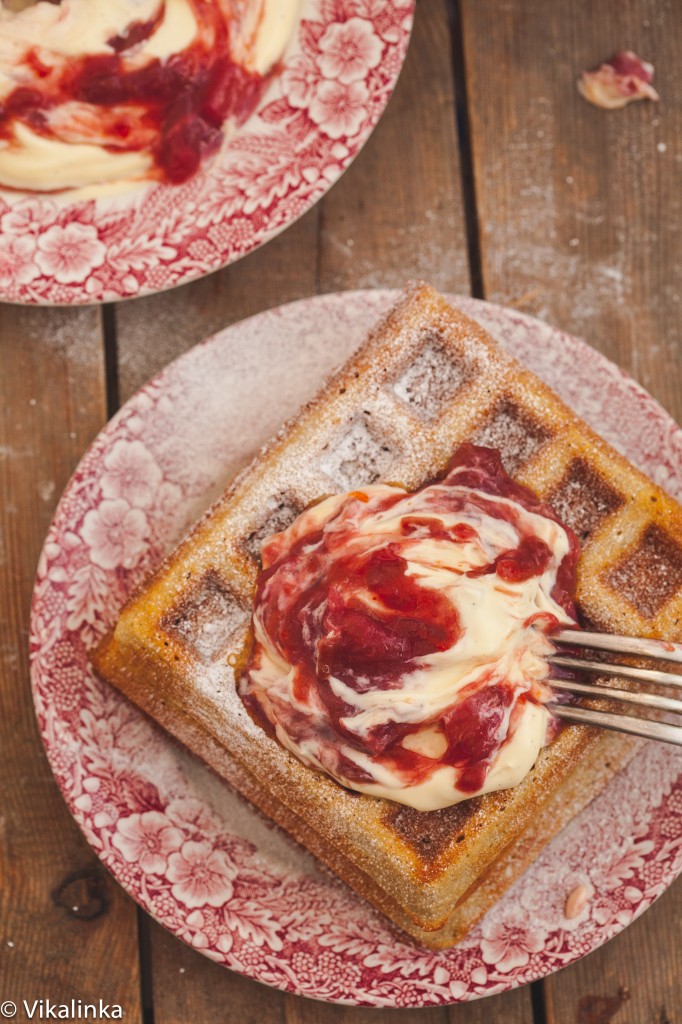 When we moved to England three years ago I had to take a careful look at my kitchen equipment and evaluate what was absolutely essential to ship. My waffle maker, along with other gadgets and a stack of cookbooks, didn't make it Although I was secretly blaming Brad for making me leave my things behind I knew it was the right decision. It took me three years to replace it which effectively puts my waffle maker in the "non-essential item" category.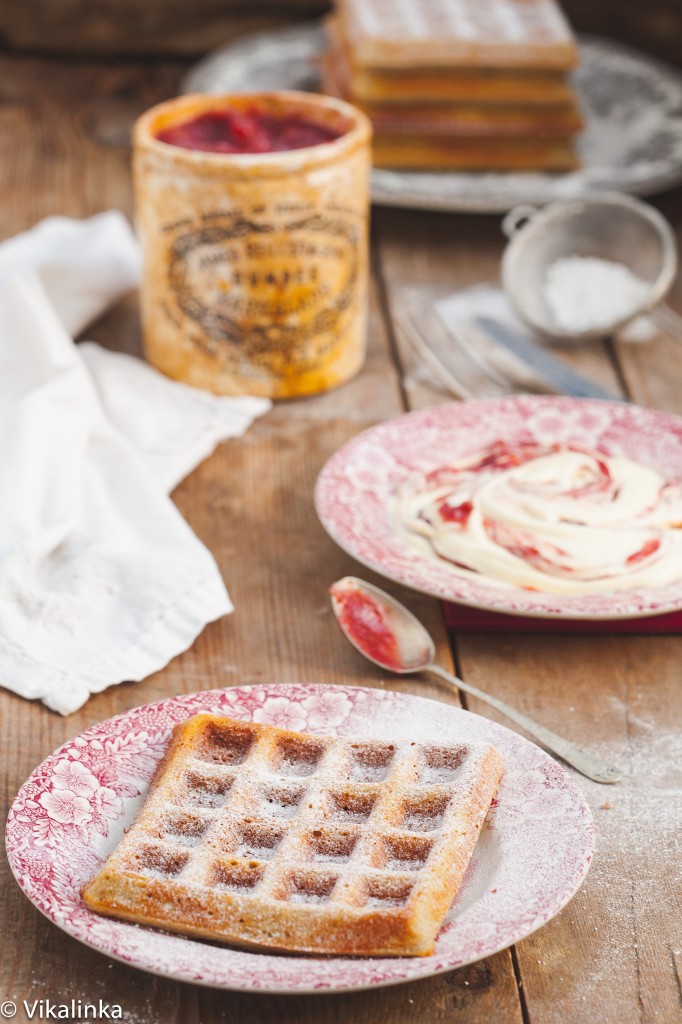 That being said, I've never been the one to enjoy living off bare essentials, although I can't stand a one trick pony gadgets in my kitchen, I have to admit I missed my waffle maker! Our trip to Belgium a couple of years ago, with its frequent stops for a quick coffee and a waffle, firmly planted the thought " I need one badly" in my mind.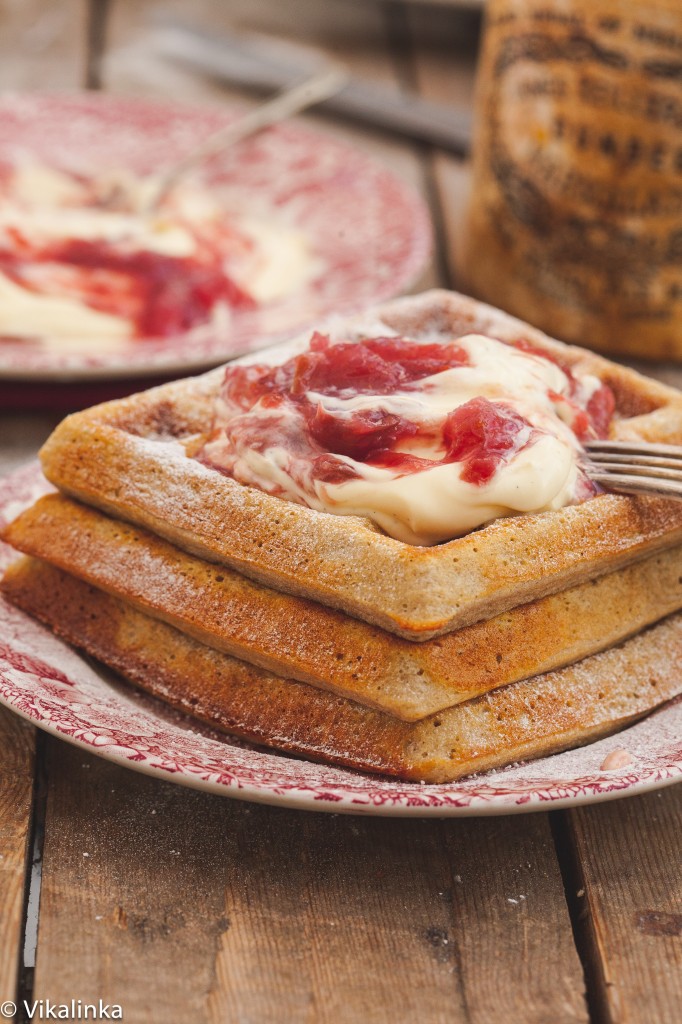 As you can see from the pictures above, my wish finally came true in the form of a new waffle maker, so I have been experimenting with recipes lately. I know it's a bit odd that the first waffle recipe I bring to you is not a classic one but made with buckwheat. You are probably thinking, why does she always have to be weird!! Ha! Weird is what I do. Besides, buckwheat flour is normal to me. After all, I grew up in Russia eating everything buckwheat and buckwheat related. Also, I am sure I don't need to convince you of its health benefits. Buckwheat is not a grain, despite the name, it's actually a plant related to rhubarb! It's very high in dietary fibre, so if you eat a serving of buckwheat a day, especially buckwheat groats aka kasha, you would have already consumed 65% of your recommended daily fibre intake. How amazing is that!
Now let's talk rhubarb. There is just no fruit better in early spring than rhubarb, it's the only fruit that is in season unless you live somewhere tropical and since buckwheat and rhubarb are related, why not bring this fabulous duo together.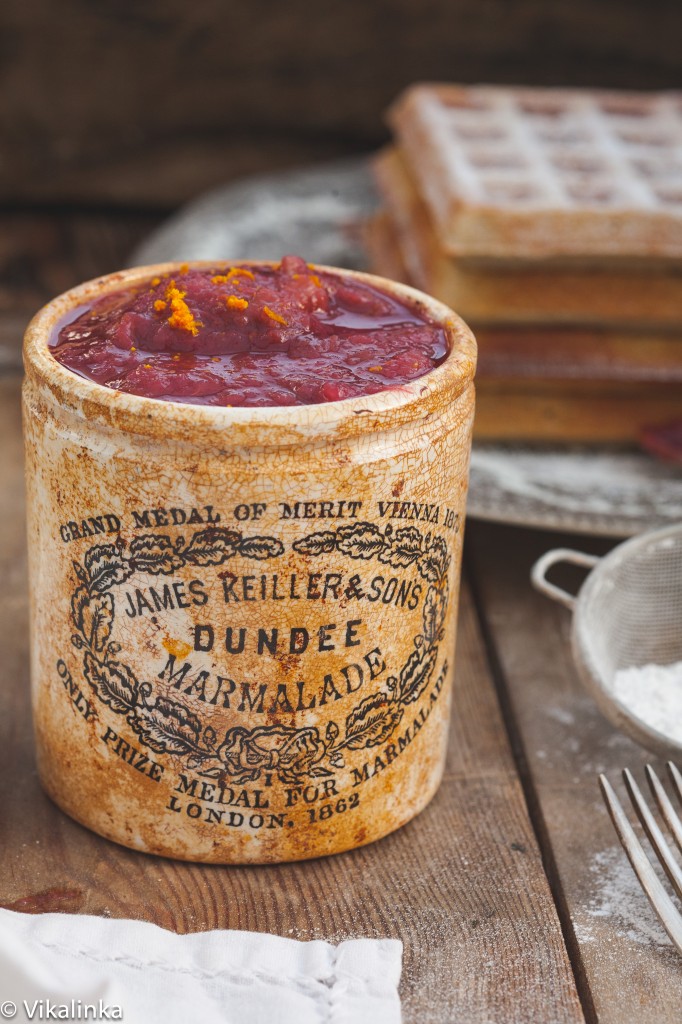 This recipe is a total winner, I tell ya! The waffles are feather-light on the inside and slightly crispy on the outside, the texture is the same as of traditional Belgian waffles. Then there is this divine topping- dollops of rhubarb compote and vanilla cream swirled in a gorgeous cloud. Spring perfection.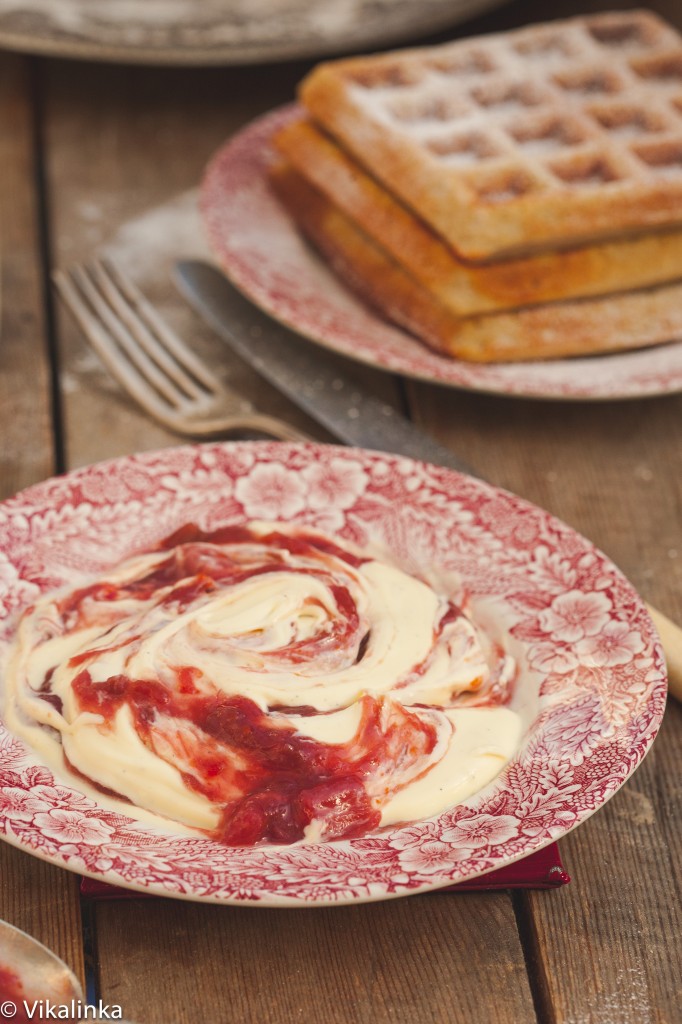 These waffles are easy enough to make but there are a few tricks to get them just right. First of all, the eggs need to be separated and egg whites whipped until stiff and then folded into the batter. That's what will give your waffles the wonderful light texture. I've also used kefir instead of milk which gives the batter a health boost and further improves the texture. Finally, buckwheat flour is not easy to buy in the UK so when the package, I ordered online, arrived I noticed that the flour was lighter in colour than the one in Canada and the States. The buckwheat taste is also much more subtle, so if you are bothered by the strong buckwheat flavour look for a light buckwheat flour.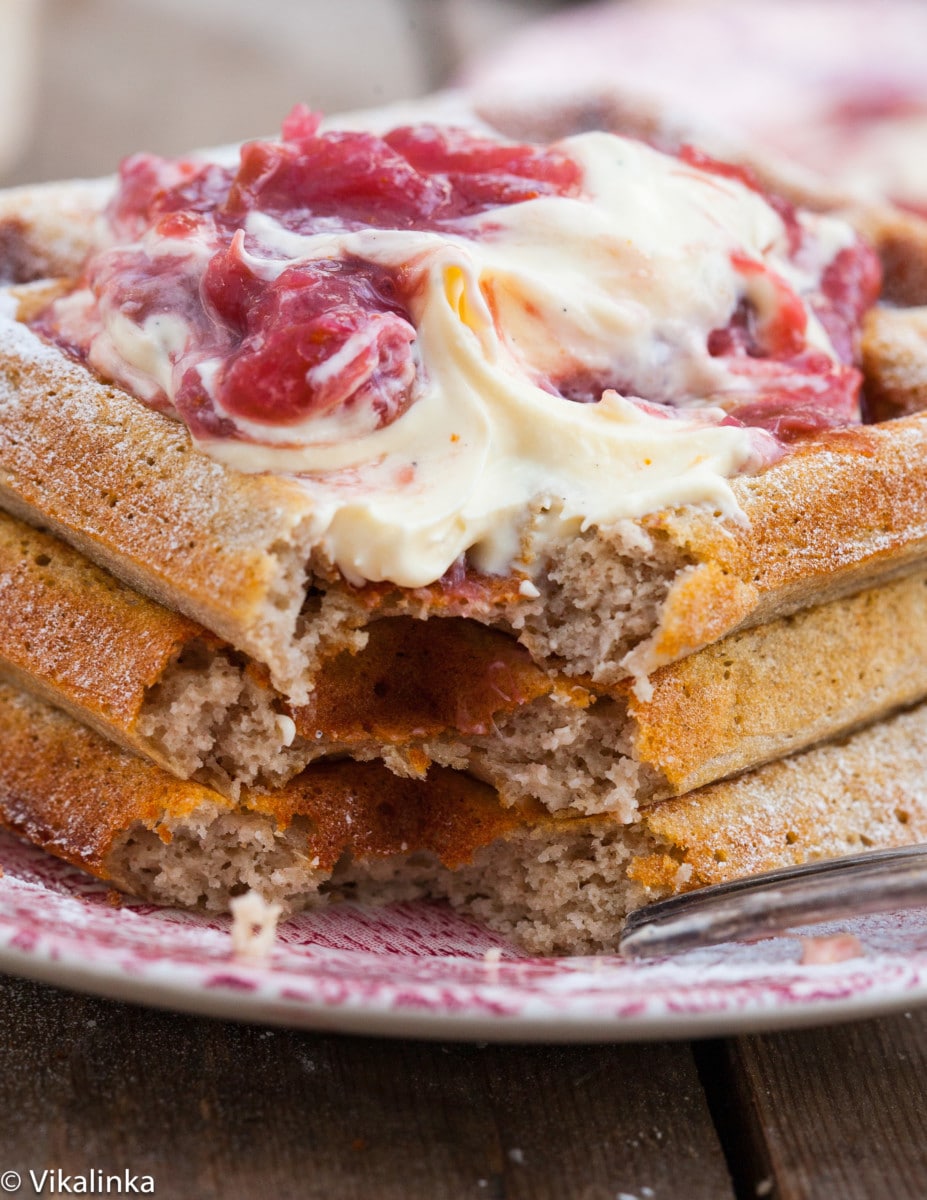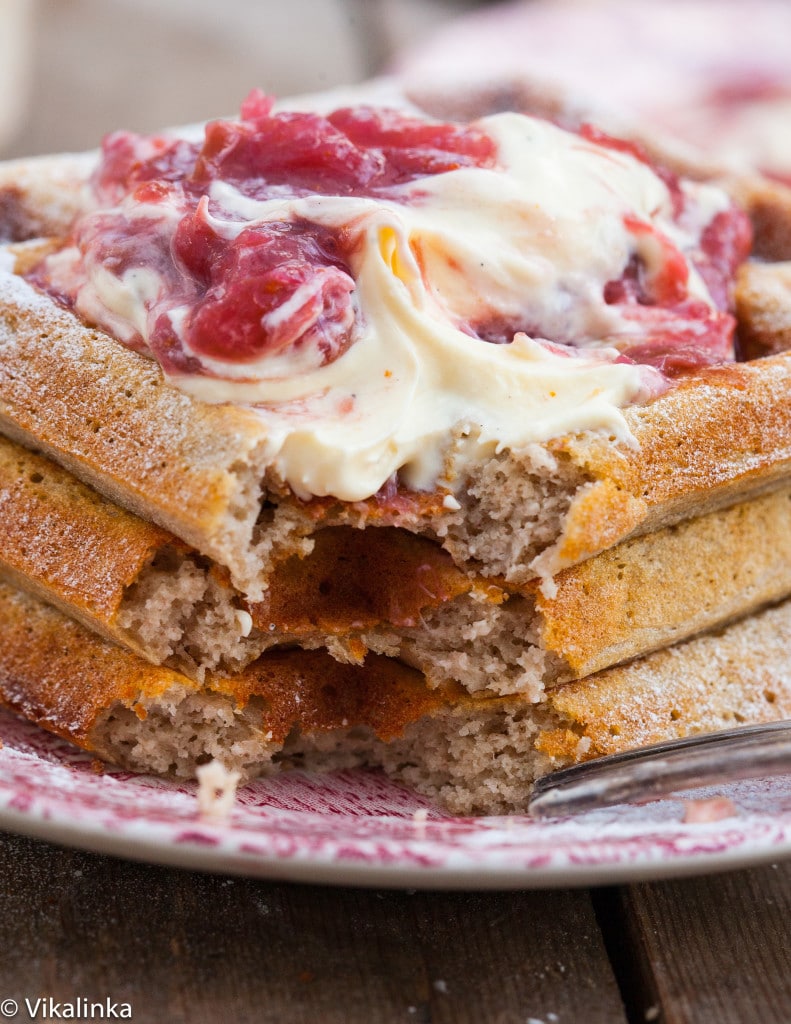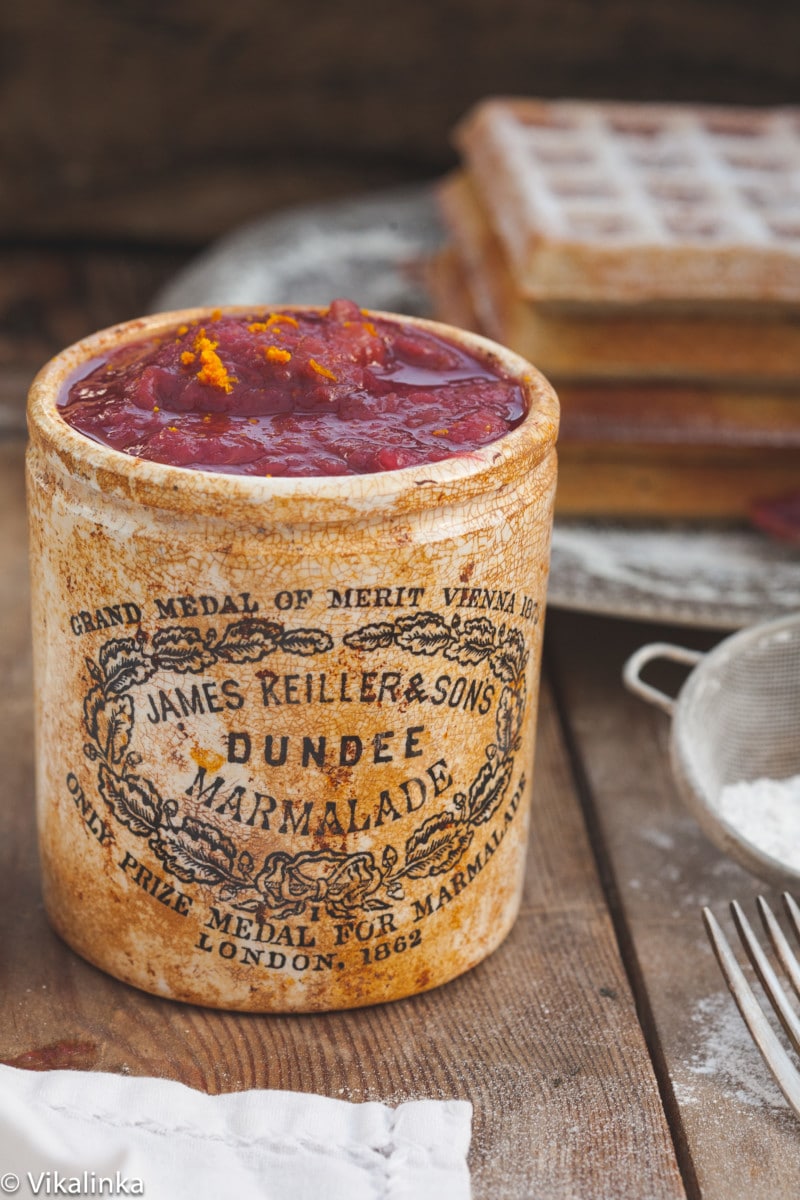 Ingredients
For the rhubarb compote
400

g

rhubarb

chopped

1/2-

orange

zest and juice

4-6

tbsp

sugar

depending on the ripeness of your rhubarb more or less sugar is needed

1

tbsp

water

1/2

cup

sweet vanilla cream

yours or store-bought (I used Madagascan Vanilla Cream from Sainsbury's)
For the waffles
1 1/2

cups

buckwheat flour

2

tsp

baking powder

1

tsp

baking soda

1/4

tsp

salt

1

tsp

vanilla

4

eggs

separated

2

tbsp

sugar

1

cup

kefir or buttermilk

1/4

cup

water

1

cup

Greek yogurt

plain

1/2

cup

butter

melted
Instructions
Chop your rhubarb into 1/4" pieces, zest and juice 1/2 orange.

In a medium saucepan put rhubarb, sugar, orange zest and juice, water, turn the heat on medium and bring to a boil.

Turn the heat to low and continue cooking, stirring once in a while, for 15 minutes until rhubarb softens and start to break up.

Remove from the heat and cool.

Preheat for waffle maker.

In a large bowl mix buckwheat flour, baking powder, baking soda and salt. Set aside.

Separate the egg whites from the egg yolks and whip the egg whites with sugar in a medium bowl on high speed until stiff peaks form, like if you are making a meringue. (The bowl you are using should be completely grease-free or the egg whites won't whip properly).

In a separate bowl mix together egg yolks, vanilla, yogurt, kefir or buttermilk, melted butter and water.

Add that mixture to the flour mixture and combine with a whisk.

Gently fold a half of whipped egg whites with a spatula into the waffle batter, then fold in the remaining half.

When your waffle maker is ready, lightly brush it with melted butter and scoop the batter into it. Cook according to manufacture's directions. Mine cooked 8 minutes each.

Scoop dollops of vanilla cream and rhubarb compote into a serving dish and swirl with a fork.

Serve waffles hot with a dollop of rhubarb cream.